Kim Haneul records a single
Actress Kim Haneul (Road No. 1) will be taking another turn in the recording studio by recording a single for famous songwriter (also singer) Yang Jung-seung, who has written tunes for the likes of Jo Sung-mo and Ivy.
Her track will be a part of Yang's Stars in the Night Sky 3 compilation, and will be her first time recording as a featured artist on someone else's album. It won't be her first recording ever, though, since she sang a track on the soundtrack to her popular 2008 drama On Air, "Sky Love," which you can listen to below.
Kim recorded this song in between shoots for her new movie Blind, traveling from the set in Jeonju to the studio in Seoul. (Blind is the thriller starring Kim and Yoo Seung-ho, where the sole witness to a horrible crime is visually impaired.) Her track is said to be a "sweet melody" with "pretty lyrics" that suit Kim Haneul's vocals. Based on the song below, I'd say that Kim doesn't have strong vocal chops, but she gets by on the lightness of the tune and the catchy melodies, which carry her through.
Kim said, "I was really nervous, but the staff helped me a lot, and I had fun recording the song. I hope I'll be able to convey my feelings to my fans through this song." Her song will be available for sale online on the 8th.
SONG OF THE DAY
Kim Haneul – "Sky Love" from the On Air OST. [ Download ]
Audio clip: Adobe Flash Player (version 9 or above) is required to play this audio clip. Download the latest version here. You also need to have JavaScript enabled in your browser.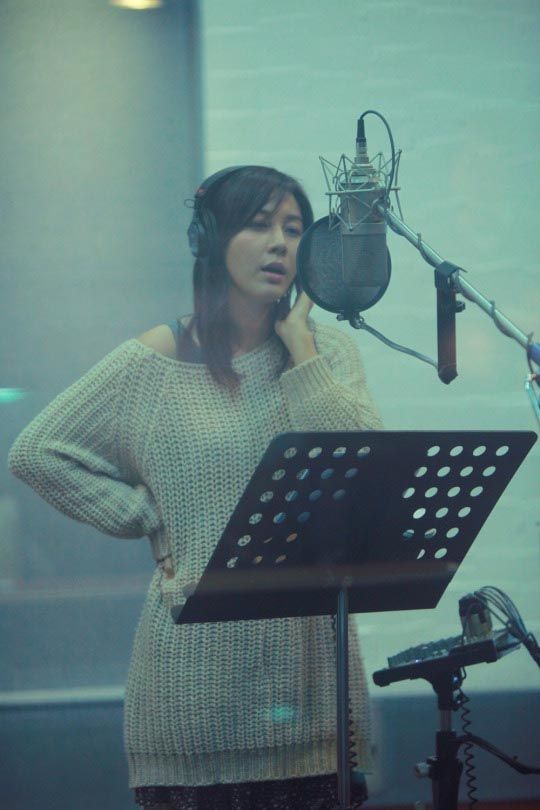 Via My Daily
RELATED POSTS
Tags: Kim Haneul