What's Up and Poseidon lose their airdates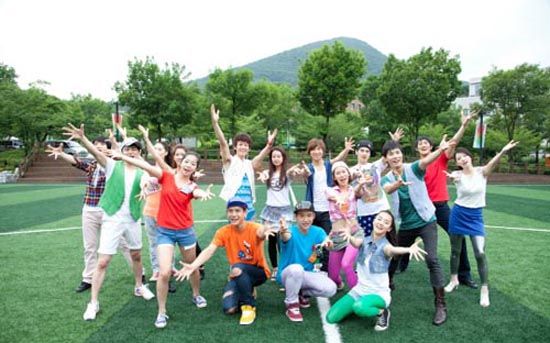 Yeah, so this sucks: Two dramas that were given upcoming timeslots have had them yanked, meaning the university-musical-theater drama What's Up and the hot-guys-at-sea drama Poseidon are both adrift once more. Thanks, SBS.
(By which I really mean: fuck you. No Eric, Im Joo-hwan, Im Joo-eun, or Kim Kang-woo? *rages ineffectually*)
It was announced just a week ago that What's Up would be on the air next month, but contrary to those reports, an SBS rep, CP Kim Young-sub, stated on the 20th that it'll no longer get the post-Paradise Ranch timeslot.
If you'll recall, SBS had announced cancelling the 9pm drama hour just days before the What's Up announcement, and they're close to deciding to cancel it after all. They're still debating, according to CP Kim, who said, "The 9pm drama can be considered a failure," but that as regards the format, "I think we need challenge and a change." Another possibility on the table for that 9pm hour is to attempt a new format akin to the Friday dramas (one-offs, one-acts, and the like).
What's Up began filming in July 2010, and is currently 90% done with shoots.
Then there's Poseidon, the maritime police drama starring Eric and Kim Kang-woo as frenemies at sea. It has also been cut loose by SBS, which had had it on its slate for a May broadcast as a Monday-Tuesday series.
Alas, the SBS drama department decided last week in internal meetings to go with a different drama instead, and announced on the 20th that it had never fully committed to Poseidon in the first place (BS, I be calling it), and that it therefore hadn't strictly cancelled it, merely decided not to air it. Oh, okay then. Then you were an idiot for giving an airdate for a drama you hadn't strictly decided on, is that it?
Poseidon had begun shooting with the May premiere in mind, but now is looking at continuing its shoots with the pre-produced model in mind. (Not that it has much choice; it's either continue filming and hope for an airdate later, or just give up now, wasting all that time and money.) One broadcast rep stated that because the drama has already invested a sizable amount into the large production budget, it has a good chance of getting a broadcast as a pre-produced series that has had the time to take advantage of high production values.
In order to continue the production, the drama will have to work with the actors' schedules, because some shoots have been delayed. Combined with the above issue, there's a chance the drama may lose some of its cast. One rep from one of the actors' agencies stated, "The actors [Eric, Kim Kang-woo, Kim Ok-bin, U-know Yunho] are big stars, and if they get offers from other companies, they can't just be held back thoughtlessly. It looks like the production company will explain its position within the week, which we're waiting for." (Uh-oh. Looks like someone wants out?)
One Poseidon rep took an optimistic approach to the pickle they're in, saying that despite SBS dropping the drama from its schedule, because of Eric's popularity as a Hallyu star and the interest from foreign markets, there's a likelihood that the drama will manage just fine, regardless.
You know what else it sounds like? SBS doesn't know what the hell it's doing. And here I thought MBC was the station o' desperation.
Via TV Report, Hankook Ilbo
RELATED POSTS
Tags: drama production, Poseidon, What's Up