Could there BE any more stills from 49 Days?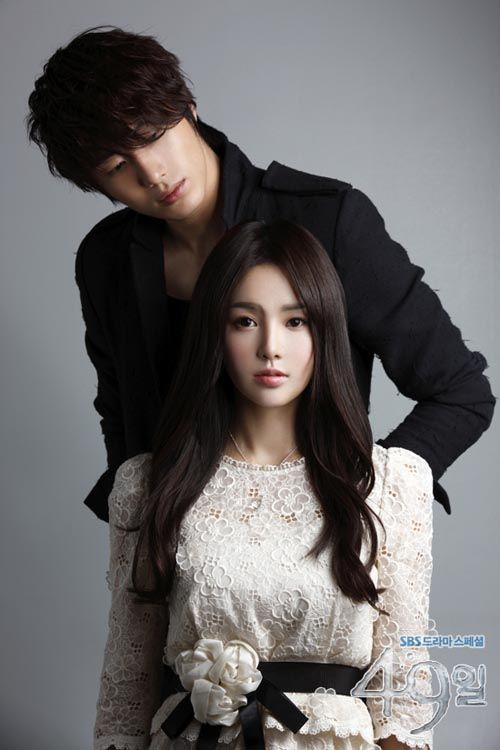 (I just love the above shot. I love the placement, the curious look from Jung Il-woo to the soul-in-limbo, Nam Gyuri, and that's just the plain image from the photo shoot. A finalized, photoshopped promo image ought to be mesmerizing.)
There have been a whooooole slew of stills from 49 Days, such as yesterday's batch, and I hope this overexposure doesn't turn potential viewers off before the drama even airs, in the way that I recall growing tired of the constant promo stream from other dramas in the past. But I'm so intrigued by this cast and premise that I'm just eating it up. (More, moar, MOAR!)
Below, we've got the entire (very, very pretty) main cast together, who are, from left to right in the first shot: Lee Yo-won as the hijacked body, Seo Ji-hye as a potentially villainous frenemy, Bae Soo-bin as the smart businessman fiancé, Jung Il-woo as a Reaper offering afterlife guidance, Nam Gyuri as the body-hijacking soul, and Jo Hyun-jae as an architect from the U.S.

These promo/character stills also give us a better clue into the pairings in the drama. And while we can hardly draw conclusions from mere promotional images, the stories suggested in them offer pretty good clues as to how things will unfold. For example, Jo Hyun-jae has top billing among the men and he's paired with Lee Yo-won, so we can bet he's the main love interest, not Bae Soo-bin, who (sigh) is again Mr. Number 2. One of these days, Bae Soo-bin, one of these days… (Just not one of these 49.)

Ha, I'd wondered what turns Seo Ji-hye from friend to rival, and I shoulda guessed it was a man. Isn't it always the way? Again I'm drawing inferences here, but it's pretty clear the ex-BFF moves in on her friend's man pretty quickly after she's out of the picture. And not in a nice, respectful, decent way: We know from all that black eyeliner. With that much kohl in play, we've got proof enough of her perfidy. It's like a rule, isn't it? (Plus, there's those shifty side-eyes she's making.)

Jo Hyun-jae's still the biggest question mark for me, because we know the least about his character. It's nice to see him back from army duty (despite the fact that he's dropped an almost alarming amount of weight, no?), but I confess to wondering about the chemistry between him and Lee Yo-won, which I worry may be on the low end…

Why, hello there, Hot Reaper Boy. You spare lives AND you play the guitar? Swoon. Finally those curious headphones you're always wearing make some sort of sense…sorta. But whatever, do I care? It's Iljimae Jung Il-woo!
RELATED POSTS
Tags: 49 Days, Bae Soo-bin, Jo Hyun-jae, Jung Il-woo, Lee Yo-won, Nam Gyuri