Uhm Tae-woong, Lee Seon-kyun's old online posts resurface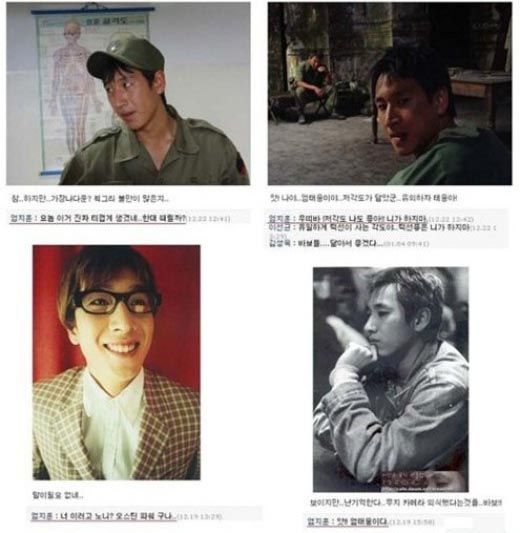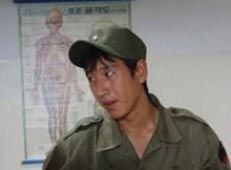 One way to show friendship would be to pose in candid photos, take trips together, or talk glowingly of each other. Lee Seon-kyun and Uhm Tae-woong, on the other hand, have vandalized each other's mini-homepages. Aw. How sweet.
Recently, a fan site posted old correspondence between the duo, dug up from the time before both stars hit it big. (Some date back to 2004 and 2005, which is around the time Uhm was making a name for himself in Delightful Girl Chun-hyang and Rebirth, while Lee was acting in projects like Loveholic and Love So Divine.)
Among friendly messages ("Seon-kyun-ah! I wanna eat kalbi… So you know, I can't eat pork" which begat the reply, "Sure, let's go eat pork belly!"), Lee had posted a photo of himself with the caption: "I'm Uhm Tae-woong. I look like him at that angle. Pay attention, Tae-woong-ah." To which Uhm replied, "I like that angle too. You can't use it."
Uhm also wrote under another funny-looking photo of Lee, "Is this you playing around? You're Austin Powers" and "This dude is looking really awful. Should I hit him?"
Lee returned the favor, heading to Uhm's online guestbook to request that he return his overdue porn. (LOL.) The full message?
"This is the video store… I've been trying to call you but I can't get through… Five days ago, the video you rented, I'm Sorry, I Ejaculated [pffffft! — a play on I'm Sorry, I Love You], became overdue… These days there are a lot of MISA fans putting in the order… Please return it right away… And the videotape you returned the other week, What Happened in the Erection [are these dudes So Ji-sub fans? HA!], was mangled… Please pay your overdue bills… I'll discount the tape price to make it 10,000 won… Please return it quickly… It's quite embarrassing for me to leave this kind of message… And let me know if you come out on a new show. Anyway, happy new year~"
(Uhm's posted reply: "Sorry, the tape must have mangled because I rewound it so many times to rewatch it.")
OH YOU BOYS.
Via TV Report
RELATED POSTS
Tags: Lee Seon-kyun, Uhm Tae-woong