1 Night 2 Days: Episode 335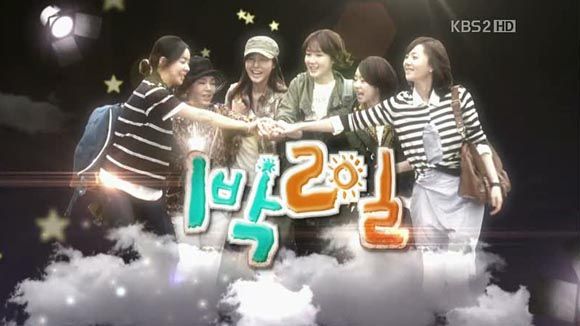 EPISODE 335. Broadcast May 22, 2011.
javabeans: So here we are with the highly anticipated Actress Special. I was half-anticipating it, and half-skeptical that the gimmick would wear thin. But I'm happy to report that I got a huge kick out of this episode, and thought it was a hoot. I wished it were longer! There's surely enough material in this trip for an extra episode, even without extending the trip, no?
girlfriday: Seriously. I was worried that it'd end up being very un-1N2D, but what a fun episode, and a great chance to see the boys out of their element. Girls! Oh, no, what do we do? Girls!
javabeans: One by one, the actresses show up at 8 am at a cafe near the KBS studios. Meanwhile, the guys do their opening at the studio, trying to predict how things will go, still a little surprised that the actresses even agreed. They're all like, "Why would they want to do this?" Ho-dong: "It must look fun on TV." Tae-woong: "Being an actor seems really elegant, but actually you get bored." Hee. They're also in awe of the stars they're about to meet…and speaking of awe, it's pretty hilarious how mild-mannered and polite Na PD is when he greets each actress, like a shy little schoolboy.
girlfriday: Dude, he TOTALLY got a new haircut. And he's on his best behavior, all folded hands and bowing. I'm fairly certain he's seen girls before, but maybe not such pretty ones? It's so cute! And back at the studio, the boys are all dressed up a notch too. Seung-gi: "I saw the news articles and immediately went shopping!" Pffft.
javabeans: I'm not sure how the producers selected who to invite to the special, but I like that they picked actresses who don't really know each other very well, so you get to see the process of how they decide to interact and address each other. We mentioned this when Tae-woong joined, and again the issue of age comes up — in order to know how to address each other, the actresses have to ask each other's ages. Normally you'd start off speaking politely to everyone, whether younger or older, but in a show like this, you tend to get close, real fast — no time to stand on formalities! So they accelerate the getting-to-know-you process and drop to banmal right away, which is cute. Notice that the younger ones still have to get the formal okay from their unnis to bridge that distance, though.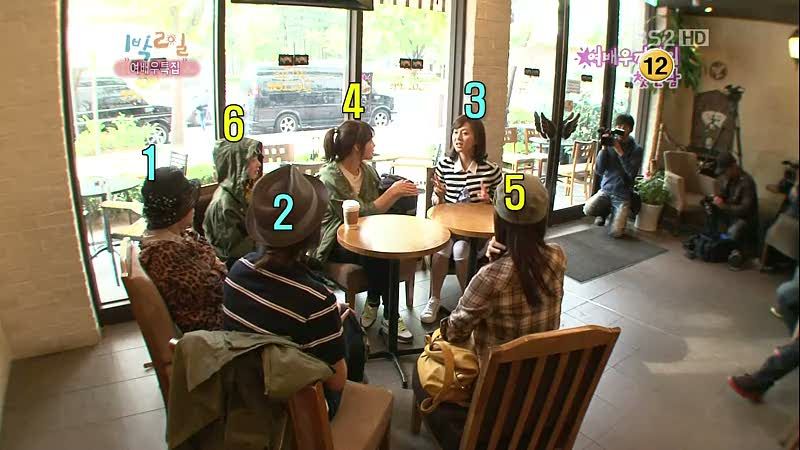 girlfriday: It's great that the eldest offers up that it's no fun for the show if they're busy being polite and calling each other Haneul-sshi and whatnot. She tells them, "Let's just pretend we've had a round of drinks together, shall we?" So awesome. It's the Korean way, just accelerated. (But important to note that the eldest has to be the one to suggest this, otherwise it's all moot.)
javabeans: Right away, you can see their personalities emerge. Musical and television actress Kim Sumi (Unstoppable Wedding) is, at 60 years old, the no-nonsense sunbae. But with most of the ladies in their thirties, they need to figure out birth order. It goes: Lee Hye-young (39, by Western count, from Queen of Housewives), then Yeom Jung-ah (38, Royal Family), Choi Ji-woo (35, A Star's Lover), Kim Haneul (32, Road No. 1), and Seo Woo (25, Flames of Desire). Basically they're all unni-ing each other, except for Seo Woo, who's so nervous and shy she almost looks like she's going to cry — she calls everyone sunbae-nim. That is, when she speaks at all, which is not much. It's kind of adorable.
girlfriday: It's equally adorable how happy Sumi is, when Hae-young and Jung-ah decide to call her unni (instead of the more formal "teacher").
javabeans: Tae-woong is apparently on friendly terms with Seo Woo, who called him beforehand to ask him to help her out on the show. I love that Tae-woong knows how mu-dang he is. He told Seo Woo: "You know from seeing me on TV — how would I take care of you?!" Meaning: I can barely take care of myself, much less you! LOL.
girlfriday: They divide teams by chairs, and Na PD tells them that it's up to them to decide which boys they want on their teams. So they each choose one, picking in order of seniority.
javabeans: The ladies are hesitant to speak first, but I'm gonna guess that more than one of them is thinking Seung-gi. Alas, Sumi beats them to it and claims Seung-gi right off the bat.
girlfriday: Lady after my own heart. She's so fierce with the Seung-gi love that none of the other girls can even make a peep. Thus, as it turns out, the popularity vote goes: Su-geun 3 votes, Ho-dong 2, and Seung-gi 1. It shocks Na PD, though it makes sense to me. It's Funny Order, right? Su-geun is by far the funniest. The boys don't believe it either, when they're told that he's the most popular. Su-geun: "They just think I'm the easiest!"
javabeans: I think he's the most approachable and a comfortable personality, and having him on your team would help smooth out the awkwardness. I love how quickly the team-picking goes, and they say, "We have our teams, but we haven't picked our personal partners." It's the kind of thing you do on group blind dates — everyone gets paired off into couples, even if they've just met. Na PD's like, "Uh, you don't have to go that far…" Haha. In any case, they're allowed to meet their top pick first, which means Su-geun gets the summons, to his shock.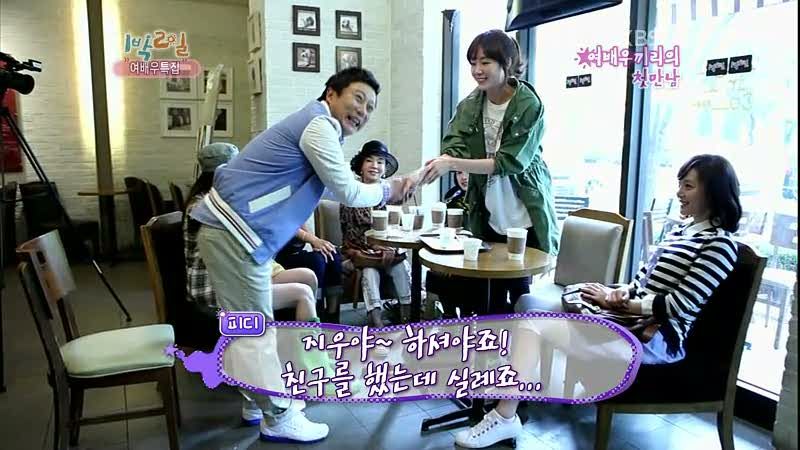 girlfriday: He walks in, bowing 90 degrees and totally unable to look at them directly. They find out that he and Ji-woo are chingu (here the word is "friend" but the meaning is "born in the same year"). Na PD is quick to suggest they cut the formalities right away, but Su-geun can hardly even look at her, let alone call her by name. So she goes first, calling him "Chingu" and "Su-geun-ah." He nearly faints. And then to top it off, Na PD tells him to do the same with Haneul: "Haneul-ah. Oppa." She calls him oppa and he can't even handle the giddy/nervous/excitement, and runs out of there at lightning speed.
javabeans: It's so cute. Everybody's nervous, because the ladies are in uncharted waters despite their experience in showbiz, and the men are just dumbstruck to be in the presence of such stars, who are waaaay out of their league in terms of celebrity standing. Sumi points out that in these cases, men are always more embarrassed and shy than the women.
girlfriday: I love when he returns to the boys' side with a bunch of false bravado, bragging that Haneul said, "Oppa, I'm just going to trust you." The boys audibly squee. Su-geun: "Have you shaken hands with Choi Ji-woo?" Haha. I love it. Tae-woong asks if they were this nervous/worried before meeting him, and they all confirm that they were. Seung-gi: "But then, we saw you in your underwear…" LOL.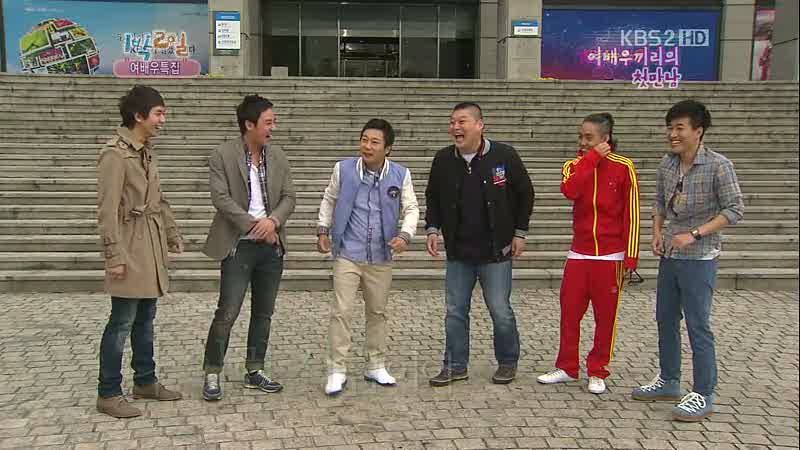 girlfriday: They do the opening and everyone is a frantic ball of nerves, especially Ho-dong. I love seeing how out of sorts everyone is. Seung-gi points out that the staff even showered today. Ha. Na PD tells them today's first race — each team takes off and completes small missions for clues on their final destination. The team that arrives last… ends up in the water.
javabeans: Already! Even the ladies who had steeled themselves to agree to do the water submersion without complaints are taken aback — shiz is fo' real.
girlfriday: Na PD adds the kicker: they get no help from staff today, including managers, writers, PDs, and even VJs. The boys whine, but he simply tells them that this is what they've prepared for, as if all the episodes where they ditched the boys were somehow premeditated training.
javabeans: Lol, it's like Top Gun or something: "Boys, this is what we've been training for. All that practice was kid's play. This is the Real. Deal."
girlfriday: Hiiiiiiighwaaaaay to the Danger Zone!
javabeans: Where's my nekkid volleyball match?
girlfriday: You mean footleyball.
javabeans: Hey, I'll take what I can get. But the key point: Nekkid!
girlfriday: But… I'm pretty sure there's only two out of six guys that you'd actually, yunno… want to see nekkid.
javabeans: If we need to see six to see the two, then I'll deal.
girlfriday: So big of you.
javabeans: Isn't it? Anywayyyyyy…. The twelve participants are divided into the teams picked out by the actresses. Team Ho-dong includes: Seung-gi, Jong-min, Ji-woo, Sumi, Hye-young. Team Su-geun has: Tae-woong, Ji-won, Haneul, Jung-ah, Seo Woo. The first mini-task seems like the producers are easing the actresses into the show, with promises of brunch — an unprecedented 1N2D inclusion. But that's only at first glance. Turns out we're talking a full-on 1N2D style brunch — they've got to work for it. Scavenger hunt!
girlfriday: They each get an envelope with money and one brunch item, and the team whose members return first gets to leave first. They're already panicked. We have to ride the subway? Without a manager?
javabeans: Despite all their talk about being ready, it's funny how the actresses wail and worry, not sure what to do. I love seeing the diversity of responses: Some are frozen in place, while Yeom Jung-ah (can we just call 'em by their first names too, now that we're accelerating the introductory phase?) is the first to accept her fate and dash off — she's so intent on her mission (10 fried eggs) that she almost ditches her VJ.
girlfriday: Haneul gets in her taxi and then asks her VJ if she'll give her more money if she runs out.
javabeans: HAHA. Oh, honey.
girlfriday: I KNOW, right? So cute.
javabeans: It's like the actresses have just assumed that a lot of 1N2D is staged, and that the PDs swoop in to help behind the cameras. Today's their rude awakening — it's exactly like what you see on TV! Gulp. Meanwhile, I think Seo Woo is adorable, maybe because her fear is so palpable — she's not trying to put on a persona for the cameras, she's just trying not to cry or wet herself in fear. As the maknae, she can't be last — she doesn't have to win, she just is deathly afraid of being the worst. To the restaurant lady: "Quickly, please! You don't even have to cook it! Oh, right, we're going to eat it."
girlfriday: She's like a scared little bunny. I just want to give her a hug. Ji-woo on the other hand, manages to sweet-talk everyone on each leg of her journey, despite not having enough money to pay.
javabeans: Ha. Like the taxi driver is gonna kick her out for being short on cash? They're all like, "Oh, we'll make it work." And she's pouring on the aegyo, managing to be both oddly transparent about her motives yet really cute too.
girlfriday: She somehow comes off as cute despite clearly working it. I think her real personality is slightly ditzy (not in a bad way, but cute and not exactly super bright).
javabeans: It's funny if you mostly know her from her post-Winter Sonata days, because she has that glamorous, untouchable goddess image. But yeah, I recall from her earlier days that she was known for saying slightly weird things — like, they were verbal blunders but she came off sweetly dim, rather than dumb.
girlfriday: Yeah, yeah. That's mostly the persona that I'm familiar with too.
javabeans: It's like her character in A Star's Lover — she's a big movie star with a chic image, but she's actually (in the reality of the drama) super tightly managed and given the right answers ahead of time. When she goes off script, she comes off ignorant and clueless, which is essentially what her character is — a poor girl who struck it big. Anyway, that's how I see Choi Ji-woo's real personality, and you totally see that here. Adorable ditz — and the ditz part is intentional, it's not like she's being dim accidentally.
girlfriday: She knows how to turn on the aegyo, for sure. I love that she stops to knock on her watermelon, "Is it ripe?" Who cares? RUN!
javabeans: Speaking of aegyo, Ji-woo's the last to make it back, and Hye-young calls her to tell her to hurry up.
girlfriday: Hye-young: "Where are you?" Ji-woo: "In your heart!" Hahaha.
javabeans: It's so random, but such a cute-ditz thing to say.
girlfriday: It's so funny because it comes out of nowhere. Hye-young is all frantic, and Ji-woo just chirps, "In unni's heart!" like it's a logical answer to her question.
javabeans: I love how the cameras pan out to show the level of chaos this task has created in Yeouido — an area that is no stranger to stars, being where all the broadcast stations are located. But the presence of all these cameras, and frantic actresses, creates this insanity that you can't help but get sucked into. Things start calming down once the actresses start to return with their foods, since they have to wait for the team to assemble before being allowed to start the main race.
girlfriday: Su-geun's team takes off first, and Ji-woo arrives with her watermelon, but Seung-gi has chosen the wrong time to go to the bathroom. Sumi already starts to swear impatiently. Omg, love it.
javabeans: What's even better? Su-geun's team is dashing to their car as Ji-woo runs in, and Ji-won and Seo Woo both misdirect her to the cafe. HA! Let the games begin. It doesn't work, but Seo Woo still feels the guilt of her momentary lapse in ethics, and worries to her teammates. Haneul: "Good job! You must have a knack for variety TV."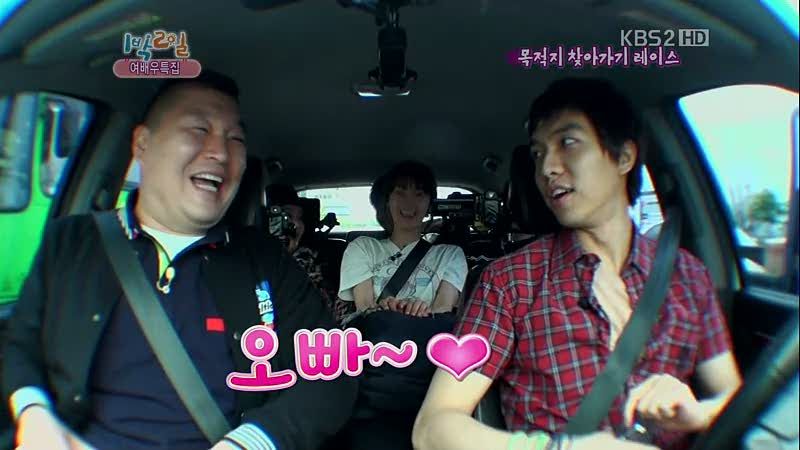 girlfriday: Everyone's so fidgety — the actresses are reapplying their makeup, Tae-woong is turning on the aegyo, Jong-min has gone from stuttering to near incoherent babbling. It's a little more awkward in Ho-dong's car, until Sumi tells Ji-woo that he was going on about how pretty she is. Immediately, Ji-woo: "OPPAAAAA~! Ho-dong oppa!"
javabeans: It's a good thing he wasn't driving, because he practically goes into cardiac arrest.
girlfriday: Seriously. The way he and Seung-gi light up every time she turns on the aegyo is priceless.
javabeans: The lesson here? Men are easy.
girlfriday: It's the power of the "Oppa~~."
javabeans: And then… the awesome begins. Clue hunting time!
girlfriday: Su-geun's team gets busy snacking, until he calls out for everyone to check under their feet for any clues that the PDs might have planted there, just like last time. Score!
javabeans: It's hilarious because our first thought — well, mine at least — is that it's too similar to last week's mission to repeat right away, and that's probably what the guys are thinking…unti l they find a clue hidden in the car. And another. And another. (I wonder if the PDs thought that they were safe, figuring that the guys wouldn't suspect a repeat.)
girlfriday: It's extra hilarious by contrast because Ho-dong's car is busy explaining last week's mission to the girls, while Su-geun's team is already solving this week's.
javabeans: I love that they wonder if the other team is also digging around in their car, but they decide that no, Ho-dong will be too busy in his MC/interviewing mode to think of that. And lo and behold, cut to the other car: Ho-dong is busily interviewing/narrating to his car. HA. Team Ho-dong is busily reminiscing about the last mission, sharing funny stories with the actresses. Ji-woo is surprisingly good at solving the puzzles from last week, although Hye-young points out that she sets them all up for her. Ji-woo says she's happy to "pick up your leftovers," which sounds so weird coming from the big star, and they agree they make the perfect team.
girlfriday: Su-geun's team finds clue after clue, and get so delightfully carried away in being ahead of the game. Haneul worries that she promised her friends she wouldn't get all excitable, but that seems like bad advice to me. Her inability to contain herself makes her seem so likable.
javabeans: That, plus she seems pretty savvy to me, catching on to the spirit of the game right away. Su-geun's car is all pretty quick on the uptake, jumping into puzzle-solving mode. They don't yet know what order the clues go in, but they may as well solve 'em!
girlfriday: And she does the perfect things, like when Jung-ah identifies the songs right away, Haneul screams, "Unni, jjang!" So cute.
javabeans: Tae-woong gets on the phone to his friend to start working on their first find — the members can't access the internet, but they can call friends who can… Tae-woong must have one nerdy friend because the caption points out that it's the same guy as last time, some dude named Dal-sem. And he gets so excited that the trips over his words. I love how Seo Woo and Haneul laugh at how dorky he is in real life, hee.
girlfriday: Omg, when they're talking about having to jump in the water, Jung-ah says, "They should give people who raise kids a pass." And Tae-woong's response? "I raise dogs." HA. Hahahaha. When did Tae-woong start being so funny? Is he only funny around girls?
javabeans: He's a DORK, which is what it is! Maybe that's why his only female celebrity friend is Su Ae — 'cause he's actually really bad with girls. Haha. It's like with his dog feet.
girlfriday: Seriously. How can a man who seems so cool be such a dork? It's so cute.
javabeans: Na PD finally calls to give them their first hint, which is the one clue they haven't found ahead of time: A CD with three songs they must identify. They're quick to identify them, mostly thanks to Jung-ah who gets the older songs right away — but thankfully, they've also got the youthful Haneul and Seo Woo to immediately identify FinKL's "Ruby." When they get the go-ahead to find the second clue, they feign ignorance, pretending this is the first they're hearing of it (hee), but as soon as they hang up, they're like, "Eh, we've already done that one. Put it away." On the other hand, Team Ho-dong seems to be catching up on the crafty quotient: Haneul calls Ji-woo to suss out how their team's doing, and asks where they are. Ji-woo lies readily, "At my house!" Haha. It's like, lying is totally a given on this show, but she doesn't even try to fish for a believable one.
girlfriday: I totally expected her to answer: "In your heart!" Looks like the race heats up next week, with plenty of reversals of fortune, just the way we like it.
RELATED POSTS
Tags: 1N2D, Choi Ji-woo, Eun Ji-won, featured, Kang Ho-dong, Kim Haneul, Kim Jong-min, Kim Sumi, Lee Hye-young (2), Lee Seung-gi, Lee Su-geun, Seo Woo, Uhm Tae-woong, Yeom Jung-ah