City Hunter posters and stills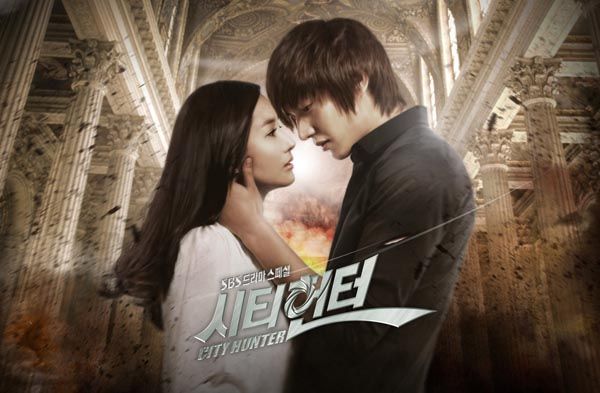 Posters are out for City Hunter, and they look pretty decent…if only they told me what the drama's about. I'm still trying to figure it all out.
Is it a Gone With the Wind-y love story set amidst the backdrop of chaos, as the poster above suggests? Or is it a friendly workplace drama that takes place under bridges and has the occasional high-speed chase with a hero who is entirely too fond of pink-toned pants?
Then again, it could be about a vigilante hero out to nab some kind of powerful villain like a Batman with a decidedly flower-boy streak, as in Poster 3. Or maybe it's really a fantasy story about a hero who dies and floats in limbo…in water…above a city at nighttime…guided by an angel in the sky?
Beats me.
But maybe the stills will help us. We start off with a mother — everybody's got one of those, right? And a man scrambling on a beach, who may or may not be a father. Let's say he is, because in a K-drama, chances are, daddy issues are a motivating force.
So then our hero grows up and spends some years working in some action-packed, fighting-filled capacity in Thailand. He's rough, he's sweaty, he's either an assassin or a spy or a construction worker with Issues.
Then there's our heroine, who works for the Blue House and apparently kicks some ass.
The hero's ass, specifically. Wait, but what about all those hardcore badass years he spent as an undercover dude? Apparently those years he spent getting his doctorate at MIT and working in communications at the Blue House softened him up. Or maybe he's just faking to the the girl to manhandle him. Heck, I'd rather he be a sneaky perv than a wuss.
Ms. Heroine is assigned to bodyguard the president's daughter, who looks like a spoiled brat. From the way Bodyguard #2 is giving her the sideways stinkeye, I'm gonna guess Heroine's job isn't entirely smooth sailing. But at least working at the Blue House should pay well to compensate for the brat factor, right?

Alas, it would appear not. Former judo star and current government employee notwithstanding, Plucky Heroine also has a side job hawking promo materials, or some such thing.

But wait! Badass Hero is back! But…you're a government employee now! Surely the president won't tolerate his employees working side jobs as vigilante crime-fighters. I smell conflict of interest!
City Hunter premieres on May 25. Maybe then I'll finally know what it's about!
Via Star News
RELATED POSTS
Tags: City Hunter, Gu Hara, Lee Min-ho, Park Min-young