Warrior Baek Dong-soo contemplates extension
The reigning Monday-Tuesday drama, SBS's action sageuk Warrior Baek Dong-soo, is reportedly in talks to extend its run by six episodes, which would take the show from 24 episodes to a total of 30.
A source with the show confirmed that the extension is currently being seriously considered, and the actors are being consulted regarding the extra installments. While a final decision has yet to be made, the source also stated that a 30-episode run has always been a possibility, so an extension wouldn't be detrimental to the story flow.
If the extension is confirmed, that pushes the Kim Rae-won/Su Ae melodrama Thousand Day Promise (written by hitmaker scriptwriter Kim Soo-hyun) to October.
SBS has got a good thing going with strong dramas airing practically every night of the week: Scent of a Woman just broke 20% and is winning on weekends, while Protect the Boss is second in its Wednesday-Thursday timeslot, but still holding strong with mid- to upper-teen ratings.
While I'm not following this series, it seems from various accounts that its current plot would support an extension, and with six weeks to go before reaching its original end date, there's plenty of room to adjust the story to accommodate a longer run. And that gives the drama extra time to mine the burgeoning good-versus-evil face-off between pretty boys Ji Chang-wook (good) and Yoo Seung-ho (the dark side). As well as tossing in a few more manly hairstyles. Because, as girlfriday so sagely points out, "Baek Dong-soo. It's all about the hair."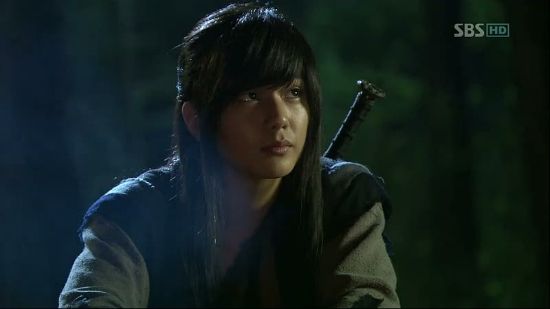 Via NTN Seoul
RELATED POSTS
Tags: Warrior Baek Dong-soo