Variety Roulette: Strong Heart
So 1 Night 2 Days is ending soon, which happens just as I was getting into this whole variety world, which is so close and yet so far from the world of scripted television. (Even allowing that yes, variety can be scripted too.)
With the overwhelming number of variety programs out there — seriously, a ton — it can be pretty daunting trying to find out what show does what and when, and what its themes and formats are. So Girlfriday and I thought we might take a crack at all the variety shows out there and pick up random episodes in a series we're calling Variety Roulette: No preplanning, no following special guests, just pick an episode and dive in.
We plan to take a look at as many different shows as we have time for, and are starting off with one particular hit talk-show offering, SBS's Strong Heart. Keep your eyes peeled for more installments to come in the future! What shows or what episodes we'll pick, we have no idea. We'll go where the wind takes us.

EPISODE 93. Broadcast on August 30, 2011.
Emceed by variety kings Kang Ho-dong and Lee Seung-gi, this is a Tuesday program that takes the humble talk show and juices it up by a factor of twenty. The panelists in this episode, broadcast last Tuesday, include: The members of boy band Super Junior, here just days before Heechul's enlistment in army duty; newish actors Im Soo-hyang and Sung Hoon, co-stars from New Gisaeng Story; and drama veteran Choi Min-soo.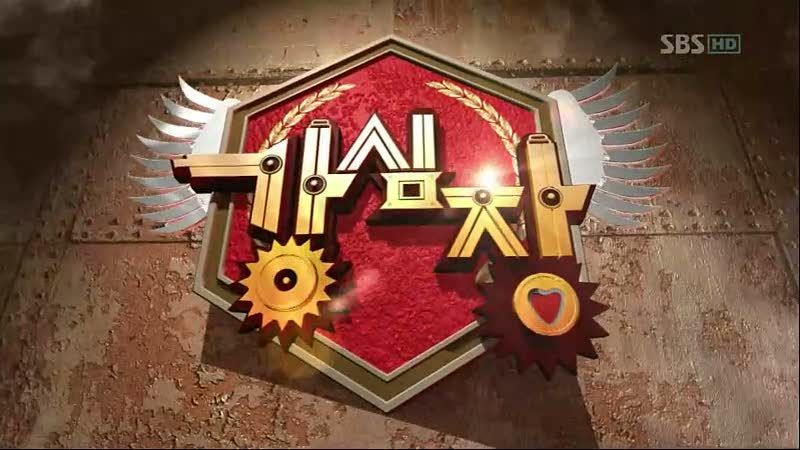 javabeans: I've actually seen little bits of Strong Heart here and there, but never enough to get a sense of the show — I've always been confused as to the format, and why there are so many guests, and why the seating is the way it is. So this is the first episode I've seen in its entirety. And while I can't speak to the quality of the episodes as a whole, I think I got lucky with a pretty entertaining episode to mark my initiation to the show.
girlfriday: Strong Heart is basically like Talk Show: Thunderdome.
javabeans: Seriously, I caught the intro to the previous episode (it looks like this one's a continuation) and it's got Iron Chef-like music and bombast. I half-expect the opening announcer to declare, "Allez cuisine!"
girlfriday: There are two MCs, Kang Ho-dong and Lee Seung-gi, and a set of regular "cast members" who do little side bits and add to the conversation and give big reactions — the comedians in the back row, the Super Junior boys (not the bucketfuls in this episode — just Leeteuk, Eunhyuk and Shindong). And then you invite a slew of guests to sit in the main seats and tell a bunch of stories, and the studio audience votes on the best one. The entertaining part for me is when the MCs give the guests crap for telling lame, unfunny or self-aggrandizing stories.
javabeans: I notice that with Korean variety programs, there's no introductory bit to get you up to speed. They just assume you know the format and dive in — the opposite from American reality shows, where they've built in a framework that gets repeated episode after episode until you can pretty much recite, say, Tyra Banks' entire judging spiel as she reveals which one of the two beautiful girls standing before her will have to go back to the house, pack her bags, and leave, and which one is still in the running towards becoming America's Next Top Model.
girlfriday: I used to have this DVR sweet spot for how to fast-forward through that kind of bullshit.
javabeans: Right? "You're fired." "The tribe has spoken." "Please pack your knives and go." "You're in or you're out." They got to be so ridiculous that they actually went from annoying back around to funny again.
girlfriday: Because when people say things in that tone of This is a catchphrase, it's friggin' hilarious.
javabeans: Like with all those D-list copycat shows. Shear Genius: "This was your final cut." (Groan.) Stylista: "You're not the right fit." (Uh, ouch? Isn't that kind of insulting? Especially since I recall there was a plus-sized girl on that show. Oh crap, I've just outed myself as having seen it, haven't I? FOR SHAME.)
girlfriday: I'm ashamed by association.
javabeans: Like you have no skeletons in your pop-culture closet of shame.
girlfriday: I have NO idea what you're talking about. *hides 80% of dvd collection*
javabeans: There are upsides to each approach: While I appreciate not having the same old spiel hammered into my head for hundreds of episodes, there's also this weird feeling of displacement I get from watching a show like Strong Heart for the first time. I generally get the premise, but the little things that the show takes for granted that you know are sort of lost on me. For instance, I get that there's some sort of competitive aspect to it, because after a couple stories are told, there's that split-screen and one guest gets blasted with…is that air? Smoke?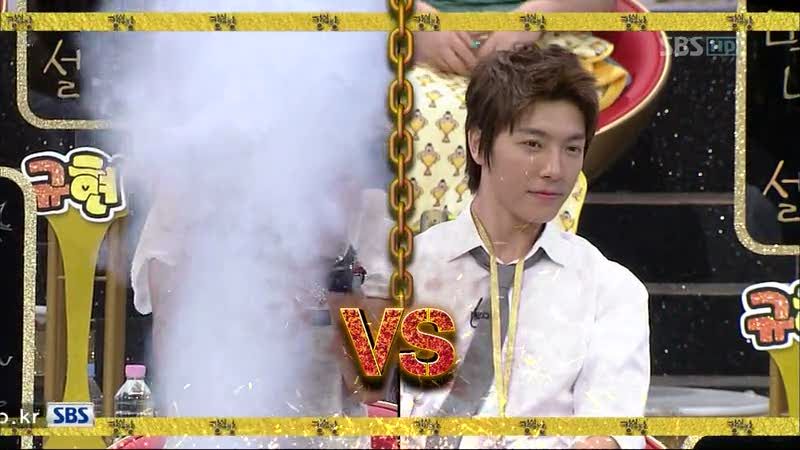 girlfriday: Hot air? (hur hur)
javabeans: Netizen mouthfire?
girlfriday: Well THAT would be frightening. It's thankfully limited to studio-audience-surrogate mouthfire.
javabeans: I enjoy how the whole first part of the show is spent roasting Leeteuk, aka Teuk hyung, aka leader of mega-boy band Super Junior. At first you're thinking, "This is amusing." And then, one after another, the Suju boys take turns tarnishing his image by outing his little quirks, and it becomes hilarious.
girlfriday: I love stuff like this, especially when it's the younger ones ganging up on the hyung.
javabeans: Donghae tells a story, for instance, about how before Suju, they were in a different boy band together called Smile, of which "Teukie hyung" was also leader. Donghae was just 17 and still in high school — he looks like a baby in that photo! — and after a rowdy World Cup match that Korea had won, they'd run into three older guys and tensions sparked. (Two guys were built "like Kang Ho-dong" and one was built "like Eunhyuk" — shorthand meaning two burly dudes and one wimp. Ha!) Donghae's temper got the best of him and he talked back, and ended up getting beat up while Teuk was trying to take on the lone wimp. Later at home, Teuk had burst out all emotionally, "I'm sorry your hyung couldn't protect you!" He disappeared and showed up a few hours later, and when the manager asked where he'd been, he mumbled, "Sa…saum…" which means fighting — or it does until he finally completes the word, which turns out to be "Sauna." HAHAHA.
girlfriday: The stories make him sound like a hothead, except he's all talk, no action.
javabeans: Right? Like when Yesung recounts the story about driving in Teuk hyung's car and getting into a tiff with a car of seven men and women, who'd hit his car in road rage. Leeteuk had gotten out of the car, growling that they were all dead…until the three women recognized him, and suddenly he was all smiles and polite bows, a la Dokko Jin. Yesung was confused and asked what that was about, and Leeteuk had grumbled, "If only those women hadn't recognized me, they would've all been dead!"
girlfriday: Heechul calls him a genius, but in the sly self-preserving way, where you sell your brothers up the river to save yourself. They ask Choi Min-soo what he thinks, and he laughs, "All artists are con men." Heechul quips, "He's not an artist who cons… he's a con man that does art!"
javabeans: I love Heechul's other example of Leeteuk's "genius." On a previous episode of Strong Heart, they'd made a deal beforehand to say nice things about each other. But when Heechul had been praising him, Leeteuk had welled up with tears and even exited the stage, ostensibly because he was so overwhelmed with emotion. Therefore: No Heechul praise, and lots of Leeteuk sympathy. Haha.
girlfriday: I think that story says more about Heechul than Leeteuk.
javabeans: There's also Shindong's story (see? it's a pile-on) about how Leeteuk's actually really weak to the power of suggestion, so he and the others were teasing him before a performance, saying, "This outfit looks better. Actually, now that one looks better. No, the first one. Now I like the third." Leeteuk had gotten angry but the guys kept going, until finally he lashed out by grabbing Eunhyuk by the throat and making him cry. Awwww. Leeteuk admits that he chose not to grab Shindong or Sungmin because one's bigger than him and the other knows martial arts. Eunhyuk points out that even in this flash of anger, he'd had the foresight to calculate which one of them was the weakest, HA.
javabeans: And then later, Kyuhyun tells how he was the newest entry to the group and had a hard time with Leeteuk, who wasn't very warm to him at first. The guys point out that Leeteuk's really good at picking on the weakling, which seems pretty true. Oh man, he's getting an image beatdown, but even then Leeteuk works his "variety genius" and says calmly that he's not upset to hear all this, because it's proof of how close Suju is — and that if they actually felt that way about him now, they wouldn't be able to say so.
girlfriday: It's Choi Min-soo's turn and he offers up a free Q&A, where he'll answer any random questions that people have. Seung-gi asks if it's true that he once turned down a Spielberg film. He says it's true–Spielberg came to Korea to meet with him for Gladiator, but Choi Min-soo turned him down. Ho-dong asks if he ever regrets it from time to time. Without reservation, he blurts, "I TOTALLY regret it!" Hee.
javabeans: It's the comic timing that makes this moment. He's telling this story like the cool, movie star stud he is, and it misleads you into thinking he's going to dismiss it all with some wise adage or insight. And then comes the punchline and he's all honest and dorky, berating himself for being crazy enough to reject Steven Spielberg.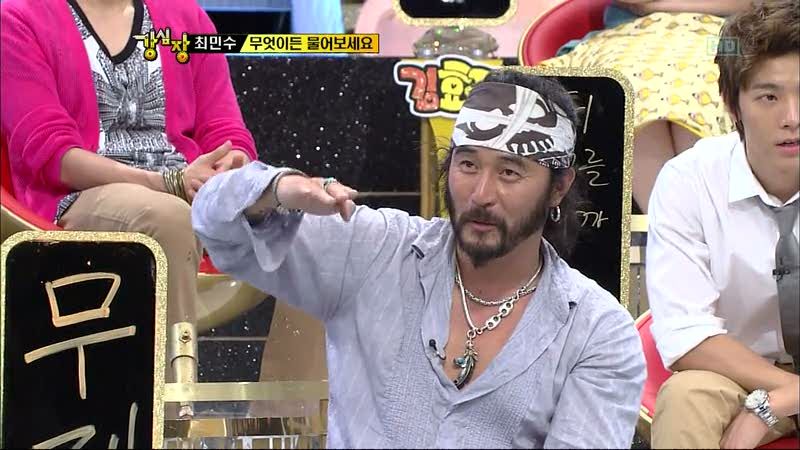 girlfriday: Choi Min-soo totally has this half drunk rocker, half mountain guru way of talking, and he spouts all these edicts, which is usually Ho-dong's job. (I especially love when Ho-dong's edicts go awry, which is often.) Seung-gi turns to Ho-dong and chides, "Are you taking a break today?"
javabeans: I do love one of his comments, where he holds out an arm and indicates its length: "People have this road, right? And if they walk back and forth this much, they get bored. So let's say we increase the angle. It's a little harder to walk back and forth now, but it's worthwhile. So you raise it higher. Now when you get to the top, you feel like you've won over yourself. Even higher [holding his arm vertical], it feels like the top of the world is yours. And this is all just in difference of angle. Now let's take the opposite case. If you lower the angle, the path becomes easy. Lowering it more, it's super comfortable. [Holding his arm nearly vertical downwards] If you get too familiar here, you fall. In life, you need balance." It helps that he says it in this matter-of-fact way, not in the puffed-up "I know I'm saying something cool" way.
girlfriday: Siwon tells this really elaborate story about Athena that pretty much amounts to: I wanted to show off my abs and/or some part of my half-naked body, but was foiled at every opportunity because of the production's adherence to realism. PFFFFFFFFFT! Okay, what? Are we talking about the same drama? Dude, this guy's like the Korean Matthew McConaughey. I'm suddenly less interested if you're just GIVING it away.
javabeans: It's hilarious, this basic admission that every Siwon role has to come with an abs scene. It's just part and parcel. Why else would you cast Siwon? And he's fully aware of this, and expecting this, and preparing all the while to keep his body in tip-top form. I can't believe the drama was like, "Sorry, we've had lots of Woo-sung abs and Seung-won abs, no need for Siwon's!" As though too many abs detracts from the drama's believability factor.
girlfriday: They ask what Cha Seung-won is like, and Siwon says they can ask themselves because Cha Seung-won is sitting around, waiting for their call. His ringtone is from Best Love! Aw, how cute. He says that Seung-gi was really nice to do the cameo and even though the shoot took all day, he never once complained. Seung-gi: "I complained at home." Heh.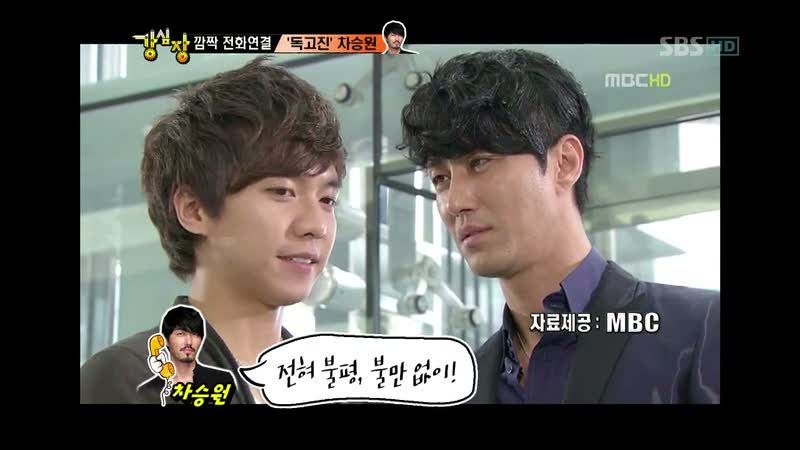 javabeans: Everyone perks up when he comes on the line, sitting up a little straighter, amazed that he's actually on the phone with them. I love the meta of this moment, which totally reminds me of the reactions when Dokko Jin calls in to SeBaKwi (the World Changing Quiz show).
girlfriday: Ho-dong asks which hoobae Cha Seung-won thinks is better looking — Seung-gi or Siwon? He goes about describing how they're both pretty in different ways, and then ends with: "I'm the handsomest!" Hahahaha.
javabeans: It's the perfect way to win the laugh, and also answer the question diplomatically, 'cause basically Ho-dong's rustlin' up trouble by asking. Ha.
girlfriday: Ho-dong tells him that Choi Min-soo is here, and immediately Cha Seung-won's voice changes, "Ah, hyung-nim!" Isn't it weird how even in a 30-second phone call, you can hear the difference in an exchange between two alpha males? They get very terse but keep strict rules. Choi Min-soo tells him that another sunbae is there (Song Kyung-chul, who is older than him), and tells Cha Seung-won to greet him first. Seung-gi asks why Gu Ae-jung never came on Steel Heart, and asks Cha Seung-won to come visit instead. Choi Min-soo suddenly calls out: "Seung-won-ah! I love you!" all while chomping down on a choco pie. Oh my god, why is he so funny?
javabeans: It's totally the randomness of everything, combined with his star power and his comic timing, right? Plus there's also the fact that my point of reference when thinking of Choi Min-soo (and I suspect this is the case for a lot of people) is always his star turn in Sandglass, where he was a badass gangster. He's the ultimate man's man, the macho Korean star, the antidote to the pretty boy… and then you have him on Strong Heart cracking jokes and goofing off with idols and it's just so hilarious and dissonant.
girlfriday: It's time for Teuk-ki Gayo, a segment that used to be more elaborate with people showing off weird abilities or doing impressions and then dancing as a last resort, but this time Super Junior dances and they just do a big round of embarrassing photos. Wow, that one of Leeteuk looks like it's CG'ed. Do people's faces do that?
javabeans: It looks like they caught him mid-roller coaster ride. You know what's funny about this segment isn't even the old photos of idol stars, but their reactions to them. I find myself being impressed with the guys who just show the photo proudly, like, "So what if I looked like a dork?" Whereas some are so embarrassed that they immediately hide them.
girlfriday: It's Im Soo-hyang's turn, and she's someone I don't know, but I can tell right away that she's going to be in that category of really dim actors who come on this show and tell ego-puffing stories and then become joke fodder. This kind of stuff is Strong Heart's bread and butter, because it's almost guaranteed that the jokes will go over their heads. Some manage to turn it around and make fun of themselves, though, which is awesome.
javabeans: She's from New Gisaeng Story, which is why I think she's now a household name. Er, maybe not that popular, but much more well-known. She's not very funny or very sharp, and I keep thinking the whole time that she looks like Park Han-byul except with distracting eye surgery.
girlfriday: She fails pretty hilariously at this story where she attempts to explain the difference in line delivery, choosing to use the phrase: "…Kang Ho-dong is fat," "Kang Ho-dong… is fat," and "Kang Ho-dong is… fat." (There is no perceivable difference in her performance.)
javabeans: It's inadvertently funny in that her point is to show different acting techniques…except because they all sound the same, it actually proves she's a bad actor. But she completely misses that implication.
girlfriday: Young-chul determines that the end result is that all three are annoying. HA.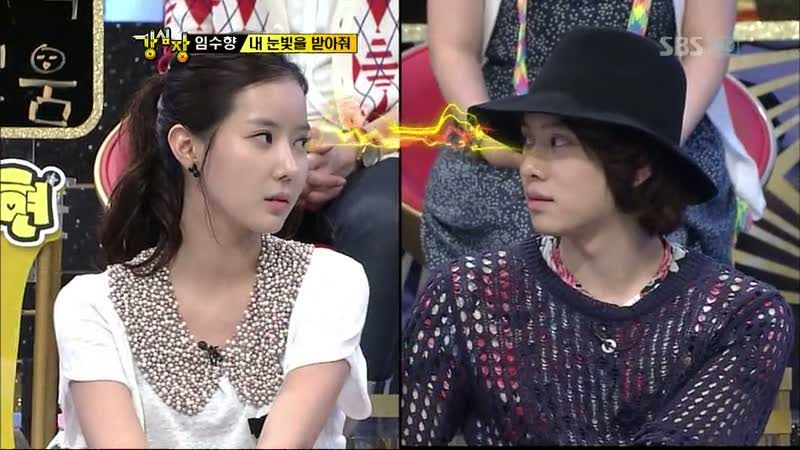 girlfriday: Ho-dong makes Soo-hyang and Heechul do a staring contest, which is one of Ho-dong's favorite activities that he likes to make people do whenever any minuscule hint of romantic interest is implied between two people (a stare-off to see who laughs or turns away first, indicating feeeeelings). It goes on for a while and Heechul starts to turn on the greasy charm, and then out of the blue Choi Min-soo snarks at Heechul, "You know in the monitor, you look like Kim Sumi." It slays the whole room.
javabeans: Especially since Heechul picks up that joke right away and shoots out an eerily spot-on Kim Sumi impression, with her raspy grandma voice. Yesung proceeds to tell a story about his father and how they used to not get along, but after his father got into a serious accident, he had a sort of epiphany and decided he'd try harder to mend fences, and now he's moved his parents up to Seoul and set up a shop for them to manage because Dad can't work at his old job anymore. It's one of those stories designed to wring tears, which is why I sort of chafe at it. The thing is, I like the aura of this Yesung kid (I don't know much about him outside of this) and I don't get the sense he's being sly or manipulative, but the story in this show context is pure manipulation. For some reason I'm fine with guests preparing funny stories, but something about preparing a story that's designed to tug at the heartstrings feels disingenuous. So I find myself half-tuning out, lest I cringe instead at the uncomfortable feeling I get from the manufactured sympathy.
girlfriday: This happens quite often — the mom/dad tear-inducing story prepared to wring tears. Most of them are exactly like this one, but a few do actually manage to be different and genuinely moving. Though that's the rare case. It's often, as with most stuff on this show, all in the delivery.
javabeans: Well, I do feel that he's sincere about his feelings. It's just the delivery isn't so sharp. But it's better than inane, I guess. Why does that Im Soo-hyang chick annoy me so much?
girlfriday: Because she's annoying? Along with her co-star, who's equally empty.
javabeans: Touché. But Sung Hoon at least has a better story. Hers is that vapid thing that some girls do, the "Oh, it's such a burden being so pretty!" thing. For instance, her big "complex" (insecurity) is her gaze, which everyone tells her is too sexy. Oh boo frickin' hoo.
girlfriday: The Strong Heart term for her kind of story is 지자랑 [self-praise], which the MCs freely call people out on.
javabeans: Ha. Apt.
girlfriday: Ho-dong's favorite thing to ask actresses is, "Have you always thought you were pretty?" which is kind of a trap for that, either way you answer.
javabeans: I love that. So. Much.
girlfriday: I guess that's why I like this show. It's snarktastic.
javabeans: I know! I feel freer to admit the things I dislike if it's part of the format! For instance, Sungmin tells a sorta cute story that then, I think, goes awry. It starts out with him saying how he really wanted to get closer to one of his co-stars on President, and you're supposed to think he meant a woman like Wang Ji-hye, until he admits it was Mr. President himself, Choi Su-jong. Who is like an A-list drama star.
girlfriday: And a dude.
javabeans: So that's cute. And then the conversation skews to how the boys never liked him in school because they were jealous of his popularity with girls, and he demonstrates with Im Soo-hyang and gets waaaay too touchy-feely for my comfort, and actually comes across as a creepy stalker dude, except that he's really pretty.
girlfriday: It's disconcerting because it's greasy and weird, but coming from this kkot minam who looks twelve.
javabeans: Unsolicited back rubs are not okay! But I guess we're supposed to find it innocuous, since Im Soo-hyang says he has the aura of an unni more than an oppa. Then he's called over to sit by Choi Min-soo, and he's hilariously timid and awkward, like he's afraid the scary man is going to do something…scary. I love how his Suju-mates Siwon and Eunhyuk are both giggling and cringing for him, and the caption reads, "I can't watch…" My thoughts exactly.
girlfriday: I love all of Heechul's little comments, like when Sung Hoon stops in the middle of a story to turn to him and say, "I really like you." Heechul just mugs for the camera and sighs, "Looks like another article's coming out."
javabeans: Heechul's awesome. He has really sharp comic timing, and knows when to make a jab, and when to take a hit himself.
girlfriday: Plus he's just got that "I am fabulous" air going on at all times.
javabeans: But he is. So it's okay.
girlfriday: He's the only kind of diva I like — the kind that can make fun of himself.
javabeans: Let's just hope the army doesn't beat it out of him. See you in two years, Heechul!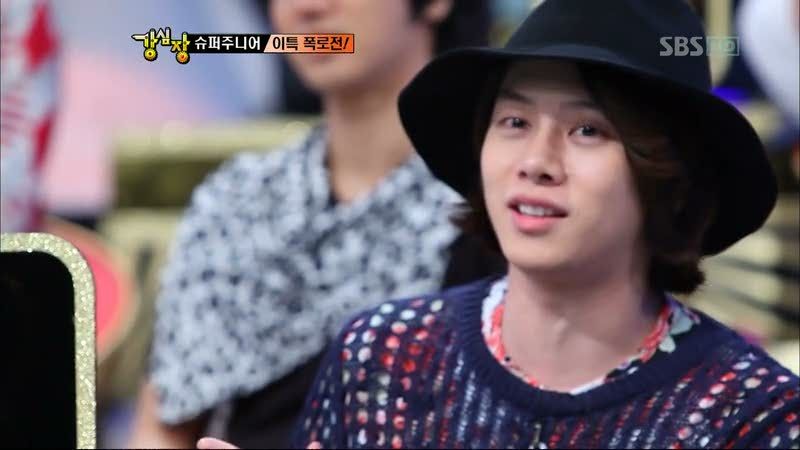 RELATED POSTS
Tags: Choi Min-soo, Choi Siwon, Donghae, featured, Im Soo-hyang, Kang Ho-dong, Kim Heechul, Lee Seung-gi, Shindong, Super Junior, Variety Roulette