Lee Seon-kyun to cameo on 1N2D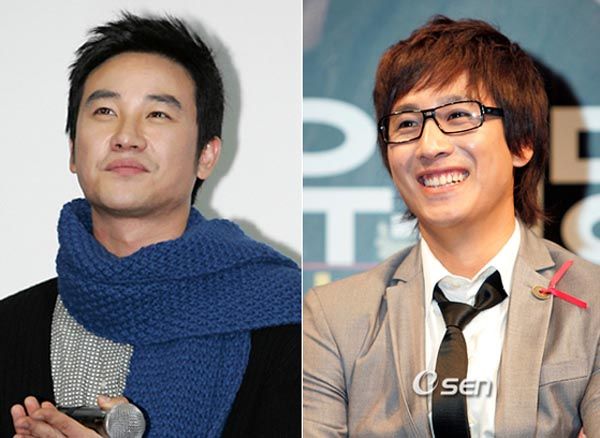 javabeans: Is this true? Is Lee Seon-kyun joining his bestest bro Uhm Tae-woong on 1N2D as a guest? To be filmed in December or January?
girlfriday: Squeeeeeeeeeeeee.
javabeans: We keep hearing about how they're so tight (and reading the porno jokes), and yet, we don't actually get to SEE them together much. Or ever.
girlfriday: It's blowing my mind, the real-life bromance colliding with my favorite onscreen bromance show, 1N2D.
javabeans: I'm looking forward to this especially, given that when Tae-woong first started on the show and was still finding his legs, he commented that Lee Seon-kyun called him to say he'd take his slot for him. Out of pure friendly concern, I'm sure. Not for all the CFs and love calls and string of neverending movies the show has brought him.
girlfriday: Yeah I can totally imagine him berating Tae-woong too, for not being funny enough, or for being a general doofus.
javabeans: Does this mean we can just call him Seon-kyun now? Kyunie oppa!
girlfriday: Oppa~! Hee.
javabeans: Plus, with Tae-woong coming into the show late, he hasn't had as much time with the other members. So this'll be a great way to see him with a longtime bro, just cool and easy. Or, in his case, probably being a huge dork.
girlfriday: I'm so curious to see what they're like with each other, because Lee Seon-kyun seems like he might not have the patience for someone like Tae-woong. But their rapport seems to be pretty evenly matched when it comes to making fun of each other.
javabeans: You're right, Seon-kyun seems like he'd be more hot-tempered. But Tae-woong is the hyung, so maybe it balances out.
girlfriday: Oh, are they not dong-gap?
javabeans: Tae-woong's a year older.
girlfriday: Then they must be like late-whatever/early-whatever, right?
javabeans: No, Tae-woong's April '74, Seon-kyun's March '75, a month behind Su-geun.
girlfriday: Huh, I didn't figure him for the hyung.
javabeans: He doesn't act it. How much you wanna bet the editors will have a hell of a time cutting out all the off-color porno jokes?
girlfriday: Wouldn't it be hilarious if he comes on, and in the end has no dialogue onscreen because it all has to be censored out?
javabeans: How ironic, for Mr. Voice. Maybe they can have a contest to see who can out-gravitas the other.
girlfriday: I'm ridiculously excited for this episode. Oh, so right, info. It's a bromance special, where each member brings a bestie for the trip, and the other members are bringing: Kye Baek actor Lee Seo-jin (Seung-gi's bestie), soccer player Lee Geun-ho (Su-geun's bestie), and J-Walk singer Jang Soo-won (Ji-won's bestie). Apparently Jong-min has yet to find a bestie. Aw.
javabeans: Jong-min, why ya gotta break my heart all the time? And how does Seung-gi know Lee Seo-jin?
girlfriday: I… have no idea? There's gotta be a six degrees thing between all their projects, or maybe they have the same agency?
javabeans: Ah, they are. Same agency, I mean.
girlfriday: That makes sense.
javabeans: Seung-gi DOES love the promotion. Ha. Am I going to get hate mail now?
girlfriday: Or a refrigerator. I bet the whole thing hinges on Seon-kyun. I wanted them to do a noona special too, which would also hinge on Tae-woong's noona. Hm, is he the only one with real friends?
javabeans: They'd totally invent a noona special if Uhm Jung-hwa agreed. Heck, I'm pretty sure they'd invent noonas.
girlfriday: HA. Where do I sign up for fake noona duty?
javabeans: Dude, Seung-gi's list was full before I finished the sentence.
girlfriday: Not afraid to fight dirty.
Via Mk.co.kr
RELATED POSTS
Tags: 1N2D, conversation post, Lee Seo-jin, Lee Seon-kyun, Uhm Tae-woong