Tree With Deep Roots: Episode 19
Wow. Just wow. This show really is a feast for the senses. Though it always manages to be an intellectual and emotional tour de force, it's episodes like this that take your heart out, grind it up into little pieces, and return it to you by leaving it in a palanquin outside your door. Don't know what I'm talking about? Read on, and keep some tissues handy. This episode will take you for one wild ride.

EPISODE 19 RECAP
Even though Mu-hyul is engaged in a standoff with the assassin Gae Pa-yi, Sejong decides to sit down and have a good old fashioned debate with his newly-revealed nemesis, Jung Ki-joon. So-yi is forced to stand on the sidelines as the two men verbally duke it out, and once again we're watching a conversation that's as thrilling as a battle sequence just because of the stakes involved. Seriously, when has dialogue been so engaging?
It all boils down to the alphabet, of course. Sejong's first argument is that his alphabet is really in keeping with Jung Do-jun's ideals, in opening communication between people and politicians so that politicians can be held accountable for their actions directly. Jung Ki-joon gives him that point – he's not opposed to the alphabet solely because of the belief that they're against Neo-Confucianism. Sejong asks him why he's against them then… is it because they defy the long-established Chinese system of writing?
Jung Ki-joon once again says no, that this opposition isn't because he has some great love of China. So what is it? Sejong asks if his opposition is because of the harm it would do to the vested interests of the aristocrats. This raises Jung Ki-joon's hackles. It's not vested interests or something so selfish as Sejong is implying – but order, harmony, and balance. Unlike their Goryeo counterparts, Jung Ki-joon explains, Joseon's nobility have to work for their positions.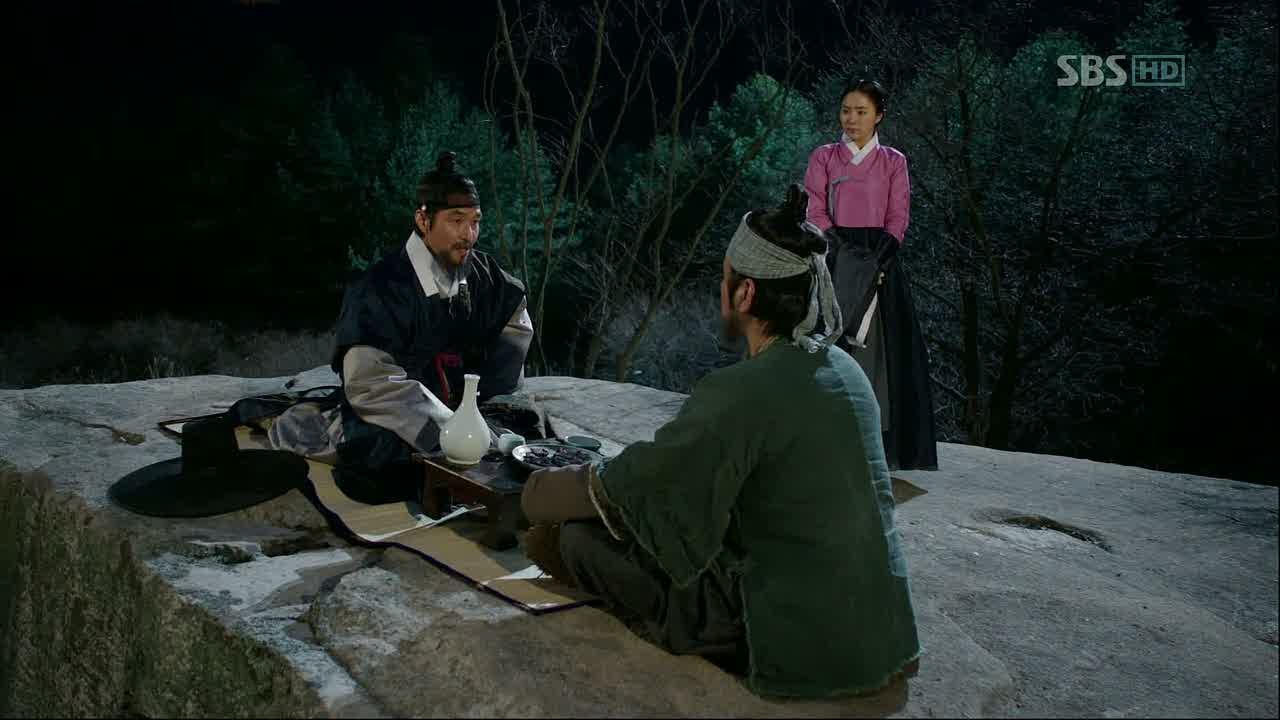 Next argument on Jung Ki-joon's list: people can't be trusted. Masses are frightening enough, but masses with power are something else entirely. Just as the Roman Empire used Christianity to govern in the West, just like Goryeo was ruled by Buddhism, even Confucianism… they're all interchangeable methods used to govern the ambitions of the masses. Sejong, to Jung Ki-joon anyway, is opening a door to hell by empowering the people.
Once again we hear about the joy of writing, and once again Hidden Root is there to stamp out that joy – Jung Ki-joon claims that if the people gain wisdom from reading and writing, then they'll use that wisdom for politics (cue gasp). And that they might even want to elect a ruler of their own (heaven forbid!). In the words of Jung Ki-joon, how can there be such an irresponsible system? Just as we had literary relevancy in last week's episodes, this time we're faced with political relevancy. History isn't just for the textbooks.
Sejong doesn't see how giving the people power is a problem, but Jung Ki-joon seems to know the reason why Sejong thinks that way. He proclaims that the King's real intention isn't to share authority with the people, but to share responsibility.
During the course of this conversation, Chae-yoon and Cho-tak have been busy exploring the tunnel system Hidden Root has created beneath the slave village of Ban Chon. They find themselves exiting one of the tunnels right into the Leader's backyard. When they hear from a nearby slave (the Sound Man) that Ga Ri-on was called away with Sejong, Chae-yoon springs into action (literally) while Cho-tak goes to retrieve the royal guards. Hurry, Chae-yoon! Or don't, because that debate could go on a while.
Sejong seemed to have had the upper hand for most of this powerhouse debate, but the tides have now turned. Jung Ki-joon has found his weak spot, and he's unrelenting as he accuses Sejong of creating this alphabet because he's tired of the people (we have a flashback where Sejong tells So-yi that the people are always badgering him, so this isn't a non-truth), and that Sejong thinks that if he gives the people his alphabet the responsibility of saving people no longer lies solely on him because they will have tools to save themselves. Jung Ki-joon claims that he isn't a monarch who loves the citizens, as everyone likes to say – instead he's the guy that gives a girl he loves a sword and tells her to protect herself on her walk home instead of escorting her himself, which would be far too troublesome. Jung Ki-joon wonders if that's love. I don't know, but I really love the fact that he made an analogy like that.
The open-to-debate, amicable King is gone, and in his place Sejong shows his humanity as he grows angry at this kind of personal jabbing. Jung Ki-joon's argument is gaining validity by the second, and I'm left amazed. I didn't think Jung Ki-joon could have a tide-turning argument that wasn't "oh it's against Neo-Confucianism" or "oh it's going to cause absolute chaos". He hits the King right where it hurts – his sincerity.
But because Mu-hyul is otherwise occupied, Pyung crashes the debate with inhuman speed and all of a sudden he's holding a sword to Sejong's neck. Oh. My. Goodness. With no one there to defend him and his enemy grinning in front of him, Sejong is just a sitting duck.
The good King takes this all in stride, and doesn't seem as bothered by the threat to his life as he is by the fact that he's not done with this debate. Jung Ki-joon is almost giddy as he tells Sejong that there's nothing to be done. This is what happens when the balance of power is skewed. Since he believes these are Sejong's last moments, he informs him that he plans to kill everyone who knows the alphabet and burn everything related to it. With that, he bids the King farewell and gives the silent order for Pyung to deliver the killing blow…
…But then Chae-yoon arrives, holding a sword to Jung Ki-joon's neck. He finds out that the man he once staked everything to save from prison is Jung Ki-joon, which he registers like the champion that he is. Even though Jung Ki-joon knows that he will be killed by Chae-yoon if Pyung kills the King, he purposefully goads Chae-yoon into striking first so Pyung will be free from his guilt in order to strike Sejong down… something that Pyung is refusing to do, because Jung Ki-joon's safety is his first priority. Everyone is at a stalemate, and just as it looks like Chae-yoon is about to give into his anger and kill Jung Ki-joon, So-yi stops him.
I kind of love how So-yi turns into The Mom/The Voice of Reason for all the boys involved. It's her words alone that allow both Pyung and Chae-yoon to discard their swords at the same time – something that makes Jung Ki-joon very, very unhappy. Once they're taken care of, our heroine turns to Mu-hyul and Gae Pa-yi and orders them to do the same. Eventually, everyone disarms themselves and the standoff is (temporarily, at least) resolved. Everyone gets to go home for now (with parting promises of future alphabet-promulgation-blocking by Jung Ki-joon). How awesome is she?
Jung Ki-joon's biting words about Sejong's motives in creating the alphabet are weighing heavily on him, but he didn't make it out of the debate without giving his nemesis food for thought either. When Han Ga goes to him with the message that Prince Gwangpyeong has gone to Gaeseong (located in modern-day North Korea, it was once the capital of the Goryeo Dynasty before it was moved to Hanyang when Joseon was established) on a secret printing mission and asks if he wants to send Pyung to take care of it, Jung Ki-joon seems distant even as he agrees. He's caught up on something Sejong said in the debate.
If the ideal of Buddhism is for everyone to be Buddha, then the ideal of Neo-Confucianism is for everyone to be junzi (a term that was changed by Confucius from having a political connotation to a moral one, literally meaning someone worthy of high station by virtue of their moral achievement). So if the people were to learn writing, then would they better be able to achieve Neo-Confucian order? This is extra interesting, because Jung Ki-joon actually seems to be rethinking his stance.
With soldiers unable to enter Ban Chon without the explicit sanction of the King, Chae-yoon and Mu-hyul go to Sejong to ask for it. Like his nemesis Jung Ki-joon, Sejong seems preoccupied with his thoughts and gives only a half-hearted agreement. But this is all the agreement Chae-yoon and Mu-hyul need, and with that order Ban Chon devolves into pure chaos as royal troops infiltrate and tear everything apart, looking for any sign of Hidden Root.
Though the word reaches every corner of the palace, no one seems explicitly against the raid. Ban Chon may be off limits, but not when they're harboring a secret society bent on killing the King.
Word reaches the Prime Minister, who wonders why Jo Mal-saeng is never around during times like these. They say something about his illness having relapsed (I know, news to me too), and that he didn't report to the palace for work today.
But we find Jo Mal-saeng looking no worse for the wear as he enters his home, going on high alert the moment he hears a strange sound. He knocks down the folding screen in his room to find none other than Lee Bang-ji, who looks like he's already got one foot in the next world. He collapses immediately, and Jo Mal-saeng attempts to revive him (shaking a man who's near-death and injured by the shoulders is a surefire method).
The prison is experiencing overflow thanks to the Ban Chon raid, and Chae-yoon has called So-yi to the prison. She's unhappy to meet there and tells him as much (presumably because of her previous bad experience in prison as a child), but he's brought her there for a reason. The little girl who'd befriended Gae Pa-yi, YEON-DOO, just ends up crying if he asks her any questions. He wants So-yi to ask instead, because she'll be less frightening.
So-yi agrees, but only on the condition that they release Yeon-doo from prison. She'll be too scared to answer otherwise. Chae-yoon's a big softie at heart, and he allows it – but not before asking So-yi how she's doing. She replies that she's apprehensive, because Sejong isn't giving orders as fast as he should considering that Prince Gwangpyeong is fighting on his own right now.
Speaking of Gwangpyeong, we find him in Gaeseong discussing printing blocks. The man he's meeting with has already made a copy of a book using printing blocks made with Hangul. And we finally get a mention of his brother, Prince Suyang (who's apparently helping on the process, and who later becomes King Sejo, the seventh king of Joseon).
But all is not well, as Pyung arrives with some Hidden Root lackeys. They assassinate a man coming out of the office with the printing blocks, and Pyung swiftly kills the man Gwangpyeong was meeting with before turning his attention to the Prince. Uh oh. Oh no.
So-yi has taken Yeon-doo from the prison, and shows nothing but softness and concern for the little girl who probably reminds her of herself as a child. She asks about Gae Pa-yi, and Yeon-doo replies that he's like a father to her. So-yi wipes her tears away with an embroidered cloth, and then offers to give it to Yeon-doo. It's very sweet.
Yeon-doo finally offers up a key piece of information – that she and Gae Pa-yi used to play by a mountain, where there was a crumbling temple nearby.
Unlike the weirdly forced comedy of the Ban Chon interrogation scenes earlier, the very image of Chae-yoon being led by Yeon-doo into the mountains while he tries to be amicable and friendly is funny. It's adorable that he's trying to impress her, and doubly adorable that she's having none of it. He even offers her a piggyback ride, but he feels the cold hard stab of rejection as she simply eyes him and keeps walking. Aww.
But Hidden Root isn't without its own Joseon alarm system, which happens to be bells tied to a string that Yeon-doo unknowingly steps on. Pyung offers to take care of Chae-yoon, but Shim Jong-soo advises against it and only wants them to move the hostage (Prince Gwangpyeong). Thus, when Chae-yoon finally arrives at their hiding place, they're already long gone with only a shoe left behind.
So-yi expresses her concerns to Chae-yoon – namely that Jung Ki-joon caught onto Sejong's original intention. His decision to create letters didn't come about from his love of the citizenry. The King is expected to act like a junzi (a paradigm of morality), and he would act on that moralism again and again. But the citizens wouldn't accept him, and it developed into fear on Sejong's part. It's because of that fear that he developed the will to refuse to yield, but Jung Ki-joon has now unnerved that. She fears that Sejong must feel as though everything has collapsed.
Chae-yoon takes her by the hand to comfort her. Isn't this the King she trusts the most, he asks? He'll make the right decision. Awww. Look at you being awesome, Chae-yoon.
If Jung Ki-joon was ever rethinking his opposition to the letters based on the fact that they could help propagate Neo-Confucianism, it all ends when Pyung delivers the book that Gwangpyeong was attempting to publish. Instead of a book in Hangul teaching the tenants of Neo-Confucianism, it's the story of Buddha instead. The following scenes with Sejong and Jung Ki-joon are intercut brilliantly, so that it seems like they're having a conversation with each other when in fact they're both thinking the same thing at the same time.
King Sejong: "Jung Ki-joon's words are right. More than anything else, I put these letters on top. I did not want to think it was because of my affinity for something I created. Saying it was for the citizenry. I wanted to firmly believe in it. Hence, with my desire to have the people master them quickly, not the difficult doctrine of Neo-Confucianism, but the easy and interesting. The story of Buddha is what I had translated."
Oh dear. This could not sit any worse with Jung Ki-joon. Sejong's intentions were noble – he wanted to teach the citizens the alphabet first by giving them something more interesting to read – but Jung Ki-joon takes it as an insult and a direct affront, believing that Sejong lied to him about using the letters for Neo-Confucian ideals. Thus, all bets are off. Jung Ki-joon may have wavered, but he's not wavering anymore.
He goes to the shed that Gwangpyeong is being held in, and the moment he offers the Prince a formal bow my heart sinks. He pays the Prince respect he didn't bother to pay to his father, calling him by his formal title and addressing him properly. But Sejong has overstepped his bounds, and he has to pay for it. How else to get to him than through his beloved son?
Jung Ki-joon: "As a Confucian scholar of Joseon, even if I am to lay in the heinous seat in history, I don't care. The King, just as he put everything down for the letters, I, for everything, shall block these letters. I will take that as my mandate from heaven. Hence, please forgive me for my misdoing. Furthermore I also, upon completion of my mandate, shall go to you, Prince Highness."
Oh crap. Jung Ki-joon bows, again, and we know it's over. Tears slip from Prince Gwangpyeong's eyes as he musters up the courage to tell Jung Ki-joon that he'll never succeed – because that Haerye he wants to burn so badly? Even Gwangpyeong has never seen it.
Our Prince smiles at his last triumph before he's left alone with Pyung, the silent reaper.
Later that night, Park-po brings Cho-tak and Chae-yoon outside the palace gates to show them a suspicious palanquin that's been there since his night shift. Oh no. Oh no. It's the Prince, isn't it?
Chae-yoon reads the note attached to the exterior, and with growing horror, he kneels down to pull back the curtain. He sees the feet of the dead body of Prince Gwangpyeong, missing one shoe that Chae-yoon had found earlier when he went to the Hidden Root hideout in the mountain. He's lost in shock, and Cho-tak and Park-po run to the palace to sound the alarm.
Sejong is the last to know, and he begins a slow and horrifyingly unbearable walk to the palanquin. He looks at the outside of it with a mix of terror and apprehension, and folds back the curtain to see his dead son inside. His smile is disconcerting as he reaches forward to touch Gwangpyeong's face. Oh god.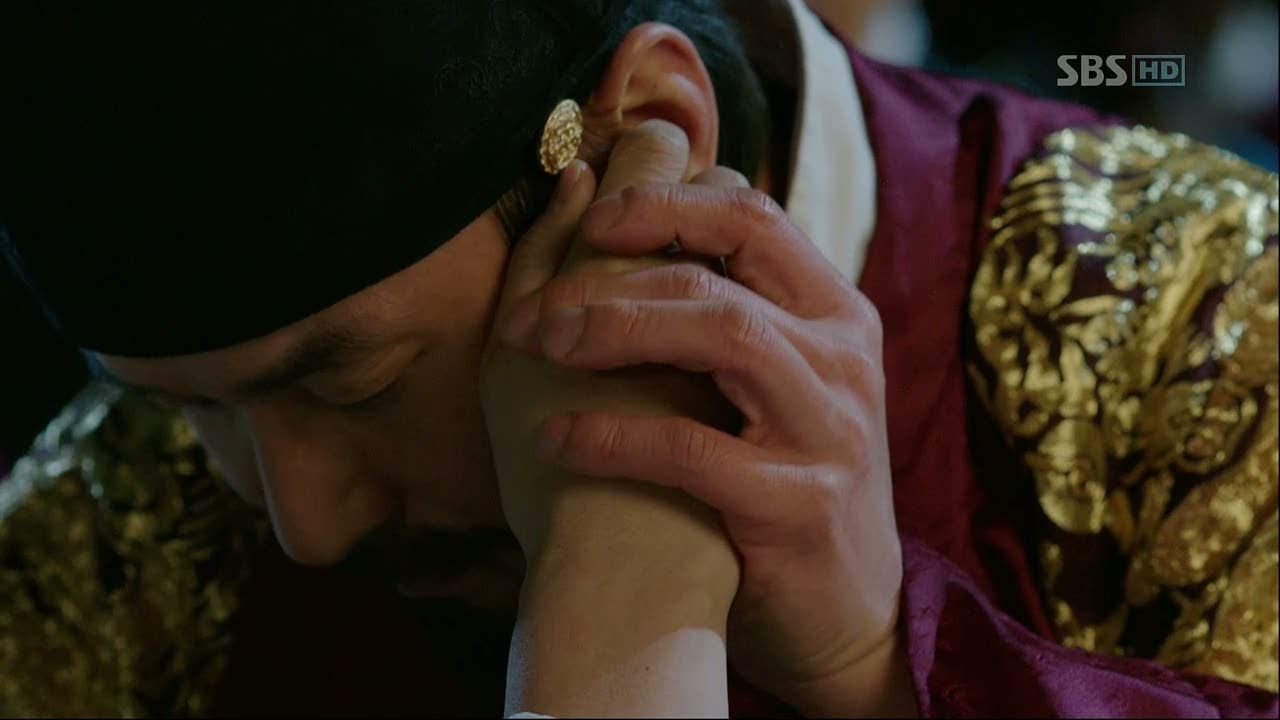 Gwangpyeong is taken from the palanquin, and his father holds him in his lap… and then heartbreakingly takes his hand and holds it to his own face, as though he's trying to feel the touch of his son's hand again. He repeats this again and again, as if he's in denial of his son's death, while everyone witnessing collapses in grief. I'm there with them, I can't even process this, it's too horrible.
The King has become lost in his grief, and is like a madman. When So-yi attempts to comfort him he turns on her in the blink of an eye, with an expression that can only be described as terrifying.
Sejong begins to rant, saying that everything was wrong in the first place. He started everything with an ulterior motive. He never loved his people, he loathed them. He only loved the letters that he made. By prioritizing his letters above everything, his son is now dead. He devolves further into his grief-induced insanity, laughing hysterically while crying. Yikes. He's really lost it.
Everyone can hear what's going on outside, and Chae-yoon doesn't ask for permission before he enters. He goes straight to So-yi to drag her out, but she forcefully pulls her hand from his. What does he think he's doing in front of His Majesty?
Chae-yoon replies, "His Majesty? Who is His Majesty?" He looks over to the King, who's lost himself. "The one bullshitting over there?" Sejong's laughter immediately stops, and he finally registers Chae-yoon's presence. Chae-yoon continues relentlessly, "Is that man belittling himself and disgracing his dead son truly a King?" Ohhhh man. Chae-yoon is there to save the King, like he'd done once before as a child, albeit unwittingly. It's just too good.
Chae-yoon is speaking to So-yi, but it's clear that his words are meant for Sejong to hear. He reminds her (and thus Sejong) about how proud Prince Gwangpyeong was to be Sejong's son, but that they were all deceived by the King, who can't figure out whether his feelings are love or hate. What can they do now, when they didn't know what kind of person Sejong was? Gwangpyeong even sacrificed his life for that kind of person.
Sejong, becoming consumed with misguided rage, grabs Mu-hyul's sword and lifts it as if he's about to strike and kill Chae-yoon… who doesn't even flinch. Chae-yoon looks Sejong dead in the eye and begins to beat his own chest with his fist, right over his heart.
Chae-yoon: "Why? Does it hurt here? You, Your Majesty, have no right. Prince Gwangpyeong once said that because he believed in you so much, that he could die happily without a slightest doubt. Although you may not shed one tear, Prince Gwangpyeong, he… he said that it didn't bother him. Your Majesty, you have no right to shed even one tear!"
This finally hits home for Sejong, and we see reason filter back into his gaze. He drops the sword and collapses to the ground, nearly rending his garments in grief. Instead, he begins to let out horrifying, gut-wrenching screams.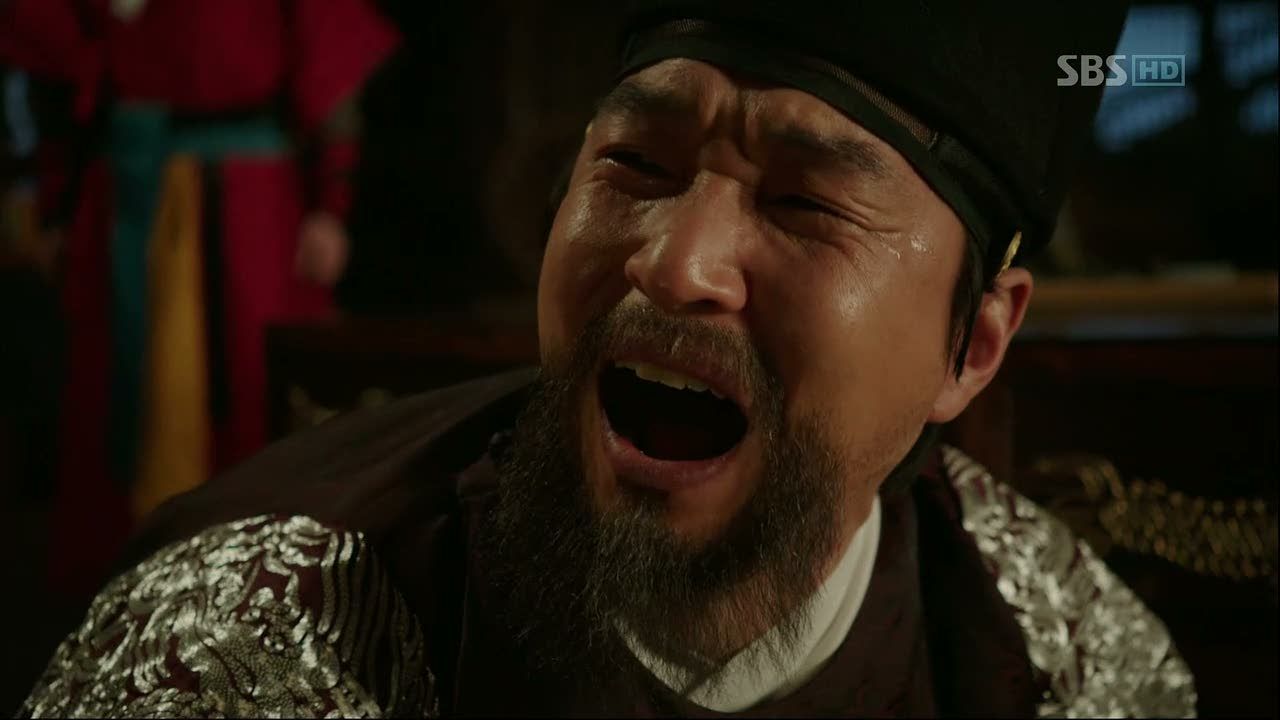 COMMENTS
I can't even… I'm sitting here just blown away by this ending scene. This drama has been filled to the brim with powerhouse performances, and I've been blown away by the acting before, but this scene really frightened me with its raw emotions and sheer intensity. Everyone is playing a motive, and though Chae-yoon's words were harsh, it was what Sejong needed to get out of his self-blaming hysteria. Chae-yoon unknowingly saved Sejong's soul when he was a child, and he's doing it once again. Once again, Chae-yoon proves to truly be Sejong's other half. Where So-yi could not console him, Chae-yoon's brilliant mind thought of a way to help him even if it meant hurting him as well.
And even with so many amazingly talented actors on screen, there's such a harmony. No one steals scenes, because everyone contributes to the whole. Sejong's emotions were real and raw, and Chae-yoon's reaction was organic and just as raw. Amazing dialogue, like what we saw in the opening scene, is truly the bread and butter of this show. It's not your typical sageuk political scheming, and the words are never empty. We care about these characters, and what they say resonates with us. Not to mention how the things they say resonate to the modern times we live in.
The initial debate between Sejong and Jung Ki-joon filled up the first twenty minutes of this episode. Yet, every piece of the conversation was riveting. Finally our two enemies meet and talk to one another, and I find it amazing that Jung Ki-joon came up with an argument to rattle Sejong – and that Sejong came up with the Neo-Confucianism argument to rattle Jung Ki-joon. I wish I could just go on forever about their differing ideals and the dynamics that have now changed because of their debate.
Thus, this is a perfect time to thank all of you. I'm always amazed at the wonderful level of intellectual discussion that goes on in the comments section. I've received such a warm welcome and thoroughly enjoy and appreciate the fact that things I can't cover are covered so thoughtfully by everyone here. Who knew history could be so enjoyable?

RELATED POSTS
Tags: featured, Han Seok-kyu, Jang Hyuk, Shin Se-kyung, Tree With Deep Roots