Interview with the Vampire (Idols)
Things are looking good for Vampire Idol, which is one of the first wave of new cable shows on the newly launched general-programming cable channels (which include JTBC, MBN, and Channel A).
The daily sitcom has had positive buzz from the start; there was enthusiasm mixed with critique about the awkwardness of the weird concept, but now that the show is settling into its groove I think those reactions are fading out. Ratings are doing pretty well, and last Thursday's rerun episode, for instance, was the Number 1 ranked show among all the general-programming channels. Funny that the rerun did better than the new episode that aired afterward, but perhaps there's less competition earlier in the evening than with all the prime-time offerings.
They show has been pretty amusing thus far; I've been tuning in periodically since we covered Episodes 1-3 and find it an easy, funny watch. The premise is utterly zany (a Hallyu-loving, 200-year-old vampire prince crash-lands on Earth with his bodyguards, and they're taken in as an idol trainee group), but once you get past the setup, it's pretty easy to follow.
The show produces an interesting mix of the mundane and the crazy. On one hand, you've got regular ol' relationships between the characters (you have romantic interest flowing from the vampires to the girl group, and vice versa — only in different configurations, making for some amusing mixups). On the other, you've got the outlandish hijinks you'd expect of an aliens-in-disguise story.
What I find endearing is the relationships between the vampidols; the more they get used to Earth, the more they loosen up with each other and act goofy and cute, rather than being the uptight and repressed bodyguards of the initial episodes. They still have a tendency toward formality, but it's adorable to see them squeeing over very normal Earth things, like cell phones and sel-cas.
It doesn't hurt, of course, that the boys are pretty on the eyes, with the three sidekicks (considered ugly on their planet) being model-beautiful. The prince is played by 30-year-old Lee Jung, but the others are closer in age: There's Lee Soo-hyuk (23), Hong Jong-hyun (22), and Kim Woo-bin (22). (Kim Woo-bin apparently changed to this stage name from his real name, Kim Hyun-joong, shortly after the show launched, to avoid confusion with that other Kim Hyun-joong.)

Lee Jung
In an interview conducted on the sitcom's set a few weeks ago, the cast talked about taking on their roles and what the process has been like. Lee Soo-hyuk said, "The topic in itself was cute. Vampires coming to Earth and getting used to life here was a fun idea. It felt like a fresh venture, though I'm still getting used to it, haha. I thought that if done well, it could be a really entertaining topic."
The vampires start out wearing the goth-leather fashions of their vampire planet (made "one stitch, one stitch at a time" by a hot designer on their planet, ha), and keep those getups for a while before trading them in for human clothing. The model boys are no stranger to sporting some wild 'n crazy avant-garde fashions on the runway, but when asked if they're disappointed to leave behind the vampire threads, they replied, "Not at all." What, you mean wearing full-body leather isn't comfortable?
It's particularly funny to see the normally cool Lee Soo-hyuk (who was so imposing in Tree With Deep Roots) in a role that is so — for lack of a better descriptor — cute. Cuddly, almost. Defanged — you know, despite the whole vampire thing. He said, "I wanted to make him cute and decided to take a comfortable approach, so it looks like things are going according to plan."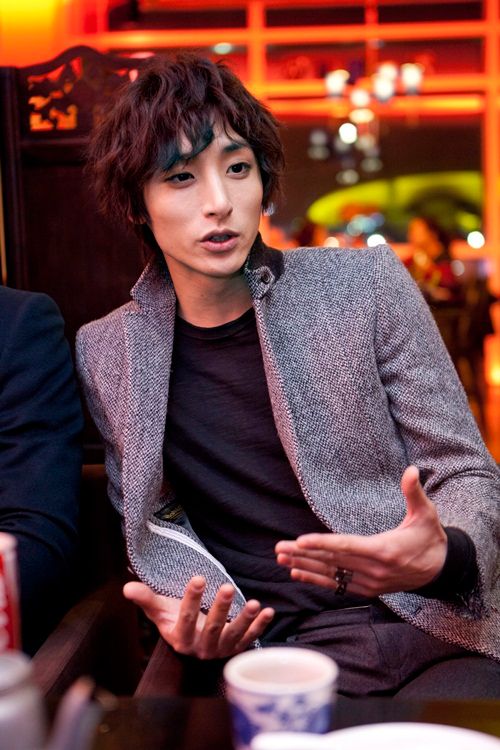 Lee Soo-hyuk
Kim Woo-bin (the former Kim Hyun-joong) first got people's notice in the short drama White Christmas (which also starred his vampy co-stars Lee Soo-hyuk and Hong Jong-hyun), and has gone completely in the opposite direction to play this character, which shows a sillier, lighter side. He said, "I've always liked sitcoms, and as an actor I wanted to try it once. There were concerns that it would ruin my image, but I have another side to me too. I'm having fun filming the show."
Kim's character is probably the most… normal of the vampires, although that may not be saying much. You've got the robo-nerd vamp, the warrior vamp, and then him, in the middle. Meanwhile the prince whom they serve is childish and jokey, and his royal mien provides comic clashes with his appearance and attitude. Here on Earth he's no longer the ideal of male beauty, and that realization causes him some grief. Especially when his ugly bodyguards with their unseemingly long limbs and pale faces are the ones getting all the attention.
That swap also gives us some hilarious moments when the bodyguards, who've always been mocked for being unattractive, are suddenly hot stuff with the ladies. They possess none of that cockiness of Earthbound boys who might look like them, so their shyness and boyish glee can be downright adorable.
Hong Jong-hyun said, "The reaction around me is mixed. There are people who say that the show is fun and fresh, but the other half says it's awkward. I think it'll be more entertaining as we all settle into things."

Hong Jong-hyun
Hong plays the brainy vamp, with an IQ of 790. I love that rather than making him competent and cool, in the way of K-drama heroes who know everything, this translates into socially awkward geek. Asked a simple question, he'll spout of a litany of facts like a computer, and his pride in his smarts sometimes elicits a look of childlike satisfaction that is too cute.
The nerdiness also means he's got the toughest dialogue, since he's responsible for a huge volume of words. He said, "They're not words you use in normal conversation, so the pronunciation, content, and information is really hard to say. It's stressful."
The show also occasionally requires the vamps to hang upside-down like bats (often outside windows, creepily peering inside), which also means dealing with the whole blood-rushing-to-your-head dizziness. How funny that Vampire Idol should mark the first wire action scenes for most of the boys.

Kim Woo-bin
Veteran comedian Shin Dong-yup plays an ajusshi vampire on the show, and it's through him that the vampidols first come to the agency (he works as a band manager). Hong said, "Just watching Dong-yup hyung makes me laugh. He ad-libs lines differently than from rehearsal, and watching him do it in front of your eyes is like watching a gag program."
Lee Soo-hyuk added, "Aside from the ad-libbing aspect, sitcoms are different from conventional dramas. It has to do with drawing out a scene well in the moment. I've still got a long way to go to developing my sunbaes' concentration and comic sense."
Apparently the filming atmosphere is lively and full of laughs, enough so that the guys often find it difficult to hold back their laughs. Asked whether they're really laughing or whether they're acting, they answered that their sunbaes often crack them up so much they can't stop from laughing. Lee Soo-hyuk: "Everyone can see that we're not good at acting [the laughs]." Hong Jong-hyun: "Woo-bin laughs so obviously that everyone thinks he's acting." Kim Woo-bin: "Laugh-acting is hard."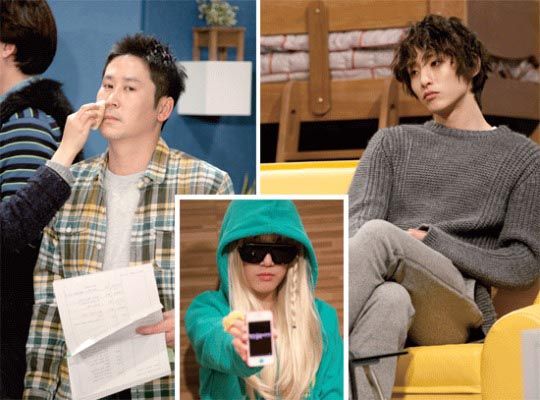 In fact, they laughed during the interview, "Right before doing this interview we came from shooting about 100 NGs."
The four vamp boys have, as a result of all their shoots, become friends super-quickly. Lee Jung is a lot older than the others, but they've gotten used to ribbing their hyung. They'll have more time to bond in the future, too, because there's still a long way to go — 30 episodes have aired out of a planned 120.
That also means they'll get a lot of chances to experiment with form and genre in future episodes. Hong Jong-hyun said, "I'd like to show a lot of different sides in the show, without being restricted to genre." Kim Woo-bin added, "I hope that in six months, the entire Vampire Idol family will have climbed one step up [in our careers] together."
Lee Soo-hyuk said, "The reason we all chose to do Vampire Idol was to bring a comfortable feeling to our images and to give laughs." Lee Jung, on the other hand, said, "Being in my 30s, I'm right in the middle of the Vampire Idol team, age-wise. From the middle, I want to portray my role well, and I'll do whatever I can to help my dongsengs through this show."
Vampire Idol airs daily on MBN.
RELATED POSTS
Tags: cable programs, drama ratings, Hong Jong-hyun, Kim Hyun-joong (2), Kim Woo-bin, Lee Jung, Lee Soo-hyuk, Vampire Idol