An introduction to Standby's TV broadcast family
We're a week out from the premiere of MBC's daily sitcom Standby, which began shooting this past week. This also gives us a chance to take a look at the characters who will be populating this world, beginning with Ryu Jin as the series lead (though in a sitcom, it's more of an ensemble effort than a one-top situation).
In any case, he plays Ryu Jin-haeng, who is determined to become a top news anchor despite — as the stills show us — not being very good at it. Aw. Poor bumbling reporter. In the studio scene, he's taken down by a case of wanting it too badly, because Jin-haeng stays up all night practicing for his on-camera performance, oversleeps, and screws up.
In the other scene, he's out in the field and accidentally hits his subject in the face with his microphone. Eep. I'm going to take a leap and say that bloodying your interview subject on TV is probably not going to do much to advance your career.

Then, in the next set of stills, Jin-haeng's younger brother Ryu Ki-woo (Lee Ki-woo) gets doused with water by Jung So-min and winds up wearing an apron in a coffee shop. Is she just a clumsy bumpkin, or a wily fox? I know which one I'd be. Mrowr. *Thinks fondly of his Ramyun Shop post-army ab scene.*

Jung So-min (the character shares her name) may look like a city girl, but she's a country girl through and through; she was raised in a small village and recently came to Seoul to make it on her own. The lucky girl gets to be caught in a love triangle between Ki-woo and Shi-wan.

"Perfect man" and perfectionist Ha Suk-jin is Jin-haeng's opposite in every way, from his successful on-camera career to the way he commands the respect and favor of everybody at their station, TV11. One day, he starts to see his co-worker Soo-hyun in a different light, when all along he'd only thought of her as a colleague, starting off his own romantic tribulations…

That's Kim Soo-hyun, a skilled variety PD who's got a crush on sunbae Jin-haeng. Heh. Well that oughtta put Suk-jin's knickers in a twist. She may not be the most perceptive and she's not the flirty, coy type (thank you, drama), but she does tend to get shy in front of her crush, despite being so proficient at her job.

Im Shi-wan again plays younger than his age; he's cast as an uljjang high school student, the good-looking boy next door. He's a year older than Jung So-min in real life, but it seems likely she'll be playing the noona here.

I'm betting Park Joon-geum will steal her fair share of scenes; she's TV11's big star announcer with a personality likened to Meryl Streep's in The Devil Wears Prada. It's a personality that's been done to death, but Park's got a killer icy glare.

Then there's Kim Yeon-woo, playing a brown-nosing writer known as the King of Flattery. Ha.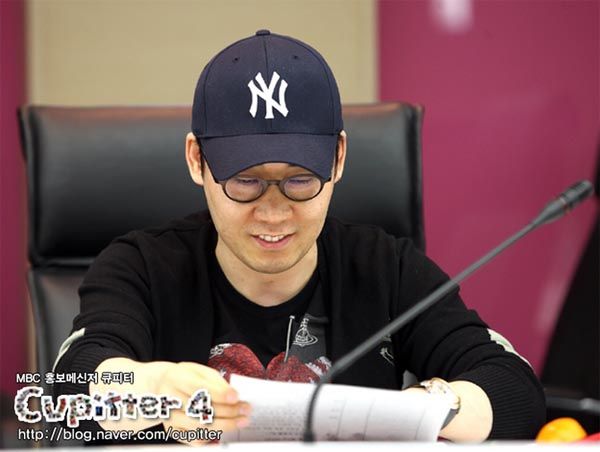 Aw, yay for Go Kyung-pyo, whose career is starting to take off. He caught my eye by being committed and funny in Saturday Night Live Korea, then followed that up by being Yoo Seung-ho's good-natured screenwriter friend in Operation Proposal. He plays little bro to variety PD Soo-hyun who's also known as Idiot 1 out of the Idiot Trio. Haha.

Simon D plays Idiot 2, an aspiring rapper who's always working at one part-time job or another.

Described as the uljjang of her high school, you'd suppose Jewelry's Ye-won would be Shi-wan's counterpart, since they're the two school hotties. But she's also Idiot 3, so I expect she'll be hanging around with Kyung-pyo and Simon D most of the time.

And there you have it! Standby premieres on April 2.
Via Star News
RELATED POSTS
Tags: Ha Suk-jin, Im Shi-wan, Jung So-min, Lee Ki-woo, Ryu Jin, Standby