Strong Heart picks Lee Dong-wook as new MC
girlfriday: Lee Dong-wook is going to be the new Strong Heart MC? Really?
javabeans: Him?
girlfriday: But… is he even funny?
javabeans: He's totally funny… in roles. I'm not sure he's funny unscripted, and hosting stuff. Has he hosted stuff?
girlfriday: No, it's his first MC gig, ever. I did hear stories about him being the unofficial MC in the army when his unit would goof off.
javabeans: Does that count? That's sort of a shallow pool to choose from.
girlfriday: Yeah it's like being the star of your third grade play and putting that on your resume.
javabeans: Hey! I rocked Broccoli. No matter what Creamed Corn says. That bitch.
girlfriday: She was just jealous.
javabeans: Where's MY talk show?
girlfriday: On the upside, Strong Heart has so many guests that all you really need to do as MC is smooth over the transitions, and maybe add a few funny asides here and there.
javabeans: That's true. You definitely need an MC, but from the handful of episodes I've seen, it doesn't seem like they command most of the attention anyway. They're wheel-greasers, not the life of the party.
girlfriday: It was a different story when Ho-dong and Seung-gi were an MC pair, because then they really WERE the party, and I tuned in to watch their interaction more than the guests. The guests were just a springboard for them to make jokes and be snarky and bromancey. But sadly, that's no more.
javabeans: I wonder why they didn't add a second MC, because no matter who you've got, it just seems like a better idea to have a buddy to riff with.
girlfriday: I think they should give Lee Dong-wook a co-MC. With Seung-gi, it would've been too much Ho-dong-shoe-filling pressure, but Lee Dong-wook gets a clean slate, so giving him a buddy would be a good idea.
javabeans: Right? Give them a chance to goof off, make silly jokes, have fun rapport. Rapport is way funnier than jokes anyway, in this kind of setting.
girlfriday: Totally. They should get one of his army buddies to co-host. He's besties with Boom, right?
javabeans: And Kim Jae-won too, along a bunch of other entertainers who all went at the same time. Do you think they'll add a co-host? They still have time, I think. Lee Dong-wook is supposed to begin work in late March, and his first episode is scheduled to air April 10.
girlfriday: Well Boom's already on the show, so that'd be a natural pick. They could go with a gagman or more experienced host to try and replicate the Ho-dong/Seung-gi pair.
javabeans: I thought Lee Dong-wook would just be doing serious acting roles, so I'm surprised that he's going for variety. He always struck me as the kind of actor who wanted to go into darker, weightier fare, and surfaced occasionally in a rom-com to pay the bills.
girlfriday: Maybe the army changed him.
javabeans: This should be interesting. Maybe a little awkward.
girlfriday: Maybe a LOT awkward.
javabeans: I'm holding out hope he'll deliver, since I know he does have pretty great comic timing. When he's acting. It could work.
girlfriday: If not, he's still got his abs to fall back on. Metaphorically. Literally, he can only fall forward on them.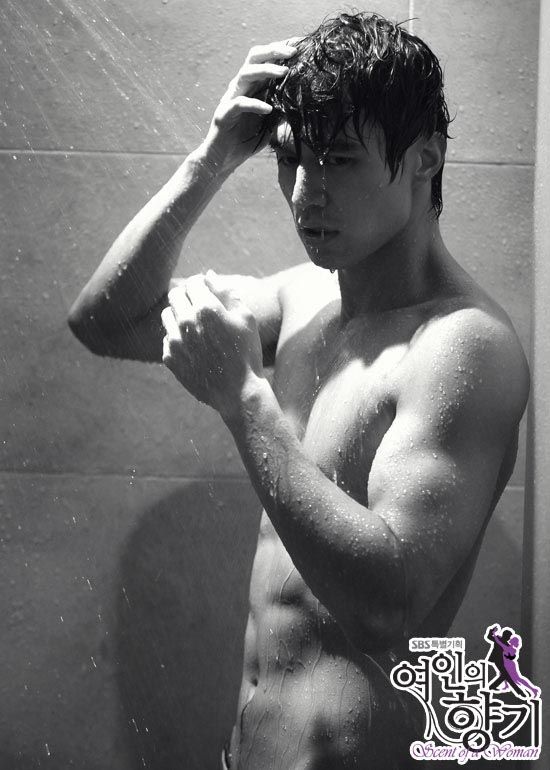 Via 10 Asia
RELATED POSTS
Tags: conversation post, Lee Dong-wook