Kang Ji-hwan goes undercover for Detective Cha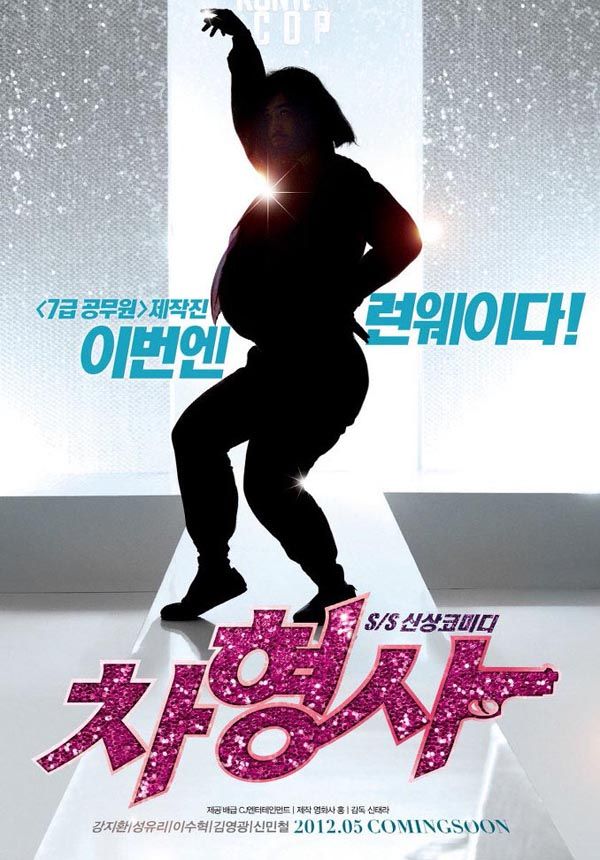 Bwahahaha. Kang Ji-hwan — yep, it's really him — strikes a sexy(ish) pose for his new movie, Detective Cha, which is the wacky comedy co-starring Sung Yuri that may be best described as Miss Congeniality meets Zoolander.
Kang Ji-hwan plays Detective Cha, a superheavyweight cop who's got more tenacity than skill, who gets the chance of a lifetime to take on an undercover case. Thus he undergoes "a tear-inducing makeover" to infiltrate the fashion world and walk the runway. Sung Yuri plays a designer in charge of his butterfly transformation, which should be a hoot; they had adorable chemistry together in Hong Gil Dong, which allowed them to stretch their comedy muscles and flirty cutely.
In the poster above, Detective Cha struts his stuff on the runway and shows off his "killer D-line" — you know, the luscious curves of that beer belly. I know it's hard to tell who the actor is because they sacrificed identifiability in favor of that awesome silhouette, but it is undoubtedly Kang Ji-hwan. Here's the closeup:
The movie reunites Kang with his Level 7 Civil Servant director, Shin Tae-ra. I look forward to the reunion because that movie, while not the most sensical in terms of plot logic (there were some cartoonish baddies, some threat of bioterrorism, and lots of comic misunderstandings), was a zippy fun ride. If this movie can be as fast-flying with the action and laughs, I'll be a happy camper. (Figuratively, I mean. Actually camping strikes me as a decidedly unhappy activity. Listen, God gave us plumbing for a reason.)
Plus! Also in the cast list are White Christmas's Lee Soo-hyuk and Kim Young-kwang (also of Vampire Idol and Bachelor's Vegetable Store, respectively), two former models who should be right at home on the runway.
Detective Cha will release in May.
Via No Cut News
RELATED POSTS
Tags: Kang Ji-hwan, Sung Yuri