Gaksital: Episode 22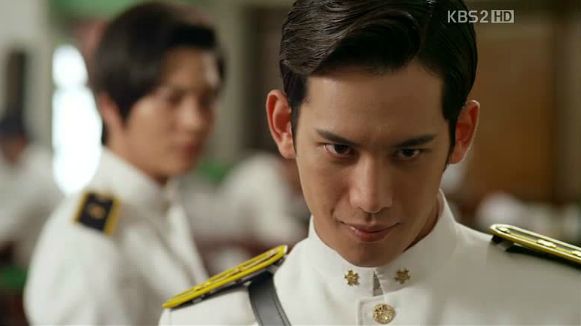 OH. MY. GAKSITAAAAAAAAAAAAL. I'm just hugging my knees and rocking back and forth, telling myself it'll be okay… but I DON'T KNOW IF IT WILL. *whimper* We've entered the final quarter and true to form, this show puts our hearts on the chopping block. Our hero becomes a key player in the larger independence movement, which also means he's risking a helluva lot more. The scale gets bigger, and the net around him just gets tighter, and tighter…
SONG OF THE DAY
Gaksital OST – Bohemian "You In My Arms" [ Download ]
Audio clip: Adobe Flash Player (version 9 or above) is required to play this audio clip. Download the latest version here. You also need to have JavaScript enabled in your browser.

EPISODE 22 RECAP
After killing newspaper honcho Park, Kang-to sneaks back into the station still buttoning his jacket. Kang-to-ya! Superhero Rule Number 1: Complete outfit change before returning to cover job! This guy.
He sneaks in…only to find Shunji sitting in a chair, waiting to catch him in the act. Okay, anyone who had a father who did this knows how much your heart lurches. It's pure terror. Kang-to doesn't do a good job of hiding it either.
He gulps, eking out that this is how he comes in when he's tardy. Shunji walks up, sending Kang-to's heart rate skyward…
And then he asks for an iced coffee. Am I the only one who finds that scarier than the other thing? Because it means he's convinced he was right—that Kang-to is Gaksital.
He watches Kang-to walk out, thinking to himself that he'll catch the slippery bastard once and for all, and "I'll make you take off that mask."
He then asks Kang-to to help him and take over the Gaksital case, because his hands are full with the flag-manseh outburst during the parade, and urges him to use the opportunity to get back his rightful job.
He complies with all of Kang-to's requests, to keep Koiso out of his hair, and even stops Ishida from tailing him. He tells Koiso that making Kang-to think he's safe is what's important now. Aaargh, why is Shunji so smart?
At least Kang-to throws a suspicious look behind his back. Don't trust him! He takes a call from Mok Dan who tells him that a very important guest is eager to meet him at the tailor shop.
He enters the tailor's and Damsari greets him with a smile and leads him into the back. That leaves the tailor totally turned around. His face is like, But… that's… Lee Kang-to… Is it opposite day?
Damsari brings him to the inner room to meet Yang Baek, who smiles up at him. We see that his hand shakes as he writes. Kang-to gets ready to bow to the ground, but the teacher stops him and grabs him in a bear hug instead. Awwww.
He thanks Kang-to for what he's done and then sits down at the table to offer him potatoes, saying that his 80-year old mother commanded that if he ever met Gaksital, he must give him these potatoes.
He peels them with his own shaking hands, and when his assistant offers to do it, he insists that he'll do it himself. Damsari reminds her that Teacher spent the entire journey to Kyungsung anticipating this very thing.
He peels the potato and holds it up to Kang-to, "Say aaaah" just like a mom, and I'm already about to cry. Kang-to takes it gently in his hands and takes a bite, and immediately tears start to pool in his eyes.
Why is this so poignant? It's the simple food, the mother's gesture, Kang-to's loneliness… it's just so damn heart-wrenching.
As he eats, he flashes back to Mom and Hyung, and their happy simple days when Hyung was studying for exams and the boys were stuffing Mom's potatoes in each other's faces in a loving tussle.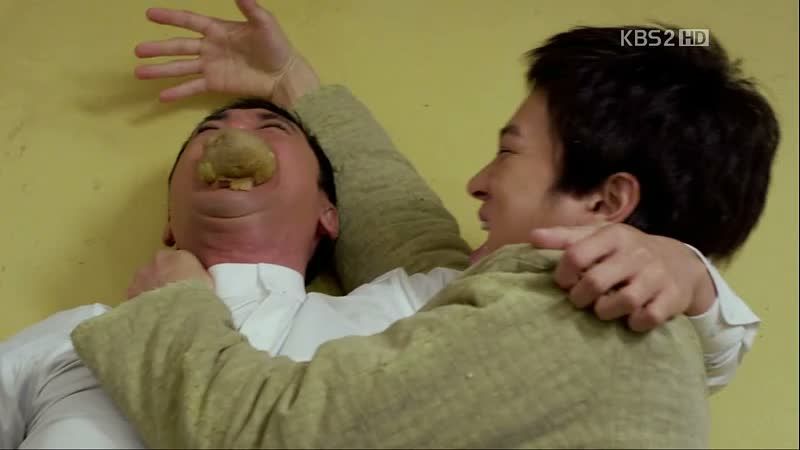 *WAIL* Hyuuuung! We miss you!
The tears come tumbling out as Kang-to eats, and Teacher just watches silently with a peaceful smile on his face. This is officially the most heartbreaking eating scene ever. Kang-to just cries and cries and stuffs his face, suddenly seeming like a little kid again instead of a man who carries the weight of the world.
At the Angel Club, Tamao is on a days-long bender of self-loathing, drinking himself into the ground and ordering around the employees, all because of Tasha's cold slap the other day. He shouts in the waiter's face, "That's right—I am pathetic, and thoughtless! So what?"
The waiter returns, "Are you proud? That you're pathetic and thoughtless? Is anyone NOT scared? No matter how scared we are, we do what we must do!" Aw. That gives Tamao pause, but he's too drunk to fully process.
He goes charging into Tasha's meeting with Comrade Eyeliner and blusters drunkenly about being dissed for her new boyfriend, and acts like a general ass. He gets up in the guy's face, and Comrade knocks him out with lightning fast moves. Hahaha. Poor Tamao. You take a nap until you can sober up and act like a grown-up.
The comrade's main concern is that their message made it to Independence leader Dong-jin, but Tasha informs him that Reporter Song was arrested after the parade.
Kang-to asks Teacher Yang Baek why he risked death to come to Kyungsung, and finds that it's because of Dong-jin. Every effort made by them to contact him has been intercepted by the Japanese, and he says they must find Teacher Dong-jin and unite their efforts for one very important project.
The comrade returns to tell them that Reporter Song has been arrested, and that their message never reached Teacher Dong-jin. Reporter Song, meanwhile, is currently strapped up in the torture room.
Shunji stops the whipping and threatens him with the Box of Nails, only to get Song's feisty comeback, "I was wondering when we'd get there!" Shunji orders him stripped, but then discovers a note tucked into the lining of his clothes. No!
Song hangs his head and Shunji smiles—the note, about grandfather coming to visit and wanting to meet Jin-sshi ajusshi who lives on the east (dong) side of the club—clues him in right away. Grandfather is Yang Baek. East, Jin-sshi = Dong-jin. Damnit.
Kang-to offers to meet Reporter Song and find out how to contact Dong-jin. But they worry that he won't trust enemy police officer Kang-to no matter what he says. Yang Baek produces a piece of paper that reads: "Solidarity."
It's something he handwrites for his comrades when he meets them, and Song will know it. They worry that Teacher's handwriting has gotten shakier lately, but Damsari tells Kang-to to say that it's because of the bullet (it can't be removed, causing nerve damage), which Song will know is the truth.
Problem is, he has to get in to see Song first, but Shunji's not having any of that today, and denies Kang-to access. He tells him to change the direction of his investigation and with no recourse, Kang-to complies.
Shunji watches as Kang-to hightails it to the records room to read something, and then reads the file after him—Dong-jin's criminal record. Damn, Kang-to, you couldn't have found a sneakier way to do that?
Shunji's wheels turn a mile a minute: Yang Baek and Dong-jin, Dong-jin and Gaksital… Is Kang-to really on the same side as Yang Baek? Is Kang-to really Gaksital?
Newspaper honcho's son Reporter Park bows before Kishokai, crying that his father be avenged. Ueno blames Rie for not killing Gaksital in time, and she apologizes for her failure. He warns that if one more member of Kishokai is slain by Gaksital, it'll be her head on the chopping block. Crud.
Ueno gives Park's place in Kishokai to his son, who pledges his allegiance to the Empire. He reminds Rie that there are plenty of Koreans who would do the same, reminding her just how expendable she is.
Kang-to braves the chance to sneak into the torture room… only to find it empty. Oh no, Song isn't dead, is he?
Shunji storms into the gisaeng house and drags Rie into a room. He slams her up against a wall and growls that he could rat her out to her father in the next room at any moment. He asks one last time, "Lee Kang-to is Gaksital, isn't he?"
She sneers that his judgment seems to be impaired ever since he fell in love with that Korean girl. She says that when she fought Gaksital he was cut on his right arm and right thigh. She checked Kang-to, and he was clean.
Shunji: "How did you check?!" Uh… really, Shunji? Your imagination only goes that far? She yells at him to ask Masako and storms out.
He gets confirmation from Masako and then drinks away his confusion—is he really losing his mind, as Rie said? All the while, I'm just nervous that he'll want to check Kang-to's scars for himself. Then what?
Kang-to and Baek Gun try to figure out some way to find Dong-jin. Baek asks if he doesn't have family somewhere, but Kang-to says they were all killed when the Japanese bombed his house. But perhaps if they can find someone else who helped organize the parade demonstration, then they'll find a link back to Dong-jin's network.
Count Lee cries to Kimura, having wanted the position of Joseon Joongang Ilbo's president (Why, I wonder, since he's already a count—but money seems to be driving force with this couple). Kimura informs them that he was rejected, and it doesn't much matter, since Kishokai is content to have the Kyungsung Ilbo be their representative newspaper.
Sun-hwa swoons as she tells Mok Dan about the parade, and how emotional it was for everyone there. Mok Dan asks to see the Korean flag and wonders who managed to make these, under the nose of the Japanese. Sun-hwa tells her about the man she met in the street, from the Dong-jin association.
Kang-to comes by to talk to Mok Dan, and Shin Nanda hides the flag in terror at his arrival. Once alone, he tells Mok Dan that he needs to help Teacher Yang Baek, but doesn't know how. He has to find a way to connect him to Dong-jin.
Mok Dan perks up at the name. She tells Kang-to that Sun-hwa met a man in the street who gave her a flag and said he was a part of the Dong-jin association, literally Dong-jin Death Squad (as in, fight-to-our-certain-death corps). Damn, what a name.
She says she'll go to the marketplace to try and make contact, and Kang-to worries for her safety. She counters it's actually safer than if he were go there, and he just holds her hands in his.
Shunji calls Kye-soon to the station to ask if Damsari has shown up around Mok Dan. She says no, but Lee Kang-to shows up often, and in fact was just there earlier.
He fumes and pays her to follow Mok Dan like a shadow, and note when Kang-to comes and goes, how long he stays, and what they talk about. Lordy. Do your own stalking! He takes his Kishokai ring out and puts it on.
Kye-soon follows Mok Dan and Sun-hwa to the marketplace, where they search for Village Hothead. Sun-hwa sighs that she only knows his face and wishes she had a name. You and the rest of us.
Mok Dan sees Kye-soon on their tail (thank goodness) and goes to confront her. Kye-soon runs and Mok Dan corners her, asking if she doesn't remember the fact that Shunji killed Dong-nyun and tortured Boss Jo. Does she really think he won't do the same to her?
Smart girl. I like that Mok Dan is arguing with her from a place of concern, not anger, though I wouldn't have such restraint. "No matter how much you value money, is it worth more than your life?"
Mok Dan reminds her what would've happened to the girls if Gaksital hadn't rescued them—either of them could get hauled off at any moment, and helping Shunji is hurting Gaksital. Kye-soon just breaks away defensively and says she'll handle her own affairs.
Sun-hwa scans the people in the marketplace one by one, but it's Village Hothead who spots her first. Aw, he thinks you're purty. He runs up and says he wanted to ask her name the other day, but instead of answering, Sun-hwa just shouts for Mok Dan.
Mok Dan comes up and he recognizes her right away as Damsari's daughter. He proudly says he helped her once when she was running from Lee Kang-to, and she says she remembers. I… sort of can't wait till you find out who Kang-to really is.
She calls Kang-to at the station to let him know, and Boss Jo marvels that Kang-to is really on their side. He doesn't know that he's Gaksital, but just thinks that he's joined the movement.
Shunji goes to see Chairman Ueno to ask, "Can I kill your daughter?"
Uh… What, now? He says Rie knows Gaksital's identity but refuses to give up the information. Ueno tells him to focus on Yang Baek, but Shunji says they're all tied together—if they catch Gaksital, they get Yang Baek and Dong-jin too.
Ueno asks if he's certain Rie knows, and Shunji offers up his life to back his word. He asks for the chairman's bodyguard. Oh noes. That guy is So. Scary.
Kang-to sets out make contact with Dong-jin, dressed as Gaksital. He rides into the forest where Hothead is waiting, having only been told that someone wants to meet Teacher Dong-jin.
When Gaksital rides up, his jaw drops. He bear-hugs him, beside himself that he gets to help his hero. Augh, if you only knew what heartache you've caused the man underneath that mask. But his reaction is really touching—he slaps himself in the face, wondering if this is all a dream.
He takes him deep into the mountains, where Teacher Dong-jin presides over an army in training. Damn, Dong-jin Death Squad was in no way an overstatement. This guy is hardcore, and doesn't even crack a smile.
Gaksital bows and hands Dong-jin the solidarity note from Yang Baek, and conveys the message. Dong-jin betrays no emotion and says he understands Yang Baek's request. He says he needs to rescue Reporter Song first, in order to get any further.
Kang-to asks to be tasked with that mission, but Dong-jin is reluctant, quoting the adage that divided they fall, together they stand up. But that's all the more reason Kang-to argues that Dong-jin needs to unite with Yang Baek for the greater mission, and he'll rescue Reporter Song.
He asks to be trusted with the task, and Dong-jin takes a moment to consider it, and silently puts out his hand for a shake. What an interesting character. He has none of the fatherly warmth of Damsari/Yang Baek—he's a hardened war general, and not easily impressed. Perhaps to him, Gaksital is just another soldier.
Kang-to goes to work the next day and Shunji comes out to check with Koiso that Reporter Song is back in holding. He orders him moved to the Prosecutor-General's office, since they're not going to get anything more out of him.
Shunji coughs and stumbles, and announces that he'll be resting today because he's not feeling well. Why do I get the feeling this is a trick?
He stumbles up the stairs to go report to the chief… and totally Keyser-Sozes down the hallway, straightening out his limp, miraculously healed. Damn, Shunji.
He tells Chief Murayama that he'll be out of the office all day, on a mission that he refuses to disclose. Murayama calls him quite the arrogant punk, and warns him to succeed, because he has no intention of giving him special treatment because he's Kimura's son.
Kang-to calls the comrade hideout to say that Mission Rescue is on, because Song is being transported today. No! It's a traaaaaaaap!
But Kang-to goes forward with the plan. As soon as the truck leaves the station, Gaksital appears in their path, and knocks out the officers. Okay, his beatdown of Koiso is just really delightful. *rewind*
Comrade Eyeliner does some awesome fighting of his own, and takes Song away to safety, as Gaksital holds the line.
BUT! Out of nowhere, Samurai Assassin shows up, swinging his sword right at Kang-to's head.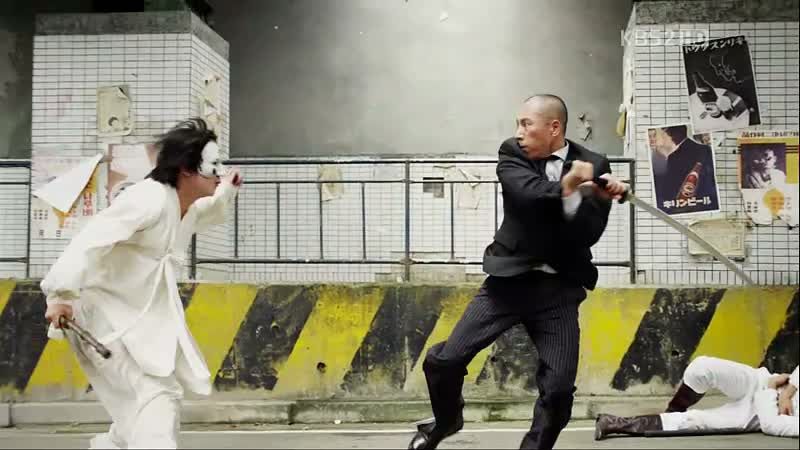 Ohshit. Ohshit. Ohmygod this guy is so fucking scary.
He moves So. Fast. Every swing slices at Kang-to and draws more blood, until he's barely standing, while Assassin hardly breaks a sweat. They lose their weapons and start to throw punches, but Kang-to goes down hard.
I can't watch! *peers through fingers*
He manages to retrieve his cane and tumble out of reach, and then Assassin stops his attack. RUUUUN!
Urg, I hate that he has to run away, but I'm pleading for him to make a break for it. He does, and then Assassin doesn't give chase, and just watches him go. Oh crap. You weren't sent to kill him, were you?
Kang-to stumbles onto a side street and starts to feel woozy. Where is Horsital?! He drops his cane…
…and collapses in the street, unconscious and bloody.
And THEN… Shunji walks out from the alley behind him. *GASP*
He makes his way over to Gaksital in the deserted street and crouches down next to his limp body. He takes a deep breath and braces himself.
He unties the mask… ohgodohgodohgod…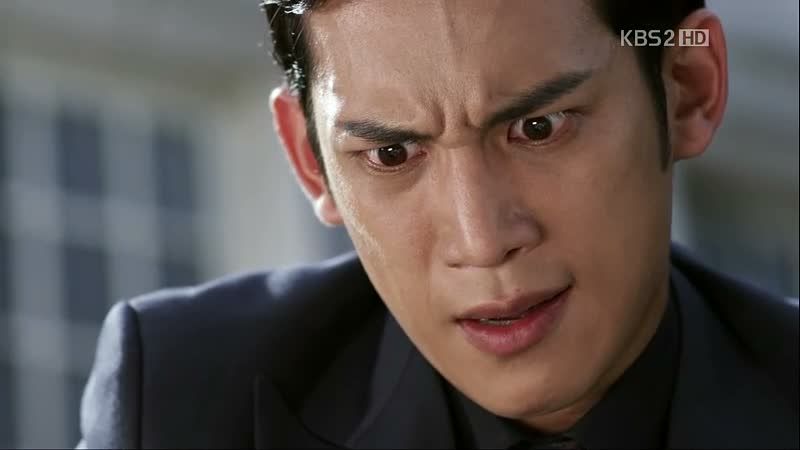 He peels it away, ever so slowly, like he's drawing out the anticipation until I can't stand it anymore.
And there, beneath the mask, is Kang-to.
AAAAAAAAAAAAAAAAAAAAAAAAAAAAAAAAAAAAAAAAAAAHHH!

COMMENTS
He knows! He knows! He really really knows! It's horrible, and awesome, and terrifying all at once. Narratively, it feels great to have the story shift with this major reveal. We've been circling the wagons for quite a while in this dynamic—Shunji suspects, Kang-to deflects, Shunji gets thrown off the scent—and 'round and 'round we go. There's only so much of that you can sustain before we start to feel that the villain is not so formidable, and he loses his bite. So it's fantastic to go into the entire final quarter of the show with this huge reveal, putting our hero in the worst possible position: Shunji knows, and he doesn't know that he knows. ACK! Is there anything worse?
But that's what's so great about the setup—the show is at its best when Kang-to has his back up against the wall, when he has insurmountable odds stacked up against him. Not just because it's tense and gripping, but because he's meant to be a metaphor for the small and powerless few who fight against the massive Empire—the egg against the rock. He has to be put in that position: completely backed into a dead end, and about to lose everything.
And even as far gone as Shunji is, I'm still on pins and needles for his reaction to the truth. Because he hasn't fully let himself believe it until now, that his friend Kang-to could have betrayed him so completely. From his perspective, he's going to see it all—Mok Dan, Young Master, Gaksital, Kenji's death—as Kang-to's betrayal, which is sure, the pot calling the kettle black, but not entirely unfounded. I don't think Kang-to can save Shunji, but I do think he'll break his heart. As much as Shunji wanted to find out the truth and prove he was right about Gaksital's identity, I honestly believe he didn't want to be right.
And just as Rie's reaction to knowing the secret identity proved to be the most interesting dilemma she's had to face yet, I think this turn will bring the best kind of angst between hero and villain. I'm so excited about the larger scope of the story, in bringing in independence leaders like Yang Baek and Dong-jin. The covert operations amp up the secret-spy thrill, but I like that beyond the cloak-and-dagger stuff (which is awesome), it's not about Gaksital as one hero, but how he acts as a linchpin in a movement, with leaders and citizens alike, all joining forces.
But the reason this show has my heart is because it gives us the small moments too. Like Kang-to's tears as he eats the potatoes, a gesture from Yang Baek's mother that links him to his own. I just welled up at the very simple connection between Yang Baek and Hyung, feeding Kang-to Mom's potatoes, and nodding in that outpouring of empathy. I sometimes forget because of how far we've come in 22 episodes, how little time has passed in Kang-to's life since he lost his family. That reminder that he's all alone in the world just ripped me up, and I swear I'll never look at a potato the same way again. In moments like that I just want to tell him to forget the mission and just run away with Mok Dan and have a nice family, but of course then he wouldn't be the hero of the story. Sigh. Curse the universe for the price of heroism!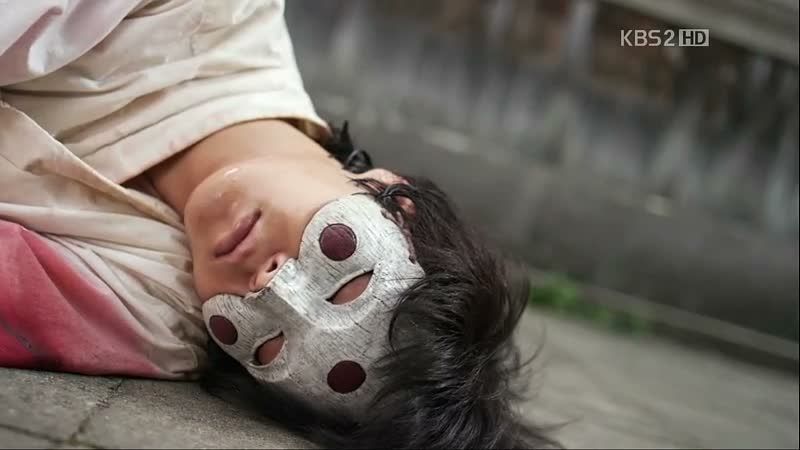 RELATED POSTS
Tags: featured, Gaksital, Han Chae-ah, Jin Sae-yeon, Joo-won, Park Ki-woong