School finalizes its female student lineup
javabeans: Remake drama 2013 School finally has its female cast in place with the casting of Park Se-young, who almost seems too old for the role despite actually being fairly young 'n green at 24. It's just, once you've played a commanding queen (Noguk in Faith), how do you then go back to the throes of adolescent uncertainty?
girlfriday: I'm actually surprised she's so young, because after Faith she doesn't seem to fit in with the high school crowd.
javabeans: She could totally be playing characters in the Park Min-young / Han Hyo-joo age bracket. With more experience, I mean. She's promising, but still a little rough around the edges. Likable, though, and with emotive eyes.
girlfriday: Yeah she hasn't blown me away or anything, but she's good for being green, and she doesn't go overboard with anything, which is nice. Noguk is just a really good character to have as your first big role.
javabeans: Doesn't hurt to have Ryu Deok-hwan there to elevate your performance, either. Though I suppose the director's doing nobody any favors. In any case, Park has been confirmed alongside idol singer Hyo-young, who was previously teased as a possibility as a secondary character, who has the "second biggest female role" of the cast. A third female student will be played by a newbie named Jeon Su-jin. Literally, she's so new there are no photos of her, and no online profile.
girlfriday: Is she new, or really mysterious? Maybe it's a thing.
javabeans: Possibly both, but definitely new, in that she was picked out of auditions for background students and stuck out for her "strong personality and charm." I'm taking that as a positive sign.
girlfriday: I really hope this drama does something interesting and out of the ordinary, because another fluff-only high school drama would be a waste.
javabeans: Park Se-young looks like our main female lead (based on the list so far), which I'm okay with. I do think she seems older than Lee Jong-seok and Kim Woo-bin.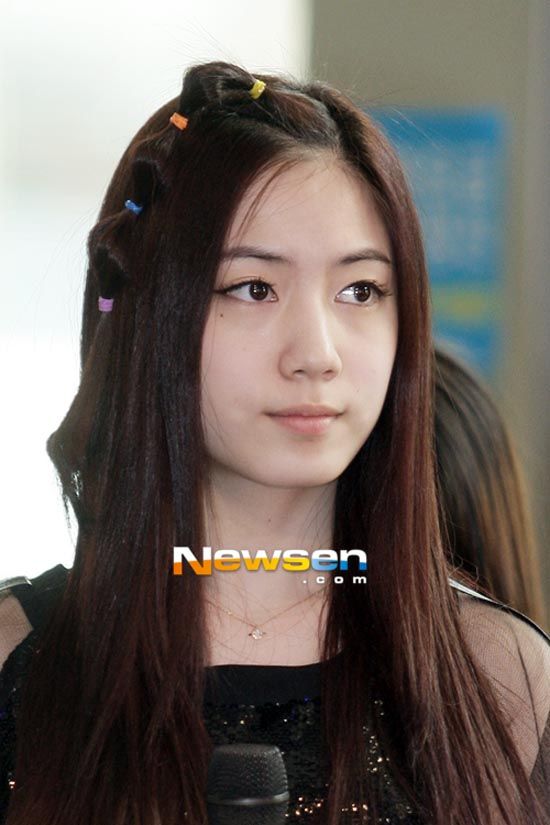 Hyo-young
girlfriday: For some reason Kim Woo-bin seems older than the rest, but that's probably not right, is it? These tall boys are deceptively young.
javabeans: I don't think he is. Yup, he's a 1989-er, along with Lee Jong-seok. He seems young to me, actually, though maybe that's because he's also got that gawky green aura about him.
girlfriday: Yeah I always want Kim Woo-bin to stand up straight and enunciate, but then, that awkwardness is also part of his charm. Kinda like Lee Min-ho the early years, in front of people (not so much in front of camera).
javabeans: Yes. Gangly dorks with model looks and bashful personalities? It's a strangely winning combo.
girlfriday: It's that you-don't-know-you're-hot-yet thing.
javabeans: Right? I think everybody has a really short period in their lives when they grow into their looks but don't know it yet. Though really, I'm pretty sure he knows he's hot. Then again, I'm basing my impression of him much more off his clueless Vampire Idol character than his Gentleman's Dignity punk.
girlfriday: I luff that character. I mean, he fell in love with a bunny. Er, a girl in a bunny suit, but he didn't know that. Being an alien vampire and all.
javabeans: And he made her talk! She went from 0 to 80 in about two seconds flat once he worked his oblivious mojo. Mostly by being sweet and adorable. Gah, now I really wish Lee Yubi had taken this drama. She would chat circles around him, and he'd just stare at the pretty girl talking a mile a minute like it's a foreign language, amazed that she could like him back. Gah, now I'm just sad Vampire Idol wasn't better.
girlfriday: You and me both.
javabeans: But getting back on topic… Lee Yubi aside, I'm willing to see where Park Se-young takes it.
girlfriday: They're certainly going to look gorgeous together. What I'm most curious about is the tone of this drama. Is it going to be 90210 or Saved By the Bell? Thankfully those aren't our only choices, but yunno what I mean.
javabeans: If those were our two choices I would swear off teen dramas forever. Thank god there's a Buffy for every Dawson, a Shut Up for every To the Beautiful You.
girlfriday: Yes, to keep order and balance and harmony in the world. It's like yin and yang, but with hormones and zits and embarrassing life choices.
Via Star News
RELATED POSTS