Nice Guy: Episode 15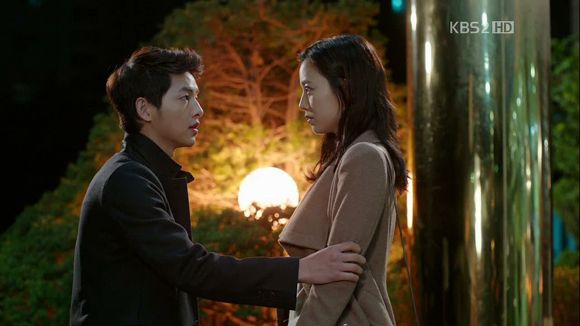 It's time for everyone to choose which side of the divide they stand on where love is concerned, with Jae-hee ready to throw love away to gain everything, and Eun-ki ready to throw everything she's gained away for love. It makes for some interesting internal conflicts amidst all the corporate machinations, which have managed to stay interesting so far if only because it's fun to see how Maru and Jae-hee go to war over business acumen.
But when our good guys are fighting to carve our heroine a place in a business she's only interested in by virtue of their interest, I'm left wondering whether all this effort is really worth it. Eun-ki's told us what she really wants, but if it's not Old Eun-ki telling us, does it make a sound?
Ratings took a nice jump this episode at 18.3%. At this rate, we might even hit the 20% mark.
SONG OF THE DAY
Nice Guy OST – Song Joong-ki – "Really" [ Download ]
Audio clip: Adobe Flash Player (version 9 or above) is required to play this audio clip. Download the latest version here. You also need to have JavaScript enabled in your browser.

EPISODE 15 RECAP
Jae-hee catches Maru after the meeting with tears in her eyes, asking how he could dare to use her brother against her. Despite his declaration that he'll stop at nothing to return Eun-ki to her rightful place, Jae-hee can't see how he would stoop to her level.
Well, there's solace in that she recognizes it, and Maru does too: "In this world, do you think Kang Maru and Han Jae-hee are different? Anyone can become like you, but because they don't want to, because they don't want to go to that extent, because to become someone like you is embarrassing and shameful, they are barely holding back."
He gets in her face to say all this, taking pleasure in bringing her down a notch. Even if he's really saying that the two of them aren't so different after all.
Jae-hee's desperate to put a stop to all this, and offers to throw everything away if he'll come back to her. Maru just smirks as he tells her not to rule it out, but, "With my empty shell, what are you going to do?"
Having witnessed the exchange, Min-young commands Jae-hee to come back to her senses. If she's thinking of throwing everything she's gained away for a man she threw away to gain it all in the first place, she's got another thing coming.
Eun-ki knows something's strange with Jae-hee for her to have given her the co-CEO position, though Maru just tells her that Jae-hee simply recognized her skills. Eun-ki doesn't believe him, but lets the matter drop.
Then we see Maru open up to her as he expresses concern over continuing their fight, since it'll only gain Eun-ki more enemies. But more than anything, he wants her to regain her memories so she can face whatever's coming.
"Try your best to remember me. Bring me out from your memory. If you could remember me, all your memories may come back to you," Maru says.
He takes her by the hand and leads her up the steps to his old house in an attempt to jog her memory, but she comes up with nothing.
Meanwhile Jae-hee is already at his front gate, which according to the neighborhood ajumma is now her front gate, since she bought the house.
She also frequents it often, and sits in his familiar yard longingly while Maru and Eun-ki are just outside the gate. Eun-ki recites the things she should remember, like this being Maru's house, but they're only words – she doesn't actually have memories attached to them.
Any potential reunion is stopped when Maru prevents her from going inside, and Jae-hee remains on the other side, completely unaware.
Whoa. So we find Jae-sik beaten within an inch of his life on Min-young's orders. He seems totally unaffected by Jae-sik's bloody face and calmly asks what it would take for him to turn against Maru.
The next place Maru takes Eun-ki to is a vista overlooking the city, where they'd once broken up. He tells her as much, and that it was due to her finding out how much of a bad guy he was.
But when she asks for him to tell her what she found out, he refuses and tells her to find out herself. She takes him up on the challenge.
They pass a lovey-dovey couple on their way home, which prompts Eun-ki to ask Maru why he doesn't kiss her: "You always seem like you only have one foot in the door with me. Like a person who is ready to run away at any moment."
He doesn't answer right away, and she comes to the shy conclusion that they must have. Which is why it throws her for a loop when he says they never have. I love that she's literally all, No way.
Even as he remembers the passionate kisses they've shared, he lies to her that they haven't kissed yet. Eun-ki doesn't know how to react so she just walks away awkwardly.
They're both restless that night as they think of each other, but Eun-ki is the first one to sneak into Maru's room in the wee hours. She's not there for a kiss, she's there to wake him up so they can go to Taesan for some early morning business tutoring. She can't wait around forever for her memories to return.
I love that she's the one super eager to get to work, yet she's the one who keeps dozing off during the lesson. Maru can't help but smile.
They're back to doing their bluetooth/hygiene routine, where he coaches her on the healing resort project she'd worked two years on. When he tells her that she was good at her job, she practically puffs up her chest in pride.
Later, Maru gets a call from Joon-ha with some grim news: Jae-hee embezzled funds from the company and secretly transferred them to Eun-ki's account in order to incriminate her later.
Team Jae-hee doesn't know that Team Eun-ki knows this yet, which is the only card Maru can count on for now. He chooses not to tell Eun-ki until they know more, since she's buried in her studies on how to run a corporation. Where's a montage when you need one?
Jae-hee meets with a chaebol we all know – Eun-ki's past boyfriend, Jung-hoon, the one who'd completely used her. Both Jae-hee and Min-young are well aware of his past, which is probably why they called him in the first place. And surprise surprise, he's recently divorced.
He shows up in Eun-ki's office calling her informally, and the sad look on her face means she might just recognize him. Or at least recognizes that she should recognize him. Bleh, now I'm just confused.
Secretary Hyun informs the rest of Team Eun-ki on Jung-hoon's sudden arrival, worried that he'll find out about her amnesia.
They don't know that it's too late, because Jae-hee already told him about Eun-ki's lost memories. She takes the role of a concerned mother worried for her wayward daughter, and wants Jung-hoon to help break them apart. Oh, and she'll give him a lucrative business deal in return.
Now this is devious, since Jae-hee's playing dirty. And Jung-hoon is terrible enough to go along with it, since it's clear his feelings for Eun-ki aren't sincere. But he's playing them up to be.
He actually has the stones to ask Eun-ki about her current fiancé, before acting all hurt, like, "What kind of person was I to you?" What a douchenozzle.
Maru passes him on his way to Eun-ki's office, and finds her looking crushed. He doesn't say a word and just leaves her be.
Jae-gil and Choco have an unexpected guest in the form of Jae-sik, who tries to convince them that he's turned over a new leaf. He's certainly not one for privacy as he asks Choco about her love life, and she unashamedly claims Jae-gil as her boyfriend, and that they've even kissed.
Jae-gil takes offense to this, since he was unconscious when it happened. The two bicker back and forth on whether it counted as a kiss until Jae-sik intervenes by shoving Jae-gil forward so he locks lips with Choco. Hah. I know Jae-sik is there to do something terrible, but I love that he's all, Well, that takes care of that.
Jae-gil stutters out that the kiss didn't mean anything before he follows Jae-sik's orders to scrub his back in the shower. He makes it sound like he's got a line out the door of people who'd just be dying to have that honor.
Jae-sik ends up trying to put BB cream on around his open face cuts and has a bad time of it. When asked about what he's doing now in terms of work, he replies: "I'm watching to see which side I should be on to get the most benefit." Points for honesty.
Since there's a rule which dictates that Min-young and Jae-hee must never have the lights on in their offices, Min-young uses the dark to brood about Jae-hee's lingering feelings for Maru. He's seen her display them time and time again, especially with her offering to leave Eun-ki alone if Maru would take her back.
Maru calls Eun-ki to let her know that he'll be out all night and that they'll need to move their early morning tutoring session to a slightly-less horrifying time of five a.m.
He's pulling an Eun-ki by waiting outside a CEO's house, and tries to catch the man before he disappears inside, while Eun-ki holds the picture of them together from Aomori close at home.
The CEO Maru's visiting is one in on the Eun-ki Embezzlement plan, and Maru threatens him with one day to come out with the truth. He completely misses Secretary Jo waiting with some thugs outside the man's house, and is asleep in his car when police later pass by. What in the what?
Jae-gil calls Maru frantically from the bathroom, since police have invaded their house looking for him. The CEO is in intensive care from receiving a beating, and Maru is their chief suspect.
Maru seems to realize right away that he's been framed and urges Jae-gil to take care of Choco and Eun-ki. In a sweet moment, Eun-ki holds Choco's hand for support until the police are gone, having come up empty-handed in their search.
Jae-gil tells the girls that Maru has been framed, but he isn't too worried since Maru knows how to get himself out of a tough spot. Eun-ki still waits up for him to pick her up in the morning, but Maru never arrives.
Police show up at Taesan the next morning to investigate the assault of CEO Kim, which Jae-hee has to find out about through her secretary. So either she staged it and is faking it, or she really didn't know anything about it. My money's on Min-young.
Eun-ki blames herself for Maru's situation, and that he's always cleaning up after her messes. Joon-ha tries to get her out of her cycle of self-blame by admitting that Maru's job is to clean up after her, so he's doing his duty.
Obviously she doesn't understand all the implications of his words, and asks if Joon-ha would be able to throw Maru under the bus if he were in her shoes just because it's Maru's job to be thrown.
No one's heard from Maru, yet he pops up in Jae-hee's executive bathroom like a ghost. (Seriously, how did he sneak through that entire building unnoticed?) She's under the impression that he really did assault CEO Kim and tries to tear him a new one for taking such risky measures, but stops in her tracks once he tells her he was framed.
He implicates Min-young as the "brains" behind Jae-hee's operation, but that's not what's important: "What you need to do right now is to clear Seo Eun-ki's name. After that, you need to apologize to Eun-ki sincerely. 'I apologize for treating you like a fool.' You'll also say, 'I'll never bother you again with such dirty tricks and immature actions.'"
Jae-hee claims it has nothing to do with her, which causes Maru to move toward her, each step more menacing than the last. She backs up until she meets a wall, and Maru all but presses her against it as he traps her in the corner.
"If you think about it carefully, I think you will know whether this is related to you or not," Maru says, making sure he's eye level with her. She's shaken, and wants him out of her personal space so they can talk freely. I'm sure she's going to just call the police on him.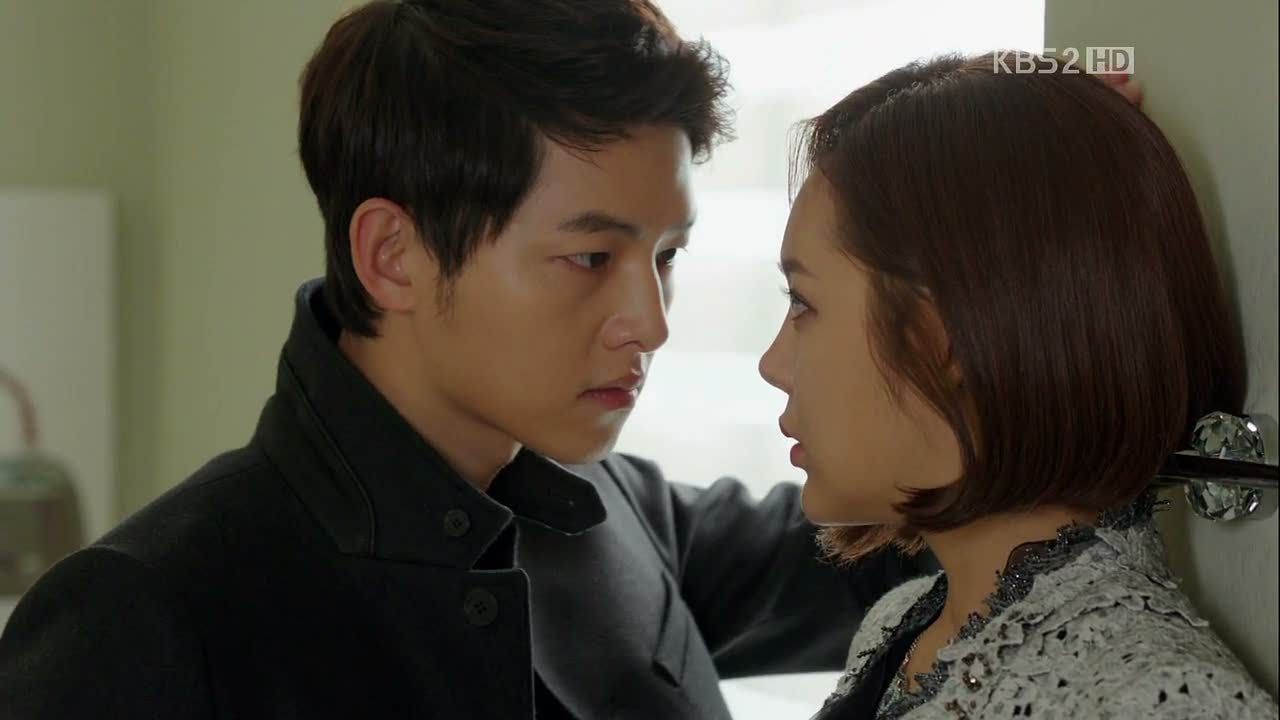 However, when Min-young calls her, she looks legitimately afraid as she answers. He asks if Maru is there and she lies that he isn't in order to protect him.
That's not how it ends up looking to Maru, since the police arrive the moment Jae-hee walks out to meet him. This time I really do feel bad for her, since he looks at her like he's been betrayed when she really didn't do it this time. ("The Boy Who Cried Wolf", anyone?)
Joon-ha stops Eun-ki from rushing off to Maru's rescue, because she has to keep up appearances now that she'll be representing the company. She's more upset about Jae-hee calling the police. Please tell me we're going to start seeing Eun-ki Smash.
Jae-hee isn't happy with Min-young taking actions she never told him to take, even though he's deluded enough to think that he deserves a compliment. There's a way he has of saying things that toe the line between controlling and just plain crazy, as he uses an analogy of a car that might break down on the way to its destination, but it must continue on the road it's taken no matter what.
And guess what? She's that car, and he's the madman behind the wheel. Min-young: "Although you momentarily go off the track or waver, I will steer you straight. So relax and trust me." Famous last words.
Eun-ki comes storming into Jae-hee's office with Joon-ha hot on her heels, even though he isn't able to stop her from offering Jae-hee Taesan in exchange for leaving Maru alone.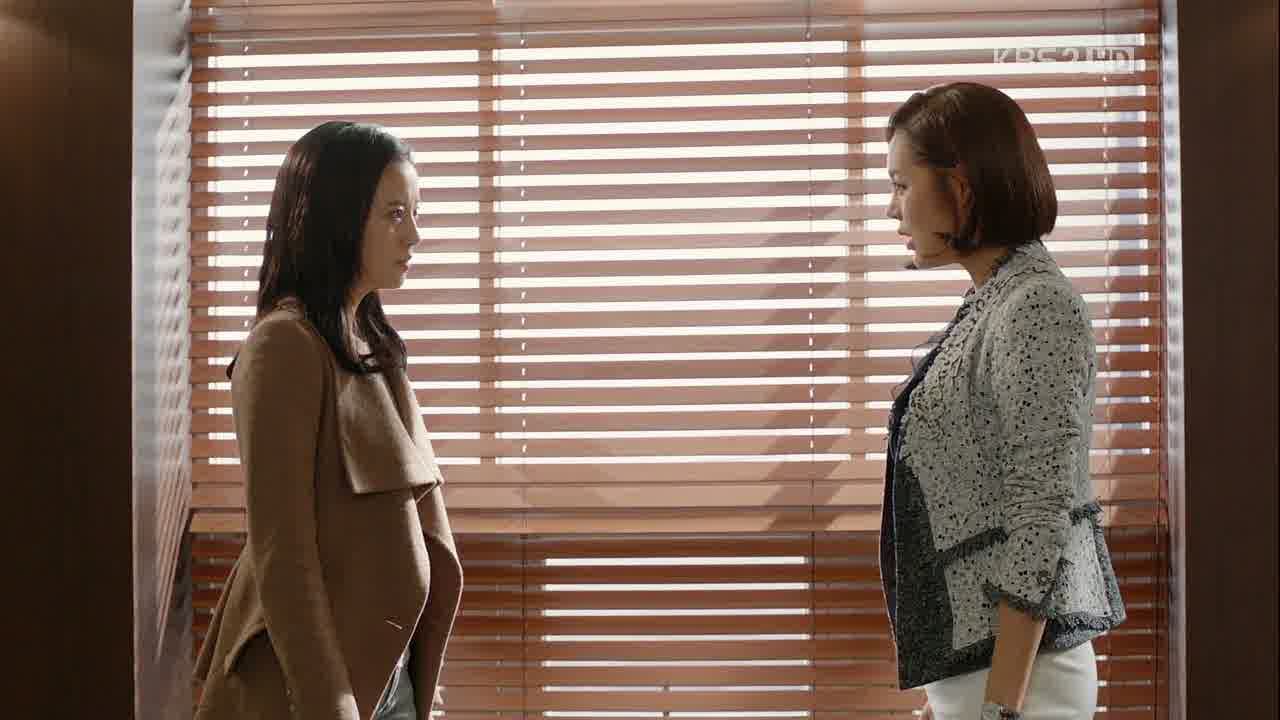 When Jae-hee demands to know why she'd trade everything for him, Eun-ki simply replies: "Just because." This is not in a language Jae-hee understands, and she grows more and more screechy as she demands to know what Maru did to make Eun-ki like this. Is he extorting her? Threatening her?
"No matter how crazy you are, how can you give up Taesan for a bastard like him?!" Jae-hee cries. Eun-ki is unaffected by her hysterics and wonders why this is such a foreign concept to her – she loves Maru more than Taesan, so why wouldn't she choose what she loves most? Does that not apply to Jae-hee?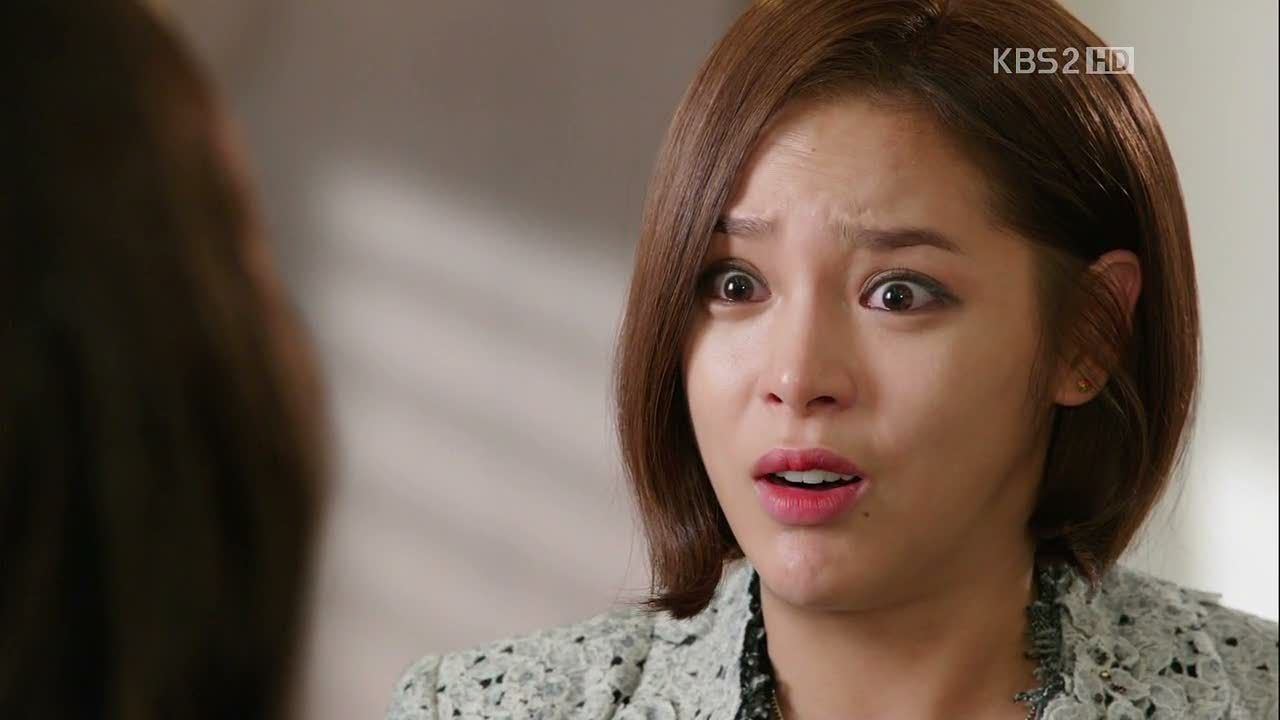 "No. Not only me, but anyone in this world wouldn't do that, either. Does love feed you? In order to have Taesan, I can throw a guy, even love, away at anytime," Jae-hee fights back. And Eun-ki doesn't press the matter, since they're clearly on two different pages.
She accepts that she's being crazy and doesn't care, while Jae-hee is left fuming.
Joon-ha's not a happy camper because Eun-ki just handed over Taesan, but they don't get to go into it further since Jung-hoon spots them. Eun-ki soundly ignores him before she's on her way.
Joon-ha remembers him from their time spent in America, which means he remembers the false drug charge. Jung-hoon claims that he came once he heard about Eun-ki's situation, and asks if there's any way he can help.
We then find him in Eun-ki's office, asking her out for tea. Has this date been Joon-ha Approved?
Our resident lawyer has gone to visit Maru while he's under the prosecution's care, and tells him about Eun-ki offering Taesan in exchange for clearing Maru's name. "Does this make sense to you?" Joon-ha asks.
Meanwhile, at the only coffee shop in Seoul, Jung-hoon shows Eun-ki a picture of them together that he claims he's kept with him all these years. He "shyly" admits that Eun-ki was his first everything – his first love, his first kiss…
But these words bring back Eun-ki's memory of confessing her love for Maru in the rain, and how their kiss in Aomori had been her first. And when Jung-hoon claims that they lived together in New York telling each other that they loved each other a million times a day (*vomit*), she remembers how she'd told Maru that she'd never said "I love you" with all her heart before, nor had she ever heard someone tell her he loved her before him.
Jung-hoon is on a roll, and takes Eun-ki's hands in his as he asks her to start over with him. She now remembers her entire confession to Maru, and knows that every word Jung-hoon says is a lie. So when she orders him to take his hands off her, it's Old Eun-ki peeking through.
So there was a literal contract Maru signed in order to swear that he'd leave Eun-ki once she returned to her place, and it's that contract that Maru brings up now: "If I can't leave, what happens then?"
Joon-ha's more in shock than anything, like he hadn't even considered this as an option. The fact that he's all, "But you promised" has me feeling terrible for him. How long has he been in law that he believes people's promises?
Maru calls him out for the same thing: "Whatever credibility and integrity did you expect from a bastard like me? What would you do if I just keep standing my ground?" He explains how he stands to gain everything if Eun-ki stays with him, and how if she's already willing to give up everything for him, all he needs to do is keep doing as he is in order to have all of Taesan.
But he seems more intent on how Joon-ha would stop him, as if he wants to make sure Joon-ha can stop him. The most he can come up with is suing Maru for breach of contract, "But, when Eun-ki's memories return, it's game over for you anyway."
Secretary Jo has paid the real thugs to turn themselves in under Jae-hee's orders, thus clearing Maru's name. Min-young is not happy about this, and lashes out at Secretary Jo. Wow. It's nice to see him, yunno, actually move.
Eun-ki's waiting when Maru is released, though things get tense when her expression turns serious before she calls him a liar and a crook. "You deceived me," she says, causing Maru to go stock still…
"You said that you and I haven't kissed?" Oh, she's just playing with him. She thinks that he didn't believe her when she'd confessed that their kiss was her first, and walks off all embarrassed.
But Maru's quick to catch up to her. "Remember this well," he tells her, his voice urgent. "This time, don't ever forget it. Remember it well. This is our first kiss."
Then he swoops in to make good on his word. Omo omo omo omo.
And of course, Jae-hee watches the whole exchange from her car, having come to pick Maru up.

COMMENTS
Well, that's not your mom's drama kiss. But it is your mom's drama in that the second lead must always be within viewing distance to look on mournfully while the One True Pairing has a make-out sesh.
Every time someone (mostly Joon-ha) reminds Maru that this whole little charade will end the second Eun-ki regains her memories, I want to throw it back at the drama as a double dog dare. If we'd seen Old Eun-ki recoil in horror from Maru once she found out about his schemes we'd be on a different level, but Old Eun-ki was willing to accept him, warts and all. It was Maru who kept pushing her away out of guilt, though I'm of the mind that if he'd opened up just a little, Eun-ki would have fought tooth and nail for their love/not love/half love.
It's getting to a point where I hear much thunder but I see no rain, and I'm ready to hit the fallout stages of this supposedly epic memory gain. Eun-ki's been undergoing her own changes since the amnesia, but as we see her begin to slowly return to her old self, it seems like we're losing whatever footing we gained while she was an amnesiac. It's not like she was incorrigible before (the friends she has now are the same ones she made when she was a word-that-rhymes-with-ditch, who were willing to do everything for her even pre-amnesia), and she knew how to manage a business. So if she's just re-learning everything she'll eventually remember along with re-learning how to be suspicious of those she should be suspicious of, what exactly is her amnesia supposed to be teaching her (and us)?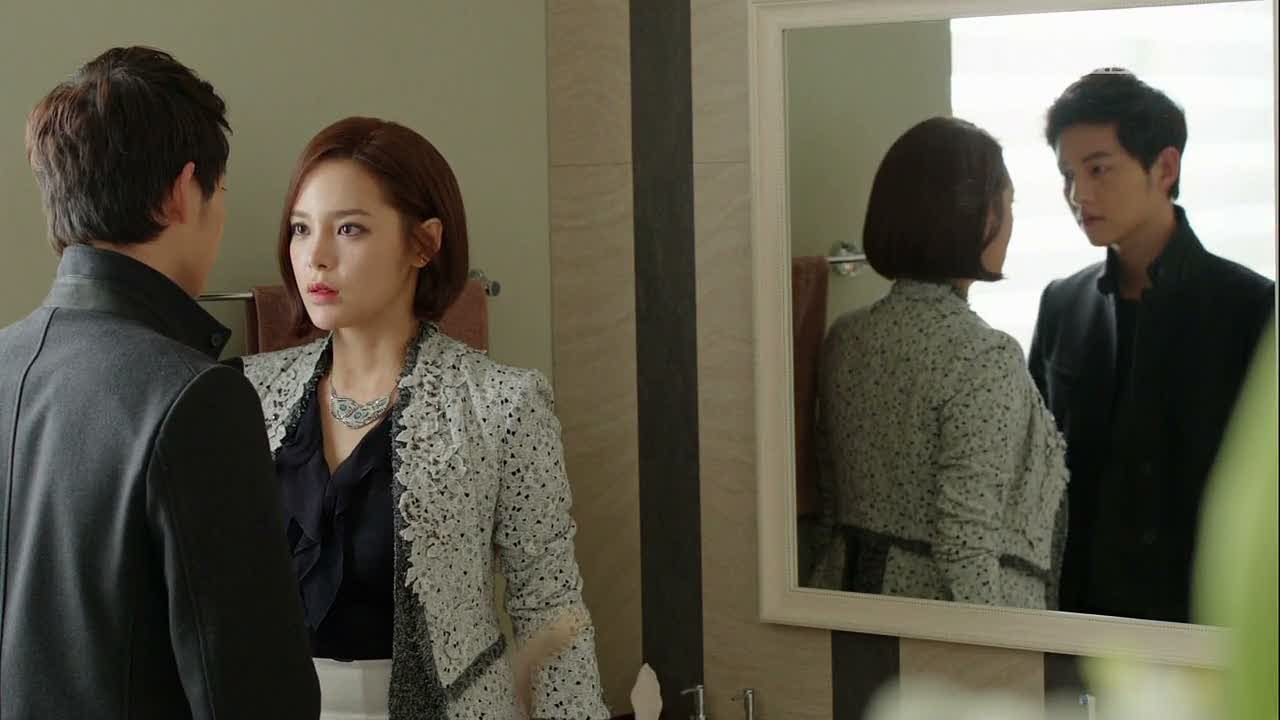 If there's a positive edge to this ongoing ailment (aside from her learning how to open up to Eun-suk, because that was adorable), it's that Maru is learning how to wholeheartedly fall in love with her. For him, this really is their first kiss because he no longer has a hidden agenda, but this monumental occasion would hold more water for me if Eun-ki were standing on equal footing with him. As of now, Maru's still technically deceiving her by withholding the truth, and seems all too aware that he's only temporarily enjoying her company while she doesn't remember who he really is.
It works in that it makes them both more tragic figures, even though Eun-ki was tragic enough when she had only a Barbie for a friend. She's tragic in that she loved the same man through thick and thin, even through a total factory reset, only to have him finally start to really come around when she's missing a couple marbles from her possible suicide attempt. He's equally tragic because he's got a ticking time bomb in his head. If only there was a competent neurosurgeon in this show intricately tied to Maru's medical past with the ability to fix him… (Come on, Nice Guy! Fix your anti-hero!)
I'm fine with them being as tragic as they want together, but I do wish Eun-ki could have her full faculties in order to face whatever comes at them so that this journey could include her full participation, instead of her being strung along to manage a business she only slightly cares about. So that maybe, just maybe, she can be Maru's knight in shining armor for once and give that boy a well-deserved break.

RELATED POSTS
Tags: featured, Moon Chae-won, Nice Guy, Park Shi-yeon, Song Joong-ki