Alice in Cheongdam-dong: Episode 7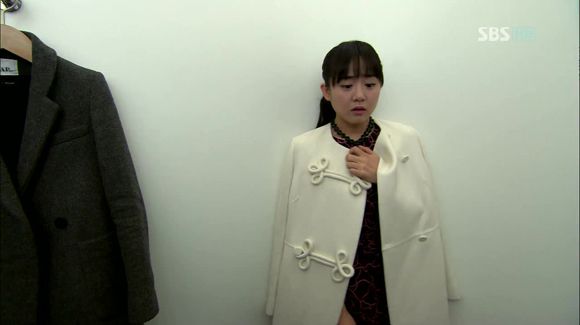 This episode in particular was a little more somber as we watch Se-kyung at a crossroads – should she continue to love a man she thinks isn't wealthy, or should she abandon him and focus on her goal? Whichever she chooses, this series is better whenever comedy comes into play. I don't mind if this show even throws logic out the window because honestly, the characters and their quirks have already stolen my heart. (Secretary Moon – please mist my face too whenever I'm stressed!) It can do whatever it wants, and my brain will just follow.
SONG OF THE DAY
"Daddy Long Legs" – Baek Ah Yeon for the Alice in Cheongdam-dong OST [download]
Audio clip: Adobe Flash Player (version 9 or above) is required to play this audio clip. Download the latest version here. You also need to have JavaScript enabled in your browser.
EPISODE 7 RECAP
Se-kyung tries to still her rapidly beating heart. Could she really be in love with Secretary Kim? It can't be, right? Seung-jo feels like he's soaring through the clouds — his heart beats rapidly too, out of excitement and hope. Two very different reactions towards love.
After the call, Yoon-joo relives her own memories of when she struck the deal with Il-nam to leave Seung-jo. Once it was settled, he asked if her feelings for Seung-jo were sincere. Yoon-joo: "How is that even important now?"
Meanwhile, In-hwa and Min-hyuk have dinner with Il-nam, and In-hwa suggests that he open a shopping complex on the outskirts of the city. Not only would it suit his brand, it would increase the popularity of Royal Group. Il-nam is delighted by her "fresh" idea: "I don't know if it's because you're in the fashion industry, but you have a quick eye for recognizing trends." In-hwa replies, blushing, "Please don't say that." (Huh – I wonder if it's because she really doesn't have an eye for trends! Mwahahaha! That would be awesomely vindictive… but I don't hate her… yet…)
Il-nam invites In-hwa to help pick out a location for this new shopping center, seriously considering having her lead this project. (Really? Then why does he laugh so heartily as if the invitation is all a joke?)
When Se-kyung arrives home, she's immediately greeted by her wailing sister. Their mother is planning on becoming a licensed caregiver, but to pay for her classes, they can't afford Se-jin's tuition. The parents want Se-jin to take the semester off and pick up a few part-time jobs, so that the family will eventually have enough income for the future with two working parents.
Se-jin wails that she needs to study abroad and learn English. Pff – what makes you think you can go abroad if your older sister couldn't even go to Paris?! Se-kyung comforts Se-jin by promising to buy her a brand-name luxury bag when she finishes her stylist gig to Jean Thierry Cha. Se-jin immediately brightens up, finding it a good replacement for experience abroad. (How shallow is she?!) Se-kyung wants to use it twice a week, though, but her sister's appeased.
No matter how immature Se-jin is, Se-kyung feels she is more immature for letting her heart waver when her financial reality is knocking every chance it gets. She gets a call from Ah-jung, who invites her to go drinking with her and Secretary Moon. (Haven't you learned your lesson!?) Ah-jung is merely trying to fish for information about the CEO and get Se-kyung to meet him directly. (Her method? Using alcohol and the game of "Truth or Dare" by spinning a soju bottle.) She can tell that Se-kyung just might start falling in love with "the debt-ridden Secretary Kim," which is bad news bears in her opinion.
Se-kyung resolves not to fall for any more pathetic guys in the future. But Seung-jo can't believe that he's falling in love again.
Seung-jo regales Dong-wook with the story of his pojangmacha hug at a pool parlor, telling the story so passionately that Dong-wook messes up. He pretends the cue stick is Se-kyung – and tries to kiss it! – but admits that he couldn't bring himself to actually kiss her. Dong-wook: "WHYYYY?" Seung-jo couldn't do it – he was too nervous to actually kiss her.
Dong-wook finds his nervousness a good sign, because it means that his heart has opened up even more, and his feelings have developed. The next time he sees Se-kyung, he should just do it! That makes Seung-jo blush, and he imagines once again kissing "Cue Stick-Se-kyung." Dong-wook slaps it away – "Stop fantasizing!" Hee.
As if to drive the point home even further, Se-kyung discovers in Yoon-joo's diary that mixing business and love is a no-go. Love could easily ruin everything, clouding her judgment. She puts the flower button from her gift box inside her drawer, out of sight. On the other hand, Seung-jo is totally getting carried away, listening to the soundtrack of the film "Love Affair" while hugging Happy Bunny under his furry blanket. Oh Seung-jo…
The following morning, Se-kyung wakes her dear friend Ah-jung from her drunken sleep, who realizes that she has something VERY IMPORTANT to tell her – something that she discovered the night before. The CEO… is single! She encourages Se-kyung to pursue the CEO romantically, instead of having him be her guide into Cheongdam-dong. Ha, Se-kyung's wayyy ahead of you, sister… she got that from the questionnaire.
She asks Ah-jung to help find out the CEO's schedule so that she doesn't have to keep meeting Secretary Kim, and also asks whether Ah-jung said anything in particular to Secretary Moon the other night. Ah-jung vehemently denies saying anything that could endanger Se-kyung's plans, but once Se-kyung leaves the apartment, bits of the night before come back to her. And one thing becomes clear – she did say something to Secretary Moon. But what?! Uh-oh…
Secretary Moon is having a terrible day at work, knowing that he said something really important to Ah-jung last night, but not knowing what. He's trying to figure it out while in a meeting with Seung-jo and other organizers for the Christmas party, so Seung-jo has to constantly call for his attention.
After the meeting, Seung-jo heads over to meet Se-kyung to check out the styles she chose for the Christmas party. He waves hello eagerly, hoping to get a wave back or to perhaps a high five. Instead, she treats him distantly, introducing two outfits that he can choose from. Seung-jo supposes he should try on the first pick, a burgundy-colored suit jacket.
Se-kyung assists him in putting it on, and the entire time, Dong-wook's advice of kissing her rings through Seung-jo's mind. He tries to lean in, but each time he gets closer, she pulls away. He tries to prolong their proximity by requesting a bow tie, or getting a handkerchief in his breast pocket, but he fails each time. It's all about timing, mister! Meanwhile, Se-kyung keeps reminding herself to focus on her work.
Now that the suit for the party has been chosen, Se-kyung heads out. Seung-jo makes up the excuse that perhaps another style should be designed, but Se-kyung promises to deliver the idea tonight, rather than immediately. So then he tries one more tactic – a makeover!
He leads her over to a rack of dresses and holds each one up to see if they'd fit Se-kyung's style. She's confused – why is he giving her clothing? Seung-jo points out that the CEO does not want anyone working for him to dress shabbily. Not that she's shabby of course. He snaps his fingers, and a line of sales ladies come out with dresses in hand. Time to try them on!
Se-kyung emerges from the dressing room in a cute dress, and Seung-jo's eyes light up. He adds an ivory coat and a large bejeweled necklace, all the while Se-kyung tries to maintain an impassive expression, trying to show that she isn't touched.
He leads her to the bench to replace her booties with strapped high-heeled sandals, and even puts them on for her. She stands up, and immediately topples over from the heels. Of course, she lands right in Seung-jo's arms. Once again, they have a moment due to the proximity of their lips. Will they kiss?! Will he do it!?
She pulls away (again!)  but this time he pulls her back, and kisses her firmly on the mouth! He's done it! He's kissed her!
Except Se-kyung stops the kiss and runs off to her dressing room. ARGH! Seung-jo wants to chase after her but decides to wait, all torn up by her negative reaction. When she finally re-emerges, Se-kyung has changed back into her own clothing and bids him goodbye. He chases her out the department store, but it's too late – Se-kyung has boarded the bus without a look back.
As much as she may like Seung-jo, she can't afford to fall in love now. Even if the rest of the world is falling in love.
Ah-jung and Secretary Moon are still agonizing over what went on last night. Secretary Moon has a moment of panic when he wonders if he gave away Seung-jo's secret identity, but then he gets a call from Ah-jung, who wants to meet.
They approach each other warily, and Ah-jung offers him some baked goods as a peace offering. After all, he did spend over a thousand bucks the night before from all the alcohol they drank. Secretary Moon is aghast – did he voluntarily pay for all of it?! Looks like neither of them remember much of that night, or what the other said, to their relief.
Hiding under his furry blanket, Seung-jo fears that he was too hasty with his feelings, while Dong-wook finds it funny that a 30-year-old man has reached this stage in his life where he's agonizing over one kiss. Se-kyung was probably just surprised, he reasons, rather than rejecting Seung-jo outright. Seung-jo is a little surprised that he could feel so many emotions with one girl once again. Dong-wook wonders if Se-kyung knows how in love with her he is. Perhaps that's why she ran off.
Se-kyung probably does know, but she's in denial about it. She stares at the flower button again, and tells herself that she only feels bad for these "pathetic guys" she seems to fall for. "When I become successful, I'll help them." Ew – talk about being condescending over people's station and feelings!
Tommy receives an invitation to Artemis' Christmas party, and what actually gets him excited about is the fact that if he pulls off this matchmaking deal, it will be his biggest and most successful match yet. He will unite three major groups in the fashion industry: Artemis, GN Fashion, and Royal Group in one fell swoop. On top of that, instead of getting paid a lot in commission, he could also get to be the sponsor of the athletes' clothing for the Pyeongchang 2018 Olympics – for which, conveniently, Cha Il-nam is the vice chair of the organizing committee.
He heads over to Il-nam's office to negotiate a deal, and learns that Il-nam is looking favorably towards In-hwa as a daughter-in-law. However, he's more curious about his son. Tommy replies instead that Seung-jo is not the easiest man to get to open his heart. It's such hard work, but if Il-nam could motivate him a little more – say with the sponsorship rights for the athletes' clothing? – then it might be possible. Il-nam grunts – they'll have to meet once in Pyeongchang then, and perhaps it may be possible…
Ho-min visits his sister in the hospital and shows her the invitation to Artemis' party. She may not have to go, but Ho-min worries that she'll be found out sooner or later. He'd be in trouble as well, especially since Il-nam visits his store almost every day. He offers to close down the store and use the money for the both of them to run away. His incessant nagging annoys Yoon-joo to no end, and she sends him away.
He leaves her alone, and bumps into Min-hyuk outside the hospital. At the same time, Il-nam arrives outside the hospital to visit Dong-wook as well, and he greets Min-hyuk first. Ho-min hides around a corner and calls his sister, urgently informing her that Il-nam is here.
Yoon-joo bolts upright and rushes out of her room. The elevators are already coming up, so she hurries to the staircase. She hides behind the door, just in time before Min-hyuk and Il-nam step off on her floor and walk towards her room. Yikes!
Thankfully Il-nam stops right before entering the room. It might be impolite to meet Min-hyuk's wife for the first time while she's recovering — he'd rather wait until she's better. Il-nam takes his leave, and Yoon-joo collapses on the floor in the staircase. It was much too close, and everything could have been revealed at that moment. She cries, ignoring her husband's calls, and looks through her contact list to see whom she could call.
It turns out to be Se-kyung, and she bids her to come with a few things to the hospital. Se-kyung drops off some clothing and asks if Yoon-joo is feeling better. Yoon-joo asks after Se-kyung's obstacle – did she get to resolve it? Se-kyung will – she's meeting Seung-jo later today (as he most likely wants to confess) and will confront it head on. Se-kyung is curious over how Yoon-joo managed to overcome hers, but Yoon-joo never did. If Se-kyung is determined to beat it, then she must do it immediately, because the second and the third obstacles – if she hasn't figured it out yet – are also love.
Se-kyung finds it ironic that she is someone who can't live without love, yet now to succeed she must try to live without it. She found herself different from all those other couples who seemed to marry without love, including Yoon-joo, but Yoon-joo sets her straight. She can't live without love either, but she was also determined to live a better life.
Seung-jo paces in his office, trying to figure out what to say to Se-kyung when he meets her later. He practices his speech, and settles on being sincere about his feelings. He meets Se-kyung at the cafe, and she immediately gets down to business about the party. Seung-jo tries to apologize for surprising her yesterday, his hands fidgeting due to nervousness, but Se-kyung cuts him off: "I don't want to be associated to the CEO through you anymore, Secretary Kim."
Oh. That's – such a cold bucket of ice water.
Seung-jo asks if it's because of yesterday, and Se-kyung replies, "What happened yesterday? Whatever happened yesterday is not important to me." (Oh! The ice cubes!) Se-kyung no longer wants to work in a situation where she must style a person without ever seeing him, without ever getting to deal with him. Seung-jo: "Is it because you don't like me? Do you feel uncomfortable around me? Do you hate me?"
Oh, Seung-jo, don't be a sad puppy!
Se-kyung clarifies that they only have a business relationship, leaving Seung-jo to apologize for not having considered her feelings. There were no feelings between them, she says, except that of gratefulness. Because she is now uncomfortable around Seung-jo, and can't even see Jean Thierry Cha, she wants to quit her job as the stylist.
Se-kyung leaves first, and despite having some lingering feelings for Seung-jo, she convinces herself that she did the right thing in breaking off ties with him. Ha – go tell that to your memories, which keep replaying all the sweet moments you've had together.
Seung-jo can't stand this rejection and rushes out of the cafe again, searching through the streets. But Se-kyung has gone already, lost somewhere in the crowd.
Seung-jo returns to his office, looking dismal enough for Secretary Moon to notice. He comes upon a sudden realization – did Secretary Moon by chance speak to Ah-jung after that drunken night at the bar? Secretary Moon panics – did Seung-jo hear something? Aha! Seung-jo hadn't, so he's definitely caught Secretary Moon. So he asks if his secretary said anything about his relationship with Se-kyung. Secretary Moon: "Did Ah-jung say I did?" Aha! So Secretary Moon must have! He is not a good liar…
Secretary Moon admits that he doesn't remember, but thinks that it may have to do with a secret that Seung-jo was keeping. What secret – that Secretary Kim is really Jean Thierry Cha? Secretary Moon hastily says he didn't say that… he thinks.
Ah-jung calls Se-kyung and admits that she did say something funny to Secretary Moon. Problem is, she can't remember what. She assures her best friend that she didn't reveal anything about Se-kyung's White Rabbit plans or that Se-kyung approached Jean Thierry Cha intentionally, and that Secretary Moon seems to have forgotten the night too. But what if he remembers?! Though it is their worst fear, Ah-jung pleads (to the gods?) that it can't possible.
Seung-jo calls up Dong-wook for advice – what if Secretary Moon spilled the beans? Seung-jo's afraid that Se-kyung will think he's crazy, since he did all sorts of thing to keep up the ruse that he was not Jean Thierry Cha. Dong-wook advises that he tell Se-kyung the truth. It'll be worse if she hears it from other people, so he might as well confess everything, no matter what she may end up thinking of him.
In-hwa receives an invitation to the Christmas party, and with some fortuitous timing, Tommy visits her office as well. He finds that the Christmas party today will be an excellent opportunity for her to approach "Jean Thierry," as he's already met with Il-nam. As a form of repayment, he proposes that they do a collaboration for the next season's fashions; bigger players in the field, thus a bigger price to pay. In-hwa accepts.
Tommy promises to help mend the broken relationship between Il-nam and Seung-jo, so all In-hwa has to concentrate on is winning Seung-jo's heart. He leaves her one bit of advice: never mix business with pleasure. He assures her that rumors that Seung-jo has another women are false.
Se-kyung returns to the GN Fashion office and receives an invitation from Jean Thierry himself through her phone. She's unsure whether to accept, but it seems from the text that he doesn't exactly know what transpired between her and "Secretary Kim." Ha. Haha.
She calls up Ah-jung, asking what to do. The CEO even sent her clothes for the party. What she doesn't notice is Tommy exiting the building at that moment. As soon as he sees Se-kyung, he hides behind the building's wall to listen in on her conversation. Se-kyung is scared to go — "If he hears the story before I even meet the CEO, it's over." The "story" most probably meaning her intentional plans of approaching the CEO.
However, to Tommy's ears, it makes no sense. What he does glean from the conversation is that perhaps Se-kyung is talking about Jean Thierry Cha, and that she's hiding something from him.
Min-hyuk and In-hwa visit the hospital before heading to the party, and Yoon-joo wishes them off, still at the hospital until her results return the next day. After they leave, Yoon-joo changes into the clothing that Se-kyung brought earlier.
Se-kyung opens the package that she receives at home and finds the entire outfit that she tried on earlier. She gets ready somberly but nervously.
That evening, Il-nam receives a guest outside his office, surprised to hear that it's the wife of Min-hyuk. He greets her amiably, but finds her face somewhat familiar. Yoon-joo: "Hello Chairman Cha. I'm Seo Yoon-joo."
Il-nam whips off his glasses – it's that woman! (Jerk – how could you not remember a woman you bribed?)
Seung-jo arrives at the party, and Se-kyung emerges from a taxi right behind his car. Wow, they really don't see each other?! Secretary Moon checks over the preparations in the party hall, making sure that everything is set. He sees a bartender spinning a bottle over a cocktail shaker, and suddenly it hits him. The "Truth or Dare" game!
Meanwhile Ah-jung revisits the bar and tries to retrace her steps from that night. She also suddenly remembers the game… and what she heard!
Seung-jo enters the elevators, and it closes right as Se-kyung arrives in front of it. With only a glimpse of his clothing, she can only guess if that man is Jean Thierry Cha. She's led to another elevator and goes up to the party. It's just as nerve-wracking to watch the two of them nervous about seeing each other at this party.
At that moment, both receive calls/texts from their respective sidekicks, both with announcements to make. What's important isn't what they said, but what they heard from the other!
Infuriatingly, we don't hear what Secretary Moon tells Seung-jo, but we do find out what Ah-jung learned that night: "Secretary Kim… is actually the CEO Jean Thierry Cha!"
And the elevator doors open simultaneously, with them standing opposite each other.
Comments:
AHHHH! No way – no way! What a stupid cliffhanger!
I'm psyched that the truth has come out, though it's unfortunate the revelation didn't come from Seung-jo himself. I had imagined a more grandeur revelation scene, where Se-kyung arrives at the party and Seung-jo is triumphantly introduced as the CEO Jean Thierry Cha, and her jaw drops. But that could have been disastrous too because she would have felt quite betrayed. I just hope that with this new information she doesn't try and approach Seung-jo enthusiastically. I mean, she did practically reject him, so to chase him right away would just scream "gold digger!" I hope she takes a cue from the song "Price Tag," since it is her ringtone, constantly reminding her not to think about the money.
But now I want to know what Seung-jo learned from Secretary Moon. It would be absolutely terrible if he learns that Se-kyung approached him with ulterior motives, as his heart would be broken and his faith in women would shatter into a billion pieces. He was already recovering thanks to her!
As for Yoon-joo and her story, I understand that she's fearful of Cha Il-nam and wants her past to be completely buried. That only makes me more curious as to what story she sold to the Shin family, because dumping Seung-jo is not entirely a bad thing. I mean, she could always say, "I dumped Seung-jo for you, hubby!" right? I find it incredibly naive of her to think that the fashion world is big enough to let her avoid Cha Il-nam for the rest of her life, but I am also admiring her for trying to go and take control of her own destiny. That is – if she doesn't make another deal with him. I hope she can tell him, "You don't control me!"
It seems that Daddy Cha has been holding the fate of the young peoples' futures in his hands. He first determined Yoon-joo's future by giving her the opportunity to achieve her dream of a better life. Now, he's holding the fate of Tommy's career; by giving Tommy a sponsorship for the Olympics, he can also give him a rising career. Granted, Tommy and Yoon-joo have to make do on their end of the deal first (whether it's leaving Seung-jo, or matching Seung-jo and In-hwa successfully), but either way he has the power to do something about their futures. He can hold In-hwa's future in his hand too; if she successfully becomes his daughter-in-law, she could become the most influential woman in Cheongdam-dong thanks to him.
Daddy Cha holds all the strings, and every time someone goes to meet him, I feel like they're making deals with the devil.
RELATED POSTS
Tags: Alice in Cheongdam-dong, featured, Moon Geun-young, Park Shi-hoo