Kang Ji-hwan gets back on Money train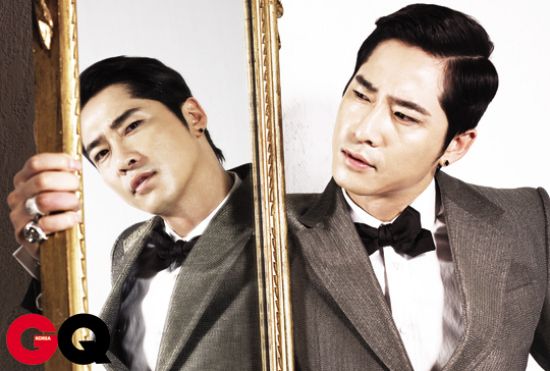 …By which I mean his drama, Incarnation of Money. Though I guess if all goes well, he'll get paid too. Kang Ji-hwan has been battling agency lawsuits for quite some time, but is reportedly in the clear and back to acting, and confirmed to star in the new weekend rom-com alongside Hwang Jung-eum, as planned. There are conflicting reports ranging from "still considering" to "confirmed," but the better news is really that he's back to being able to sign on at all.
The 24-episode series is the next project from the buzz team behind ratings hits and critical successes Giant and History of the Salaryman — PD Yoo In-shik and writers Jang Young-chul and Jung Kyung-soon. It'll be the second time they've worked with Hwang Jung-eum who was in Giant, and needless to say, all eyes are on them to see if they can hit another one out of the park. With the premiere barely a month out, it's about time they secured a hero, though they deserve credit for waiting faithfully instead of recasting at the first sign of trouble. Everyone gets a cookie.
The plot sounds even zanier than Salaryman, if you can believe that. Hwang Jung-eum stars as the vicious daughter of a loan shark who grows up knowing nothing but money, and will stop at nothing to collect what's owed. Kang Ji-hwan is one such unlucky debtor, who for reasons unknown is locked away in a mental institution on an island. First of all, what's with the Alcatraz for crazy people? Also, now I get why the producers would wait around for Kang Ji-hwan.
So then for reasons even MORE unfathomable, the heroine busts him out of the mental facility… with fake papers saying that they're married. It's… so wrong it's right? Granted, if I had to make sense of Salaryman's plot on paper without knowing its tone, I'd think it was crazeballs. So I'm not really worried that Money sounds completely insane. The drama promises to be a satire about lobbying, connections, and all the ways money has corrupted contemporary Korean society, all told with a biting wit. Badass.
Incarnation of Money follows Alice in Cheongdam-dong and premieres February 2 on SBS.
Via Star News
RELATED POSTS
Tags: Hwang Jung-eum, Kang Ji-hwan