Mi-rae's Choice: Episode 11
It's about time for the truth to come to light, even if those words are accompanied by misunderstood feelings. Our heroine gets a shot at her dream to write her own words, and I'm still digging around for the hope lying somewhere in the bottom of this time-travel box. This hour feels much more like a setup for what's to come, but at least we finally get the answer to the question we've been dying to hear.
Today's episode hit another low for the series with a 5.0%, which makes me wonder if there's a time-travel elevator I can take myself to help change this show's future.
SONG OF THE DAY
BoA – "네모난 바퀴 (Hope)" [ Download]
Audio clip: Adobe Flash Player (version 9 or above) is required to play this audio clip. Download the latest version here. You also need to have JavaScript enabled in your browser.
EPISODE 11 RECAP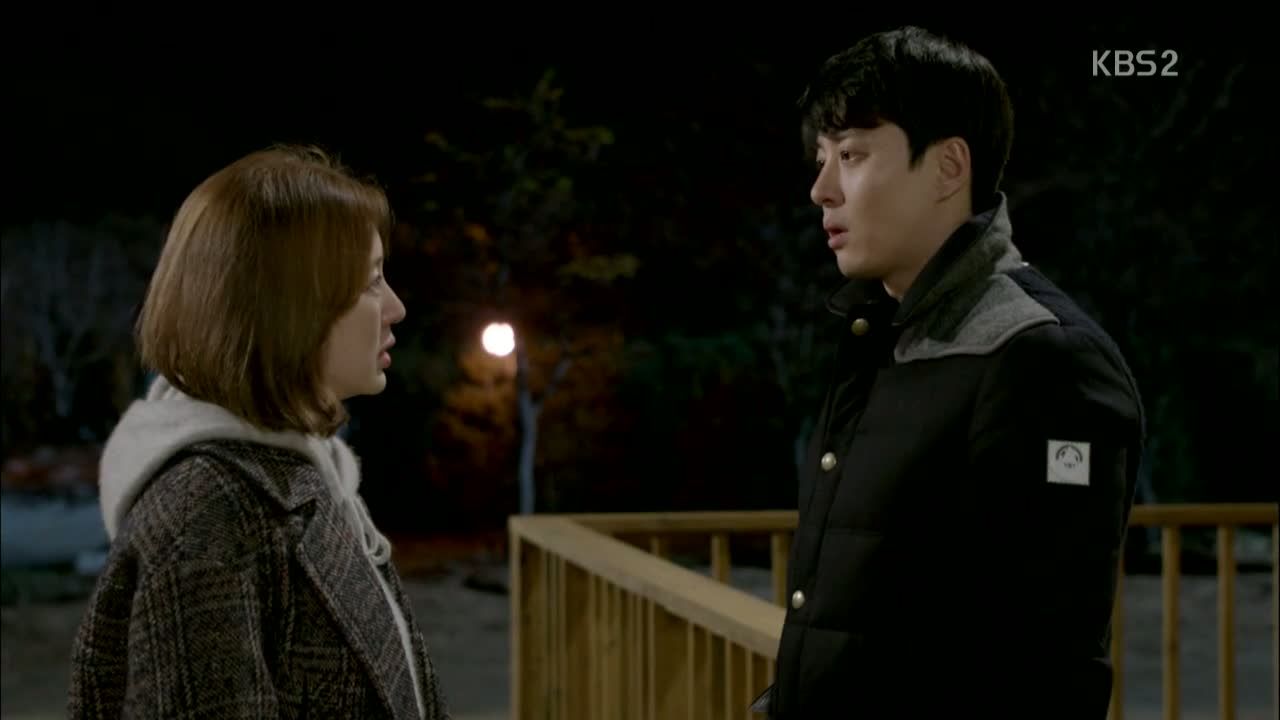 Shin interrupts group reflection time with his own confession: "I like Mi-rae." Eee, it's still nice to hear it a second time around. But then Oppa and the others chime in with the same words, which effectively turns his honesty into a running joke, and Mi-rae rises to leave.
He catches up to her and gets defensive when she says he was the one to start the jokefest. He insists his feelings are genuine, but Mi-rae is plenty hurt by now, and says through tears that she didn't feel his sincerity today.
Things are awkward between Se-joo and Yoo-kyung as they sit together nearby. He apologizes for not recognizing her feelings and asks why and when she started liking him. She wonders if he thinks it's because he's rich, but then answers that he was the one to be there for her.
Writer Bae sits next to Mi-rae, who's still upset about Shin's abrupt confession. She points out that Mi-rae must really like him, since she easily could have turned him down if she didn't.
She's sympathetic to Mi-rae's desire to focus on her career right now, and taking her hand, says that she trusts Mi-rae to be able to find the theme of hope in this assignment. Aw, I really like them together.
So Mi-rae starts her undercover assignment working in the nightclub's kitchen, struggling to keep to her country accent. She nearly jumps when Se-joo drops by to check in, and when she asks how the team is doing, he pointedly answers that Shin and everyone else is doing fine.
Speaking of whom, Shin is unable to pry any information of Mi-rae's whereabouts out of Oppa, who hilariously feigns sickness at the question. It's Writer Bae who chimes in to clearly tell him how and where he can find Mi-rae with the reasoning that Shin's clunky approach to romance reminds her of her husband.
Shin heads straight for the nightclub and runs into a waiter outside who's happy to keep tabs on Mi-rae for him. He mentions that another master, who looks like "a young master" also dropped by.
So Shin waits in a cafe across the street from the club, which is where Se-joo finds him. Shin asks when Se-joo will make his grand return and when he'll be fired, saying they both need time to prepare for the send-off.
The thought hasn't occurred to Se-joo, who laughs that Shin must think him a petty person, but Shin disagrees, "I think you're a very scary person."
As for Shin's job security, Se-joo answers that he's still valuable to the company and still useful, though his choice of words makes Shin sound more like a product than an employee.
Mi-rae is surprised to hear Shin swung by earlier and plays along with the ruse that she's his cousin. She bribes the kitchen ajumma to keep her secret, but why do I get the uneasy feeling that this entire operation will tank?
Oppa receives the shocking DNA results that confirm that both Mi-raes are the same Mi-rae. He calls Ajumma Mi-rae, who's still on lockdown at the chairman's estate, throwing out the sleeping pill meant to induce her fortune-telling dreams, her hair significantly grayer than before.
She nearly breaks down in tears of relief when he asks to meet so they can talk. Then she calls Chairman Lee to tell her that she's had another "vision."
She reports that Se-joo will end up homeless, advises against investing in YBS, and most of all, Mi-rae likes Jokey PD, which ew. Chairman Lee suspects that's a lie, and Ajumma admits that it is.
But this time when she's told to try again, Ajumma refuses to act as a psychic puppet any longer, telling the chairman to dream on. Ajumma points out that she's the unni, cutting the chairman down in banmal. Plus, the chairman wouldn't be able to know if she's lying about the future or not.
So Ajumma offers up a proposition: she gets to leave and the chairman gets her visions on the condition that Mi-rae is left alone. It's a pretty epic smackdown that leaves the chairman completely flustered, but Ajumma's got places to be because her Oppa is waiting.
Oppa is still trying to wrap his head around the idea that Ajumma Mi-rae is his dongsaeng when they meet. He spoons more porridge into her bowl, remembering that it was her favorite food when she was young, which is like the sweetest brotherly gesture ever.
Ajumma tries her best not to cry, touched by how different he is than how she remembers him. He asks if cancer is curable in the future, and sighs to hear that it isn't. Ack, is this your future you're asking about or someone else's?
She admits that they hadn't spoken in over twenty years because Oppa had opposed her marriage to Shin. He asks who it is that dies in the future. You and everyone else on this side of the screen is wondering the same thing, oppa.
Back at the nightclub, Mi-rae finishes patching up her fellow kitchen ajumma with whom she's become friendly with, when a collapsed employee is taken out of the back room. That gives Mi-rae a chance to get inside herself, and she stirs up some noise to grab the goon's attention.
It works, but when the kitchen ajumma nervously tries to intervene, they're both called inside. Mi-rae hurriedly tries to send a warning text on her spy phone, but she gets caught and it gets tossed aside.
Mi-rae is led into the back room where the skeevy fake liquor production takes place. She turns on her hidden camera glasses. The ajumma is told to pat her down, and she pauses at a bump beneath Mi-rae's apron and is near tears before announcing that she's clean. D
aww, ajumma.
Mi-rae changes her apron before sitting down to document the liquor-mixing process, pausing every few seconds to grab a steady shot. But one of the thugs quickly catches on to her robotic movements and reaches for her glasses before smashing them on the ground. Uh oh.
The ajumma immediately pleads for mercy and gets sent away. She silently grab Mi-rae's apron before stepping outside, and brushes past the waiter who asks where Mi-rae's gone. He finds her startled reaction strange and sees one of the goons jump in his chair.
So he steps into the back room to see Mi-rae tied up, and then calls Shin, who then informs Oppa.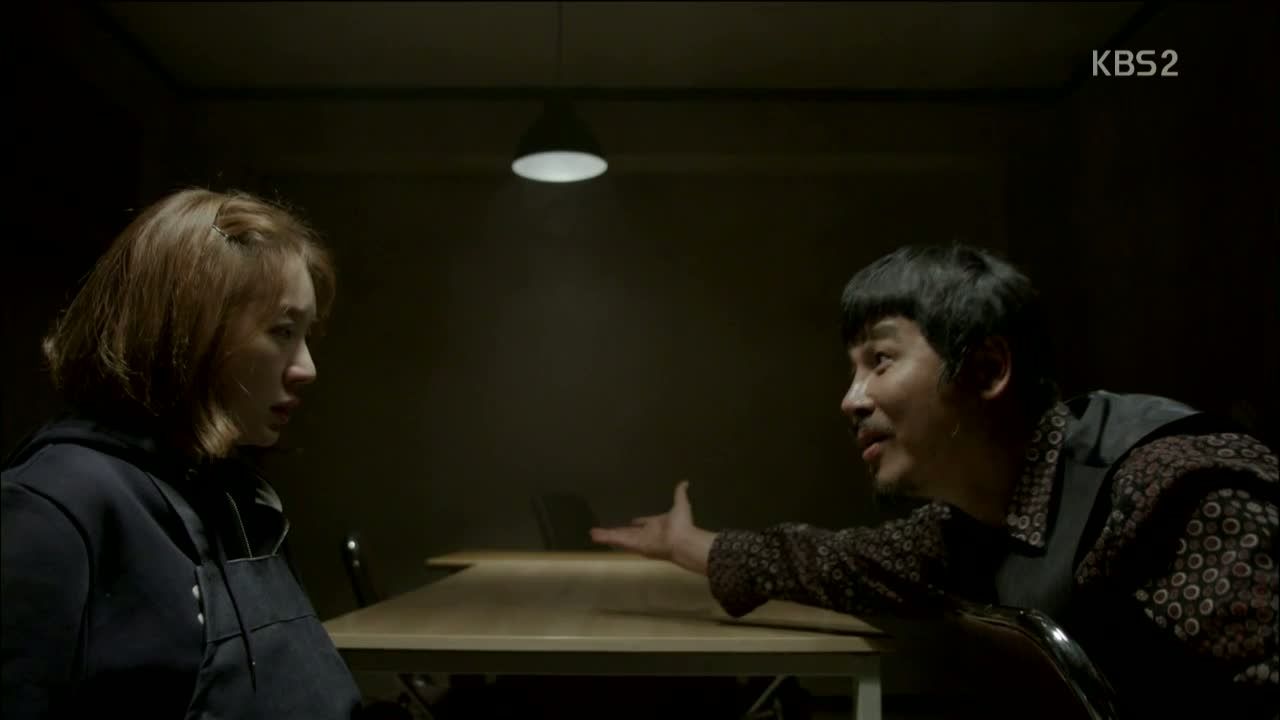 At the same time, the kitchen ajumma calls Se-joo through Mi-rae's phone. He walks over to the chairman's security guard parked nearby, not at all surprised that Grandma is keeping tabs on him. He asks how many men they can gather at a moment's notice.
Meanwhile, Mi-rae threatens to her captor that she and her team will expose their illegal activity on the airwaves. The thugs laugh in her face and points to the now empty room, taunting her to find any incriminating evidence.
That's when the men are called outside, where Se-joo's men try to force their way in. Se-joo decides to join them, but gets locked inside the car, told to wait for the police instead. Se-joo sighs in frustration.
Back inside, Mi-rae kicks the goon into the wall when his back is turned. Still tied up, she attempts to walk out, which is when the goon throws her back to the ground. Before he can do anything else, the ajumma charges at him and knocks him out with a beer bottle.
She apologizes to Mi-rae in tears as she loosen the ropes, and they walk outside where the police have already arrived. Se-joo runs to check if Mi-rae is okay just as Oppa drives up to ask the same.
Mi-rae looks around until her eyes settle on Shin standing nearby, something that Se-joo doesn't miss. The thug is dragged outside, and Shin steps in when he raises a hand to Mi-rae.
The police holds up the destroyed glasses, noting that their camera was rendered useless, but Mi-rae shows them her necklace, a backup camera which also recorded everything. Shin's lips turn into tiny smile, impressed, and Se-joo takes her home.
Chairman Lee is at another event when Yoo-kyung runs up to introduce herself. They exchange pleasantries, and Yoo-kyung stops the chairman to ask if she knows of Mi-rae, not the maknae writer, but the older Mi-rae.
Writer Bae refuses to write for the cheapened liquor feature, asking Oppa to trust Mi-rae with the story instead. So Oppa tells his sister the good news, and Mi-rae squeals with excitement and celebrates with Se-joo.
Oppa remarks that they look good together, and Se-joo asks a bit hopefully, "Really?" Aww.
But then Oppa brings her back from cloud nine to ask if Mi-rae has found an overarching theme that ties into their show's aim to convey hope to their viewers. She hasn't, and he asks why she chose this topic—was it to show off or for pride? Or because she needs this project to boost her career?
He sighs deeply, and then decides to go with their original plan to compare the fake liquor distribution against more virtuous establishments. Mi-rae puts on a brave face at the tough love, as Oppa stands just outside the door.
Oppa gets a call from Shin just then, and instructs him to stay out of Mi-rae's away because it was Se-joo who stepped up to the plate. But Shin sits the both of them down to suggest that they run a teaser of the feature during the news broadcast.
The other department has already approved, and there's one person stopping them: "Miranda" aka Chairman Lee.
Next thing we know, Se-joo walks in to see Grandma, who chastises her grandson as usual until Shin follows in after him. To that, she yells at him awkwardly, but Se-joo just shrugs with the explanation that Shin already knows the truth.
Se-joo comes out with it to ask if Grandma is against the idea because of Mi-rae. She plays ignorant, but I love that neither men beats around the bush with the chairman, and Shin names her as their maknae writer whom he cherishes. Grandma's astonished reaction of "It's him?! Mi-rae likes him?!" is priceless.
Then both men take opposing sides to argue whether the chairman would be that petty and narrow-minded, which leaves her confused. Ha, I kind of love that reverse psychology tactics throw her for a loop.
Chairman Lee interjects to applaud their performance to work together to defend the one women they both love. She then wonders aloud how this play will end—who will Mi-rae choose when the curtain falls?
Mi-rae is busy racking her brain for ideas after watching the teaser on the news when she receives a package from the kitchen ajumma. Aww, it's a pen so that she can keep writing.
Shin goes on air to posit the question to their viewers of whether there is a glimmer of hope beneath a disheartening story like fake liquor. But the story drew enough attention on the news for a bill to be presented to the National Assembly. And that is hope itself, he answers.
"Hope isn't a gift given to us by someone else; it's something we need to pioneer and discover for ourselves." That's the stance their show holds, he explains, and he casts a look at Mi-rae before finishing with the optimistic note that they'll search for hope to the end.
Mi-rae watches her name appear in the ending credits with sense of relief and pride. Shin turns around with a smile that disappears when he sees Mi-rae busy talking with Se-joo. He walks off set just as Mi-rae sees him leave.
Yoo-kyung waits for Se-joo outside, already dispirited after catching him watching Mi-rae during the broadcast. She asks if Shin also knows about Se-joo's secret now, and suggests that he come clean to Mi-rae too.
She points out that if he's hoping that Mi-rae will accept him as he is, then she should like him regardless of his chaebol background. Se-joo replies that he plans to tell Mi-rae everything tonight. To that, Yoo-kyung calls him cruel and walks off in tears.
Oppa's attempts to criticize Mi-rae about her ending narration doesn't faze her since she's already heard at how impressed he was with her back at the studio. He emphasizes that all she didn't do all that much, but Mi-rae is proud of herself that her little story is now in consideration to be made into a law.
Regardless of whether the bill passes, Mi-rae remains optimistic and likens the nationwide attention the issue received to a small vial of clear water poured into a dark ocean. If they keep pouring more of those in, wouldn't they be able to clean up the ocean just a little?
Oppa scowls at that, but it's apparent that she's gotten through to him. She wants to become a current events writer to change the world one story at a time. There's someone to thank for that change, who's also the one she likes: Shin.
Se-joo watches at a distance and catches the tail-end of the confession, having heard of Mi-rae's whereabouts through Ajumma.
Oppa flips his lid, kicking the swings in frustration. You could almost say his disapproval is almost too emphatic, save for the fact that Oppa already knows more about the future than Mi-rae does.
Oppa angrily stalks off before marching back home to ask Ajumma (whose hair is now brown again) if he can tell Shin the whole truth. Well I don't see why not if Ajumma manages to tell key people involved without any huge implications thus far. Oppa presses that they have to tell him.
Mi-rae talks out out to herself in the playground, addressing a wall as if it was Shin and saying that they don't need piles of money to be happy. Then the camera pans up towards Se-joo, hiding and listening nearby.
He appears outside her home a little later to find Mi-rae locked out of her own house, and asks to talk.
Oppa calls Shin out to a restaurant, and he swallows hard before telling Shin that he's brought Mi-rae with him and opens the door to reveal Ajumma Mi-rae.
Shin is understandably confused since he knows both women share the same name, and Oppa leaves the two to talk, tossing the DNA results in Shin's direction.
He has little patience for Ajumma Mi-rae as it is, but she tells him to listen carefully. Then Ajumma tearfully admits that Shin will marry Mi-rae and they will have a child: Geon, the one she loved the most, "Our son."
And Shin has to believe her, Ajumma insists, "Because I'm the Na Mi-rae you married."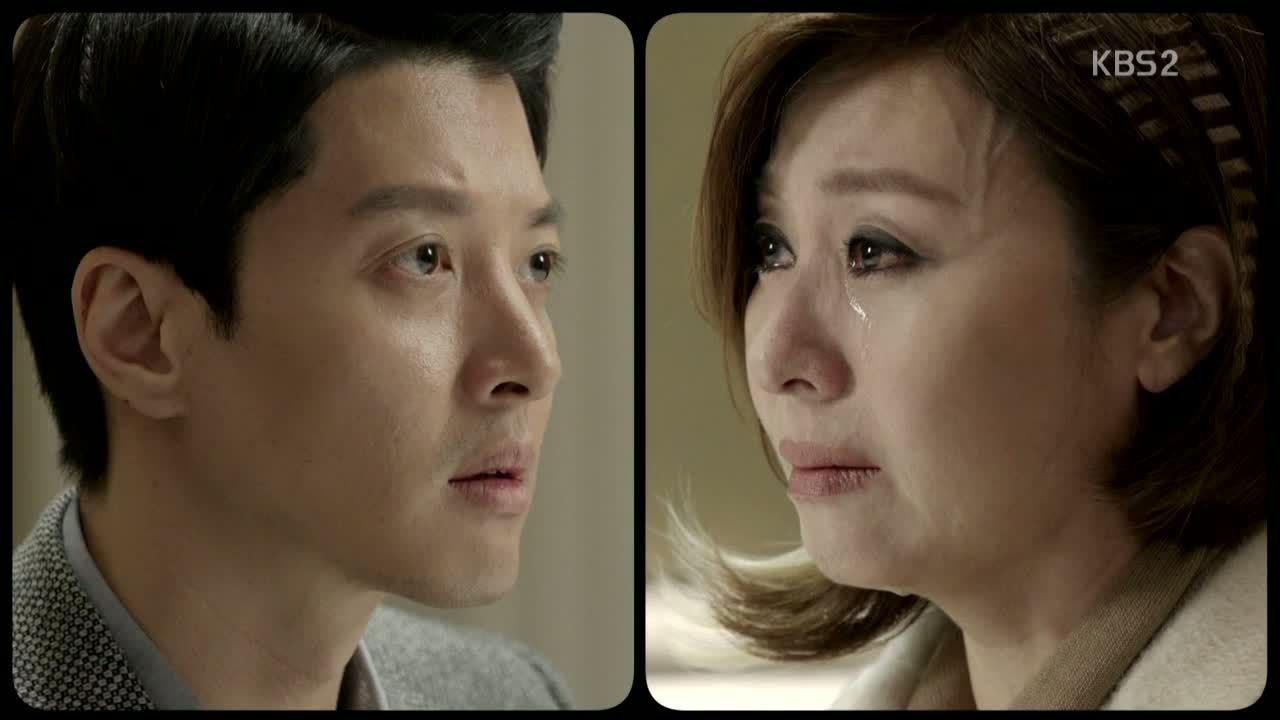 COMMENTS
Finally, the answer about who died in the future-past we've been longing to hear all series long. Even though the sad truth to lose a child is heartbreaking, there's a part of me that wishes this tidbit came to light a little sooner since the revelation didn't strike a deep emotional chord that I hoped it would. I feel that the pacing in the last few episodes is a contributing factor to this, as if the show stalled in this area (while allowing our romance to inch forwardish). By doing this, it eliminates the pressing threat to time-travel and lack of motivation in Ajumma Mi-rae's plans, and in turn allows an extended time for viewers to narrow down their speculations, so then when we learned the truth, there's less of that oomph quality this discovery should hope to have. It's as if I can feel a certain clockwork in the machinations of the plot by withholding the twists just long enough for us to generally anticipate them.
It also takes away sympathy from Ajumma Mi-rae, whom we were told risked her life to travel back in time… and apart from heart palpitations and gray hair, next to nada is happening. Still. This truth sheds light on her deep resentment towards Shin (with whom she may have been arguing with before the flashforward car crash), and yet there are still times when I feel like Shin, wondering why I should put up with her tears. But now that he knows the truth, it also gives us a chance to witness Shin's reaction and (hopefully) anticipate any serious changes to his own life choices because of it, but I also feel like I shouldn't set my expectation bar too high.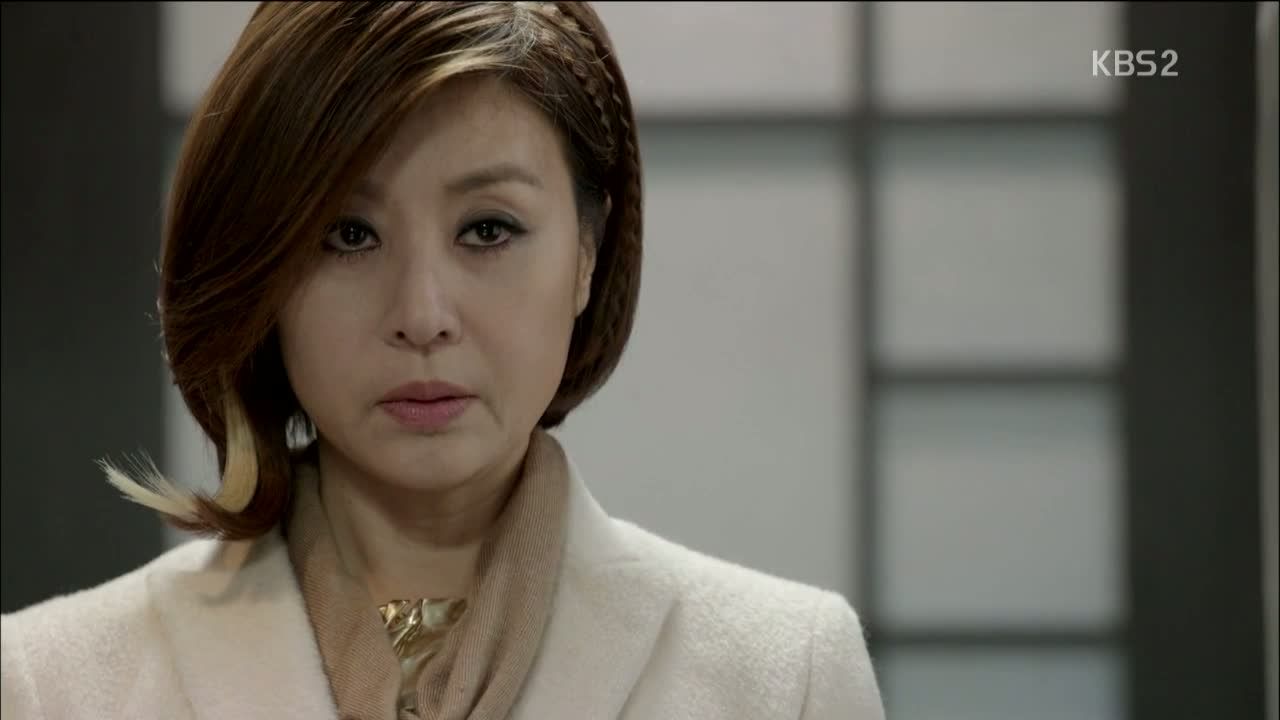 I want to be sympathetic to Ajumma's plight, and I don't want to actively hope for her deteriorating health. But with a laughable hunter and her meddling that hardly leaves a drop, let alone a ripple in this time-space continuum, what we're left is a nagging ajumma who can get away with messing with reality with her own self-created willy-nilly rules and frankly, a lot of frustration instead of support.
I wish I could remain optimistic and venture to say that one woman's actions can't necessarily change fate, but by saying that, it would negate Mi-rae's optimism that persistence and perseverance can produce change. It would counteract the uplifting message of hope that the show (and the show-within-the-show) has been trying to convey thus far, and if that's the case, either you've got a writing flaw or a discouraging message instead. And I want neither of those possibilities for this show.
On the flipside of that coin, I still love Mi-rae's optimism and idealism, which is in such stark contrast to Ajumma's jaded outlook. She recognizes that one little story won't change the world, but she'll keep throwing eggs at the rock until it rolls. And even though Oppa may never say the actual words, there are people behind her to support her and help her tiny water vial cause a ripple in the ocean.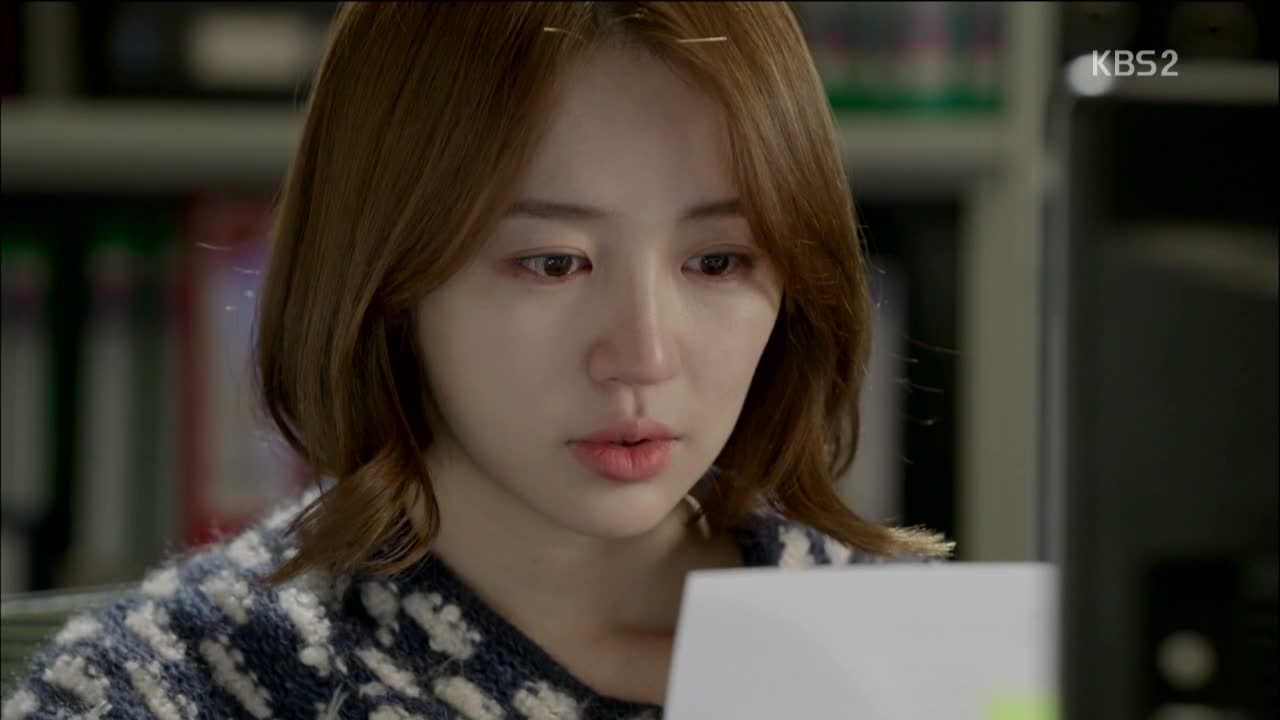 RELATED POSTS
Tags: featured, Han Chae-ah, Jung Yong-hwa, Lee Dong-gun, Mi-rae's Choice, Yoon Eun-hye