Mi-rae's Choice: Episode 14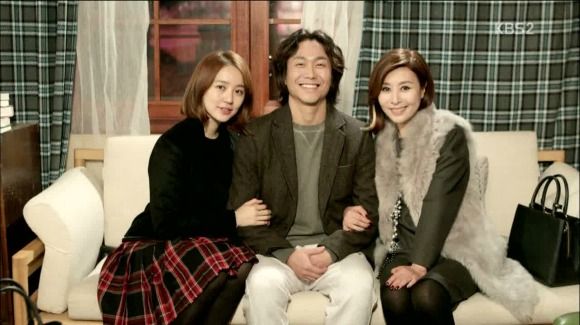 I love this family. I could watch them bicker and tease and show how much they actually care for each other all day if I could, because at least Ajumma Mi-rae actually gets through one of their lives. There's more conflict outside of this family unit, however, as both the broadcasting network and people's hearts go through a period of transition. And while going back to the future may be fairly simple, it may not be the one our time-traveler hopes to return to.
Le sigh, the numbers don't look strong as we approach finale week as this pair of episodes clocked in at 4.5% and 4.3%, respectively.
SONG OF THE DAY
2AM- "그냥 있어줘 (Just Stay)" [Download]
Audio clip: Adobe Flash Player (version 9 or above) is required to play this audio clip. Download the latest version here. You also need to have JavaScript enabled in your browser.
EPISODE 14 RECAP
After the broadcast, Shin announces to everyone that he'll be leaving the show and YBS. Putting a pause button on her conversation with Se-joo, Mi-rae chases after Shin to ask him if she's the reason why he's leaving, and Shin firmly denies it.
He's taken aback to hear that Mi-rae has already heard everything from Ajumma. He steels himself before assuring her that he's leaving to pursue his own success elsewhere—it has nothing to do with her.
Mi-rae asks if that's why he met with the attractive broadcasting exec then, and when Shin neither meets her gaze nor answers, she accepts that as his answer and concludes that this is the best decision for both of them.
Shin bites his lip before looking up again to say bracingly, "Thanks… for coming to the past, for meeting you, and blocking [it]. Thanks to you, I can live an entirely different life. You take care with Se-joo. I mean it."
He leaves at that and slumps on a pole outside, where he finds the pretty broadcasting exec waiting for him. They relocate to a rooftop and Shin admits it's the first time he's ever taken the time to admire how the lights of the buildings and cars seem like the reflections of the stars that shine so pretty and bright. He's told to take some time to rest.
Mi-rae returns to a nearly empty set where Se-joo is still waiting for her. He offers comfortingly that Shin stole her thunder with his sudden resignation, and then presents her with a rose in congratulations for her first big break.
Shin's announcement leaves the production team in low spirits, and Yoo-kyung remarks that it's too bad he's leaving since Shin and Mi-rae had such a great dynamic last night, like a longtime married couple. Oh right, I forgot that Mi-rae doesn't know that you know yet.
Oppa apologizes to Shin outside for giving him a rough time since he was just looking out for his sister. I sort of love their refreshingly frank bickering relationship as Shin says that Oppa never liked him in the first place.
At that, Oppa warns Shin against believing that his hotheadedness will change once he's at his new workplace or anywhere else for that matter. Shin asks where he's getting at, but the point is that Shin won't ever change. Shin dryly thanks him for the advice, and says he found a replacement MC. Why do I get the feeling it's the rookie announcer?
With that, Shin walks out of the YBS building and turns to look at it for the last time. He thinks back to the memories of his career that transitions to the time spent with Mi-rae, who watches him leave from a distance.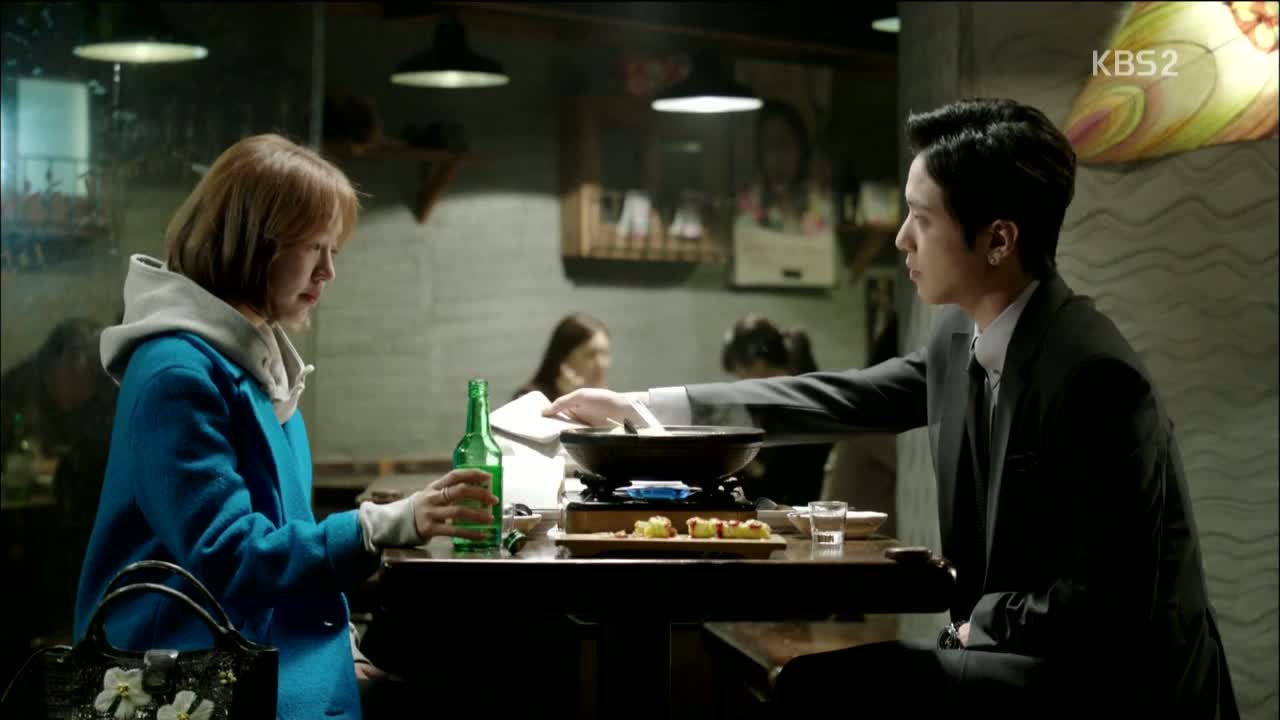 Clocking Mi-rae's gloomy mood, Se-joo invites her out for drinks later that evening. She asks if he's ever hurt someone indirectly, and he answers that everyone must at one time or another.
She blinks back tears as she says, "I've… no, I haven't done it. What I'll…" before giving up, both dejected and confused at how sorry she is to Shin. Me too, sweetie. She puts a hand to her heart, saying it hurts there, but the tears keep coming, and Se-joo silently offers her his handkerchief.
Mi-rae gets some preferential treatment at work, which confuses her until she overhears some employees gossip that she and Se-joo are an item.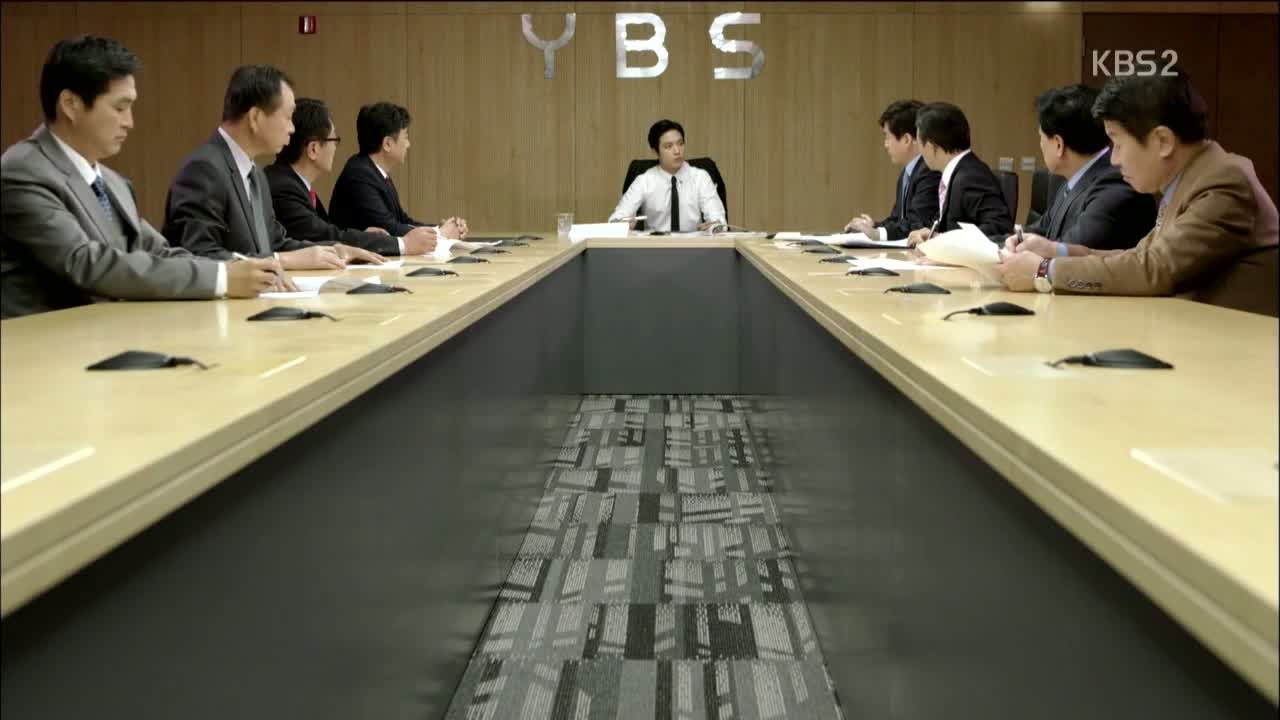 Se-joo doesn't get too much headway in his meetings with the broadcasting executives, who aren't keen on his plans to change the bureaucratic power system and restructuring their current programs.
Those are short-term changes for long-term results, Se-joo argues, but the businessmen are more concerned about how losing one of their biggest advertisers could lead to more losses.
HA, turns out Shin's replacement is none other than the rookie announcer with a lisp, and Oppa curses Shin under his breath. And why yes, I totally paused and laughed for a good minute.
I simply can't take this guy seriously as he talks about "facts" and picks apart Mi-rae's writing as poorly written for dictation. His eyes grow wide like saucers when Jokey PD whispers the rumor in his ear, and he hilariously turns on a dime, saying they're just fine.
Mi-rae pulls Writer Bae for a chat afterward and apologizes if it looks like she's overstepping her boundaries just because she filled in as the main writer once. But Writer Bae asks her if it would be different if Se-joo was ever behind that decision to promote her as such.
What she means is that there's talk within the company that Mi-rae got to where she is because of her connections. Writer Bae knows better than anyone that it isn't true, but the words still sting.
We finally learn more about the Black Man, whose purpose is to guide lost time-travelers back to the future. Well, that's certainly a lot less threatening than a time-travel cop or the like. He stutters that the changes in the present will only take place once they're back in the future, and when Ajumma pleads for more time, he whimpers, "How much?" Poor guy.
That takes Ajumma back to the dating agency, where this time she's looking for a match for Oppa. Aw, that's sweet. I love how she flips through the candidates and sighs that they all look the same (ha) and asks to find someone who's nice and a good cook within a week.
She tells Oppa to come home early so that she can cook him dinner. She frowns to hear that he'll get surgery done once the new guy is settled in, which is after she's gone. She worries that nobody will be here to take care of him, but he reassures her that it's a simple procedure. Aww, I just love these two together.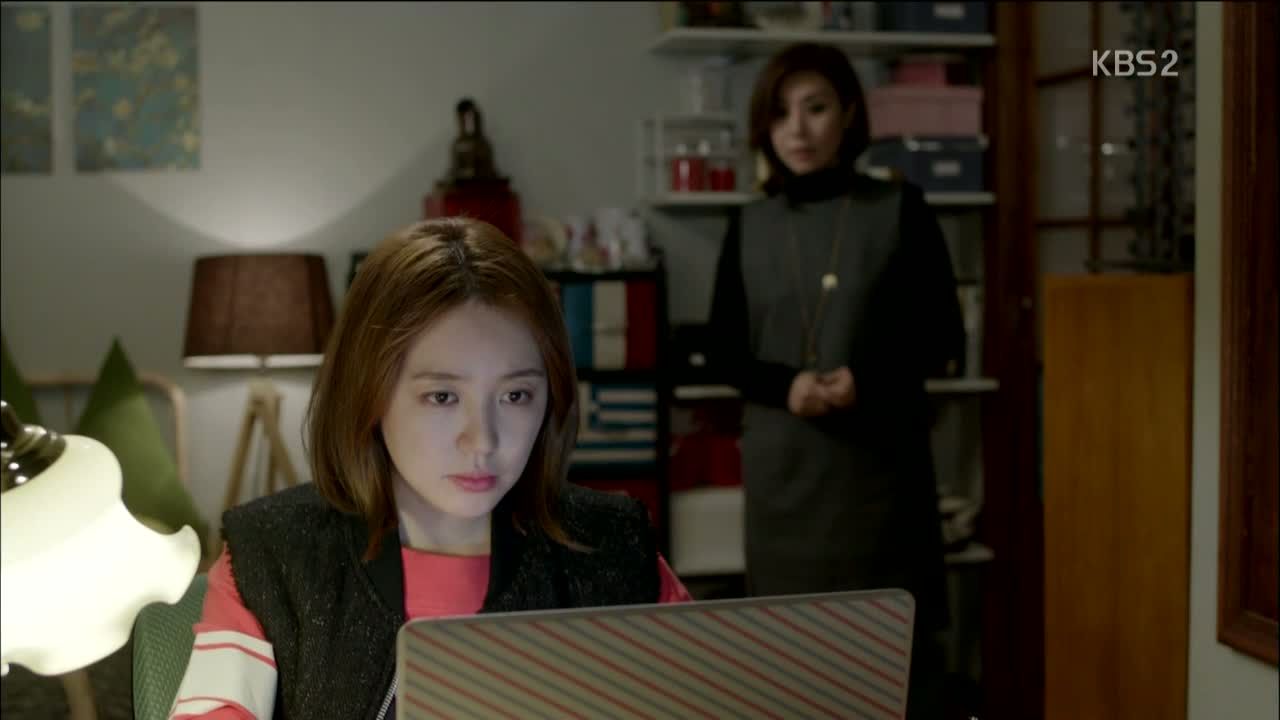 Ajumma then drops by to see Mi-rae to ask if she's happier now than working at the call center. Mi-rae is still miffed, but flatly answers that she is, which is enough of an answer for her.
Then Mi-rae asks why Ajumma hasn't returned to the future yet in a reality where she and Shin will probably be living as strangers. Ajumma figures that's true, but she honestly doesn't know what will happen, an answer that confuses them both.
Mi-rae: "Aren't there other time-travelers who have returned to the future before?"
Chairman Lee scolds her grandson at home that what his employees care most about is getting a paycheck. If they end up protesting about their pay, she'll have no choice but to remove Se-joo from his position, long-term goals be damned.
Furthermore the other companies are still coming to her to take care of business issues, which means he holds no authority in their eyes.
Se-joo returns to his office to find Yoo-kyung waiting for him. He's surprised and disappointed when she asks him to pull some strings to get her the MC position because what should have been an impartial audition turned out to be rigged.
Her point is that there needs to be an action behind the words for real change. And if he hasn't realized that yet, then he's still a young master; as in, people won't take his authority seriously.
Se-joo calls Mi-rae in hopes to see her to lift his mood, only to be told that they shouldn't be seen together so often in the workplace. She does tell him that they can meet outside of work, and he says there's someplace he's always wanted to go.
Next thing we know, Mi-rae comes home with Se-joo in tow, much to Ajumma's shock. I love that she hisses at Mi-rae that she should have said so earlier, like any mother would and sets out a fantastic spread while saying modestly that she hasn't prepared much.
It cracks me up how Oppa heaps praise on Ajumma, talking to her in banmal for a good minute before realizing his mistake. Though Se-joo initially finds it odd, he doesn't think much of it, and it isn't long before they enjoy a pleasant meal like a family.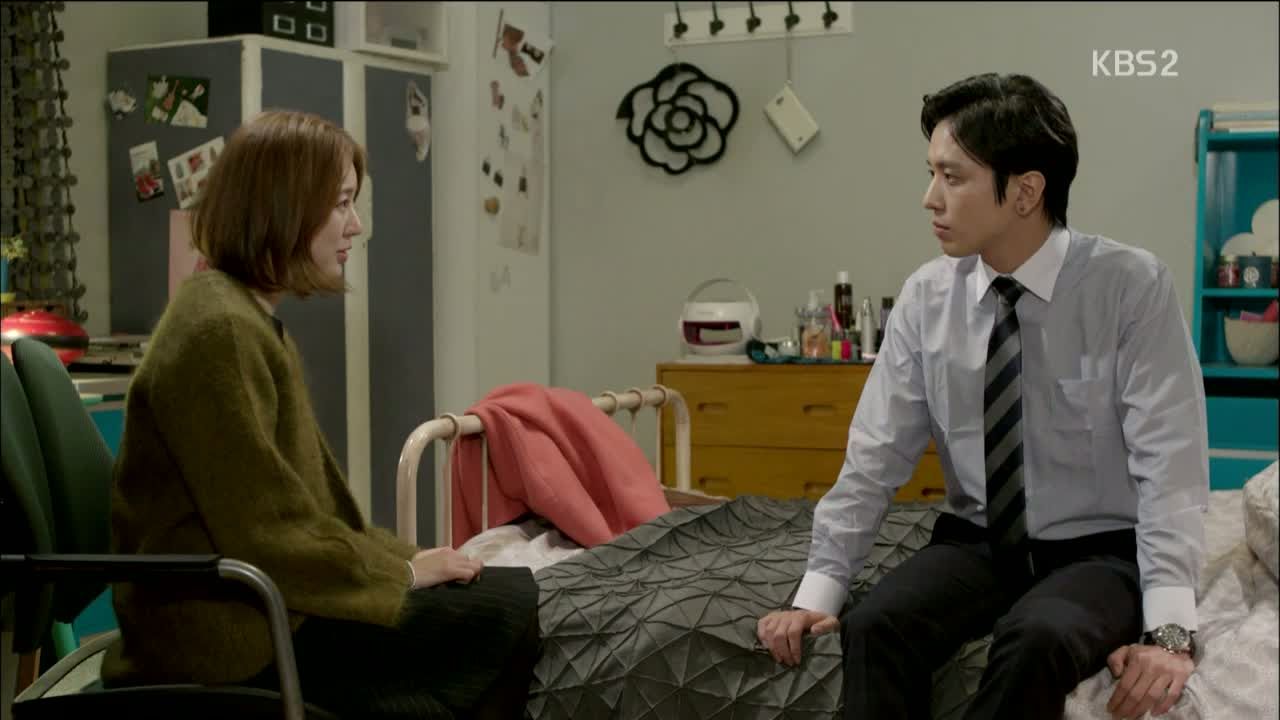 As Se-joo sits in Mi-rae's bedroom, he look around in awe until Mi-rae drops the bomb that she'll be transferring job soon. He asks it's because of him, but she answers that it isn't; she's grateful for the support both her brother and Se-joo have given her, but she realized she's still the same person from when she first started.
Se-joo understands, telling her that the old him would have tried to convince her to stay, but now he just wants her to be happy.
Then Se-joo tells her that he had an especially rough day today and heard words that cut him at the heart. He had wanted to run away, but then realized there wasn't anywhere he could go. Oddly enough, coming to her house made those awful feelings disappear.
Lying on her bed, Se-joo says that her room is just as he'd imagined it—small and cozy. Her parents must have been good people because her house smells warm and inviting. He then closes his eyes to catch a few winks, and Mi-rae gently tucks him in.
How much do I love that Oppa and Ajumma Mi-rae have the TV turned on for no reason while looking anxiously at Mi-rae's bedroom door? Ajumma asks him to free up his schedule so that she can take him somewhere tomorrow.
Then we see Shin sitting in his car parked outside the YBS building, trying to convince himself that he's made the right decision. He sighs that all he did was to go to and from work this entire time: "How is it that I don't have anywhere else to go?"
The Pandora Box team gets the good news that they've passed their evaluations, and it seems it finally gives Oppa the freedom to pursue the documentary show he's always wanted to do.
He decides to stay where he is, and simply asks that someone fill in for him for a few weeks while he recovers from surgery and that it stays under wraps.
Oppa then takes Shin out for a fancy celebratory meal and asks how he's been doing. Shin says he's even more busy nowadays enjoying his break and tells Oppa to quit too if he's so jealous, and then realizes, "Ah, that's right. No one wants you." Pfft, these two.
Oppa says that's true, but whatcanyado when you've got cancer. Well now. Shin doesn't believe it at first, but he's shocked to learn that it's true, as Oppa sighs that he kept it from Mi-rae the first time around and lied that he was going to Europe for vacation when he was actually getting surgery.
It's hilarious how Oppa practically cringes at Shin's concern, showing him the goosebumps forming on his hand, but gruffly thanks him anyway because now he can get treated.
Shin is called out by the attractive broadcasting VP just then, who takes him out shopping for work clothes, but really just 'cause she wants to. He points out that it's usually the other way around where a man takes a woman out instead.
Cut to: Se-joo telling Mi-rae to pick out anything she likes. Mi-rae says that she finds this gesture burdensome… then subverts the trope on a dime, saying that she's always wanted to be on the receiving end of a shopping spree. Ha, I love her.
She warns him not to regret it and runs off, but it isn't long before Se-joo notices Shin and his not-a-date in the same mall, and he hurriedly ushers her out of the store. She jokes that rich boys are worse, and then suggests they go somewhere she usually shops at.
That leads to an adorable outing as they explore the streets together. While trying on a coat, Se-joo says that he wanted to treat her today, and she jokes that it's for another man. He actually deflates at that, "Another guy? Who?" Aw.
She clarifies that it's for Oppa, and he smiles to hear that she cares for her brother so much. She offers to buy something for Se-joo too, and then adds there's one more thing she needs to get.
Speaking of Oppa, we see him suited up as he arrives at a restaurant with Ajumma. Turns out it's for a surprise blind date, and it's cute how she practically has to pull his leg to go through with it.
Ajumma then calls Shin out to inform him that she'll soon return to the future. She warns him not to sign with the other broadcasting network because of the vice president and the chairman's son, whose name she doesn't recall.
Shin tells her not to worry because although he'd been told that he'd never change, he decided he must and take notice of others. To that, Ajumma says that although they didn't have a happy ending, Shin was still a decent man.
She was the one who was lacking, Ajumma reasons, and she's come to the conclusion that perhaps she was trying to prevent Shin from marrying her, not the other way around.
Looks like Oppa's blind date went pretty well given his giddy state at home. Mi-rae arrives and casually drops her gifts onto the table, which includes matching bags for her and Ajumma. Aww.
Touched, Ajumma walks into Mi-rae's room to thank her in person, and then tells her that she has to take good care of Oppa once she's gone. Ajumma suggests they take a family photo together, and I love how they bicker like family as the timer ticks down to take a candid photo.
They laugh as the women insists they take another whereas Oppa says that it's fine. And then they sit down for a real family photo which is just downright adorable.
The NTN chairman immediately disapproves of Shin, to which the vice president (aka his daughter, go figure) aegyo-pouts in retort. Shin asks the reason why, and the chairman replies that he doesn't like the smug look on Shin's face. There needs to be a give and take in this offer, and he'll keep a close eye on Shin to see what he has to offer.
As Shin reviews the contract, he takes notice of a particular clause that states that the early termination fee amounts to twice the contract fee, which is a pretty hefty sum. At that, he recalls Ajumma's words at how he ended up to his ears in debt because of it.
Writer Bae informs Mi-rae that she'll be transferring departments and is saddened to hear that Mi-rae will be leaving YBS herself soon.
At the same time, Se-joo arrives at a fancy party and walks up to the NTN vice president whom he seems to be on friendly terms with. He mentions that she looks happier lately, and she coyly smiles back that she'll introduce him to her romantic interest when the occasion arises.
The Pandora Box team goes out for drinks and it's not long after Se-joo joins their party that they laugh and enjoy themselves. The joyous atmosphere has Mi-rae think back to when Shin had joined them.
Se-joo walks Mi-rae back, using the classic I'll-just-walk-with-you-just-a-bit-further excuse, which makes Mi-rae laugh. They suddenly stop and stand there, and we see them holding hands. He asks if she'd like to sit for a minute.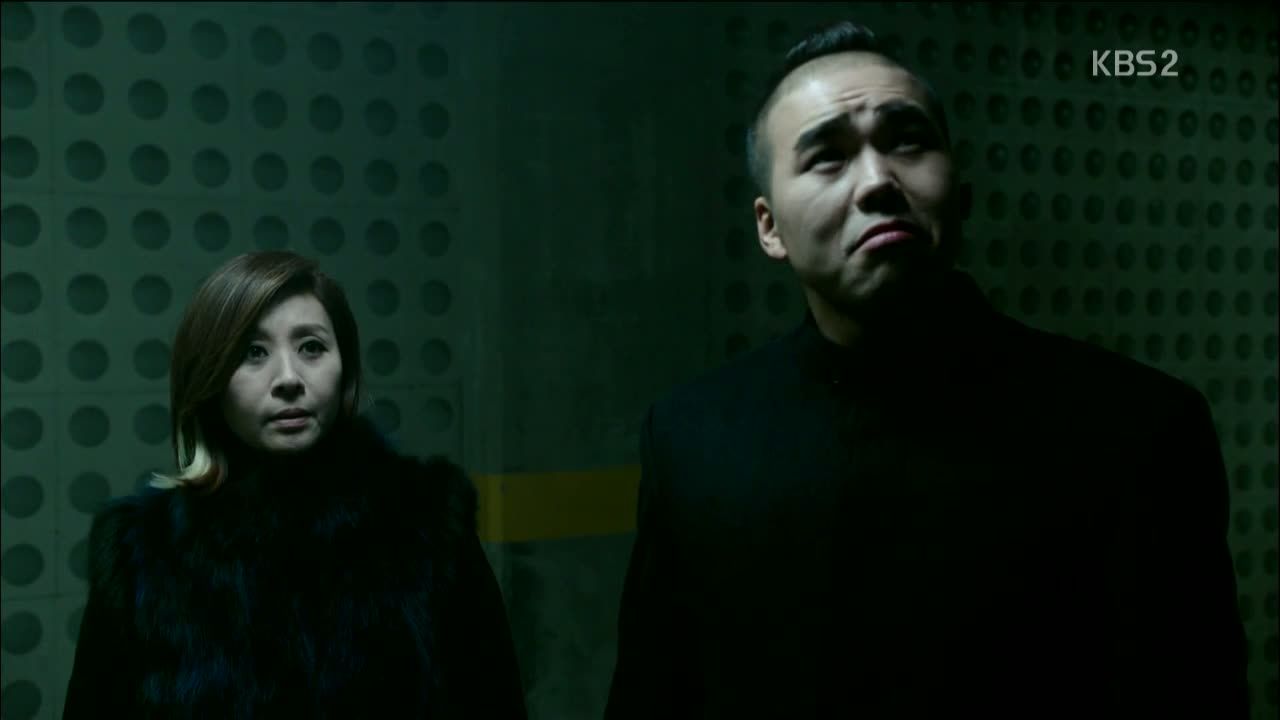 At the same time, Ajumma casts one final look at her home before she follows the Black Man in silence. They stop outside a different elevator than she took to travel to the present, and despite his explanation that it's an upgraded model, I get this uneasy feeling in my stomach.
She asks to make one last phone call, and tells Mi-rae that she doesn't regret her plan to get her together with Se-joo in the slightest before hanging up. Needless to say, it leaves Mi-rae confused, but then she recounts the story of how she first met Ajumma to Se-joo, and how it landed them in Jeju Island.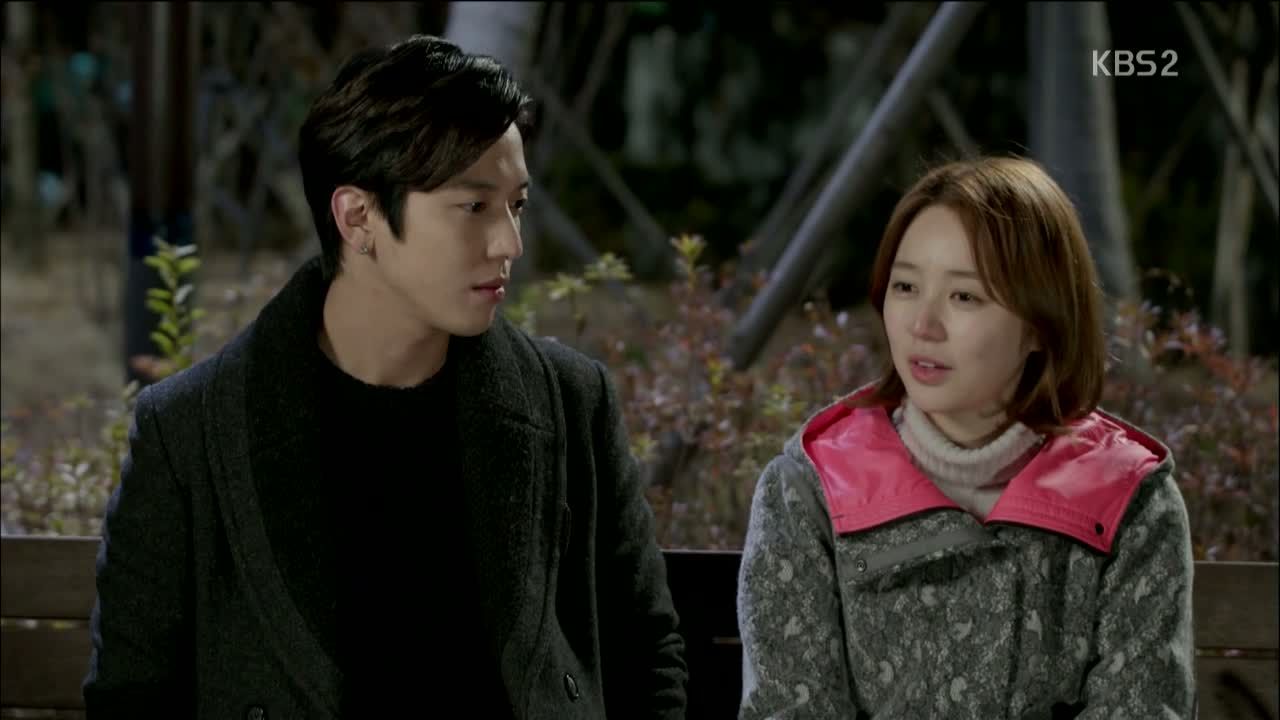 She shies away in embarrassment at that part, and when Se-joo urges her to continue, she says she recalls that she went into the ocean for a nightly swim, but doesn't remember what happened after that.
She belatedly learned that a mysterious man had rescued her and she has yet to find out who he was. Se-joo asks if she isn't curious as to who her rescuer is. "He's here," he reveals. "Right in front of you."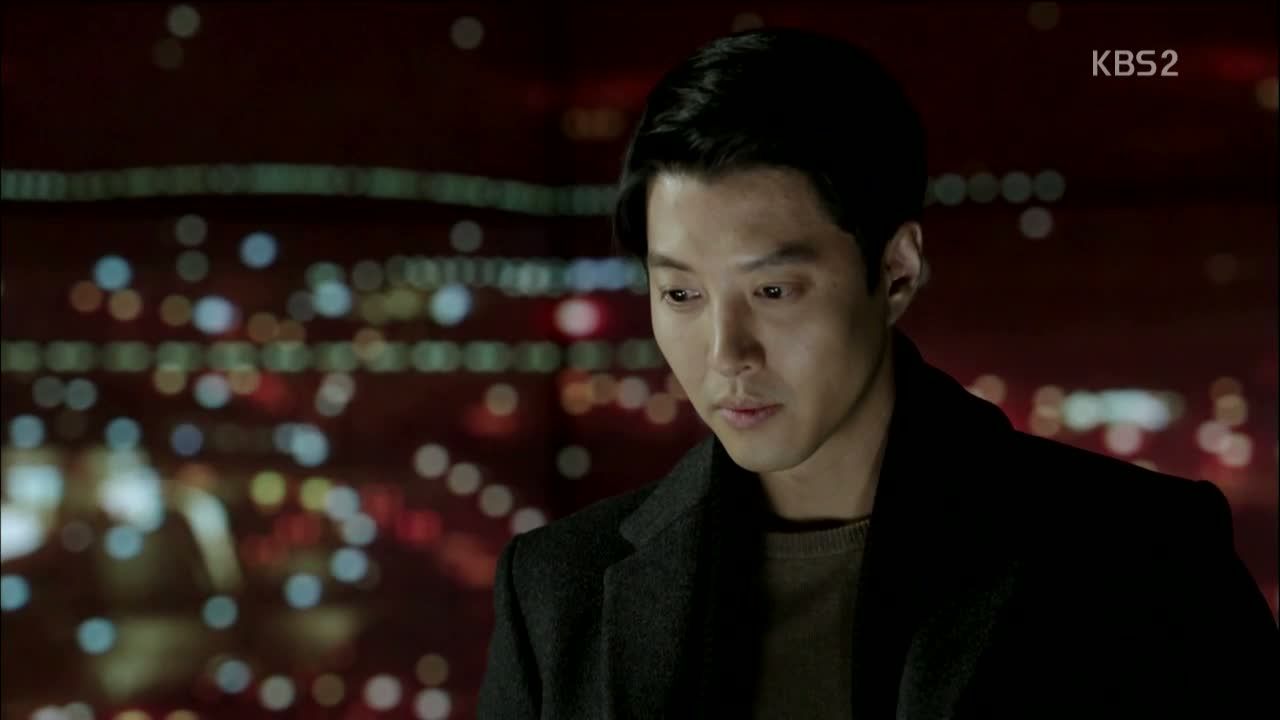 Meanwhile, Shin walks into the empty news station set and sits down in the anchorman position when the vice president enters. He agrees to the contract, effectively accepting the position as a NTN main news anchorman. Nooooo!!
It should come as no surprise that the Black Man utterly fails when it comes to stealth as he reassures his boss that Ajumma has come quietly and has no idea that the future of present Mi-rae is completely different than her own.
He's also hilariously incompetent as he rifles through his notebook of time codes, blurting out that this is essential for them to return. So Ajumma snatches it out of his hands and demands an explanation as to why nothing's changed.
Now the Black Man finally provides some answers: Nothing in Ajumma's life will change by altering the present because she opened the door to an alternate time-space reality the moment she set foot here. In other words: "Everything you've done was pointless."
Ajumma Mi-rae chucks the notebook and runs out as the elevator doors close in front of him. At the same time, Shin is told to sign the contract while Se-joo slips off a ring from his pinky finger. "Will you accept my feelings, Mi-rae?"
COMMENTS
Er, I'll be honest—I'm still trying to figure out what kind of romantic proposal would include the world's tiniest diamond ring and it's so teensy that I can't even tell if there IS a diamond. I'm hesitant to call it a marriage proposal at this point and think it safer to concern myself with the state of Se-joo and Mi-rae's feelings and emotions.
Much like the future (to which I'll get to in a minute) I can't help but think that their hearts haven't changed either—Se-joo still likes Mi-rae, who still has lingering feelings towards Shin. So while I enjoyed watching their adorable outing which displays their easygoing chemistry, it's because of these feelings whereby I feel sorry to Se-joo to a certain extent that that hand-holding is more platonic than romantic. Se-joo's decision to keep liking Mi-rae whether Shin is in the picture or not is his own choice, but Mi-rae also allows herself to be in his company, keeping that door open for Se-joo to continue to try to win her heart.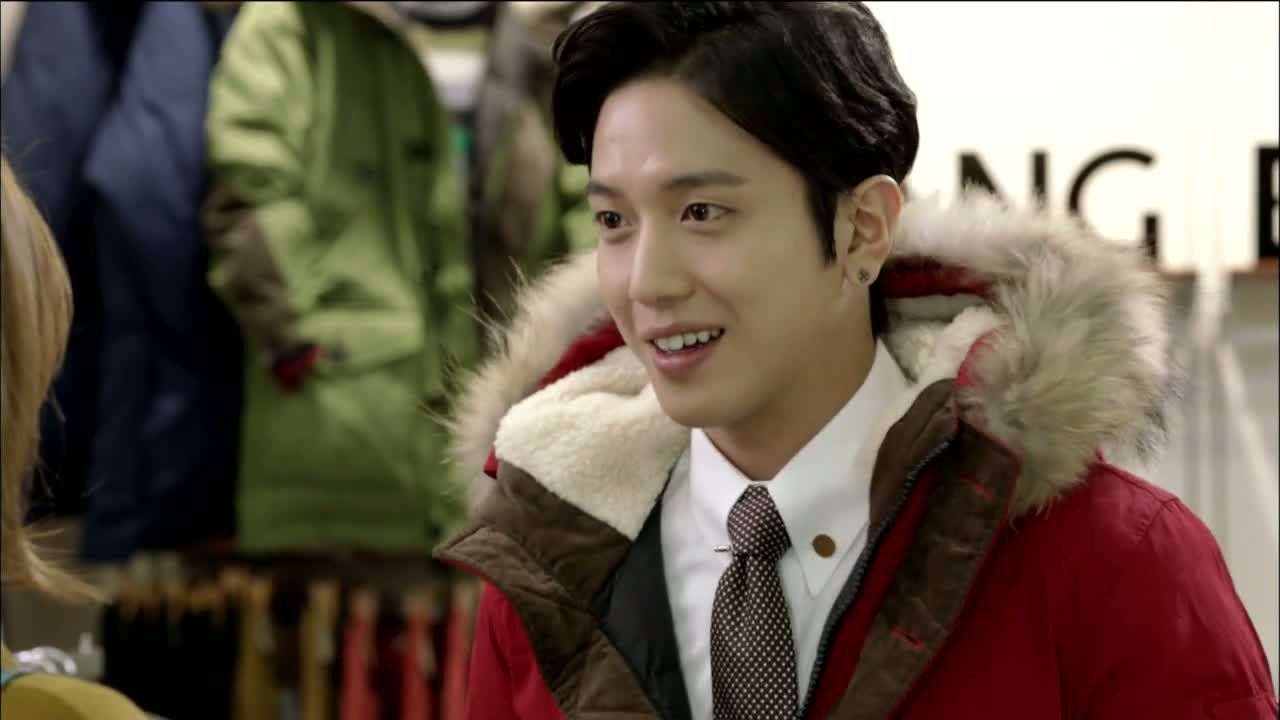 Now that we know for certain that the present and reality we're in now follows the parallel universes theory, this revelation both provides answers and adds more questions than before. On one hand, it explains how we don't see any correlative changes such as Mi-rae's ankle injury in our other Mi-rae nor do we see any corresponding character growth in her as Mi-rae grows a spine for herself, along with two very different diaries depicting two different realities. And because the viewers were allowed to witness this unfold, and I'm assuming that this isn't the first time-travel story for any of us, we could come to the conclusion that the future remains unchanged all on our own, eliminating the effect of surprise.
On the other hand, if Ajumma Mi-rae had questioned why the changes affecting Mi-rae weren't affecting her, we'd be dealing with a rich mine of conflict separate from the emphasis to see Mi-rae married to someone else. I'm sad that we didn't get to explore this area and rather left to wonder what other somewhat minor (but probably important) piece of information about the future that Ajumma has forgotten this hour. And now that Ajumma has skipped on the opportunity to return to the future voluntarily, there's a part of me that wonders what will become of her now or if she might just take her meddling even furth… oh who am I kidding, she's going to keep meddling.
On the upside, I love her relationship with Oppa and how she possibly changed his future for the better. Either I must have missed the part where he told Ajumma that he had cancer the first time or the order of that reveal felt clunky. In any case, I love that he's frank about his intentions to protect his sister to Shin. Then I died laughing when he was speaking to Ajumma in banmal, to Se-joo's shock. His character provides most of the heartwarming moments in this series and acts as the cornerstone to this wacky family.
RELATED POSTS
Tags: featured, Han Chae-ah, Jung Yong-hwa, Lee Dong-gun, Mi-rae's Choice, Yoon Eun-hye