Ghost-Seeing Detective Cheo-yong: Episode 1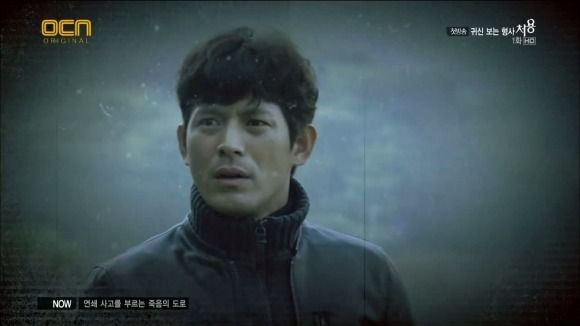 OCN's newest crime procedural Ghost-Seeing Detective Cheo-yong finally hit the cable airwaves this week after months of waiting to broadcast. The mystery thriller certainly delivers the spooks, suspense, and sometimes even funny at the start with its titular hero, a dogged female detective, and bubbly schoolgirl ghost—so basically, not your everyday crime-solving unit, but I suppose nothing's normal when you're dealing with the paranormal.
Just when you thought that dealing with ghosts was so last year, I'm happy to report that the show does enough to set itself apart while keeping things familiar within the genre. This one-off recap covers the first of the two episodes that aired back-to-back on Sunday; the double-header took in a solid 3.1% in ratings—a great start for what looks like a meaty 10-episode series ahead.
EPISODE 1: Ghost-Seeing Detective Part 1
On a dark night, a man cautiously enters an abandoned building where he's met with a horrific sight: a dead man lying on a sacrificial altar, a bloody pentacle drawn on his chest. Well, you certainly have my attention.
At the sound of a cocked gun, our detective hero YOON CHEO-YONG (Oh Ji-ho) spins around in alarm. His partner (cameo by Baek Sung-hyun) grips his gun with a shaking hand and sizes up the situation: how did Cheo-yong discover the victim's corpse that even the police couldn't track down?
Then Sung-hyun jumps to the wrong conclusion and scoffs at the irony that the detective in charge is their murder suspect.
Cheo-yong spots movement in the shadows, and when his warning goes ignored, he pushes his partner out of harm's way. He takes a bullet to the arm and chucks a fistful of blood at the intruder, which sizzles on contact.
The attacker roars and rushes out, his face burning. Gripping his wounded arm, Cheo-yong instructs his partner to stay here—he'll explain later—and then runs after him.
Cheo-yong chases him down to a broken bridge, and in a close-up shot, we see the attacker's eyes turn red and his bloody face heals over. Red Eyes turns to praise Cheo-yong on his remarkable gift… just like his father. Oh, so is the ghost-seeing ability a genetic thing?
Cheo-yong tenses, barks at Red Eyes to go to hell already, and hurls more blood at him… but with a flicker of the eyes, the blood evaporates in the air. Whoa.
The men engage in a fist fight, and Cheo-yong pins the demon(?) to the ground and takes out a dagger. But then Red Eyes kicks him off and uses his telekinetic ability to make the dagger fly into his hand.
In a warped voice, Red Eyes says he'd love to play some more, but he has other business to attend to. Just as he's about to deliver the fatal blow, someone knocks him away and they both go flying over the railing.
That someone is Sung-hyun, who grabs on for dear life as Cheo-yong rushes over to grab Red Eyes' hand. Even in their dangling state, Red Eyes taunts our hero some more: "Want to know why I dragged you into this case?"
But Cheo-yong won't hear it, and Red Eyes gives a final smirk ("See you later, friend.") before he lets go, sending himself and Sung-hyun into the dark waters. Cheo-yong cries out in horror.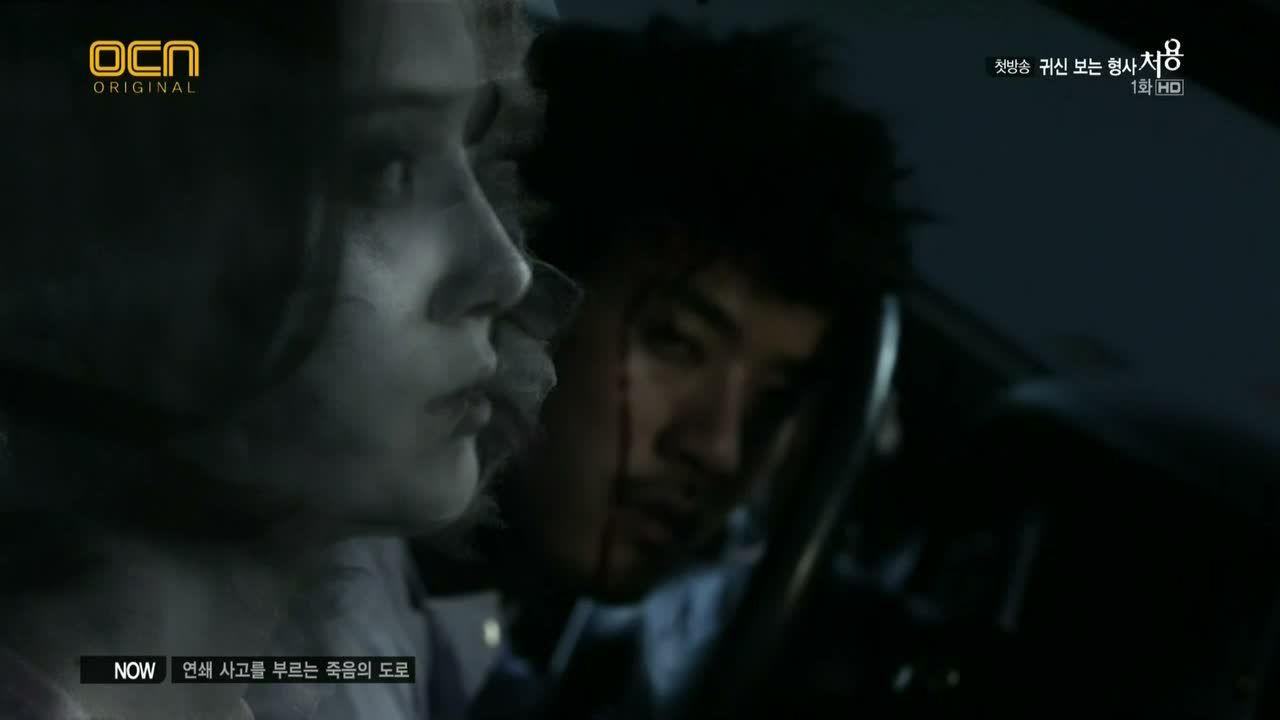 Seven Years Later. A man drives on an empty road late at night, and tosses out his beer can to pick up a woman trying to hitch a ride. He's spooked when she disappears and then reappears inside his car moments later, but promises to show her a good time.
It's too dark out for him to register her ghastly appearance at first, but knows something's off when he doesn't see her reflection in his rearview mirror. A moment later, the ghost jumps out in front of him, her eyes glazed over in white. Ack!
He swerves and crashes into a tree, and the ghost dissipates into the air. Spooky.
As for our hero, Cheo-yong tries to take a nap in his police car while tuning out the complaints of chest pain coming from an elderly man sitting in the back seat. He gets annoyed when he's told to respond to a call about a grandma selling produce on the street.
It seems to be a fairly common occurrence and Cheo-yong is reluctant to send the woman away. When the old man comes running to say that "the chest pipes" will burst, Cheo-yong tells him to get lost.
Thinking that he's talking to her, the grandma snaps at him, and with a sigh, she tells the old man that she'll come again tomorrow and lays down a flower… which is when the old man dematerializes.
She's grateful when Cheo-yong buys a few things anyway, and then takes her cart onto the street and clutches her chest. Oh no, was the elderly ghost trying to warn him that his wife was going to have a heart attack?
She collapses just as an oncoming car rams into the cart. The jackass driver has the gall to gripe about the state of his car, and Cheo-yong answers that complaint with his right hook. Nice.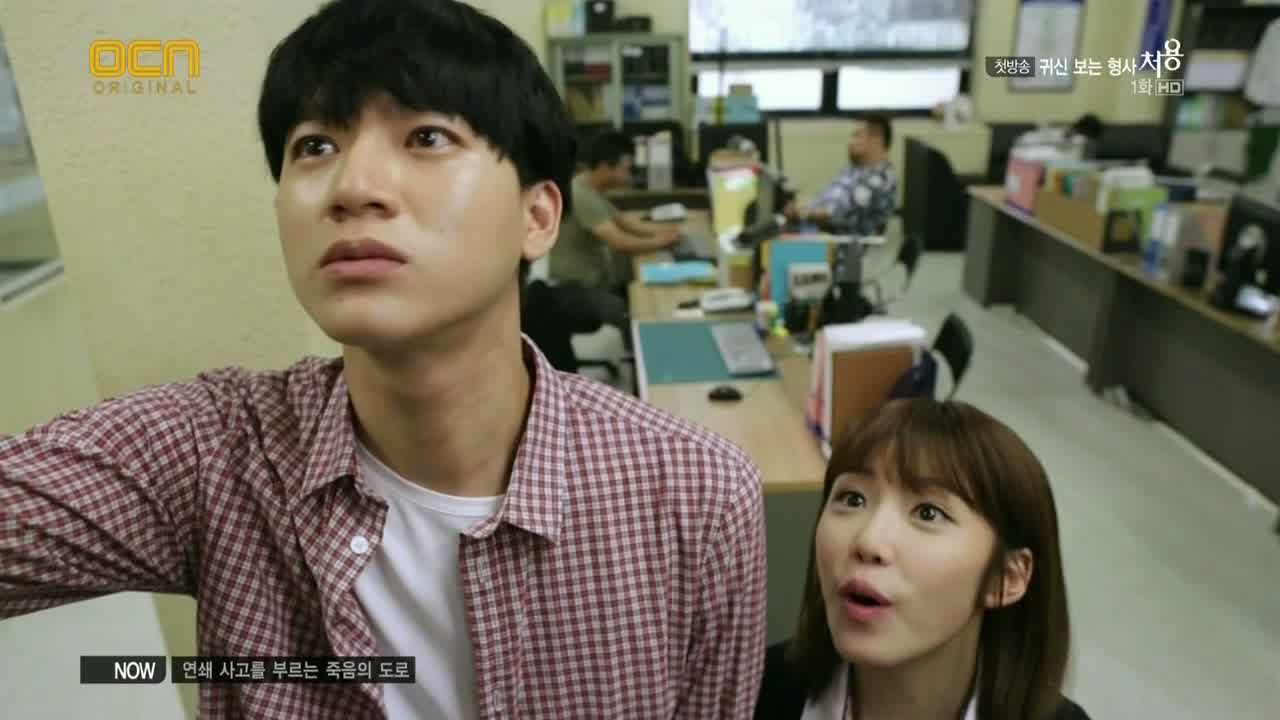 Back at the Seoul police station, we're introduced to a spunky teenage girl who knows the penal code like the back of her hand and chides the crooks for their crimes. She also has a habit of blowing her bangs out of her eyes and following around her favorite cop oppa (oh hi, Yoo Min-kyu). Ha, I like her already.
Her role is to be a helping hand at the office as she tsks at how this place would fall apart without her, though, I can't help but notice that no one actually speaks directly to her. We've yet to be formally introduced, but we'll come to know her as HAN NA-YOUNG (Jeon Hyo-sung).
An officer looking for detective HA SUN-WOO (Oh Ji-eun) takes us out to the field, where she and her partner are on a stakeout. She's nothing if not determined, and they're here to follow a lead about how all the victims were all picked up by a taxi before they went missing.
They follow the taxi driver when he shows up as planned, but he immediately picks up on his tail and takes off running. The cops give chase through the streets and split up, and a mystery man knocks out Sun-woo's partner with a blow to the back of the head.
Sun-woo is right on the taxi driver's heels and runs through the parking lot. But she eventually loses him when he jumps over the fence and runs off, much to her frustration.
The taxi driver jumps when the mystery man in black grabs him by the shirtfront and pins him against the wall. He warns the driver to do his job properly or face death.
Meanwhile Sun-woo rifles through the taxi driver's car (er, didn't he lock it? Or did you break in?) and discovers a bag of necklaces in the glove compartment.
At the hospital, Cheo-yong is told that the grandma wouldn't have made it if she arrived any later, and he realizes that the elderly ghost was trying to warn him about her. Then a little boy knocks into him in the hall and runs past; his disappearance sends the nurse into a panic and the doctor says they have to find him before he goes into shock.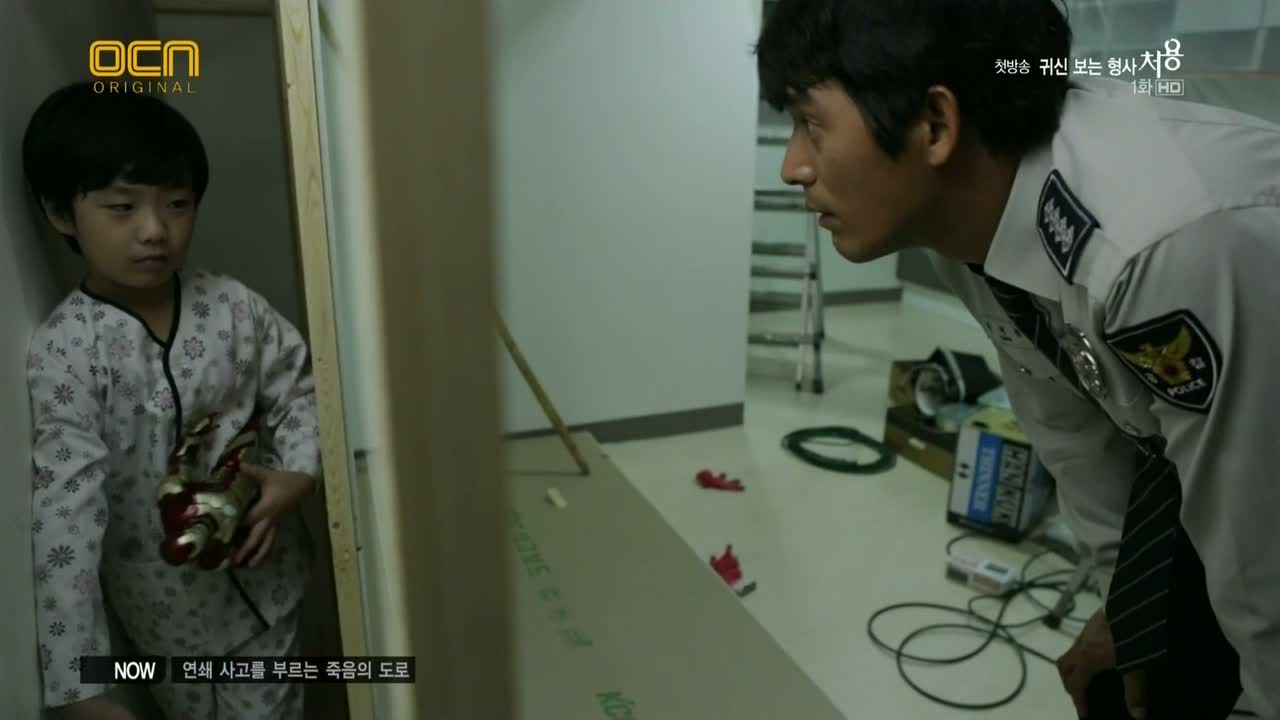 They leave before Cheo-yong can grab their attention, so he follows the little boy and coaxes him out of his hiding place. The boy says he has to hide until his mom comes before collapsing into Cheo-yong's arms.
Cheo-yong drops by to return the dropped toy at the boy's hospital room a little later. He overhears the other patients cluck disapprovingly at how the boy's mother abandoned her child because of the ever-costly hospital bills. He places the toy beside the boy, who sheds a single tear, pretending to be asleep. Oh, poor kid.
It's extra sad when the boy follows Cheo-yong outside and earnestly asks him through tears to find his mother because he's a police officer. He only has a picture and a few candies to offer in payment. Huh, that woman looks a lot like our first female ghost in pink.
Sun-woo reports her findings to the rest of the team (and Na-young), and their team leader Inspector Byun is displeased that two detectives couldn't nab one guy. All except one of the necklaces are linked to the missing victims, but the inspector wants evidence, not assumptions.
Sun-woo doesn't see this as a simple kidnapping case, and the inspector tells his team to get their heads on straight for this case.
Na-young tries to cheer Sun-woo up afterward to no response, and they run into Cheo-yong, whom Sun-woo recognizes as her sunbae. It's worth noting that Cheo-yong notices Na-young's presence, but pretends not to.
But when Na-young tries to alert the officers that one of the crooks is walking out to no avail (and her hand disappears through him), it's Cheo-yong who stops him.
That gets the cogs turning in Na-young's head, and she tries to stop Cheo-yong in the stairwell, but he just walks straight through her. So she says his fly is open, and he totally falls for it. Ha.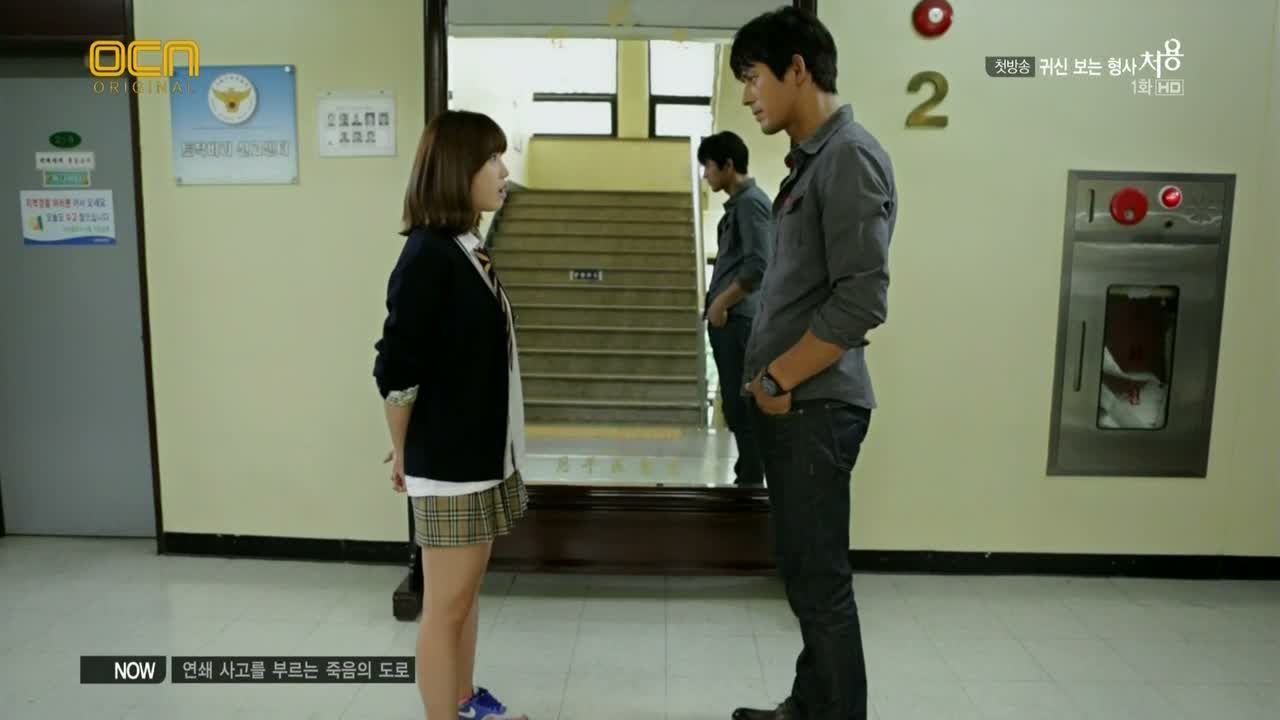 Na-young is over the moon that someone is finally able to see and hear her—and just in case we needed the extra nail driven into the coffin, we see that she has no reflection in the mirror.
Cheo-yong just finds these turn of events troublesome, and as she chatter on about how he's able to see her ("Are you a shaman? They usually can't see me though.") he shakes his head, "And they say that the dead don't talk." Ha.
He continues to ignore her though, and when she threatens to tell everyone that he can see ghosts, he tells her to go ahead if she can find someone else she can talk to. Hahaha, very true.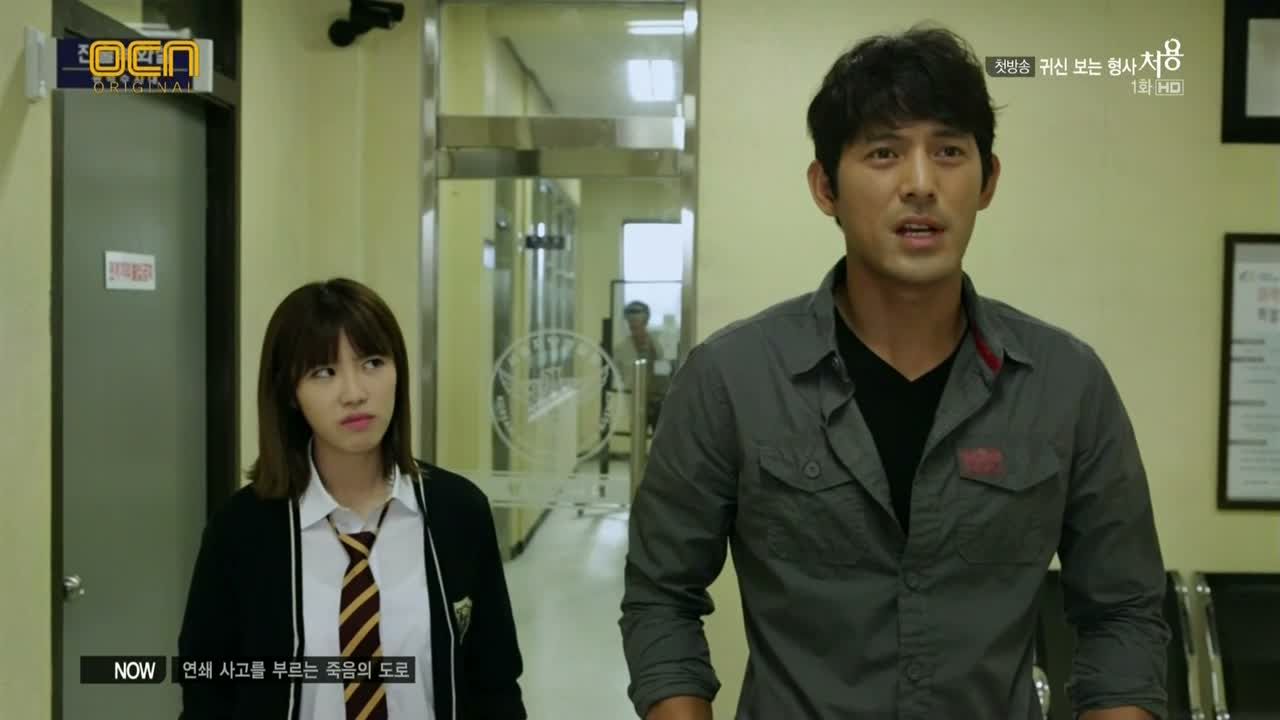 It takes nearly half an episode, but Inspector Byun finally gives us a quick rundown on Cheo-yong's once legendary status as a detective who solved his cases within three days. Nobody figured out how he did it, and that earned him the nickname "Crazy Ghost," something Na-young picks up with interest.
When asked why he isn't part of the violent crimes unit anymore, the inspector alludes to a past case. The story must be pretty well known though, as Cheo-yong overhears some younger officers whisper that he lost his partner way back when. Given his uniform, I assume that Cheo-yong is a traffic officer or district cop now, which is a far cry from his major crime days.
Na-young follows him out in the hall, desperate to find a talking buddy in Cheo-yong. She isn't able to follow him outside however because an invisible force throws her back, keeping her contained inside the station.
Later that night, Cheo-yong walks in to find two drivers arguing over yet another traffic accident along the same road that's been giving them trouble for over a month now. The drivers eventually get physical, and in his efforts to break them apart, his shirt tears and the picture of the boy and his mother fall to the ground.
One of the drivers recognizes the woman in the picture, claiming that she was the one whom he picked up and then disappeared like a ghost. That grabs Cheo-yong's attention, and he leaves behind the photo to get changed.
It ends up on the floor, and when Sun-woo and her partner ask about it, she's surprised to hear that it belongs to Cheo-yong. And we see that the boy's mother is wearing the same necklace that was found in the taxi driver's stash. Once Sun-woo confirms it, she calls up Cheo-yong, who ignores her call.
Elsewhere, we see that suspicious cab driver pick up another fare and smoothly persuades his passenger to chew some gum in thanks for her small donation. And from the looks of his skeevy smile, that gum must be drugged.
At the hospital, the little boy asks after his mother again, and is told another excuse for her absence. That's when Sun-woo and her partner drop by, and the boy confirms that he gave that photo to the detective ajusshi and that the necklace belongs to Mom.
Sun-woo promises that she'll find his mother and they pinky-swear on it.
The shifty taxi driver struggles to undo his latest victim's bracelet, when a police car drives up to inspect what's going on. He lies that she's passed out drunk and pretends to agree to take her home, so the cops let him off and drive away
But when they realize that he's driving off in the opposite direction, they give chase. Yay for quick-witted cops! Both Sun-woo and Cheo-yong are informed of the call and head out.
The taxi driver loses his tail by driving off the main road after the tunnel, and then jumps in alarm after he finally undos the bracelet to see the mystery man in black. On a hunch, Cheo-yong drives into the same beaten path and discovers the already abandoned taxicab.
Moustache Man isn't happy that the police are after them and scoffs at the collected jewelry. It's pennies compared to the revenue in human trafficking, the driver argues, but that remark earns him a stab to the gut.
Now awake, the woman screams, and the sound alerts Cheo-yong to the abandoned warehouse nearby. His quick reflexes enable him to avoid the sneak attack, and he takes on the Moustache Man, swiftly avoiding the knife with ease.
Cheo-yong gets a few kicks and punches in, but then Moustache Man holds the woman hostage, dragging her outside. At the sound of sirens nearby, he slits her throat and jeers that she has a few short minutes before slipping away into the shadows.
The police arrive and Sun-woo finds Cheo-yong sitting alone in his bloodied uniform in the stairwell. Suffice it to say that he doesn't want to talk about it.
Cheo-yong cleans up at home (I'll take the shirtless moment without complaint, yum), his body scarred with deep cuts. Reminded of the boy's earnest plea, Cheo-yong searches the office for the photo, only to be told that the female detective took it with her yesterday. Oh, and he'll have to go and find her if he wants to unlock his desk drawer because she has the key. Ha, that's smart.
I wondered what kind of relationship Cheo-yong and Sun-woo have since they seem to already know each other. For now it sounds like a sunbae-hoobae relationship, and he denies that they're an item just because she came to see him after joining the regional investigation unit about a year or two ago.
Speaking of, Inspector Byun sighs at how they have no leads to work off of the missing persons case and their victim is still unconscious. Cheo-yong heads to the station to speak to Sun-woo on the roof, ignoring Na-young's cheery calls that he came back to see her.
Sun-woo returns the keys, but then asks how much he knows about the case at hand, pointing out that they could have had nine missing persons if the assailant had succeeded last night. Moreover, one of the necklaces found belonged to the woman in the photo.
Cheo-yong replies that he knew nothing until she told him just now, and merely accepted the photo at the boy's request. He tells her to relay the message to the boy that his mother won't ever be coming back.
He turns to leave, but Sun-woo calls out, "Why have you changed so much? Have you forgotten [your] promise? Do you know why I became a police officer?"
She starts to reference to "that time," but he cuts her off, telling her not to dwell on the past but live comfortably like him. That answer floors her and he leaves.
Having overheard the conversation, Na-young gripes about Cheo-yong beside Sun-woo, who fiddles with a silver ring in her hand and says, "I'm sorry, I haven't forgotten about you… but the times I think of you seem to be less frequent as time passes."
"I seem to have changed because I've been busy," Sun-woo continues, holding back tears. "Ajusshi, too. I'm sorry to have sent you off first." Huh, a sister who passed away, perhaps?
Na-young wonders what's troubling her and admires the ring on Sun-woo's finger. She goes to touch it… and flash, Na-young finds herself in Sun-woo's body. Na-young can hardly believe it even when she sees Sun-woo's face reflected in the mirror, and then squeals with joy.
Meanwhile, Cheo-yong ponders over Sun-woo's words and the boy's request to find his mother. He decides to help find the ghost just this once.
Na-young (who's in possession of Sun-woo's body) braces herself for impact at the doorway and jumps excitedly when she can pass through unharmed. She climbs into Cheo-yong's car and simply smiles without a word.
He has no choice but to take her along, and Na-young marvels at the changed cityscape, wondering when they'll get to eat. Can't blame a girl for craving real food after eating nothing as a ghost.
Chae-yong stops at the same allegedly haunted road, and when he sees the boy's mother's ghost, he instructs (whom he thinks is) Sun-woo to stay in the car.
Not that she'll listen of course, as she follows after him into the forest screaming in terror. But Na-young flubs and calls him "ajusshi," which he immediately picks up on. It's interesting that the body possession doesn't surprise him, and Na-young twirls her hair sheepishly.
He doesn't blink an eye when she suddenly clutches her chest either, thinking that she's trying to get off easy. But then we see a series of quick flashbacks as the actual Na-young lies on the ground clutching her chest: the mother being strangled, and then holding her son's hand as he bears the pain.
Sun-woo's body finally collapses to the ground, and Cheo-yong calls out to her. He looks up to see the mother's ghost staring back at him and walking off before flickering away.
Cheo-yong brings Sun-woo back to the car and turns around to see the ghost staring back at him from up above. He demands to know what the ghost wants and runs up to the lookout where she was standing.
We hear the sound of screeching tires as a message (or a clue) is marked on the road below: "L3."
COMMENTS
Niiice. I was worried about how this show would shake up, what with its broadcast delay pushing the premiere back for months and all. Crime procedural shows can either be a hit or miss for me as well, so I'm happy that the final product turned out to be pretty solid and promising, and now those production bumps seem like a distant memory.
I like that the show dropped us into this world right away and wasted no time to introduce us to who I assume is the Big Bad in this show's Red Eyes (not to be confused with Red Eyes from the Vampire Prosecutor series). Even though we weren't given a name to the enemy, there were enough hints to establish his place from the start, and I wish that we got a better character introduction for our hero than the traditional expository backstory halfway into the episode, which was informative, but a little stilted.
Still, we get an interesting hero in Cheo-yong, whose ghost-seeing abilities since birth sets him apart from our other sixth-sense protagonists in recent dramaland memory. This is something he's known since he can remember, and knows exactly how to deal with those restless spirits, and even has a few tricks up his sleeve. Being dogged by ghosts is no cakewalk, but it's a way of life that Cheo-yong once learned how to manage and even utilized for good (in solving cases), and has since mostly rejected when it later cost him his partner's life.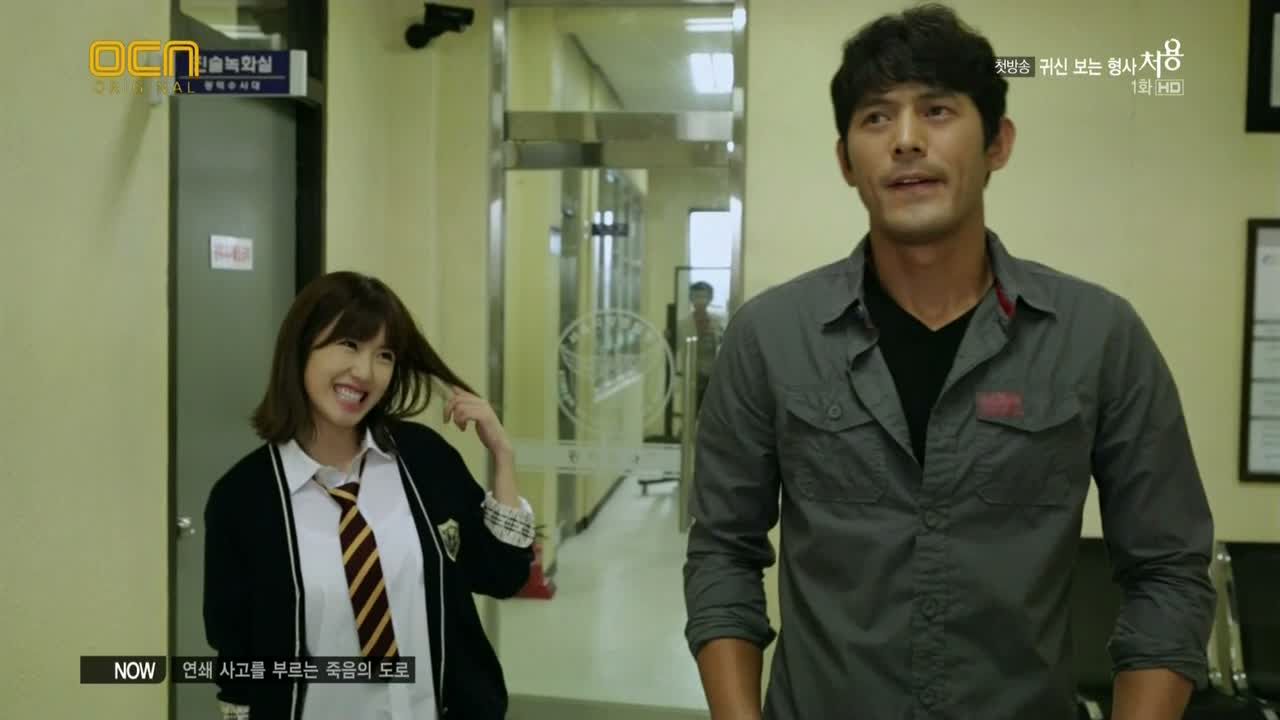 Now years later, he holds a jaded perspective about his supernatural ability, trying to ignore the ghouly meddlings as best he can and live a calm life. Not much surprises him in this other realm anymore, and I find his level-headedness about it all oddly refreshing. Cheo-yong isn't completely closed off though, and we see the glimpses of heroism and heart when it counts. I find it intriguing that he and his crime-solving skills are spoken of like a legend among the police force, because even if it's a strange legend, he's still being talked about. His interactions with Na-young seems super fun already, and they strike me as a winning team to come.
The show does a good job of bringing on the scare factor, or maybe I'm just a scaredy cat about ghosts. Having covered only the first half, I still feel like I'm getting the grasp on the paranormal rules that dictate this dramaverse, only to have more questions. Will our ghost-of-the-week be pale whereas Na-young's manifestation looks rather whole? Are ghosts trapped in certain areas? Given how this world feels so lived in and fleshed out, I don't doubt that those answers will come in time, along with our other mysteries tied into the show.
So if you like procedural shows with a dash of the occult, then this might be the show for you. If I could wish for one more thing, it would be for more body possession moments because watching Sun-woo act like an excited teenage girl dreaming of what to have for dinner is just comedy gold.
RELATED POSTS
Tags: cable programs, featured, first episodes, Ghost-Seeing Detective Cheo-yong, Jeon Hyo-sung, Oh Ji-eun, Oh Ji-ho, Yoo Min-kyu