I Need Romance 3: Episode 10
Everybody takes a swig of truth serum in this episode, otherwise known as lots of red wine, which leads to some heady confessions and explosive clashes. On the upside, people are done lying to each other because their secrets are out. I probably don't have to tell you that the downside is carnage, starting with my pulverized heart.

SONG OF THE DAY
Jo Jung-hee – "Now and Forever" for the I Need Romance 3 OST [ Download ]
Audio clip: Adobe Flash Player (version 9 or above) is required to play this audio clip. Download the latest version here. You also need to have JavaScript enabled in your browser.

EPISODE 10: "Without flowers, a ring, or an 'I love you'"
In the aftermath of discovering that Joo-yeon manipulated her frenemy right back for revenge, Wan heads up to his studio to be alone. He thinks: "For the first time, I regret coming back to you."
He thinks back to the moment he encouraged her to follow her heart when he found out she had feelings for Tae-yoon. "I was able to say that because I believed in the love that the thirteen-year-old you taught me." But it finally sinks in that she's forgotten all of that.
Joo-yeon drinks alone downstairs, growing increasingly uneasy after Wan's disappointed speech. She adorably inches ever so closer to his room, then lingers in the stairwell with her face behind a post, like she's five and got caught with her hand in the cookie jar.
He grumps that he has nothing to say to her, because it won't matter—she doesn't understand words. She pouts and shuffles in anyway, which I love about her. He remains aloof, so she asks, "What did I do that was so wrong?"
She says he's made her feel bad with all the "you live wrongly" accusations since he came, and hangs her head: "But this is just me. If you're disappointed in me, I can't help it."
He doesn't let her off the hook, and says he didn't know until today that she's cunning. "If you want to love and be loved, just be steadfast to that. Don't mix it with competition and jealousy."
She complains that he's speaking to her so harshly, but he points out that she doesn't understand him otherwise, and gives her the cold shoulder again. She stomps away dejectedly, and he sighs to himself: When she goes like that, my heart hurts like crazy.
He heads downstairs and she tries her damnedest not to be caught looking at him. When I see her alone like that, it feels like my chest is collapsing. She asks where he's going, but he walks out without an answer.
He just goes to the neighborhood watering hole to have a drink, but she fires off an incessant string of texts ("Where'd you go? Are you coming home? I'm changing the lock code! Can I empty your room? What time are you coming home? Why aren't you answering? I'm going to wait up till you come home….") that he goes from annoyed to melty puddle despite his efforts to stay mad.
He comes home and acts like he wants to watch TV alone, but she sidles up to him grinning from ear to ear and links arms, wanting to watch something together. He tries not to smile, but then she leans on his shoulder.
Wan (voiceover): "When she's like this, my heart gets weak." And just like that, he can't even pretend to be mad anymore and breaks into a huge smile. "No matter what awful thing this woman does, I can't hate her."
He pushes her away, which makes her frown… and then he lies down with his head in her lap. He holds her hand and apologizes for being harsh earlier, and she says it's okay—they just need to live according to what they each think is right.
At the office, Min-jung asks Hee-jae about her boyfriend, which leads to her embarrassing confession that she was dumped and that he never even told her he passed his exams.
Woo-young runs after her to ask if she's okay, but she just has an outburst at him instead that she doesn't have time to figure out what she feels because there's too much work.
Min-jung's next-door-neighbor-with-benefits Min-seok actually manages to track down her workplace and walks right in the front door. Of course he knows her as Woo-young, so that's the name he gives at the front desk. This is going to be terrible and hilarious.
While he's waiting in the lobby, he happens to see Joo-yeon during a meeting with a designer, and recognizes her as his next-door neighbor Lee Min-jung. Hahaha. They exchange awkward hellos, and then Joo-yeon starts frantically trying to get Min-jung to read her mind from across the room.
Min-seok is totally confused when the real Woo-young comes downstairs and is, well, a man. And then two seconds later, Min-jung sits down next to Joo-yeon with coffees, never having caught on that the man she's so desperately trying to avoid… is standing right behind her.
I love the silent looks between Woo-young (What the hell?) and Joo-yeon (Don't even get me started).
Min-seok freaks out as expected, wondering if anything about her is true. She tells him everything—that she's actually 36 not 27, and his next-door neighbor, and her name is Min-jung… but she can't actually bring herself to tell him that she's pregnant.
The best part is how stilted their conversation becomes now that the truth is mixed in with their old habits, like when she calls him oppa and then cringes, or when he calls her Woo-young and then starts adding random jondae tags at the ends of his sentences. Hee.
But mostly he's floored that she's so nonchalant about disappearing when he thought they had a connection. He doesn't see how his feelings for her could be misinterpreted when he came running whenever she called. She refuses to deal with it, and instead warns him not to come looking for her at work, and adds that if he knocks on her door at home she'll up and move.
Meanwhile Joo-yeon and Se-ryung face a new work crisis when their next item gets poached and sold as a copycat on a different station. Joo-yeon leaves it up to Se-ryung to find a replacement, and says she trusts her taste as a stylist.
It's a concession that Se-ryung wasn't really expecting, but it prompts her to ask, "Do you trust me, as a friend?" They each know the other is bluffing about the friendship by now, but Joo-yeon says yes.
Se-ryung asks her to have cup ramyun with her, but chooses wine instead, saying that she reserves ramyun for men. It's a reference to one of the nasty rumors that followed her around in their school days, that she'd invite guys over to her room for ramyun and then sleep with them.
She points out that Joo-yeon did nothing to defend her when that rumor was circulating, and chose to assume the worst about her instead. Joo-yeon admits that she half-believed that rumor, but what Se-ryung got wrong was that she didn't ever care about that stuff—whether her love life was complicated or she always needed the limelight, she just liked Se-ryung as a friend.
Se-ryung's surprised reaction to that seems genuine, and she says the thing she always liked about Joo-yeon was that she always understood that words weren't everything. She admits that she lied about wanting to be friends but so did she: "Whether we say we're friends or say we aren't, we're friends. Even when we aren't friends, we are."
I actually believe her on that score, but then she brings up Tae-yoon and things get dicey. She asks Joo-yeon not to date him, asking for another chance to fix things with him because she's never been able to forget him or move on.
Joo-yeon asks why she should when they're broken up, but doesn't have an answer either way, and leaves more spun around than ever. She calls Wan and asks where he is: "I need you."
It shocks him so much that he takes a moment to process and asks her to repeat it. And then he starts to enjoy it: "How badly do you need me? You have to express it properly." She complies and says she needs him ardently, so he tells her to come to the studio, where he introduces her to people as the woman he likes.
She tells him that she can't sort this mess out, and wonders if Se-ryung's feelings for sunbae are real, or if she's just hanging on when it's long over. And are her own feelings for sunbae anything more than attachment from years of working together? Is it really love?
It occurs to her that even after years of dating, she might not have actually experienced love, and prods Wan to tell her what love is. He just smiles at her and points to his face, ha, and she needles him to speak, not smile. He says this is what she taught him—that love was bright, and shining, and smiling at each other.
She accuses him of making stuff up just because she can't remember, while he blames her for conning a little kid with that answer: "It's your fault I turned out this way." And by "this way," he means always bright and smiling around her and not jealous (well not that she knows). He seals it with a sweet, "I love you."
He throws his arm around her on their way home—"for warmth"—and then gets shot down when he suggests it'd be warmer if she put her arm around his waist too.
The next day at the office, Se-ryung comes up with a new item to sell, and though her team is wary, Joo-yeon decides to trust Se-ryung's instincts. She follows her into Tae-yoon's office (he isn't there), where Se-ryung sees the note that Joo-yeon left for him listing all the foods he should be eating.
She just sort of announces that she's going to take it, which drives me batty, but Joo-yeon doesn't stop her. At least Tae-yoon has seen the list and already thanked her for it, so it's not like she's trying to take credit for the thing.
Woo-young invites Hee-jae to go bowling with him this weekend, promising that it'll just be for two hours and they can get right back to work. She shows up and he gets to give her the bowling shoes he's been keeping for her this whole time.
And then just like that, he's holding her hand in front of co-workers. So you're a couple now? That was fast.
Joo-yeon spends Sunday morning playing hot potato with her phone, unable to decide what to do about her impending date with sunbae. She attacks Wan with a barrage of rapid-fire questions: "Should I say I can't go? Is that okay if I'm the one who asked? It's just a walk and a movie which we've totally done before but then because of Se-ryung it's weighing on me. What do I do? Say something! I'll do whatever you say!"
He walks away without answering, but Tae-yoon calls before she spontaneously combusts from indecisiveness, and she plays it cool when she answers. He's sick so he cancels anyway.
Joo-yeon takes one look at the soup that Wan is making for breakfast and bats her eyelashes. Oh no.
Wan: "No, you couldn't possibly. I mean, I don't believe that you would do such a thing, but I'm asking just in case. You're not…going to bring this… to that guy?" She makes this ridiculously cute noise as she pouts, and he orders her to stop: "I can't refuse you if you keep making that face!"
Full-force puppy eyes… three… two… one. Cut to: Tae-yoon eating Wan's soup. Hahahaha.
She watches him eat and then gets ready to go, when Se-ryung just unlocks the door and walks into his apartment, also bearing food. Tae-yoon seethes and purposely stops Joo-yeon from leaving just to make a point. Aaaand now I'm back to being pissed at you. Why must you use her so?
Se-ryung's eyes fill with tears and her voice trembles as she tells him she'll change all the things that he wants her to, and that she was wrong. Her tears surprise Joo-yeon more, but he remains cold and distant, and even plants Joo-yeon down in a seat with his hands on her shoulders. Urg.
He tells Se-ryung to go, so she wipes her tears and walks out. Joo-yeon asks what's wrong with him, reminding him that she already said she didn't want to get caught up in their love story, which he blatantly ignored.
She asks how she could possibly not be swayed by feelings or feel things that everybody else does. He stops her from leaving again, this time with note of surprise at her outburst, "Joo-yeon-ah."
She says he's wrong about her being strong, and cold, and unwavering. "I'm weakest to you." Her meaning starts to sink in, especially when she says that she works so hard because of him, to make him happy and to be praised by him. "I didn't know why, but you don't know either. Do you still not know?"
Se-ryung cries down in her car, and backs up into a wall in her haste to get away. Joo-yeon asks if she's okay and if she wants to get a drink, but Se-ryung gets defensive and asks why.
Joo-yeon says she's in just as foul a mood, but of course Se-ryung interprets it as pity and bites back that she ought to worry about her own unrequited love and peels away. So much for simpatico sangrias.
Joo-yeon trudges back home and plops down on Wan's bed in defeat, and asks for music: "Sadness. No, Pain. No, Anger! No, no, just turn on funeral music!" Ha. She kicks and pouts that she wants to die, and demands answers: "Tell me! Why is life so hard? You act like you know everything, so tell me—why is it so hard?!"
He smiles as he watches her kick herself into a frenzy and then answers in his zen way: "That's just life." She sticks his hand to his heart and asks, "There's an old man in there, isn't there?"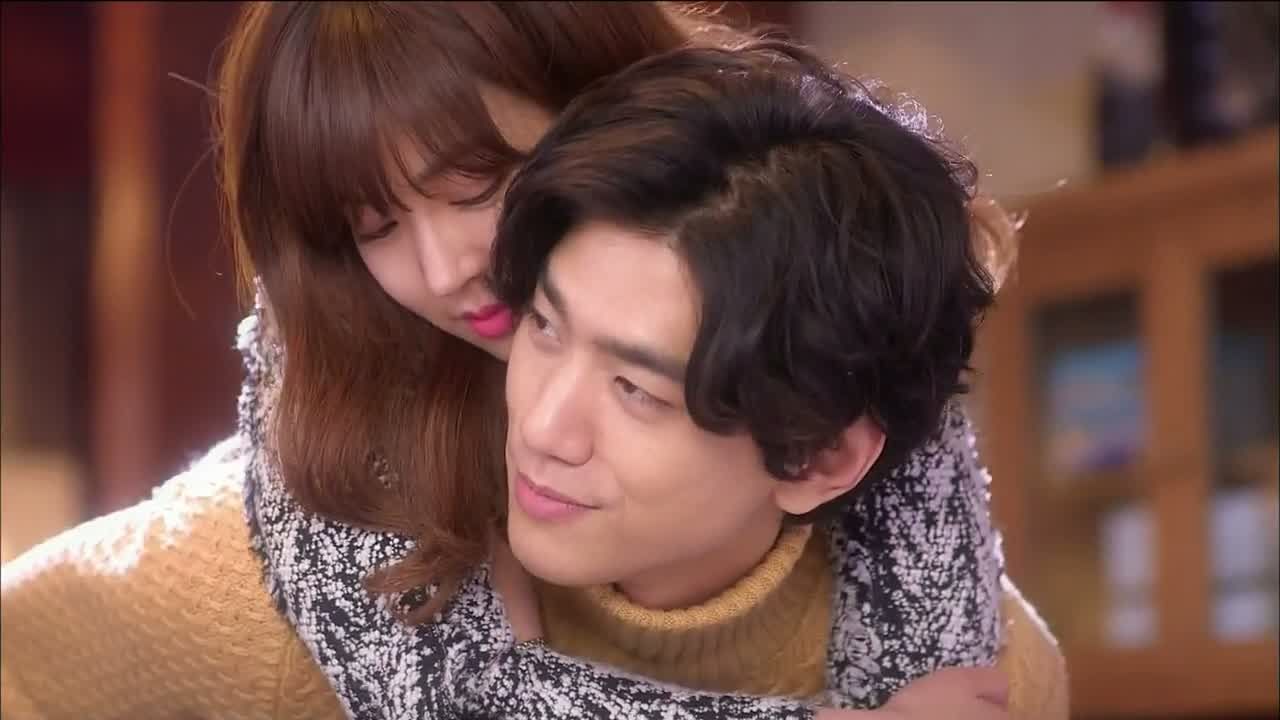 Her stomach growls, and he rants at that bastard for sending her away hungry. She gets pouty again and whines that she's hungry and too weak to even go downstairs, and makes him piggyback her down. Why so cute?
He carries her down to the kitchen where she roots around in the fridge and picks ingredients, and he agrees to make her whatever she wants. Are you going to cook with her on piggyback too? Please say yes.
Se-ryung tells her assistant to look into her contract with the home shopping channel, perhaps to find a way to get out of it, though she doesn't say.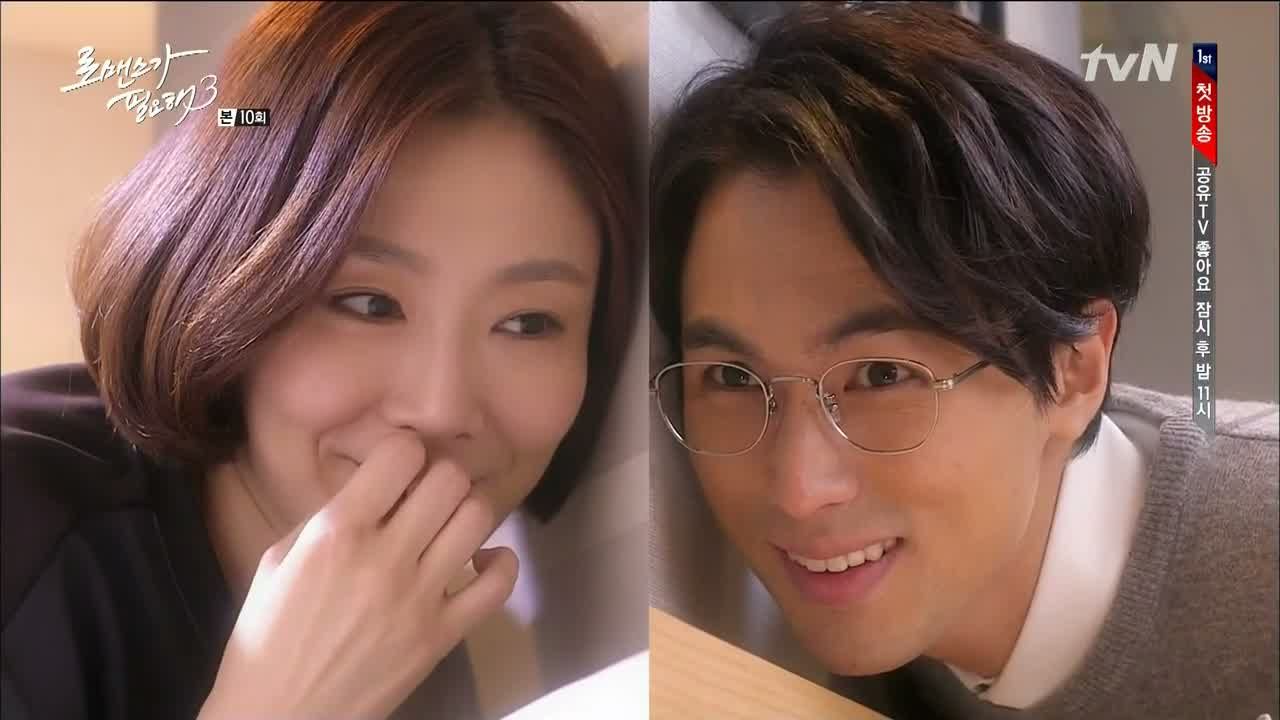 Min-jung finds a gift hanging on her front door, and opens it to find jewelry and a note from Min-seok (still calling her Woo-young since he wrote it before finding out the truth), asking her to start a real relationship. Cuuuuute.
She smiles and presses her ear against the wall they share, which is exactly what he's doing on the other side. He tries tapping on the wall, and she responds, and they both light up.
Joo-yeon and Se-ryung have another hit item on their hands that sells out so fast it sets a new record, and Tae-yoon's boss notes that it even beats him, and that Joo-yeon will have his title in no time.
He asks Joo-yeon to dinner that night to say something, and surprises her when he tells her he's not talking as her boss, but as a man. He says that when he used to say things like this, he'd have flowers, or a ring. But today he came empty-handed.
"Let's date, Joo-yeon-ah."
He says it might seem like it comes form nowhere, but he doesn't want them to waste time, and since he's taken the courage to ask, he'd like it if she took one step closer. "I can't promise I won't change, and I can't say I'll go through thick and thin looking only at you. Right now I can't even say 'I love you' because that's a lie. But this one thing I can say—I'll try. And I'm going to do my best, for you."
Joo-yeon (voiceover): "In this moment, I thought of Wan, waiting at home for me. If I tell him that I received this kind of confession, what would he say?"
She imagines it, and he asks what kind of stupid confession that is, and if she's forgotten everything he's told her. "Don't smile! You received that pathetic confession and you're smiling? Without flowers, a ring, or an 'I love you'! Are you crazy?"
Back in reality, Joo-yeon thinks to herself, "If he says that, I'll answer—that because there were no flowers, and no ring, I liked this confession."
Tae-yoon asks if she needs more time, but Joo-yeon says she's ready to give him an answer now: "Let's date. I'll try too."
And at the same time, Wan is picking out flowers, "For the person I love." Just stab me. It would be less cruel.
Joo-yeon: "Even without the words 'I love you,' it was enough—that he'd try, that he'd do his best for me. When time passes, initial flutters fade anyway. I liked a promise to try far better than a confession of love, and that's why I had faith in his relationship."

COMMENTS
Nooooo. No. No. No. Take it back. Pweeeeze? *whimper* My heart went soaring when Joo-yeon's first thought after sunbae's confession was what Wan would think… and then it came crashing back down to earth when it wasn't Wan's heart she was thinking about, but his advice. I don't think I can handle the look on his face when she tells him. If the recap for Episode 11 just happens to be missing next week, it's because my heart broke and I couldn't bear to relive Wannie's pain. I know, it can't just be happy days and then more happy days, but dammit, why must we always make bad choices to know that they're bad choices? Now it's my turn to ask for funeral music to match my mood. Do you happen to have pieces written called Denial, Regret, or This Is All A Dream?
Okay, so it's not the end of the world if Joo-yeon dates sunbae, especially if it's to figure out for herself what she really feels for him, whether it's love, respect, attachment, or competitive jealousy for Se-ryung. It probably won't kill me (maybe, probably), and honestly I see why he makes her swoon. They do have a really great rapport. But I still don't trust his motivations, because he's way too upset at Se-ryung for someone who claims to be totally done with her. I agreed with her when she called hate another side of love, and find his contempt for her just as much a sign that he's not over it.
His kneejerk reaction to pull Joo-yeon in between them at the apartment was enough of an indication that he hasn't learned a single thing since the theater stunt that he pulled, and then when he was thinking over her semi-confession about how hurt she was, it felt like he was making calculations and asking her to date him because he knew she was a safe bet. Maybe I'm projecting the calculations, because it's entirely possible that finding out someone likes you triggers dormant feelings you didn't know you had. So I won't rule out that he feels something genuine for her, but what on earth is "I'll try"? I'll try? Why would you want to be with someone who needs to put effort into being with you?
I actually see how a practical confession speaks to Joo-yeon's jaded sensibility—it's no grandiose promise of forever, which is something she doesn't believe in anyway. That, I totally understand and relate to. But sunbae's confession is pretty much the most unromantic thing I've ever heard. And it's not the flowers or the ring or even the "I love you" that's missing, but a vulnerability that he refuses to give. He doesn't put himself at risk in any way whatsoever, for Se-ryung and Joo-yeon alike. You don't need a fancy ring or fancy words, but you do have to put your heart on the line. Otherwise, what's the goddamn point?

RELATED POSTS
Tags: featured, I Need Romance 3, Kim So-yeon, Sung Joon