Sly and Single Again: Episode 14
Now that Jung-woo has stopped denying his feelings, he's doing his best to make up for lost time. Our jealous CEO makes some big strides this episode, learning that sometimes the best way to show someone you care is to give them some room. But just as it seems that our main leads might be open to the idea of getting back together, external forces mobilize to keep them apart. Yeo-jin hits rock bottom this episode, and Seung-hyun decides that he's going to fight for Ae-ra, regardless of how she feels about the matter. Add company troubles and a meddling President Kook, and you know that our leads are going to have to overcome more than their own past if they want a happy ending. They say the course of true love never did run smooth, but the path ahead looks especially rocky this week for Ae-ra and Jung-woo.

EPISODE 14 RECAP
After Ae-ra overhears Yeo-jin planning to cover up the luxury handbag switcheroo, the two ladies head up to the roof. When Ae-ra demands to know why Yeo-jin would hurt the company like that, Yeo-jin decides not to admit that it was her father's doing.
Instead, she redirects the conversation back to Ae-ra and Jung-woo, accusing Ae-ra of clinging to Jung-woo in an unsightly way. Ae-ra's not falling for that line again, though; she tells Yeo-jin that no matter what happens with Jung-woo, it's between the two of them.
"We've been down this road before," Ae-ra says. "Wouldn't we do better a second time?" She's being cautious because she doesn't want to be hurt again, but she is not absolutely against the idea of getting back together with Jung-woo. Hearing his confession has stirred up new feelings, and Yeo-jin has no right to disrupt that.
Ae-ra then uses Yeo-jin's own accusation against her: she accurately points out that Yeo-jin is the one clinging to Jung-woo while using his guilt. Yeo-jin is pushed to the breaking point and lashes out, but Ae-ra catches her slap mid-flight.
The two women struggle, until Yeo-jin collapses to the floor. Jung-woo arrives on the rooftop in time to see the fight but not its cause, and he rushes over to the fallen Yeo-jin. He looks at Ae-ra for a long moment, then carries Yeo-jin away. She calls his name, but he's already gone.
In the hospital where Jung-woo took Yeo-jin, we hear a doctor in voiceover explaining the cause of Yeo-jin's collapse: since she missed so many of her checkups, an inflammation where her leg is attached became unnecessarily severe. Oof… what a way for Jung-woo to learn about her prosthesis.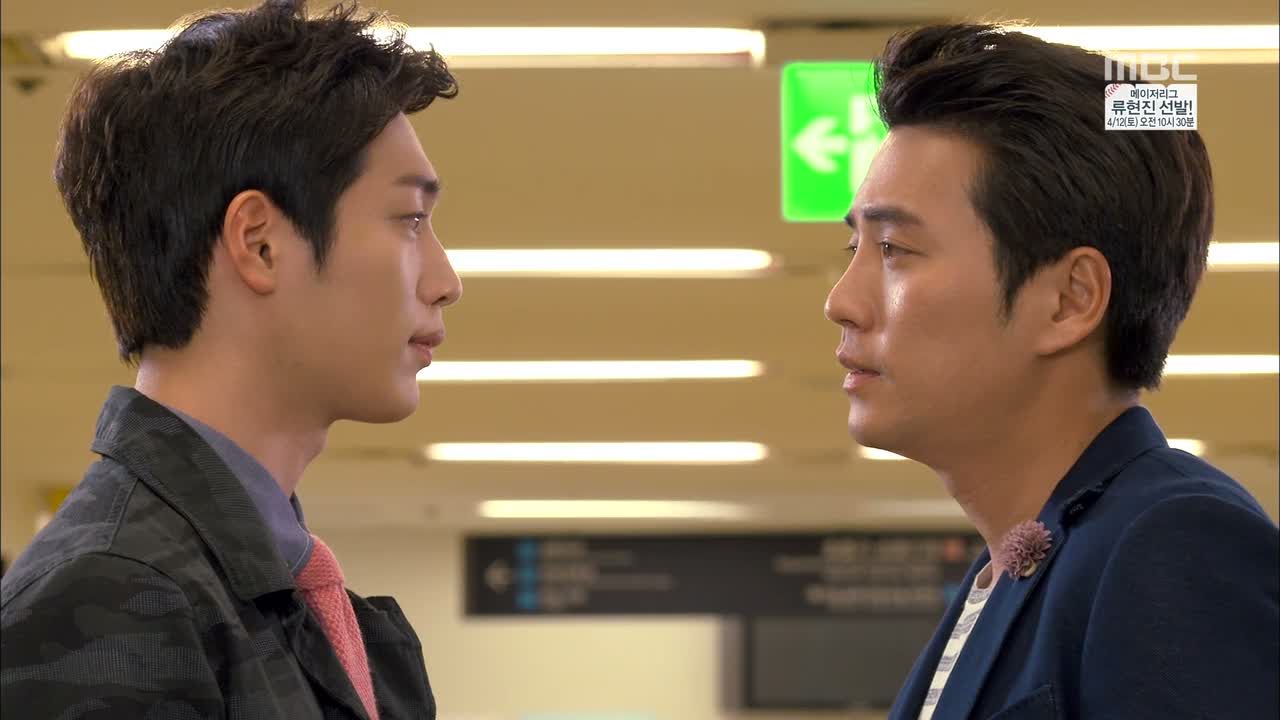 Seung-hyun is in the public waiting room outside Yeo-jin's room. Jung-woo reassures him that his sister is sleeping, and demands to know why Seung-hyun never told him about Yeo-jin. He explains that she made him promise not to, since she didn't want to be pitied.
Seung-hyun reflects that he, his father, and Yeo-jin are all gripped by the same kind of love, where the people they love push them away. His mother ran away, and Jung-woo abandoned his sister… "What's going to happen to me?" Seung-hyun asks.
Jung-woo reiterates his intention of starting over with Ae-ra, but Seung-hyun isn't deterred. He's going to do everything in his power to keep Ae-ra by his side, so Jung-woo had best be prepared for a fight. "I've abandoned you," Seung-hyun tells his hyung.
Ae-ra joins Min-young in their apartment, only to find her friend crying in the bathroom. Min-young clutches a pregnancy test and bawls her eyes out, worried that she might be pregnant. "We only did it once," she sobs, and we learn that she's referring to none other than Ae-ra's brother. Oho… I guess the fire that scorched Min-young's apartment earlier was also a metaphor for their burning passion!
Ae-ra takes a look at the pregnancy test and sniffs that Min-youn isn't pregnant. Min-young says that she was only crying because the thought of starting a family with Soo-cheol made her so happy. But of course, the topic of babies has painful associations for Ae-ra, and soon the two friends are both a little teary-eyed.
Meanwhile, Jung-woo has decided to visit the apartment, now that Ae-ra and Min-young have moved out of Seung-hyun's studio. When no one answers his knock, he sneaks in. He sees the open bathroom door and approaches, but stops when he hears Ae-ra talking about her lost child.
Seeing Min-young's pregnancy test has brought back Ae-ra's memories, and she voices her regrets about not caring better for her baby because she was always hustling to make ends meet. Jung-woo sinks back against the door, stricken, as he finally learns the truth.
When Min-young leaves the bathroom, she finds Jung-woo waiting outside. He goes in to see Ae-ra and pulls her into a hug. "I'm sorry," he whispers. "I'm sorry."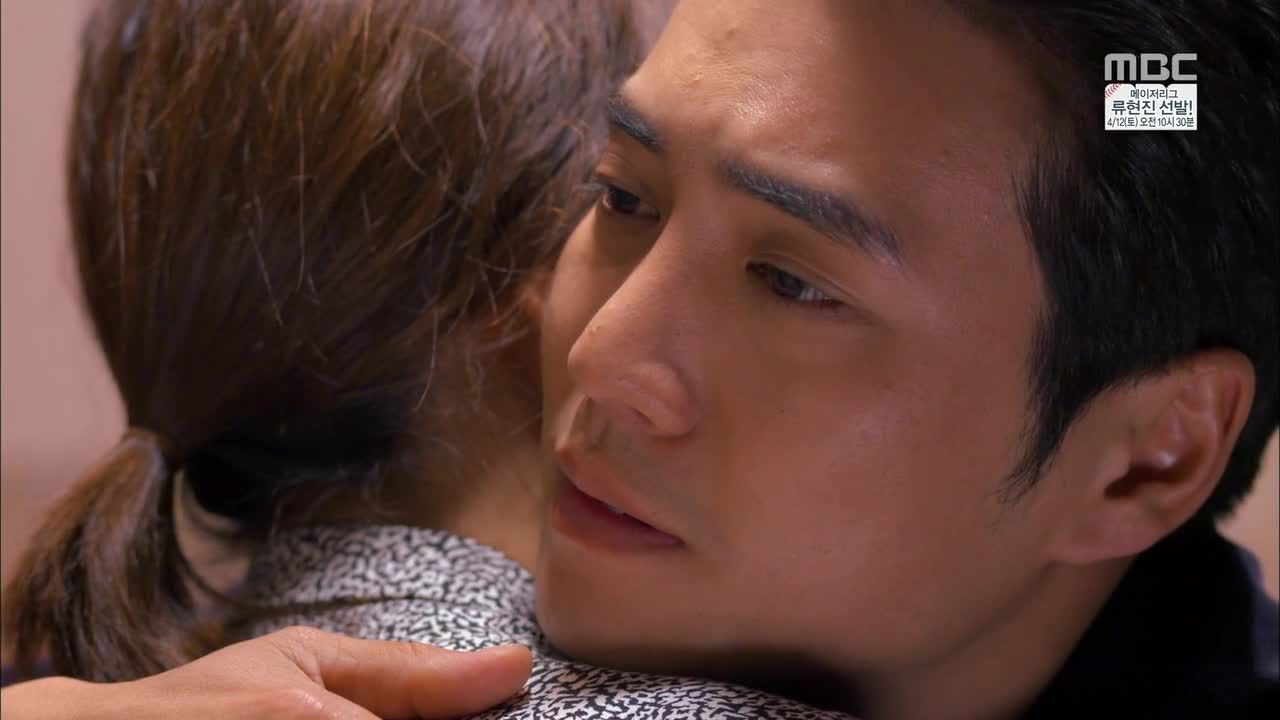 Some time later, Ae-ra lies in bed while Jung-woo sits a few feet away. He apologizes again, saying that even though it might not mean much coming so many years after the fact, he doesn't know what else he can say.
Ae-ra asks him not to be too nice to her, because she doesn't know her own mind. In spite of what she said to Yeo-jin, she's not actually sure how she feels about starting over with Jung-woo. She's been hurt in the past, and once was enough. She asks Jung-woo to let things be for now. Min-young eavesdrops from the next room, complaining that she didn't agree to sleep on the couch so the two of them could talk!
Yeo-jin wakes up in the hospital, with Seung-hyun watching over her. The first thing she does is ask after Jung-woo. The doctor recommends more rest, but Yeo-jin wants to go to the company right away. Seung-hyun tells her to rest, and not to worry about Jung-woo being with Ae-ra because he wants to keep them apart as much as Yeo-jin does.
At work, the Mobile Home Shopping team is dealing with the bad press surrounding their failed product launch. Song-hee wants to know if Ae-ra will be reprimanded, while Manager Kam tells her to cheer up. Then she receives a call from the CEO of Shilla Hotel, asking when she can begin her new job.
Ae-ra takes the call up to the rooftop, saying that she can begin work after taking care of things with DonTalk. Jung-woo is also on the roof, and he watches Ae-ra from around the corner as she leaves. As he promised he's giving her some space, but it doesn't seem like it's coming easy to him.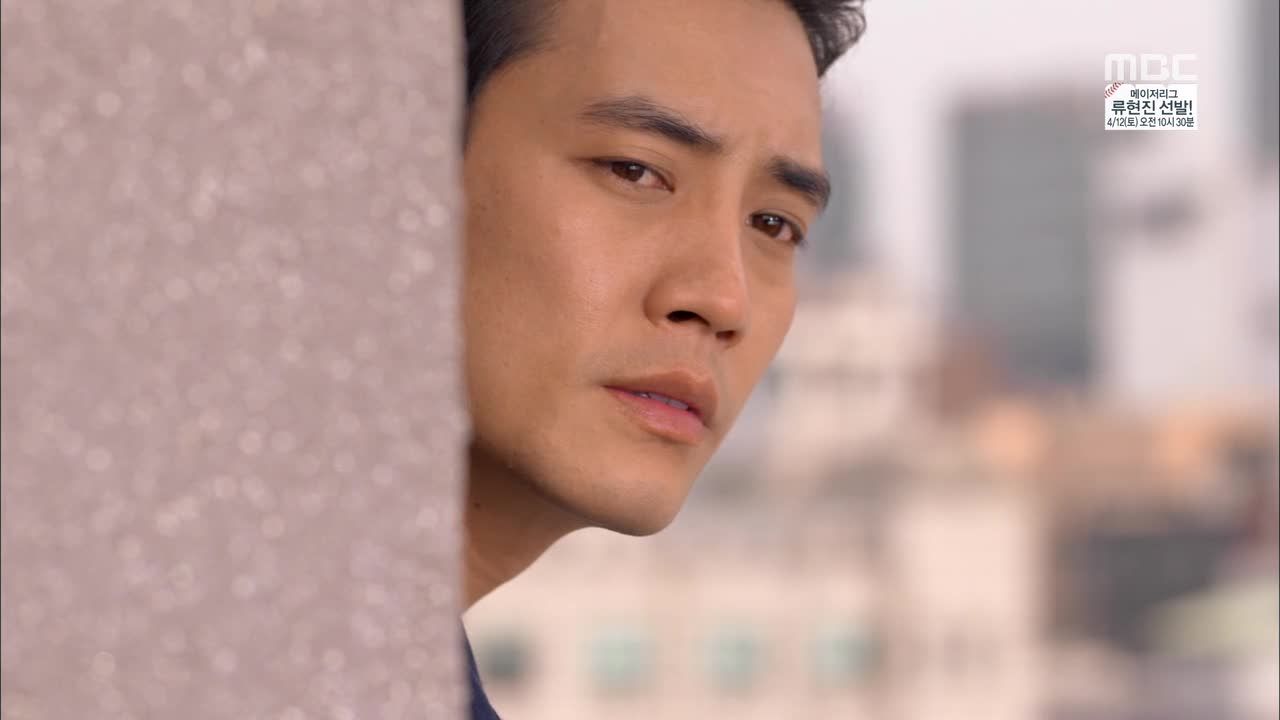 There is a meeting later that day about the failed product launch. One of the higher-ups has heard that an intern was in charge of the project, and suggests that she might have sabotaged the event to satisfy a personal grudge, or she might be a corporate spy.
Jung-woo jumps to Ae-ra's defense, saying that it was only thanks to her quick actions that the company was able to cancel the broadcast before the fake bag was revealed to the public. If she meant to hurt the company, why would she stop before her revenge was complete?
Then the meeting is disrupted when Seung-hyun arrives, entourage in tow. Seung-hyun formally outs himself, saying that he'll be taking over for Yeo-jin while she recovers.
Back in the Mobile Home Shopping team's office, Ae-ra's colleagues gossip about Seung-hyun. Manager Kam regrets that he never made the connection that Seung-hyun and Yeo-jin shared the same last name, while Team Leader Wang sniffs that even though she knew, she despises those who flatter their superiors for personal gain (ah, you old hypocrite, you!).
Seung-hyun appears and greets his team, inviting them to remember the bonds they shared when he was an intern, and to look upon him favorably. He asks Ae-ra to see him alone for a moment.
Up on the Rooftop of Important Discussions, Seung-hyun apologizes for keeping his family a secret from Ae-ra. She asks if he's kept any other secrets, and he admits that he's known Jung-woo for years. "I've been struggling this whole time, but I've finally decided," he tells her. "If I had to choose between the two of you… I'd choose you, Ae-ra."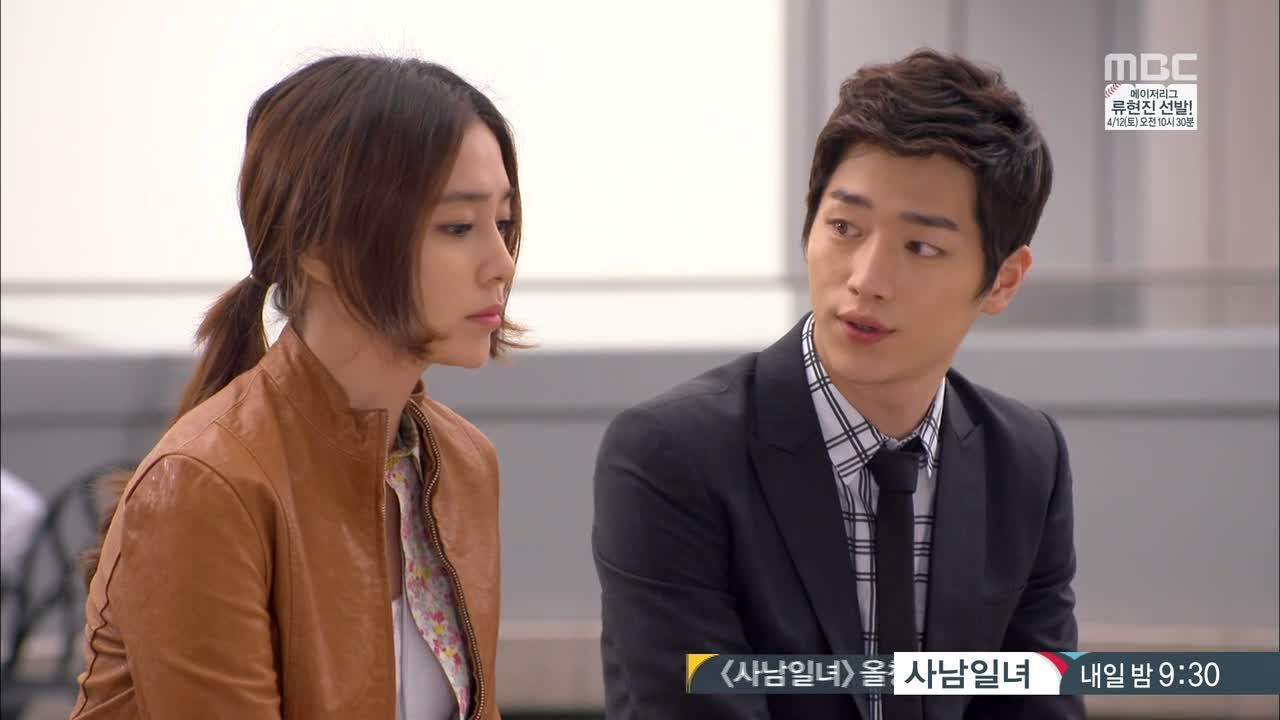 Jung-woo pays a visit to President Kook, asking him to remove Seung-hyun as acting director. The president wants to make sure that at least one of "his people" has a say in the company's direction, because he wants to protect his interests.
Jung-woo points out that promoting an intern over everyone's heads is confusing to the employees, and warns President Kook that he's only one of the company's investors. Seung-hyun walks in and announces that he's already called for a meeting of investors, telling Jung-woo that he should prepare himself instead of wasting time here.
After Jung-woo leaves, President Kook chuckles that Seung-hyun really seems like his son now. "Don't enjoy it too much," Seung-hyun replies coldly.
At the meeting with DonTalk investors, Seung-hyun reminds everyone that they were originally against Jung-woo's new game development project. Will he take responsibility if it's a flop? Jung-woo declares that he will, agreeing that he'll give himself until the end of the year to hit the targeted profit margin for his investors.
After the meeting, Seung-hyun takes up residence in Yeo-jin's old office, even replacing her nameplate with his own. Jung-woo arrives and asks why Seung-hyun is going so far. Seung-hyun maintains that he's not doing this only because of personal reasons; he honestly feels that Jung-woo is not good enough at dealing with people to be an effective CEO.
Strangely enough, Seung-hyun's detached evaluation seems to dull Jung-woo's anger. Jung-woo says that he will think about Seung-hyun's arguments carefully, and adopts a more formal tone when bidding goodbye to "the new Director Kook."
Ae-ra keeps hearing rumors that the company is in bad shape, which makes her worry about Jung-woo. Secretary Gil calls her "sister-in-law" in the hallway, then corrects himself by adding "ex."
Ae-ra takes the opportunity to ask how Jung-woo's holding up. Secretary Gil assures her that Jung-woo has weathered many crises, although this may be the worst one yet.
Then our adorable secretary goes immediately to Jung-woo, saying that Ae-ra looked very worried about his troubles. He offers his phone so Jung-woo can call her, but Jung-woo remembers Ae-ra's request to give her some time alone, and restrains himself… sort of.
Instead of calling her, Jung-woo sends Secretary Gil on a mission to follow Ae-ra, activating a video call on his phone so Jung-woo can see her. It's a ridiculous bit of stalking by proxy, and Ae-ra catches Secretary Gil soon enough. Jung-woo apologizes for making her worry. After Ae-ra leaves, Secretary Gil informs his boss that Ae-ra said her father was sick.
Jung-woo arranges a clandestine meeting with Soo-cheol to ask about Ae-ra's father. Apparently he strained his back "showing off his strength," so Ae-ra has to help out at the restaurant. Jung-woo rushes off, not realizing that Manager Kam overheard them talking and now knows that Ae-ra is the CEO's ex-wife.
Jung-woo arrives at the restaurant and pitches in, taking food to the customers and clearing tables. Ae-ra's parents observe him warily, while Ae-ra goes about her business without acknowledging Jung-woo's antics. He's as bad as Ae-ra's father, boasting about his strength and trying to get her attention.
A group of students studying for the civil service exam recognize Jung-woo from the lecture he gave at Seoul University. They think he's doing community service, but he assures them that it's just the happy memories he has of eating at this restaurant, then passing the exam on the first try.
After Jung-woo walks away, Ae-ra overhears the students gossiping that DonTalk must be in trouble, or the CEO wouldn't be spending time in a place like this. She sends Jung-woo another worried look, while he continues to bustle around serving other customers.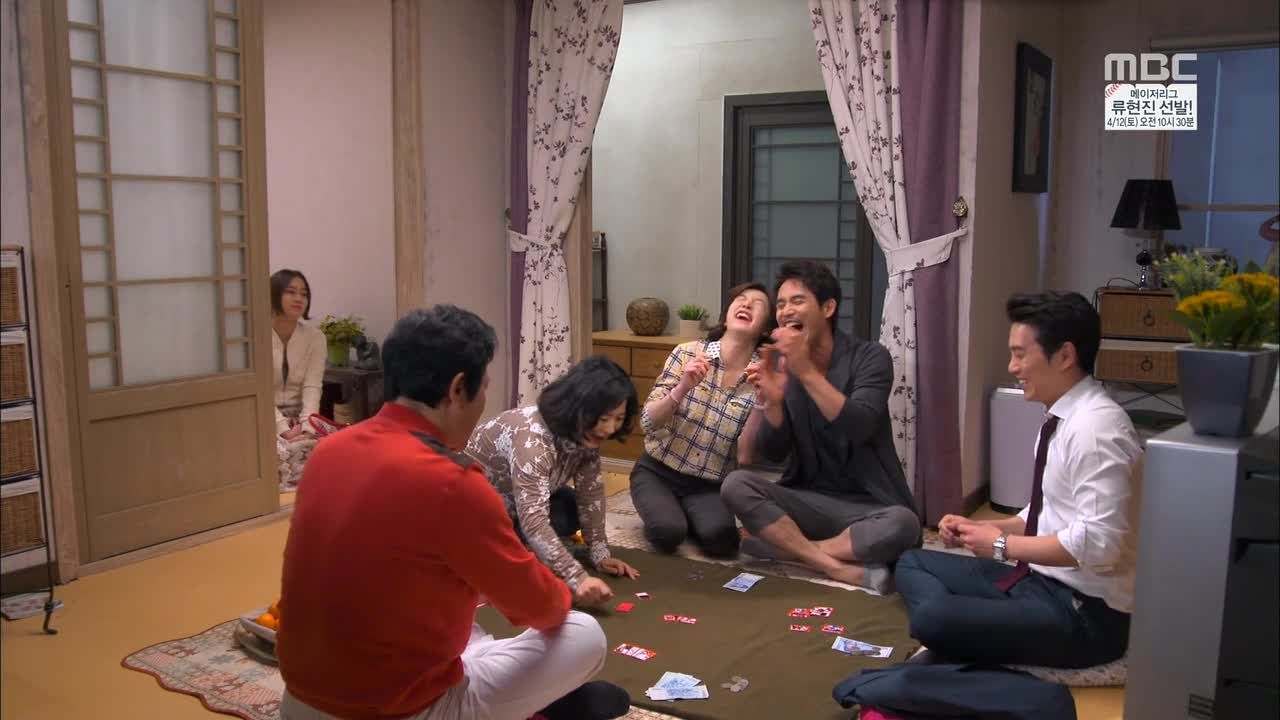 Ae-ra's parents discuss Jung-woo's sudden reversal. Mom is skeptical, and says Jung-woo is making her feel burdened. Dad, on the other hand, wants to give him a chance. When the restaurant closes the family plays a rousing game of Go-Stop, together with Min-young and Jung-woo.
Ae-ra is the only one not playing, and soon gets up to leave. She turns down Jung-woo's offer to go together.
Min-young stops Ae-ra in the next room, asking her why she's acting like this when she likes Jung-woo. "Is it because of Seung-hyun?" she asks. "Or else, is it because of Director Kook?" Ae-ra doesn't answer, but we see Jung-woo listening behind the door.
Cut to Jung-woo drinking with Manager Kam. He's working through several bottles of soju, and asks Manager Kam whether he's lonely with his family overseas. "It's hard," Manager Kam agrees, "but it's for the sake of my family, so I have to endure it." Jung-woo admits that he too has someone he misses terribly.
Manager Kam and Secretary Gil join forces to put a drunk Jung-woo to bed. He's all kinds of adorable, boasting about how well he drinks and then trying to fight a wall. "Ah, you must work out," he mutters (HA!).
Luckily, Secretary Gil knows the secret to taking care of the CEO after a bender: just get him to hug a pillow, and he falls right to sleep. Manager Kam offers to help so that Secretary Gil can leave for the night, and he overhears Jung-woo muttering Ae-ra's name.
Seung-hyun invites Ae-ra to sit with him in a park. He's practicing his photography and hoped the nice environment would help Ae-ra cheer up. He takes a picture of a ring wedged in between two pages of a book to form a heart-shaped shadow, and tells Ae-ra that it's a ring his mother gave him.
He then gives her a necklace made with the aluminum tab that got caught on her finger a few episodes back. He asks her to stay with him at the company, because she inspires him and makes him work harder. Ae-ra admits that she got the job at Shilla Hotel, and Seung-hyun replies that it's her choice to make.
Jung-woo visits Yeo-jin at the hospital, and apologizes for not realizing sooner about her disability. She's reassured by the warmth in his eyes, since he doesn't look at her with disgust.
Yeo-jin suggests going to America to search for new investors, but Jung-woo cuts her off. He says that he can't continue to be good to her, or stay by her side.
He thinks he made Yeo-jin suffer by staying near her and relying on her, even though he couldn't return her feelings. That's not something he can continue to do, although he's grateful for everything she's done for him.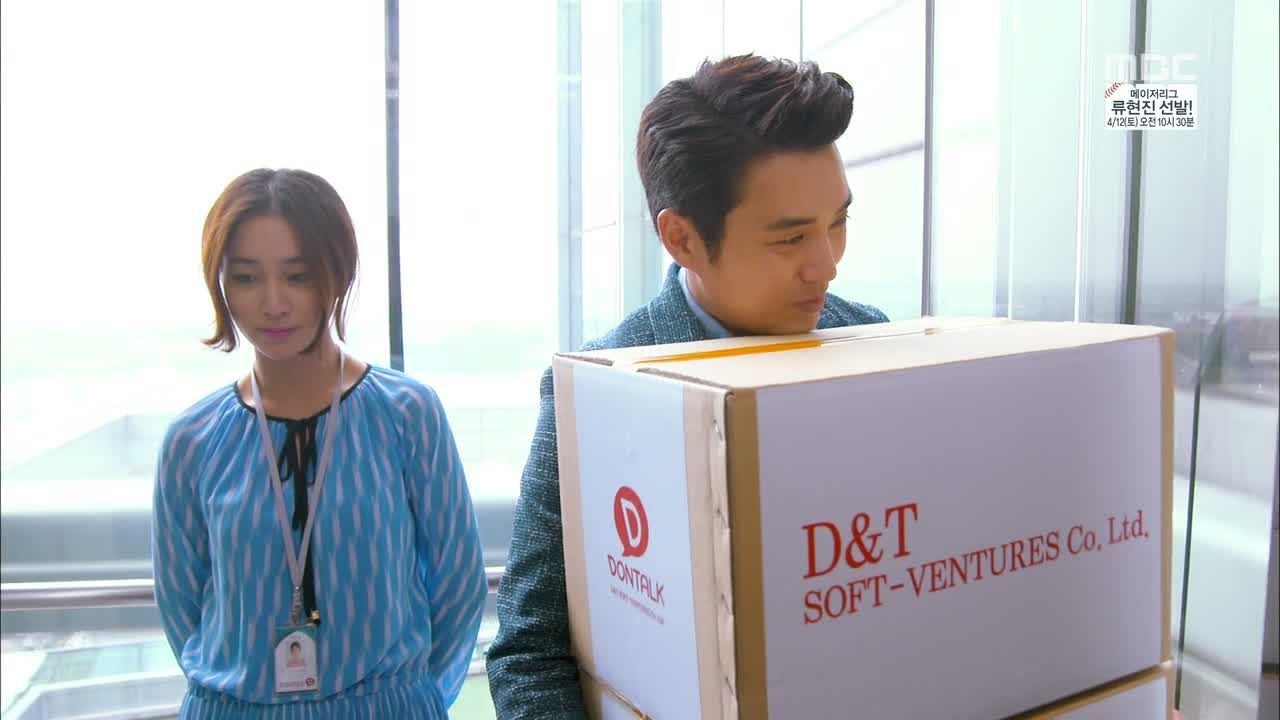 President Kook complains to Director Oh that a plant he trimmed earlier is once again dying. It's useless trimming the leaves, he declares, when the rot goes all the way to the roots. He jumps up, tearing the plant out of its pot and throwing it to the floor. In case we weren't sure that this was a metaphor, the president then orders Director Oh to pull out all of the money he invested in Jung-woo's company.
Jung-woo encounters Ae-ra in the Big Glass Elevator. She's carrying two boxes, which she silently hands to Jung-woo to carry. They break into goofy smiles, until Ae-ra receives a phone call from Yeo-jin.
Ae-ra visits Yeo-jin for the first time since they fought on the rooftop. Yeo-jin starts out calm and composed, but that doesn't last long. She yells at Ae-ra to disappear, throwing anything she can get her hands on. Seung-hyun rushes in and embraces his sister, who cries brokenly. "If Jung-woo goes away," she sobs, "what am I going to do?"
Ae-ra goes up to Jung-woo's office, but stops outside the door when she hears President Kook inside. The president threatens to pull his money out of the company, but Jung-woo refuses to exchange his marriage for monetary support. For a moment President Kook looks like he might lash out, but instead he falls to his knees before Jung-woo.
He begs Jung-woo to reconsider, since he's the only one who can make Yeo-jin happy. President Kook admits that it was his fault that Yeo-jin lost her leg, but that she began to live again after meeting Jung-woo three years ago.
"Can't you take pity, just once, on this person who has nothing to offer but money?" he pleads. If Jung-woo will marry Yeo-jin, her father will not only reinvest in the company, but he'll give Jung-woo everything he owns.
Jung-woo is moved by the president's plea, but he still can't accept the offer. President Kook stands back up and slaps Jung-woo across the face, shaking with rage. Outside the office, Ae-ra witnesses the entire scene.

COMMENTS
First off, I like the metaphors the show uses for the obstacles separating our leads, and the trouble they have communicating. First was the scene on the roof many episodes ago, when they start talking on their phones, then shout across to each other, and end face-to-face. Then there was the sweet moment in the restaurant with no lights, which showed how Ae-ra and Jung-woo are both fumbling in the dark when it comes to their relationship. And in this episode Ae-ra chooses to talk to Jung-woo with the bedroom door between them, as it makes it easier for her to speak her mind. Sometimes the metaphors are a bit belabored, like the scene with President Kook pulling up the plant by the roots, but for the most part I like the way Sly works in external signs of internal conflict.
I worry that some of the conflicts in the final stretch seem contrived, particularly the company troubles that would apparently just go away if Jung-woo were to marry Yeo-jin. I wasn't nearly as invested (Ha, get it?!) in the company troubles as I was in the main characters' relationships, and I grew a little tired of seeing Ae-ra get all mopey when employee after employee said how much trouble the company was in. The moment when Jung-woo finally learns about Ae-ra's miscarriage might also have been a bit contrived, since the level of coincidence involved was pretty astounding; nevertheless, I thought it was deeply satisfying. Jung-woo reacted just like we hoped he would: he apologized to Ae-ra, entirely putting aside his own grievances. Perhaps it was only expected, but I still found it powerful.
I actually liked the revelation that Yeo-jin didn't switch the bags. It was like the show knew I was worried about her descent into Second Lead Hell, and deliberately pulled the wool over my eyes. I thought it was a neat touch. That said, Yeo-jin still managed to hit an all-time low this episode. I mean, not going to your regularly scheduled check-ups? Pretty stupid, lady. Also, don't slap Ae-ra for telling the truth. And the scene near the end, in which Yeo-jin screams at Ae-ra to disappear, actually hurt to watch. That was Yeo-jin at her absolute lowest, when not even the amount of suffering she's been through could make me feel bad for her.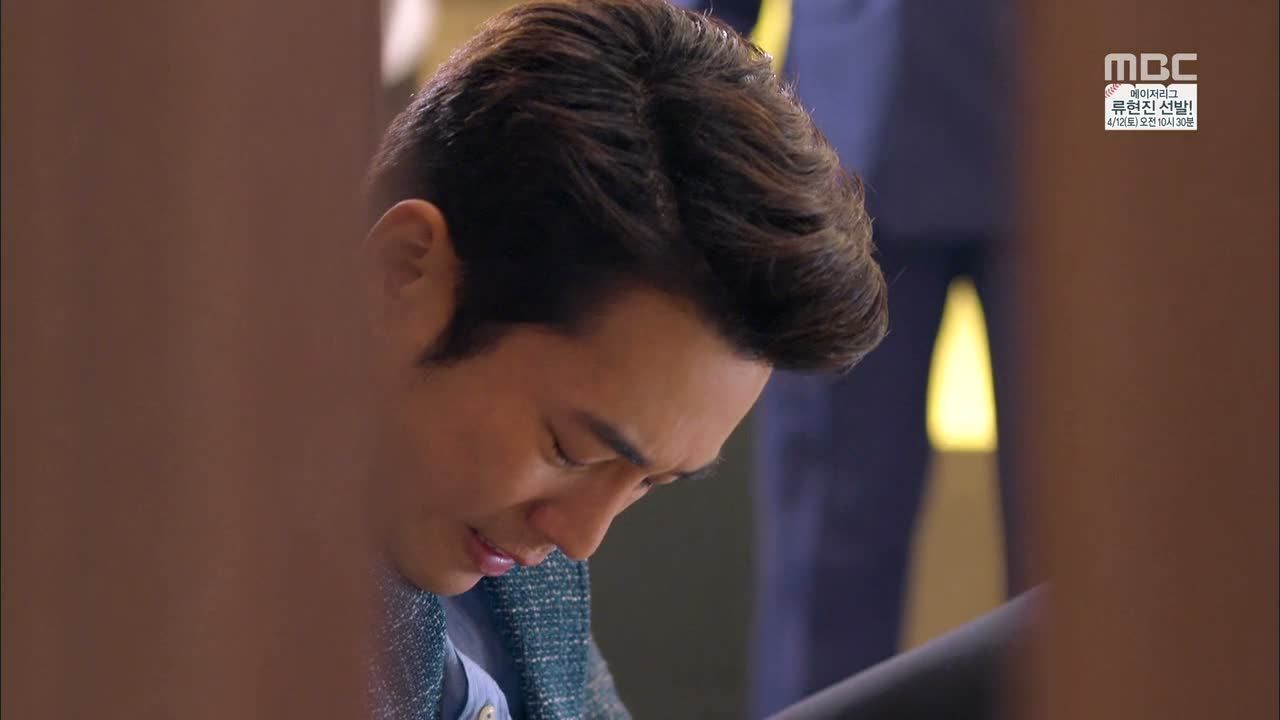 But there were two reversals that I really liked in this episode, because I didn't see them coming. The first, as I've said, was that Yeo-jin didn't order the bags switched, even though she covered up after her father. The second, however, was President Kook humbling himself before Jung-woo, and begging him to marry Yeo-jin because it would make her happy. There's a lot going on in this scene, and emotionally it's much more heart-wrenching than if the president had only threatened Jung-woo.
It's incredibly ironic that while Yeo-jin and Seung-hyun grew up with their father's failed marriage hanging over their heads, they both end up acting like him to stay close to the people they love. Meanwhile, it's actually their father who shows growth, by putting aside his pride in a last-ditch effort to help his daughter find happiness. He's still a bastard for ruining Jung-woo's company, but I found that one moment when he swallows his pride to be very compelling. Of course, it was also a shrewd move, since a guilt trip like that is far more likely to sway Jung-woo than a mere threat. Jung-woo has shown before that he's stubborn and refuses to compromise over money, so the decision to appeal to his humanity instead was pretty shrewd.
There are only two episodes left, and I worry about the next one especially. Nobody likes a Noble Idiot, and I think Ae-ra might be leaning that way. She's pulled that card once already by keeping her miscarriage and debt a secret from Jung-woo, and now she knows that Jung-woo can save his company if he only marries Yeo-jin. The worst-case scenario for me would be Ae-ra pulling a White Fang and telling Jung-woo to leave her alone permanently. I'd prefer to see her fight to hold on to her love, since Jung-woo has already proven that he's willing to do so. Ae-ra's words to Yeo-jin in the very beginning of the episode were almost exactly what I've been saying all along: there's no reason why she and Jung-woo won't do better a second time. I hope Ae-ra remembers her own words when she's tempted to walk away for Jung-woo's sake.
RELATED POSTS
Tags: featured, Joo Sang-wook, Lee Min-jung, Sly and Single Again