Gap-dong: Episode 18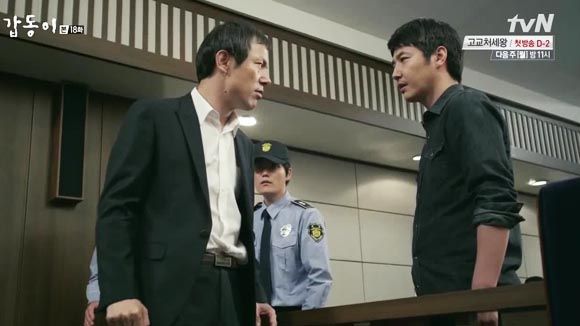 Was it me, or was this episode incomprehensible? I'm still trying to figure out whether it was just a little too cryptic for its own good, or if it was wholly off its rocker.
When I'm confused about a drama, I try not to leap to the "this show made no sense" conclusion if I'm not sure that an "I just didn't understand it" explanation isn't more applicable. But I honestly don't know which it is, because watching this episode was like watching aliens—they sure seemed to think their behavior was reasonable, but I couldn't for the life of me puzzle out the rules governing their thought processes. It's one thing for a drama to be mysterious, but another thing entirely (and not a good one) to be inscrutable.
SONG OF THE DAY
Humming Urban Stereo – "Insomnia" (the newest version, released earlier this year) [ Download ]
Audio clip: Adobe Flash Player (version 9 or above) is required to play this audio clip. Download the latest version here. You also need to have JavaScript enabled in your browser.

EPISODE 18 RECAP
Maria tells Tae-oh that she'll help him, on a condition: "If you agree to pay the price for your crimes."
Ooh, looks like Tae-oh accepts that offer because the next thing we know, he's calling Chief Cha to ask about that so-called freedom—and the call is recorded by police, who listen in. Tae-oh says he's not sure he can trust Chief Cha's promise and wonders if he ought to side with Mu-yeom instead.
Chief Cha replies that revealing the secret to freedom is not helpful yet—he'll tell him when Tae-oh's more desperate to know it. "So wait," he instructs.
Now the ticking clock is the upcoming Gap-dong trial, so the priority becomes finding as much evidence against Chief Cha as possible. That's the task Chul-gon puts his team on.
The two inspectors who previously stripped Mu-yeom of his position receive some scorn, and Ki-ri sneers that they out to contribute if they don't want to be accused of helping Gap-dong. The inspectors were pretty belligerent toward Mu-yeom so I'm fine with the cold shoulder, frankly.
Afterward, one of the inspectors texts Cha, calling him sunbae and asking to meet. It's possible that his is a blind allegiance (and not, say, co-conspiracy) because he appears to believe that Cha is being unjustly accused. Cha just thanks him for his trust.
Mu-yeom calls Chief Cha to a meeting of the "two Gap-dongs" and levels with them and whatever agreement they may have between them. Theirs is not a win-win scenario where the result of both men keeping quiet is positive. Instead, he describes their situation as zero-sum: If one gains ground, the other loses it.
Tae-oh tells Chief Cha that he's sorry, but his case is approaching trial and his paramount concern is to figure out who will help him avoid the death penalty. Cha looks perturbed as Tae-oh asks Mu-yeom, "It's probably better to be a hunting dog than dying, right?"
But wait, Tae-oh gives Cha a chance to win his loyalty too—he tells Cha to give up his secret right now. This is turning into a very interesting conversation, where each dialogue exchange swings the pendulum back and forth, pro-Mu-yeom one second, and then pro-Cha. He's playing them off each other to see who will benefit him the most, like the evil genius he is.
The silence stretches between Mu-yeom and Chief Cha, who are now both angling for Tae-oh's help. Back and forth it goes.
After Cha leaves, Mu-yeom fills Tae-oh in on the working theory that Cha's first murder wasn't part of the series—he began serial killing to cover his tracks. The emergence of his signature knot supports this, and Tae-oh agrees that with the third murder, Cha took on the Gap-dong persona. Although I still think Tae-oh's involvement could swing either way, for now I'm going with the assumption that he's acting as double agent and that he's ultimately sided with Mu-yeom. This show could always surprise us, of course.
Maria's psychiatrist colleague administers the evaluation to Chief Cha to examine whether he has multiple personality disorder. Maria watches behind a one-way mirror as Cha answers questions of whether he's ever heard voices or forgotten conversations in the middle of them. Cha plays this with his trademark meek earnestness, like he's puzzled by this all and just wants to prove his innocence.
When Ji-wool checks in next with Tae-oh, the sight of his wooden block angrily studded with nails makes her gape. His face remains as blank as ever, but he says he didn't anticipate that he'd get so angry. Ji-wool heaves a sigh and starts pulling the nails out to show him the surface of the wood marred with holes: "These are the scars you've left in the hearts of other people. The people you've killed, threatened, and hated."
Tae-oh's face twitches a bit, and he walks away feigning indifference. Ji-wool guesses that he's feeling shame, which is something that separates humans from animals. Tae-oh dismisses it quickly, perhaps disturbed at the insight.
In the observation room, Maria and the other shrink leave Chief Cha on his own and watch for a while as he reads various materials. The shrink points out the differences in posture and behavior at various moments, saying that it's indicative of a switch in personality. If we're to pinpoint our stances on the skepticism meter, I'd put the shrink on one end at the "totally buying it" point and myself closer to the opposite end of "dude is faking it." Maria is squarely in the middle, unsure which side to take.
Profiler Han receives another visit from his wife while awaiting trial. Sensing something off about her, he cautions against acting on dangerous thoughts, like going after the criminal. He must be reading her correctly because Maria's mother breaks down in angry tears, crying, "I'm her mother! I've found out who he is—what am I supposed to do?!"
The first Gap-dong trial will be broadcast live, and on the first day the courthouse is a flurry of activity. The media buzzes around while the victims' families stand outside the courthouse with signs demanding justice. Cha is set to testify as a witness, and on his way in he stops to read a sign asking for Gap-dong to seek forgiveness—a word that curls his lip with derision.
All of our key players are in attendance (Mu-yeom, Maria) or watching on television (Tae-oh, the police) as Chief Cha takes the stand. Profiler Han is only on trial for the fourth murder, which he confessed to, but Cha has been identified by the media as the alleged true Gap-dong, and by now the viewers know who he is. But I suppose he hasn't legally been charged, which is why he's still a free man.
The witness testimony goes swiftly, first with Cha testifying as to his whereabouts on the day of the fourth murder, then with Profiler Han testifying that he'd taught Cha all about signatures.
Maria testifies as well, and is asked whether the perpetrator of the murder she witnessed is present. She answers yes, and with trembling hand points to Chief Cha. This causes a stir in the courtroom, and Cha is called back to the witness stand.
Cha grows increasingly agitated, burying his head in his hands as the district attorney presses him to answer whether he is Gap-dong. Something snaps in Cha as he leaps up out of his chair, glaring at the district attorney and growling, "Yeah! I am the real Gap-dong!"
He flips a desk, swearing at the D.A. and cackling as he turns to face the audience. He vows to wring Kim Jae-hee's neck, but when Maria moves to stand up to face him, Mu-yeom holds her still and walks up instead. (What the hell, slowest bailiffs ever? Do your job.)
"Good to see you, Gap-dong," Mu-yeom says. Cha sneers without recognition, "Who's this bastard?" Mu-yeom calmly introduces himself, and Cha retorts, "Oh, so you're the crazy punk who used to follow Cha Do-hyuk around?"
Mu-yeom thanks him for showing his Gap-dong face to the world, but Cha says that it doesn't matter since they have no evidence. "You can't catch me," he says, "because that Cha Do-hyuk is my lackey. If I tell him to get rid of evidence, he does. If I say to mess with the investigation, he does." His face twitches rapidly in his rage, but then the crazed angry persona drops away as Cha staggers backward in bewilderment.
Well played, Gap-dong. Well played. That was rather convincing.
Cha is escorted out by police officers, and maintains his blank face even when Mu-yeom refuses to be fooled by the act. As he walks away, though, Cha grins to himself.
Maria discovers something shocking in her mother's possession, and tearfully Mom confesses that she was going to use the bottle's contents to kill the bastard. For her own sake, I'm glad she didn't get the chance to go through with it. Sobbing, they hold each other close.
The police officers are torn on whether to believe Cha or view his display as an act. Mu-yeom says he might have been fooled if he hadn't known Cha better, though he recognizes that Maria wants to believe the diagnosis, if only to allow herself to move on from the whole thing. He and Chul-gon realize that if Cha's evaluation declares him a patient of multiple personality disorder, this greatly hampers their goal and eases the pressure off Cha.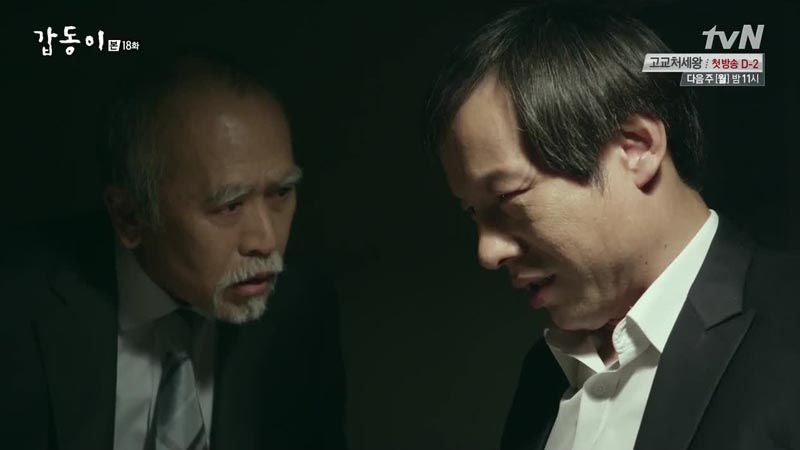 In his evaluation, mild-mannered Chief Cha contends that he cannot remember or believe that he acted that way in court. He undergoes hypnosis to draw out the Gap-dong personality, who calls Cha Do-hyuk a supremely irritating bastard. Sneeringly, he provides details about the second murder and how he killed the woman, laughing at her naivety. In the last moments before doing her in, he had told her tauntingly, "I am Gap-dong."
The matter is put before a board of medical professionals, and the lead psychiatrist diagnoses Gap-dong as the host personality, which controls the alter ego of Cha Do-hyuk. He has found six personalities in all, which include an elderly fighter and an abused child.
Maria is asked to weigh in, and she offers no objection, saying that this disorder may be the most logical answer. She excuses herself from the deliberation process, at the end of which a diagnosis is reached: yes to multiple personality disorder.
Maria doesn't look entirely satisfied with the result but agrees that it'll help her put this behind her. But then a thought hits her, and she races back to the interrogation room to review the hypnosis footage. It's only now that it strikes her that the Gap-dong persona had called himself Gap-dong to the second victim.
She calls Chul-gon to ask for clarification, and hears that it wasn't until the third case that the nickname Gap-dong was given by the police, because of Mu-yeom's father. Ding-ding-ding! There's no way he knew it in when the second woman died, and thus Cha is lying.
But for whatever reason, Chul-gon and Mu-yeom keep this information to themselves. They decide to proceed with Plan B before he has a chance to flee, now that his travel ban has been lifted.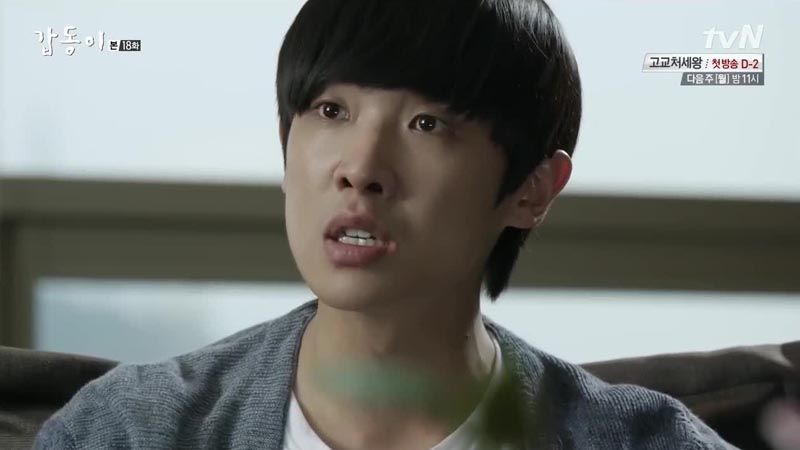 Rather counterintuitively, Cha showing his monstrous Gap-dong personality before the public has supposedly alleviated some of the people's ire against him. In fact, it has reduced the calls for his death penalty. As a result, the lawyers predict that their rage will now be redirected toward Tae-oh, whose case has been made more precarious. Is this actually human nature, or is this strange scriptwriting? I ask because I don't follow, but for the purposes of proceeding with this plotline, I'm accepting it and moving on.
Maria approaches Chief Cha after he's received his diagnosis and says that she very nearly let him off the hook. She points out that he called himself Gap-dong before the name was given to the killer, this time not relenting when he maintains his innocence. She throws his words back in his face: "Did it feel good to win?"
She calls him a bastard who would abuse the human weakness of being swayed to forgive the unforgivable. He smirks that "cheap forgiveness" holds no appeal to him.
Maria challenges, "We ought to fix the order now, of who dies first. It'll be you, Cha Do-hyuk. When you're walking down a strange street and find a knife stabbed in your back, there's no need to turn to see who it is. I'll be standing there." Welcome back, tough-as-nails Maria. I've missed you.
Tae-oh sends Mu-yeom a text that Gap-dong is his hero after all—after all, he managed to fool the entire country. But he also agrees to be the hunting dog, and asks if Mu-yeom knows what psychopaths are most afraid of. Reminding him of the chicken race, he gives the answer: "There's nothing else you can catch them with. It's feeling that their lives are dear."
Chief Cha finds that the flight ban is still in place and calls in to the station to inquire why. As it happens, the ban has actually been lifted but Mu-yeom has the whole station in on the ruse, making Cha believe it's still in effect. Tricksy!
Mu-yeom calls Ji-wool next, and very seriously asks if she still wants that "chance" she asked for, and if she won't regret it. She agrees.
Then Mu-yeom calls Chief Cha, who's planning to leave in the next day or two, to challenge him to a last confrontation.
Tae-oh leaves a comment on Cha's blog (about fishing, of all things) congratulating him on his freedom. Tae-oh and Cha have a back-and-forth in the comments, when Tae-oh reminds him of his upcoming trial and asks for that answer now. Cha replies that there's no actual secret to the Eiffel Tower—he'd only mimicked the Zodiac killer's code to mess with them.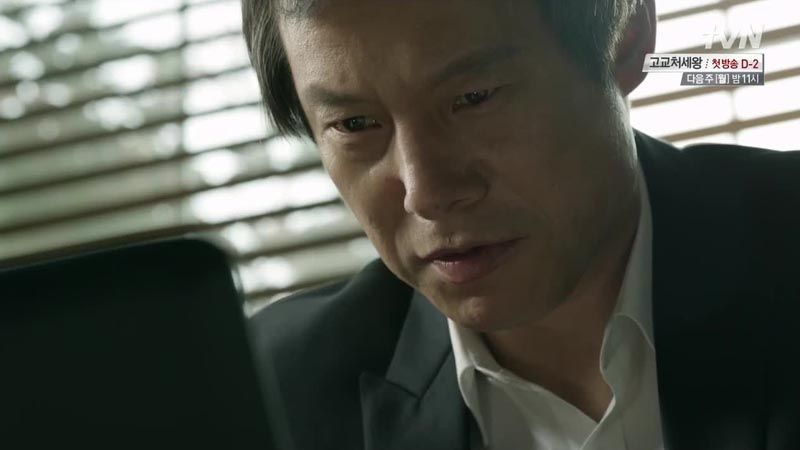 Tae-oh presses for the other secret of how to become free. His request takes on a desperate tinge as he says he's facing a much grimmer future than Cha. He gets agitated waiting for Cha's answer, and adds the tip that Mu-yeom intends to "see the end" with him today. Tae-oh piques Cha's curiosity by offering him the way to freedom, and references the insanity defense—that under Gap-dong's influence, Cha completely lost control of his mind and body and is not responsible for his actions.
Cha replies with his answer, and dangles the word "completion" in front of his face like it's the key to his salvation. "You'll have to make her play rock-scissors-paper," he suggests.
It's deliberately cryptic language, but he means Tae-oh is to finish the ninth murder, i.e., kill Maria. Tae-oh writes back: "But what about the police?" Cha replies that while everybody's got Tae-oh under scrutiny, if he were to kill another person…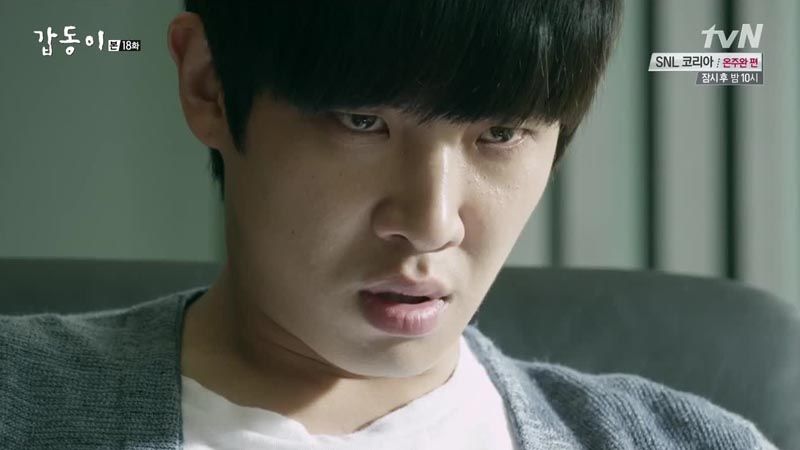 He trails off meaningfully and Tae-oh's eyes widen in realization. I… confess I don't understand how this could possibly mean freedom, but Tae-oh seems to get it (must be that psychopath telepathy) and calls Cha his hero after all.
Cha gives him the order: "Go!"
Thankfully our guys are on it, and Mu-yeom and Chul-gon predict that the ninth case may happen today. This is their last chance to get both Gap-dongs, just as Cha must see this as his last chance to get Maria and Mu-yeom in one go. Chul-gon adds that this is probably his last case. Those are famous last words, aren't they?
Chul-gon calls Maria and tells her of Mu-yeom's plan to use the multiple personality diagnosis to get Gap-dong. Furthermore, he'd asked Chul-gon to look after Maria and Ji-wool in case something happens. Ack, more famous last words!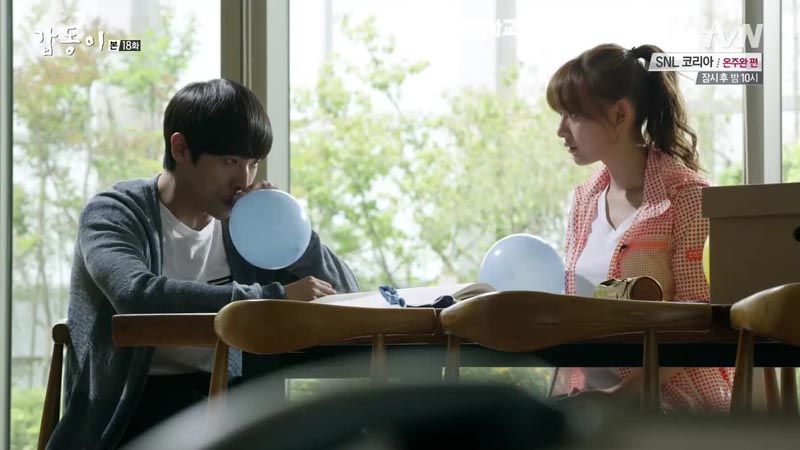 Ji-wool arrives to conduct another art-as-therapy session with Tae-oh, drawing happy pictures and advising him to blow balloons when he has bad thoughts, which is supposed to settle your thoughts and reduce your anger. Tae-oh eyes Ji-wool closely and suggests a walk outside… and leaves his tracking monitor behind. Uh, aren't those supposed to be unremovable, and not, say, taken off like a watch buckle?
Good thing Ji-wool is carrying the tracker Mu-yeom gave her, so the police are able to monitor their movements. First stop is a haircut for Tae-oh, during which Ji-wool thinks back to the chance Mu-yeom referred to. Now we see that she'd been the one to ask for it: "In case Tae-oh takes me and commits the ninth murder, and I'm just saying what if, give me the chance to see if he's truly irredeemable." (How do you get a chance after you're killed? This logic is all backward.)
Ji-wool had asked to confirm with her own eyes whether there's truly no hope for Tae-oh, because otherwise she might be unable to accept it. You know what else is hard to accept? Anything after you're dead.
Ji-wool approves of Tae-oh's haircut and asks why he wanted one. He replies that today's an important day, then takes her somewhere for "real-life practice." He hands her a bouquet of wildflowers and explains that she'd said people give each other flowers to make the other person happy, so this is his attempt at that gesture.
They sit awhile outdoors while she sketches, and he wonders, "Is it possible, you think? That I could stop." She isn't sure, but offers, "Maybe."
The police keep an eye on both Gap-dongs, and we hop inside Chief Cha's head for a moment to confirm what he's up to. He tells himself that today he'll put an end to both Mu-yeom and Kim Jae-hee—the former at his hands, and the latter at his copycat's.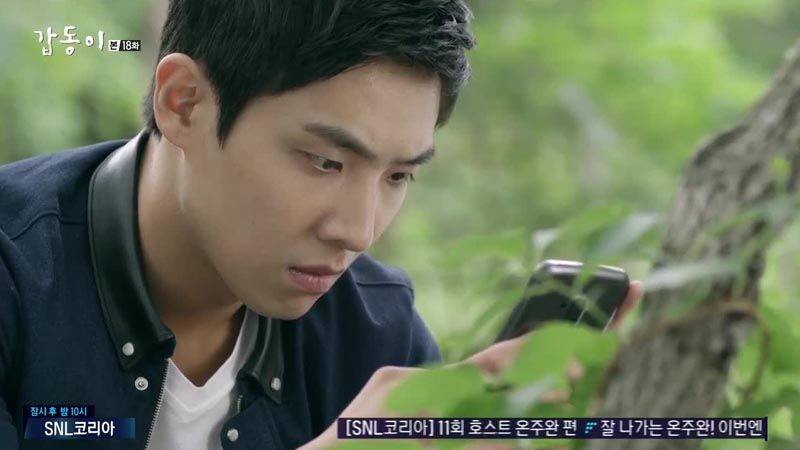 While pausing on their walk along a hiking trail, Tae-oh pulls out his phone to text someone (Maria?) that Gap-dong ordered him to finish the ninth murder. He calls it akin to "throwing rat poison to a crazy person" and asks how he should respond.
Cha returns to the pool and finds Young-ae swimming there. Mu-yeom arrives and steps in to face Cha, dismissing Young-ae (who takes with her a handgun concealed in a towel). Cha guesses that Mu-yeom planted a trap for him, and Mu-yeom asks about the idea Tae-oh planted in Cha's mind: to shoot Mu-yeom under cover of the "Gap-dong" personality.
Tae-oh texts Maria to come see him and Ji-wool, blowing balloons while he waits. And then the camera pans over to reveal that he has tied Ji-wool up to a tree, and she sobs as he studiously blows that balloon.
Mu-yeom calls out the Gap-dong personality, provoking his rage and reaching for the gun he's tucked into his back pocket.
Cha lunges for Mu-yeom and knocks him to the ground, grabbing the gun and leveling it at Mu-yeom.
Bang!

COMMENTS
WHAT is even going on. I do not understand Mu-yeom's grand plan, not even a little, and it's confusing because it's presented as though it all makes perfect sense. But I'm not seeing it, which makes me wonder if I'm crazy or dense. And while those are always possibilities, this time I'm going to go with the show losing itself in its attempt to be tricksy and complicated.
For instance, the question of which side Tae-oh is on is a compelling one, and an example of confusion that works, because it adds to the uneasiness. We're meant to be suspicious of his motives and curious as to his true driving force, and it fits with his character since it appears that not even Tae-oh is fully aware of his own motivations. But Ji-wool's backwards request for confirmation is nonsense, and while I've been quite patient with her idealism and naivety (because it's her nature to want to believe the best of people, and I can accept that), putting your own life at risk to see if it was worth putting your life at risk seems like stupidly circular logic. At best.
I'm assuming that there's more to Mu-yeom's plan than confronting Cha and getting himself shot, even if his plan mirrors Ji-wool's in that he knows he's putting himself in the line of danger. At least with him I can believe he has a bigger goal at the end of things—or at least he had better, otherwise this weird final showdown lacks punch.
The show has kept his plan deliberately opaque to keep our suspense up, but I'm starting to feel like the show is getting in the way of itself, twisting everything so much that you can no longer take anything at face value. Is this meant to be suspicious? Or am I meant to find the suspicion suspicious? Or is there a third layer of suspicion on top of that? What are we even supposed to believe? In the race to make everything as cryptic as possible, everything starts sounding like gobbledy-gook. I understand the literal words they are saying, but not what they mean. What? Why? Huh?
With one more week to go, I'll suspend my discontent here and wait for the drama to wrap itself up, because at this point I'm not sure if my dissatisfaction is with a misstep in execution, or a misstep in intent. If it's just clunky execution I can forgive a lot of that, but if you're trying to actually sell me some nonsense rationale, well I'm not buying. Let's see what finale week brings.
RELATED POSTS
Tags: featured, Gap-dong, Kim Ji-won, Kim Min-jung, Lee Joon, Sung Dong-il, Yoon Sang-hyun