Namgoong Min, Yoo Inna, Jin Yi-han for tvN's next romance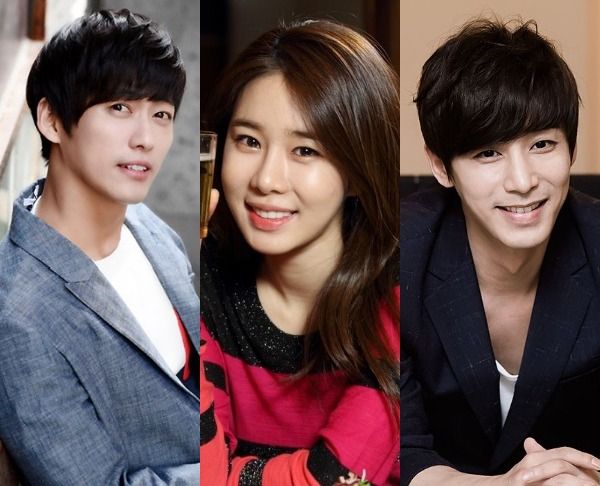 Hello, beautiful threesome. Offers are out to Namgoong Min (I Need Romance 3), Yoo Inna (You From Another Star), and Jin Yi-han (A New Leaf) to headline tvN's next Monday-Tuesday drama, a romance with a mystery twist called My Secret Hotel. It's intentionally a weird genre mashup of murder and romance, and the project was previously going by the working title Sweetly, Brutally, ha. I honestly don't know what to expect from the tone based on the plot description, since it could be cute, spooky, or… just Gap-dong.
The drama comes from PD Hong Jong-chan (the second PD on Doctor Stranger) and writer Kim Do-hyun (of Channel A's Goodbye Wife), and will be about a woman who runs the wedding planning division of one of the country's top 1% wedding destination hotels. And while planning perfect weddings for the elite, she'll be caught in a love triangle between her ex-husband and a new man (I don't know which is which, and since we're not told if this is a divorce-and-remarriage drama or an I-got-my-groove-back-without-you drama, it could go either way). To make matters even more complicated, a murder turns the hotel topsy-turvy.
Despite the murder it doesn't actually sound like a dark plot, and tvN's Monday-Tuesday shows tend to stick to fairly romance-heavy themes; who knows, it could be the one to break away from the steady stream of rom-coms. I just hope it isn't mishmash the way Doctor Stranger is, and that there's a way that wedding planning, ex-husbands, and murder plots come together in a logical fashion.
As for the cast, I'm always happy to see Yoo Inna headlining a drama. Namgoong Min's been all over cable — he recently starred in I Need Romance 3 and headlined the JTBC weekender Jang Gook Becomes Dallae (or Wild Chives and Soybean Soup), which got cut in half and bowed out recently. Jin Yi-han has been just as busy in Empress Ki and then A New Leaf which just wrapped, and his lack of resolution in Leaf is enough for me to root for him to sign on for a new drama immediately.
All three actors are considering the roles, and depending on High School King of Savvy's pending extension, My Secret Hotel will premiere in late August or early September.
Via Osen
RELATED POSTS
Tags: cable programs, Jin Yi-han, My Secret Hotel, Namgoong Min, Yoo Inna