Plus Nine Boys: Episode 4
The show continues to deliver on the sweet and sad moments, as we learn more about each of our boys and their ladies. More of Kwang-soo and Da-in's history is revealed, leaving us with more questions than answers. Jin-gu struggles with his desire to tell Se-young about his feelings at the risk of losing not one, but two friendships. And Min-gu continues his search for his mysterious ladylove, while Dong-gu's adorable relationship becomes a love triangle. Our boys are learning about the gritty and difficult realities of love, and I'm loving every minute of it.
Track 4: "When love finds you"
Mom and Dong-gu practice his makjang drama expressions while Min-gu reads Destiny Girl's date book for the umpty-jillionth time, and Mom laments over her family's bad luck this year. She yells at Min-gu to study more and complains that Kwang-soo never comes out of his room.
Kwang-soo sits at his computer staring at the photos of himself and Da-in, clearly more affected by this ex-girlfriend run-in than any of the others. He thinks how some coincidences are unwelcome, and sighs that he didn't even have enough courage to say hello.
The tour planning team sends Jae-bum and Se-young out for drinks while Jin-gu glowers at the "punishment" that they hold hands the whole time. The team misinterprets their awkwardness as interest, which just makes things worse, but they head out with hands clasped. Jin-gu jumps up to follow but the rest order him to make ramyun, and he can't think of a valid reason to object.
Se-young and Jae-bum walk hand-in-hand, but soon drop each other's hands (Jae-bum notably lets go first). Jae-bum has something to say but Se-young asks if she can go first, and they talk intently though we don't hear what's said.
Everyone's eating ramyun by the time they return, still holding hands as ordered. Everyone teases them, assuming they got up to some hanky-panky while out, though Se-young insists it was just the penalty. The teasing gets more detailed and Jin-gu looks hurt, as Se-young hits people and Jae-bum just smiles. Jin-gu thinks how these two people are so precious to him, and that he needs to confess to Se-young before he misses his chance.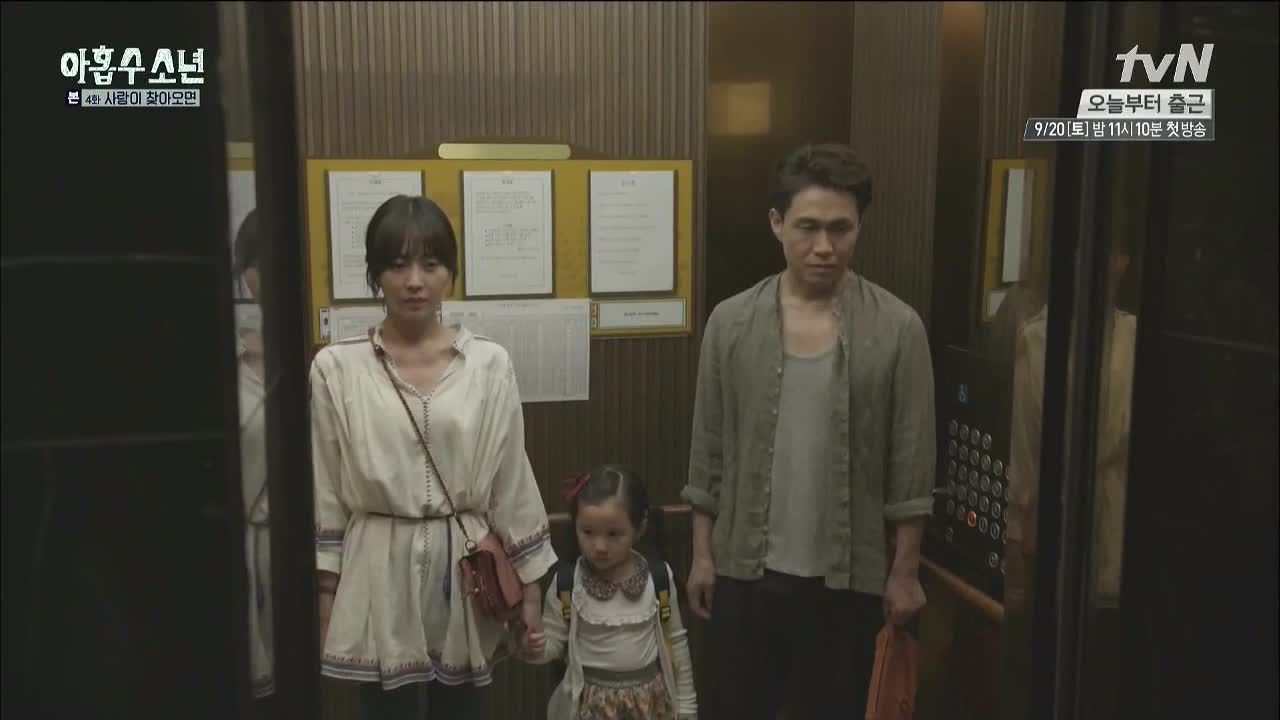 The next morning Kwang-soo waits for an elevator, but when the doors open, Da-in and her daughter are inside. The ride down is horrifically tense, and Kwang-soo attempts to say something but Da-in starts talking to her daughter and cuts him off. Having used up his daily allotment of courage, Kwang-soo only watches as they leave the elevator and head out to their day.
He watches them walk away and thinks back to happier times when he and Da-in were dating. Awww, he smiled so much then, it breaks my heart. In one memory he slips a soda can top on her finger in place of an engagement ring, and in another they smile at each other under the sheets, happy and in love.
Min-gu shares Destiny Girl's notebook with his buddies (dude, that is so not okay), and they reveal that her name is HAN SOO-AH (Park Cho-rong). After a short McDonald's commercial, they ask if he can find her using the date book, but there's no address written inside (smart girl, otherwise some creepy teenage boys might find your book and try to track you down… oh wait).
Min-gu's friends tell him not to worry, because if it's really destiny, he'll see her again. They suggest he wait at the bus stop where she got off last time, but then they find today's date circled in her notebook with the name Blue Paprika, and Min-gu's friend says it's a cafe in his neighborhood. Bingo.
The tour planning team meets for more romantic vacation scouting, and Jin-gu announces that they'll be working with partners again. But this time they'll be trying out "telepathic dating," where the girls and guys will each secretly choose a location from a list, and discover their partners there. The team leader reveals that whichever couple comes back with the most romantic couple-selca will win prizes.
The guys and girls split up, and Go-eun asks Se-young where she thinks Jin-gu will go, at the same time that Jae-bum asks Jin-gu where Se-young will go. Se-young chooses the Ridge of the Wind, and Jae-bum (unknowingly) chooses it too, frustrating Jin-gu as that's where he was planning to go.
They all take in the local sights alone, and eventually Se-young makes her way up to the gorgeous outlook to wait for her "date." Jin-gu and Jae-bum each head for their destination, and Jin-gu thinks that if they're meant to be, they'll attract each other like magnets.
Kwang-soo gets to work and is met with some more stupid trivia ideas by the Sponge writers, and pretty much bails immediately. He has coffee with Young-hoon, who immediately susses out that something exciting has happened to his friend. Kwang-soo tells him that Da-in moved in upstairs, but when Young-hoon gets excited, he tells him she's married (he assumes, because of the daughter).
Young-hoon wonders what happened to Da-in after she dumped Kwang-soo, and how she could have gotten married so quickly. Kwang-soo breezes that she's happy and he's perfectly fine with her living upstairs, and that it's not weird at all, nope not a bit. Young-hoon wants to know if he asked her about that "incident," but Kwang-soo claims he doesn't even remember that since it's been over ten years.
Thinking back on the thing he totally doesn't remember, Kwang-soo recalls how he and Da-in had sat in a live TV audience full of couples, and Kwang-soo had written in a love letter to read publicly to Da-in. His letter said that they had been together 500 days, but he didn't want to count the days anymore and only wanted to be with her without beginning or end. Awww.
Kwang-soo kneels to present Da-in with flowers and a ring, not noticing that her face has remained stony throughout his whole proposal. He stays there on his knee for a long moment, a hopeful happy smile on his face, but suddenly Da-in viciously whacks him over the head repeatedly with the flowers and leaves without a word. His look of shock is just heartbreaking.
Back in the present, Young-hoon wonders what happened, since she had vanished after that, and Kwang-soo never knew why she left nor saw her again.
Se-young texts Da-in her selcas from the Ridge of the Wind, and they talk on the phone while Se-young waits for one of the guys to show. She tells Da-in about the telepathic dating idea, blaming it all on girl-crazy Jin-gu. Da-in asks, since it's telepathic, who Se-young wishes would come — Se-young just says that Da-in already knows who. Iiiinteresting.
Se-young hangs up and looks up to see a guy approaching her… and it's Jin-gu. He found her first! We see that thirty minutes prior, Jae-bum had found Jin-gu and asked to switch destinations, sure that Se-young would go eat in the market. Jin-gu gives Se-young a cheery smile and a wave, and she does this adorable "Dammit, why did it have to be you" thing. They're so cute.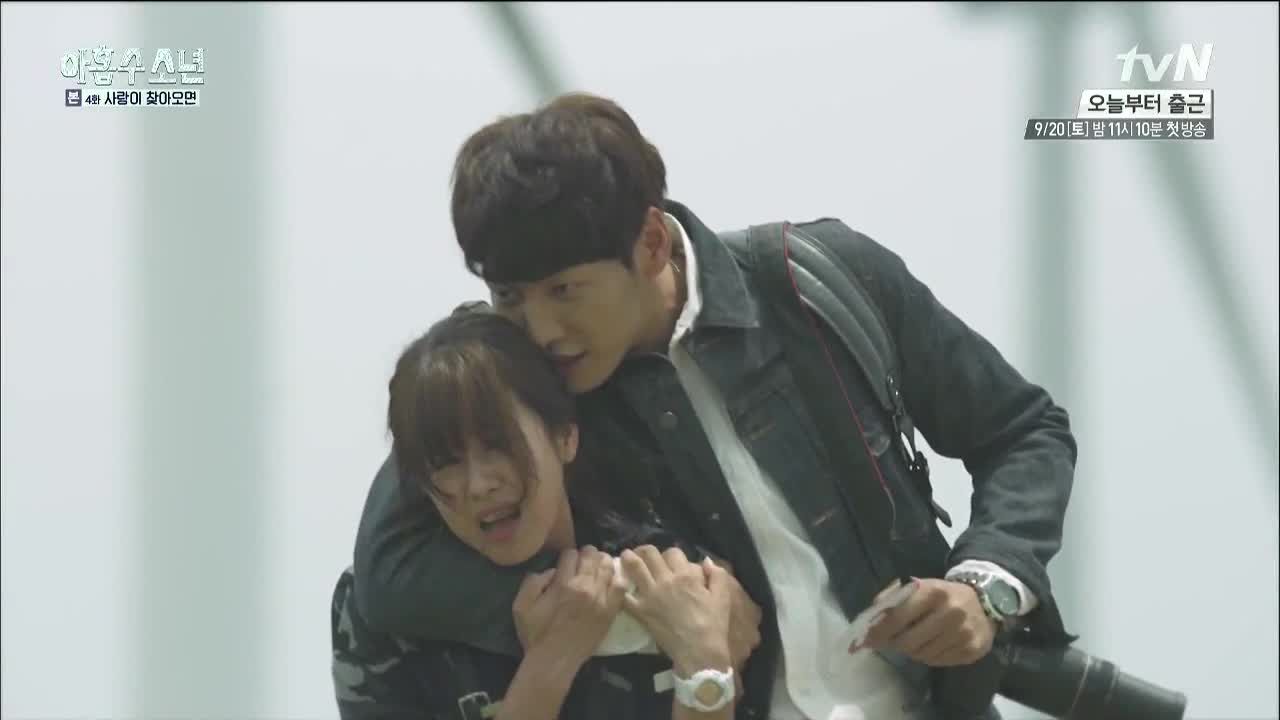 Jin-gu grabs Se-young in a headlock and whispers in her ear, asking if her heart is pounding (if it isn't, she's made of stronger stuff than most), and gets an elbow to the ribs. She walks away and he follows, grinning like an idiot, as he thinks that he needs to be honest with her for the sake of all three of them.
In the market, Jae-bum finds his partner – he's stuck with the loud handsy coworker again. Even his expert poker face isn't poker enough to hide his dismay. She chatters that Se-young nearly came here, and reveals that she went to the Ridge of the Wind, and Jae-bum looks sick that he sent Jin-gu right to her. Loudmouth blabbers that she thinks there's something going on between Jin-gu and Se-young. They always fight, but they also always end up together.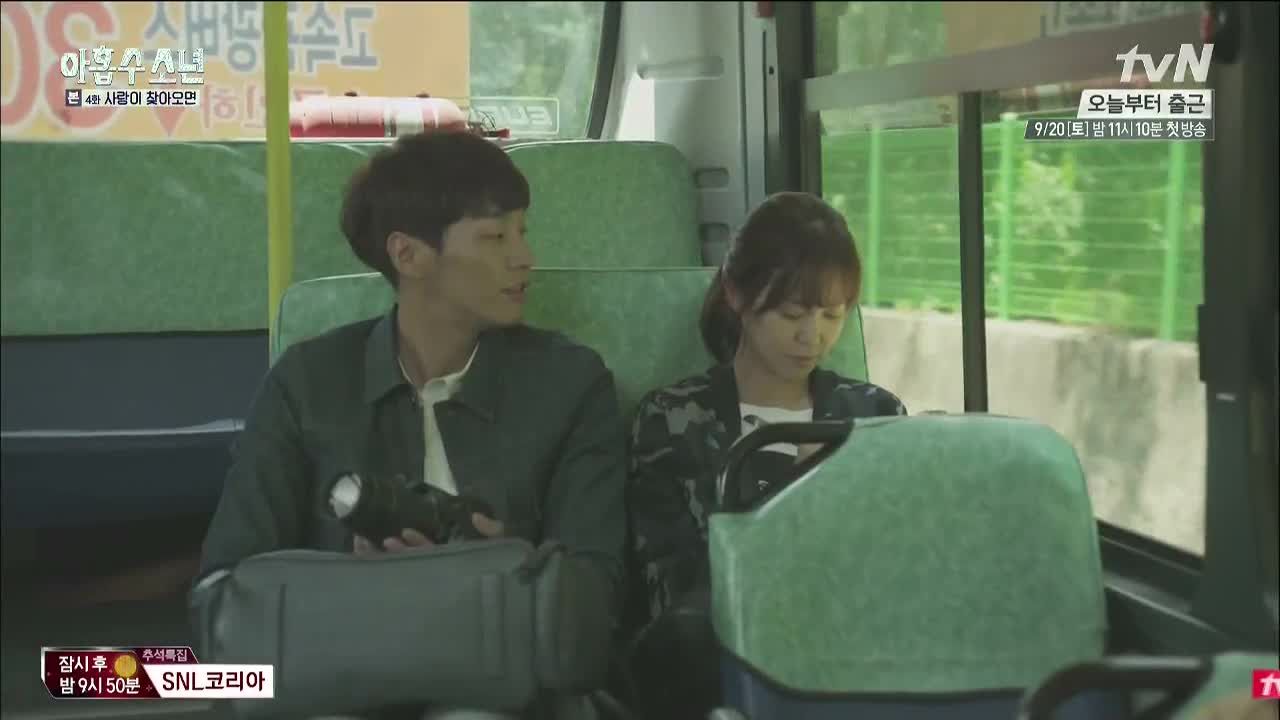 Jin-gu and Se-young play on the mountain, and again he takes photos of her constantly. He can't take his eyes off her, mooning at her whenever she looks away, and she seems not to even notice. She fusses at him for playing and not working, but he's enjoying his day with her too much to care. He does have a moment of seriousness when he remembers his conversation with his friend, who'd assured him that it happened ages ago and he couldn't help it, and Se-young has gotten over it. Gotten over what?
They find a beautiful spot over a creek and Jin-gu suggests they take a picture, reminding her of the contest for the most romantic photo. The mention of the beef prize sways her, and she consents. They pose for the shot but instead of snapping the picture, Jin-gu gets serious and asks her to hear him out.
He plays a slideshow of pictures he's taken of her on his phone which, AWWWW, and she seems moved as she looks at the photos. Jin-gu watches Se-young watching the slideshow, with all his love right there on his face, and he draws in a breath to tell her his feelings… and tourists interrupt to ask Se-young to take their picture. Dammit.
Back in Seoul, Don-gu's girlfriend Baek-ji whines that he promised her a bike ride, but he's depressed and says they'll do it some other time. She pouts, but immediately perks up to see his rival Do Min-joon approaching. She asks why he hasn't been to acting class, and he's a little snot as he brags that he's been way too busy shooting.
Baek-ji thinks it's great when she hears that the boys shot a CF together, thinking they can all be friends, but Dong-gu refuses and walks off. Baek-ji follows him and Dong-gu plays his "Don't make a scene, I'm a celebrity" card, and she's had enough and breaks up with him. Min-joon follows her out, but not before shooting Dong-gu a superior look. These kids are in their own little love triangle, it's so awesome.
Se-young and Jin-gu continue their countryside not-a-date, and they're adorable as she talks about how cute the sheep are and he's all, "Yeah, sheep, cute" *snaps more pics of Se-young*. They work a bit on the sheep farm then rest, and Jin-gu tries to sneak his head onto Se-young's lap but gets smacked for it.
He says the place isn't very romantic and she argues that the couples could work together, but he says most girls are too busy wanting to look pretty on dates and not mess up their makeup. Se-young says she prefers down-to-earth places and good people. He teases her for wanting to be a writer, earning a few more punches.
Se-young muses that she only came to work at a tour company because she wanted to travel and write a book, but real life is being an office worker, and he playfully jokes that at least she gets to date him. This time he gets rib-poked, hee. Se-young suggests they take the romantic selca here, and they pose for a series of adorable couple shots.
Min-gu bikes like a man possessed to get to the Blue Paprika cafe where Destiny Girl's notebook said she'd be. He waits for a long time but she never shows, and an employee tells him this is one of two cafes named Blue Paprika.
Min-gu is exhausted when he gets to the other location, and wilts when he doesn't see the girl there. But he grins when he sees a girl with familiar hair sitting with her back to him, and he gathers his courage and taps her shoulder. But it's not her, and he leaves disappointed. Min-gu takes a moment outside to tweet a dramatic selca and the phrase, "Soo-ah, my destiny, where are you?"
In the apartment parking lot, Da-in drives past a walking Kwang-soo without even looking at him. He looks resigned, but turns when he hears a loud CRUNCH. A man has backed into Da-in's car, and he gets out angry and holding his neck, immediately on the offensive.
The man hollers at Da-in for being a terrible driver and not looking where she's going, but she calmly points out that he backed into her, not the other way around. She keeps her cool until he makes a crack about how she should be in the kitchen and not screwing around in her husband's car, and she fights back, though it's adorably weak how she stammers that he should be in the kitchen himself. And by the way, this is her car.
The man actually raises his hand to her and Da-in bravely gets in his face and dares him to do something, but Kwang-soo butts in just in time to lie that he witnessed the accident. The man assumes he's Da-in's husband which she hotly denies, and Kwang-soo almost manages to hide how much that stings.
He rallies enough to say they can check the CCTV to see who was at fault, and the man suddenly backs down and offers a settlement. Kwang-soo starts to say something to Da-in but she cuts him off again, thanks him with a bow, and drives away before he can speak.
Min-gu reads Soo-ah's date book again when Kwang-soo comes in on the phone, and he perks up to hear his uncle mention the words "Blue Paprika." He finds out that Blue Paprika is the name of an indie band having a concert tonight, right now, and yells at Kwang-soo for not knowing where the concert is as he runs out the door.
Mom calls Kwang-soo to have some dumplings and mentions that she took some upstairs, as an apology for accusing Da-in of making all the noise. She says that Da-in told her she's a divorced single mom and that she runs a coffee shop, which Kwang-soo takes in with interest.
Kwang-soo is lying on the couch in a tank top and boxers when the doorbell rings. Mom lets Da-in and her daughter in and he hilariously tries to hide under a pillow, but Mom yells at him to put pants on and he slinks past them to his room. He has a giant freakout in his room, then dies even more to hear his sister telling his ex how he lies around in his underwear all day.
Mom and Da-in smile as they listen to Dong-gu introduce himself as "Dong-gu oppa" to tiny little Eun-seo, and tell her all about how he's a celebrity. Mom asks Da-in her age (33) and exclaims at how young she is to be divorced, and gripes about how her boys are all still single.
Kwang-soo listens through his bedroom door (from where he slid to the the floor, ha) and flops in embarrassment when Mom asks Da-in if she has any single friends. She tells Da-in that Kwang-soo is a TV producer but he never dates, and that he claims to be too busy but that's just an excuse, as Kwang-soo dies a thousand deaths and writhes on the floor, utterly humiliated.
Se-young is exhausted by the time she and Jin-gu find a sunflower field to take more couple selcas in, and says she gives up on the beef set. She's hungry and wants to find a restaurant, but it starts to rain, and they hold hands and run until they find an old building for shelter.
Jin-gu tries to dry Se-young's hair with his sleeve but she hits him and calls him a player. He's not deterred and offers hugs if she's cold, and gets denied again. He makes another broad hint about what always happens in these sorts of situations in the movies, and she shoots him down a third time. Ouch.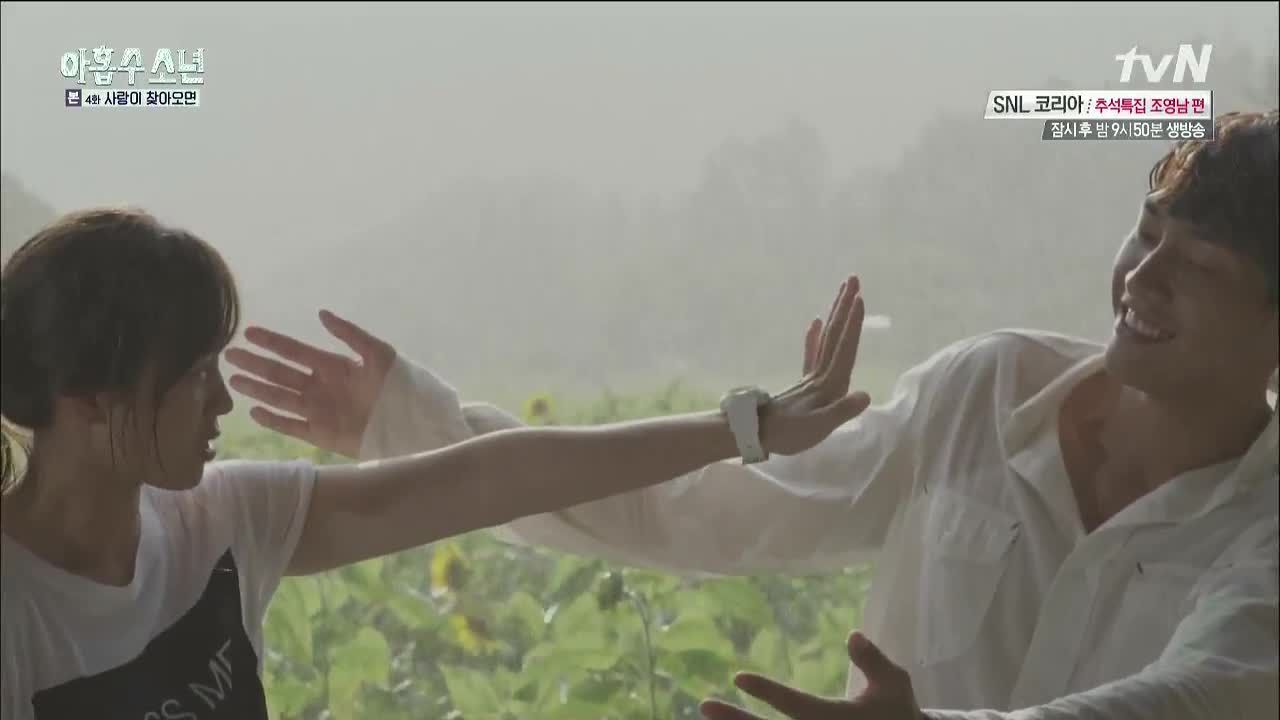 Min-gu searches the internet to find the location of the Blue Paprika concert, and when he gets there he walks through the audience, searching all the girls' faces but not finding the one he's looking for. Defeated, he leaves the venue and wanders down the street, but when he gets to the corner he looks up and sees his Destiny Girl standing on the other side.
The light turns green and Min-gu takes a deep breath, and walks towards his fate. The girl is on her phone and doesn't even notice him, and they pass each other in the middle of the street. But at the last second, Min-gu snags her by the wrist and she's pulled around to face him — they stand there, right in the middle of the street, face-to-face for the first time.
As they wait out the rain, Se-young whines about how she's so hungry and should have gone to the market, and she asks Jin-gu which of the guys went there. He mutters that it was Jae-bum, and Se-young sighs that she should have gone there, making Jin-gu take on a guarded expression. But he smiles again when all she talks about is all the food she could be eating right now.
Se-young says this place reminds her of her hometown, and proposes that the three of them should go there someday, but Jin-gu isn't listening as he just stares in awe at how pretty she looks in the light. She holds her hand out to catch the rain, and he holds his out next to hers. Slowly he moves his hand towards hers and entwines their fingers, and Se-young looks at him with an unreadable expression.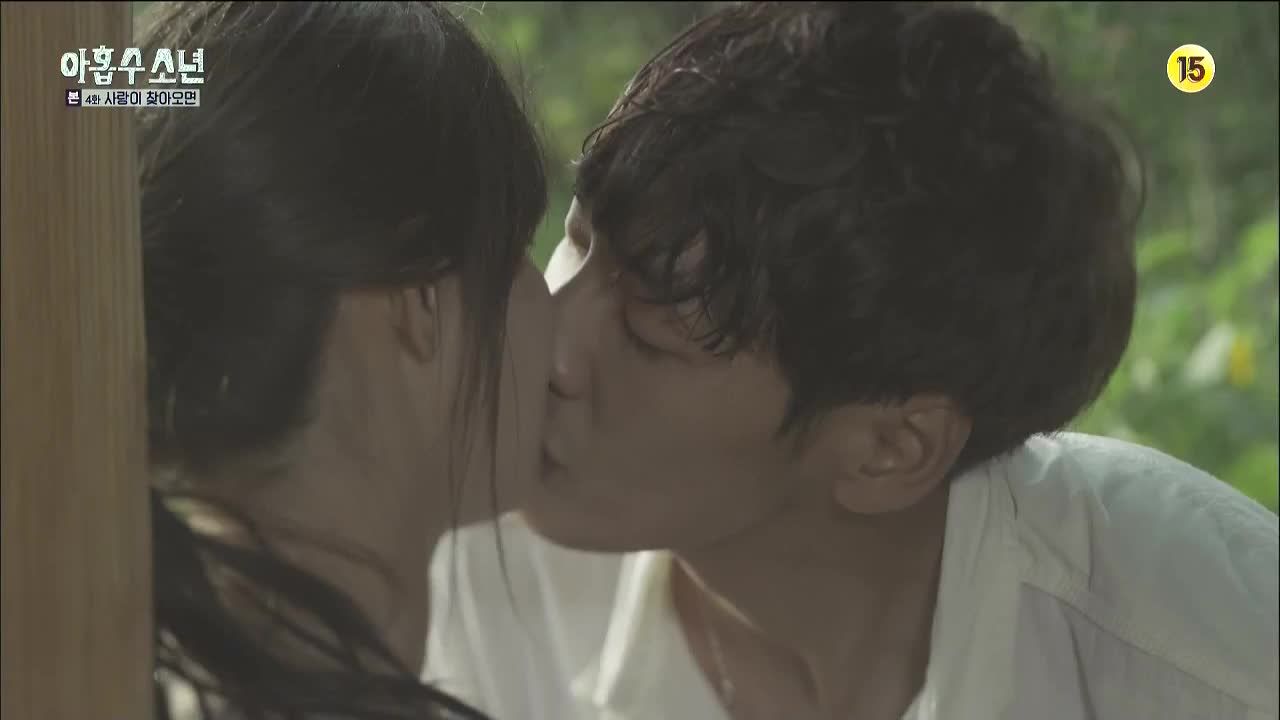 Jin-gu seizes his moment and leans in for a gentle kiss, and at the same time we see Min-gu and Soo-ah standing in the crosswalk, and Kwang-soo and Da-in facing each other at the elevator.
As Jin-gu kisses Se-young, he thinks how love comes unexpectedly. And once it comes, there's no turning back. He ends the kiss and backs up, waiting expectantly for her reaction… which is a slap across the face. She calls him a crazy bastard and stalks off, and he follows, calling her name.
COMMENTS
Things are getting serious for all four of our lovelorn young men, though I don't think any of them is enjoying the journey half as much as I am. I especially appreciated that we got to see a lot more of Kwang-soo and his relationship with Da-in, because it answered a lot of questions. For one, it's now clear that her daughter isn't his, which is something I bet we all considered, since she's only four years old and their relationship ended ten years ago. I'm kind of glad, because I'm not really a fan of the whole secret-child trope. I think there are very few situations in which it's okay to keep the existence of a whole entire child from his/her father, and I don't like when innocent children are dragged into the conflicts of their parents. So I'm glad, for that reason at least, that the little girl is simply Da-in's child from her failed marriage.
I'm burning with curiosity to know what happened to make Da-in so unhappy with Kwang-soo that she would beat him publicly with a bouquet of roses, during his proposal for pity's sake, then leave him without a word, never to be seen again. I'm racking my brain, but I can't think of a single thing that would be so terrible as to make her react that way, that he in turn would be completely unaware of. It does explain a lot about Kwang-soo though, and why he hasn't dated in so long after having what sounds like a very, um… healthy dating life before Da-in. Filling in the blanks, it seems like he dated quite a lot from college through his army service, up until meeting Da-in, and he decided she was the one he wanted to marry. To be so publicly rejected, then never to get any explanation or closure, would be traumatic in the extreme. It would certainly give him adequate cause to swear off dating, and even become depressed. He's in such obvious pain that it's getting hard to watch, and I hope there's a light at the end of his tunnel soon.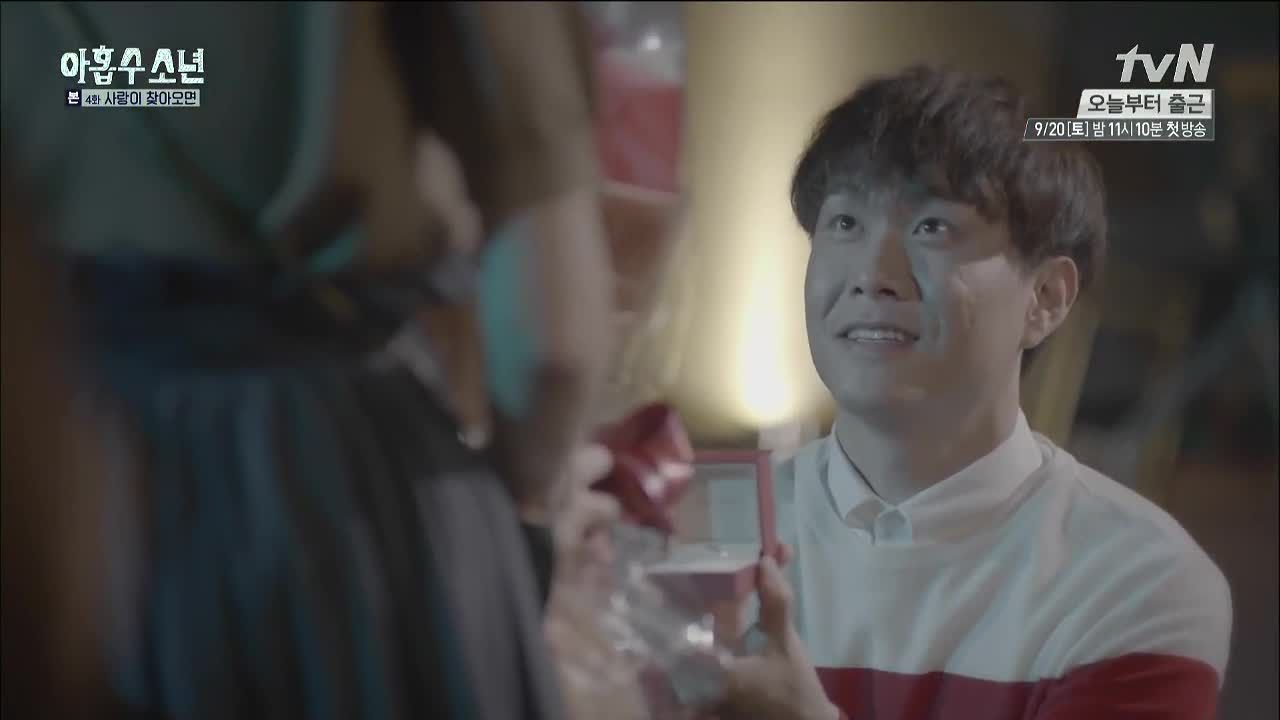 I liked Jin-gu's struggle with whether or not to confess to Se-young, because he's acutely aware that by doing so, he risks losing both of his closest friends. It's a terrible position to be in, but it's clear by the way he looks at Se-young that he can't go on hiding it or it will destroy him. Either way, confessing or not, he risks losing the people he loves most — so he may as well confess and have the chance to keep at least one of them. It's the worst sort of choice to make, and one that can't be avoided by making no choice at all.
And Se-young obviously has a secret of her own, based on the hint she gave when Da-in asked which one of the guys she wished would show up to her location and she said that Da-in already knew. I thought, well, it can't be Jae-bum because she rejected him, but then there was that talk they had on the way to get drinks that we didn't get to hear. But if it's Jin-gu, then why slap Jin-gu when he kissed her? And what in the world happened "back then" that was so terrible that Se-young had to forgive him for it? So many questions!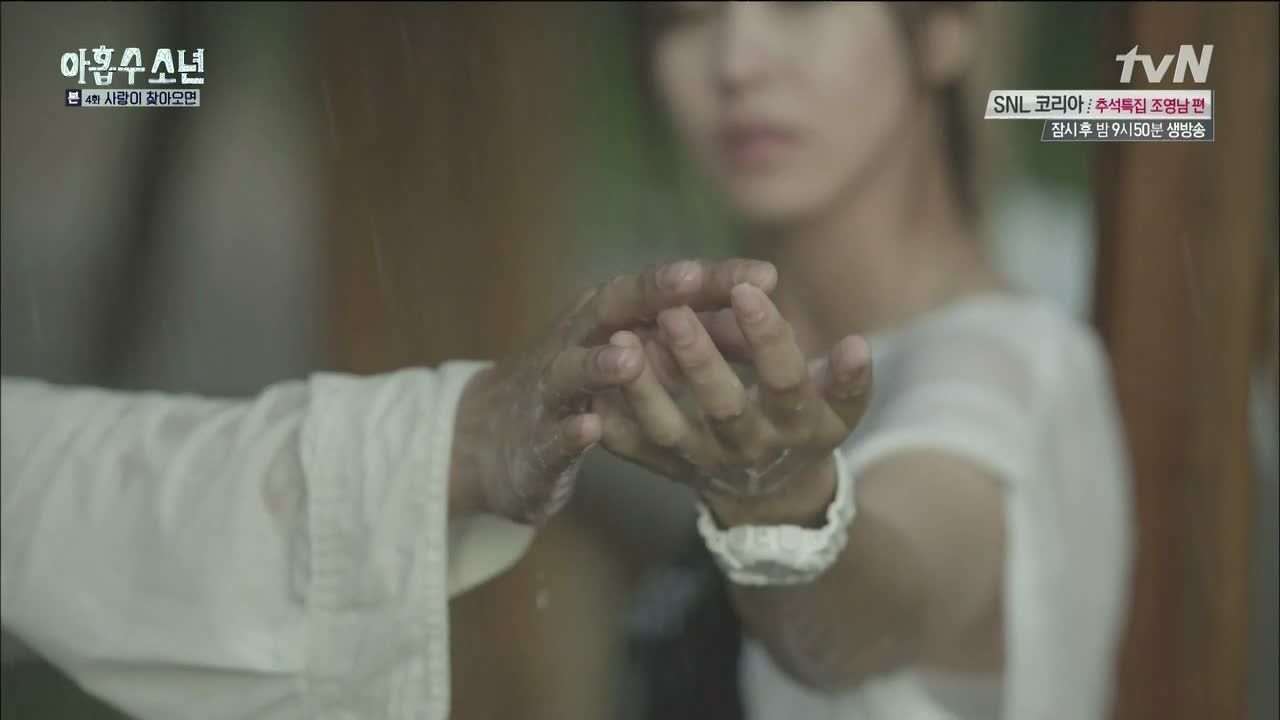 Let's talk about how cute Dong-gu and his little love triangle are. So cute! Baek-ji is just the most adorable thing ever, and I love how she delivers her very adult-sounding complaints about Dong-gu and his treatment of her without sounding whiny. Do Min-joon's entrance into their relationship is unexpected but hilarious, and I'm looking forward to watching the three mini-lovers' romance play out.
As for Min-gu… I have to confess that I'm glad that Min-gu finally found his Destiny Girl and can start having real-life interactions with her, because I was getting a bit uncomfortable with the way he was following her around and especially reading her private date book. I know we're supposed to think it's romantic that he wants to know all about her, but reading a woman's private thoughts and studying where she's been and where she's going, is more than a little creepy and stalkerish for my tastes. Then to let your grody teenage friends grope the book and read all about her too — just no. There's nothing okay about that. So yes, I'm glad that he's finally found Soo-ah and can start seeing her as a real live person and not an object to obsess over, because life is not a drama, not even when it's a drama. I still hope that Soo-ah turns out to be, for lack of a better word, a real ball-buster, because Min-gu needs a big wake-up call about love and what it means to treat a girl like a person. Finding the girl of your dreams isn't the end of the story; it's just the beginning.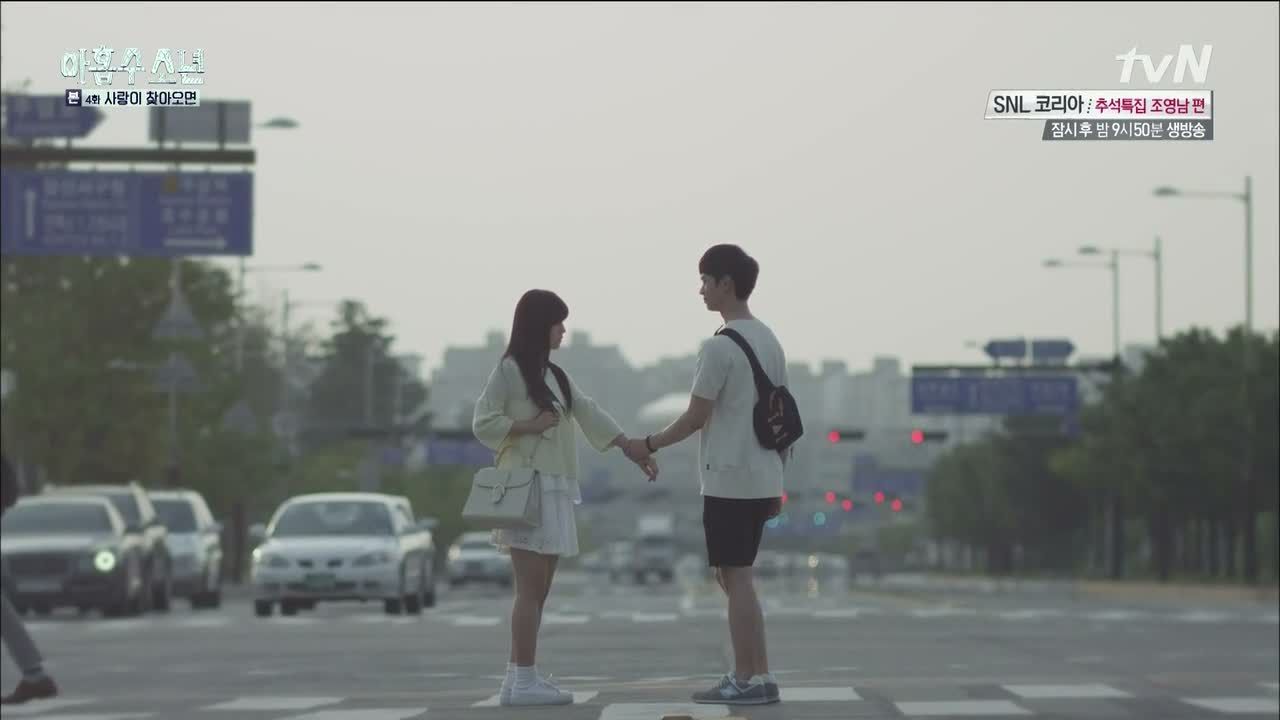 RELATED POSTS
Tags: featured, Kim Young-kwang, Kyung Su-jin, Oh Jung-se, Plus Nine Boys