Bad Guys: Episode 4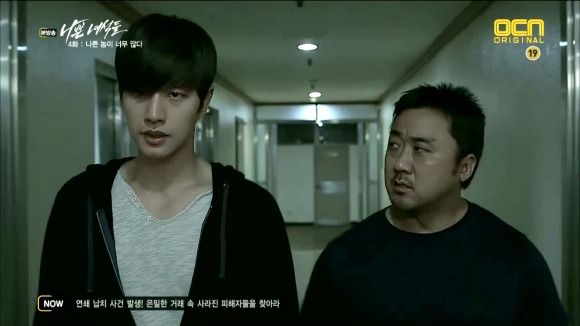 This is the episode I'd been waiting for; I'd known that each of our convicts is strong in their own right, but as it turns out, they're an even stronger team in the face of a common enemy. Not only does an illegal trade run deeper than any of our cops and criminals team could have imagined, but fighting their way to the top has never been more difficult.
The stakes are higher now that the cases are becoming increasingly risky and dangerous, but for what it's worth, every punch and kick lead to unlikely bonds being formed among our team members. It feels like just yesterday when these guys were practically at each other's throats, and now they're taking down the even darker criminals down together.
SONG OF THE DAY
Jung Joon-young – "이빨" (Teeth) [ Download ]
Audio clip: Adobe Flash Player (version 9 or above) is required to play this audio clip. Download the latest version here. You also need to have JavaScript enabled in your browser.
EPISODE 4: "Too Many Bad Guys"
While the news reports on Yang's recent arrest for human organ trafficking and how easily anyone can be a victim, we cut away to our latest kidnapping victim: Woong-chul, who is brought to his knees in an abandoned building.
His captor is a sharply-dressed man whom Woong-chul recognizes and shows deference to: "H-hyung-nim." Interesting.
Elsewhere, Jung-moon visits an errand agency with an assignment to find someone: a man with a scar on his forehead and ran another errand agency up until two years ago. When asked where the Scarred Man lived, Jung-moon looks over the manager's shoulder: "Over there," he replies.
A flashback takes us back to when Jung-moon had requested the skeevy-looking Scarred Man to act as his shadow and capture on film whether he truly does kill people or not. I've always found that tidbit about those lapses in Jung-moon's memory particularly intriguing.
But at present, Team Crazy Dogs is down one member who's been missing for hours now. Despite Goo-tak's reminder that Woong-chul's ankle monitor has a lock on his location, Mi-young still paces the room in concern.
Shooting a disapproving eye at Jung-moon, she states that they may be a team, but at the end of the day, they as cops are working alongside criminals—what if he wreaks havoc?
Woong-chul is prepared to live like a person, Goo-tak reminds her—he and Mi-young were the ones who gave the mob boss an opportunity when no one else did, so they should trust him and wait. Additionally, Goo-tak is well-aware that Mi-young took on this project for her own career advancement.
So who should walk through the church doors just then but Woong-chul himself, looking mostly fine apart from a few bruises and scratches. After restraining Mi-young from charging at their burly criminal, Goo-tak lets Woong-chul's excuses that he lost his way in the mountain and that he was attacked by an animal pass, much to Mi-young's frustration.
She storms out, and once they're alone, Woong-chul looks over at Jung-moon. Ah, the mafia boss had asked him if he knew Jung-moon, but we've yet to know why.
Meanwhile, Tae-soo's surprise hospital visit to Sun-jung adorably goes awry when her daughter outs his presence. He's surprised to hear that Goo-tak has visited her often (there's a hilarious moment when he nearly slips up by referring to Goo-tak as "that bast—"), and she thanks Tae-soo for saving her life from the locksmith serial killer (in Episode 2).
Tae-soo has Goo-tak to thank for putting in a good word with Sun-jung, which just reminds him of seeing Sun-jung at her husband's wake.
At Commissioner Nam's usual fishing spot, Goo-tak admits that he isn't confident about his upcoming endeavor to clean the streets of human traffickers, though it's something that must be done. That leads into another fishing-to-nabbing-criminals metaphor-filled conversation between the two men, where Goo-tak chuckles at how the police commissioner waits so long to catch a fish only to throw it back into the water.
It's funny, though, because that fish always gets caught again, as if it forgot that it did the first time around. All that fish sees is the bait dangling in front of it and chomps down, unaware that it'll be reeled in again if it does. That's the same thing with people, Goo-tak replies, since everyone lives their lives within the scope of what they can see now.
Commissioner Nam's expression darkens as he says that's why from now on, he won't let the fish he catches go free. He then turns the question on Goo-tak—will Goo-tak let his caught fish off the hook or catch them and throw them in prison? Hm, are we talking about the human traffickers or our bad guys trio?
Goo-tak rises—he's too hungry to let those lawbreakers go, so he'll make sure to chew them out slowly. So while Goo-tak prepares for the next hunt, Commissioner Nam reels in another fish and keeps his word and tells the defenseless fish: "You're dead today."
Then it's back to HQ where Goo-tak reviews the vast underground network of human and human organ traffickers in Seoul, all of whom the police hasn't been able to catch yet due to insufficient evidence. Until now.
That's where they come in, and Team Crazy Dogs will take the same Korean War-era military strategy (the Battle of Incheon) to first ambush the three dealers all at once. We see the first part of the plan go rather smoothly as each of our bad guys take each of the three middlemen into custody (including the rotund gangster boss and the human trafficker Tae-soo dealt with from the previous episode).
Taking out the middlemen will lead to disorder between the retailers who have nothing to sell and consumers have nothing to receive, eventually driving the black market into a crash. And the chaos in this illegal trade will inevidently help Team Crazy Dogs, and with that, Goo-tak orders his men to go and shred the evildoers to pieces.
And that's exactly what our trio does: Tae-soo confronts men who attempt to transport another trafficking victim while Woong-chul beats down some men trading a cooler filled with human organs. It's morbidly funny how Jung-moon barely lifts a finger in capturing his group of baddies by locking them in the refrigerated room in a temperature below freezing, and just… waits. Ha.
All of them are brought back to the old church where Woong-chul silences the ruffians instantly. Ha, I can see why it took him less than a month to take over the Seoul gangster network. But Woong-chul still can't easily meet Jung-moon's unwavering gaze.
If anything, the mass capture helps Goo-tak figure out who's on top of the human trafficking food chain: a woman named Hwang Kyung-soon, or more commonly known as Madam Hwang. A former pimpstress who entered the human trafficking business seven years ago, she has her hand everywhere in this illegal trade.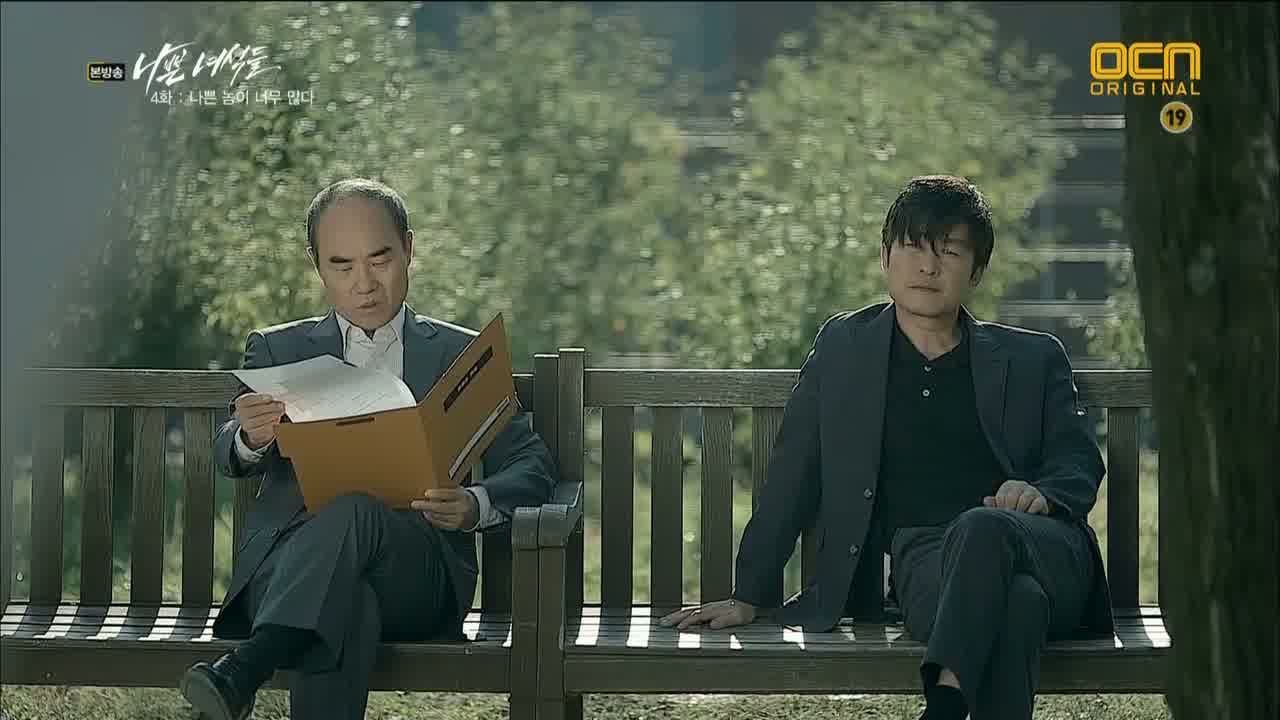 She's also bought a fair amount of law enforcement protection through bribery, but unfortunately Goo-tak doesn't know who among their ranks have been bought off. Commissioner Nam tsks at how their fellow cops could fall prey to bribery, but Goo-tak summarizes that money talks, though he blames society for that than anything else.
They have to be careful and swift with their attack, which will take place tonight.
Mi-young has trouble getting one of the top dogs in the trafficking food chain to squeal about Madam Hwang. She warns him that he'll regret choosing not to spill the beans to her. Ooh, are you going to send in Goo-tak?
It's Tae-soo, who locks the door and cuts right to the chase with the warning that he'll only ask three times: who's Madame Hwang? At the first refusal, Tae-soo stabs the top dog's hand with a pen, then sticks in another at the second refusal.
Then Tae-soo changes things up for his last question and tells the guy that yes, Mi-young is a cop. Pointing to himself, he asks, "Do I look like a cop to you?" The top dog shakes his head.
Tae-soo rises with a pencil ready in his hand as a farewell, and that's what gets the top dog talking. He gets that pencil stabbed into his hand anyway.
Time to see just how frightening Madam Hwang can be, as she uses a doll to explain to a little boy how much an eye is worth: 130 million won (about 130,000 USD) or the amount of his father's debt. Her soft voice is downright creepy as she asks the boy if it's a good or bad thing to borrow someone else's money without paying them back.
It's that moment the gravity of the situation falls upon the child, who starts to cry. But Madam Hwang has no patience for the boy's tears, and illustrates what she'll do to his father's eyes by confiscating the marbles in the boy's hands.
In the van, Goo-tak notes that there are over 100 gangsters within Madam Hwang's headquarters. Their primary objective is to collect enough evidence for an arrest, but they must be covert since only a couple of police officers know of this plan aside from themselves, and because they don't know who they can trust within the force. The reward for such a risky assignment: 10 years.
At the same time, the little boy cries to see his beat-up father wheeled into the office. Madam Hwang tells the child that he has to be his father's eyes now, then tells her men to begin. Holy fuck, you're not going to remove those man's eyes in front of his child, are you? She doesn't, but that's still messed up.
Goo-tak leads his trio of criminals inside while Mi-young and another cop stay with the van. He gets past security with the hint that they're here to see the madam for money, though all of them are forced to leave their phones behind.
Goo-tak is escorted to see Madam Hwang alone while leaving the others behind to roam the premises under the pretense that the knowledge will help them cover for the gangster organization later on.
But they too are separated, and when Jung-moon comments that something's off, our resident mob boss quips that these guys are pretty well-behaved.
Jung-moon's foresight turns out to be right when the gangsters won't tell them where they're headed. No sooner does he say that they've been found out does a gunshot ring out from the elevator where Goo-tak fights off a gangster in the enclosed space.
Jung-moon reacts quickly to punch down a thug with a knife before he can attack Woong-chul. And while they fight off gangster in the hallway, Tae-soo pulls in his knife-wielding gangster into a bathroom stall.
In the elevator, the light flickers on and off as Goo-tak points his gun at the minion, his eyes fully prepared to shoot. While Jung-moon tries to figure out who could've tipped Madam Hwang off, Tae-soo calls it in to Mi-young. Unfortunately for her, the cop sitting next to her knocks her out as soon as she hangs up.
Aha, so he was the one who sent Madam Hwang that text about their arrival. At least Goo-tak is all right, as he leaves the chained, bleeding minion in the elevator. Staring into the security camera, Goo-tak speaks into a walkie-talkie that's in direct communication with Madam Hwang, who sits on edge in the control room.
"Can you hear me?" Goo-tak asks. "Listen up." He raises his gun directly at the camera, and it must be something about Goo-tak's gaze that makes the woman visibly go rigid. "I'm going to catch you," Goo-tak declares, then shoots, causing the camera to go black.
When Jung-moon declares that he's going to look for an exit, Woong-chul asks if he means to save themselves and leave their team members behind. But that's not what Jung-moon means at all—what they need right now is more officers than two convicts.
It turns out that the SWAT team is in Madam Hwang's pockets too; they aren't happy to be here but agree to take care of Team Crazy Dogs. Then Madam Hwang sends out a group of children (whose parents all had large debts, I presume) to relay the message to all of the gangsters within the building to sniff out the dogs who are hiding somewhere on the premises.
All wireless and mobile communication will be suspended and the entire building is on lockdown. The order: kill every last one of the beasts and bring their corpses to her upstairs.
And thus, the hunt is on. Woong-chul is thrown inside a room and walloped by bats until Jung-moon comes running and smashes a huge picture frame against the gangsters. But just as he pulls Woong-chul out of the room, another gangster stabs Jung-moon in the back. The look of shock on Woong-chul's face is heart-wrenching.
Next thing we know, Woong-chul charges at the thugs with a fire extinguisher, and then leads Jung-moon away to safety. But as it turns out, their place of temporary refuge is a room full of disposed, gutted-out corpses. Dear god, that's just horrifying.
Now they have some time to talk, and Woong-chul asks why Jung-moon stopped to help him rather than going after that locksmith serial killer. "What would you have done if you were in my shoes?"Jung-moon returns. "Do you know why I'm doing this job?"
Woong-chul figures that it's for the same reason the rest of them are doing it: to come out with some reduced jail sentences. "No, because I want to know myself," Jung-moon answers.
He wants to know whether he's actually a murderer people claim him to be: "And if it's true that I killed people, then if it's possible for me to save people. If it will stir my heart if I save people. Because I wanted to know that. That's why I'm doing this."
After commenting on how Jung-moon's road to self-discovery sounds complicated, Woong-chul gets up to check if the coast is clear. And from the way Jung-moon is struggling from his bleeding wound, it doesn't look like he has much time.
What's more is that the SWAT team is inconveniently too good at their job, because they pick up on the trail of blood leading to the morgue. Woong-chul watches as the team heads inside, looking clearly conflicted.
That's because that sharply-dressed mafia boss ordered Woong-chul to kill Jung-moon. As it turns out, one of their fellow mafia boss's daughter was one of Jung-moon's murder victims. So if Woong-chul kills off Jung-moon within the next two weeks, then Woong-chul can walk away as a free man. If he doesn't, then he'll be the one to die.
It doesn't take long for the SWAT team to discover Jung-moon, and the team leader makes it clear that it's money that buys his loyalty. He orders his boys to kill Jung-moon, who tries to defend himself, only to collapse onto the ground due to his injury.
The police officers slowly start to close in on Jung-moon, and that's when Woong-chul comes charging through the doors. Oh yeeaahh, go Woong-chul! He asks them if this situation looks normal to them, and berates them for their immoral spine.
Woong-chul throws punches and hurls the oncoming SWAT officers, using anything and everything to his disposal. The SWAT leader takes out his gun and points it at Woong-chul… and in a flash, Tae-soo swipes the gun, takes it apart, and takes down the team leader with it.
And just to make the moment sweeter, Tae-soo points out to Woong-chul that he just saved his life. The two take down the other officers together, and Woong-chul helps Jung-moon back up.
Goo-tak joins the trio not long afterwards, having spotted them on the CCTV up in the control room. He's got a plan to get out of this locked building, but will they follow him if he tells them what it is?
We'd seen Goo-tak pore over blueprints of the building earlier in the episode, an idea that proves useful now: there's a broken emergency elevator that they can get working for thirty seconds once they turn on a switch. The plan is to go up that elevator (and avoid as many thugs as possible), capture Madam Hwang up on the fifteenth floor, and make her do their bidding.
Problem is, someone needs to head up to the fifth floor and turn on that switch. Death is the only thing that awaits them in this building if they fail in any part of this operation. But that hardly worries Goo-tak: "When have we ever lived in this world with a mindset to live?"
Tae-soo's the one to take care of that switch, as he fights off each and every opponent with the same speed and finesse he's known for. Goo-tak's words still ring as Tae-soo heads upstairs—-if there's a chance that Lady Luck could smile upon them and they could come out alive, wouldn't that be enough to try and fight their way through?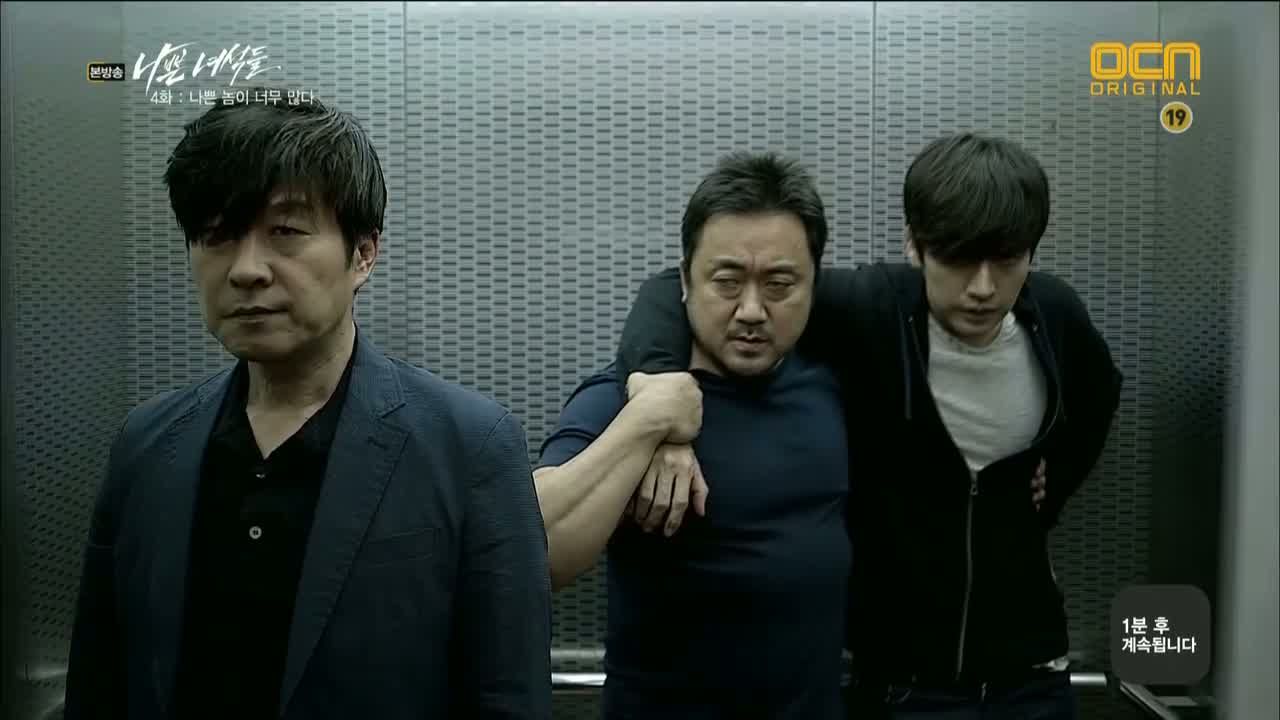 Tae-soo reaches the fuse box to repair the broken wire to the elevator. Once inside, Goo-tak starts counting.
We briefly check in with Mi-young, who's bound and gagged, but tries to cut through the ropes with some scrap glass. Then we cut back to Goo-tak, who hits past the twenty-three second mark when the elevator starts to shake between the eleventh and twelfth floors.
But Goo-tak faithfully keeps counting: 27… 28… 29… "30," he whispers finally. He looks up and sees the fourteenth floor slowly tick away to the fifteenth. Phew, they made it.
Madam Hwang is hardly surprised to see Goo-tak mere feet away from her—he can try to arrest her, but then he won't make it out of this building alive. "Then we'll just die together," Goo-tak says without skipping a beat.
Back in the forest, that other cop finishes digging, only to find that Mi-young has freed herself from her binds. But she hasn't gone far, because she sneaks up behind him and knocks him out before calling up Commissioner Nam. Smart girl.
Goo-tak holds Madam Hwang at gunpoint as they take the elevator down to the lobby, where a sea of gangsters greet them. Cocking his gun, Goo-tak orders them to make way if they don't want to see their boss die in front of them.
But Madam Hwang calls Goo-tak out on his bluff, telling her men that it won't matter if she dies. Putting her own position on the line, she orders her men to kill.
Goo-tak knocks Madam Hwang out before joining the fray as he and his hunting dogs attack the swarm of gangsters in the lobby. They hold their own pretty well at the start, but soon the numbers become too great for the four of them to handle.
Goo-tak falls to his knees after another blow to his back… and then police sirens. Commissioner Nam leads the officers and signals at them to move in. He shoots into the air to call order to the chaotic brawl, and threatens to shoot anyone that moves.
Commissioner Nam walks up to check on a bloodied Goo-tak, who asks how long it's been since the commissioner has shot his weapon. It's been too long for the police commissioner to remember, and he jokes that fishing is more suited for him than being out on the field. Goo-tak breaks into dry laughter.
Goo-tak catches Madam Hwang before she leaves in the police van and spits in disgust at her brazen attitude that she'll outlive her jail sentence this time too. He gripes at how he can't even strike a woman, even a spiteful one.
But that's what Mi-young is for, because she marches up to the old woman and gives her a taste of her right hook. Niiiccceee. Goo-tak's fairly impressed, to which Mi-young replies that there's nothing she can't do.
Not too far off, a mysterious man in his car reports, "No, he's still alive." Do you mean Jung-moon?
He advises that they wait and see, and Goo-tak and the rest of Team Crazy Dogs pile back into the van to go and get some breakfast.

COMMENTS
All in a day's work for this crimebusting team. If Madam Hwang is like any of our other baddies we've seen thus far, I'd say we haven't seen the last of her just yet. She does earn the spot of one of the creepiest crimelords yet, however, and not just in appearance.
Now that we've covered serial killing and human organ trafficking, Bad Guys has me wondering what dark subject matter they'll tackle next. I have an inkling that they'll go with whatever offers some violence and gore, because why not keep things consistent? What I hope the show continues to do, however, is not only shed light upon these violent crimes but also utilize our characters on how people's behavior can perpetuate these wrongdoings as well. One instance that wasn't covered in the recap was when Goo-tak snuck up on a thug who squeaked that he was just employee, no evildoer. But as Goo-tak wisely pointed out there, even turning a blind eye towards these crimes doesn't get you off the hook.
What I really enjoyed about this episode was watching the bonds start to form between our three convicts. It was Woong-chul and Jung-moon's relationship in particular, and how Woong-chul wrestled with himself on whether he should let Jung-moon live or die. But I'm sure seeing a guy get stabbed after saving your life has to affect you somehow. And we know that Woong-chul is nothing if not loyal, so yeah, he's going to save your life in return. I'm curious as to the gangster boss he shows respects to, though for now I'm just worried that two weeks will pass and Woong-chul's life will be in danger again.
As for Jung-moon, I admit it's harder to pick his brain past that usual stone-cold expression. His admissions as to why he helped Woong-chul and why he chose to take on this job is particularly intriguing. His approach is more calculative than loyal when he noted that police back-up will help them, and also experimental in his self-discovery: would saving people help him to feel anything in his heart? I'd worried that the show would only focus on Jung-moon's memory lapses and his serial killings, but now I want to see Jung-moon explore that further and try helping more people to see if he can try feeling emotions, too. At the same time, I hope we see more glimpses into Jung-moon's memories and eventually see the truth behind all those killings.
But something must be said for Mi-young, who's a total badass investigator. Her prejudice against the criminals they work with is something I don't mind very much at the moment, since not everyone can be on board with the idea. And because each criminal largely worked independently in their previous cases and none of them were particularly keen on teamwork, I can see how Mi-young would hold steadfast to the idea. It's too bad she didn't see some of our baddies working together in this episode, but then again, she had her own corrupt cop to deal with. Maybe one of our criminals will end up saving her life and gain her trust, though judging from that final punch, this is one cop who can take care of herself.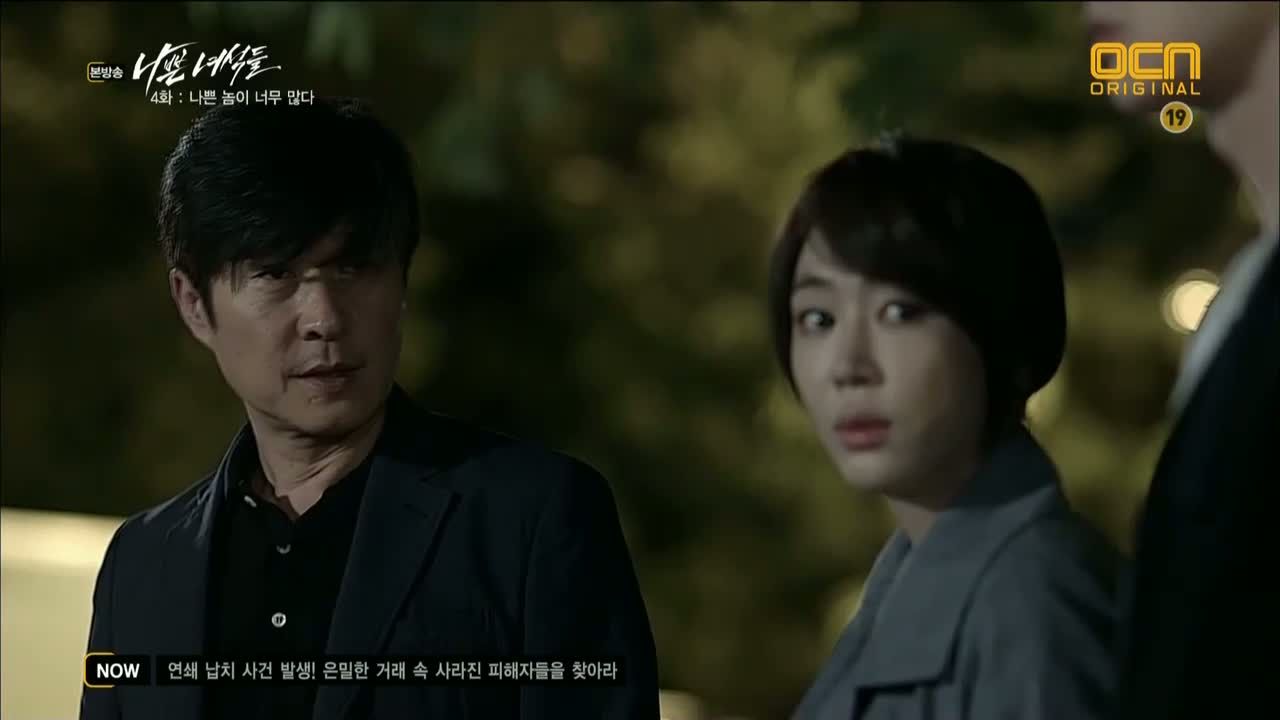 RELATED POSTS
Tags: Bad Guys, featured, Jo Dong-hyuk, Kang Ye-won, Kim Sang-joong, Ma Dong-seok, Park Hae-jin