Bad Guys: Episode 8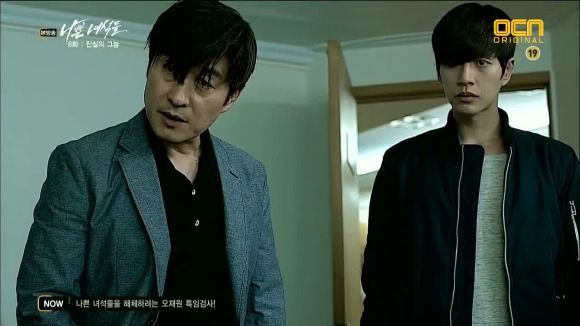 It's about time that the truth reared its ugly head, as this hour teaches us mostly everything about Jung-moon that we'd been dying to know. We learn what the deal is between Goo-tak and Jung-moon, but as it turns out, the story has a darker side of the coin that leaves us with more questions than answers.
Betrayal threatens the cohesiveness of our ragtag crime-fighting team, which strangely enough accelerates the hunt for the Big Bad, and why practically everyone has been working so hard to take Jung-moon's life.
SONG OF THE DAY
Infinite – "Back" [ Download ]
Audio clip: Adobe Flash Player (version 9 or above) is required to play this audio clip. Download the latest version here. You also need to have JavaScript enabled in your browser.
EPISODE 8: "Truth's Shadow"
We pick up right where we left off, with the Scarred Man revealing that the Hwayeondong serial killer is none other than Jung-moon himself. He didn't believe it either at first, because who would be crazy enough to ask someone else to keep record of their crimes?
But he did as he was told for the money, tailing Jung-moon without questioning why the latter chose his victims. And there was a pattern in Jung-moon's movements: every Tuesday evening, he would follow his chosen targets into their houses and leave exactly one hour later, like clockwork. Six victims were found dead some hours later that way.
"Did you see me kill those people yourself?" Jung-moon asks. Of course the Scarred Man didn't, since he was both too much of a coward and wished to shed any responsibility of the murders.
Assuming that Jung-moon killed those people he followed just because they were later found dead sounds like too much of a leap in Jung-moon's mind (but… does it, Jung-moon?), but the Scarred Man has a counter-argument at the ready—why did Jung-moon return to the crime scenes then?
Something about recalling Jung-moon's last victim—that detective's daughter—still frightens the Scarred Man to this day. What he saw was enough for him to believe that tracking Jung-moon's movements was part of an act just so he could plead insanity with an I-don't-remember-anyone sob story if he was ever caught by the authorities.
Jung-moon demands to know what it was he saw, grabbing the Scarred Man in a chokehold when the latter breaks into incredulous laughter. "You… smiled," he ekes out. "You looked at me and smiled."
A flashback transports us to that night when the Scarred Man filmed past Jung-moon loitering in the alley where Goo-tak's daughter Ji-yeon was found dead. Past Jung-moon had looked back and said, "I did it… Me. I killed her," then broke into a smile.
This is a shocking revelation for present Jung-moon… and for Goo-tak, who overhears everything just a stone's throw away.
A mystery car had been caught on camera too, but the Scarred Man assumed it belonged to Jung-moon's accomplice, since someone died every time Jung-moon had emerged from that car.
As Goo-tak shadows Jung-moon down the street, the scene intercuts with the past as a grief-stricken Goo-tak couldn't understand why his daughter was the only victim found outside (whereas the others were left inside their homes).
He'd been completely torn up about how Ji-yeon had died without eating her favorite dish one last time—it had been the day before his only daughter was supposed to go study abroad.
As present Goo-tak takes out his gun to point it at Jung-moon, his past self echoes, "I can't forgive myself. This is the only way. After I catch and kill the bastard that killed Ji-yeon, I'm going to get on my knees in front of her funeral portrait… and beg, 'I'm sorry your father is useless. Please understand… forgive me.'"
His finger on the trigger, Goo-tak trains his gun on Jung-moon, who stops in his tracks and closes his eyes. Had he known that Goo-tak was following him? But Mi-young and the police arrive just then, and Goo-tak hides behind a corner.
They're also joined by Prosecutor Oh, who asks why Jung-moon went missing tonight. He doesn't miss an opportunity to make a dig at how Jung-moon will justify his actions as psychological disturbance again, and Jung-moon heads back to the van. Goo-tak heaves a heavy sigh.
Mi-young, on the other hand, rides with Prosecutor Oh to ask what he knows what the deal is between Jung-moon and Goo-tak.
Prosecutor Oh discloses that he was the prosecutor-in-charge of Jung-moon's first murder case three years ago, in September 2011, back when Jung-moon was a graduate student. We see that day in Jung-moon's perspective: he'd come home to see a pair of burglars rifling through his family home, his parents lain dead on the floor.
Jung-moon had slowly closed the door behind him and told the intruders with a dark look in his eyes that this was his home: "Why was it my house?" Then he had taken a rock and attacked them.
This is where Mi-young interrupts to say that sounds like Jung-moon acted out of self-defense, a reasonable postulation any prosecutor would have made prior to seeing the crime scene. And there's that image again: a bloodied Jung-moon with a rock in his hand, and this time, he chokes back tears.
However the prosecution had deemed that Jung-moon's reaction (read: murder) was too severe compared to the crimes made against him to be acknowledged as self-defense. When the case was turned over to him, Prosecutor Oh had considered him a mental patient and let him go.
But once the Hwayeondong serial killings took place and all fingers pointed at Jung-moon, Prosecutor Oh had resigned from his post. He's here now because he won't make the same mistake again.
Jung-moon is brought back to his hospital room, knowing that Goo-take is already here waiting for him. Goo-tak asks how Jung-moon felt when he killed the burglars three years ago—happy? Sad? Let down?
After his daughter died, Goo-tak couldn't bring himself to eat or sleep, living a hollow existence like a fool. But as time passed, he found himself going about his day and taking care of himself. Pulling back the curtain, Goo-tak snarls that he did all that so he'd have the strength to exact his revenge on Ji-yeon's murderer when they'd finally meet.
Goo-tak raises his gun at Jung-moon, who turns back with a sigh. "Do I seem like the culprit? Do you think I killed your daughter?" That question triggers their earlier conversation about whether Jung-moon was the Hwayeondong serial killer or not, and Jung-moon asks why Goo-tak came to find him in the first place.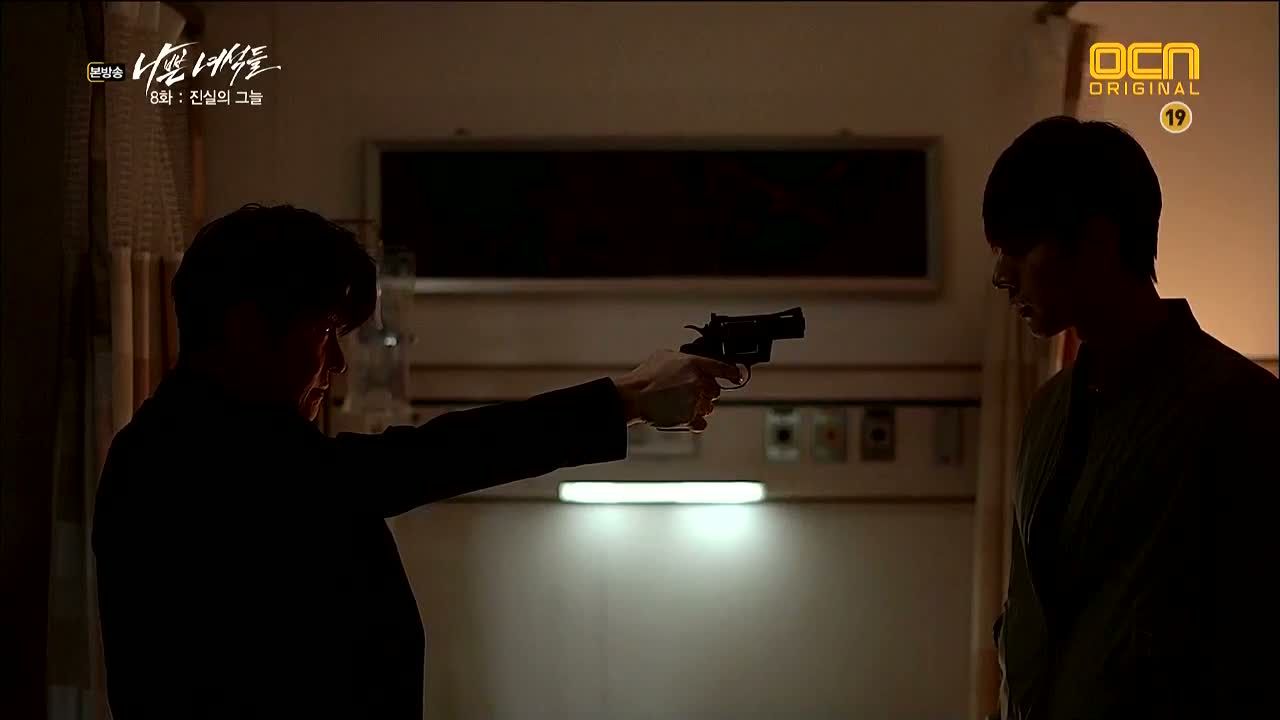 He remembers asking Goo-tak (in Episode 3) what he was getting at by recruiting him. "What do you want from me?" Jung-moon asks. "The truth or [someone to] blame? If you want the truth, help me one last time. If it's resentment, then pull that trigger. Hurry up and kill me."
That's a tempting offer to Goo-tak's ears, and his finger slowly pulls back the trigger… only to drop the gun at the last second. He asks Jung-moon what will happen if there's resentment after they figure out the truth, to which Jung-moon replies that he'll comply with Goo-tak wishes then.
Handing over the picture of the mysterious car, Jung-moon asks him to look into it. Goo-tak emphasizes that this is the last chance he's giving him before heading out. "He didn't ask what car it was," Jung-moon notes.
Mi-young receives a shocking phone call that takes her to the morgue where the locksmith serial killer from Episode 2 now lays dead. Her observations leads her to conclude that this man died of strangulation, not suicide, and orders an autopsy to confirm.
But the man in the suit thwarts down the idea, arguing that the killer had no family. When Mi-young protests, the man in the suit claims he's following orders from the higher-ups and advises Mi-young to keep her head down. I dunno who you are man, but I don't like you.
Out in the hallway, Prosecutor Oh acknowledges that Commissioner Nam is a great, respectable man, yet there are instances where he can be imprudent as well. He repeats his earlier question of why he decided to work alongside Team Crazy Dogs, laughing at her naive answer that he's here to facilitate their criminal cases.
His intentions couldn't be that valiant, and Mi-young asks in a slightly exasperated voice why he joined them then. The answer is simple: to disband Team Crazy Dogs. He'll leave Mi-young to figure out how to go about it, but he'll extend a helping hand to her if she does.
Goo-tak, the three criminals, and Commissioner Nam too, they're all nuclear bombs, Prosecutor Oh states. A nuclear bomb can stop a war but it can also incite one, and when Mi-young asks where he's getting at, Prosecutor Oh basically advises her to join hands with someone better—him.
He has one last tidbit to share with her, however: he heard that someone paid a visit to the locksmith serial killer in prison the day before the man died.
That visitor turns out to be Commissioner Nam, who says he tried to be the better man and forgive the man who murdered his son. But the killer had mocked him instead, cackling about the day they would meet upon his release.
Commissioner Nam offers a drink to Mi-young, but she has a more pressing question on her mind: why was she selected to be a part of Team Crazy Dogs? "Because you're smart and ambitious," Commissioner Nam replies.
Smart people are unaware of what living in the real world is like, and the ambitious ones are too busy with their own greed to be in tune with others' desires and wishes of them. Affected by those words, Mi-young's eyes well up in tears as she asks if that's the reason why she was chosen.
Commissioner Nam doesn't see those qualities as disapproving, however—she'll learn from under his leadership and she'll rise in the ranks. But Mi-young cuts him off and disagrees with that logic. Keeping her tears in check, she excuses herself.
Goo-tak calls an Detective Park Chang-joon out of a super boring police lecture to look up the car Jung-moon's looking for. The license plate number comes up as a match with a small-time criminal, and Detective Park stops Goo-tak to apologize for not keeping in touch.
Goo-tak corrects him—he was the one who didn't call because seeing Detective Park only reminds him of Ji-yeon (since Detective Park was the cop in charge of Ji-yeon's case), and it's clear that Goo-tak bears no grudge against him.
Then it's back to the hospital to spring Jung-moon out without suspicion by removing his ankle monitor. Informing Jung-moon that they're looking for an illegal taxi driver who takes his passengers anywhere they want at a price, Goo-tak explains that there's no need to go looking when they just call him instead.
So when they meet, both Jung-moon and Driver Cha recognize one another right away. Jung-moon pulls him into the car and beats him for information while Goo-tak stands guard outside. I know I shouldn't condone violence, but these kinds of moments never cease to be funny.
Driver Cha insists that he knows nothing and simply followed a Doctor Kim's orders. About three years ago, Driver Cha had been told to take Jung-moon to Hwayeondong and other neighborhoods after their sessions together. Unlike his previous customers, Jung-moon had been specific about his destinations.
Next thing we know, Goo-tak and Jung-moon arrive at the psychiatric clinic where Jung-moon allegedly used to frequent. Jung-moon recognizes the secretary at the front desk, but he also recalls that she acknowledged someone else's presence in the past, which means he didn't come here alone.
He relays as much to Goo-tak, but doesn't recall who that other man was. He vaguely recalls the doctor's face, and is surprised to see a female psychiatrist sitting in the office instead. She's fairly new, but she knows that Doctor Kim Dong-ho used to work in this practice.
Mi-young visits the locksmith killer's wake alone, recalling the day she'd been appointed as inspector. Commissioner Nam had told her that this responsibility makes them a team now.
Now she calls up Commissioner Nam to provide a response to his metaphor about how a master doesn't die when a dog bites him: If that dog leaves his master, it'll find a new one. Oho, is she thinking of switching loyalties? It must be, because Mi-young says the old owner will be sad then, since there's no beast that will do his bidding.
With that, she ends her ties with Commissioner Nam and calls Prosecutor Oh to ask if his offer still stands.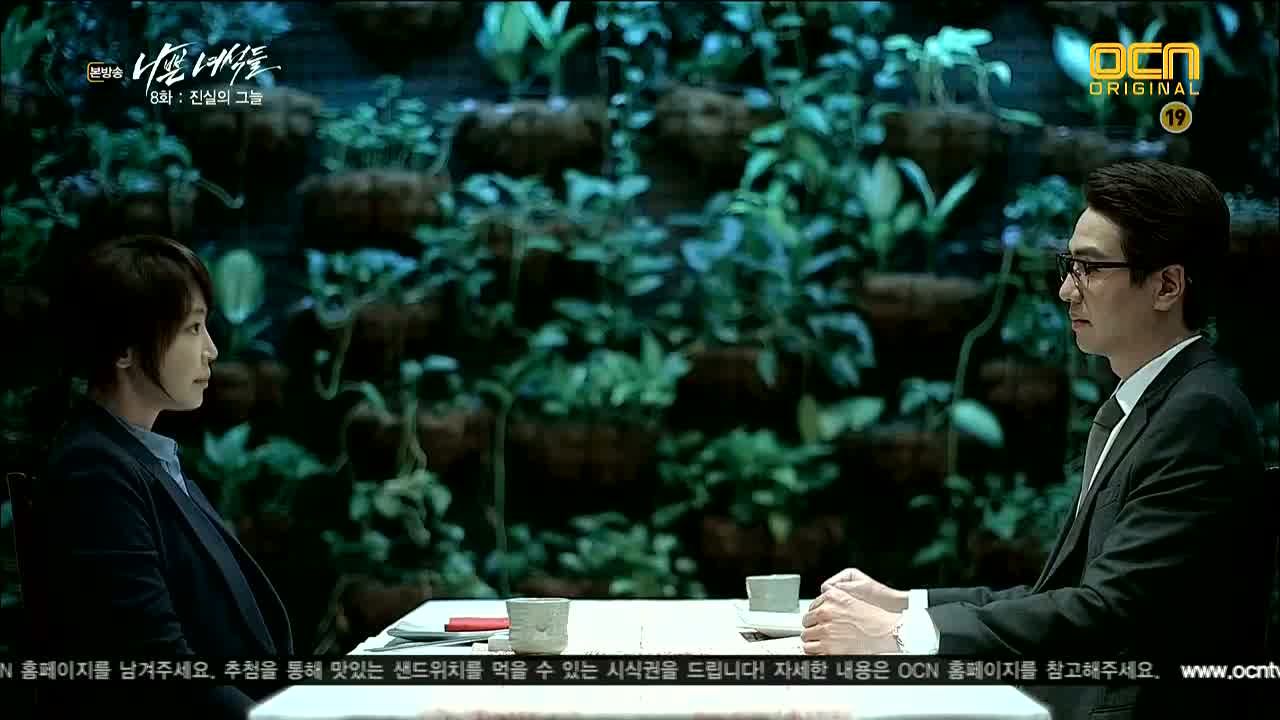 So when Mi-young sits down with Prosecutor Oh, she agrees to join forces on the condition that Prosecutor Oh actively works with her to break up Team Crazy Dogs. He chuckles and tells her to keep up because he won't look back if she falls behind.
All they need to do is widen the cracks in the feeble trust the Team Crazy Dogs members have in each other. Prosecutor Oh is already aware of the hit on Jung-moon's head; there are no secrets in this world—the guys they're after just think there are. Because he knows that both Tae-soo and Woong-chul received orders to kill Jung-moon. Where do you get your intel?
When Mi-young pays a visit to Woong-chul, he replies that he doesn't know who ordered the hit either. The only thing he does know is that Boss Lee had told him that a hyungnim he knew lost a child in the Hwayeondong murders. Wait a minute, but Boss Lee and Goo-tak knew each other. Could it be?
In any case, Prosecutor Oh is pretty confident that knowing who issued the kill order on Jung-moon will ultimately result in Team Crazy Dog's dissolution. Tae-soo admits that he also received an order to kill Jung-moon when they were imprisoned together two years ago. Although he doesn't know who instigated the operation, he points Mi-young in the right direction.
Mi-young is in no mood to deal with unanswered questions from the elderly baduk player, flicking his book away to let him know that she means business. She reports back to Prosecutor Oh of what she's told: that the man was one of the Hwayeondong victim's fathers who wanted Jung-moon dead.
They'll need the Hwayeondong case files to learn who, and all it takes is for Prosecutor Oh to pull rank with a hoobae prosecutor to get him to infiltrate the police station and seize Goo-tak's previous case files. Detective Park, who had also been Goo-tak's former partner, gets pulled in for questioning.
Elsewhere, Goo-tak and Jung-moon drive to the countryside to Doctor Kim's residence. It's certainly suspicious that a successful doctor would suddenly resign and go into hiding, but that's what they're here to find out.
Jung-moon stumbles upon a cracked portrait of Doctor Kim, the image triggering memories to when the doc gave him medication to put him at ease.
But that's when a scraggly-looking Doctor Kim turns on the light, asking who's out there. He reels in shock to see Jung-moon in the flesh, and then takes off. Goo-tak and Jung-moon both give chase, but the latter tires easily, his wounds still fresh.
So Goo-tak makes a quick decision and takes a shortcut to ambush Doctor Kim and take him down with a flip. He gets a few good punches in and tells Jung-moon to sit it out, but Jung-moon whips out his stun baton and uses it against Goo-tak, asking, "Why were you following me that night?"
Aha, so Jung-moon had seen Goo-tak that night, catching a glimpse of his reflection behind him. He asks how long Goo-tak has been tailing him and adds, "I can't trust you anymore, Goo-tak."
"You can keep resenting me. I'll find out the truth." Jung-moon declares, then grabs Doctor Kim with him. Goo-tak can barely writhe in his temporarily stupefied state, let alone speak.
Jung-moon throws Doctor Kim into the car, only to belatedly learn that he's been stuck with a tranquilizer. Doctor Kim slurs his words—he knew that Jung-moon would come looking for him eventually, and cackles devilishly that he knew everything before Jung-moon passes out.
Which mean Goo-tak is unable to grab ahold of him, and when he arrives back at the church, he launches into a rage. Grabbing his head in his hands, Goo-tak lets out a long scream before breaking into what sounds like sobs but is actually laughter.
This is how Mi-young finds him, and she comes right out with it: "The one who killed your daughter is Jung-moon, wasn't it?" She's astounded by the great lengths that Goo-tak would go to lure his daughter's murderer into his vicinity.
She knows everything now: that Ji-yeon was the final Hwayeondong murder victim, what Goo-tak did to Jung-moon afterwards, why Woong-chul, Tae-soo, and Jung-moon were chosen for this team and what past they all shared.
She has one final question for him: Is he the one who instigated these chain of events by contacting Boss Lee to have Woong-chul kill Jung-moon, the one who had Kim Do-shik approach Tae-soo, and then issue the order to have Woong-chul and Tae-soo killed as well?
"Was it you?" she asks. "Say it. Oh Goo-tak, did you call out the order? Say it. Oh Goo-tak, are you the culprit?"
And Goo-tak look up and breaks into a wry smile. Oh shit.

COMMENTS
How disturbing is that smile? And could it be true that Goo-tak is the Man Behind the Man? Because the idea of revealing your protagonist as the man who ordered his daughter's murderer killed and assembled a crime-fighting team just to keep him in sight takes some serious balls on the show's part.
It's the execution in the story that makes all the difference, and Bad Guys has done a good job of keeping us on her toes thus far. Now the little clues and initial questions asked are coming together, though a few eagle-eyed viewers out there have picked up on some minute details to connect the dots. But even then, I feel the show built up to this climax rather well, taking individual storylines from Woong-chul's gangster background to Tae-soo's hired assassin connections to play a part in Goo-tak's central revenge plot against Jung-moon.
Speaking of whom, I'd hoped that the show would go darker with Jung-moon's psychopathy and the motivation behind his serial murders. Don't get me wrong—a shrink that manipulates a client's predisposition towards violence in his psychiatric sessions is totally messed up, and it's suggested that Jung-moon went to go kill after taking this odd medication. Yet at the same time, the pill that presumably explains the memory lapses with Jung-moon also then exempts him from the responsibility of his actions, namely murder. Or the fact that he's been puppeteered by a seriously disturbed psychiatrist actually has him digging for answers. We've still yet to know so much about the Hwayeondong murders, what happened between then and Goo-tak's suspension, why Ji-yeon's body was found outside unlike the others, and so many other questions to explore. Even with all the information we learned here, it still feels like the beginning of learning about a rich, complex world.
I wasn't sure what to make of Mi-young's decision to join forces with Prosecutor Oh in this episode and turning her back on Commissioner Nam. Then again, Commissioner Nam has held several secrets from her, especially those about Goo-tak and his past. But what confuses me more is that while I understand Prosecutor Oh's motivation from making the same mistake in letting Jung-moon go free three years ago, I don't understand what benefit Mi-young would gain from disbanding Team Crazy Dogs, with criminals she's been begrudgingly working with and also recently warmed up to. I see the point in how her cooperation with Prosecutor Oh drives the final confrontation with Goo-tak in this episode to happen sooner than later, yet I wish she didn't have to switch masters in order tow do it. And honestly, where does Prosecutor Oh get all his intel that he knows everything there is to know even before some of our team members themselves?
RELATED POSTS
Tags: Bad Guys, featured, Jo Dong-hyuk, Kang Ye-won, Kim Sang-joong, Ma Dong-seok, Park Hae-jin