The stars of King's Face at production press conference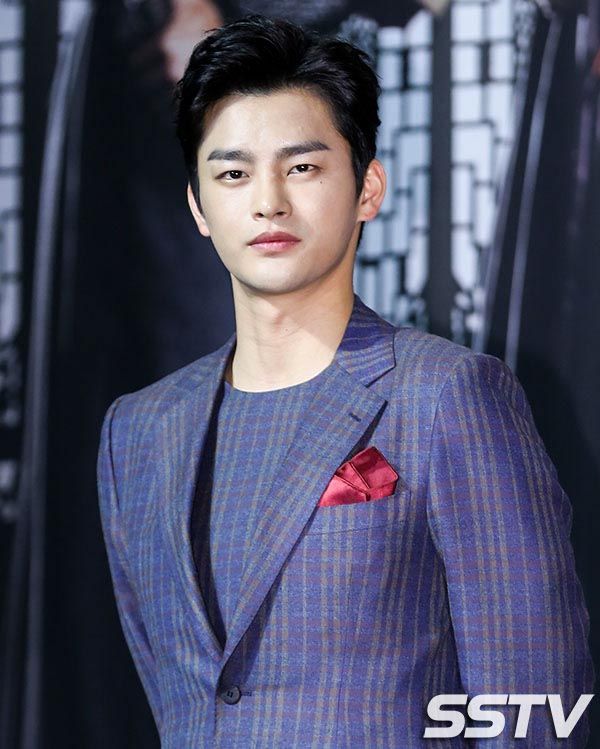 King's Face premieres in less than a week, and the cast of KBS's fusion historical drama gathered for its production press conference on November 14. That included Seo In-gook as the future king Gwanghae, Lee Sung-jae as current king Seonjo, Jo Yoon-hee as the woman caught between them, Shin Sung-rok as a face reader (how does he have the time, when he's also doing Liar Game?), and Kim Gyu-ri as Seonjo's scheming concubine, who wants to make her son the heir to the crown.
The drama's subject matter is plenty interesting on its own, but a lot of the attention given to this series thus far has been in regards to behind-the-scenes production issues—namely, a legal dispute between KBS and the producers of the hit sageuk film Face Reader, which alleges plagiarism against the show. It was therefore one of the issues addressed at the press conference, with the drama's PD, Yoon Sung-shik, reiterating the KBS stance that while the two projects have similar concepts, the stories themselves are quite different.
The court did in fact last week rule that the drama wasn't a plagiarization of the film, which makes sense on one hand (the movie was about Suyang, the drama's about Gwanghae) but also is curious given that KBS seemed to be promoting the connection early on, before it was hit with the lawsuit. The movie was an entertaining, fast-paced blockbusters so perhaps they wanted to claim some of that mojo, but they had to quickly backpedal and have since been insisting that there's no connection. PD Yoon said, "When [the producers of] the movie Face Reader filed their complaint, I was baffled. If using the same subject material is plagiarism, then all dramas that are about Gwanghae are plagiarized. I don't think the movie has sole rights to use the topic of face reading. That's why I believed we would win the lawsuit."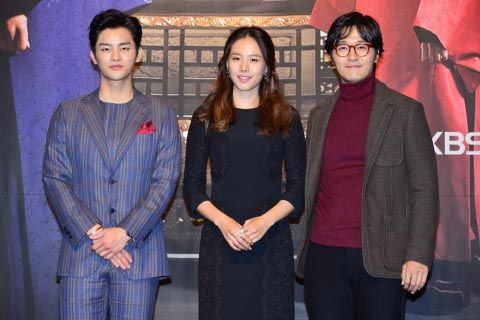 He added, "The drama is completely different from Face Reader as well. We have used face reading as a topic, but it's not a drama about face reading. We want to talk about what makes a king a king of the people. Once the series airs, you'll be able to see for certain that it's different from the movie."
Seo In-gook is making his first foray into sageuk with this role, and noted how much more difficult it was to express the emotions in this role than in modern-day dramas, and thanked his hyungnim Lee Sung-jae for helping him along. Lee said that he thinks Seo makes a better actor than singer, and told him as much: "Personally I felt that his acting side felt stronger. From our very first meeting I could feel that his passion for acting was extremely strong."
I'm so used to seeing Lee Sung-jae in detestable (or at least unlikeable) roles, but I know he's also capable of bringing nuance to a role, and I expect (hope) to see that in the conflicted father-son relationship here. He explained that his Seonjo isn't a simple antagonist who spits out evil becahse he hates his son, but that he'll have a mix of emotions that are expressed amidst bouts of madness.
Jo Yoon-hee gets to dabble in some cross-dressing since her character dresses as a man, and she felt it suited her boyish side. I know in these pictures she looks completely feminine, but I agree that she has an unexpected tomboyishness that goes contrary to her looks; she chopped off her hair for a complete image change in You Who Rolled in Unexpectedly and turned that into a breakthrough role, which she continued as the spunky reporter in Nine. When she mentioned being helped by Lee Sung-jae, Seo In-gook leaned in and joked that Lee would drop in on her shoots and not his own, so he got jealous of his hyung's attention. That's cute.
This is also Shin Sung-rok's first sageuk role, enjoying a nice run of heightened popularity following You From Another Star. He promised to show a different side of himself in King's Face; while I'll look forward to him not playing yet another mastermind or murderer lest he get typecast as such, I have to admit he's so delicious as that kind of antagonist that I don't even mind him repeating in that category.
Kim Gyu-ri admitted that for her villainous concubine role, "I think I'm going to get cursed at a lot this time. It's pretty hurtful to weather a lot of curses, and in the past I would avoid those roles. But now I'm thinking that if I am going to get sworn at, let's do it really properly."
Ratings-wise, it'll be interesting to see if the tables flip once King's Face premieres. The ratings all across the board (even including cable shows) have been in a bit of a slump all year, and it's been sad to see that even first-place dramas haven't even broken double digits in some cases. But things may finally start to be looking up, with SBS's and MBC's newest dramas, Pinocchio and Mr. Back, looking like they may gain momentum; perhaps it'll make it difficult for KBS to jump in late. On the other hand, it's got nowhere to go but up, since Iron Man, which just ended this week, dipped all the way down to the 3% range. (It was sad, since I enjoyed the show through the end, but perhaps a little too out-of-the-box for mainstream audiences.)
King's Face will launch on Wednesday, November 19.
Via Star News, MBN, MBN, No Cut News, SBS Fun E
RELATED POSTS
Tags: Jo Yoon-hee, Kim Gyu-ri, King's Face, Lee Sung-jae, press conferences, Seo In-gook, Shin Sung-rok