Jang Geun-seok leaves Three Meals a Day in wake of tax evasion scandal
This totally sucks. Jang Geun-seok (Pretty Man, Love Rain) has been caught up in a tax evasion brouhaha over the past couple days, and that has led to him dropping out of Three Meals a Day: Fishing Village, his reality-variety program that was scheduled to premiere this Friday on tvN.
In the wake of the scandal, he is literally being cut out of the show — not entirely, as that is impossible, but down to minimum footage. That's the only way to do it, considering that filming is two-thirds completed, and now the production has to go back and edit him out of the show, pushing back their premiere a week to give themselves the time to do that. Jang was scheduled to participate on another shooting trip this weekend, but now that won't happen and future shoots will focus on Cha Seung-won and Yoo Hae-jin.
The announcement was made by reps from tvN and production house CJ E&M. They had decided previously that because Jang Geun-seok already paid his fines (the issue arose out of an accounting error and Jang paid immediately) and no longer has outstanding legal obligations to take care of, they were in the clear. "However, after Jang Geun-seok made his explanation, follow-up reports continued to emerge, and we are aware that many viewers have expressed concerns over his appearance in the show. Thus the producers have concluded that it is not appropriate for Jang Geun-seok to be in a broadcast at this time, and upon agreement with his side, it was decided he would leave the show."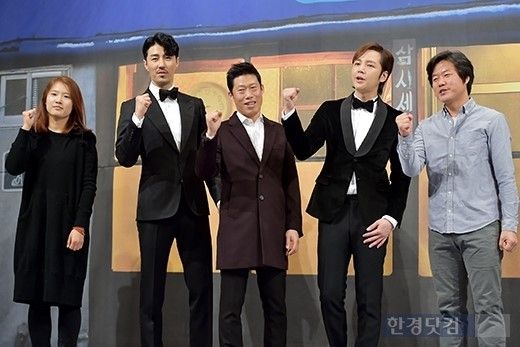 Boo, hiss. This seems like such a weaksauce argument, and I'm annoyed at the producers. I'd read reports in the previous days about them discussing how to handle Jang's scandal, but assumed they'd proceed — I was shocked that they'd actually alter existing material and have Jang leave. They say it's a mutual agreement, and Jang's management seems in accordance with that, but in any case I'm disappointed that the show was so quick to drop him. On the 15th, Jang's reps released his apologies to the show and his co-stars Cha and Yoo, and stated his decision to leave because he didn't want to add any unnecessary criticism to the show.
I understand that I live in a different social climate that values celebrity behavior and scandals differently, and context has to be factored into this, but considering the other scandals that have turned dramaland upside-down, this seems like such an overreaction. Sadly, I think timing is to blame — the scandal erupted the week of premiere, and I think everyone's in a bit of a panic mode. Had they had more time to deal with it, I feel like they would have come to a different decision. At least I hope they would have.
So now Three Meals a Day will premiere next Friday, January 23. Girlfriday and I were excited about possibly returning to cover the show, but now I'm thinking of desisting in protest. Silent, ineffectual protest.
RELATED POSTS
Tags: Jang Geun-seok, Three Meals a Day