Running Man: Episode 234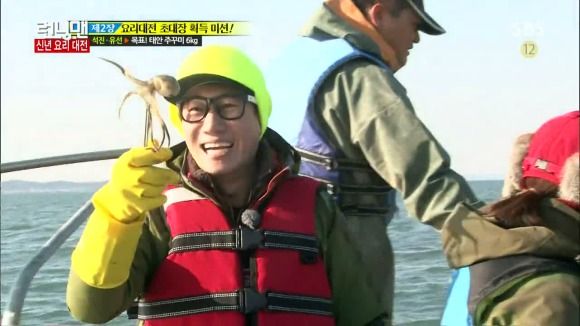 It's a new year, which means the return of the cooking battle as our teams are challenged to bring their tastiest dishes to the table. The competition is even more fierce this year, as some teams travel abroad to gain some inspiration on some delicious recipes that will hopefully blow the others out of the water. You know what they say: If you can't take the heat, get out of the kitchen.
EPISODE 234. Broadcast on February 15, 2015.
Today's Lunar New Year Special is a cooking battle… not that any of our cast members are aware of that fact this morning. Everyone is spread out all throughout Korea today—that is, all except for two.
We find Gary taking in the sights in Bangkok, Thailand, and Kwang-soo still fast asleep (and snoring, hee) in his hotel room in Hong Kong. And what beauty should wake him from his slumber but returning guest, Miss A's Fei.
Jae-suk seems somewhat disappointed about being paired with Yeon Jung-hoon because he dropped by without his wife Han Ga-in. Wahh, we get to see you on variety but not for another installment of Vampire Prosecutor?
Jae-suk teases Jung-hoon for possibly swinging by a salon to get his hair done in the wee hours before dawn, to which the actor says, "I brought [my hairstylist] with me!" Hee.
Elsewhere, Suk-jin has a fanboy moment in meeting his teammate, actress Yoo Sun. Over in Jeju Island, Haha greets his partner Shoo of S.E.S., who also brought food with her.
Ji-hyo is surprised by 2PM's Taecyeon, who was recently on Na PD's farmhouse edition of Three Meals A Day. And you'd think that those killer wedges would give away Jong-kook's partner's identity, but he doesn't recognize her at first glance.
Then Seo Woo turns around to greet him. After mentioning that she's received love calls to make another appearance since her last stint, Seo Woo struts in the yard.
Over in Thailand, the ever-lovely Kim Sung-ryung (Heirs) arrives by boat to greet Gary… then promptly rips off his nametag. Then to introduce this year's cooking battle is none other than last year's winner (with Jong-kook), model Song Kyung-ah.
For this year's competition, our seven teams must acquire their own ingredients and present their own delicious dishes. The theme is kimchi, and our teams must choose one out of five types of kimchi to add to their concoction. And despite being a mom of three, Shoo admits that she's never made her own batch before.
Kyung-ah explains that there's an enormous prize at the end of the line (last year was a pair of golden horses), which has Sung-ryung wonder if it'll be golden sheep this time around.
Jong-kook is quick to pride himself in winning last year's cooking competition. But Seo Woo has seen that episode herself and she immediately calls him out for prattling on about that victory.
Jae-suk knows that he's already looking at a loss from the start, but Jung-hoon says he works hard at cooking. Our teams head out to pick up some cooking secrets from their respective teachers, and Jae-suk asks if their contact is Jung-hoon's mother-in-law (it's not).
In his interview snippet, Gary shares that Sung-ryung is one of the three noona guests on this show who have set his heart aflutter. All that delicious-looking street food is making my stomach grumble, but Gary and Sung-ryung don't have to go very far in to receive their mission.
Here they must find and eat the correct street food items to succeed. Ha, Sung-ryung whispers to point out a trio of handsome tourists from Denmark, and so Gary explains to the men that they're looking at a former Miss Korea: "from a long time ago," he adds.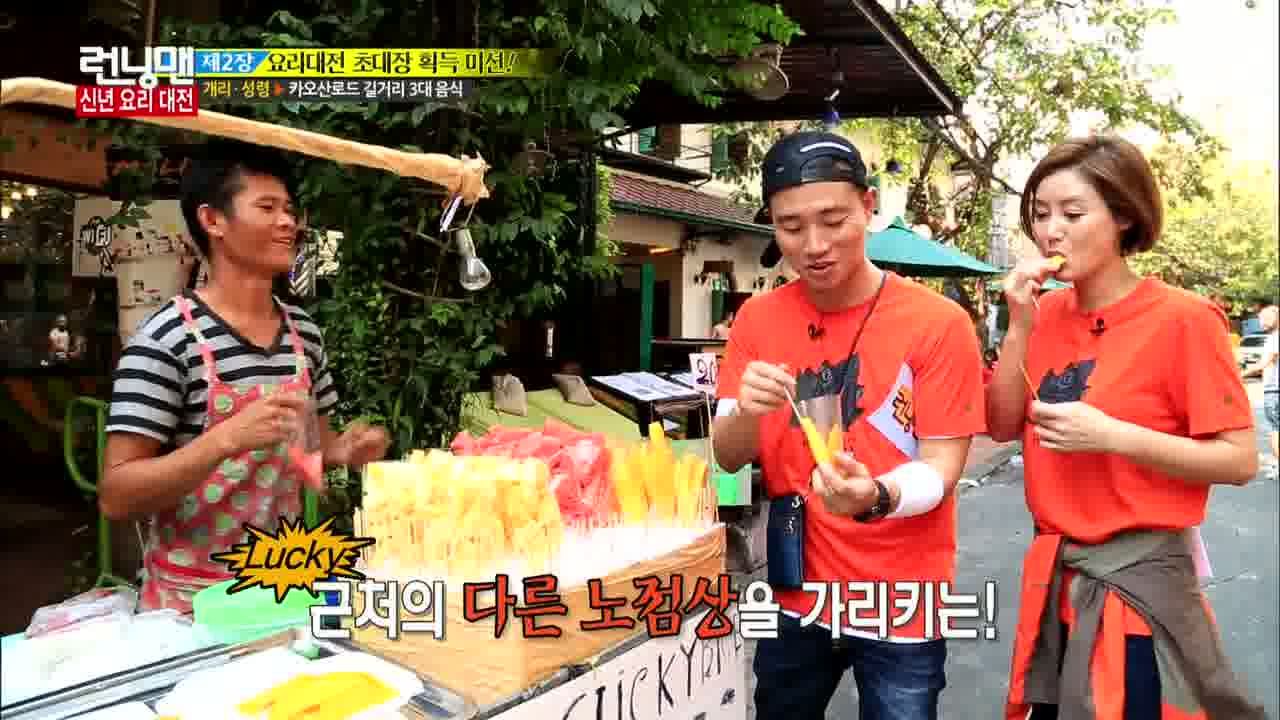 Gary manages to carry on conversation through his broken English, and after bidding the Denmark tourists goodbye, Sung-ryung hilariously says this place is crawling with beautiful people. In her post-interview snippet, Sung-ryung says that something about that mission made her feel more competitive and less embarrassed about carrying it out.
Back on the field, we see her and Gary quicken their step to a street vendor, who helpfully points them in the right direction. After consuming their second item (of yummy-looking rice noodles), a tourist from Spain asks if they know the "Gangnam Style" dance.
Gary offers to teach him EXID's "Up & Down" dance instead, then introduces Sung-ryung as a former Miss Korea again. Hahaha.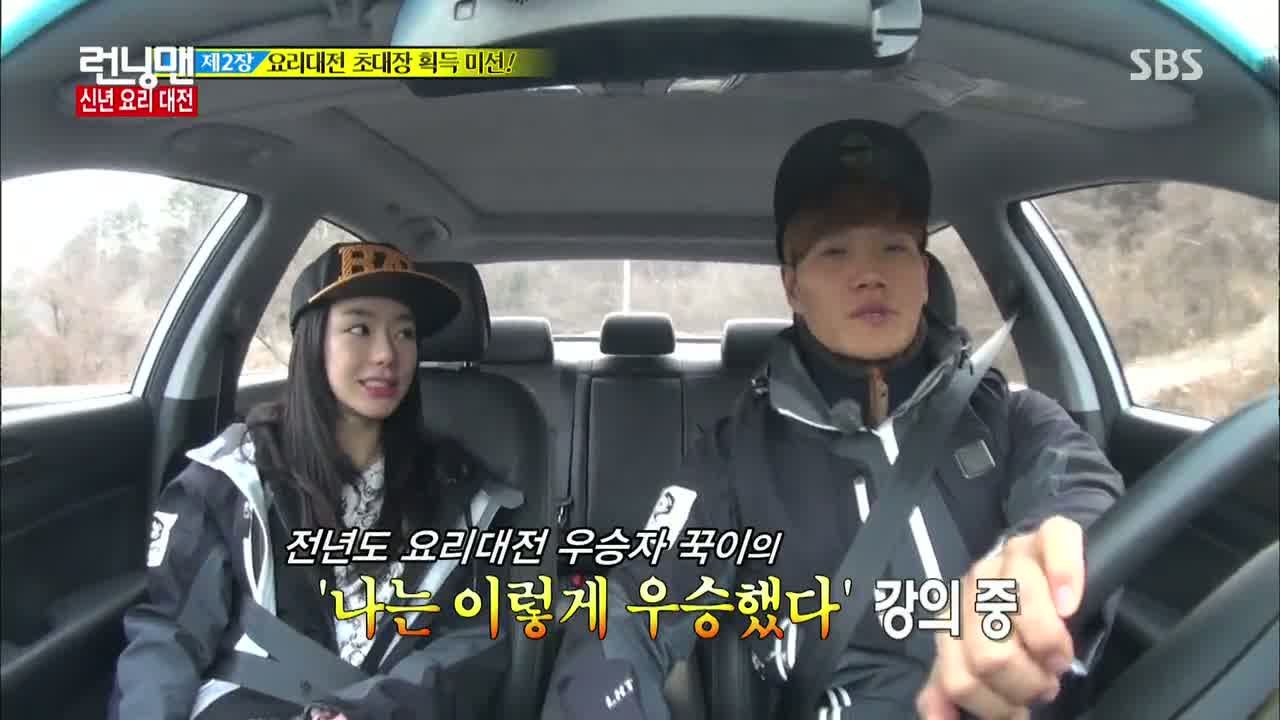 Back in Korea, Jong-kook is still rambling about what's important in cooking in the car. Seo Woo is polite enough to keep listening throughout the long car ride, until she politely asks if they can have a moment of silence.
She jokingly asks if he wasn't the rapper back in his Turbo days, and Jong-kook replies that he did the singing. And in her post-interview snippet, Seo Woo says that she heard about Jong-kook's motormouth tendencies from Kim Min-seo, who was Jong-kook's partner in the Chuseok episode.
They finally arrive at their destination a full half-hour later to take a boat to a mud flat. Oh boy, guess who's getting messy today. Here, they must harvest A THOUSAND cockles, which amounts to about 10 kgs.
It turns out that the best way to travel is on top of a wooden board, which Seo Woo has trouble maneuvering. She slips off and remembering her struggle has Jong-kook mention in his interview that she's the type of partner that requires a lot of care.
Seo Woo eventually manages to catch up to her "nagging father-in-law" partner Jong-kook, and she says that she felt super sorry towards him about it.
In the car, Jung-hoon says he doesn't really cook since the wife is a stellar one. That has Jae-suk remark that Han Ga-in has it all, which leaves Jung-hoon beaming. They arrive to an elderly couple's home to meet the "Jeongsun Dae Jang Geum," who are busy making tofu.
Jae-suk tries to introduce Jung-hoon and his impressive family connections (his father is actor Yeon Gyu-jin), and when he says Han Ga-in is Jung-hoon's wife, the halmae says she's got lots of free time today (since the phrase "hangahaeyo" sounds similar to her name).
Omg, that tofu is nowhere near done yet and it already looks fantastic. When Jae-suk mentions that the couple should be featured on the TV program Korea's Dining Table, the halmae says MC Choi Bool-am already came to visit (they were in Episode 2, evidently).
Jung-hoon gets sent outside the bitter cold to retrieve some kimchi with flimsy plastic gloves. His smile at the absurdity is pretty priceless. The Seoulite also has some trouble understanding the Gangwondo accent, and would you look at that image of a top actor sitting down peeling a potato in the countryside.
Then Jung-hoon gets all upset when Jae-suk complains that he's taking too long and peels the potato skin rapidly: "You're peeling off the flesh!" And to the camera, Jae-suk says, "Ga-in-ah, you sure go through a lot."
In his interview, Jae-suk refers to Han Ga-in as that close dongsaeng he lost contact with, and refers to Jung-hoon's father as a respected sunbae. It at least still sounds like he's optimistic about his pairing with Jung-hoon today.
The halmae suggests that the two prepare buckwheat noodles as their dish, but after Jung-hoon adds the ingredients and the stock isn't quite as delicious as he'd hoped, the halmae says they can just add some MSG then. Even though she made the claim a little while ago that she doesn't add any preservatives in her cooking. HA.
When Jae-suk remarks as much, she's all, "What does it matter? It doesn't taste any good right now." Hahahaha, she's great. And whaddayaknow, it does the trick.
Time to check in at Hong Kong, where Kwang-soo feels left out when Fei converses with the taxi driver in Cantonese. What's hilarious is the post-interview snippets where Kwang-soo reflects happily upon their time in Hong Kong whereas all Fei remembers is acting as a translator.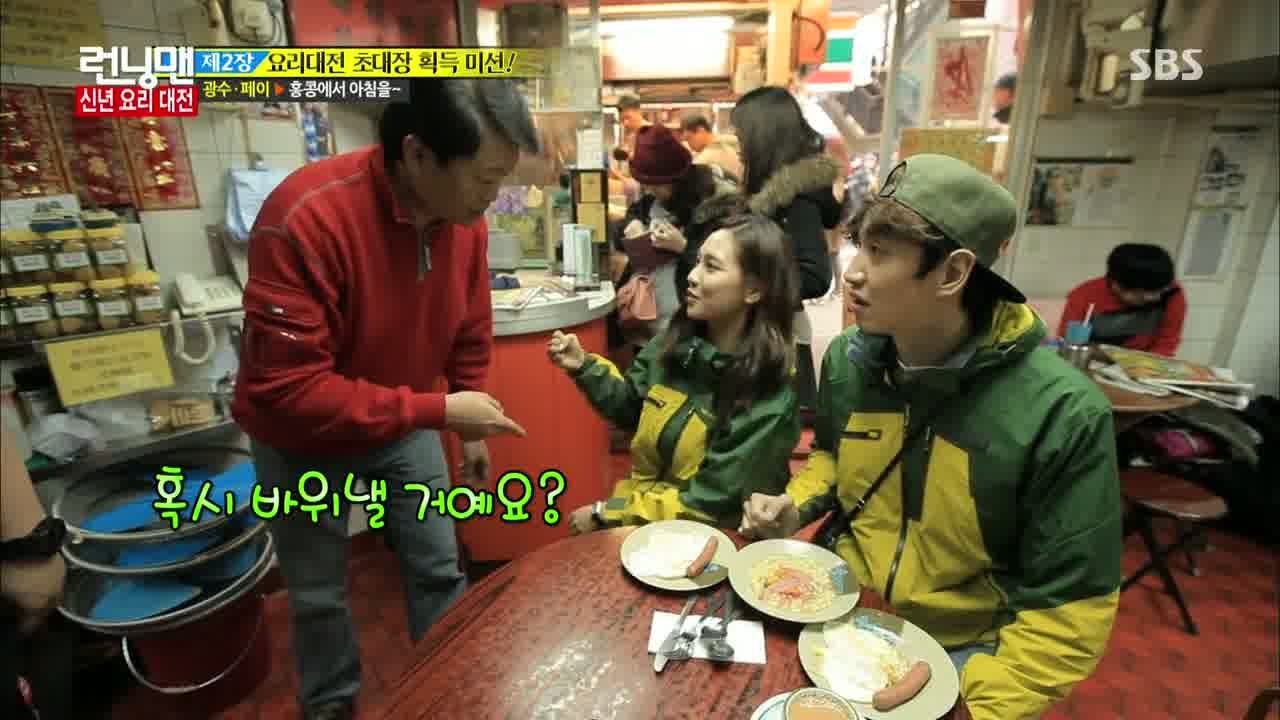 Kwang-soo and Fei must both win a hand of rock-paper-scissors against the restaurant employee of their choosing if they want to eat breakfast. They order but are barred from eating just yet, then when an employee converses with Fei, he offers to let her win so that she can eat. Aww.
But then Fei momentarily forgets herself and puts out the wrong hand. Oh no! They're forced to step away from the food.
Walking through the market only makes Kwang-soo and Fei's stomachs grumble even more, and this time they stop at a congee place. Fei again mutters under her hand to the employee, but Kwang-soo misinterprets her hint. He loses, which means they're back on the hunt.
The duo hopes that the third time's the charm, and poor Kwang-soo just lords over another customer eating his food. Aw, how can you blame the guy who just wants some breakfast?
Fei makes sure to explain the rules (and the hand they'll put out) to the waitress before Kwang-soo gets ahead of himself again. To their luck, both Kwang-soo and the waitress gets confused, but it doesn't matter since Kwang-soo wins the round anyway.
Aw, Fei wins too, and she and Kwang-soo look like they're on the verge of happy tears.
Over at Jeju Island, Ji-hyo and Taecyeon greet a few female divers who proudly show off their morning catch of fresh seafood. I. am. so. jealous. right. now.
But then she and Taec are left completely baffled when the Jeju native rattles off the mission hint in the island dialect. Taecyeon wonders if they have to eat the sea cucumber (someone stop my mouth from watering) with the hot coffee, which is half-right.
He gives it another listen, then decides to just drink the coffee and end with a "neener," which happens to be correct. But it doesn't end there: they have to catch five fish, too. So it's on to the boat and into the sea.
Suk-jin and Yoo Sun are on a boat too off of the East Coast to catch small octopus. Unlike Ji-hyo and Taecyeon earlier, these two are looking pretty energetic. Oh interesting—so the octopi crawl into shells and then those nets are drawn up?
As it turns out, Yoo Sun is a natural at extracting the octopus from the shell. It's enough for Suk-jin to say in his interview that Yoo Sun's like a fisherman's eldest daughter that goes out to sea when the father can't make it out. "I thought she was like a machine," Suk-jin says. "It was scary."
It honestly looks like she's having the time of her life, and then Suk-jin grabs one and tries to eat one for himself. Only to have the octopus's legs stuck on his face. Hee.
Then it's finally time to check in with Haha and Shoo, the latter of whom says it's been some time since she got to travel on her own. Haha sweetly says in his interview that he was so happy to see Shoo, his favorite S.E.S. member, but also wanted to make sure she had the time of her life. Aww.
Their mission is to harvest 300 huge-lookin' carrots. Ha, Shoo even plucks a triplet carrot. After harvesting all of those veggies, they toast with a fresh glass of carrot juice.
Then they dig in to eat some black pork belly (after feeding the black pigs) and call Chef Oh to get some ideas. They're told to make curry kimchi jjiggae, which sounds AWESOME.
After a montage of our contestants saying that they're all bringing their best to the table, we check in with our teams who are all busy to finish their missions and obtain their cooking battle invitations.
Jae-suk and Jung-hoon hunt for mushroom in the mountains while Suk-jin and Yoo Sun dig in for some ramyun. Ji-hyo and Taecyeon are still out at sea later that evening, and it looks like things are just about to heat up for an intense cooking battle next week.
This ought to be a cut-throat kitchen—will they be able to take the heat?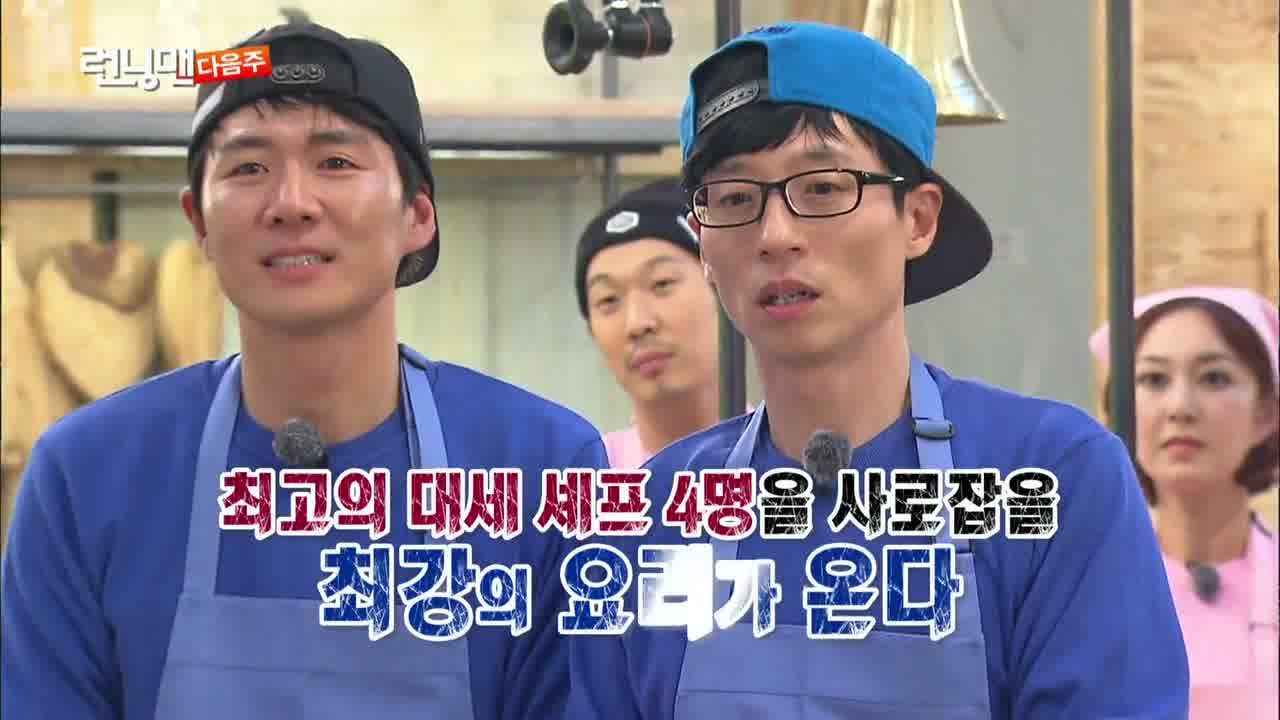 RELATED POSTS
Tags: featured, Haha, Ji Suk-jin, Kang Gary, Kim Jong-kook, Lee Kwang-soo, Running Man, Song Ji-hyo, Yoo Jae-suk