Hyde, Jekyll, Me: Episode 16
I like this show so much better when we focus on small character moments and growth like we do today, rather than silly plot machinations that make me question my faith in law enforcement. Now that the smoke has cleared, the more important conflict comes into play: When Hana is forced to choose between Robin and Seo-jin, where will her heart lead her?

SONG OF THE DAY
Snuper – "Hyde Jekyll" for the Hyde, Jekyll, Me OST [ Download ]
Audio clip: Adobe Flash Player (version 9 or above) is required to play this audio clip. Download the latest version here. You also need to have JavaScript enabled in your browser.

EPISODE 16 RECAP
Seo-jin asks Hana in his cautious way, "Is it okay if I love you?" Her eyes widen, and he makes it clear that he's not asking her to love him back. He knows that being with Robin makes her happier because she's comfortable with him… "But I want to learn how to love too." Melt.
He says he wants to learn Hana's warmth and asks again if he can't live that way. After a pause, Hana says that she's thought about it too—why she's been helping him, and whether it's because she has feelings or because he was Robin's little brother.
She explains that she's received comfort from Robin and given comfort to Seo-jin, which are separate things to her, and that she was lonely and adrift when she first came to Korea. Hana: "You can heal someone with love, but love isn't medicine. I think you like me because I was your medicine."
She admits that she wants someone to experience things with, laugh, and be comfortable with. Oof, a stone-cold rejection. She tells him to reconsider his feelings because they might not be love, but Seo-jin tells her not to reinterpret his feelings just to let him down easier.
He stops to remind her about taking her medicine so that she doesn't get sick, and adds, "I'll memorize that—someone to experience things, laugh, talk, be comfortable with."
Hana heads to her room feeling more out of sorts than ever, and calls her friend Jin-ju to come help her move tonight. She takes out a sheet of paper to leave a letter.
Robin wakes up and has flashes of memory from Seo-jin's night: Hana hugging Seo-jin, Hana crying and yelling at Seo-jin to hold it together, screaming that he promised her he wouldn't hide.
Robin sees it as Hana preventing him from coming out, and gets upset. He stops in front of the mirror and tries a self-affirming, "I am Robin. I exist," though his smiles are forced today.
He heads to Hana's room and finds it empty, and there's a note explaining that Tae-joo was caught, so she moved out. Robin seems pleased with that. She asks him to leave the other letter for Seo-jin, and when she explains that it's just a thank-you, Robin stops himself from reading it.
Cousin Seung-yeon is lurking at Editor Min's coffee shop to try and get some information on Robin, and gets to overhear a phone call. Editor Min tells Robin that he got the officetel he asked for, but is having trouble getting him a national identification number. Seung-yeon makes a terrible spy, but he's so bumbling that he buys ten cakes just to appear less suspicious.
Hana is back at Jin-ju's place, but she seems a little subdued. The others laugh and joke, and tease Eun-chang for overreacting and babying Woo-jung when she gets a teeny cut on her finger.
Robin calls and they go shopping for lamps for his new officetel, and he picks things that are more her taste than his. She wonders why he isn't more curious about what happened last night, since it has to do with why Seo-jin created Robin in the first place.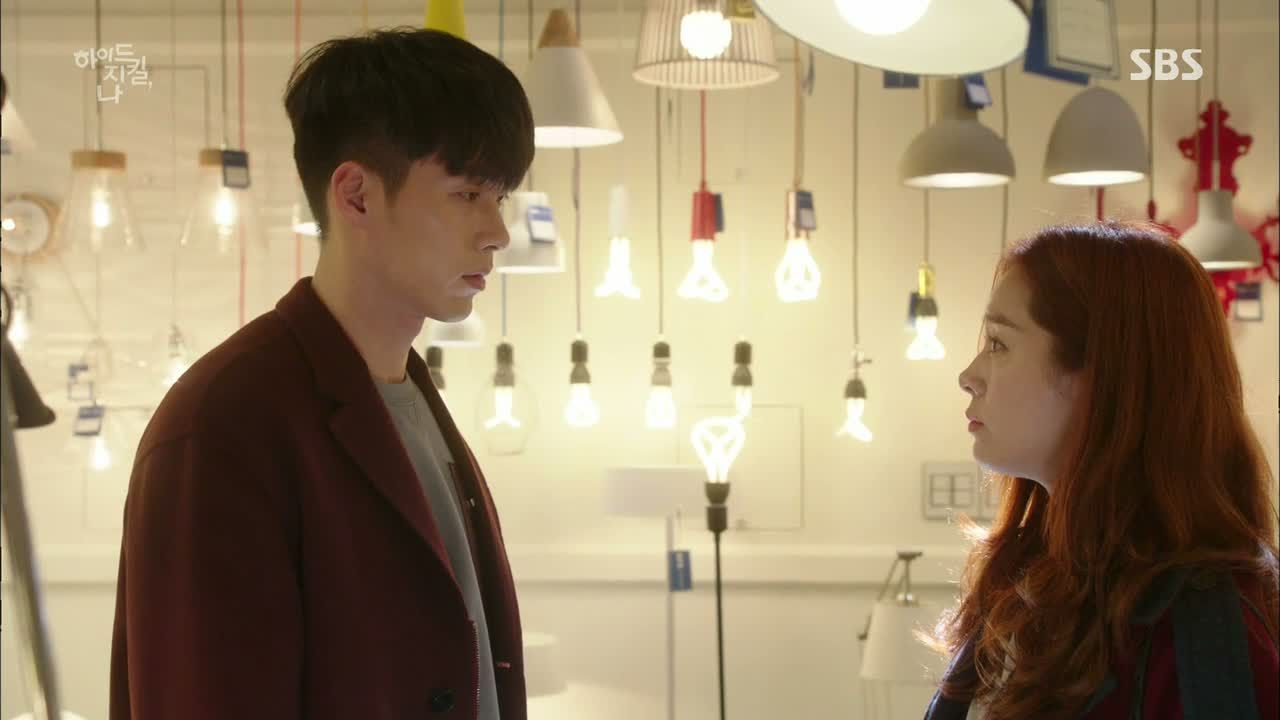 But Robin says that it's Seo-jin's stuff, clearly wanting to distance himself from it. But he takes the opportunity to ask why she didn't call him forth last night, since it seemed like she was in danger.
Hana's answer surprises him. She says that it was something Seo-jin had to overcome on his own. When she first met Seo-jin, she thought he was closed off and couldn't handle anything, but he's endured, accepted, and overcome a lot. Robin asks if it never occurred to her that when Seo-jin does overcome everything, he'll try to destroy Robin. It's clear she hadn't thought of it that way at all.
Robin takes her to the new officetel, which he calls their new workshop. He says that he's never had anything of his own—even though he's clearly here and living, he doesn't have anything that's his. But he wants something that's theirs to share, and Hana can see how much this means to him.
She walks around to the back of his chair and puts her arms around him, and when she agrees with his plan, he beams and holds her hand like it's a lifeline.
As they pack up his old workshop in the basement, Robin says that he's going to buy a suit and start attending his fan meetings and giving press interviews. Hana is taken aback at the sudden coming out, and she cautiously mentions that Seo-jin has just been through a lot, and this might not be the best time.
Robin argues that he sacrificed so much for Seo-jin, agreeing to help him solve the case when he was fearful the entire time that it would lead to his destruction. He says that he's been sacrificing and waiting enough, and challenges her to ask Seo-jin to do the same.
He says that people like Chairman Dad and Seo-jin aren't built that way, and he'll never sacrifice for love: "Refusing to give up a single thing—what kind of love is that?" Robin is sure that everyone will do whatever it takes to make him disappear for good, so he's decided to protect himself, and their love.
It takes Seung-yeon this long just to sort through the clues that he's gleaned about Robin, and he screams, "Eureka!" when he realizes that Robin is asserting his identity. All Seung-yeon has to do is help Robin along, and Seo-jin will no longer be able to keep Robin hidden, and thus drop out of the running for Wonder Group's top position.
Hana doesn't look very pleased with all these developments, and comes home still feeling off somehow.
Seo-jin wakes up the next morning and sighs when she finds the short letter from Hana that just informs him of the move with an "I'm sorry" and a "Thank you." Secretary Kwon comes running in and bear-hugs him, babbling on about how awesome Seo-jin was yesterday and complaining that he only wanted to hang out with Hana. He's jealous!
Secretary Kwon admits that Seo-jin hasn't been the easiest of bosses to work for, and he's wanted to quit countless times… Seo-jin finishes the sentence for him, knowing that he's about to say that none of it compared to how much he suffered last night when he thought Seo-jin was in danger. Aw.
Seo-jin just cuts off the mush with a simple, "Thanks." Secretary Kwon stares blankly, unsure if he just imagined that: "Huh, what? What did you say?"
Seo-jin asks after Tae-joo, and Secretary Kwon says that he's stopped talking altogether. Seo-jin stares at a box in his closet for a long while, then goes to see Tae-joo at the station. He says that he didn't speak for a year after the kidnapping either, because it was easier that way.
Seo-jin says that he hopes Tae-joo will find peace, because he was the only one who was blameless in their kidnapping: "I betrayed you. You never betrayed me. I'm sorry." He slides an envelope over to Tae-joo, who opens it to find two drawings inside.
They're drawings done by a child, and though they have Seo-jin's name on them, he says that they belong to Tae-joo. Seo-jin reminds him that he drew them for him and Seo-jin even won a prize: "Do you not remember? You were a good artist."
A flashback to the two boys shows Seo-jin sighing over his art homework and Tae-joo grumbling over his math homework. They get the idea to swap so that they can hurry outside to go play, and they switch places. Omg, did Seo-jin create artist Robin because he missed his best friend?
The boys quickly finish each other's homework and run around Wonderland playing, and even though Tae-joo is terrified of the scary roller coasters, he rides them while crying and Seo-jin hugs him the whole time. Then they go to see their first grown-up movie with a kiss and everything, and the boys gape. It's too cute.
Back in the present, Tae-joo looks like he's remembering, and Seo-jin says that he always thought it was random that Robin was an artist. Now he wonders if he must've been thinking about his best friend more than he realized.
Seo-jin gets up to go, but Tae-joo finally opens his mouth and lets out a quiet, "Seo-jin-ah…" Tae-joo apologizes for his father and for the things he's done to Seo-jin lately, then tells him not to come anymore: "Let's let each other go now." But Seo-jin looks him right in the eye and says, "I still don't have any friends… except for you. I'll be back."
Dr. Kang looks on proudly and Detective Na is totally sniffling back tears. Seo-jin sits outside with Dr. Kang, and she jokes that he's doing so much better without her that she feels like a terrible doctor.
She notes that it would be nice to fully treat his trauma before Robin returns, but Seo-jin says that he's not worried about that right now. He wants to focus on himself for once and figure out what he actually wants to do in life, and says he wants to start by learning how to talk.
She's surprised by that, but positively beams when Seo-jin explains that he's very short with his words and doesn't know how to listen to others or empathize with what they're feeling, or how to express things or laugh. Dr. Kang says that he's well on his way to getting better all on his own, and sighs that it would be nice to help Robin too. She worries that Robin is growing stronger and more independent.
Hana meets with Secretary Kwon and asks what would happen if the public found out about Robin and Seo-jin. He gasps and tells her about the Wonder Group board and how Seo-jin had to take a leave just to keep Seung-yeon from blowing his secret the last time, not to mention Chairman Dad's reactions.
She asks if the chairman hasn't softened a little, but Secretary Kwon knows better than to read too much into one "I'm sorry," and says that the chairman's first son will always be Wonderland, and Seo-jin will come second.
Seo-jin braces himself to meet with Chairman Dad, and even practices what he'll say to his father. He thanks Dad for apologizing last night because he knows how hard that was for him to say, and Dad tells him that he did well in his terse way. Seo-jin says that he'll remain on leave and take care of Robin on his own.
As he walks out, he lets out the breath he's been holding the entire time, and it slowly fades into a tiny smile.
Seo-jin goes to the circus room next, and main foursome minus Hana dart up to exchange awkward small talk with him. They assume that he's here to see Hana and offer to call her, but Seo-jin shocks them when he says matter-of-factly that he's just here to observe talk and laughter. You did not just say that like a freak.
They stare at him like they must've heard wrong, but he's dead serious and tells them to just go about their work while he sits there staring at them like a creeper. This is so funny.
At first I think he doesn't have the social cues to know that he's making them feel awkward, but then he says just as evenly, "You're uncomfortable, aren't you? I make people uncomfortable." I love this so, so much. I kind of want to send him to kindergarten just to see how it goes.
He makes it clear that he's not going anywhere, so Jin-ju decides to put him to use, and suddenly he's holding up a sequined tutu dress while the others mend props and chatter on about things he doesn't know.
Hana comes in and asks what the heck he's doing, and even though he's smiling pleasantly and insisting that he's having a good time, she drags him out by the wrist. He says that he just wants to experience things and laugh and talk, and is making an effort to learn.
Seo-jin: "I'm trying to become a good person. I want to find myself. I didn't know you'd hate it that much." He stalks off, feeling hurt.
Hana runs after him, but just ends up walking a few paces behind. She follows him into the movie theater where he watches a movie alone, and she sits a few rows back just watching him.
Chairman Dad meets with Dr. Kang, and he seems happy about the progress that Seo-jin has made. She agrees, though when the chairman asks why Robin is still around, Dr. Kang starts to say that it might have to do with Hana. Secretary Kwon cringes, willing her not to say more, but she says that if Seo-jin loves Hana, he might be subconsciously holding on to Robin because he doesn't want to take away the person that Hana loves.
Outside, Secretary Kwon pulls Dr. Kang aside and asks how she could put Seo-jin and Hana's relationship in jeopardy when they know how important she is to him and how wrecked he'd be if she weren't in his life.
Dr. Kang knows all this but she argues that she's a doctor and no matter how sweet Robin is, she has to see him as a symptom of Seo-jin's illness, and her duty is to treat him. Hana is the trigger that brought Robin forth and she might be the reason that Seo-jin won't let him go, which makes her an obstacle.
Chairman Dad wastes no time in calling Hana to his office, and he's surprisingly sweet and genuine with her. He thanks her sincerely for being such a huge help to Seo-jin, and for encouraging him not to hide behind Robin. He tells her that Seo-jin is strong enough now to be without Robin, but he might be unwilling to let go because of Hana.
Of course, Chairman Dad only sees Robin as a problem that needs to go away, but Hana is thrown when she hears that Robin could disappear at a moment's notice. She listens as Chairman Dad tells her about how much he wishes for Seo-jin to live a normal life, and then he asks her to leave so that he has a chance to heal completely.
Chairman Dad is shockingly not hateful at the moment, and doesn't even treat her like she's beneath him or anything. He just seems desperate for Seo-jin to get better, and now Hana is stuck between the chairman who wants Robin gone, Robin who doesn't want to leave, and Seo-jin who wants to live a happy normal life.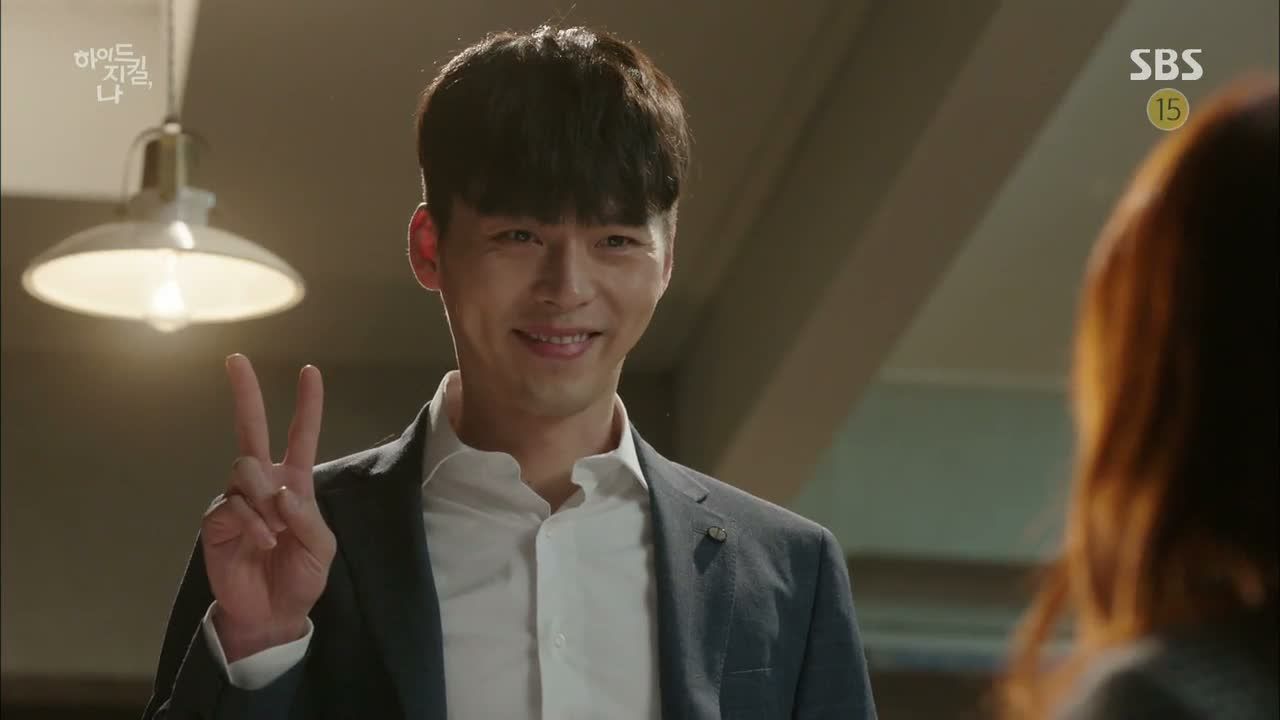 Seung-yeon comes by to schmooze the circus troupe and tells Hana to come up with more performance ideas, and makes a point of telling her to ignore the chairman's meddling. He argues that she should do what she wants, and encourages her to stay by Seo-jin/Robin's side. Of course, he has a vested interest in keeping Robin around.
Robin comes up to her, having overheard her conversation with Seung-yeon in the hallway. She glosses over her meeting with the chairman, but Robin demands to know if he asked Hana to leave. It takes some convincing, but she lies that Seung-yeon was just guessing, and that the chairman simply thanked her for her help.
Robin tries on the new suit he bought and shows it off to Hana, and she's startled when he tells her that he booked an interview for tomorrow. It's hard for her to say this when he's so clearly excited about it, but she asks carefully if he has to do the interview so soon.
When he asks why, she brings up Seo-jin and everything he's going through, and the immense pressure he's under to take over the company. She says that Seo-jin is just now discovering what he wants in life and Robin's coming out will make things hard again.
Robin gets straight to the point and asks if she's developed feelings for Seo-jin, and she says no, that this is just concern, not love. She argues that she can be concerned for someone's life without loving him, and Robin counters, "Then what about my life?" Touché.
She says it's just not the right time, and asks him to reconsider it. Robin stares at his new suit jacket long after Hana leaves, deflated and more conflicted than ever. He decides to cancel the interview for now, and both Editor Min and Seung-yeon are disappointed to hear about it.
Hana apologizes when Robin lets her know that he canceled, and offers to make him dinner tomorrow. Robin leaves a message for Seo-jin to check the batcave in the morning, and tells him to find out what Chairman Dad said to Hana during their private meeting because he's worried about her.
Chairman Dad's words about Robin not being real linger in Hana's head, and she turns on the lamp that Robin bought because it suited her taste more than his, struggling with the two very conflicting ideas about Robin's existence.
Seo-jin goes straight to Chairman Dad to confront him about his meeting with Hana, and this time Dad is much harsher about his intent—he wants Hana gone so that Robin disappears, and did whatever was necessary to get it.
But Seo-jin knows how to meet fire with fire, and threatens to tell the world about Robin himself so that it won't matter if Hana stays or goes. Kinda serves you right for raising your son to be a shark.
Seo-jin: "From now on, I'm going to protect what's mine, not what's yours." Closing caption: The more I try to be myself, the more selves I discover.

COMMENTS
I like that we're finally focusing on Seo-jin and Robin and the identity question, because it took far too long to get us here, and I'm still amazed that Hana hasn't come to terms with how she feels about them yet. I suppose we could just take her at face value since she swears that she likes Robin and only feels concern for Seo-jin's well-being, but I call bullshit on that. Someone who has zero feelings doesn't scream the way she did for Seo-jin to be strong and keep his promise, or ask her boyfriend to put what he wants on hold for Seo-jin's sake. She has all the right reasons, but the fact is that she's choosing to place more importance on Seo-jin's life than Robin's. In my mind, that means she's already made her choice; she just doesn't know it yet.
There's no deying that it's unfair to Robin, because he feels every bit as alive and independent and real as anyone else, but doesn't get to live a full life. And now even Hana is starting to wonder if her relationship with Robin is keeping Seo-jin from becoming healthy and happy. I think there's merit in that argument, especially when Dr. Kang argues that Seo-jin might be subconsciously unwilling to let Robin go because Hana loves him. Maybe it's easy to root for Seo-jin because he's fighting to earn her love while Robin is protecting the love that he has, but I can't help but think that Hana chooses Robin because he's safe, because Seo-jin scares her.
It kills me that Seo-jin is attempting to change everything about himself to become the man she'd want to love. It's so sweet, even if his robotic approach to learning human interaction is primitive and socially awkward. (His deadpan self-awareness is my new favorite thing.) But Robin is clearly wrong about Seo-jin's ability to sacrifice for love, and he's already changed so much as a result of surviving the confrontation with Tae-joo/Soo-hyun. I was touched at how easily he forgave Tae-joo and wanted to remain a friend to him now, as if to make up for abandoning him all those years ago. It pinched my heart when we found out that Robin was made in Tae-joo's image—Seo-jin basically made it so that he had to carry the guilt with him at all times (talk about your massive guilt complexes), and simultaneously made himself a friend to replace the one he'd lost. Is it wrong to hope that the boys will salvage their friendship, even after all the kidnappings?
I guess this is one case where I can see a clear reason for Hana to leave, if she thinks that sacrificing her relationship with Robin will let Seo-jin heal. But I'm glad that Seo-jin isn't going to let her be a noble idiot, and that he's quick to make sure that Chairman Dad stays out of his love life. He could still have to let her go, but I'm with Secretary Kwon on this one—Seo-jin is better when Hana is around, and there has to be a way for him to be strong and heal without her leaving the country, right? I don't want to see the end of smiley, socially awkward, I'm-going-to-find-myself, hippie new-age Seo-jin. He's too cute, and he needs to stay for good.

RELATED POSTS
Tags: featured, Han Ji-min, Hyde Jekyll Me, Hyun Bin, Sung Joon