Name That Drama: Capsized canoes and beatboxing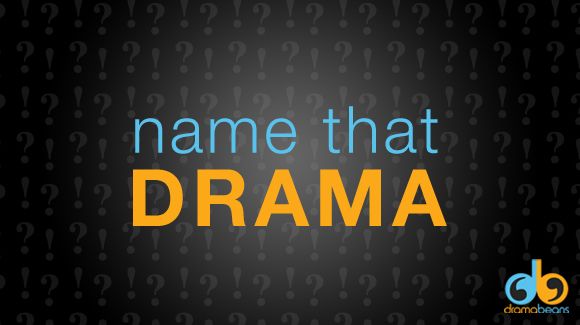 It's Name That Drama again! As always, feel free to email us your questions and requests for future Name That Drama installments.

Cheating death


I've been looking for this for so long! I want to say it was in the '90s…a poor girl who was loved by a really wealthy music executive (I'm pretty sure it was a music executive)… I think she was an orphan, too, or thought she was. The only thing I remember for sure is, she was sick and was supposed to die… and I think she was hit by a car… but people watching were so distraught by the idea of her dying that they let her live!

Have yourself a noir Christmas


I remember watching this movie about 8 to 10 years ago (think 2005 to 2007-ish). It really got me hooked on Asian television. It was a "revenge/melodrama" sort of movie and if I remember correctly it had this really film noir cinematic feel to it. Basically some guy's whole family is killed and he then marries a girl to take revenge on her family for killing his family. Despite the fact that he somewhat falls in love with her and is conflicted about it, he kills her too (for some reason I am remembering a kitchen death scene). The movie was set during a festive/winter/Christmas period. I remember the song "Have yourself a merry little Christmas" as one of the main OSTs. This film has been haunting me for years….it would be great to finally put a name to it. Thanks!!

Sageuk NGs


I was watching the NG special on Youtube few days back and this particular scene of a drama remained with me. It was a sageuk. The prince/king is in his chamber and a woman is sitting across him and then he starts beatboxing the happy birthday tune for her with funny sounds. I couldn't find the name of the drama anywhere. I would be glad if you guys can help me out. Thanks!

Awkward kiss with a witness


Hi I'm a new K-drama watcher and I've watched a whole lot all at once. I have just decided to keep a list of all dramas I watched but I have a hard time recalling the name of this drama. I'm positive it's fairly new (around 2013 to 2014-ish) but the name escapes me.

There's a particular kiss scene where the guy in an attempt to shut the girl up kisses her. His boss happens to stumble across this and hilariously gets a fright. The boss was reading a newspaper upon seeing the kiss and his reaction from memory was actually very funny and comical. I think the lead guy did not want his boss to hear his real name (because the boss may be a bad guy) since wearing glasses triggered the girl's memory of him in the past. The girl and guy awkwardly walk away in opposite directions after the kiss and the boss was left to awkwardly wonder what was going on.

Any help would be much appreciated. I remember liking this show and would love to watch it again. Thanks heaps!

Well that one took a dark turn


I remember watching a drama several years ago. It's an oldie. Probably in the early 2000s or possibly earlier! I can't remember much from it, but there are two scenes that stood out to me.

Scene 1: The main girl and her friends go canoeing/rafting(?) and there's this guy who possibly likes the lead girl (I think he had blonde hair or something). He's in one boat and the lead girl is in another. He keeps yelling out her name and her boat ends up toppling over in the river.

Scene 2: The second lead really likes the main girl, but she doesn't like him. He tries to rape her, but is unsuccessful in doing so.

I know these are very vague details, but I would love to watch it again! If anybody could help me, that would be awesome!

A boy named Happy


It's been years since this aired, and I'm not entirely sure of its origin (but I know it released on DVD in mandarin because I still curse myself for not buying it at an Asian market). I watched subbed episodes on YouTube. I *think* the title was something like "Sun Boy." It's a two-part series, the first few episodes centered on a teenage boy and teenage rich girl. The two meet through friends when they all go out to a karaoke together, and they start dating. Eventually she gets pregnant, and they plan on staying together in spite of her father being completely against it (I remember they planned on naming the kid — a boy — something that meant "happy." When she has the baby, though, she passes out or something, and her father tells her the baby died in childbirth and she leaves town because he convinces her it'd be better for everyone.

Flash-forward 7 years, and the kid has been raised by his father. Dad works at some kind of fish shop, and rides a motorcycle. The mother arrives on the scene, and finds out her father's lies, and starts to get to know the kid without telling him who she is. And that is when I could no longer find English subbed episodes, so I have no idea on the ending. Please help, because I loved this series and I really really would like to know the ending.

Meddling moms who don't like heroines (so, every drama ever)


My friend was telling me that he saw a Korean drama but he didn't knew the name, it was even dubbed to Spanish so I don't think it's a new one. It is about a writer who is struggling to write a book, she was writing about a romance story on how a mom didn't want his son to date certain girl. The guy was drunk and the girl was taking care of him in his car. Mom finds out and tells the girl that if she keeps seeing his son she is gonna destroy her life.
Thanks for playing, everyone — till next time!

RELATED POSTS
Tags: Name That Drama