Odds and Ends: Internet detox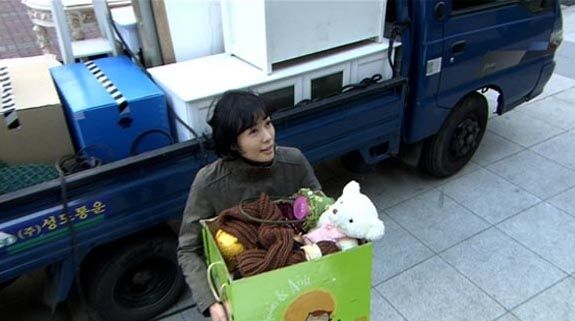 girlfriday: So, are you alive?
javabeans: Huh? Who are you? What am I? Where are we? How did I get here?
girlfriday: I'll take that as a no. Uprooting your whole life can do that to you. How was the big move?
javabeans: You know, you'd think that the worst part about packing boxes and hiring movers and driving many many miles away to a new home would be the worst part about moving, but the most acute pain actually comes from the mandatory internet detox that the process necessitates. You unplug that modem, and I swear, something inside screams a little.
girlfriday: Thank the heavens for 4G.
javabeans: No kidding. It's a good thing you were around to pick up the slack, because my last night in Seattle, I was sitting in my empty room, twiddling my thumbs. Literally. Kakao was our lifeline.
girlfriday: Javabeans and I spend most of our Kakao conversations sending each other weird-ass emoticons that we would never find uses for otherwise. It's like a game.
javabeans: It's the strangest thing to be unplugged for more than an hour at a time, and lemme tell you, even an hour of cable interruption is unacceptable. But a whole day or more? It's enough to give you the shakes. But you know this.
girlfriday: Oh do I ever. I had a total meltdown today when the cable company decided to mistakenly shut off my internet, and then refused to send a technician out until tomorrow. TOMORROW. A WHOLE DAY.
javabeans: It's like the universe is trying to force us to take a vacation from Dramabeans, but we keep ignoring it and going to coffee shops and trying to write posts on our smartphones instead.
girlfriday: It's infuriatingly slow and stupid. Also, I feel like the price of a chai latte should get me more megabytes per second.
javabeans: Is this what net neutrality gets us? Equal and fair slowness? Inefficiency for one and all?
girlfriday: We tried to take the night off, but so far, that's not working out.
javabeans: Because these recaps don't write themselves, you know! At this point we just don't know how to operate off our regularly scheduled programming. We just find ways to get to Point Z anyway, even if it kills us.
girlfriday: You know how in dramas, where the heroine decides to pack up and move, and all it takes is one phone call, a blue truck, and a jump cut? I want that life.
javabeans: Yes, and fancy officetels come perfectly furnished the day you sign the lease. Tthis is why dramas are fantasy. I laughed a fit in Sweet 18 when Lee Da-hae comes to Korea from the U.S., leases an office space, and I KID YOU NOT, a day later is running a full-service law firm. She had clients! And cases! And staff!
girlfriday: That's just not real! And even all those Candys who can fit all of their worldly possessions in one duffel bag are a fantasy too.
javabeans: Especially when they never wear the same outfit twice.
girlfriday: Maybe they're like those Mary Poppins endless carpet bags. At least a vagabond Candy doesn't have to worry about her cable internet pooping out on her. Can someone die from internet withdrawal?
javabeans: That is a scenario I don't want to test, not even for science. But you can do it, just half a day more! Take deep breaths and keep your 4G connection close.
girlfriday: If I'm not back online in a day, just assume I didn't make it.

RELATED POSTS
Tags: conversation post, Odds and Ends