Masked Prosecutor: Episode 4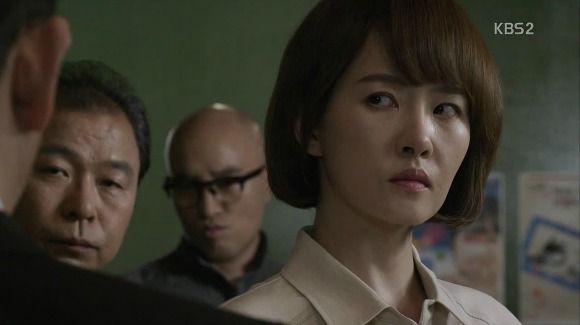 Detective Min-hee's determined to figure out who is behind the mysterious mask, and Dae-chul had better watch out because she's no dummy. He'll need to be quick on his feet and with his wits to avoid being caught. Min-hee, Dae-chul, Ri-an, and, well, just about everyone is also desperate to reel in baddie Sang-taek. Everyone except Hyun-woong and the Society of Eeeeeevil Prosecutors, that is, who are determined to do whatever it takes to protect their own.
EPISODE 4 RECAP
Dae-chul manages to hold off the motorcycle, and despite multiple attempts to run Min-hee over, the mysterious rider finally drives away leaving Min-hee unharmed. As Min-hee stares at him, Dae-chul (despite still wearing the mask) awkwardly tries to cover his face and avoids making eye-contact. He declares that he's there to protect her, but she's more irritated that this mysterious masked man is playing vigilante again.
Studying him carefully, she wonders if he knows her. When he says he's just a warrior of justice, she scoffs and demands that he take that stupid mask off his face to reveal himself. But Dae-chul says he'll only take it off when all the evil in the world disappears. Good luck with that.
Sighing, Min-hee pulls out her handcuffs as she mutters about how he's making fun of a police officer. She attempts to arrest him for use of an unregistered cell phone, but Dae-chul escapes by flailing his arms to avoid the handcuffs, then runs away.
She chases after him, but gets an urgent phone call before she can find his hiding spot. He's crouched on a rooftop, and after she walks away, he drops to the ground, injuring his heel in the process. The masked avenger limps away into the night.
Min-hee's got an search-and-seizure warrant for Sang-taek's company, and even though her detectives swear no one else knows about the warrant, she's concerned word of it has somehow been leaked. Her suspicions seem well founded since Sang-taek greets them pleasantly, holding out his wrists to be cuffed.
But Min-hee keeps her team in place, realizing that any worthwhile evidence would have been destroyed already. She warns him that, as someone who used to be a detective, he should be aware that the police force won't give up so easily. Sang-taek just smiles, pretending to have no idea what she's talking about.
As she turns to leave, she says that she doesn't care who's supporting him, she's going to dig up and reveal all his crimes from the past twenty years. Sang-taek cooly tells her that of course the police should reveal any wrongs, reminding her it's the prosecution office that doles out the punishments.
After Min-hee and her team leave, Sang-taek calls his motorcyclist would-be assassin, who admits that he failed in his mission. No kidding. Sang-taek fires him, telling him to stop by to receive his final pay. But after he hangs up, Sang-taek sighs sadly, realizing that his hitman has outlived his usefulness, and now it's time to get rid of him.
As they leave, Detective Pi says he's not afraid of whatever Sang-taek will do. His job is to protect his team lead. Min-hee retorts that she doesn't need protecting — she'll protect herself, thankyouverymuch. But that only reminds her of the crazy "warrior for justice" masked man.
The next day she scrutinizes the CCTV footage of the night Dae-chul was caught on camera. She's convinced that it's the same guy, but as she looks closer, she sees something they hadn't noticed before: the image of a woman running away in the background.
Min-hee's at the Prosecutor's Office to meet with Ri-na, but a happy Dae-chul calls out to her. She notes his limp as he hurries to her side, beaming in delight as he insists she must have missed seeing him. She ignores him, of course. But as they ride up in the elevator, she carefully scrutinizes him, focusing on his eyes, nose, and lips as she tries to picture how they'd look in a mask.
She breaks the silence by nonchalantly telling him she has two questions for him. The first is to confirm that if he pursued her ten years ago because he liked her so much, then why did he never try to see her again in the years since?
He defends himself by saying he was busy studying to become a prosecutor, but she's not buying that act. She knows him too well, and knows that he's the kind of guy who, once he sets his mind on a goal, ruthlessly pursues it. Was he quietly stalking her all this time? But Dae-chul insists he had a lot of girlfriends in the past few years, so why would he waste his time stalking her?
Min-hee's second question is how he hurt is leg. Perhaps something happened yesterday, hmmm? Dae-chul admits that the only thing that happened yesterday was he drank too much and might still be a little tipsy. Yeah, sure. You're gonna need to become a better liar if you don't want to get caught.
Hyun-woong meets with District Attorney Song to inform him that Sang-taek is being investigated for his relationship to the CEO Park murder case. Surprisingly, it's not the police ordering the investigation — it's Ri-na. DA Song sees this as a threat, and orders Hyun-woong to recruit someone from the Southern office to their side so they can keep tabs on Ri-na.
As Dae-chul applies a medicine patch to his injured leg in an effort to help keep from limping, he receives a phone call from the hospital — they have his father's medicine, which he said to leave with his guardian if they couldn't get a hold of him.
When Dae-chul leaves the hospital, he realizes that his father would have been at this intersection the last day he was seen alive. Glancing around, he notes all the CCTV cameras. Soon he's in possession of photos showing his father getting into a black sedan.
At the police station, Min-hee is none-too-pleased to see Dae-chul chatting with Detective Park. He tries to cover it up in his goofy way by asking if she's eaten dinner yet, but she demands to know what they were talking about.
Meanwhile, Hyun-woong studies a departmental organization chart for the Southern office, trying to find a good candidate to join the Evil, er, I mean, Just Prosecutor's Society. He circles Dae-chul's name.
In the interrogation room, Dae-chul insists the only reason he was asking about Lee Jang-kwon, AKA Hitman Lee is because he's curious. He blusters that he just wanted to help, even though it isn't his case, and he just wants to impress Ri-na.
Min-hee's eyes narrow as she asks one more question: what was he doing last night between 7pm and 9pm? He tries to avoid answering, but Min-hee's not playing around, and he finally admits he was watching a movie. Alone. She demands to see the ticket stub, but he explains he downloaded the film from the internet (legally, of course!).
She's ready to sic the cyber team on him to verify, but now it's his turn to ask questions, demanding to know why she's hounding him, and pulling out all his legalese to get her to back off. She just wants his alibi, but he's crying for due process.
Hyun-woong calls her just then to see what she knows about Dae-chul. Raising her eyebrows as she glances at the "suspect" sitting across from her, without letting on who she's referring to, she admits (with a smirk) that she knows him a little bit, calling him a mess and a snob. She tells him that Dae-chul is the kind of guy who will be confident in front of people he can overrule with the law, but will like a meek mouse when he's in front of powerful people. He's the kind of guy who's only concerned about his own welfare.
Min-hee's ready to get back to interviewing her "suspect" and prove that Dae-chul is the man in the mask. But she receives a text from the masked man's phone right then, warning her to be careful because even detectives can be killed. Ha, it was sent by that rapscallion thief Ho-shik, muttering complaints about all the stupid things Dae-chul makes him do.
Dae-chul makes a big show of his empty hands, proving that he couldn't have been the one to send that text. Watch it, buddy. You're gonna give yourself away since you're not supposed to know what message she just received. But it's enough proof for Min-hee, who sighs that he's free to leave. She's concluded he's just an "innocent snob," which, ha, makes him realize that the person she was referring to on the phone was him.
Dae-chul (and a few other detectives) are keeping an eye on Hitman Lee's newly opened kimbap restaurant, but they haven't seen him around the premises. But when the delivery guy arrives to pick up an order, Dae-chul recognizes the car as the same one that picked up his father by the hospital. It's now decorated in the logo of the restaurant, but it's definitely the same car.
He chases after it, and when the driver pulls up to a stop, it's Hitman Lee. The mocking smile he gives as Dae-chul pounds on the locked door is chilling. Hitman Lee quickly drives away, leaving a panting Dae-chul lagging far behind.
Dae-chul then has to psych himself up to meet with Hyun-woong, who had invited him to a private karaoke room to discuss business. Dae-chul plays the deferential self-seeker to the hilt, appeasing Hyun-woong as he asks if Dae-chul wants to join the ranks of the "carnivores," that is, the powerful who eat the weak.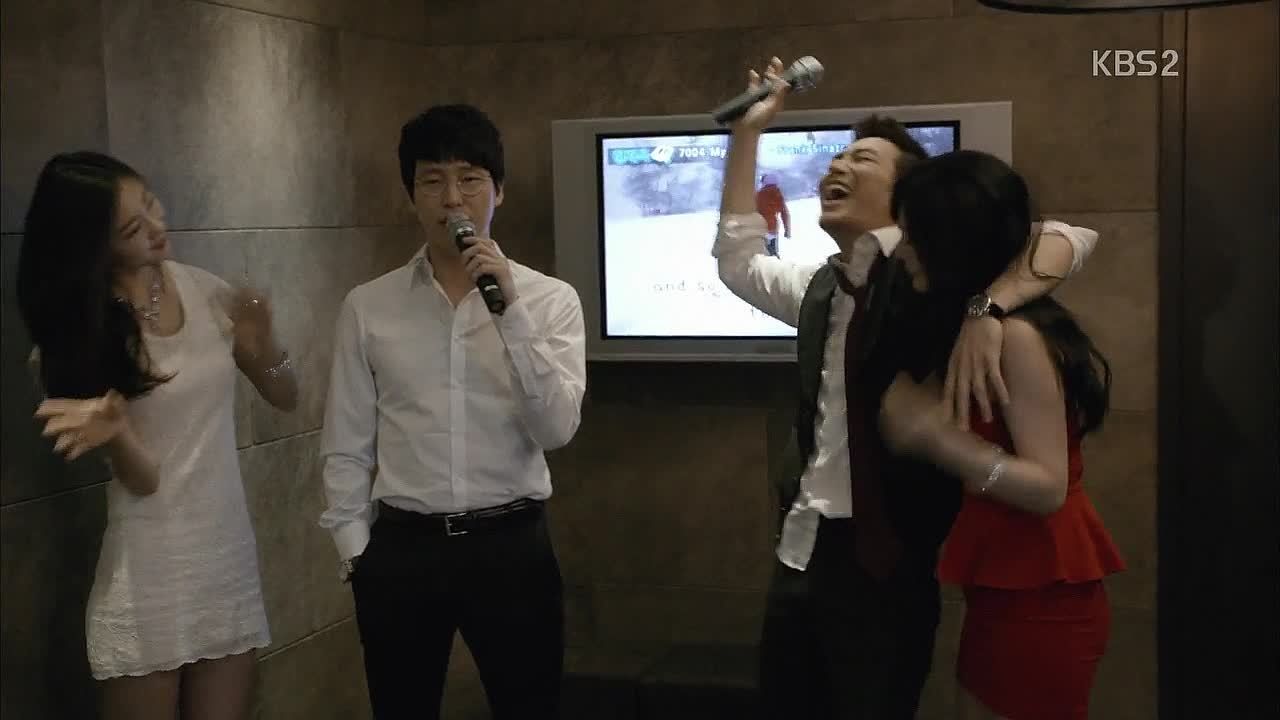 While Hyun-woong keeps an amused and watchful eye on him, Dae-chul throws himself into the role of carefree boozing womanizer, only pausing for a second to remember that Hyun-woong is his half-brother — and the one who had a mother for all his life.
Overseeing a search-and-seizure at CEO Park's business, Min-hee notes that one of the workers there recently hurt her neck — and there's a photo that shows she might have been a little cozy with CEO Park.
At the prosecution office, Ri-na is pleased to have figured out the link between Sang-taek's company and Jong-ho's company: Im Ji-sook, Joong-ho's wife who also is on the board of directors at Sang-taek's company. Ri-na is ready to bring her in for questioning, but a worried Dae-chul asks if it would be okay to bring her in, since she's Hyun-woong's mother.
She's surprised by that familial connection, but it only makes her want to bring Im Ji-sook in even more. Dae-chul asks if he can be there when she's interviewing her, and Ri-na agrees. But she's curious why Dae-chul, who had handed over this case to her, is still so interested in it.
When he reveals that everyone they're focusing on is just one step below the big fish, DA Song, Ri-na chuckles, assuming now that the only reason Dae-chul gave it to her is so he could hide behind her during the fall-out and take credit later. Offended, Dae-chul reminds her of the prosecutor creed, that they are one body. What she eats, he eats — they're a team!
His father's phone records for the last few days of his life have been pulled, and Dae-chul goes down the list, calling all the unfamiliar numbers, stopping in surprise when he reaches Hyun-woong's office. He uses the chance to warn Hyun-woong that Ri-na is going to interrogate his mother.
Min-hee takes CEO Park's office assistant out for coffee, and in an effort to get her to open up, quietly tells her own story. When she was younger, she never looked in a mirror — she thought she was too dirty and terrible. But one day, she thought to herself that she is just herself. It's the world that's dirty and terrible.
The office assistant fights back tears as she confesses that CEO Park would always call her over to his house to theoretically sign papers, but in reality, he would force her to have sex with him.
Over dinner, Im Ji-sook is surprised to know that she'll be called in by the prosecution office — she wasn't even aware she was on the board of directors at Sang-taek's office.
Turns out Joong-ho just borrowed her name for business purposes and he reassures her that she doesn't have to go. But Hyun-woong knows that, strategically, she will, and he smiles at her, asking if she trusts him. They've already got an ally in that office that will make sure nothing happens to her.
That ally would be Dae-chul, who at that moment is busy studying his wall of evidence and blaming Hyun-woong for his father's death.
Ri-na interviews the office-assistant-now-witness-to-a-murder (with Min-hee sitting close by in support). She explains that she was in the bedroom that night, and looked out to see the Hitman Lee standing over CEO Park's body. She escaped out the window, which is how she hurt her neck.
Dae-chul slips into the office and overhears this, but as Min-hee and the witness turn to leave, she gives him that "not you again," look. As soon as she sees the witness out, Min-hee returns to Prosecutor Seo's office, demanding that she not give Dae-chul the case back, like he's begging her to. He only wants to be in charge of the case again because he'll get recognized for the efforts that Ri-na's been making.
Much to Dae-chul's surprise, Ri-na smilingly agrees with her, and he switches his tactic to declare he'll be Ri-na's assistant on the case, instead. After all, they are one body. After Min-hee leaves, the two prosecutors strategize how to take down Sang-taek. The best way to get to him isn't through Hitman Lee, but find proof that Sang-taek ordered the hit. To do that, they'll need to look into the past.
Im Ji-sook arrives at the Prosecution Office, and a smiling Dae-chul pleasantly greets her, escorting her to the office. As they ride the elevator, he reminds her that she should answer everything truthfully, but if she has anything to hide, to remain silent.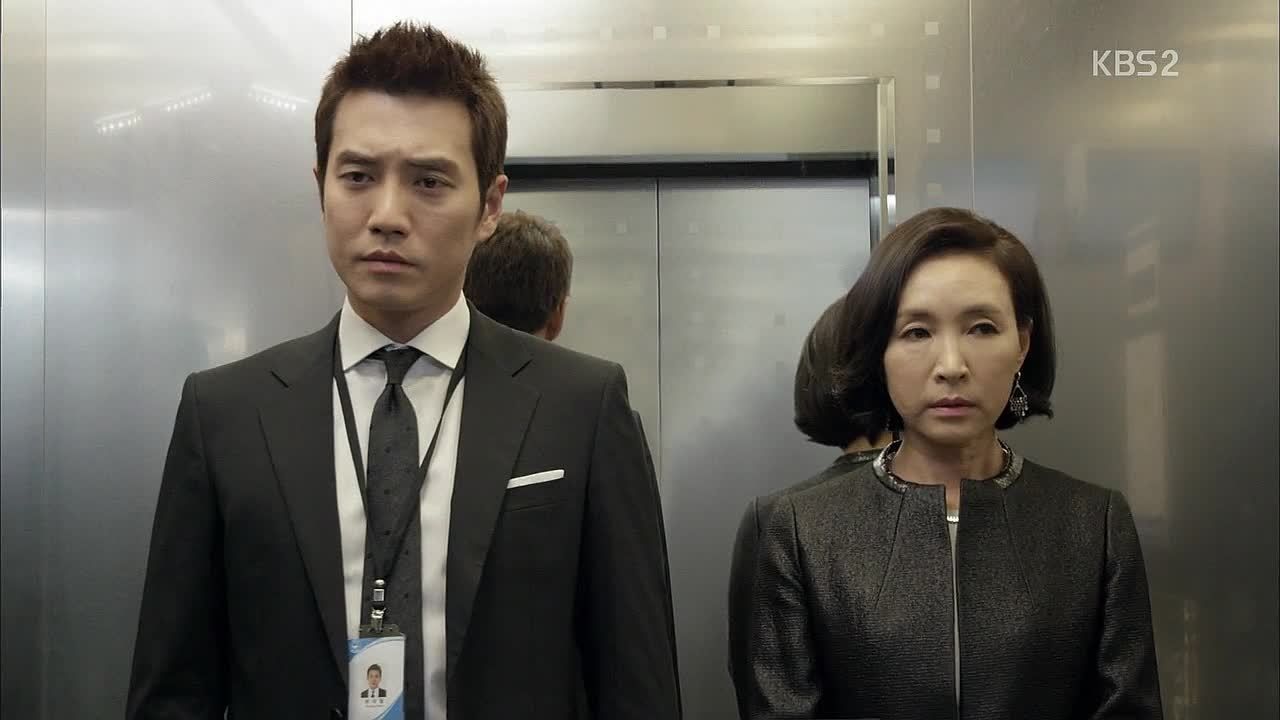 After all, she has that right. Even if she did something unthinkable in the past, she can remain quiet and leave it buried in her heart. Uh, we're not just talking about shady business dealings and murder, now, are we?
In the interrogation room, a silent Im Ji-sook sits alone. Ri-na and Dae-chul watch through the one-way mirror, and his face hardens as he says that Sang-taek and Ji-sook's present are the result of mistakes in the past.
As Ri-na questions Ji-sook, she admits that she was unaware she was listed as the head of directors at Sang-taek's company, and she doesn't even know him. But Ri-na mentions a past association that surely would be memorable — Sang-taek was the detective who arrested Jong Do-song, her first husband.
That makes Ri-na curious — why is her current husband currently working together with the man that arrested her first husband? Ji-sook says that's enough, refusing to answer anymore questions.
From behind the one-way glass where he's been watching, Dae-chul's face falls. This is enough proof for him to realize that his mother might not be as innocent as he hoped. The knife is further twisted in his heart when Ji-sook snaps at Ri-na to not bring her husband or her son (Hyun-woong) into this.
But Dae-chul's back to his pleasant, smiling demeanor as he escorts her back to her car. As he watches Ji-sook drive away, Min-hee saunters over, having arrived at the Prosecutor's Office to chase a lead. She's curious about the woman, and Dae-chul answers simply, "It's Mom." Min-hee is surprised to learn Dae-chul has a mother, but he clarifies: "It's Hyun-woong's mother." Ohhh, ouch.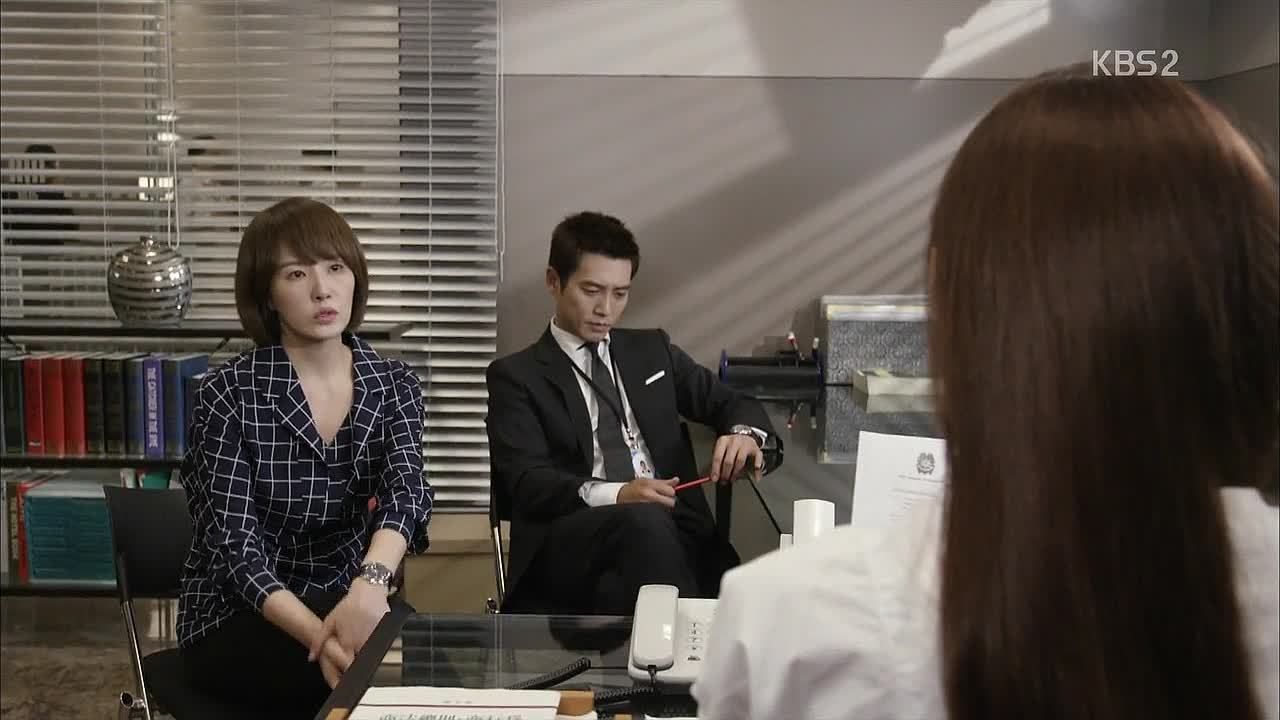 Min-hee reports to Ri-na about a potential lead for Sang-taek's motive to have CEO Park killed, but the documents were stopped and buried in the legal office, making it difficult for the police to track it down. Dae-chul insists that the one who stopped the paper-trail was Hyun-woong, but Ri-na wants to arrest Hitman Lee for the murder of CEO Park and also arrest Sang-taek as the behind it.
Dae-chul says that Min-hee doesn't have the capability to catch Hitman Lee, which makes her angry. Of course. She mutters out her favored curse, calling him a "dog," and Dae-chul agrees that he is, even barking back at her.
As they stand in the hallway and bicker, Dae-chul tells make sure her arrests are official, and to be careful because who knows what they're capable of. After all, the reason she became a detective and he became a prosecutor was so that they could bring justice to those who had died unfairly.
He bids his adieu by telling her she's a good detective, even if she's a little bit lacking. As she mutters under breath about how she should just avoid him, he pops back out of the office to tell her that will be impossible, since he's sure they'll continue to run into each other. She rolls her eyes and gets on the phone with her team to prep for the arrests.
Dae-chul watches her go, and the ever-observant Ri-na amusedly inquires about their relationship. He says that he and Min-hee are just at the level of exchanging text messages. Pffft. Yeah, but she doesn't know it's you.
Sang-taek's on the phone with one of his minions to tell him to "clean up his mess" before he leaves. He seems awfully unsurprised to see Min-hee pull up in a cop car, arrest warrant in hand. The "mess" that needs cleaning is apparently Hitman Lee's. Sang-taek's minions have kidnapped his pregnant wife to hold hostage until he completes his mission.
At the police station, Min-hee presents the proof of a connection between Sang-taek and Hitman Lee, but Sang-taek refuses to talk. Well, at least he refuses to confess to anything, because he's not afraid to boast that it's obvious they don't have enough evidence if they're trying to badger a confession out of him. Min-hee says they have more than enough evidence — they have a witness.
Sang-taek scoffs. That woman didn't even see him. Min-hee: "How did you know the witness is a woman?" Whoops. Time to lawyer up.
Min-hee's already come to the conclusion that her witness is in danger, and she and Detective Park rush to her apartment. She wants to know who also knows the location of the witness, and Detective Park admits he told Dae-chul. She also wonders why Detective Pi isn't answering his phone.
That's because he's bound and gagged, helplessly watching as Hitman Lee advances on the witness, knife at the ready. Dae-chul bursts through the door and, with a flying kick to the face, tackles Hitman Lee.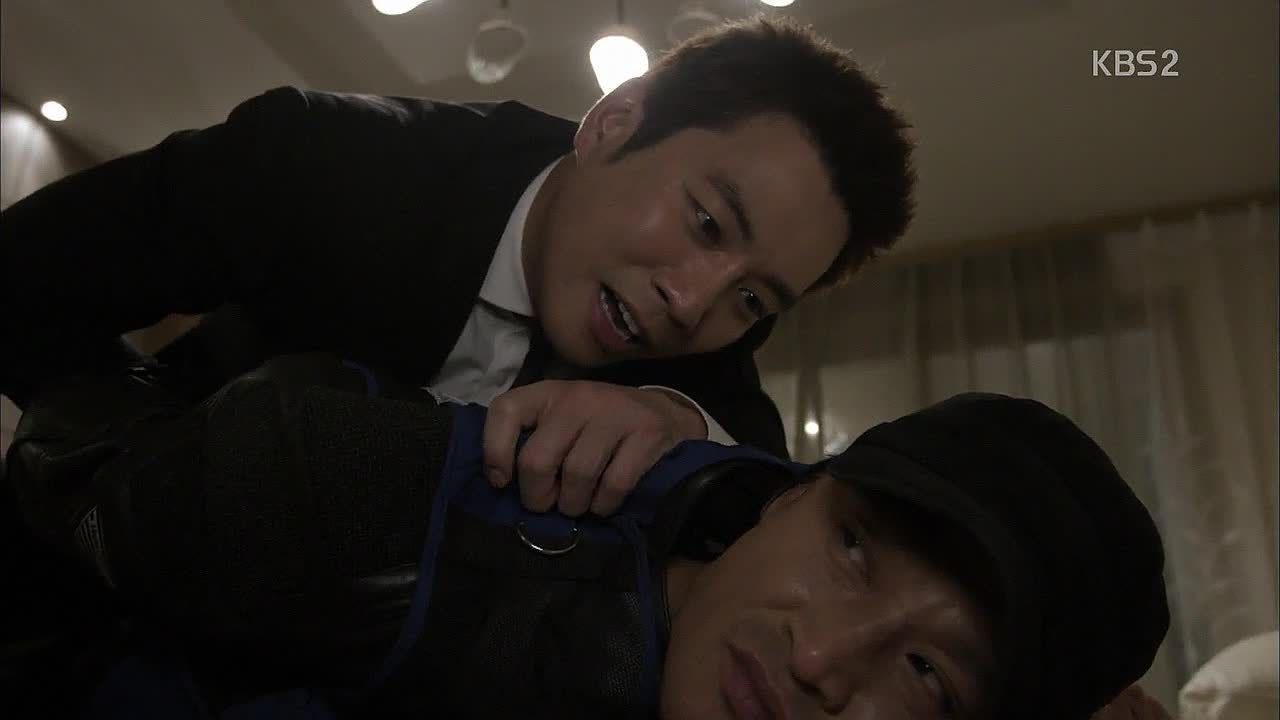 He's not just there to protect the witness, though. He also wants to know why Hitman Lee killed his father. Who ordered the kill? Was it Sang-taek? Hyun-woong?
At the sound of police sirens getting closer, Hitman Lee stands and makes a phone call. He tells the unnamed person on the other end of the phone that he'll be taking responsibility — just let his wife live. But Dae-chul is desperate for an answer. Hitman Lee: "I'll tell you — in hell."
CRASH! Hitman Lee's body falls from the apartment and lands on top of a parked car, and it doesn't look like he survived the fall. Min-hee, having just arrived at the scene, looks up to see Dae-chul lean out from the broken window. He stares down at the body as he cries out in anguished frustration.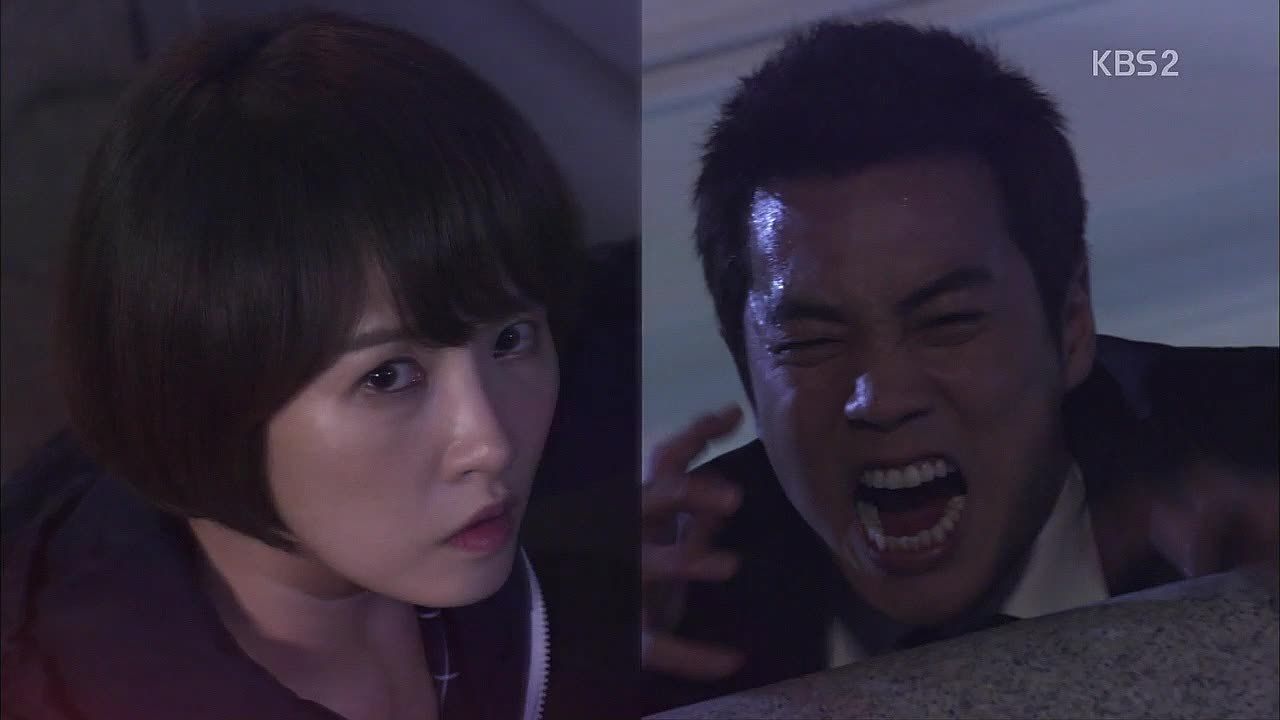 COMMENTS
Oh, show. I want to like you, I really, really do. But I'm still feeling a distance with the show, a sort of disconnect that I'm blaming on the direction because the actors are amazing and doing some great stuff with their characters. I'm pretty sure Kim Sun-ah and Joo Sang-wook are single-handedly keeping the energy alive in this show. Even so, the premise is still intriguing, especially since our masked avenger now has a purpose that not only makes sense, but actually brings a sense of danger (and begs the question of what will be his true mask — the goofy self-serving lawyer or the professional wrestling vigilante).
There's a nugget of what could be a fascinating push-and-pull between Hyun-woong and Dae-chul as Hyun-woong tries to convince Dae-chul to join the darkside, and Dae-chul tries to keep from being outed as who he truly is. Then you add in the entertaining layer of Dae-chul and Min-hee's bickering (all the while knowing they're so totally going to end up together, no question) as he tries to make her believe he's not that crazy masked guy, really! Then add in the depth of Min-hee's back story and how that gives her the drive and purpose to get justice from the baddies who abuse the system. Add in a dash of evil via a corrupt District Attorney, sworn to protect his power at all costs, and you've got a compelling — or at least interesting — drama on your hands.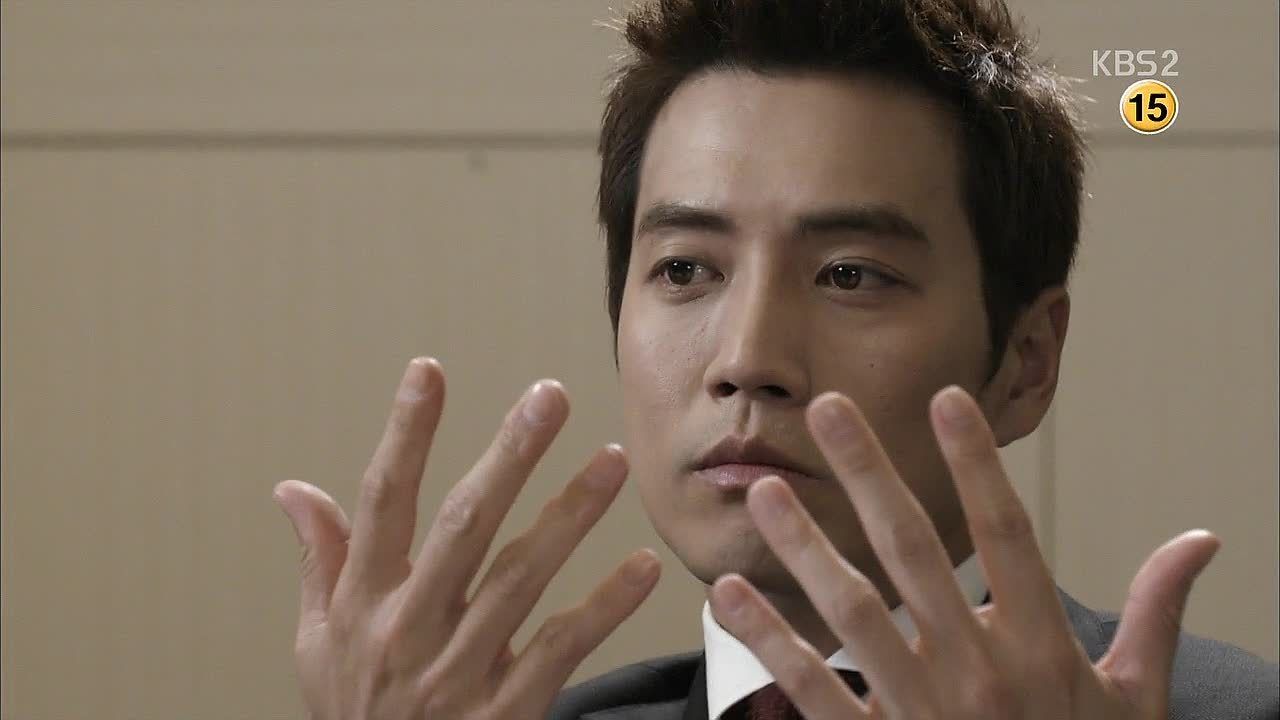 Which should be this drama, but it isn't. All the elements are there — I can sense them, teasing at the edges. Yet, somehow, everything falls flat. For awhile, I thought it was perhaps so much of the show was exposition, and it would perk up once more action was added. Except the action scenes are woefully… tepid. Almost laughable, really, when you consider how obviously choreographed they are. There's no element of danger or surprise. I never felt that Min-hee was truly threatened by Hitman Lee on his motorcycle (and even laughed out loud when he drove down the steps, only to slam on his breaks to keep from hitting the truck).
So obviously the show shouldn't add more action if it can't be believable. But it definitely needs something. More menace, perhaps. Sang-taek seemed like he could be believable menace, but there's something so disappointingly elementary about him being caught out with the "Ha! How did you know it was a woman!" ruse. I thought he was smarter than that, considering how he's been able to manipulate District Attorneys and do mysterious gangster stuff for years without getting caught. But I guess I thought wrong? But I need a smart villain to bring that danger to our leads' lives. I want to know how important and precious those ideals are they're trying to fight for and protect — so much so they'd risk their lives to see the good guys win.
I'm also sheepishly going to admit some of the connections still confuse me. Still. Even with the ages of backstory we've had, I'm still having to pause and rewind to try and untangle who is who and what side they're on. I wish the show had given us small doses of the backstory, like it's done with Min-hee. I know, factually, very little about what happened to her as a child, but I know enough to know why she is the way she is. I know that she's suffered a traumatic life. I know enough that being born due her mother's rape may have given her severe psychological and emotional damage, but it's that rage against a system that favors the rapist which fuels her and her work.
All this, I understand from those brief and vague glimpses, yet when the show does it's best to spell out exactly how Sang-taek's company relates to Joong-ho's company, I'm still bewildered.
Maybe I'm expecting too much from this show. Maybe I should just kick back and enjoy the fun moments, like any time Joo Sang-wook and Kim Sun-ah are on screen together. Honestly, that's what I'm clinging most to right now. Those two have such great chemistry and comedic timing that I'm hoping they'll be able to save this show.
Because I do think it can still be saved. I'm not giving up on it. Not yet. It's not mind-numbingly awful — it just hasn't lived up to my expectations. Admittedly those expectations may have been a bit lofty, borne solely by the amazing cast the production team was able to assemble. But that's also why I expect more from it. Not just for me, the viewer — but me, the fan, who wants reassurance that Kim Sun-ah's long-awaited return to Dramaland won't result in a total dud. So c'mon, you dog of a show. Get your act together!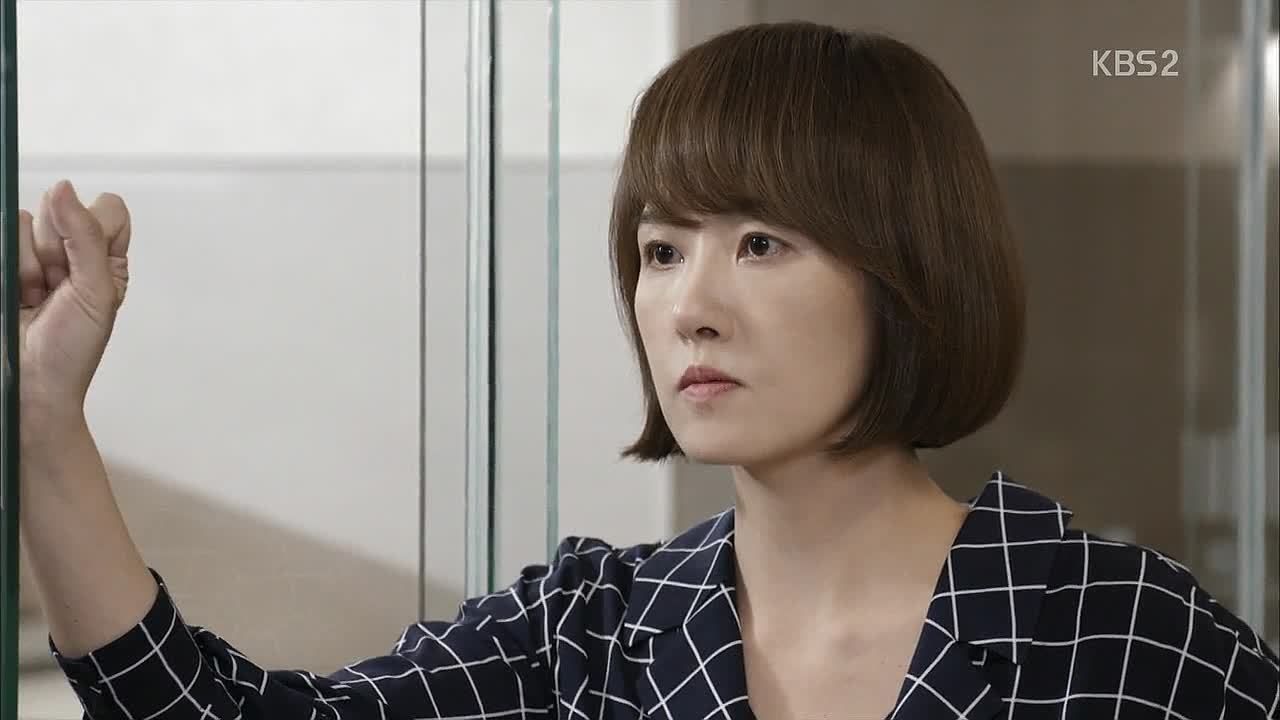 RELATED POSTS
Tags: featured, Joo Sang-wook, Kim Sun-ah, Masked Prosecutor