The Producers: Episode 9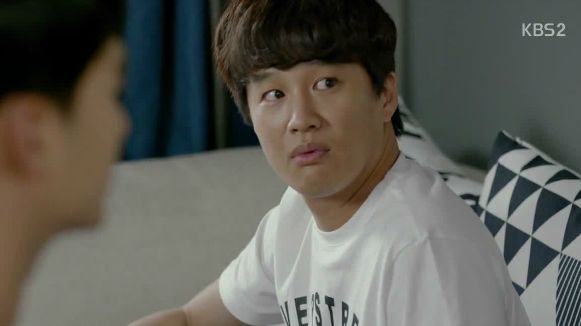 We're finally at the point in the story where push comes to shove—either you remain exactly as you are and sit back as the new kid on the block takes your place, or you step up your game and stake your claim, be it as the marquee variety program, the top singer, or the best friend. Today's episode is all about Old vs. New, and the inevitable war that brews when two people fight for one title.

SONG OF THE DAY
IU – "마음" (Heart) [ Download ]
Audio clip: Adobe Flash Player (version 9 or above) is required to play this audio clip. Download the latest version here. You also need to have JavaScript enabled in your browser.

EPISODE 9: "Understanding Preemptions"
With two women waiting for him on a rainy evening, Seung-chan angsts over what to do: Go to the movies to meet Ye-jin, or go home to meet Cindy. Both of them wait and wait and wait, as Seung-chan sits there in his car, frozen with indecision. You could've picked them both up in the time it took you to decide!
Finally Ye-jin turns around and smiles… just as Cindy looks up and sees someone approach. But Seung-chan has arrived at the movie theater after all, to keep his date with Ye-jin.
She's disappointed to hear that they can't see the movie though, and Seung-chan tells her about Cindy waiting in the rain for him on their way back home. Ye-jin worries that maybe Cindy had another fight with CEO Byun and ran away.
Seung-chan makes a sudden stop at a light and instinctively reaches out to hold Ye-jin back, and the strong protective gesture suddenly makes her a little flustered. She's clutching his arm and doesn't even realize it, and suddenly the air is very awkward between them.
Meanwhile, Cindy looks up to find Joon-mo standing over her with an umbrella, and he asks if she's waiting for someone. She says shyly that she just had something to say to Seung-chan, and Joon-mo seems to understand what's going on.
He offers her a hand to help her up and take her inside, and promises to call Seung-chan to come to his place so that she doesn't freeze to death. Hm, looks like I'm on Team Joon-mo today.
Inside, he scrounges the kitchen looking for tea, and Cindy has to tell him where it is since she now knows his kitchen better than anyone who lives here. Cindy asks Joon-mo if he thinks that she's acting all the time too: "Someone said that even my sincerity seems like an act." She wonders if it's true because she can't really tell the difference anymore, and she guesses that Joon-mo can see exactly what she'll be doing in ten years. But she can't.
That suddenly triggers Joon-mo's memory of that mystery girl from five years ago. She was a singer on a show he was producing, and CEO Byun's big starlet before Cindy. In a flashback, Joon-mo tells her not to do anything she doesn't want to. He can see how much she's suffering because she's not eating or sleeping, and tells her to fight CEO Byun and just leave.
She's worried about the fallout and asks if Joon-mo will take responsibility for her, and he says with absolute certainty that he's a PD and she has nothing to worry about—he'll take responsibility and will cast her in his show.
Cindy breaks him out of his reverie and tends to the scrape on his arm from the soccer game earlier that day, and he deflates to hear that she's so good at first-aid because there's no time for hospitals if she gets hurt while doing concerts abroad.
Ye-jin and Seung-chan arrive together, and Cindy's face falls to hear that they were meeting up to watch a movie. She immediately calls her manager to pick her up, and becomes very distant as she says that she just came by to apologize for the last shoot, since he's the PD on a show she's doing.
She adds that she doesn't know how often they'll be running into each other from now on, but didn't want to leave things unsettled. Seung-chan FINALLY opens his mouth to speak, but she cuts him off and gets up to go.
Seung-chan just keeps standing there like a statue, and Joon-mo has to tell him to follow her outside and at least wait with her until her manager arrives. I cannot believe he was just going to let her go like that.
Seung-chan pauses on his way out to tell Ye-jin in that lingering earnest way of his that he really regrets not being able to see the movie tonight, and Ye-jin starts to wonder: "You felt that too, right? Baek Seung-chan… really likes movies." Pfft. Joon-mo shakes his head but doesn't correct her.
Seung-chan joins Cindy out in the rain and apologizes if what he said to her at the last shoot caused her any grief. She says it's okay because that's who she really is anyway—fake, rude—that's what people call her, so there must be some truth to it.
He says he heard this somewhere—that people's words about you are like poison-covered arrows. They can't pierce your heart if they're spoken in hiding, but the most immature thing to do is to pick up those arrows that are lying on the ground and pierce your own heart with them, getting shot by arrows you needn't be shot with, getting wounds you needn't get. He says that he'd like it if Cindy didn't do that to herself.
She lets that sink in for a moment, and then lightens the mood by asking what movie he went to see. He doesn't know, since Ye-jin bought the tickets and he didn't get to see it anyway. Cindy thinks about that and notes that he didn't go to see a movie then, if he didn't even know what was playing—he went to see Ye-jin.
It's written all over his face that she caught his crush on Ye-jin, and Cindy muses, "It must be nice, to be caught so easily. Because you have sincerity that can be caught even when you're trying to hide it."
She sighs that she can't get caught no matter how much she tries. Oof. Won't somebody see her crush? Though to be fair, she happened to pick the most obtuse boy on the planet to like, which is her own bed to lie in.
Ye-jin starts to nag Joon-mo about his terrible bill-paying system (in that he has none), and lays out all of the things he needs to set on auto-pay and fix around the house. He wonders what she's doing, and she points out that she only has three more weeks until she moves into her new place.
She marvels at how quickly the time passed, while Joon-mo is taken aback and insists that three weeks is totally a long time, and it's way too early to talk of moving out. Urg, you and your denial!
Two weeks later, CP Kim delivers the bad news to the 1N2D team that they've been preempted this week, in favor of a pilot that he's producing. Joon-mo flails and pouts that they're just picking on his show because of the low ratings, while Seung-chan asks with hope-filled eyes if this means that he gets some days off.
The married PD interviews that he likes work better than home, but the entire country knows when he's got time off so he can't lie to his wife, while the writer says that it's bad news for her because she won't get paid for the week. Joon-mo seems like he's trying to comfort himself during his interview, and says that it could be a chance for people to realize how much they miss 1N2D, and to prove their worth.
Cindy is met with a new trainee at her agency, and CEO Byun fills her time off from 1N2D chock full of variety appearances. Cindy realizes right away that she's supposed to take this new girl with her on these shows and help pave the way for her career, and threatens to go elsewhere when her contract is up. CEO Byun doesn't miss a beat and says she'll have some things to reconsider as well, when it comes time to re-sign her.
Joon-mo spends his days off lying around on the couch, and pouts when Ye-jin and Seung-chan come in happily chatting about the things they've prepped for her new place without him.
She tells Joon-mo all about how Seung-chan helped her out, from getting the building to give her the model unit with curtains installed, to gathering a gaggle of ajummas to go in on a cleaning service to get a discount.
She's beaming at all the helpful ways Seung-chan has saved her money, and Joon-mo just watches them sitting knee-to-knee in their own little world with a dark cloud over his head. When Seung-chan shoots down his suggestion to call a packing service and offers to help Ye-jin pack, Joon-mo snaps at them to do it without him and stomps out.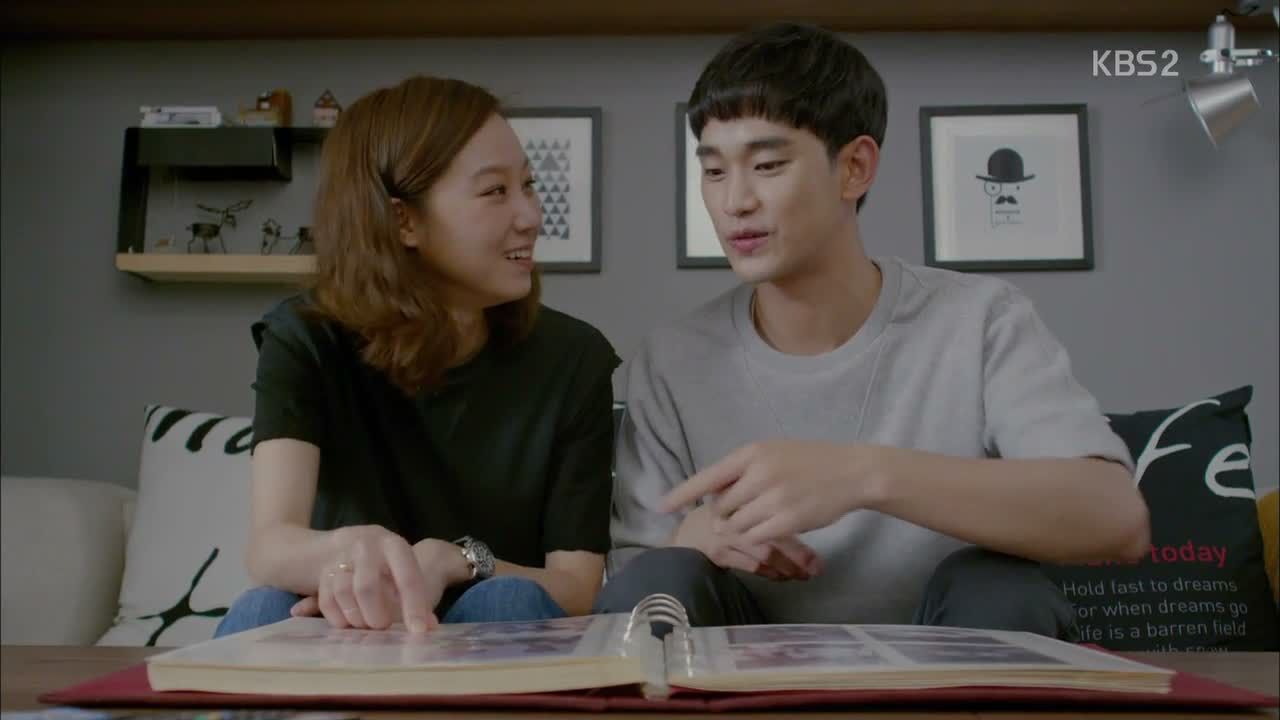 Seung-chan stops to look through one of Ye-jin's photo albums as they pack, and at first he's sobered by all of the pictures of her with Joon-mo, until he finds one that gets him yelping in excitement.
He runs out to her and exclaims that they met long before he became a PD, and shows her a picture of her and Joon-mo in the playground outside, when they were high school students. And there in the background is little Seung-chan, photo-bombing them. How cute.
She laughs and calls it a plausible coincidence since they lived here at the same time, but Seung-chan puts way more meaning behind it and calls it fate. He asks her for the picture, and is over the moon when she gives it to him.
Joon-mo broods by himself on the playground outside, remembering all of the times he was the one to help Ye-jin move, from her tiny college apartment to her first place after getting a job, moving on up every time. He was there for all of it, until now.
Seung-chan goes home and gazes at his picture with Ye-jin for a long time, then decides that he doesn't like Joon-mo in it and folds him out. Ha. He places the picture in a keepsake box along with a drawing of a girl.
Ye-jin and Joon-mo share a drink that night, and he congratulates her on finally getting her own place. She wonders how many times she's moved and he tells her it's fourteen. She sighs to remember everything she's done to chase down apartments and move, and thanks him sincerely.
As always, he brushes it off and tells her not to be in such a hurry to say goodbye. She admits that she has a lot of regrets about moving in here, including getting drunk and confessing things: "I'm sorry, for shaking our 25-year friendship." She supposes that once she moves out, they'll go back to their rightful places.
And then, shocker of all shockers, Joon-mo actually responds with WORDS. I KNOW. He asks hypothetically, if they each marry other people and their spouses don't like their friendship with one another, what will she do? She thinks about it and says that it's probably a given that their future spouses wouldn't like their relationship, and figures that it'd be difficult to be the way they are now.
He looks hurt as he asks if that means she'll stop seeing him, and she says that they'd see each other at work, "But it couldn't be the way it is now." He sighs that she's probably right, "But… I don't like it." She laughs and says that's just the limit of friendships between men and women.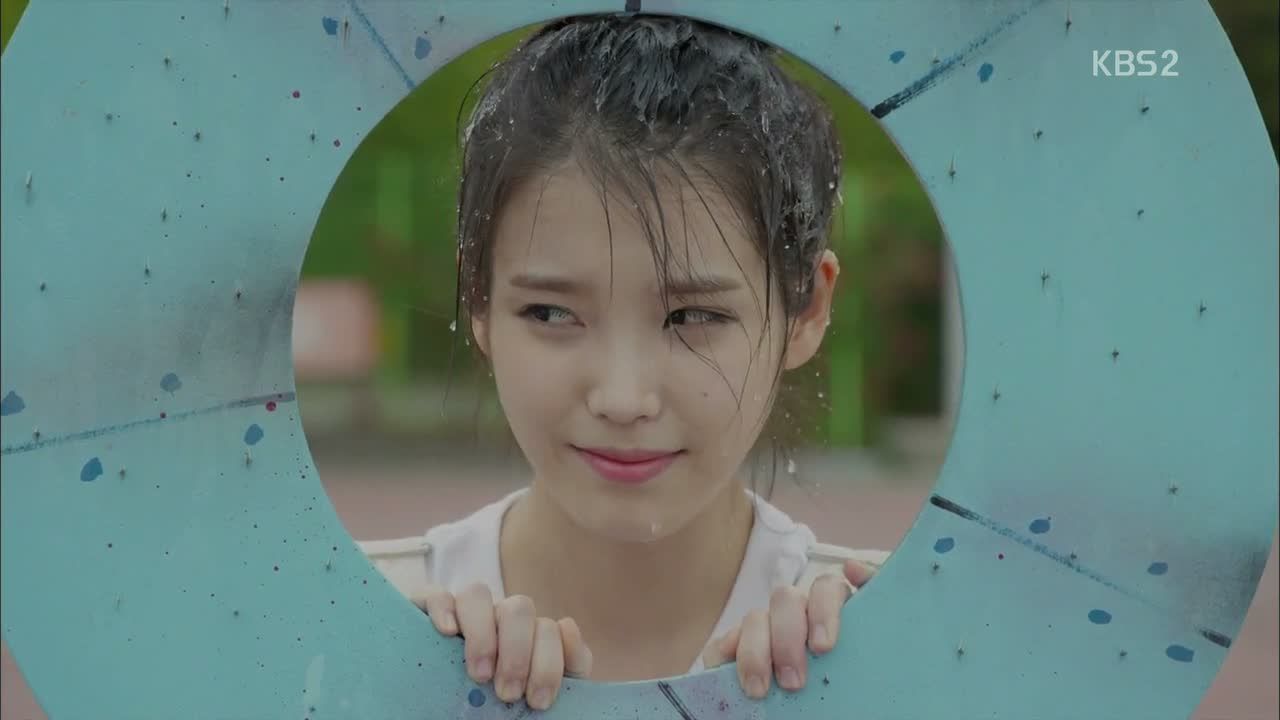 Her attention turns to the TV, where they're surprised to see Cindy on another variety show, and running on top of it. Eep, she just sprained her ankle! It's a grueling day of games and sports, and she struggles to keep a smile plastered on her face.
She's exhausted by the end of the day, and Manager Oppa cringes to remind her of the radio interview she has to do over the phone. Ever the professional, Cindy brightens up on cue and lies about how much she loves her hoobae that she's being used to promote.
Joon-mo sighs that this is all CEO Byun's doing, and Ye-jin remembers him talking about that other singer Yuna years ago. He says that CEO Byun did the same thing with her, threatening not to renew her contract and using her to promote Cindy's group when they were new, and then dropping Yuna the second she became useless to her.
Ye-jin doesn't think she'd do the same to Cindy, who's inarguably a top star. But Joon-mo doesn't look so convinced. Ye-jin asks if he knows why Yuna dared to go head-to-head with CEO Byun back then, and he gets quiet and shuts himself up in his room.
Flashback to five years ago, after Yuna's image has taken a nosedive, thanks to CEO Byun. Rumors run wild about her having a sponsor, and Joon-mo meets resistance when he wants to cast her as an MC on his show. He argues that they're PDs and can change public opinion, but CP Kim argues that they have no power against what the audience wants.
Joon-mo cries that he'll take responsibility, but CP Kim asks how, when none of the broadcasters will cast her. And just like that, his promise to take responsibility for her ended up going unfulfilled.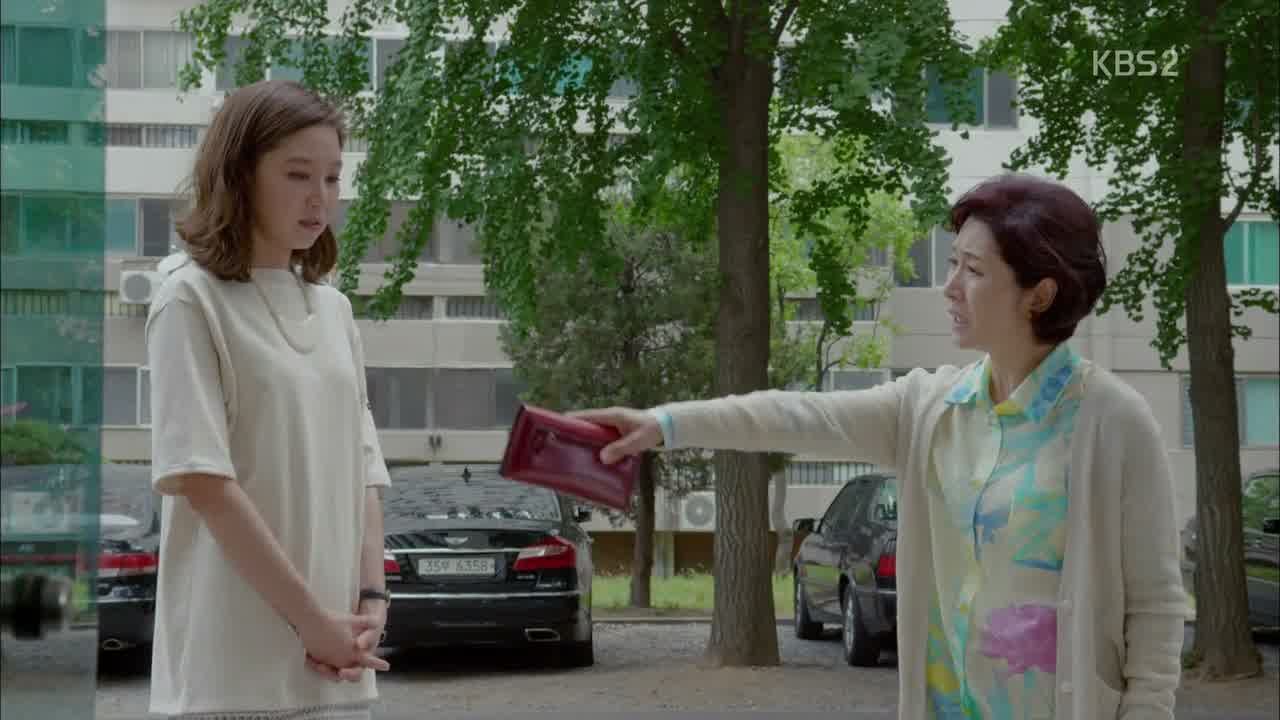 Ye-jin realizes that she forgot her phone on her way to work and turns around to get it, and Seung-chan's busybody mom happens to see her parking rear-first on her way in. Mom stops her and nitpicks over their building's rule to park head-first, complaining about the exhaust fumes from the car damaging the lawn.
Ye-jin has to grit her teeth as she explains that she's just here to pick something up and will leave soon, but Mom insists that she re-park right now. Ye-jin argues that she'd grab her phone and pull away by the time she'd be done re-parking, and Mom physically stops her from going in because she doesn't trust her to come back down.
They go in circles like this, with Ye-jin asking if she ought to write up a contract that she'll come back and un-park, when Seung-chan ambles up with a big smile and introduces Mom to Sunbae, who both shriek and cringe.
Now they're arguing about who's sorrier and who was more in the wrong, and they take turns bowing at the waist repeatedly and apologizing. Seung-chan just watches them cluelessly with a smile on his face.
He catches a ride with Ye-jin and explains that his mother is known for her busybody tendencies, and gets called the Yeouido OG Rapper (ojirap-er, which means she gets carried away with other people's business). She sighs at the bad impression she made on his mother, while he just grins, calling it no big deal.
They make plans to head over to Ye-jin's new place tonight to move some things, and she asks if it's okay that he's helping her so much. He says that he's doing it because he wants to, and Ye-jin misinterprets that to mean he likes moving and decorating.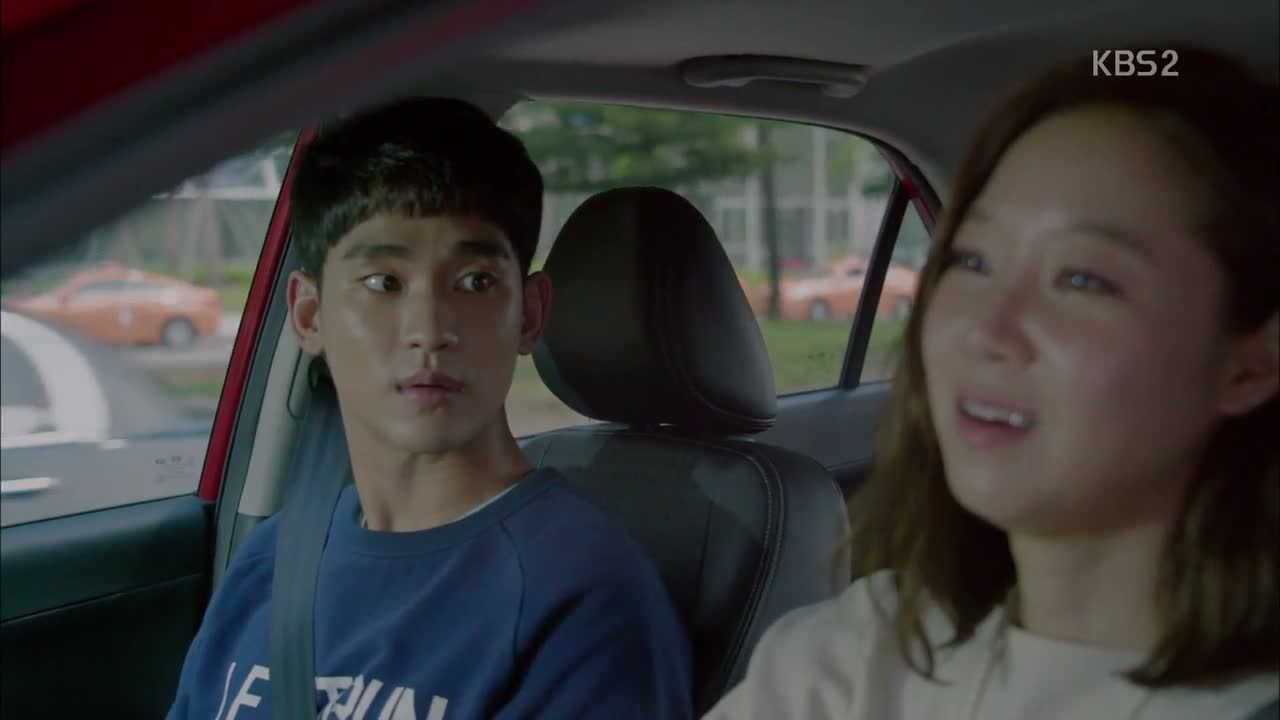 Seung-chan steels himself and answers, "No, I mean it's because I like you." Omo. But Ye-jin just keeps chattering away as if he didn't just make a big confession, likely hearing it as, I like you as a sunbae, not the other thing.
She says she asked everyone else at work to help out, but feels extra bad for using up all of his time off, especially since he's her favorite hoobae PD. Seung-chan is instantly happy again and asks if she really means it, and she laughs that of course he's her favorite hoobae. It kills me that this makes him so happy. Poor puppy.
Mom comes home and tells Seung-chan's noona all about her terrible run-in with Ye-jin, and noona confirms that Mom just ruined Seung-chan's career. But then she remembers that time that Seung-chan came out of the building across the way after sleeping at a sunbae's place, and she wonders if that was Ye-jin. Mom refuses to believe that her precious son would do that, and says there must be another sunbae in that building—a male one.
The male sunbae in question is currently loitering outside his conference room, which is currently occupied by the pilot show Star Wars that's preempted his. Joon-mo saunters in to let the PD know that his show is the one being pushed, and asks about the cast. The PD says he had a hard time getting anyone, then names Suzy and Taeyang. Ha.
Joon-mo complains to CP Kim about losing his conference room on top of the broadcast timeslot this week, and declares that new show a failure. Of course that just makes CP Kim sure it'll succeed, since Joon-mo's predictions are always exactly the opposite.
Joon-mo stops paying attention when he sees Ye-jin walk into the lobby with her arm around Seung-chan, just as CP Kim tells him to shape up before losing his spot to the other show. Joon-mo blurts angrily, "Who's gonna get what stolen?! That's MY spot! I won't get it taken! I won't!" Awww.
At his desk, Joon-mo mutters to himself that it's not the first time something like this has happened, but he can't seem to get his head clear. Hm, is he talking about the show now, or still Ye-jin?
Seung-chan comes by with tea because Joon-mo looks tired, but he just gets the brunt of Joon-mo's anger and gets yelled at for looking too happy to have days off. Seung-chan retreats to the storeroom to talk it out with his FD sunbae, who explains that a PD with a low-rated show is obviously going to feel threatened by a pilot testing in his timeslot.
He tells Seung-chan to focus on turning Joon-mo's mood around instead of spending all his time with Ye-jin, and Seung-chan recounts his earlier attempt at cheering Joon-mo up (with a spot-on impression of Cha Tae-hyun's delivery, heh). The FD insists that Seung-chan's loyalty to Joon-mo is most important, only to admit that he's currently two-timing with the pilot show.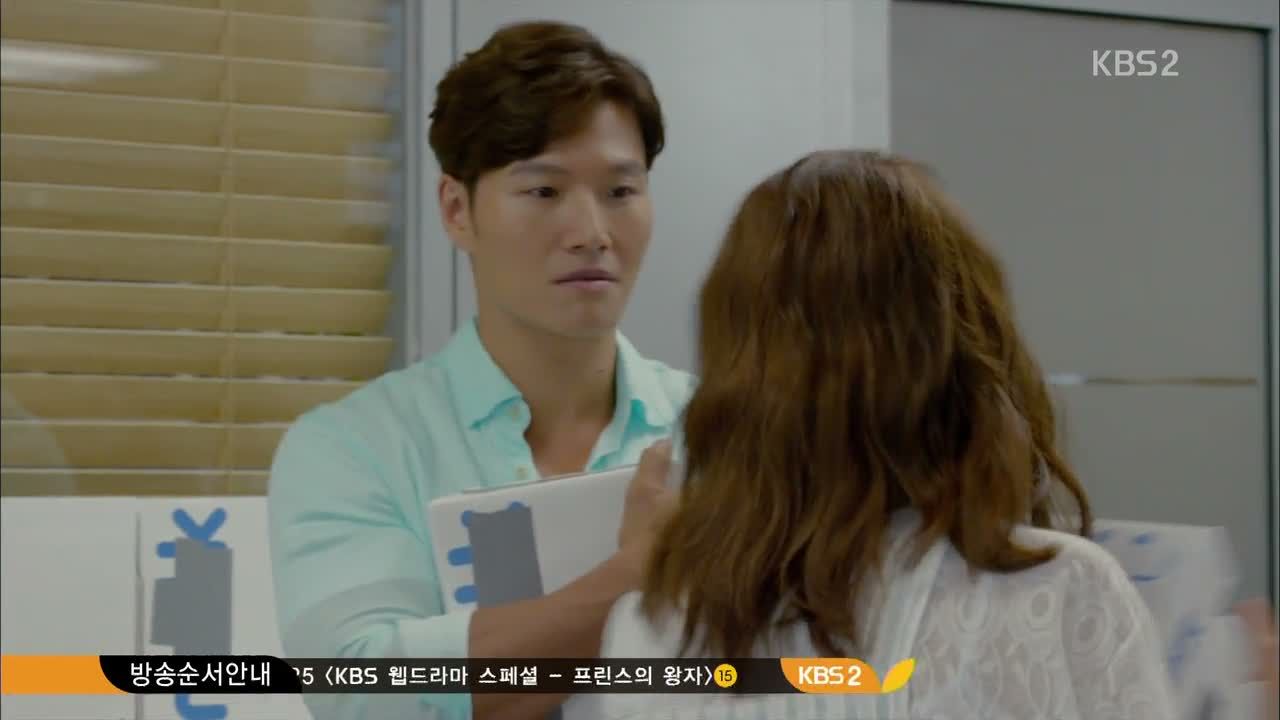 Hong-soon spends the day off-kilter because his nemesis Office Nazi isn't at work today, and he goes from thinking that she faked a sick day to worrying about her. He hovers around the substitute office manager, and at first he's delighted to ask for a ream of paper and be told to just take some.
He clutches the paper like it's treasure, but then a writer comes by and takes as many reams as she can carry, and Hong-soon gets his panties in a twist over how this wouldn't fly if Office Nazi were here.
Ye-jin sighs to see her bratty writer in a short skirt again as usual, but it turns out to be useful when she goes to pick up posters on her own and returns with a posse of drooling men carrying everything for her. Ye-jin sighs that she'd never do that, completely missing the fact that Seung-chan is bending over backwards to do the same thing for her.
They head up to her new apartment with a few boxes, when her new neighbor comes out to complain about the construction that's going on too late. Seung-chan apologizes and the ajusshi assumes that they're a newlywed couple, and Ye-jin's protests go ignored while Seung-chan smiles like a goof.
Mom is sick with worry that noona's assumptions about Ye-jin and Seung-chan are right after all, and she's now decided that Ye-jin has seduced him. Mom wails that it's her fault for giving birth to such a perfect boy, and as she describes all of his wonderful traits, we cut back and forth to Seung-chan using said traits to clean Ye-jin's apartment spic and span.
They sit on the floor to eat when Joon-mo arrives and lets himself in. Seung-chan is surprised since he's the only one who knows the lock code other than Ye-jin, but Joon-mo's all, "What do I need to know the lock code for? It's always my birthday or yours." He notes that this one is his birthday, and Seung-chan's face falls.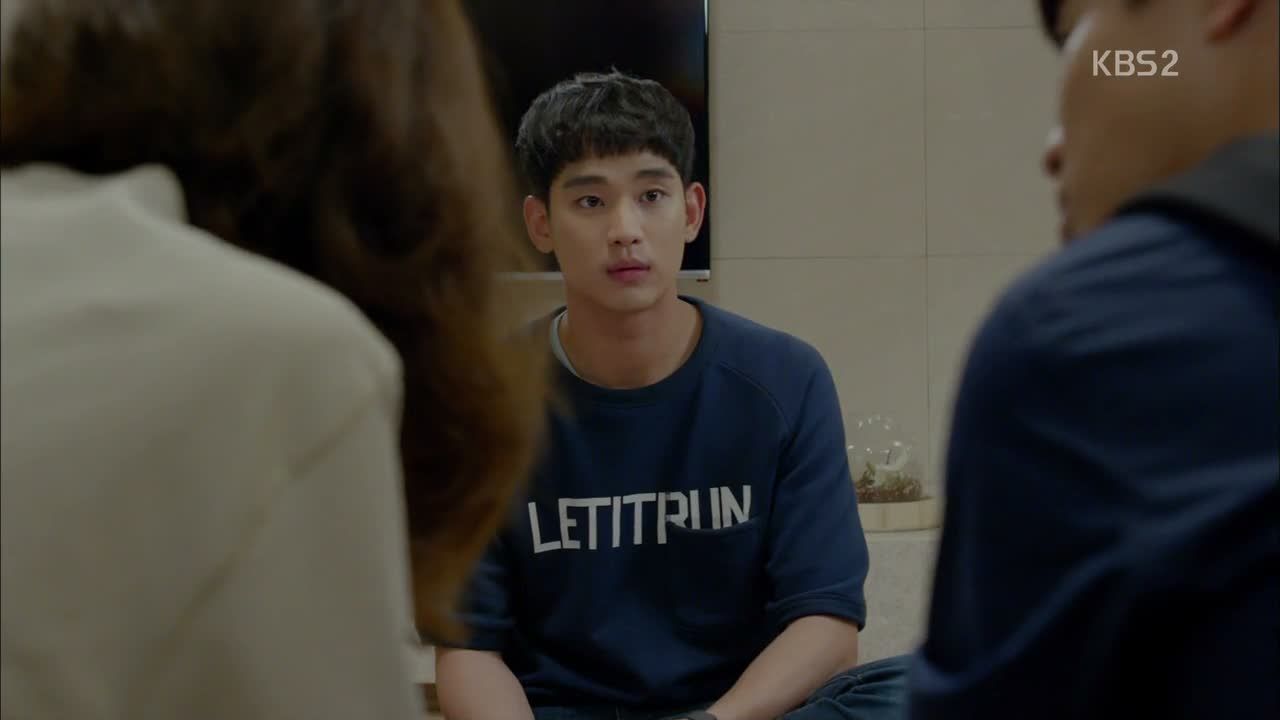 The next morning, Hong-soon lights up to hear that Office Nazi is back. He's delighted to see that she's ordering everyone to return all of the supplies that they took in her absence, until she makes him return his one ream of paper. He wants credit for only taking the one, but she shakes her head in disappointment.
Seung-chan is assigned to help out on Music Bank for the day, and when he goes to put Cindy on standby, she's back to being the ice princess and doesn't even meet his eyes when she answers.
CEO Byun comes in with her new starlet, who's actually being referred to as Cindy 2.0 now, and Cindy refuses to share a dressing room with her. She points out that she was Yuna 2.0 once… and now there's no Yuna, just her.
Cindy tells the new girl to get out and not to go around calling herself the next Cindy, but CEO Byun tells her that the name Cindy belongs to her: "You're nothing but an image I created." Wow. CEO Byun finally remembers that Seung-chan is standing there, and he manages to get some petty revenge by putting the newbie in a dressing room that isn't private.
CEO Byun even crashes Cindy's rehearsal to introduce her new singer to Ye-jin, and asks her to pay special attention and care to her new protégé, who's making her debut.
Cindy's head hangs low, but Ye-jin tosses back that she's going to put all of her care and attention on Cindy, not Cindy 2.0, and cheers Cindy on to do well for the final performance of her album. Aw, that was awesome.
We skip ahead to the end of the show, where Cindy is announced the winner, as expected (cameos by Park Bo-gum and K.Will). Ye-jin cues the cameras for Cindy's usual clipped "Thank you," but suddenly she takes the mic and starts giving a long thank you speech.
Cindy's voice starts to shake as she thanks her group members and says that she never got a chance to tell them how much she likes them, and mentions her parents who are watching from a distance. The sincerity is suddenly pouring out of her in waves, and Ye-jin wonders what the hell is going on, trying to get Seung-chan to cut her off so that they can cue the song.
But then Cindy thanks Ye-jin for looking out for her even when she made so many mistakes, and thanks her sincerely for complaining to her face but protecting her behind her back. She starts to thank Joon-mo, and Ye-jin tells Seung-chan to cut her off already.
From the stage, Cindy makes eye contact with Seung-chan as he's gesturing for her to wrap it up, and everything goes still as she says one last thank you: "And finally, to the person who held up an umbrella when I was standing alone in the rain—thank you. I wanted to say that it was really warm." She begins to sing her encore, and Seung-chan is mesmerized.
Joon-mo watches her performance on TV and sighs when CP Kim asks if Cindy's time is up, now that CEO Byun is making the rounds with a new starlet. He wonders if 1N2D will have to recast, and Joon-mo just walks away without a word.
Cindy holds her head up high as she walks backstage past CEO Byun introducing her new star, and Joon-mo takes out an old Yuna album, deep in thought.
Hong-soon and Office Nazi go to town making out on top of the copy machine, ironically wasting paper AND toner in the process! Chapter 9 is "Understanding Preemptions: It's war between what you're used to and what's new."
Seung-chan drives past a field of lighted flowers and contemplates them for a moment before running off somewhere. Joon-mo heads home with a look of determination on his face, having come to some sort of conclusion.
Ye-jin answers her phone and tells Seung-chan where she is, only to have Joon-mo find her first. They walk home together and she asks about the show that preempted his, and he calls it fresh and interesting, wondering if he should be nervous. Heh, he's not talking about shows, is he?
Ye-jin ponders it and says that his is an old established show, but it's also on the rocks lately, and a fresh new show is probably something to be nervous about. She wonders why he didn't try to block the preemption from coming when he didn't even get anywhere yet (you're telling me), but he sighs that she's right: "A preemption is a golden opportunity for someone else and danger for me."
She asks why he's taking it so hard, wondering if the pilot is that good, but then he stops and turns to her. He starts to say that she didn't spend all that much redoing the interior of her new place because it was the model home… "Let's give the deposit back. Because I don't want you to move there."
She stares dumbfounded, and he adds, "Do you not get what I'm saying? Stay at my house. I don't want you to go." Eeeee! And from a distance, Seung-chan clutches a lighted flower in his hand and looks crestfallen to be one step too late.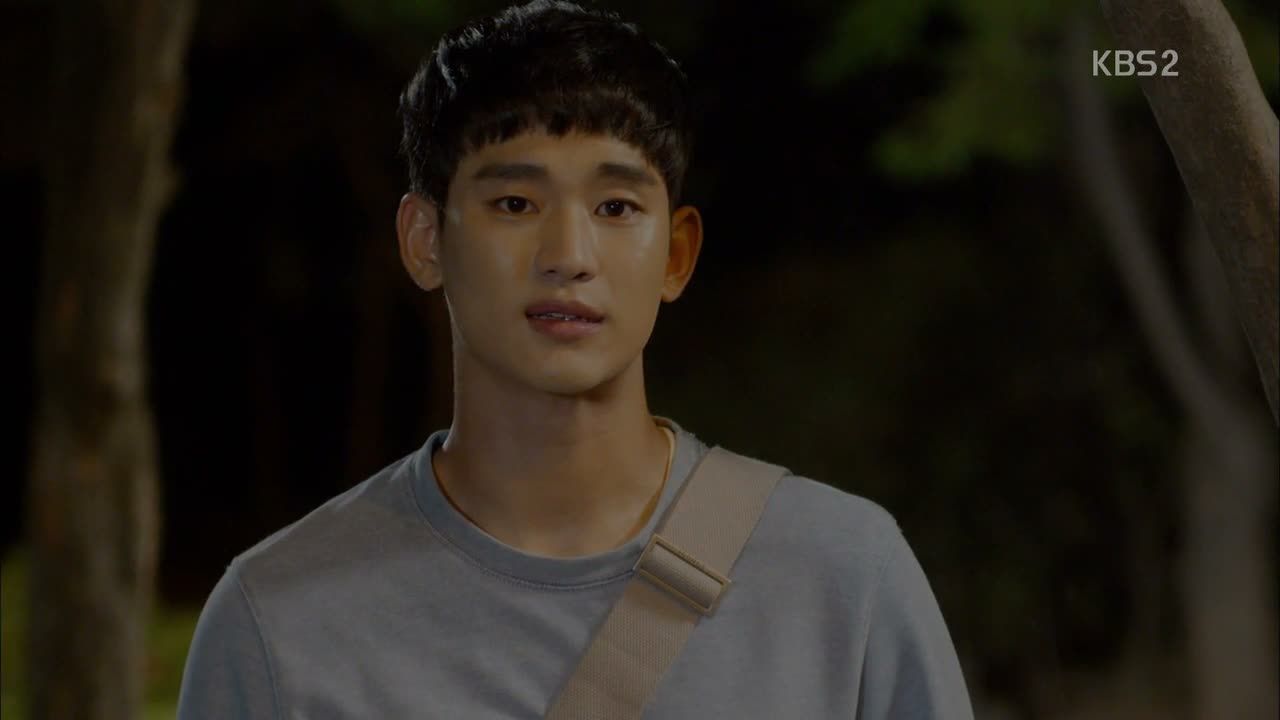 EPILOGUE
We go back to the playground on the day that photo was taken, when Little Seung-chan was captivated by the pretty noona. And then on the day she moves out of the building, she drops a drawing—the one of her that he kept all this time—and he returns it. She tells him to keep it and pets him on the head the same way she does now.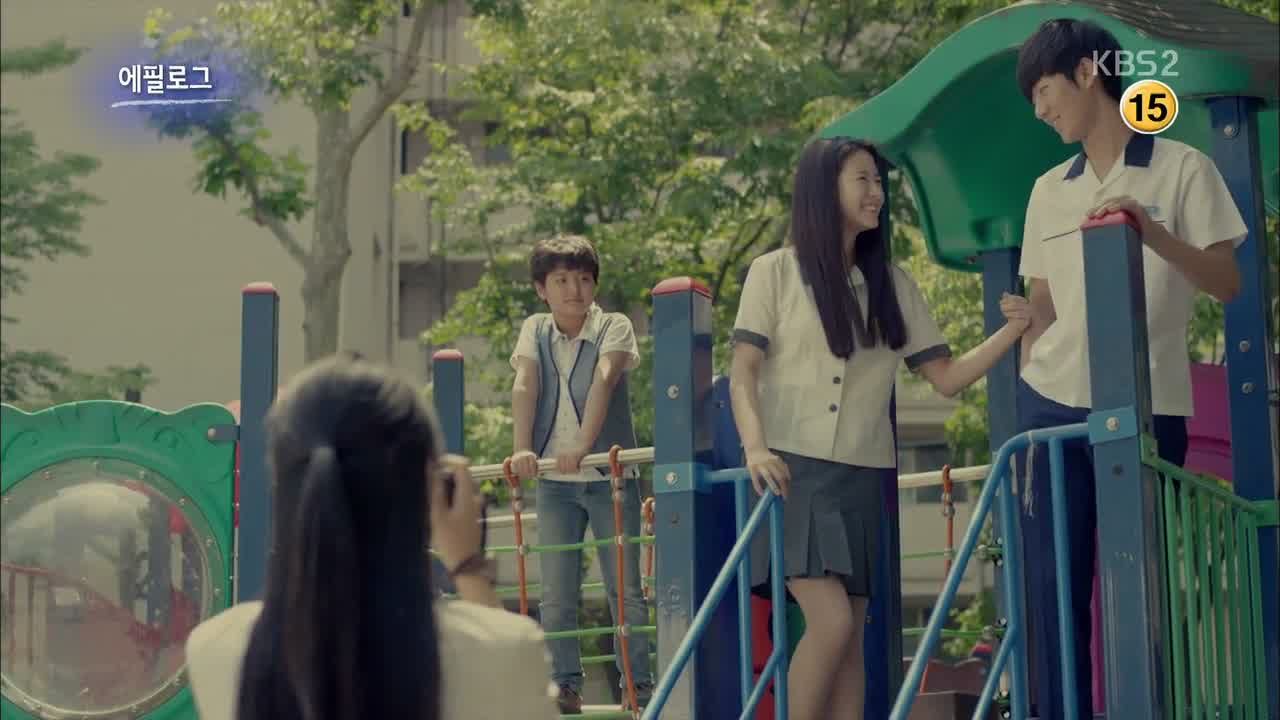 COMMENTS
Okay, I could've done without the childhood first love bit, because really, not eeeeeverything has to be fated, dramaland, and I'm pretty sure we covered our bases with Joon-mo and Ye-jin as first loves (and would guess that Joon-mo is the one who drew the sketch in the first place). But Seung-chan's reaction to the discovery is cute, because he didn't know she was the same noona from the playground until finding that picture. It makes me sad for building up his hopes though, because it's getting harder to watch his happiness grow if he's going to be crushed. Not that there isn't still a chance for a twist, but I've always thought that Ye-jin never wavered in her feelings for Joon-mo. And Seung-chan being so perfectly sweet and adorable is great, except now it's a blow every time he's reminded of what Joon-mo means to her.
I'm just glad that Joon-mo finally FINALLY stepped it up and said something sincere, because he was thisclose to losing from sheer inactivity. I can't believe he had to ask if things would stay the same between them if they married other people, but then again, I'm just relieved he even asked at all. For me the connection between his fear of commitment and failing to take responsibility for Yuna doesn't hold that much water—I see what the writer is going for, but it's more realistic to me that he's just plain scared of losing what they have now to risk a relationship and lose her as a friend too. And as obvious as it is, working through what might happen if he sat there and let Ye-jin marry another man is useful in getting him off his ass to do something about it.
Of course it's really Seung-chan's obvious crush on her that starts to get Joon-mo acting instead of thinking, because he realizes at a certain point that he could be replaced by someone. Perhaps he's never actually been afraid of this happening before, but the preemption theme worked perfectly in this case, where the danger of losing his timeslot actually made him think of Ye-jin and his established spot as her best friend. It became abundantly clear that Seung-chan had already started to take up some of that real estate while he was busy playing it safe, and he certainly needed to be jostled out of his complacency to realize that he might lose her altogether this way. Joon-mo is just plain lucky that Ye-jin is dense enough not to realize Seung-chan's feelings by now, because it's not due to anything he did that he even has this chance now to confess.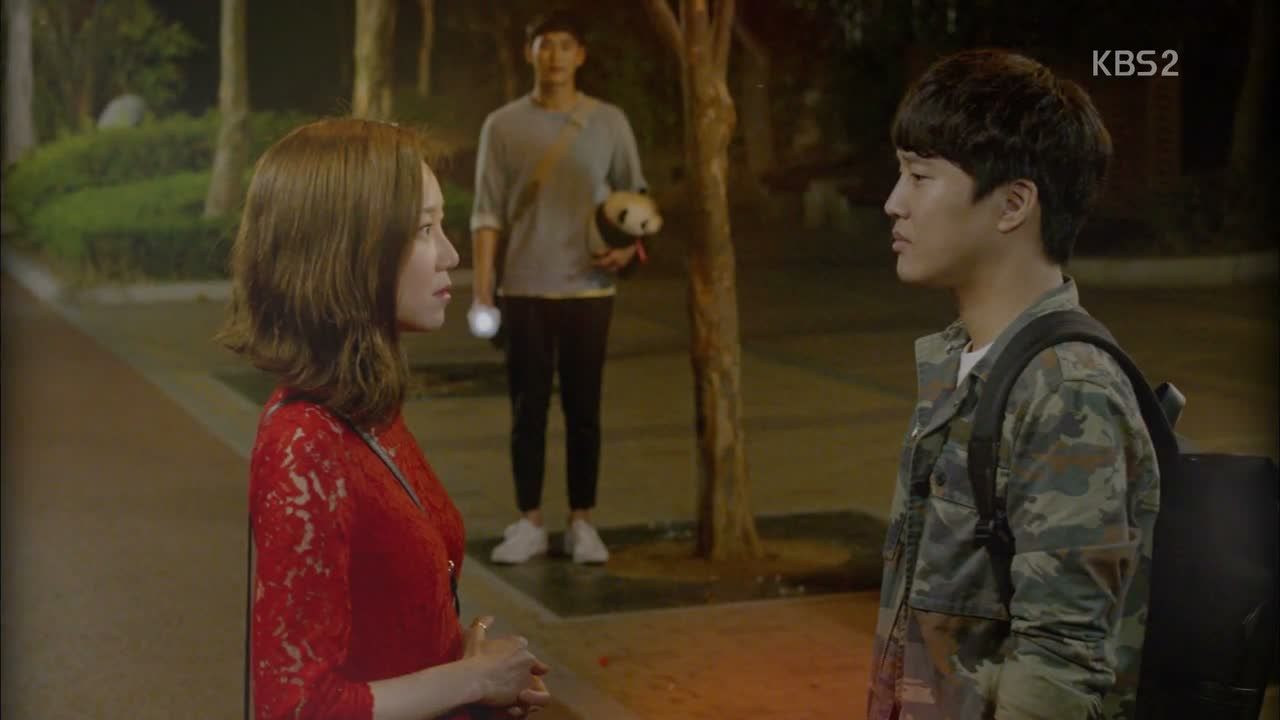 I'm going to give Joon-mo the benefit of the doubt here and assume that this first huge step means that he's not going to be so chicken-shit as to say he just meant "as roommates" or something lame like that. I'll throw something if that's the opening scene tomorrow. I do expect Ye-jin to interpret this as fear of losing her rather than love, which I would accuse him of as well—it'll just be up to Joon-mo to prove otherwise, because I do believe that he loves her, and just needed a humongous kick in the pants to get here. Prove me right, Joon-mo! I need you to be awesome to lessen the blow of puppy's pain.
What really moved me in this episode was Cindy's storyline, because her fear of being replaced was a different level entirely compared to Joon-mo's timeslot worries. She would actually be replaced and cease to exist on some level—CEO Byun goes so far as to claim Cindy's name and identity as her own creation. It's no wonder that she feels so unsure of who she is. Cindy killed me with her moments of vulnerability today, first when she was actually jealous of Seung-chan being so easily caught in his crush (more jealous that he's a terrible liar whose sincerity can't be misread, not that his feelings aren't for her), and then when she finally let her true feelings show through in her speech.
It was a beautiful breakthrough for her character, and I was really moved by how much she'd grown and how much our three other characters had influenced that change in her. Those are the moments that really get me in the heart, and Cindy has grown on me so much that now I'm angrier at Seung-chan for not noticing Cindy's feelings than I was at Joon-mo for ignoring Ye-jin's feelings. C'mon, Baek Seung-chan. Is a serenade on live television not enough to open your eyes?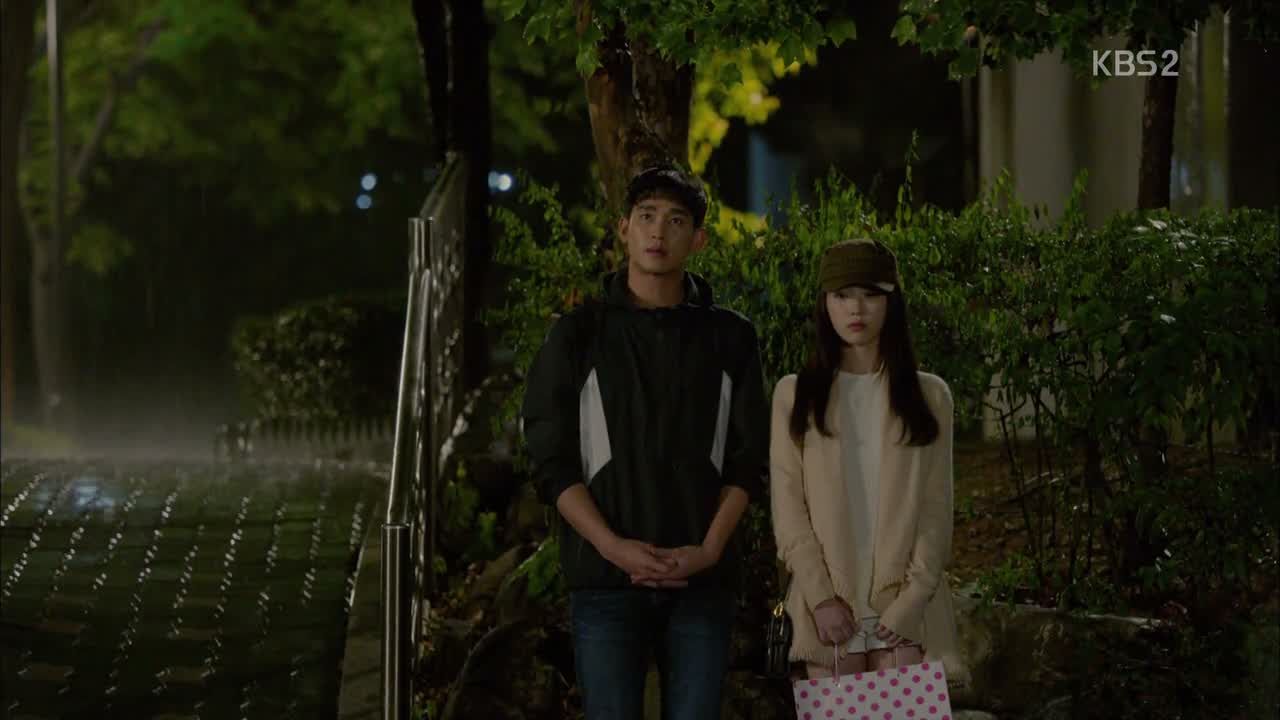 RELATED POSTS
Tags: Cha Tae-hyun, featured, Gong Hyo-jin, IU, Kim Soo-hyun, The Producers