I Remember You: Episode 13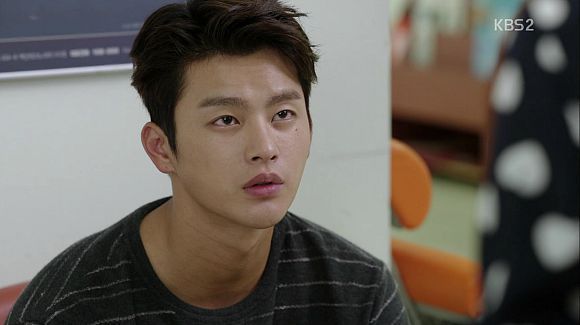 Hey guys! I'm filling in here for one episode, and boy am I excited. I Remember You is such a great drama — I've very much enjoyed watching it up to now, and I'm thrilled to get a chance to weigh in. This is a very thoughtful episode, focusing on questions such as whether or not hope is better than knowledge of loss. And what would you do if given the opportunity for revenge? Would you throw away your own life for a chance at vigilante justice? At least one of our heroes is faced with just that choice, and their decision may surprise us all.
EPISODE 13: "What choice would you make?"
Realizing that mafia boss Jo Yong-woo may not be targeting himself, but Ji-an, Hyun makes a frantic call demanding to know where she is. Suddenly feeling nervous, Ji-an whirls around, but there's only a man who walks past her with a vacant smile. Hyun makes her more nervous by demanding she stick to open streets and letting him know where she is every moment, and he tells her that Jo Yong-woo's girlfriend was killed while they were on the run.
This means he has to admit that the killer is targeting those Hyun cherishes, and of course Ji-an focuses on the word "cherish." Hyun just hangs up on her, which is so cute, and Ji-an gets a bit smiley and giggly before she slaps herself back to reality. And then goes right back to giggly.
Hyun has another realization and calls Lawyer Jung, who ignores the call. He leaves his empty office, but at the elevator he suddenly finds a knife at this throat. Eek! The man holding the knife urges Lawyer Jung into the elevator with it, and the doors close.
This must be Yong-woo, and he takes Lawyer Jung to an empty room in the building. Lawyer Jung actually smiles at the thought that he's one of Hyun's cherished people, but he murmurs to Yong-woo that he's mistaken. Yong-woo ignores him and calls Hyun, inviting him to come watch his little brother die.
While he's busy talking, Lawyer Jung takes advantage of his distraction and quickly attacks, easily holding his own even without a weapon. Hyun hears the scuffle and rushes to the office building, while Team Leader Kang and Myung-woo find Ji-an. They tell her that Hyun went to see "some girl named Min-ah," but she remembers Hyun calling for "Min-ah" in his sleep, and realizes that he's found his brother.
Still grappling with Yong-woo, Lawyer Jung is stabbed in the stomach, and he's bleeding pretty badly by the time Hyun reaches the building. He collapses, and Yong-woo grabs a piece of rebar to impale Lawyer Jung just as his girlfriend was killed. Thankfully Hyun finds them, and distracts Yong-woo.
Yong-woo says that ever since his girlfriend died, he lived looking forward to his revenge on Hyun's father — but then he died. So shouldn't that debt be paid by his sons? Hyun just laughs in his face, and says casually, "Kill him."
He tells Yong-woo that he's misinformed… he never looked for his brother for twenty years, or even remembered him. Why should he care what happens to him now? If he kills Lawyer Jung now, Hyun says he won't even care all that much.
For a moment, it seems as though Yong-woo is falling for Hyun's reverse psychology, but then he smirks that Hyun's act just proves he chose the right person. He pulls his arm back to stab Lawyer Jung — and is shot in the arm by Ji-an. Yong-woo makes a run for it with Ji-an hot on his heels, while Hyun rushes to his brother.
Ji-an follows Yong-woo out of the building and down the street, but he manages to circle around behind her. He gets close enough to grab her, but Team Leader Kang shows up so Yong-woo slips into the shadows. He slinks away, but soon he's joined by an ominous shadow.
In the ambulance, Hyun clutches Lawyer Jung's hand and fights the urge to burst into tears. He waits anxiously while he's in surgery, and Ji-an joins him to apologize for losing Yong-woo. He asks her how she knew where to find them, and she tells him she had a hunch when she found the picture she took of him with Lawyer Jung in the background. Hyun smiles at the proof that his brother really was watching him.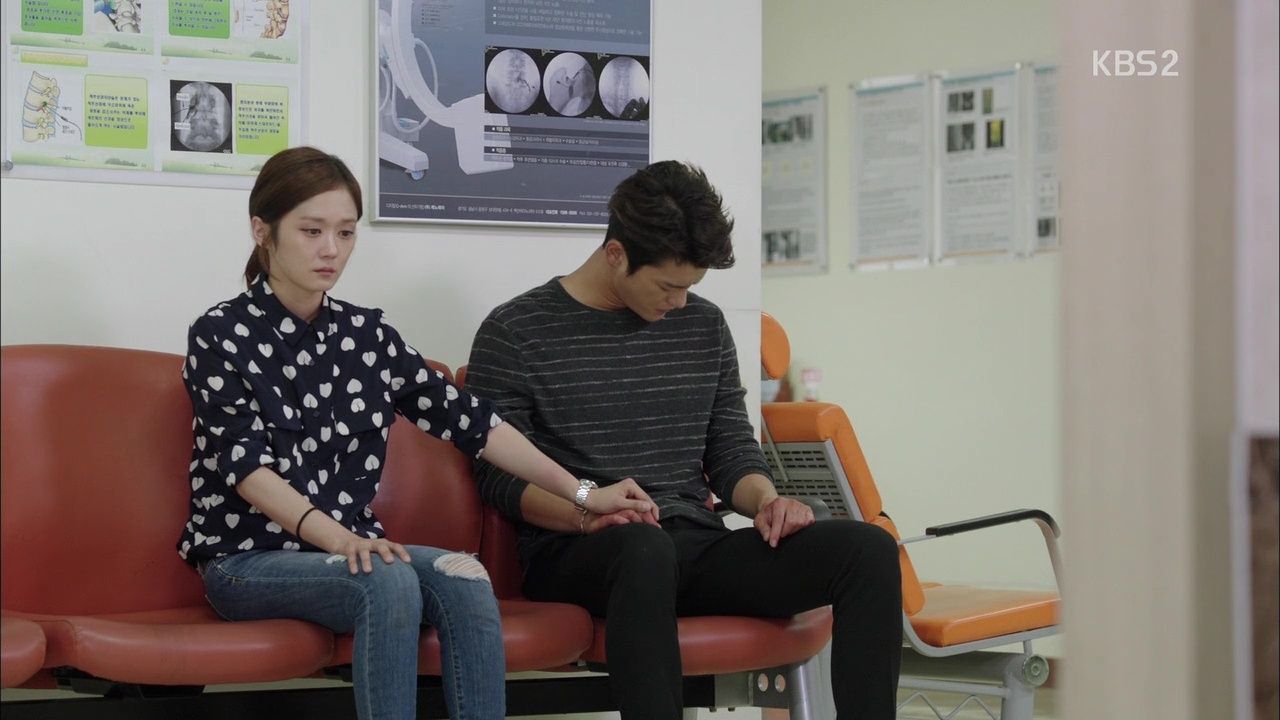 Ji-an asks if Lawyer Jung is Hyun's younger brother, but he deflects, asking if she's okay and telling her that they aren't sure if Lawyer Jung will make it. Ji-an assures Hyun that he'll definitely be okay. She silently takes his hand in support, and Hyun finally cries.
Team Leader Kang finds Ji-an in the hall and tells her that Yong-woo escaped, and he starts to ask her what happened but stops when he notices her haunted expression. Apropos of nothing, she tells him that she doesn't like being a cop, and thinks to herself that she'll have to arrest Hyun's brother someday.
To Kang, saying she's just feeling whiny for getting beat up yet again. He doesn't look like he believes it, but he plays along. He tentatively invites her to let him know whenever she's having a hard time, and he'll try to help.
Hyun hovers over Min when he gets out of surgery, and he's asleep from exhaustion and still clinging to his hand when Min finally wakes. Min frees his hand and reaches out as if to touch Hyun's face, but pulls back at the last moment.
His shields slam up when Hyun wakes, even in the face of Hyun's overwhelming relief that he's okay, and he answers Hyun's questions with short snappish responses. Hyun assigns Indebted Friend to watch over his brother until Yong-woo can be found, and interestingly, Min doesn't object.
Indebted Friend objects very strongly, because he recognizes Lawyer Jung as one of the possible murder suspects he was investigating. Hyun says he's asking a favor, and Indebted Friend whines back, "I'm asking you a favor not to ask me a favor!" Hee.
He introduces himself nervously to Lawyer Jung (Hey, he has a name! It's Na Bong-sung), but Jung smirks that he knows who he is, because he's been watching him. But he thinks to himself that it's really because he's been watching his hyung. Awww.
The team needs to figure out which phone out of the hundreds that were in the area at the time of the homeless man's murder was Jo Yong-woo's, so they can track his location today — it's a daunting task. Hyun actually cringes when he admits that he already has Yong-woo's phone number. The other guys' bellows of irritation are hilarious, ha.
They track Yong-woo's phone to the same abandoned building where the homeless man's body was found, but it's deserted. Team Leader Kang notices a length of rebar suspiciously sticking straight up out of the ground, and when Hyun calls Yong-woo's cell phone, a ringing comes from under the rebar. Found him.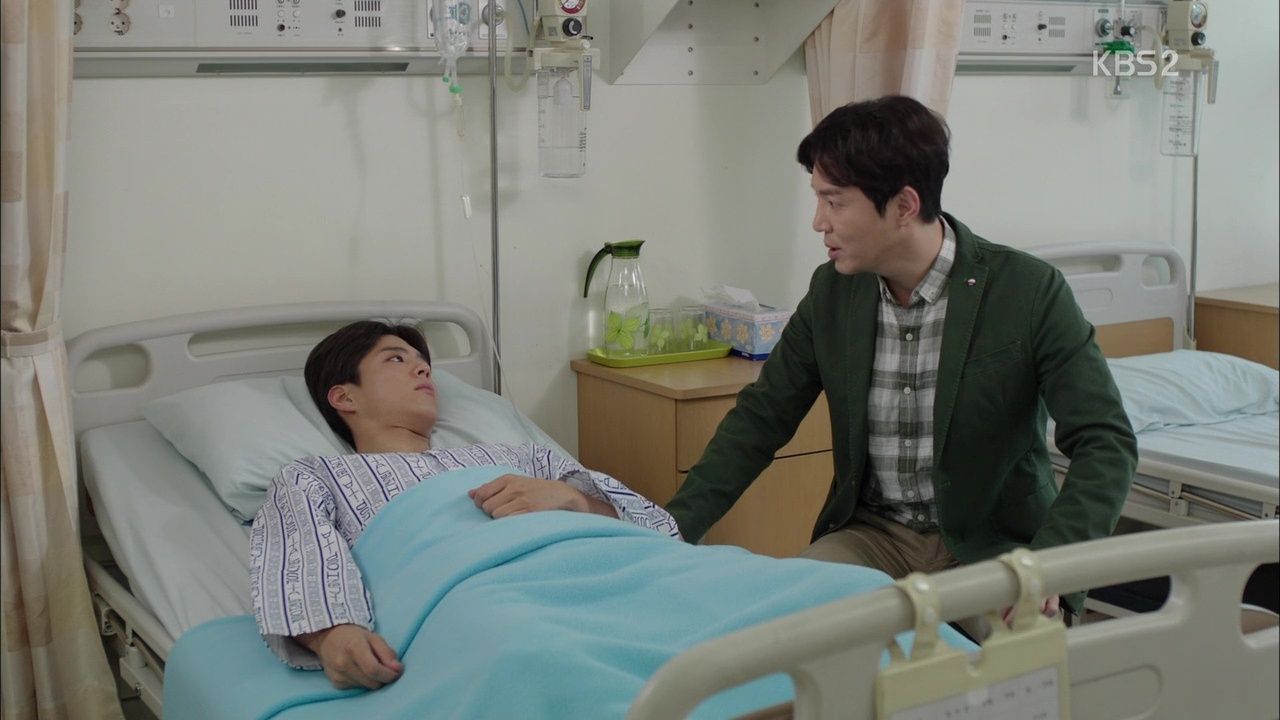 The team uncovers Yong-woo's body enough to confirm it's him, and that he was pierced by the piece of rebar, the same way as his girlfriend and the homeless man.
Joon-ho shows up at the hospital, and Indebted Bong-sung recognizes him as another murderer candidate. Lawyer Jung isn't any more interested in talking to Joon-ho than he was Hyun, but Joon-ho tenderly brushes his hair off his face and says this reminds him of the past. He'd often stayed up all night when little Min had fevers.
Lawyer Jung finally speaks, to ask if it was Joon-ho who gave his information to Jo Yong-woo. Joon-ho asks in turn if Lawyer Jung doesn't like that Hyun is looking after him, since he'd wondered about his hyung's feelings towards him.
He smiles that Lawyer Jung's curiosity is answered, and Jung snaps that Joon-ho's curiosity is answered as well. Is Joon-ho saying he did it for Lawyer Jung's own good? Joon-ho starts to deny it, but he's interrupted with a question, "My hyung… did he really abandon me?" Joon-ho says they'll talk when he's recovered.
Lawyer Jung recalls Hyun's making him promise that if he kills anyone, it will be him, and tells Joon-ho that he's been thinking. If he kills someone one last time, "It will be you, Uncle."
The tense moment is broken by Hyun's arrival, and Joon-ho insists on leaving them alone. Hyun notices a wound on Joon-ho's hand, which Joon-ho claims is from doing yard work. He says he took care of Hyun's tree while he was at it, and mentions how well the trees have grown while Hyun was gone, with a pointed look towards Lawyer Jung.
With another pointed look, Hyun says he'll take care of his own trees from now on, thankyouverymuch. Joon-ho says he feels disappointed, but Hyun retorts that since he didn't ask him to look after the tree, he feels no need to express gratitude. The tree in question just smiles at that.
We go back to Yong-woo in the alley, being trailed by a large shadowy person, and now we see that it was Joon-ho. In the morgue, Joon-ho contemplates the body. He's joined by Hyun and Ji-an, but Joon-ho says the body is so bruised that he won't know the exact cause of death for a while yet.
Hyun smirks that according to the injuries, all sorts of modus operandi were used, as if the murderer wanted to hide his identity. When Joon-ho is all Oh is that so?, Ji-an notes that it's strange that a skilled doctor like him didn't think of that already, earning funny looks from both men in the room.
Ji-an guesses there won't be any DNA on the body, since the murderer is obviously skilled, though she muses that in the end, he's still just a murderer. Once they're out of Joon-ho's earshot, Hyun rounds on Ji-an, and she admits that she thinks Joon-ho is Lee Joon-young.
Hyun starts to tell her she shouldn't antagonize Joon-ho, but she stops him — if Joon-ho really is Joon-young, then he already knows of her suspicion, since she told him about her father. Hyun asks why she's provoking him then, and she says she's showing him she's not scared. Unable to say anything to dissuade her, Hyun gives in.
The team is stuck for ideas on why Yong-woo would have been killed with his own revenge method. Ji-an actually posits to Hyun that maybe Lee Joon-young killed him (and I love how the show hangs a lantern on the "crime of the week" format, when Ji-an says they'll eventually see all of the world's murders as done by Joon-young, HAHA).
Hyun hasn't asked Lawyer Jung about Joon-young yet, because he didn't want to push him too much. He's noncommittal when Ji-an asks if he will someday, and Ji-an sighs that they'll need Lawyer Jung's help if they're to prove that Joon-ho is Joon-young.
Ji-an confesses that when she first became a cop, she looked up Joon-young, discovering that strangely, his fingerprints matched another criminal's. Somehow, his fingerprints were erased from the system and replaced with someone else's — so even if they find him, there will be no way to prove it's him.
Hyun huffs in annoyance, then has a sudden memory of holding Joon-young's hand when they told their secrets. He thinks to himself that there's a way to tell if it's Joon-young even if it's only a one percent chance — but he can't quite put his finger on it.
Team Leader Kang calls Ji-an and Hyun back to the station, wanting to hear Hyun's take on Yong-woo's murder. Hyun gives them the quick-and-dirty version, but in his haste, he accidentally says that Yong-woo went after Ji-an because he was trying to kill the person most dear to Hyun… and everyone in the room goes all Whut??
Hyun tries to spin it that it's just that she's the only person he knows in Korea… other than them, who score pretty low on his Care Meter. When they're done squabbling over who has the highest score, they wonder why Lawyer Jung was the one who was ultimately attacked.
While making his exit, Hyun runs into Deputy Chiefs Kang and Hyun, and he tells them about Joon-young's fingerprints having been switched. Kang writes it off as a simple clerical error, but Hyun clocks that this means Deputy Chief Kang knew about it.
Deputy Chief Kang plays dumb, and Hyun says he didn't expect an immediate confession. He asks Deputy Chief Hyun what she did with the real fingerprints, since she wouldn't have erased them, and her awkward silence says it all. He gives her one last chance to do the right thing, and she says she just wants a chance to explain — she's been in Hell since Joon-young escaped, too.
He doesn't believe it, since she gained so much information from Joon-young that benefited her career, and informs her that she won't be seeing understanding or forgiveness from him. As he turns to go, she says she saw his ad in the fishing magazine and asks if Joon-young answered. He snaps that yes, he did, and that he was someone close to her.
Outside the door, Team Leader Kang listens in, and wonders who Joon-young turned out to be. He's nearly caught when Hyun storms out, but Myung-woo (kinda romantically) swings him around the corner, muttering that if you're going to eavesdrop, you'd better be quick about hiding.
Hyun visits Min, who's picking dejectedly at his lunch, and just quietly sits and starts feeding him. Min objects but loses the battle, and submits to Hyun's brotherly attention (keeping up his grouchy face but looking more childlike than ever). Hyun smiles at the opportunity to care for his little brother.
Hyun takes him out for a walk and asks him about inconsequential things, like whether he cooks or eats out, and what he does on days off. Min is a loner, and Hyun says he was like that too — but the past tense doesn't escape Min, who says he's got someone now. Hyun says Min's is past tense too, because he has him now. Oof.
He admits that he bought his current identity from someone who didn't need it anymore, and Joon-ho must have done the same because he meets a homeless man and asks if he didn't used to be Lee Joon-ho. The man doesn't answer, and Joon-ho leaves him a drink before he goes. Back at home, Joon-ho marks a spot on a map, then wraps the map along with a card in a gift box. Hmmm.
The team celebrate Ji-an's birthday with cake and gifts, but they're interrupted by a delivery, and everyone looks a bit nervous. They hold the deliveryman until the gift is opened, and it's the map from Joon-ho. Ji-an recognizes the marked spot as being her old neighborhood. She asks the deliveryman if he saw who sent the gift. He says a kid brought it for delivery, and a now-serious Ji-an tells them to let him go and get a cadaver-sniffing dog ready.
It's Min who tells Hyun that today is Ji-an's birthday, and he gives Hyun grumpy permission to go. His little smile when Hyun decides to stay with him is so sweet.
Right at the marked spot on the map, the dog alerts to a buried body. It's been there long enough that only bones are left, and Ji-an finds an old pocket watch with a photo of her and her father when she was a child. That's the worst birthday "gift" ever.
She struggles to hold back her tears as she tells Team Leader Kang that this seems to be her father. She remembers telling Joon-ho that sometimes it's kinder to tell the family that their loved one has died, to stop their painful hope, and how he'd said he always thought hope was better until now.
Team Leader Kang briefs Deputy Chief Kang on the situation with Ji-an's father, and it seems to be news to Deputy Chief Kang that Ji-an's father was one of the guards who was there the night Joon-young escaped. Team Leader Kang says that if Ji-an's father was killed near the time of Joon-young's escape, there's a very high chance that he was innocent.
Team Leader Kang says he's going to make this case his priority. As he's leaving he starts to ask his father something, but he decides that Ji-an's case is more important than whatever he was going to ask.
Ji-an stares at the watch with her father's picture, and her teammates hardly know what to say to her. Hyun finally shows up and asks what's happening, and his face falls as Eun-bok explains. Myung-woo gruffly tells Ji-an to just cry, but she only says quietly that for twenty years, she'd wondered how she would react if this day came. Hyun takes her to his place, telling her to stay for just today.
Lawyer Jung is discharged from the hospital, and I love that he calls Hyun to let him know. Joon-ho invites him to stay with him for a while, having already gone shopping for healthy foods. He calls him "Min" for the first time and says he's his family, though Lawyer Jung doesn't look as though he enjoys hearing it.
Ji-an remembers the day her father took the photo that's in his pocketwatch, and relives other memories of how close they were. She tells his picture that she doesn't remember the last time she spent with him, what they did or when it was. She apologizes that she didn't remember, because she didn't know it was the last time. Hyun finds her just as she's breaking down, and holds her in his arms while she sobs.
Later, Ji-an remembers Dae-young (the young man who avenged his mother's and sister's deaths) asking her if she'd met the person who killed her father. He'd told her that, until she looks them in the face, not to assume to know how she would react.
She says to herself now that he was right, as she pulls her gun out of her bag. Just next door, Joon-ho and Lawyer Jung are arriving at Joon-ho's home, and Ji-an's face takes on a hard cast as she strides determinedly out the door.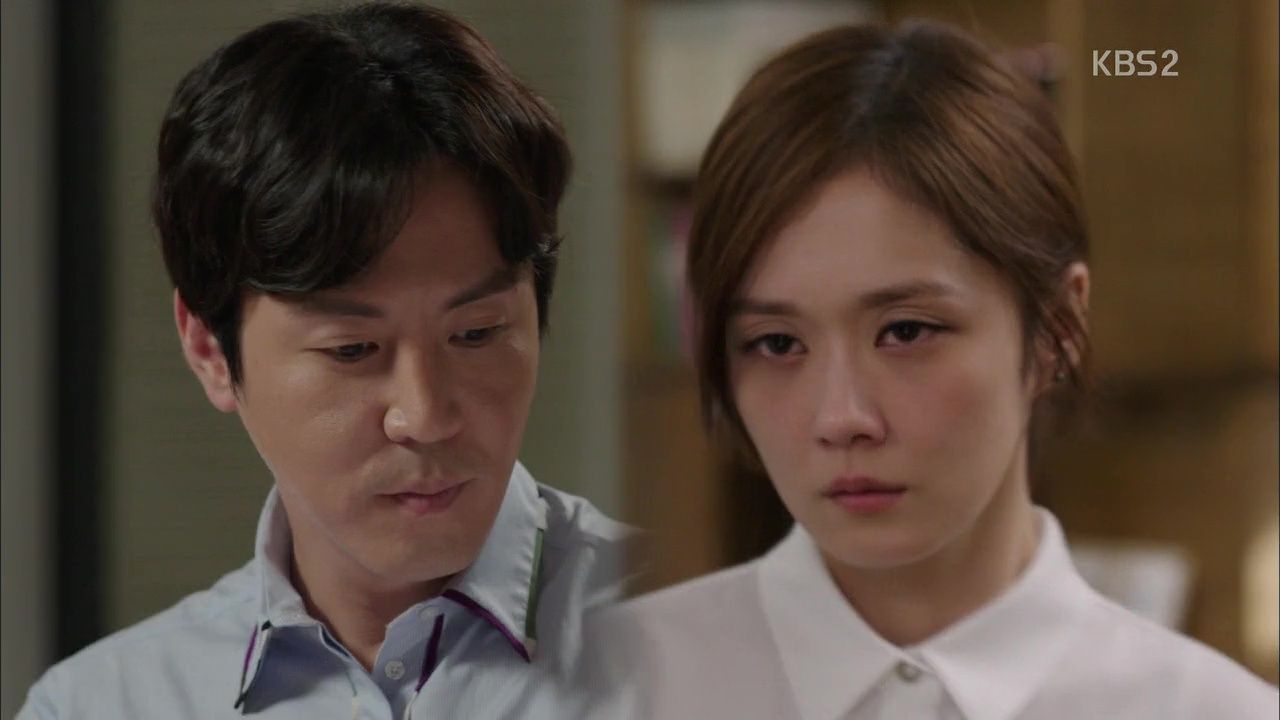 COMMENTS
No, Ji-an, don't do it! I don't think she will, because it would be horrific if she succumbed to the urge for revenge while she's still in the throes of raw grief. Hopefully Hyun isn't far away, and has time to stop her. Fighting violence with violence isn't the way, and she knows it, she's just hurting too badly right now to think straight. Find her and stop her, Hyun!
The best thing about this show, for me, is the relationships and how dynamic they are. They grow and change, break and mend, shift and ground. The cast is so amazing and the chemistry between everyone is so strong, that I find myself caring more about the relationships than anything else. I especially love Hyun and Ji-an's growing friendship, more even than the tinges of romance that are starting to crop up. We as drama-watchers are used to seeing a man and woman fall in love onscreen, but what we see more rarely is watching a man and woman fall in like, and I love how Hyun and Ji-an are genuinely growing to like each other.
It's interesting because, though Ji-an knows so much about Hyun personally, she's never spent any time with him… so her emotions when it comes to him are a real surprise to her. And he, of course, disliked her on sight, so his gradual reluctant shift as he grows to care about her is really very fun as well as sweet. But I almost wouldn't even care if they fell in love — though I know that's where they're headed — because seeing them become best friends is so satisfying all by itself. He doesn't even seem that reluctant anymore and is getting more comfortable with the idea, as if their caring for each other is the most natural thing in the world. He's even letting her comfort him, and comforting her in return.
But more dramatically, Hyun and Min's evolving relationship is killing me quite dead. I'm a sucker for a good bromance, but when it's true brothers involved and their past is so woven through with hurt and betrayal and guilt, I'm toast. Both of them are in such pain and so damaged, and want so badly to reconcile, but are finding their own emotional scars difficult to move past at this point. What's worse is that neither of them are truly to blame, but were too young at the time of their separation to really understand what happened, and that's carried into the present with such weight that it's heartbreaking.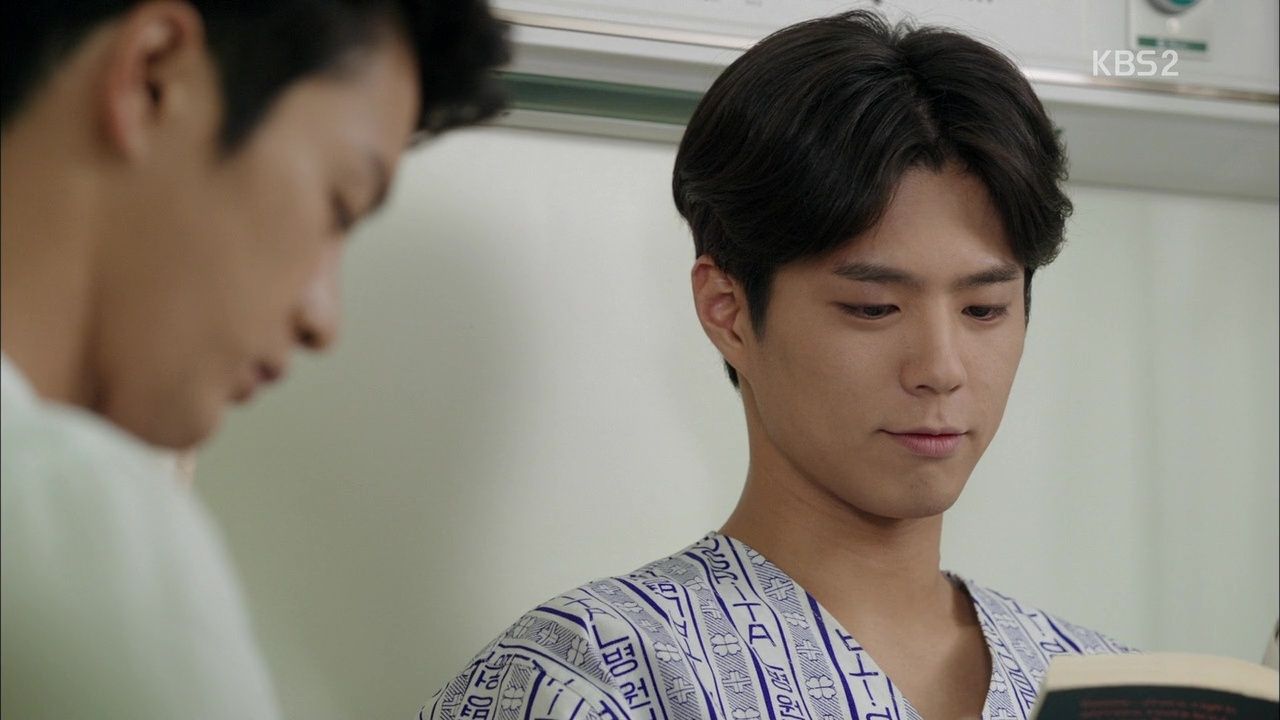 I love Min as a character so much, because while he's undeniably an evil murderer, he also breaks my heart so easily. He can be so creepy and ominous one second, then a few seconds later he's a lost little boy who just wants his hyung to love and protect him. I want so badly for him to repent and be redeemed, but can someone who's killed at least nine people ever really be redeemed? It's difficult to hate him when he's finally letting Hyun be a brother to him, and he looks about twelve years old as Hyun attentively takes care of him. His tiny happy moments when Hyun chooses him, especially over Ji-an, just rip my heart out — deep down (well, not even really that deep down) he's still a child who idolizes his hyung and wants him to love him the most. I want to hope that finally receiving his brother's love will cure him of his murderous tendencies, since he only ever killed out of feelings of abandonment. How great would it be for Min to be healed by the knowledge that Hyun never turned him over to Joon-young, and has always loved and missed him? But you can't just gloss over nine murders with a little brotherly love, and I fear the show won't let him off that easily.
Joon-ho/Joon-young on the other hand, is such a mystery, because there are times when he appears to have compassion and empathy. His gift to Ji-an was horrific, but yet it was an act of mercy, at least from his perspective. She'd told him that the neverending, painful hope can sometimes be worse than knowing the truth, and so he gave her the gift of the truth. In a way, it was a caring thing he did for Ji-an, by giving her closure from her twenty years of agonizing hope.
But don't get me wrong, Joon-ho is in no way less of a monster because of it. Even serial killers have friends. He's still a monster, and no doubt about it — he's just a complex monster who, on some level, does have his caring moments. He raised little Min after all, and even admits to spending nights nursing him back to health when he was ill, and caring for him. There seem to be people who can get through to Joon-ho, and make him care about them. I believe that he cared about little Hyun too, as something in their first interaction led him to believe that Hyun wanted his father dead, so he took care of it. Then he actually raised Min when he had no obvious reason to do so, and while I have no doubt there was an element of "raising the next generation of monster" about it, I do see flashes that he actually cares about him (killing the man who tried to kill Min not least of those things).
What I love about this drama is that it's unpredictable, and actually makes us wish for things that are most certainly impossible. There's no way that Min will be cured of his psychopathy, and allowed to live a normal life with his brother. And yet it feels as though there are more surprises in store for the audience – at a point in a show when I'm usually ready to discover all the secrets and wrap things up, I'm actually wishing we had more time with these characters to learn even more about them. It's exciting to feel as enthusiastic about a drama at the end as you felt at the beginning, and I can't wait to see where it all ends.
RELATED POSTS
Tags: featured, I Remember You, Jang Nara, Seo In-gook