I Remember You: Episode 15
We've reached the eve of the finale, and our beloved show doesn't waste a moment to develop our story, complex characters and all. Being reunited with two monsters brings Hyun a load of troubles along with some answers, all piecing together to amend Hyun's fragmented memory. Though Hyun knows too well what fate lies ahead, his faith in his brother's transformation seems to blind him from the inevitable. Keep your friends close and your enemies closer, but remember who you can trust.

EPISODE 15: "Is a happy ending possible?"
Trying to buy Ji-an more time to search through Lee Joon-young's room, Hyun tells Joon-ho that he knows who he is. Joon-ho confirms his identity by taking Hyun's hand to check his undetectable pulse, a déjà vu moment for Hyun. Meanwhile, Ji-an tries to escape with a few photos from the album, but she's met with Lawyer Jung (and his creepy smile) as soon as she exits the room.
Hyun finally recalls his interaction with Joon-young in his youth. And he thinks to himself, "After going around in circles, I've finally come to this point." He's overcome with a strange feeling that everything he's done — his interview about his understanding of the critical period, his visits to Korean — has been for this moment.
Joon-young silently replies in his head, "I know." He thinks back to the proud moment when he read the interview, realizing that Hyun still remembered him.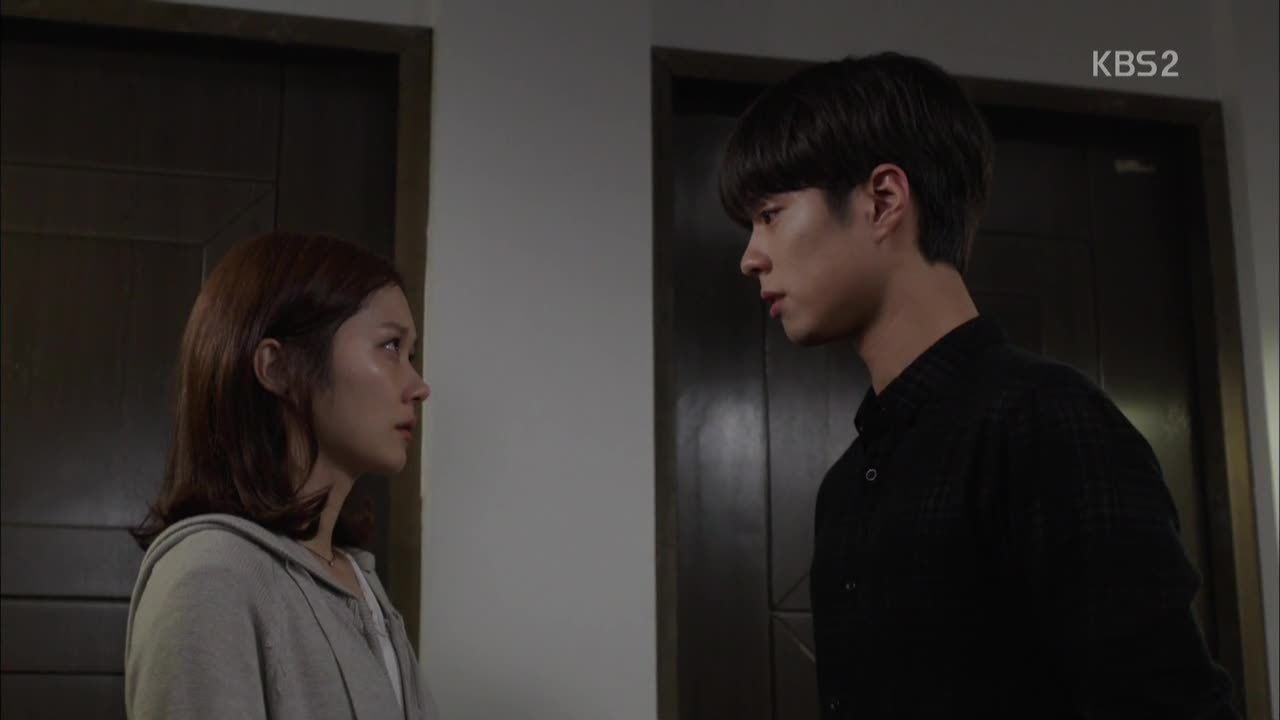 Ji-an agrees with Lawyer Jung that they've indeed run into each other in an unexpected location. She tries to leave, saying that she'll come back when Joon-ho returns, but Lawyer Jung blocks her way.
He warns her that he'll know what she took and who took it. He walks towards her threateningly and looks at her curiously. "You must not be afraid of getting hurt or disappearing from this world."
Joon-young asks why Hyun wanted to meet him, and Hyun admits that he initially wanted to know who he was, why his father called him a monster. But he's figured that out. Now he's curious why Joon-young did all of this. Why he killed his father, why he kidnapped his brother, why he made Min his protégé, and what he wants from them.
Joon-young senses the resentment, and Hyun spits out that he has no reason to be thankful for something he never asked for. Hyun realizes that Joon-young must have done everything with good intentions, but the impact was the exact opposite. Joon-young claims that Min would have been too much to handle for Hyun at such a young age, but Hyun refutes his point. Had Min stayed with Hyun, he may have had the opportunity to grow up normally.
Lawyer Jung confronts Ji-an about the stolen items and asks politely for Hyun's sake. It's his last call, but Ji-an comes out strong as well. For Hyun's sake, she asks for the last time that Lawyer Jung cooperate to help them catch Joon-young. He needs to escape him too, right?
Joon-young tells Hyun that they have lots of time ahead of them, so they should address each issue gradually. Hyun smirks at the idea, and Joon-young says that he should be heading home now. He knows that Hyun has been stalling, and he's played his part long enough.
Before Joon-young leaves, Hyun grabs his wrist and says that he's not done. Joon-young gets up close and seethes that he doesn't want to be disappointed anymore today. "Because I thought you of all people would know. You would…" He doesn't finish his thought and goes on his way.
Hyun immediately calls Ji-an, who shows Lawyer Jung the call as a signal to leave. He grabs her wrist, and Ji-an requests that he let her go. After a tense moment, he suggests a different exit route. He smiles as he lets her go, but as soon as she leaves, his smile drops into a stoic glare.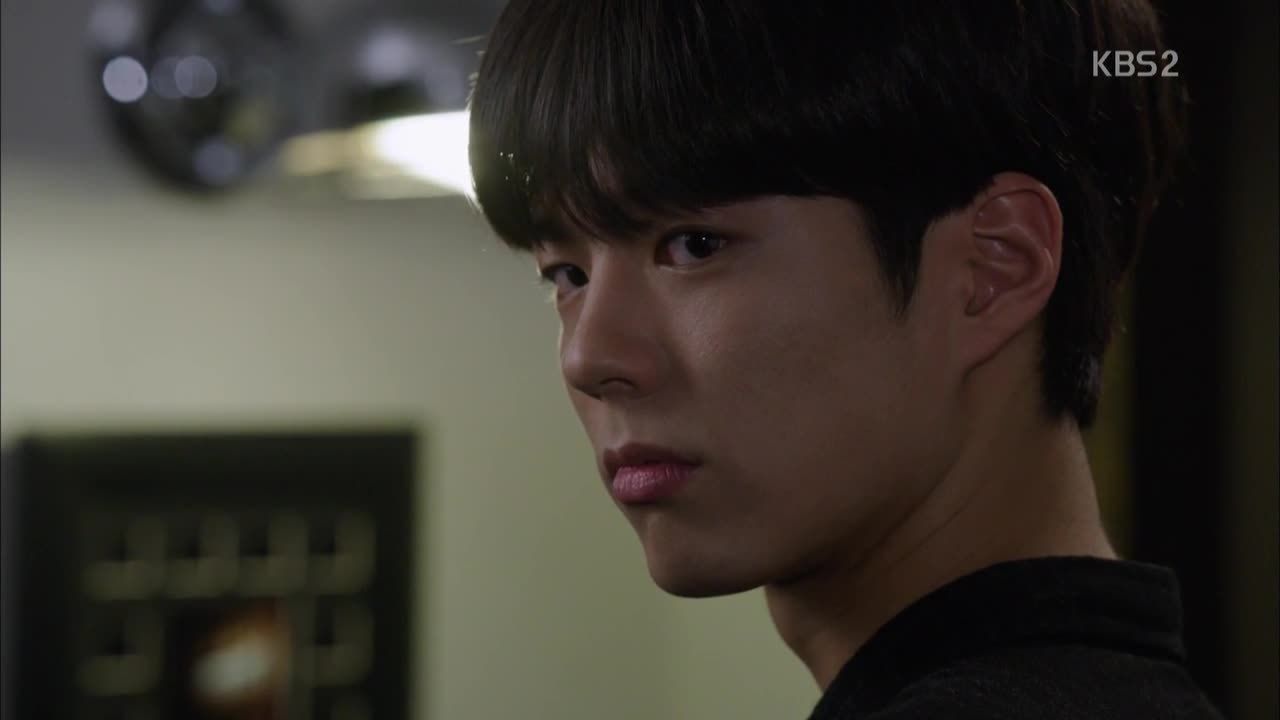 Ji-an runs into Hyun outside, and he scolds her for her brazen actions. She knows it was foolish, but she was afraid the room would be gone, along with their last strand of evidence. He still chastises her for her recklessness, but that recklessness has given them evidence. She shows him the pictures of the children.
At home, Joon-young tells Min that Ji-an took the picture of "that child." But Min comforts him in saying that there's only so much they can find with a picture.
Ji-an tells Hyun that there was a full album of photos but she just grabbed a few because she was in a rush. Joon-young will find out soon enough, but these children's photos are essential evidence. Who are these children? Possibly the children Joon-young killed?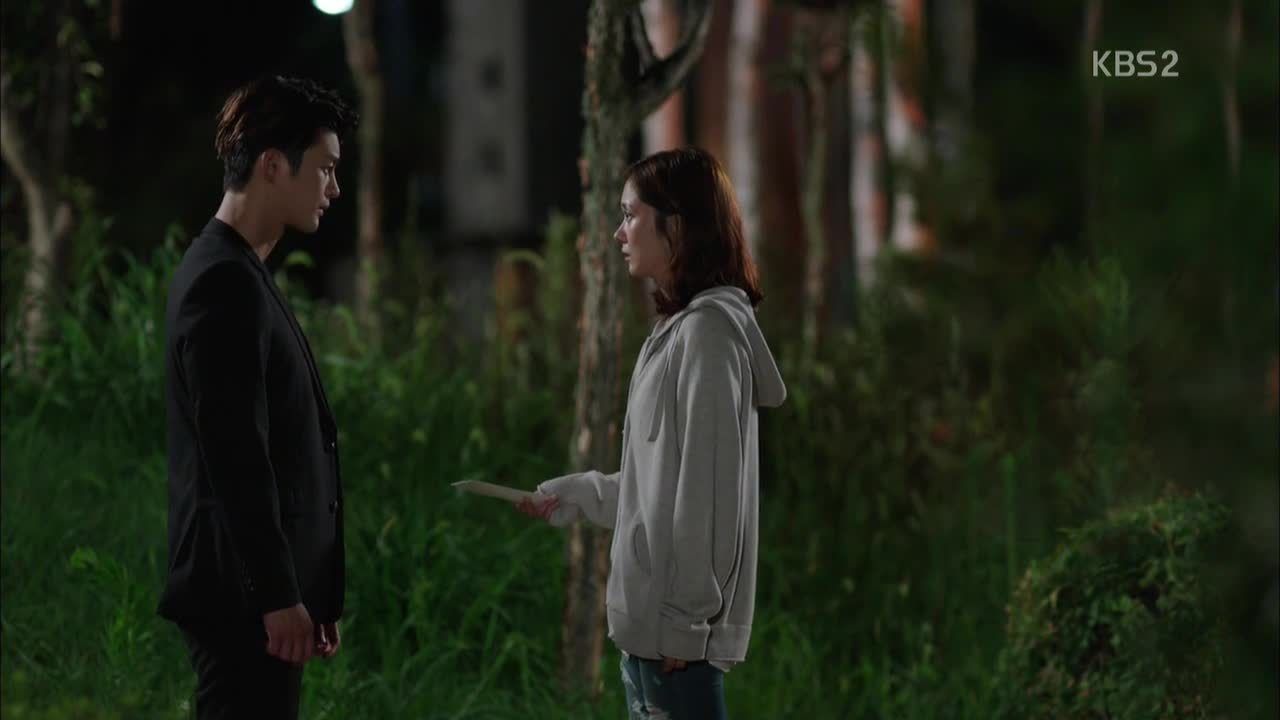 Hyun corrects her assumption: These are children that Joon-young saved. Thinking back to Joon-young's own story, Ji-an realizes Joon-young's motive to save the children, but that doesn't wipe away the murders he committed. He warns her not to do this ever again, and she nods in agreement. The problem is, she's already been caught by Hyun's brother, Min.
Joon-young brings Min a cup of tea and brags that Hyun remembered him. Min responds by saying that he figured out that Joon-young lied to him about Hyun abandoning him. Joon-young tries to avoid the topic, but Min presses on: Why did he lie to him for 20 years?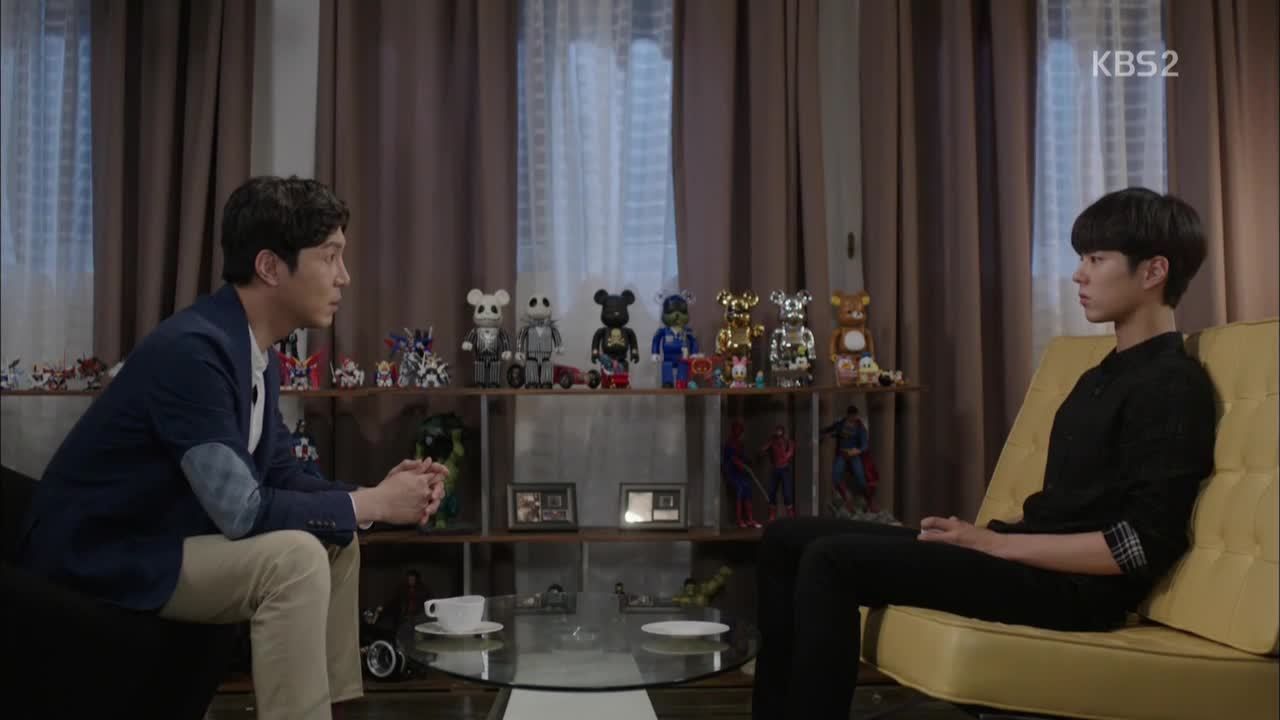 Joon-young admits that 20 years ago, he believed that Min would be a hindrance to Hyun. He didn't intend to take Min, but when Min was conveniently hidden in his car, he decided it was fate. Joon-young recognized him right away, who he really was inside.
Then he plants another seed of suspicion in Min's head: Is Hyun really happy to have him back? He tells Min to carefully examine Hyun's face to see if he is really happy. Though they may seem alike, they are very different. To Min, he asks, "Do you think your hyung can handle all the wrongs you've committed? Could there be a happy ending in your future?"
Min replies, "We'll see. But one thing's for certain, there is no happy ending between me and you, Uncle." He takes a sip of his tea and says again with a death glare, "Alas, the last one [I kill] is you."
Team Leader Kang drowns his sorrows with soju, thinking about his father's misdeeds towards Ji-an's innocent father. Myung-woo joins him upon request, and he plays the role of a good sunbae, awkwardly comforting him and giving him a shoulder to cry on. Then Team Leader Kang asks for a place to stay, since he left his home. Ha.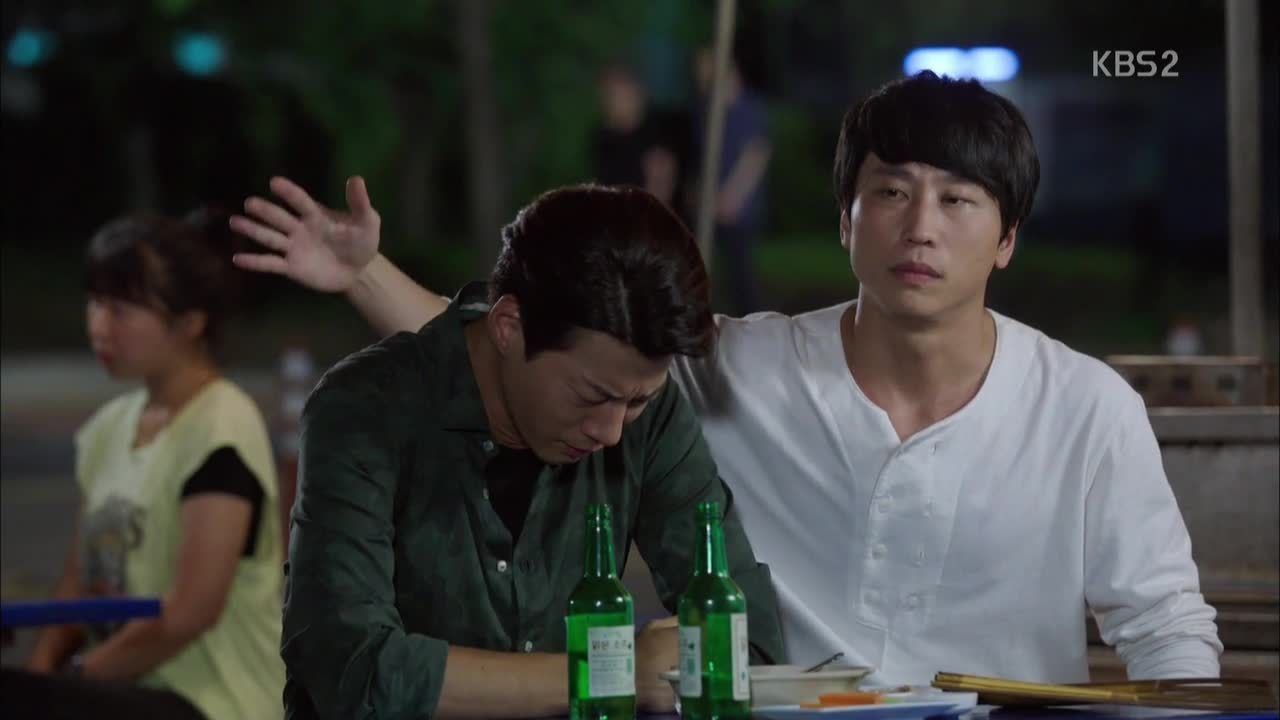 Hyun watches Min sleep and replays Ji-an's warning about Min in his head. According to Ji-an, Min's relationship to Joon-young seemed stronger than expected, and she was afraid that he could potentially harm her.
Sitting by sleeping Min, Hyun thinks back to his conversation with Joon-young, who asked if he could handle someone like Min. Hyun says aloud that he can because Min will change. He strokes Min's head before leaving, and Min opens his eyes, having heard Hyun's words.
The next morning, Hyun repeatedly reminds Min to take his medication, and Min complains about his nagging. Min says that even as children, Hyun would nag him and their father about everything. Hyun argues that in turn, Min would follow him around asking where everything was.
Hyun fixes up Min's tie and drives him to work, which makes Min a happy little brother. He tells Min to take it easy at work and offers to pick him up later. Cute.
In the office, Ji-an is met with a silent team, all avoiding eye contact with her. She notices this and asks what's going on. Team Leader Kang delivers the news that the DNA evidence confirmed that the skeleton belonged to her father and his death is approximately the same year that Joon-young escaped.
Ji-an stays strong and optimistically states that this is good news. This evidence can prove her father's innocence, as it significantly decreases the chances of him being Joon-young's accomplice. But her optimism is short-lived.
Team Leader Kang pulls her aside to reveal his father's wrongs. He tells her that he can't even forgive his father, so he doesn't expect her to be forgiving. He's considered leaving the job to ameliorate this situation, but he asks to stick around to help in any way he can.
On the stairs, Ji-an vents to Hyun about her frustrations. If Chief Hyun and Deputy Chief Kang were siding with Joon-young, how can she trust anyone? Her teammates pass by, and Hyun says that it wasn't too long ago when he didn't trust Ji-an either. But Ji-an says that she won't assume or suspect anything too rashly, especially with her team.
Myung-woo spots the two on the stairs and looks at them with suspicion. His intuition tells him that there's more going on between the two, but Ji-an tells him directly that he shouldn't make assumptions so quickly. Hyun follows and echoes Ji-an's warning. Myung-woo laughs off his suspicion in relief, but I think he's onto something.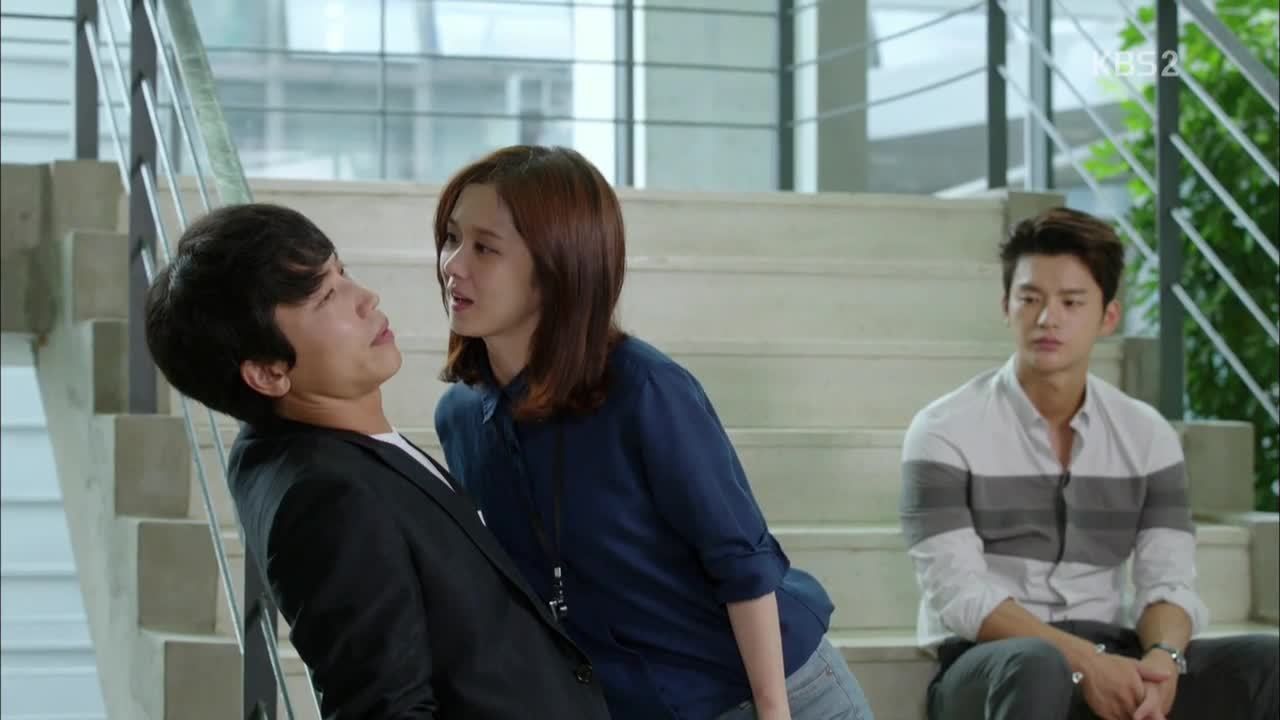 Ji-an posts the children's photos on their case board, revealing very little about their significance. She simply states that they can provide a lead, and Eun-bok looks particularly shifty.
Hyun picks up his brother from court, where he won the case for his defendant. Min points out the man behind them, the victim's uncle who seemingly raised the girl like his daughter. With one look back at the defendant, the uncle quickly walks away.
Back in the office, Hyun looks up the case file with Myung-woo's expectedly simple password (his birthday). He finds the details surrounding the girl's death, that she was sexually assaulted. He remembers seeing the uncle's star ring on his pinky finger, an unusual trinket for a man his age.
When Hyun returns home, he's bothered to find Joon-young casually cooking up dinner for the three of them. Yeah, not your home bruh. Joon-young says that food is always better when shared. But still, not your home.
Over dinner, Hyun tells Min about his findings on the case. Something seemed very wrong when he saw the uncle earlier today looking rather nervous and antsy than infuriated. The defendant, Sung Min-hyuk, seemed angry, without a hint of guilt, as he glared at the uncle. The ring seemed to belong to the victim, which is another telling sign that the uncle was the real suspect. Joon-young nods in agreement, as this is a pattern of sex offenders.
Min asks if that's all, and Hyun looks back at him confused. With this understanding, Min wonders where the two men would be right now. Joon-young presumes they would be together, and Min casually agrees.
Realizing the gravity of the situation, Hyun steps away to call Myung-woo with his suspicion of a possible murder. Sure enough, when the team arrives on the site, Sung Min-hyuk exits the home covered in blood.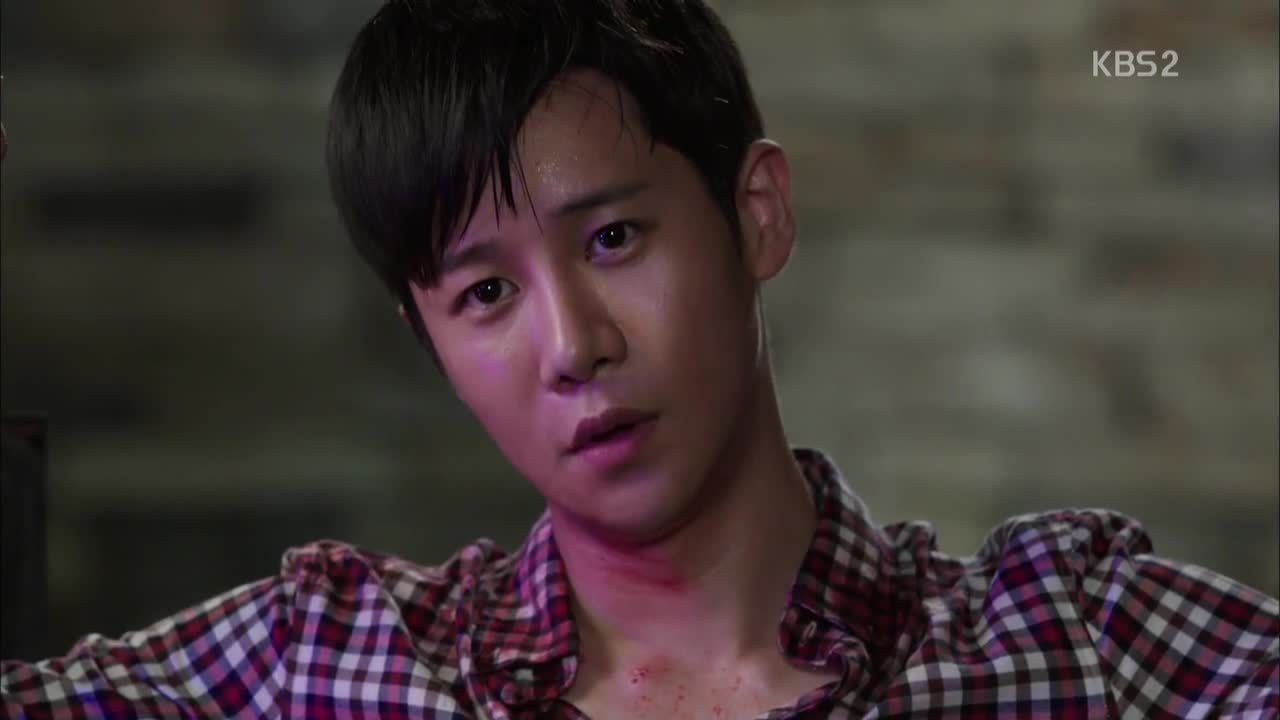 Hyun looks back at the two men, undisturbed by this murder. He approaches the two at the dinner table and asks if they've casually held such conversations like this during the past 20 years. They nod, and Hyun storms out, disappointed and shaken.
Joon-young finds him outside and hands him a notebook. It's his father's notebook, and Hyun notes that stealing people and objects must be Joon-young's hobby.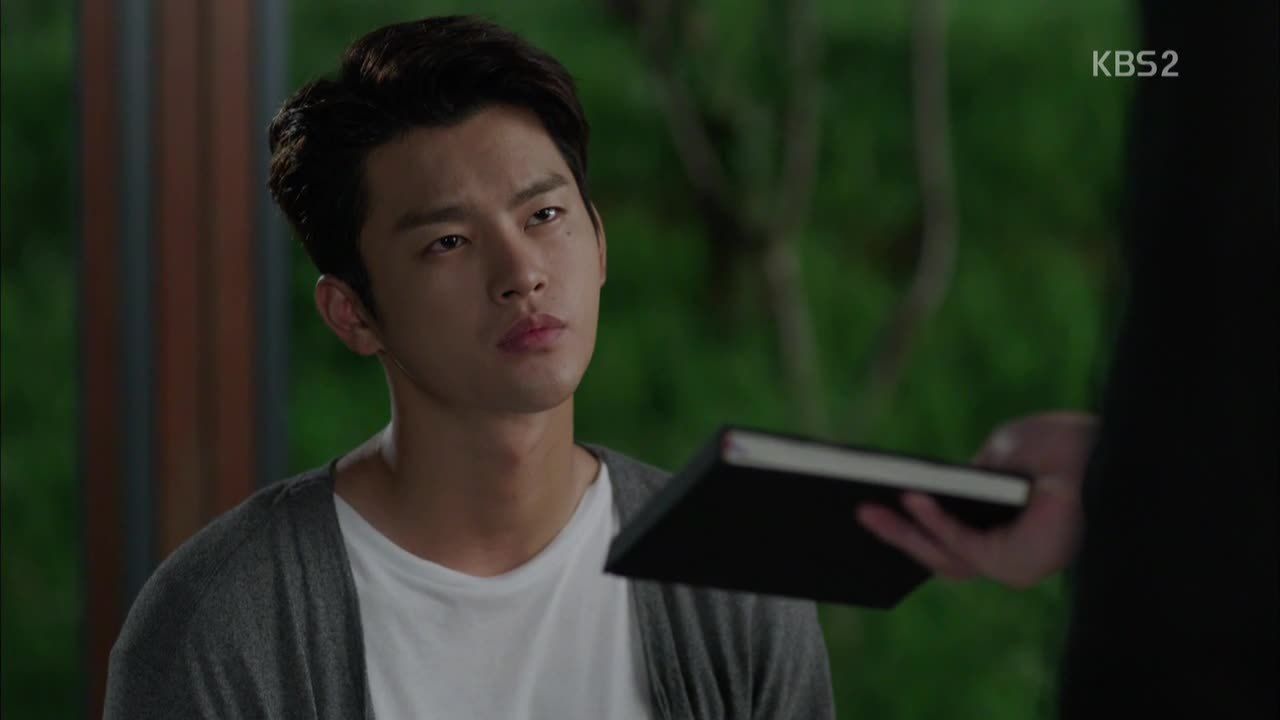 Hyun flips through his father's notebook, which records his anxieties about young Hyun becoming a monster. He seems to understand his father's sentiments, but he vows to use different methods with Min. He won't use his father's isolation tactics, rather he'll face the issue head-on.
Min watches his brother ponder from behind.
When Myung-woo and Seung-joo return from the site, they tell Ji-an about Hyun's psychic abilities to sense crime. They look around for Team Leader Kang, and Ji-an mentions that she hasn't seen him since earlier. She realizes that he might still be in the surveillance room where they talked, and she's right.
He's been sitting there alone, having lots of thoughts going through his mind. Ji-an understands his apologetic attitude, so she wants him to help. She has another thing to add, especially with a prior experience in the situation and because she trusts him. Is she going to reveal the identities?
Myung-woo calls Team Leader Kang late in the office, but he's still nowhere in sight. Team Leader Kang is still in the surveillance room, digesting the information that Lee Joon-ho is Lee Joon-young. When he asked earlier, the man was sitting right in front of him.
Hyun reads further into his father's notebook and finds signs of missing pages before the page that questions little Hyun's intentions. His thoughts are interrupted by a call from "Get Lost," aka Ji-an.
He meets her outside, and she tells him that she stopped by on her way home. Of course, he makes a note that her house isn't on the way, and she asks him to just go with it. As they go on a walk, their hands brush up against each other, and Hyun takes the opportunity to grab her hand. Yeee.
Holding hands, they both walk comfortably together and update each other on their tiring days. Ji-an tells Hyun that she told Team Leader Kang about Joon-ho and how he froze at the realization. They laugh at the fact that he asked for Joon-young's identity right in front of his face.
Hyun stops to commend Ji-an for stopping by, and Ji-an suggests that he stop by next time. Every time she stops by, he needs to come by three times. He agrees, and they continue on their cute little walk.
At home, Min broods about Joon-young's question of whether Hyun is truly happy to have Min back in his life. There seems to be some serious doubt in Min's eyes, but his thoughts are cut short by Hyun. Min jumps out of his daze and gives Hyun a box that was delivered earlier. Hyun asks that they unbox the package together.
The package contains the gifts given to him by Min, and Hyun asks Min what each one signifies. Min says that it's of little meaning now, but the little details in the drawings spark Hyun's memories. Tears filling his eyes, Min blurts out that he won't kill people if Hyun tells him not to. "Then, will a happy ending be possible?"
Hyun wonders how he'll be able to mend Min's past, and Min seems to know the answer. He doubts that a happy ending will be possible, but Hyun assures him that they'll make it possible.
Joon-young looks through his album of children photos and thinks back to his call with Eun-bok earlier in the day. Eun-bok warns him about the children and information the team may find, and Joon-young calmly asserts his confidence in the children he saved.
Looking through the photos, Ji-an begs to differ. She knows that one of these children is bound to feel victimized by Joon-young, and she's determined to find this child.
Driving Min to work the next morning, Hyun receives a call from Indebted Friend, who has the background information on the orphan. Hyun asks that he leave the file with a colleague, Myung-woo. They know each other from a past encounter, and it seems that Myung-woo is still convinced that Indebted Friend is into some shady business. Heh.
The moment Friend sees Eun-bok, he recognizes him as the orphan and clings onto his envelope a bit tighter. He leaves the information with Myung-woo, and it's left openly on Hyun's desk for Eun-bok to swipe.
In the bathroom, Eun-bok looks through the file, which is all the information about his history. He drops the photo and it slips halfway under the stall door. Another person on the other side picks it up — it's Seung-joo. He recognizes the photo from Ji-an's posting on their board and drops it on the floor before heading outside.
Eun-bok slowly opens the door and picks up the photo. He carefully scopes out the area and leaves, but Seung-joo watches him from behind.
Eun-bok returns to Hyun and Myung-woo fighting about the missing file. He casually offers the envelope to Hyun, letting Myung-woo roll with the assumption that he left the envelope on the wrong desk. But Hyun smells something fishy.
Seung-joo confirms with Ji-an that Chief Hyun's death wasn't a simple robbery and tells her about the order Chief Hyun gave him about looking into specific staff members. He hesitates to tell her about Eun-bok and decides that he won't tell her.
In the stairwell, Hyun looks inside the envelope and finds only a resume for Eun-bok.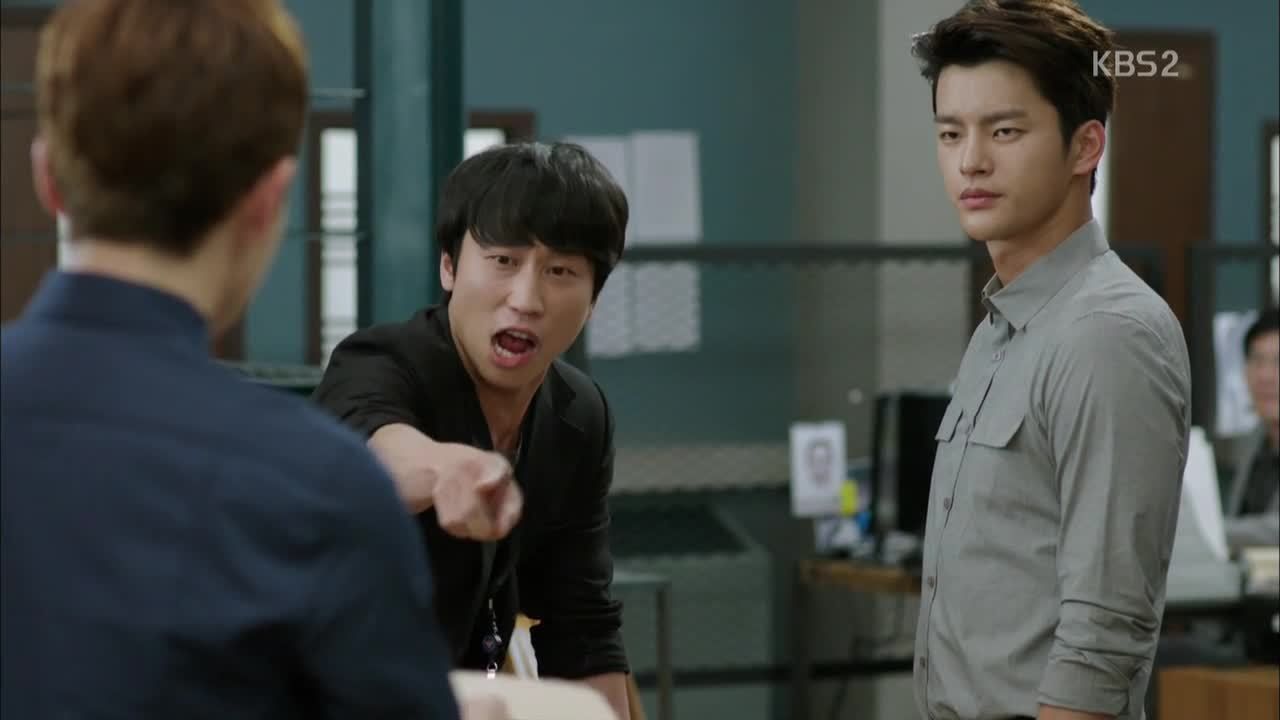 On the rooftop, Seung-joo confronts Eun-bok, in denial that his team hyung could be the culprit. Eun-bok feigns ignorance, but Seung-joo knows better. He pulls out his gun and threatens Eun-bok to remain still.
Hyun approaches the rest of the team members, looking for Eun-bok. They know he went to the rooftop with Seung-joo, and Ji-an joins the conversation by saying Seung-joo seemed to have something to tell her. Hyun tells the team that Eun-bok seems to be the one. He's one of Joon-young's children.
The team rush up to the rooftop to split up the fight, Seung-joo pleading that Eun-bok turn himself in and Eun-bok claiming that Seung-joo knows nothing. The gun gets kicked aside, and Hyun picks it up.
As soon as he grabs the gun, a flurry of memories from his youth rush through his mind. There seems to be some connection to his brother's drawings and young Hyun grabbing a gun. A tear falls as he struggles to remember, and Ji-an sees his unstable state. She catches him just as he collapses, the rest of the team looking at them with surprise.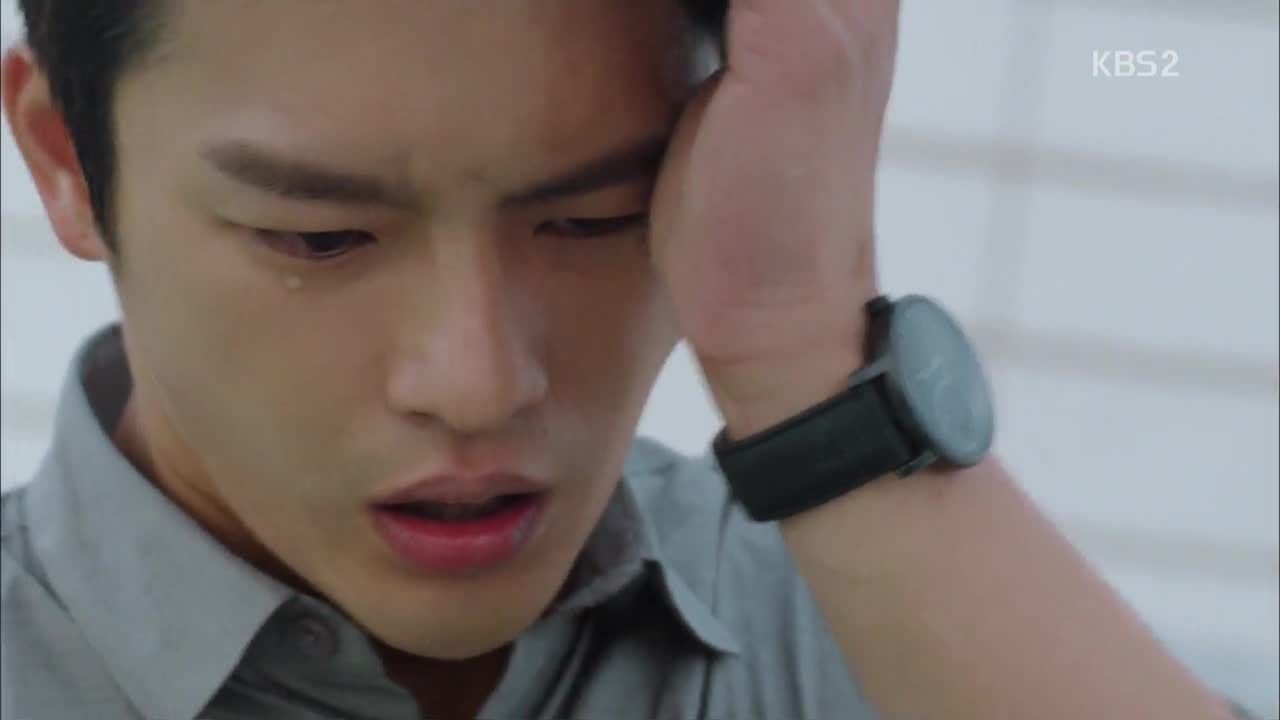 COMMENTS
I love that this episode's central romance is the bromance of a tragic and complex brotherhood. Something about the brothers' reluctance to accept their reality pulls at my heartstrings because you can see how much they've longed for each other. It's so sad to see every interaction between the brothers, not knowing which one may be the last. But the façade is slowly fading, and both of them know it. You can see it in Min's sad, teary-eyed face. That face hits me hard.
Min seems to be the paradigm of the nature versus nurture debate. Both sides come out separately in his interactions with Hyun and then with Joon-young. The two sides are chilling, especially when they're juxtaposed in a scene — one moment he's smiling, the next he giving us the death glare. The duality of his character is played oh so well by Park Bo-gum, who has Min's character down to the tee. A lovably innocent younger brother turned murderer isn't an easy character to portray, but he does it perfectly.
The interesting thing about this debate is that I don't know which side is right. Both Hyun and Joon-young have compelling arguments about what was best for Min. Given Joon-young's context, his reasoning makes sense. He believed he was doing the best for the children he saved, even in the murders he committed. As seen with Eun-bok, it seems that some of the children did believe Joon-young did him a favor. The one catch is that the method of repayment was wrong, illegal, and immoral. Humanizing our monsters with their backstories has me sympathizing with their rationales, and that's a great feat on our writers' part to make me feel so connected to the bad guys. I feel for these guys, so much so that I question if I may be a psychopath. Okay, I'm not, but I feel for their longing and attempt to save children reflecting one's own difficult childhood.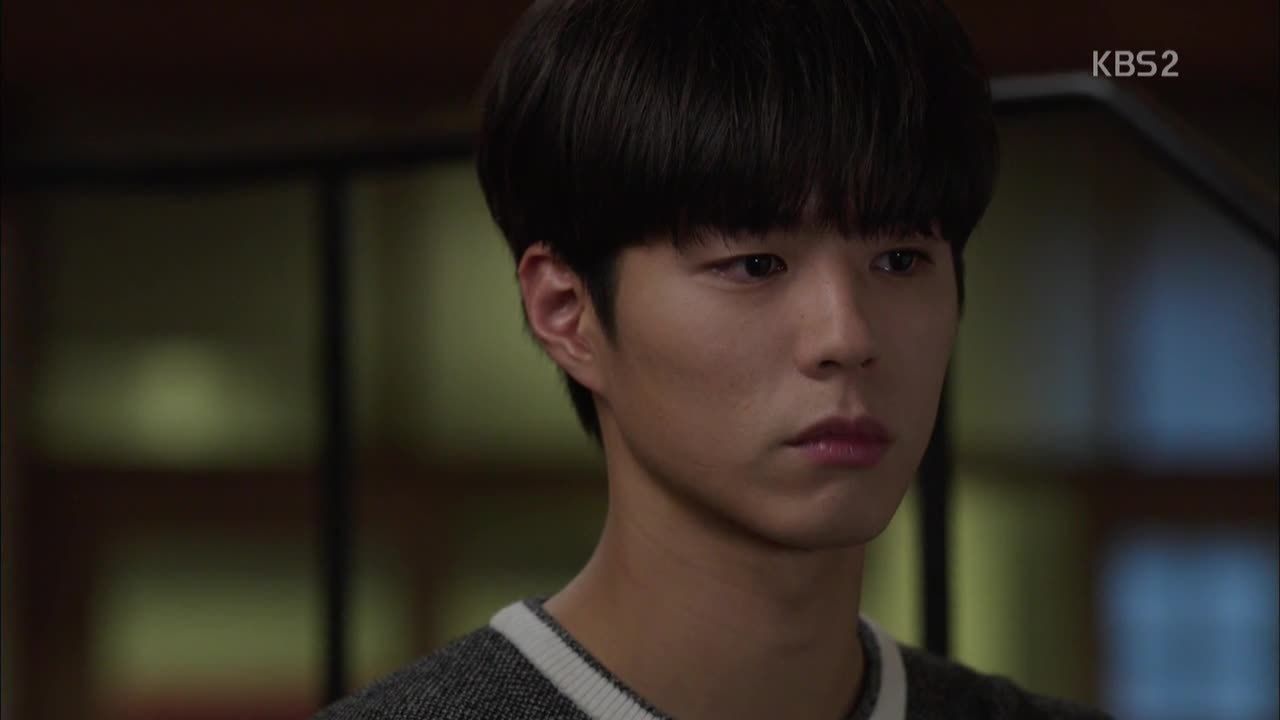 Ji-an's resilience and dauntless nature continues to awe me. I strongly believe that she should be the muse of all female characters going forth because she strives to be none other than her own person. I admire the independence that comes with her strength, as well as the compassion that balances out her drive. She surpassed any expectations I had for her character, which is such a rewarding feeling. Gotta appreciate the awesome female protagonists while they last, they're quite rare. She'll be sorely missed when this show ends.
Ahh, the ending is near, and I'm not sure how to handle it. I Remember You is a gem in the flood of dramas, and I thank the drama gods that the quality of this show didn't suffer despite the painfully low ratings. Though I wish the show had gotten more attention and viewership, I kind of like that this show was strongly appreciated by the few who loved it. You know that the viewers who picked to watch this show were in it for the long run, and I thank y'all who stuck with the show. I trust that the show will give us a fulfilling ending, maybe with some justice, heartbreaking bromance, more hand-holding, and the final piece of Hyun's memory.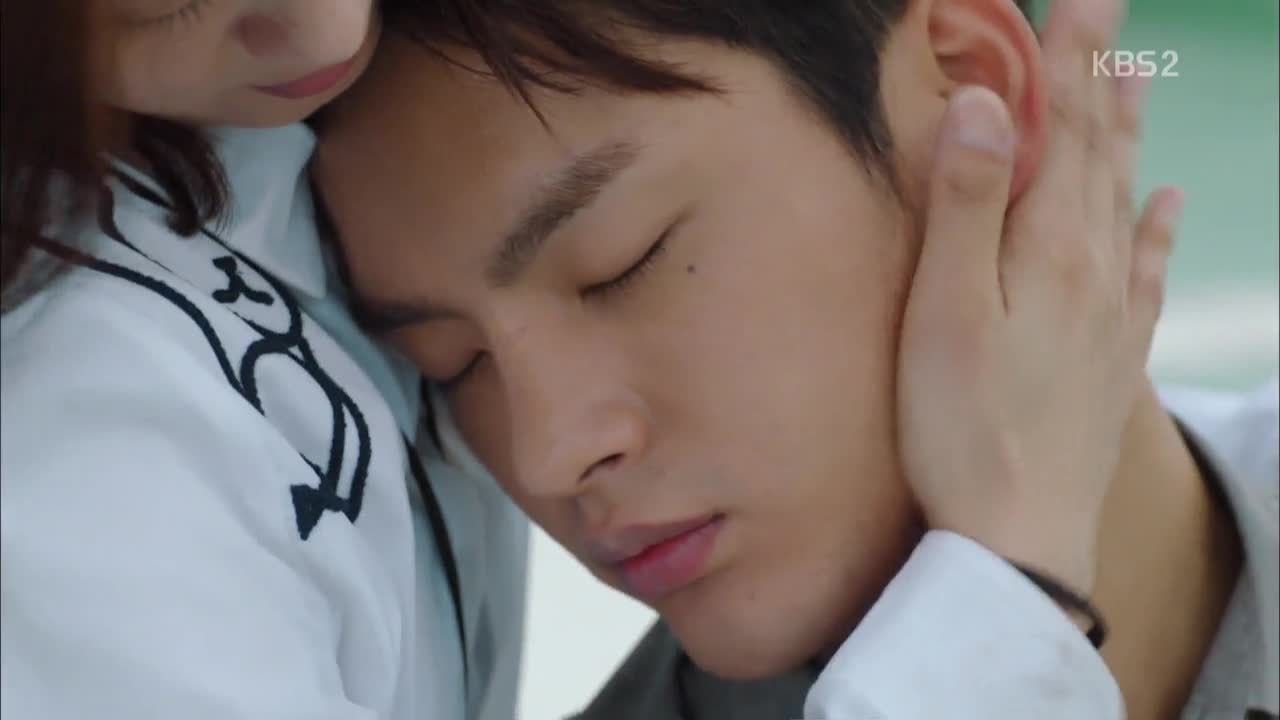 RELATED POSTS
Tags: featured, I Remember You, Jang Nara, Seo In-gook