SNSD's Yuri, Yoon Tae-young for OCN's Neighborhood Hero

Yuri, Yoon Tae-young
Now that cable network OCN's new spy action drama Neighborhood Hero has its hero in Park Shi-hoo (Alice in Cheongdam-dong), we've got a few more additions to the cast: Girl's Generation's Kwon Yuri (No Breathing, Fashion King) is considering an offer to play the heroine, and Yoon Tae-young (Records of a Night Watchman), Jung Man-shik (Good Doctor), and Jo Sung-ha (Hwajeong) have signed on as supporting players.
The new drama from Chuno PD Kwak Jung-hwan centers around a former black-ops agent (Park Shi-hoo) who retires in a small town and runs a neighborhood bar. No one knows about his past, and he helps train a local who wants to become a cop, and finds a family among his neighbors. He'll eventually save the town, becoming a real neighborhood hero.
Yuri has been offered the part of an aspiring writer, who is among the bar regulars. She stays the longest among the patrons because she uses the bar like it's her writing office, though she spends more time spying on the locals than she does on her writing. And one day she becomes very curious about one man. I'll be honest — I find her acting severely lacking for a leading role, because from what I've seen, she has very limited experience and not much emotional range. I guess on the upside, I'm not all that invested in this drama.
Yoon Tae-young, on the other hand, is a really strong actor — he played the senior night watchman in the fantasy sageuk Records of a Night Watchman, and managed to be a badass fighter with gravitas in an otherwise silly show. In this drama, he'll play a Korean-American who grew up in a poor neighborhood and learned taekwondo in order to defend himself in his youth, and eventually grows up to become a mobster.
Jung Man-shik does everything from funny to scary, but this time he'll play an intelligence agent and team leader who worked with the hero. And Jo Sung-ha has been cast to play a cool-headed detective. I guess you can't have your vigilante heroes without your cops to give good chase.
Neighborhood Hero starts shooting in September and plans to air early next year.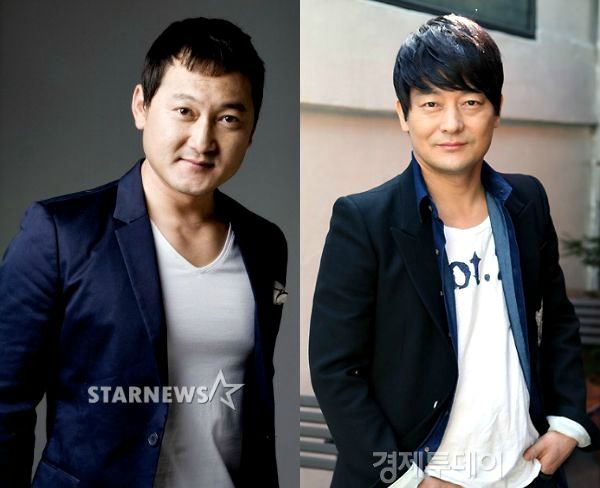 Jung Man-shik, Jo Sung-ha
Via IS Plus, Xports News, TV Report
RELATED POSTS
Tags: Jo Sung-ha, Neighborhood Hero, Park Shi-hoo, Yoon Tae-young, Yuri