2015 Buil Film Awards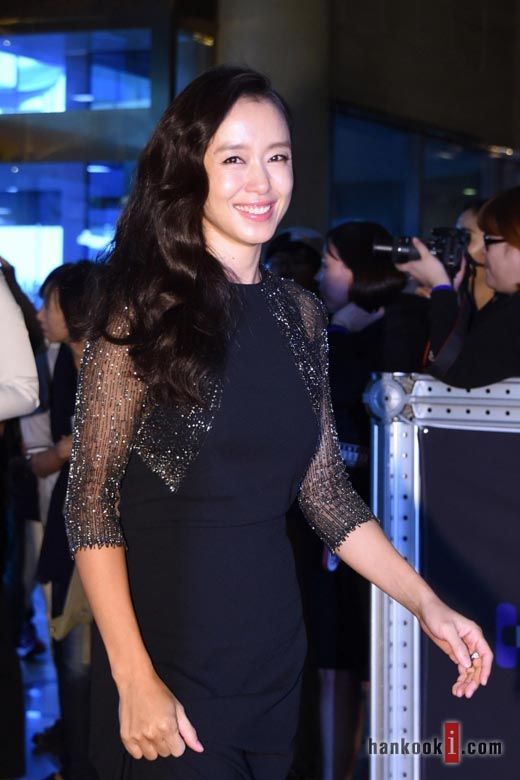 Yesterday we had the opening red carpet for the Busan International Film Festival, one of the biggest (the biggest?) events of the year for the film industry. On the second night of the ten-day festival, the 24th Buil Film Awards were held at the Haeundae Grand Hotel. This is an event that was first kicked off in 1958, though it was discontinued in 1973 after its 16th year, and reinstated in 2008.
The BIFF red carpet tends to be a glittering, crowded event with lots of big-name stars, while the Buil Film Awards are a more intimate affair; the attendees were largely just the winners and presenters (pulled from last year's winners), although with so many screenings and talks scheduled throughout the week, you can't blame stars for being booked elsewhere.
The nominees list comprised a mix of blockbuster and indie films, though I do notice that most of the same five or six titles kept popping up in category after category, whether we're talking Best Picture, Screenplay, or Art Direction. (You might even think they only had ten titles to vote from to start with; that's how constantly the same projects were named. On that shortlist: The Shameless, Assassination, Chinatown, Revivre, The Classified File, Guest.)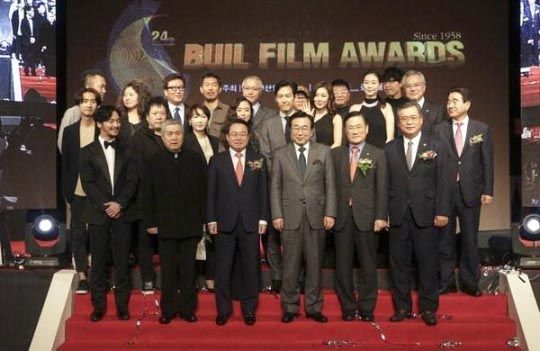 WINNERS LIST
Best Picture: The Shameless
Best Director: Kwak Kyung-taek (The Classified File)
Best Actor: Lee Jung-jae (Assassination)
Best Actress: Jeon Do-yeon (The Shameless)
Best Supporting Actor: Lee Kyung-young (Minority Opinion)
Best Supporting Actress: Moon Jung-hee (Cart)
Best New Director: Hong Seok-iae (Socialphobia)
Best New Actor: Byun Yo-han (Socialphobia)
Best New Actress: Lee Yoo-young (Spring)
Best Screenplay: Minority Opinion (Kim Sung-je, Sohn Ah-ram)
Best Cinematography: Sea Fog
Best Music: The Shameless
Best Art Direction: Assassination
Yu Hyun-mok Film Arts Award: Factory Complex
Buil Readers' Jury Award: Ode to my Father
I think I prefer the gown Jeon Do-yeon (The Shameless) wore last night at the opening red carpet; both are black sheaths with glittery embellishment, but this one's a quieter look. I still think she looks radiant, though, as she picks up a(nother) Best Actress award.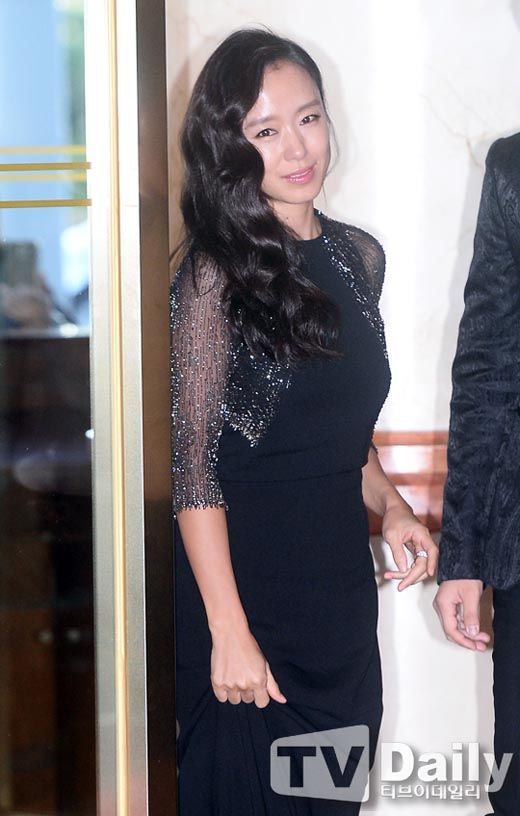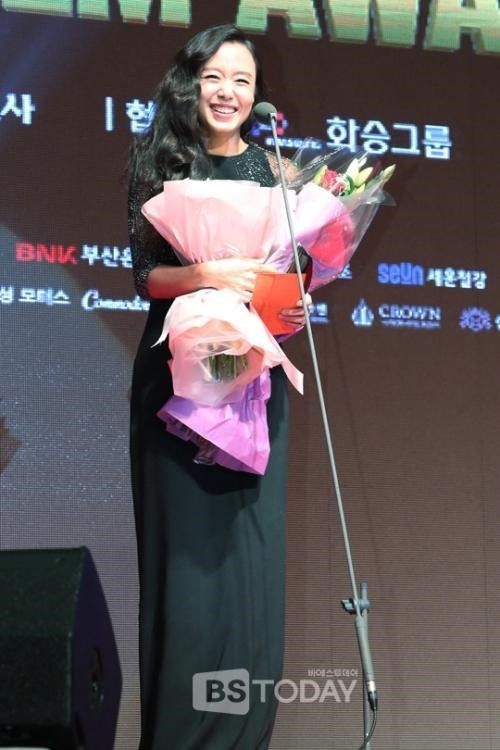 Now, I know I definitely prefer Kim Nam-gil (The Shameless) last night to this look here. As far as I'm concerned he should always have long hair that's slicked back (or gloriously bedgraggled and paired with tons of guyliner).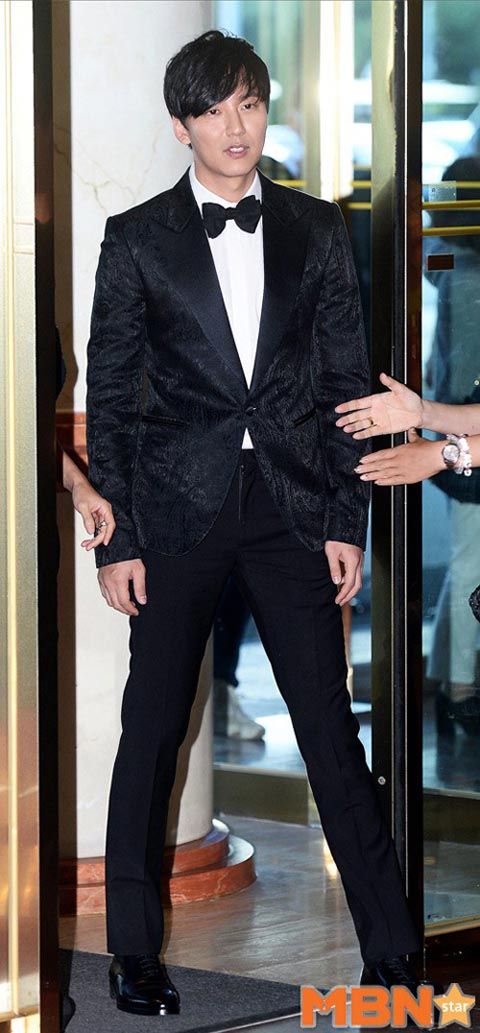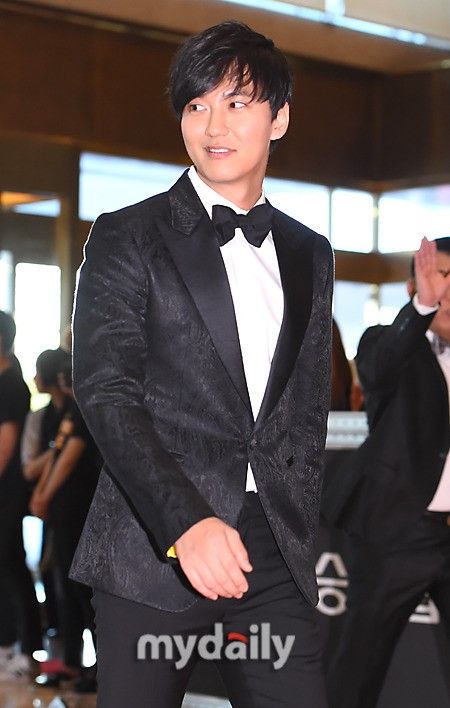 I know Park Sung-woong (The Shameless, Office) isn't always the scowly, menacing SOB he tends to play in most of his roles, but really, that's how I'll always think of him. Well, that and Hot Ajusshi.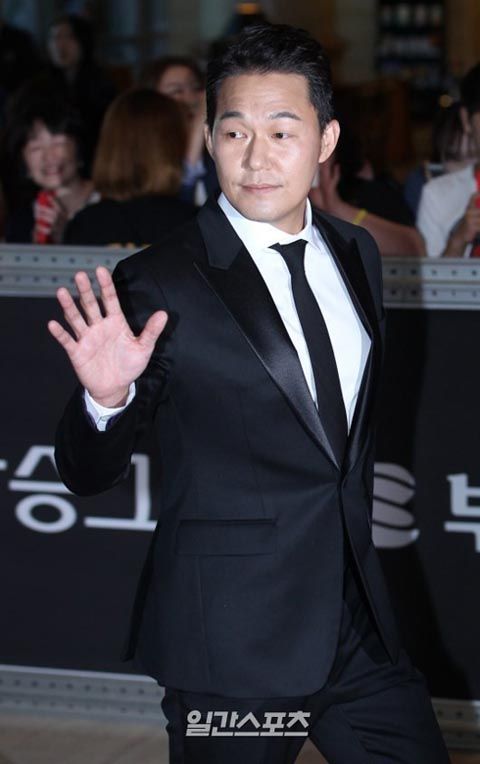 I presume The Shameless is why Kwak Do-won is here as well, although he's pulling double-duty as the winner of last year's Supporting Actor award for The Attorney.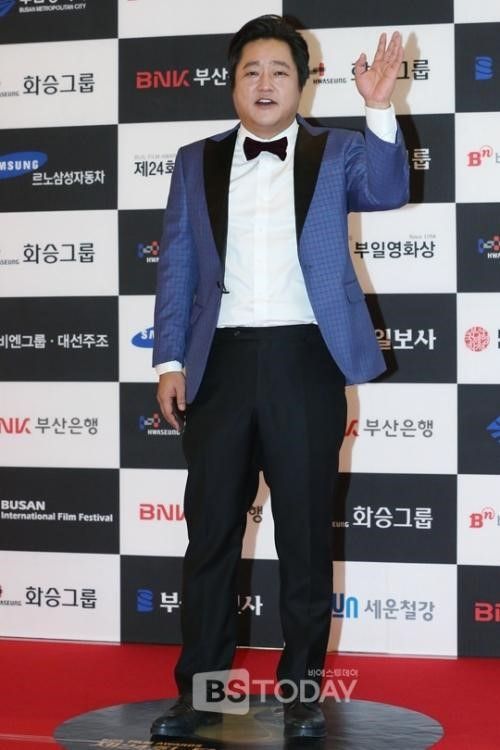 Oppaaaaa! Admittedly this plaid/checked combo Lee Jung-jae is wearing seems more like day conference-wear and less red carpet, but he took home the Best Actor prize (for Assassination) so he gets to do what he wants.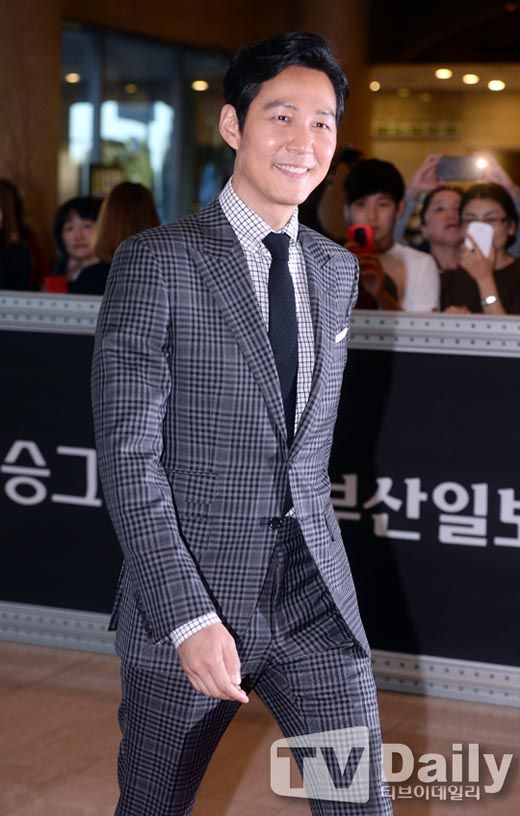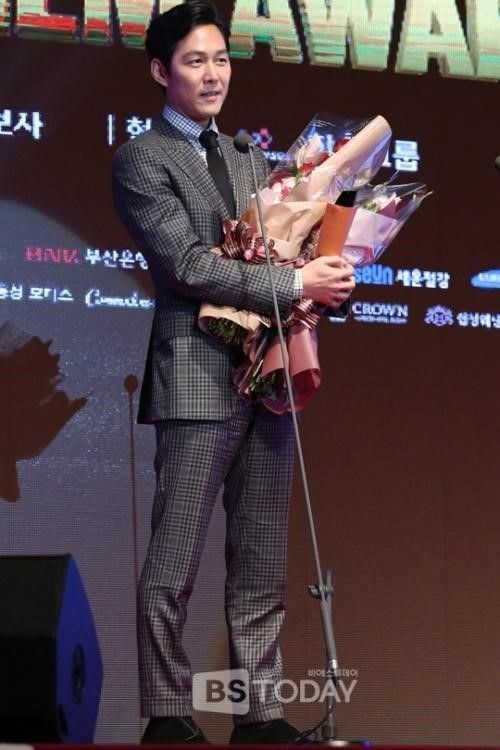 Aw, congratulations to Byun Yo-han! He's had such an awesome hot streak following Misaeng, and this New Actor award goes to his dark drama Socialphobia. I forgive him the unkempt scruff since he'll soon be a rugged Joseon warrior in Six Flying Dragons, and I expect that to be a very good look for him.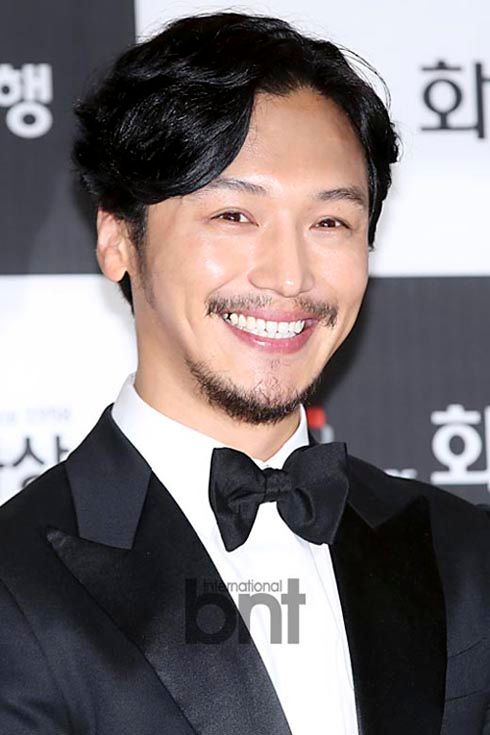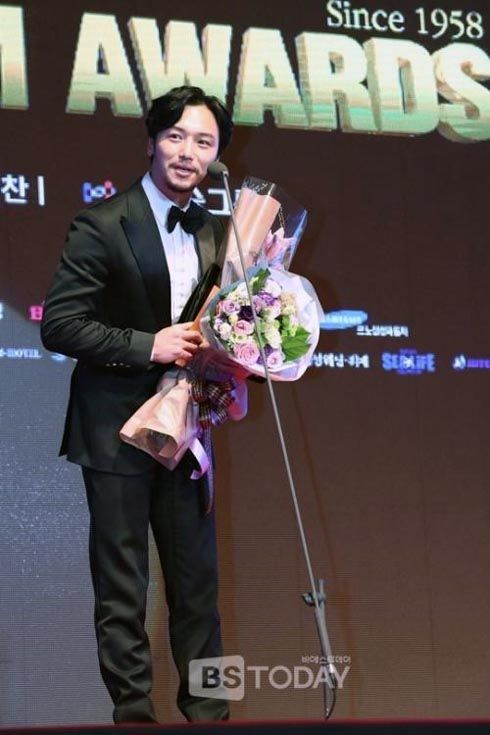 The New Actress award, meanwhile, went to Lee Yoo-young, which is a wholly new name to me; she only debuted last year, and that film, Spring, is what netted her this award. Already she has four film titles to her credit, which is pretty impressive. Okay, so the black collared sack she's wearing is nothing to write home about, but maybe she'll figure out this awards glam stuff for the next one.
I am actually shocked—shocked!—that Song Kang-ho didn't have a nomination this year, not because there's a particular movie that got snubbed but because this is a man who is always on an awards list, practically as an unwritten rule of Chungmuro. I just expect to see him with a trophy all the time now. Well, he did win last year's Best Actor award (The Attorney) and he's got Sado out now, so let's see if he's back here in a year.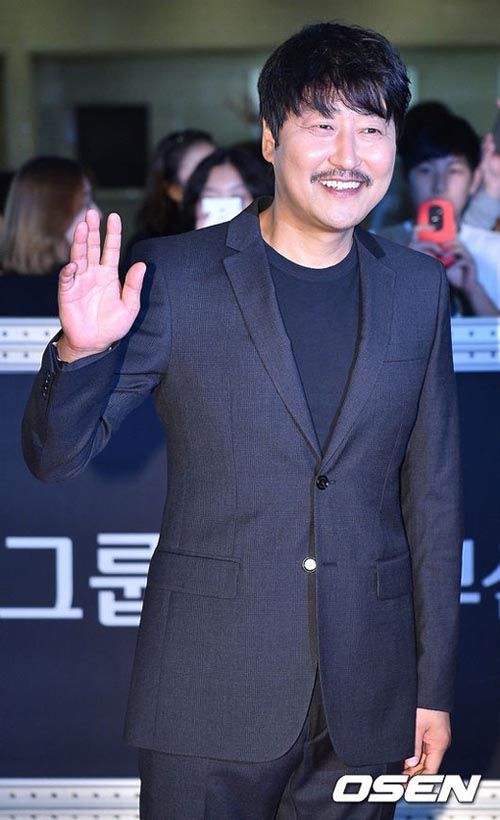 Moon Jung-hee won a Supporting Actress award for Cart, and she continues the BIFF trend of safe black gowns. I'll subtract a point for the choice of plain black, but give her twenty more points for looking gleamingly perfect, so she still comes out on top.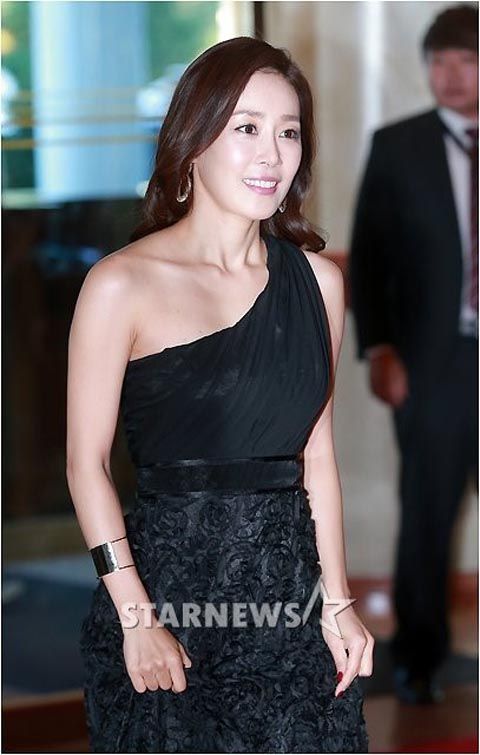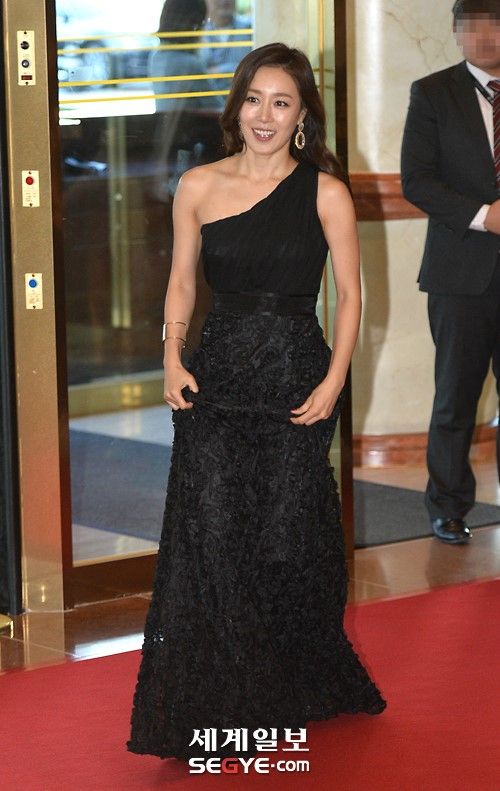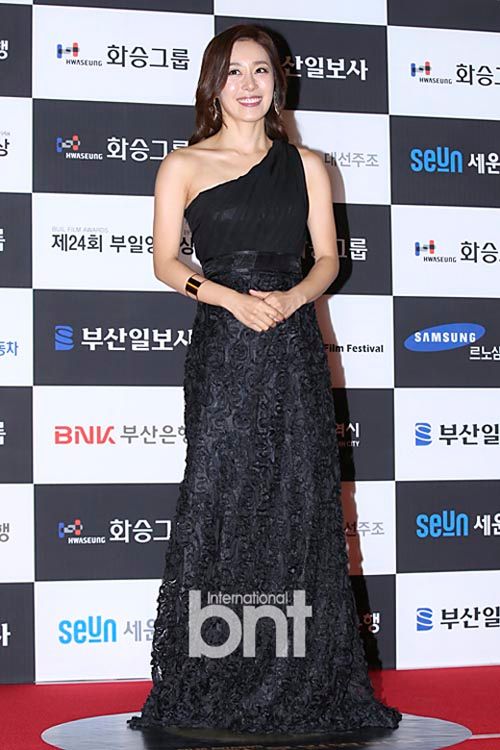 Shim Eun-kyung, last year's Best Actress winner for her side-splitting performance in Miss Granny, chooses an… interesting dress for this event. Every time I want to make a joke about a flappy nun or backwards jacket or stoic wartime nurse, however, I can't quite muster up the snark because the longer I stare, the more I actually kind of like this structured, so-matronly-it's-cool(???) look on her. Maybe it works because she's so young? Maybe my taste is turning frumpy?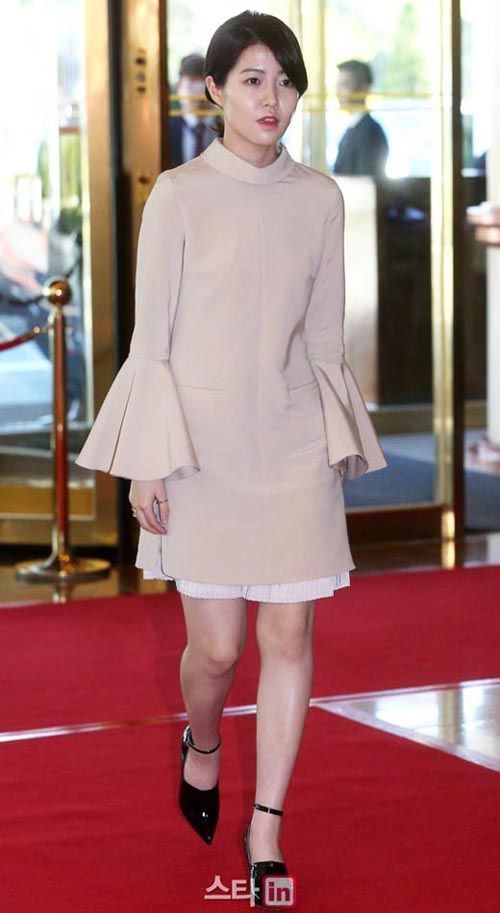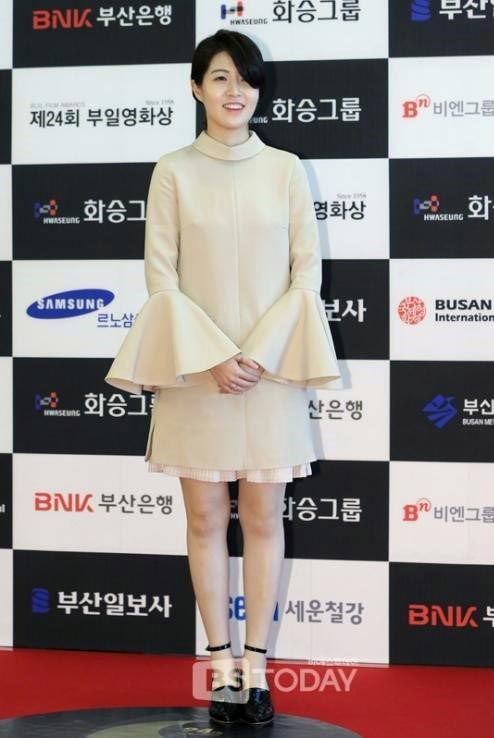 Here's Lee Kyung-young picking up his Best Supporting Actor trophy for the legal drama Minority Opinion.
I guess the swaggering Elvis look is kind of Kim Bo-sung's (True Justice) thing, though I'd argue that some things shouldn't be Things…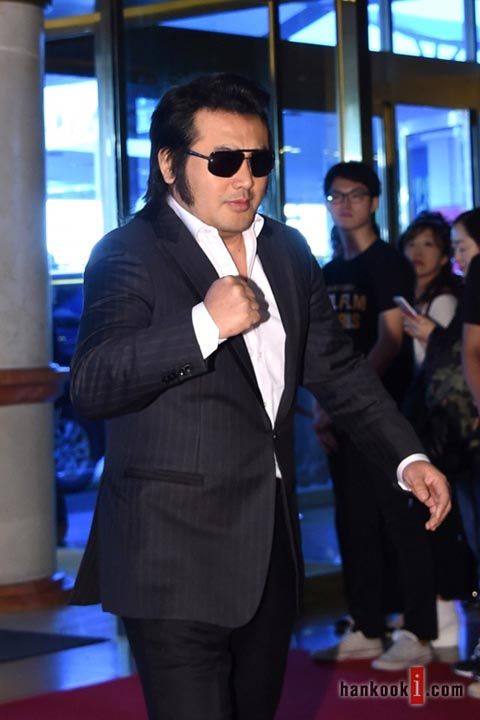 Hm, I'm trying to figure out the Buil Awards connection for Lee Mae-ri, a television actress (New Gisaeng Story, Queen of Housewives) who hasn't done any movies in recent years. In any case, this whole look feels off to me—the overly stiff pompadour hair, the weird chiffon… wings (split sleeves?)… that look like a cardigan tried and gave up before committing to the outfit.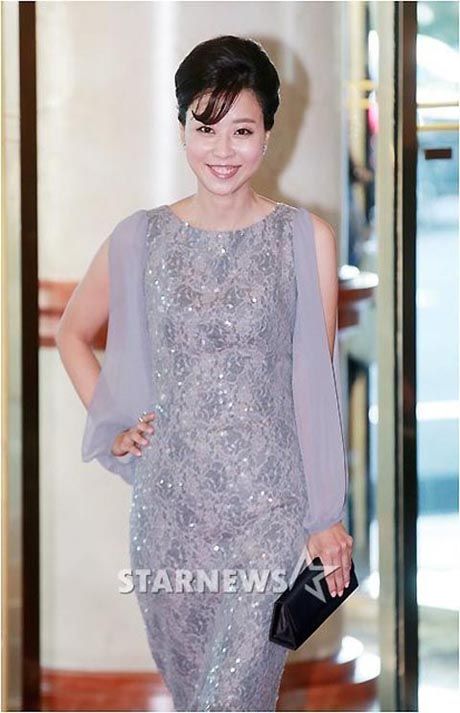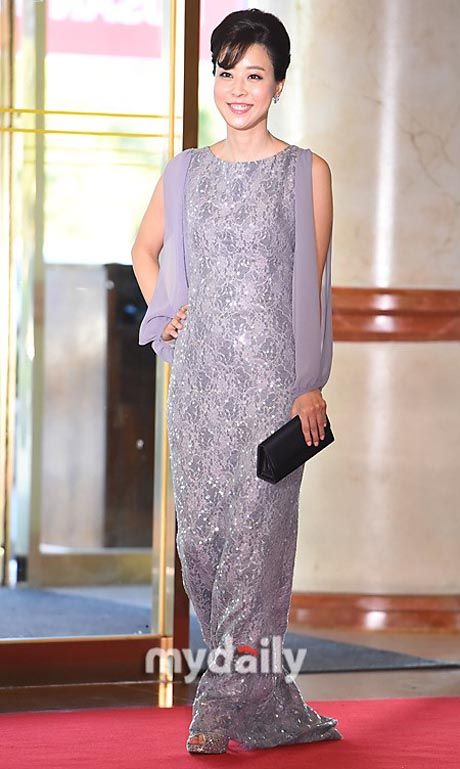 But in my book, by far the worst look was worn by Ryu Hyun-kyung (Office, Oh My Ghostess), a beautiful woman who seems to have put on her big sister's dress… backwards… in the dark. She looked fabulous at last year's Buil Awards so she clearly knows how to wear things that fit, but judging from her sloppily fitting dress last night, I'm wondering if her stylist is mad at her. Or maybe put in an accidental order for clothing three sizes too big and managed to convince unni that oversized was all the rage. A pity!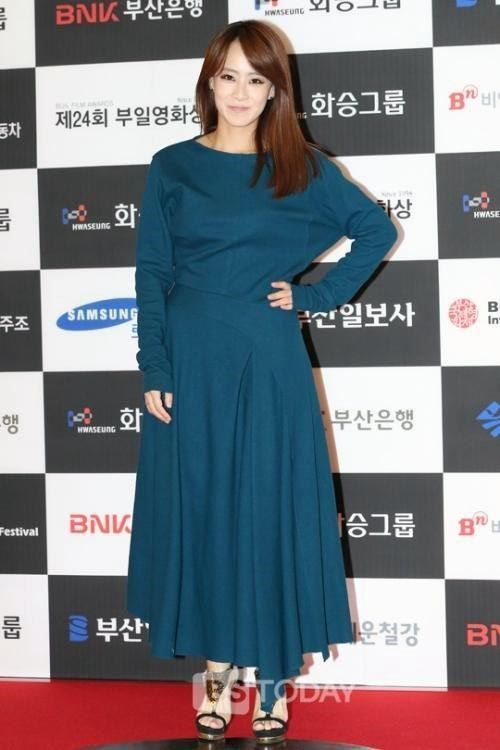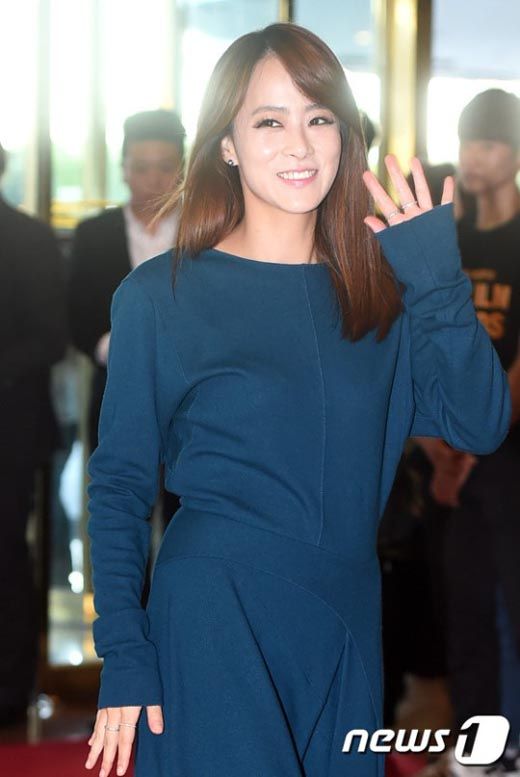 Via MBN
RELATED POSTS
Tags: awards, Byun Yo-han, Jeon Do-yeon, Kim Nam-gil, Lee Jung-jae, Moon Jung-hee, Ryu Hyun-kyung, Shim Eun-kyung, Song Kang-ho