Signal: Episode 15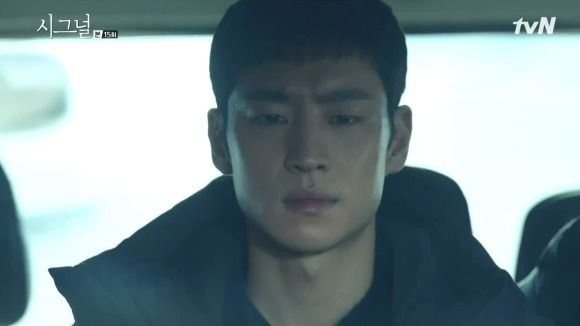 We're in the beginning of the end this week, as we close in on the final days of the past that shapes the present Hae-young and Soo-hyun currently know and live in. Given how the passage of time differs depending on a specific character's perspective, that doesn't leave much time to try and make some last-minute changes to the past. The clock is ticking, but these detectives will be damned to let an opportunity to save a life pass them by.
SONG OF THE DAY
Kim Feel – "Cry" [ Download ]
Audio clip: Adobe Flash Player (version 9 or above) is required to play this audio clip. Download the latest version here. You also need to have JavaScript enabled in your browser.
EPISODE 15 RECAP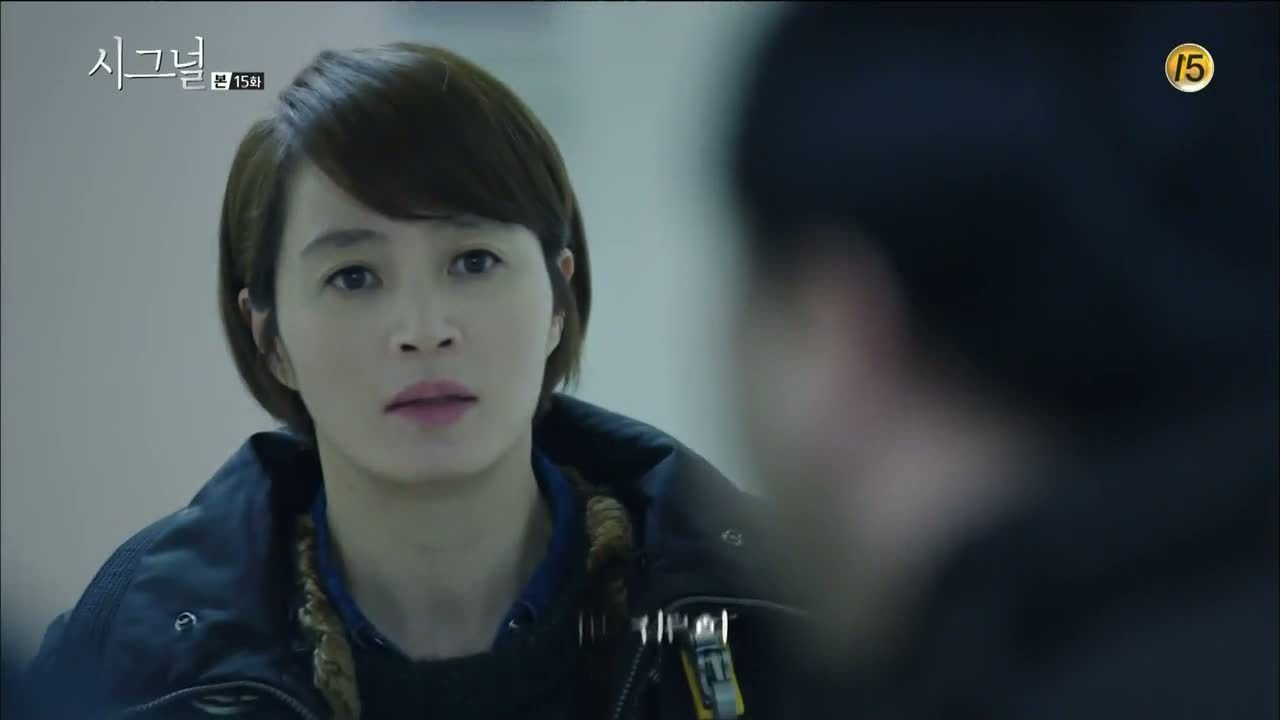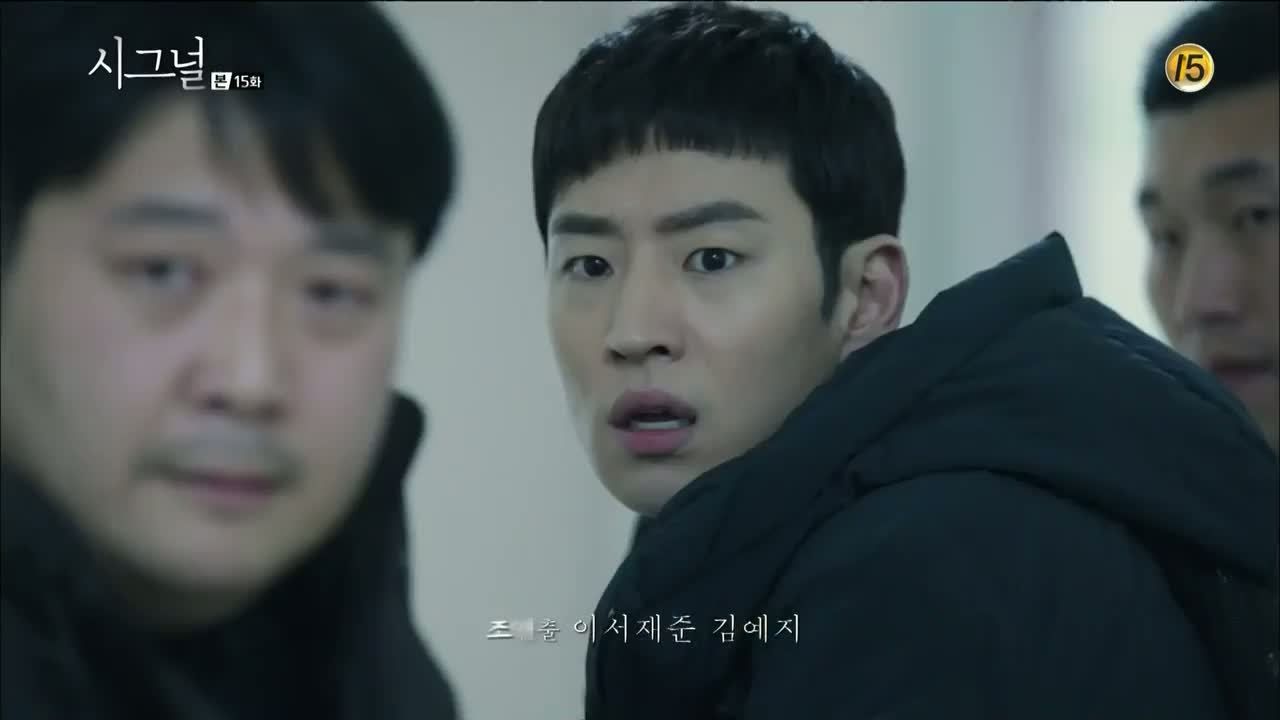 Hae-young quickly stuffs the walkie-talkie in Soo-hyun's bag when the other cops find them in the hospital basement. He's arrested for Section Chief Ahn's murder on the spot, and when Soo-hyun protests, she's told to butt out lest she be considered as an accomplice.
It's a bit suspicious that the officers supposedly have everything they need to take Hae-young, whose request to see the case files on his brother's death is denied.
Over in the past, a still-injured Jae-han drives down to Inju as fast as he can. Sun-woo, meanwhile, waits anxiously, and the man at the door isn't Jae-han. It's Director Kim, who insists that he can be trusted because Jae-han is still in the hospital.
Evidently Director Kim had heard from Section Chief Ahn that Sun-woo had come looking for Jae-han at the precinct, but right now he speaks cheerfully to gain Sun-woo's trust. It works, and Sun-woo shares that he knows that Tae-jin was the true instigator of the gang rape and shows Director Kim the red scarf. Oh no, this has bad news written all over it.
Director Kim is skeptical that the cops would be able to prove this belongs to the victim, but Sun-woo replies that everyone at school knows that Hye-sung wears this handmade scarf every winter. Director Kim promises to have it analyzed, but we know he never would.
He remarks on how Sun-woo's proactive actions differs from his reserved appearance—is Sun-woo really that determined to clear his name? Sun-woo says he is, since that's the only way he can be reunited with his family, especially his little brother.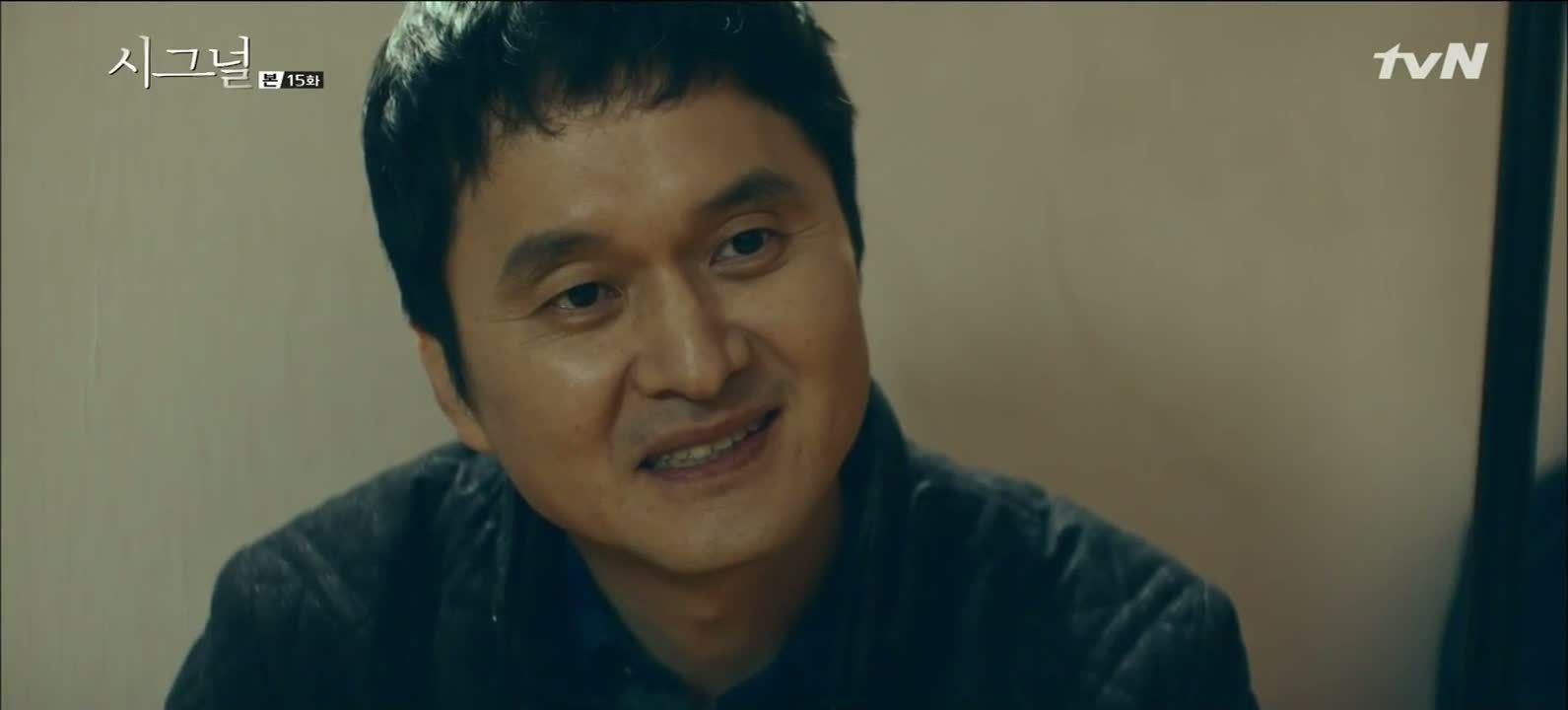 "You probably wouldn't give up no matter what happens, huh?" Director Kim asks with a strained smile on his face. Sun-woo nods. Oh my god, please get here sooner, Jae-han.
On his way here, Director Kim had put in a request to stop the internal investigation against him in exchange of protecting Senator Jang's nephew. He asks Sun-woo for another glass of water, then takes out a pill and drops the contents into Sun-woo's glass.
Which means Sun-woo is completely unaware when he returns and takes a sip from his glass.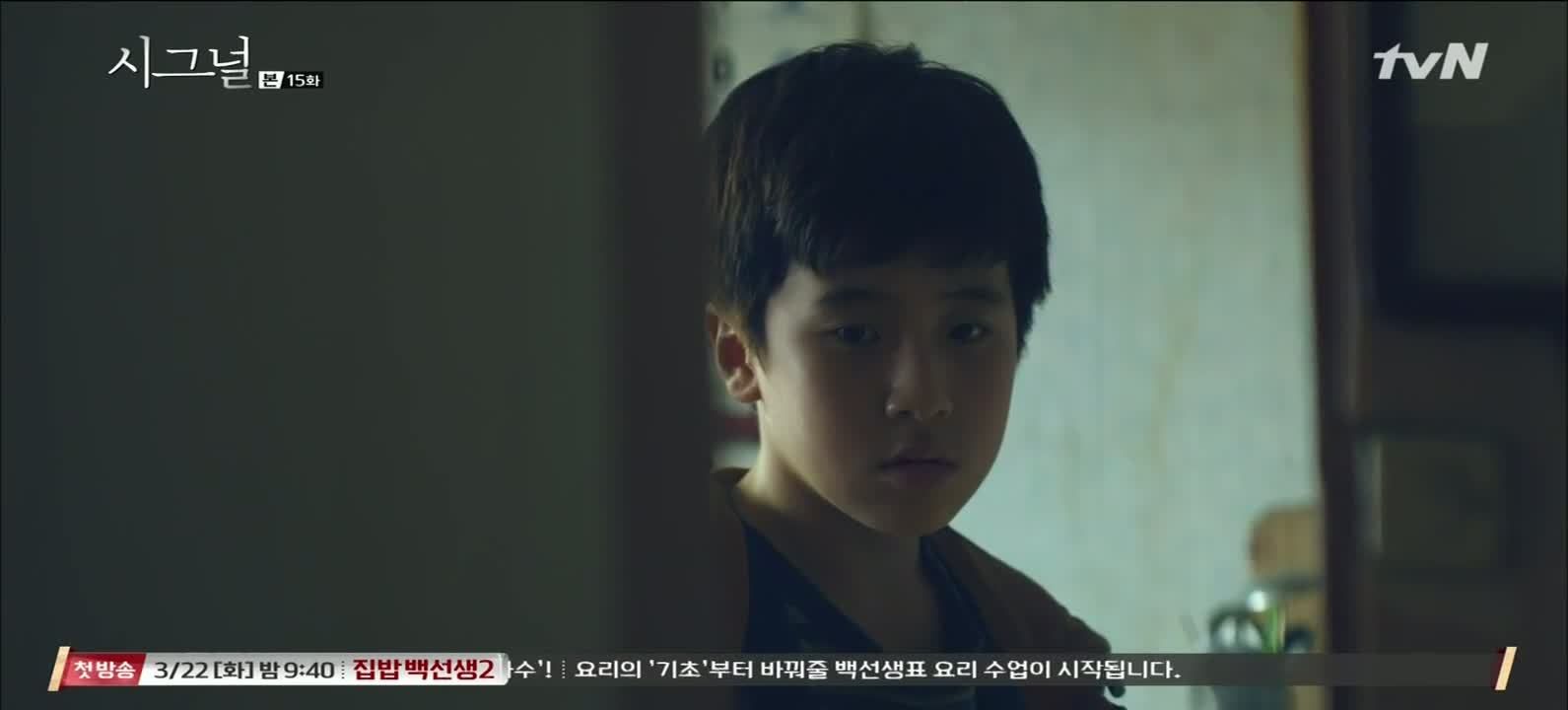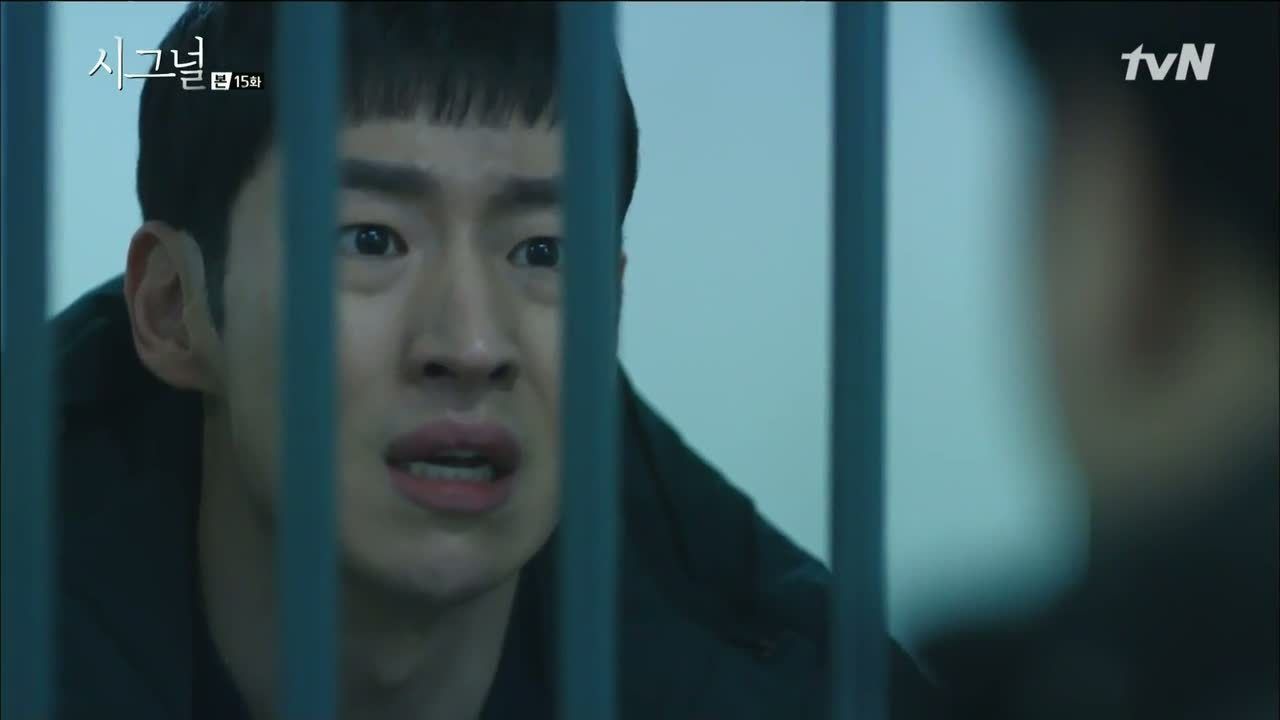 Hae-young's request to see those case files is denied again when he's brought back to the precinct. Thinking about his hyung brings him to tears, and in the past, little Hae-young walks up the hill to his old home while Director Kim walks past him with the scarf in hand. Oh no.
In the present, Hae-young cries in his holding cell, desperately praying for the past to change. The house is quiet when little Hae-young calls out to his brother. But the scene he discovers is the same one as before: Sun-woo lying unconscious on the ground in a pool of his own blood.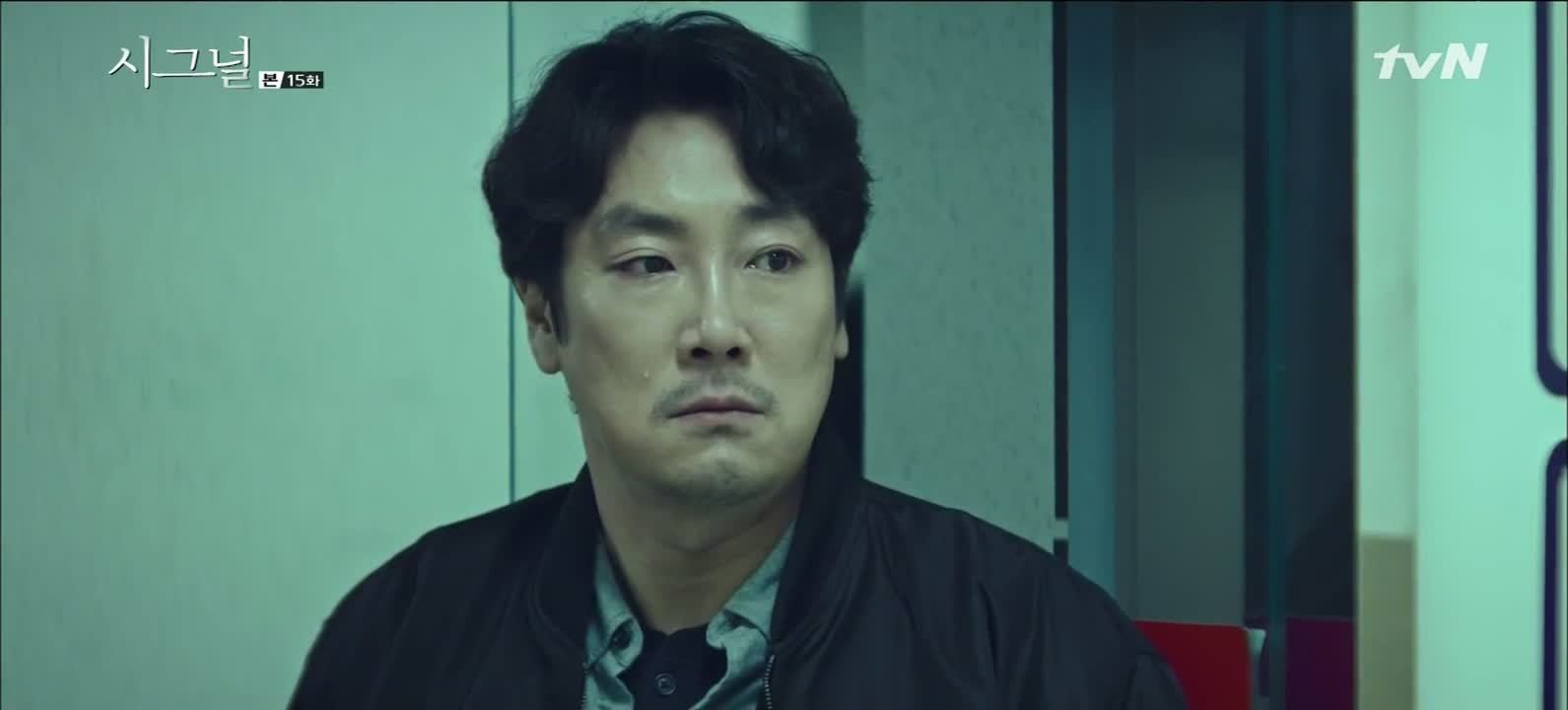 The neighbors and the police are already on the scene when Jae-han finally arrives. He also bears witness to Hae-young and Sun-woo's mother weeping over her firstborn, and tears stream down his cheeks as he thinks of older Hae-young's desperate plea to save his hyung in time. I'm… gonna need a minute here.
Hae-young's face falls when he finally sees those case files in the interrogation room and learns that nothing has changed. He's still in shock when he's presented with the murder weapon—a knife that contains Section Chief Ahn's blood and supposedly his own fingerprints.
Director Kim is informed of the same information, including how there were no security cameras near where the weapon was found. However, all of the witnesses point their fingers at Hae-young.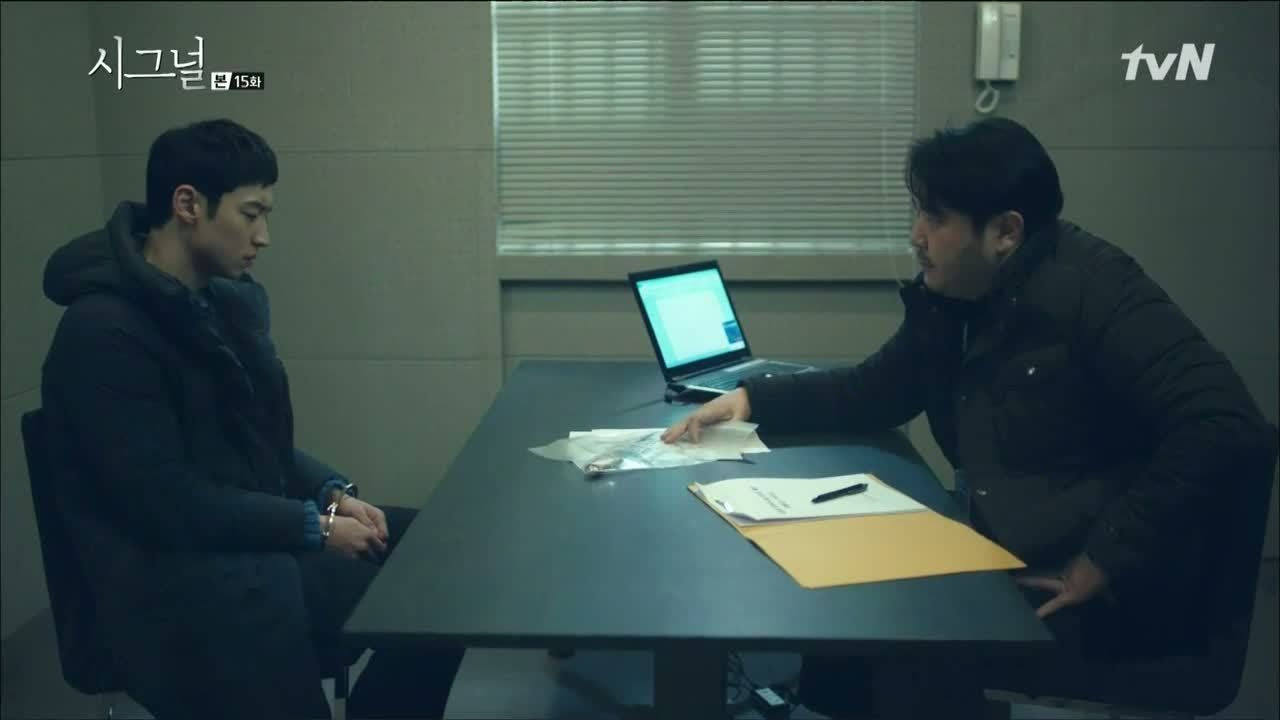 A maid and another man had seen a bloodied Hae-young enter the men's bathroom by the ER, where the weapon was stored. Hae-young says he's innocent and explains that he went to the hospital to find out what Section Chief Ahn's last investigation was.
But the cop doesn't believe him, convinced that Hae-young returned to the scene of the crime to destroy the incriminating evidence. In his mind, Hae-young likely resented the detective in charge of the 1999 Inju case, and killed Section Chief Ahn to avenge his brother's death.
Hearing all this frustrates Hae-young, while Director Kim sits smugly in his office thinking of how he again orchestrated another setup to frame the wrong man.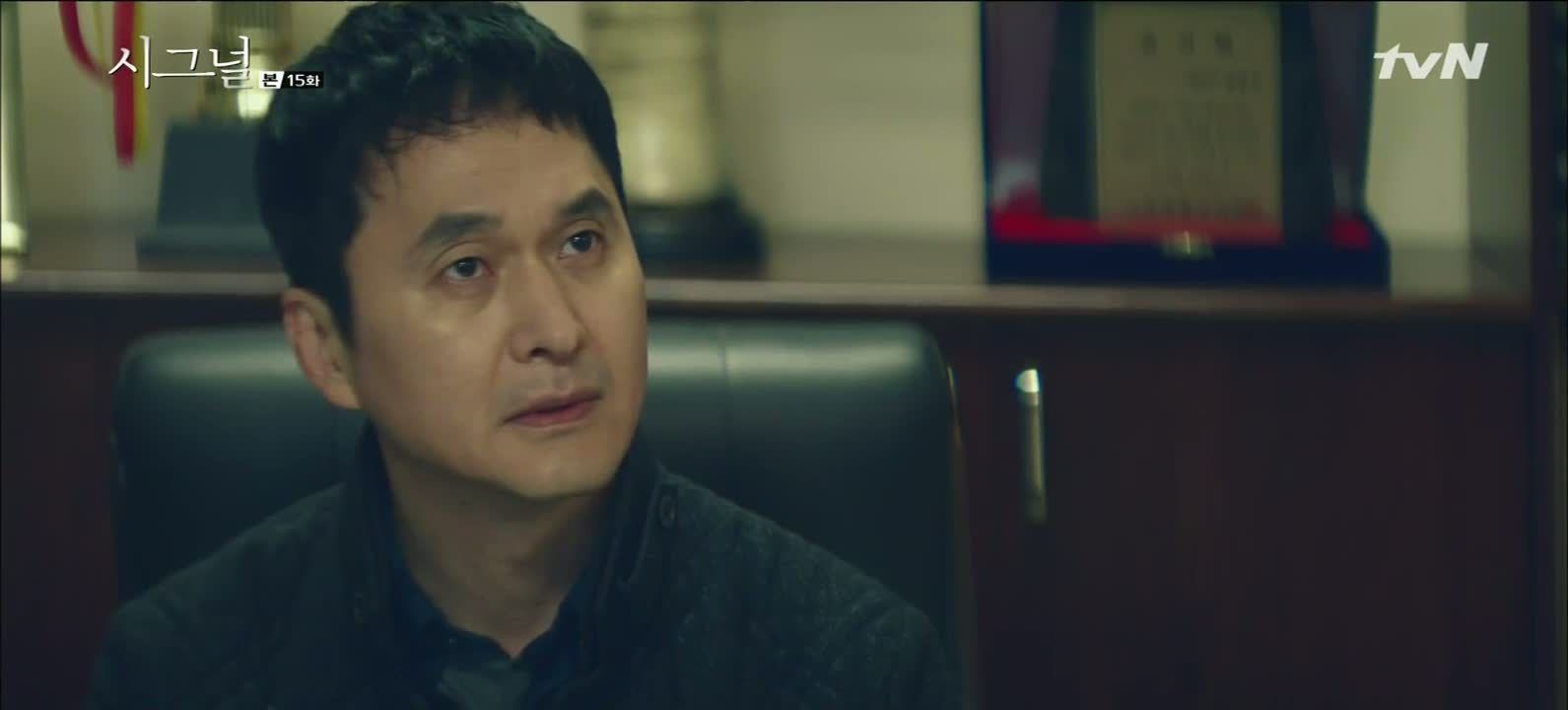 While Soo-hyun sits in her car with the walkie-talkie, the Director Kim in the year 2000 tends to a minor wound. Just then, Jae-han bursts into his office, still in his bloody shirt.
He asserts that Sun-woo isn't the type to take his own life, especially when he had key evidence against the principal offender in the Inju case. He had gone inside the house and was overcome with emotions when he'd seen the pool of blood.
He'd searched every nook and cranny of that house, but couldn't find the red scarf Sun-woo had mentioned. His lip quivering, Jae-han reports that someone made it look like suicide and took the scarf with them. "Someone who should never get their hands on that evidence."
Director Kim tries to nip his suspicion in the bud, but Jae-han says he heard something while he was at the Inju precinct: the cop who saw Sun-woo at the precinct reported it to Section Chief Ahn, which means the news would naturally reach Director Kim's ears.
Before Director Kim can respond to the insinuation, Jae-han notes how the internal investigation against Director Kim has been suspiciously dropped. His master must've taken his hunting dog back in after he'd gone and killed a minor, huh?
Director Kim tells him to give it a rest, but Jae-han hollers that he'll put Director Kim behind bars for what he did. He bellows that Sun-woo worked so hard to clear his name so his family—that was ripped apart because of this case—could live under one roof again.
Sun-woo had believed that things could go back to the way they were if he right his wrongs, Jae-han roars as he's dragged away. Sun-woo believed that there would be an adult who would help him, but was murdered instead. "Are you an adult? Are you human?! Can you still call yourself a cop?!"
Jae-han sits at home that night, refusing to pick up any calls. He tearfully recalls the entire sequence of events that resulted in Sun-woo's death. He tries slapping himself to stop the tears, but they keep coming. When the radio comes alive, Jae-han swallows his tears to prepare himself for this transmission.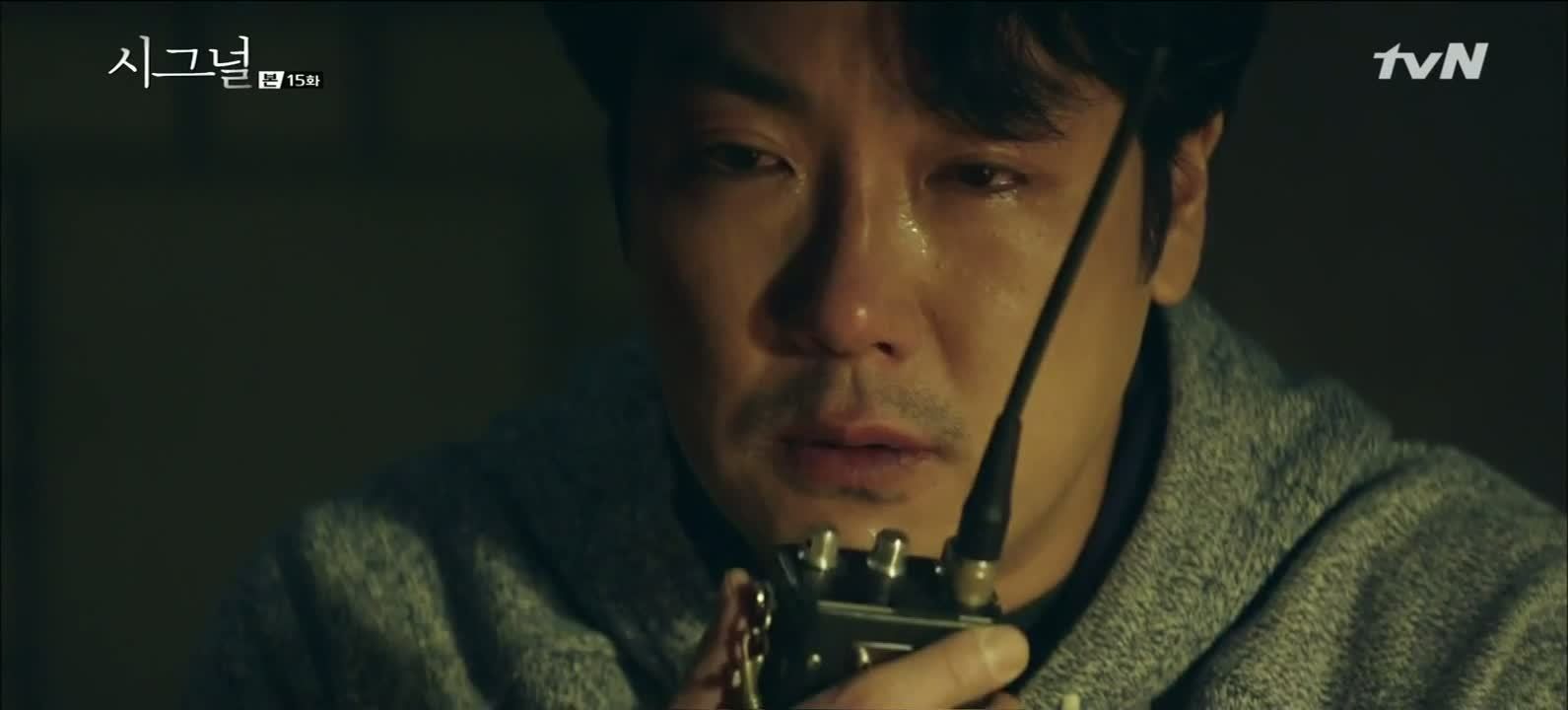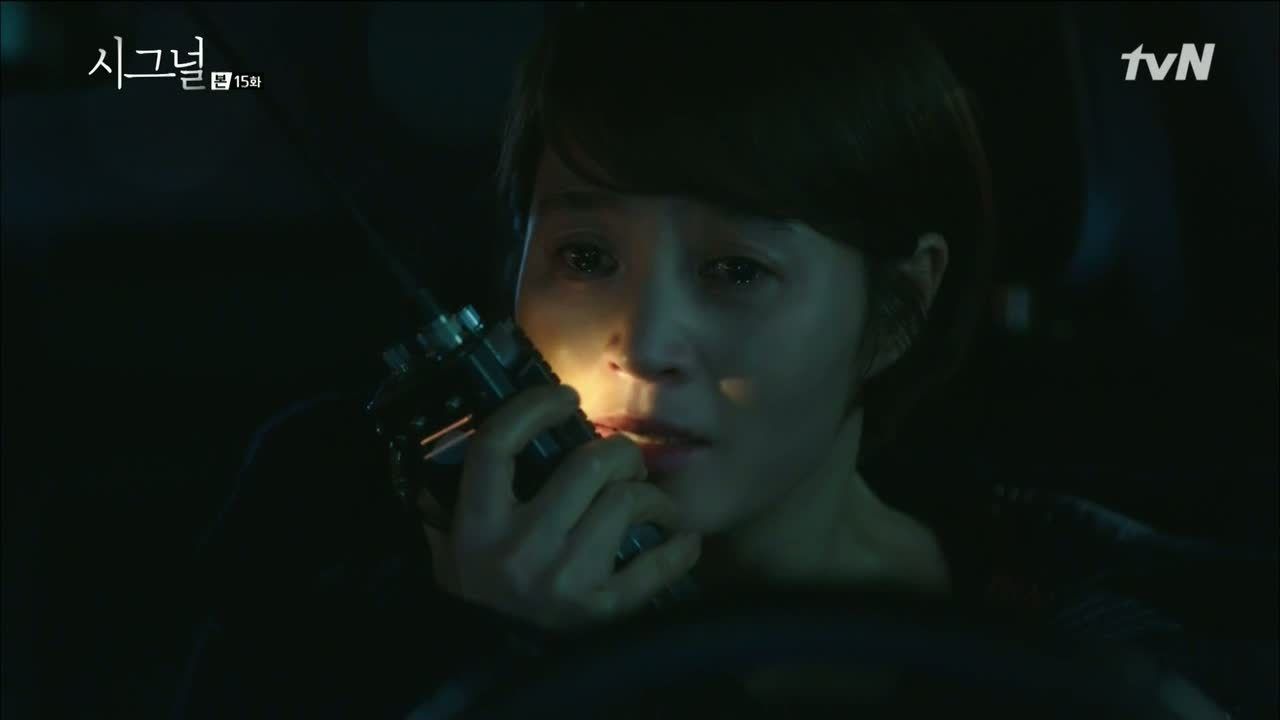 He can barely speak two words before the tears well up in his eyes. "I'm sorry… I couldn't stop it," he says, trying to keep his voice level. He blames himself for not heading down to Inju right away and apologizes for being unable to save Sun-woo in time.
"Sunbae-nim… is this really you?" Soo-hyun transmits from the present. Tears fill her eyes as she repeats the question. She says she waited for fifteen years, but he returned to her as a corpse. She cries, "You'll end up dead!"
She pleads with him to say something because she's waited for so long, and she wants to know what it was that Jae-han wanted to tell her. Jae-han takes a beat before he responds and asks if something happened to Hae-young.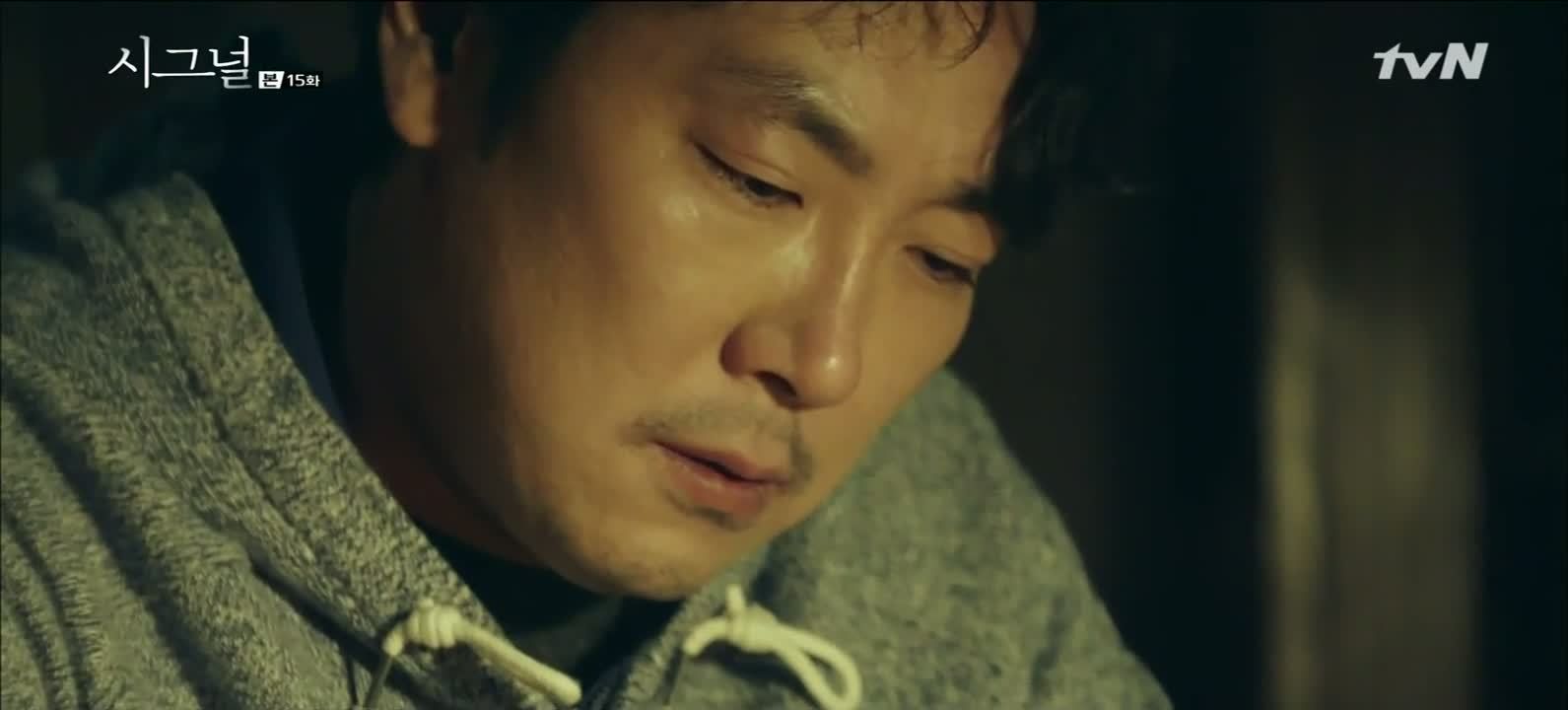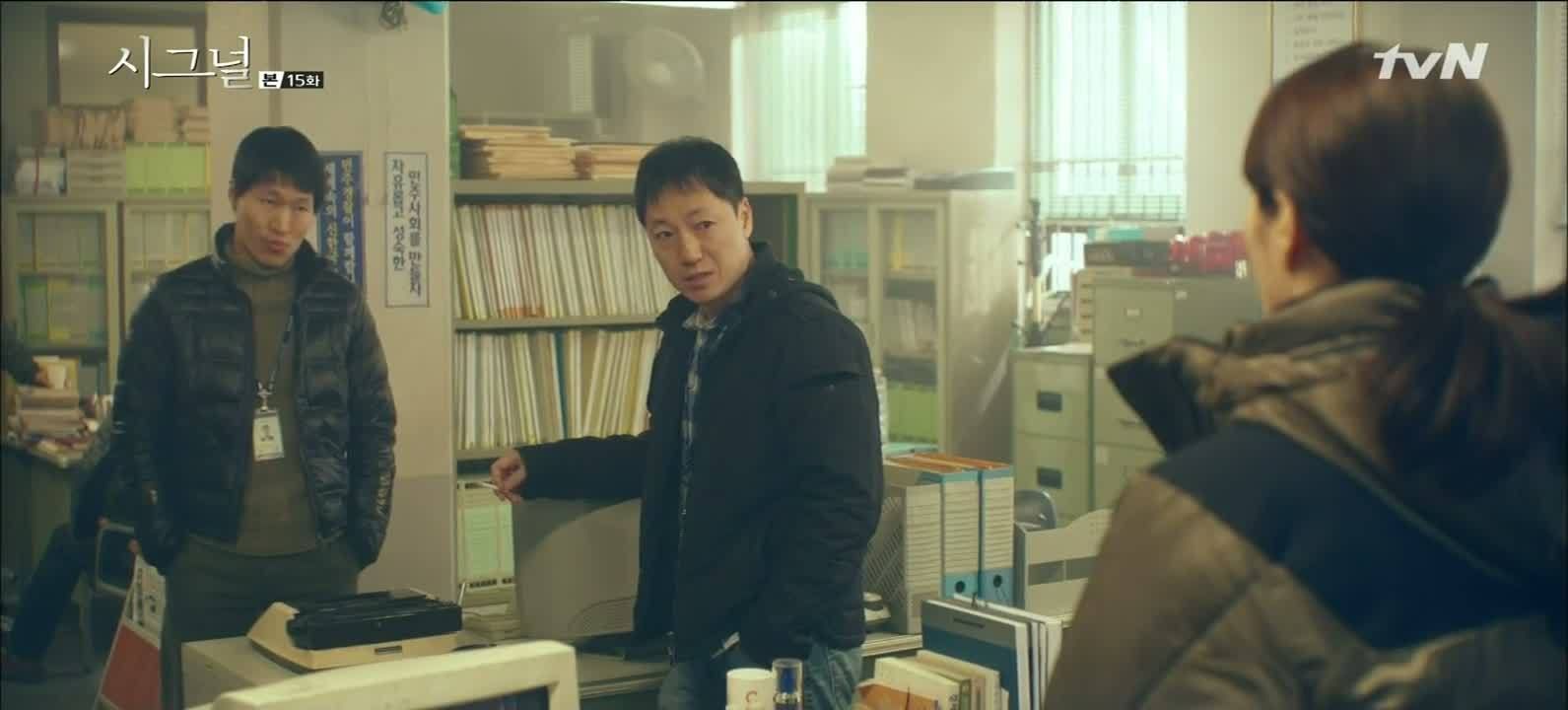 Remembering that Hae-young hadn't told Jae-han of his impending death yet, Soo-hyun says it for him—he mustn't go behind Seonil Psychiatric Hospital on August 3rd. Then the connection drops.
If Jae-han's heart wasn't heavy enough, now he must also deal with this new information. He jots down the date and location on his notepad… the same note we saw him possess in Episode 1.
Soo-hyun arrives at work to find a surprise at her desk: a watch. She notices that Jae-han's desk is empty, then is told that he transferred precincts. She catches him outside before he gets in his car and asks if he's the one who gave her this watch.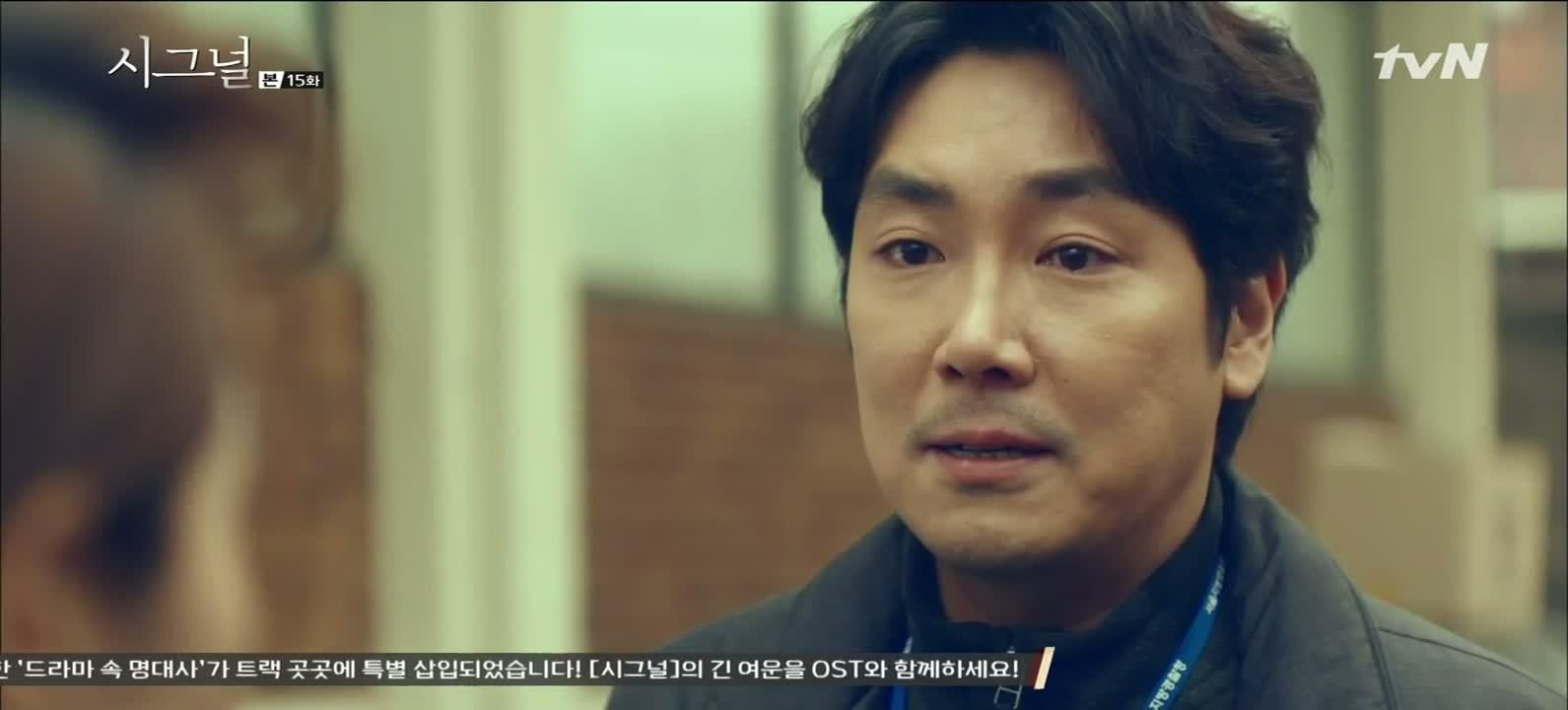 She never asked him to do something like this, and Jae-han swallows his emotions and flatly tells her to throw it out if she doesn't want it. When she actually does slam the box on the hood of his car, he catches her and places the case back into her hand.
He tells her not to pounce on any criminal that shows up before her eyes, and avoid the ones who wield knives because she can always catch them later. "Don't get hurt, and don't get sick, either," he adds.
When he turns to leave, she grabs his arm and asks if he's leaving because of her confession. Removing his arm from her grasp, he wraps both hands around hers. His fingers linger for a few moments before he offers more professional advice, though his eyes express how hard this farewell is for him. "A cop should never lose focus."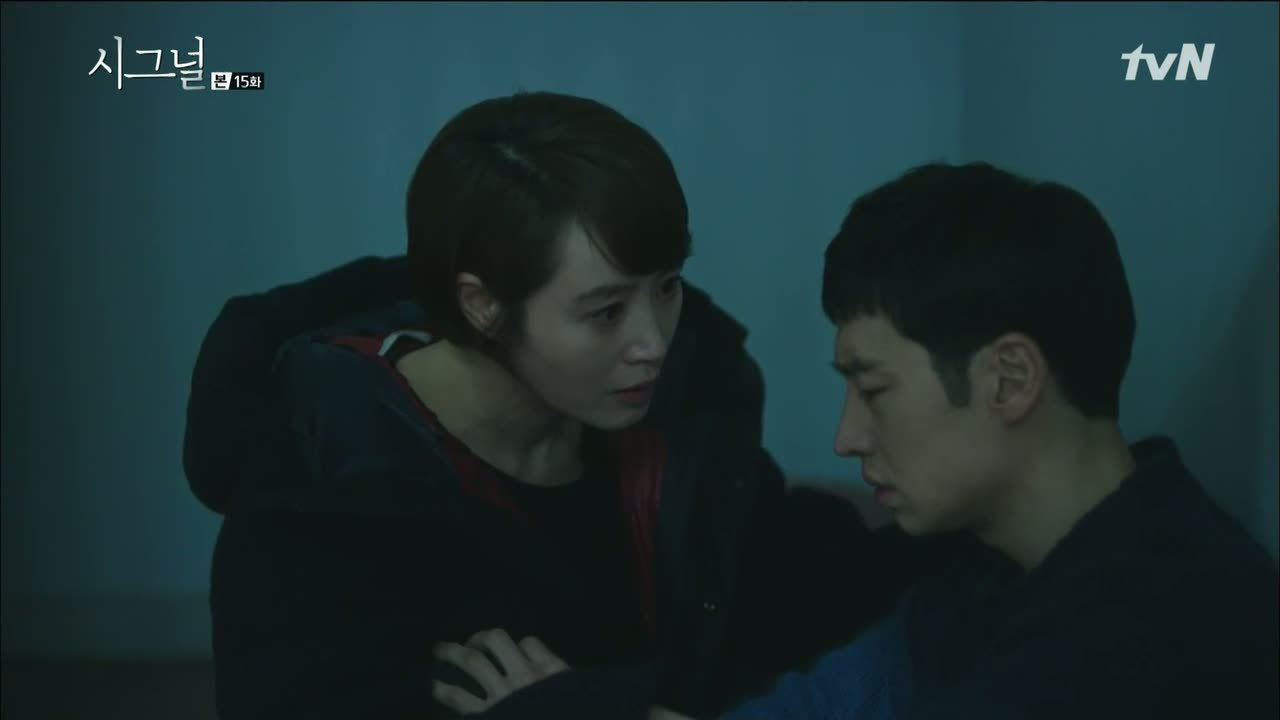 In the present, Soo-hyun meets with Hae-young in his holding cell. She cuts right to the chase: "Can you save him?" When he doesn't respond right away, she drops down to his eye level and says that while she doesn't fully believe everything he said and what's going on, she knows the voice coming out of that radio belongs to Jae-han.
He once told her that there were some who died that were saved, so is that possible for Jae-han? Hae-young softly replies that using the connection to save lives is dangerous, to which Soo-hyun asks: "If we can change everything, if we can save him… even if there's a one percent chance… even if it messes everything up, I'll do it."
"So answer me," she asks. "What must be done to save [Jae-han]?" Hae-young admits that he doesn't know anything anymore—all he wanted was to bring the truth to light, but nothing has gone right and both Jae-han and Section Chief Ahn are dead. He couldn't prevent his brother's death and now he's sitting here accused of a crime he didn't commit.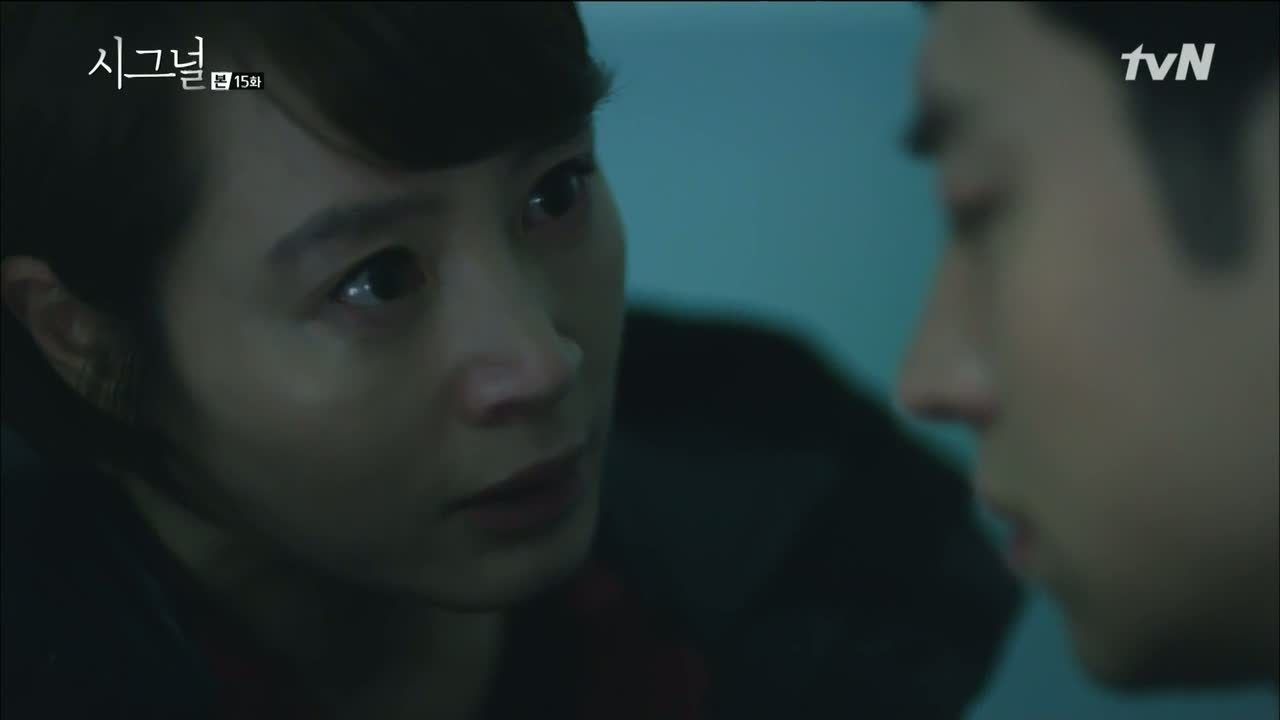 He doesn't even know if he's done the right thing by making those changes to the cold cases. He says fearfully, "I don't know what will happen if we use the transmission to change the past again."
But Soo-hyun doesn't believe that, and shares how she warned Jae-han about his expiration date. Hae-young says that Jae-han went to Seonil Psychiatric anyway, because he thought there'd be a clue there.
Which means that they must figure out how and why Jae-han died, and it dawns on Soo-hyun that they need to find Kim Sung-bum. If they track him down, they might be able to clear Hae-young's name and find a way to save Jae-han. "I… won't give up on [Jae-han]… or you."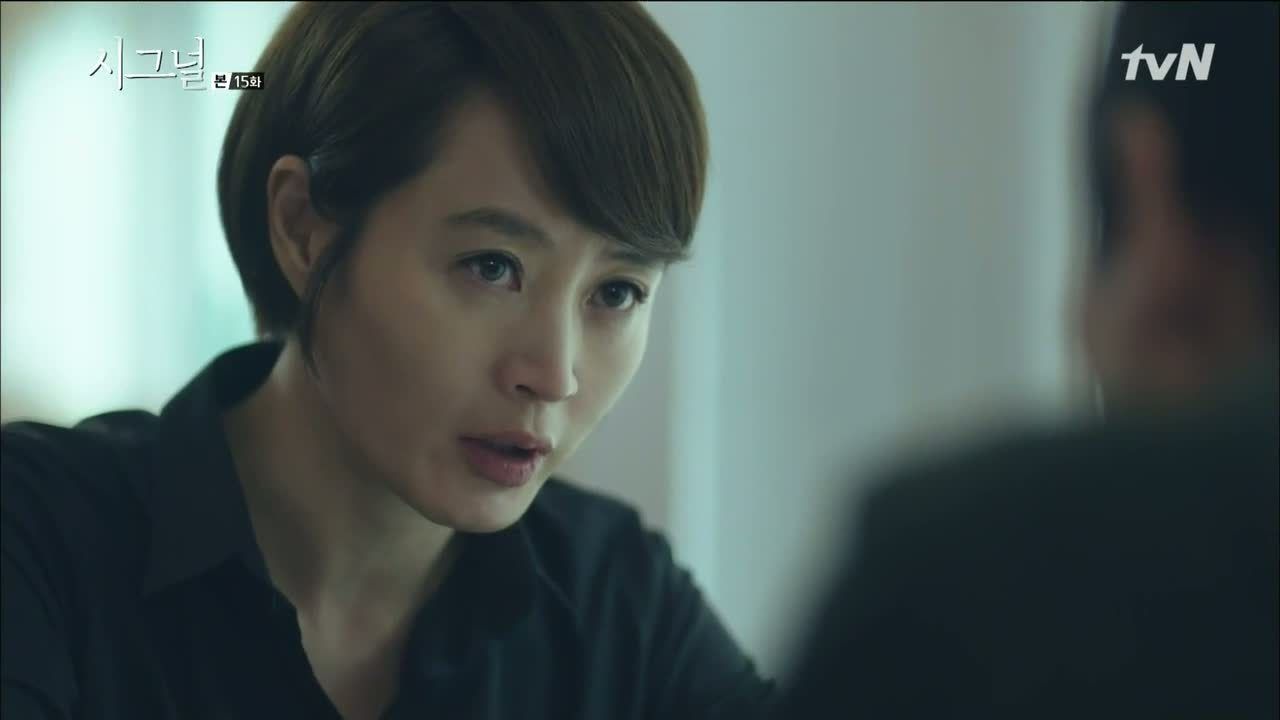 At the precinct, the cops seize everything from Hae-young's desk, though Detective Kim gets worked up when they get their hands on the case files on Soo-hyun's. When asked why she was at Inju Hospital with Hae-young, she doesn't answer.
She and her other cold case squad members head to a cafe to discuss the oddities in Hae-young's arrest. Detective Kim points out how the details are so similar to Sun-woo's arrest, what with how the evidence and witnesses popped out of seemingly nowhere and the witness statements match up too well.
Neither Heon-ki nor Detective Kim suspect Hae-young to be the murderous type, but Soo-hyun knows someone who is: Kim Sung-bum, who was at Inju Hospital the night Section Chief Ahn was murdered.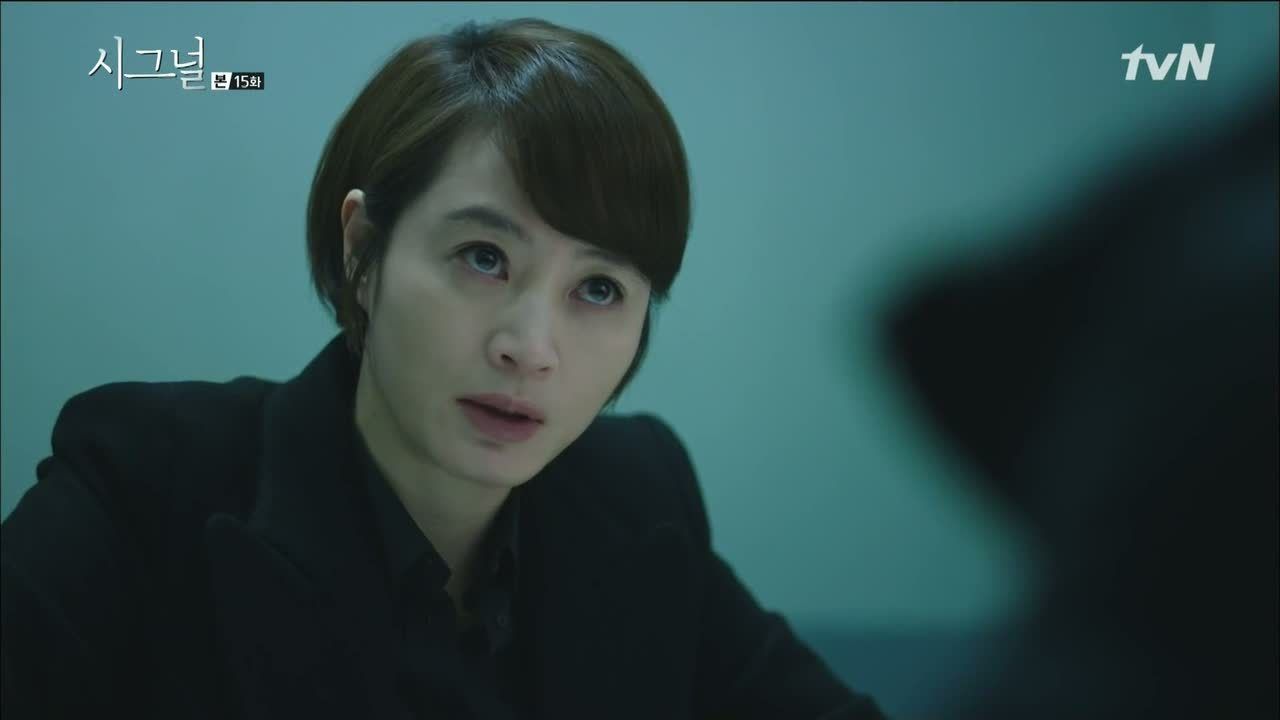 Soo-hyun shuts down the idea of telling the other cops, since they wouldn't believe that Hae-young saw him there anyway. She makes sure to keep their voices quiet while telling them about how Jae-han's body was found behind Kim Sung-bum's villa.
Problem is, the gangster is currently on the run, so it's up to them to track him down. Soo-hyun shows Hae-young a list of places Kim Sung-bum could be when she visits him later on.
They've barely started and Hae-young already looks defeated, so Soo-hyun reaches out to him and says they must find Kim Sung-bum because they aren't the only ones looking for him.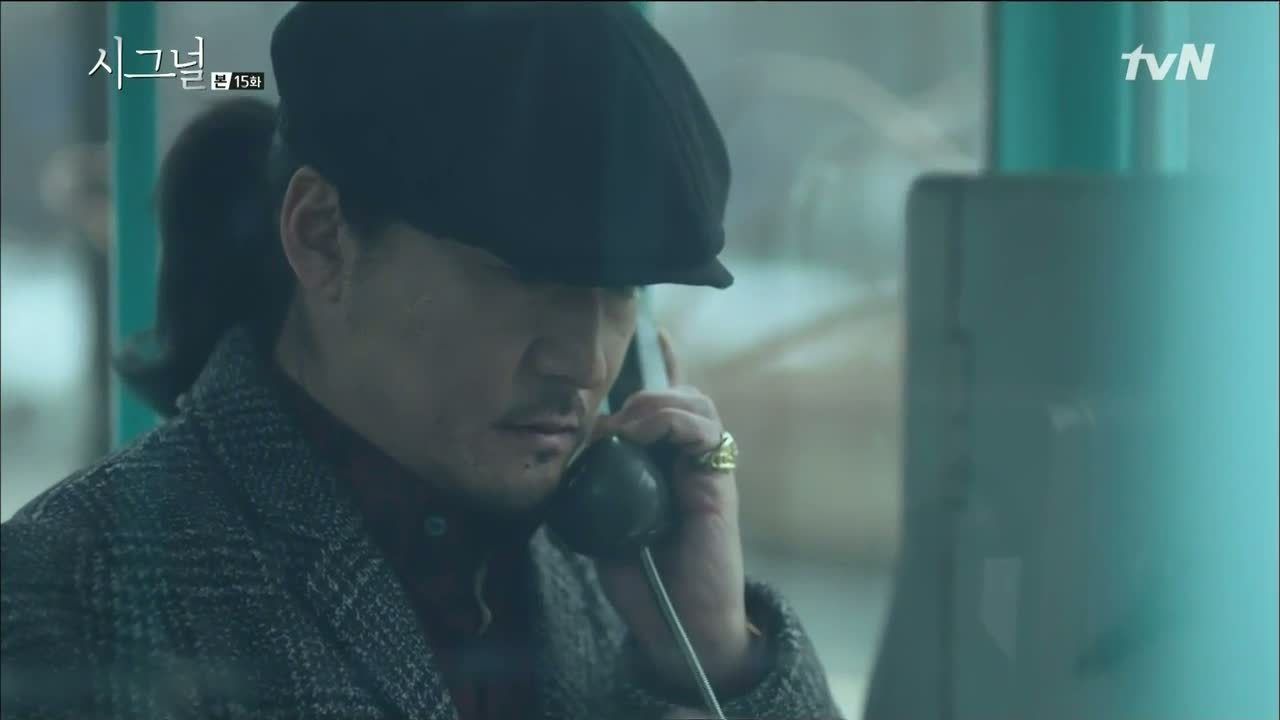 By the time Detective Kim had reached out to his contacts, he'd learned that someone else was already one step ahead of them. "Director Kim," Soo-hyun explains. That doesn't make sense to Hae-young, since the director would likely be someone to ensure Kim Sung-bum's safety.
But neither Director Kim nor Kim Sung-bum accounted for the possibility that Jae-han's body would be found, Soo-hyun continues. And because Kim Sung-bum knows of Director Kim's unscrupulous behavior better than anyone, that makes him a dangerous liability.
So that means Director Kim will try to off the gangster before he's caught by the police, and we see that's exactly what Director Kim is trying to do. As for Kim Sung-bum, he sees the man Director Kim has employed to look for him. He makes a call on a public phone in Bucheon, but then hangs up when it goes unanswered.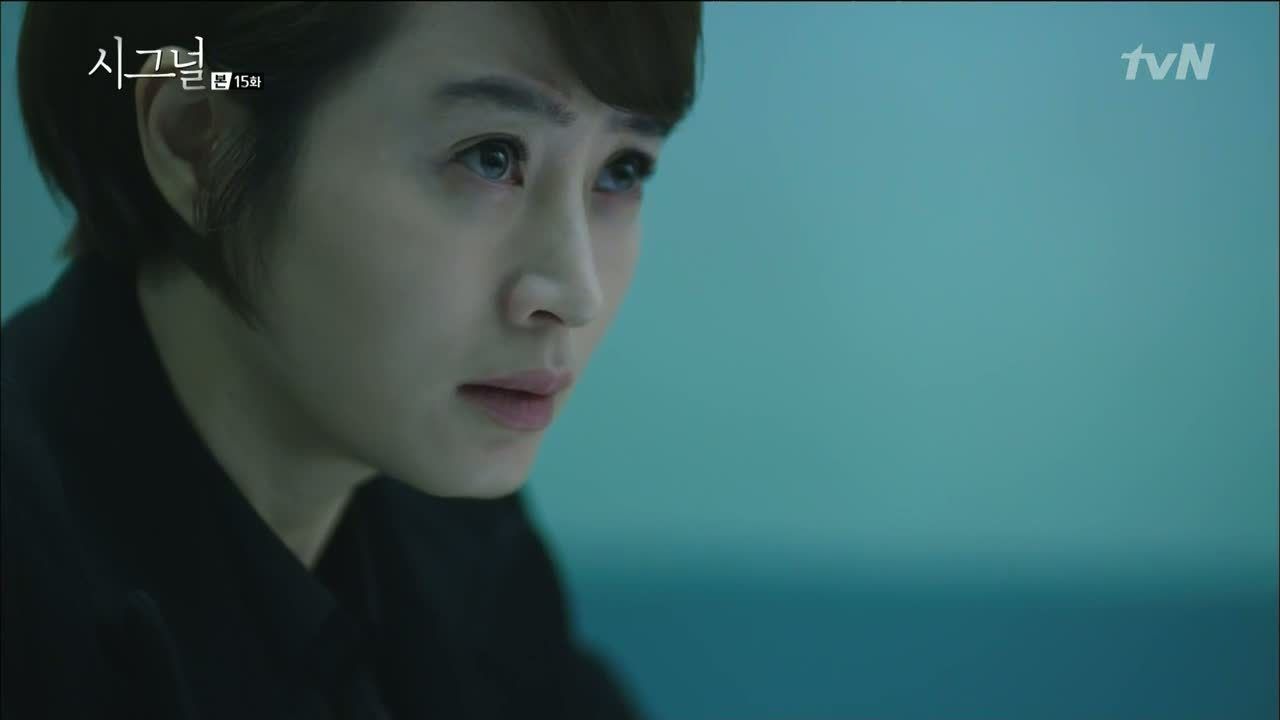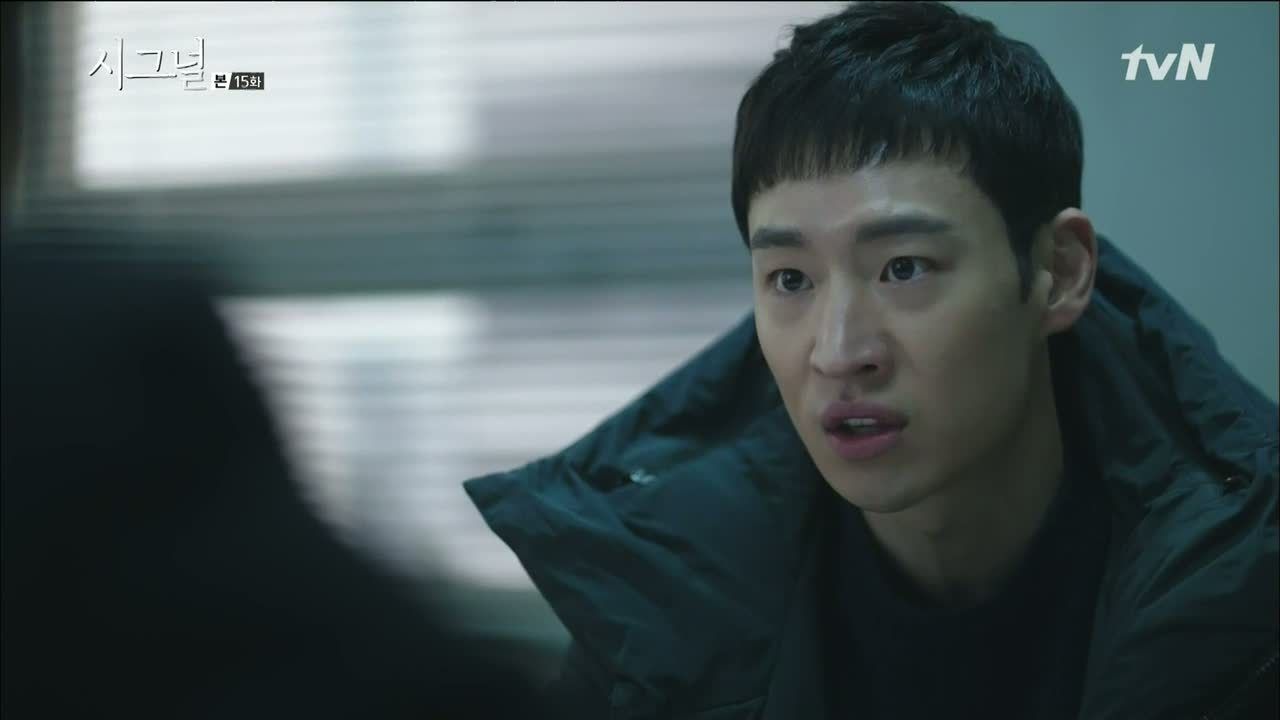 If they don't find Kim Sung-bum before Director Kim does, they'll lose the only person who knows anything about Section Chief Ahn and Jae-han's deaths, Soo-hyun presses. That motivates Hae-young to start thinking, and he pauses on the mention of Bucheon.
He recalls how he received anonymous calls from the Bucheon area code, then asks what someone would do if they were being chased by multiple enemies. They'd likely turn to someone they trust most, particularly someone who would try to expose Director Kim's wrongdoings—someone like him.
Soo-hyun manages to smuggle Hae-young's cell phone into the interrogation room, where he carefully shows her the number that tried to get in touch with him. And there's a voicemail from Kim Sung-bum asking Hae-young to meet him alone on January 19 at 11 PM.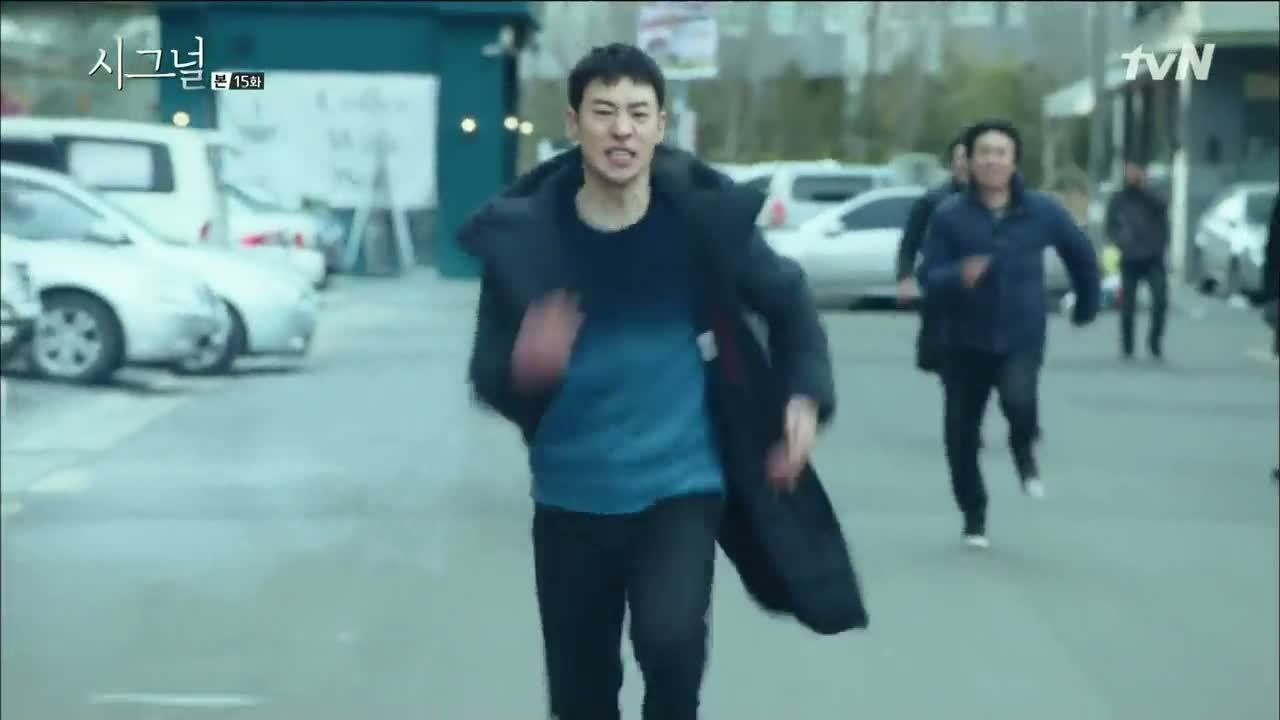 Soo-hyun is ready to fly into action to arrest Kim Sung-bum, but Hae-young reminds her that the gangster is a cautious man—he'll be on the lookout to see if something is off.
They can't risk losing this opportunity for contact, so there's only one thing they can do, he says. We don't know what that is yet, as we watch Hae-young being escorted to the courthouse.
He silently removes the key hidden in his sleeve while the cop is busy on his phone and carefully unlocks himself from his handcuffs. His hands now free, Hae-young grabs the seat back adjuster, then clocks the cops on either side before jumping out of the van.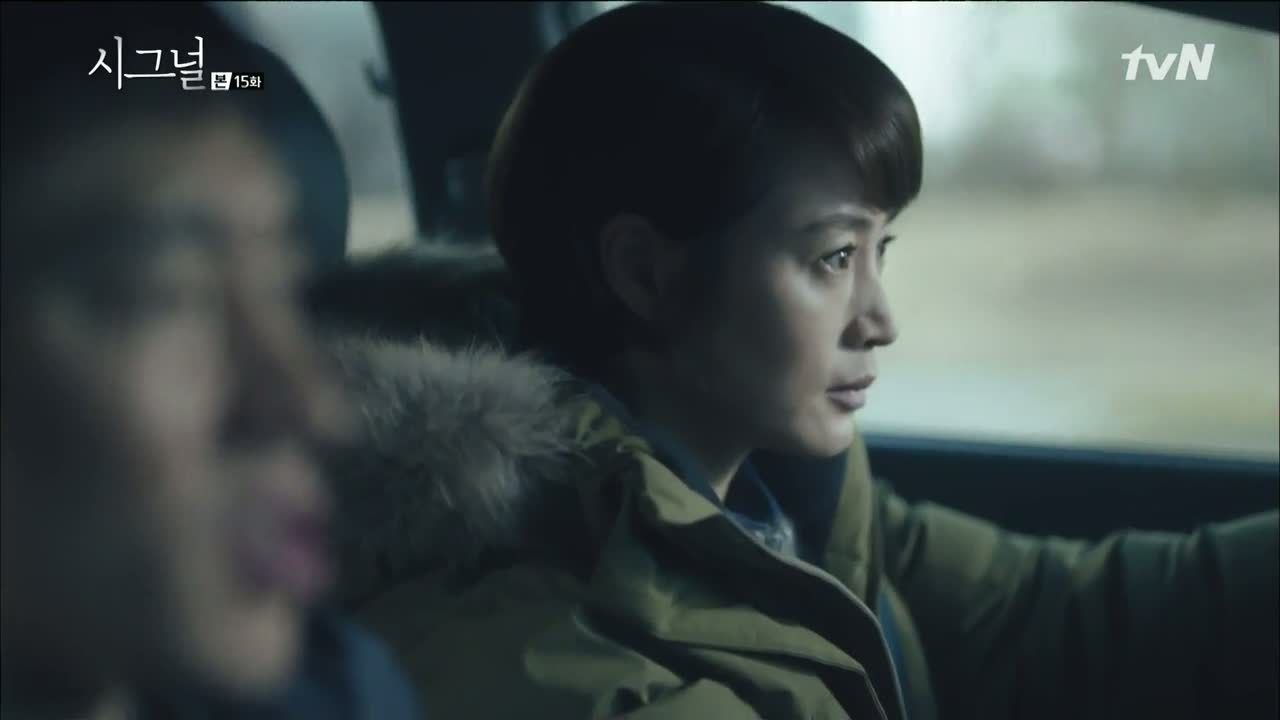 He runs out of the traffic and into the streets, then we flash back to the moment when Soo-hyun had slipped him the key in the interrogation room. Hae-young had been reluctant to get Soo-hyun involved, but she was determined to find Kim Sung-bum.
Hae-young keeps running until he gets to the rendezvous point where Soo-hyun is already waiting for him. They zoom off in her car before the other cops can catch him, but they both know that this vehicle will be traced back to her.
Soo-hyun doesn't care what the cops at the precinct think since her goal is to find the man who knows why Jae-han died and figure out a way to save him.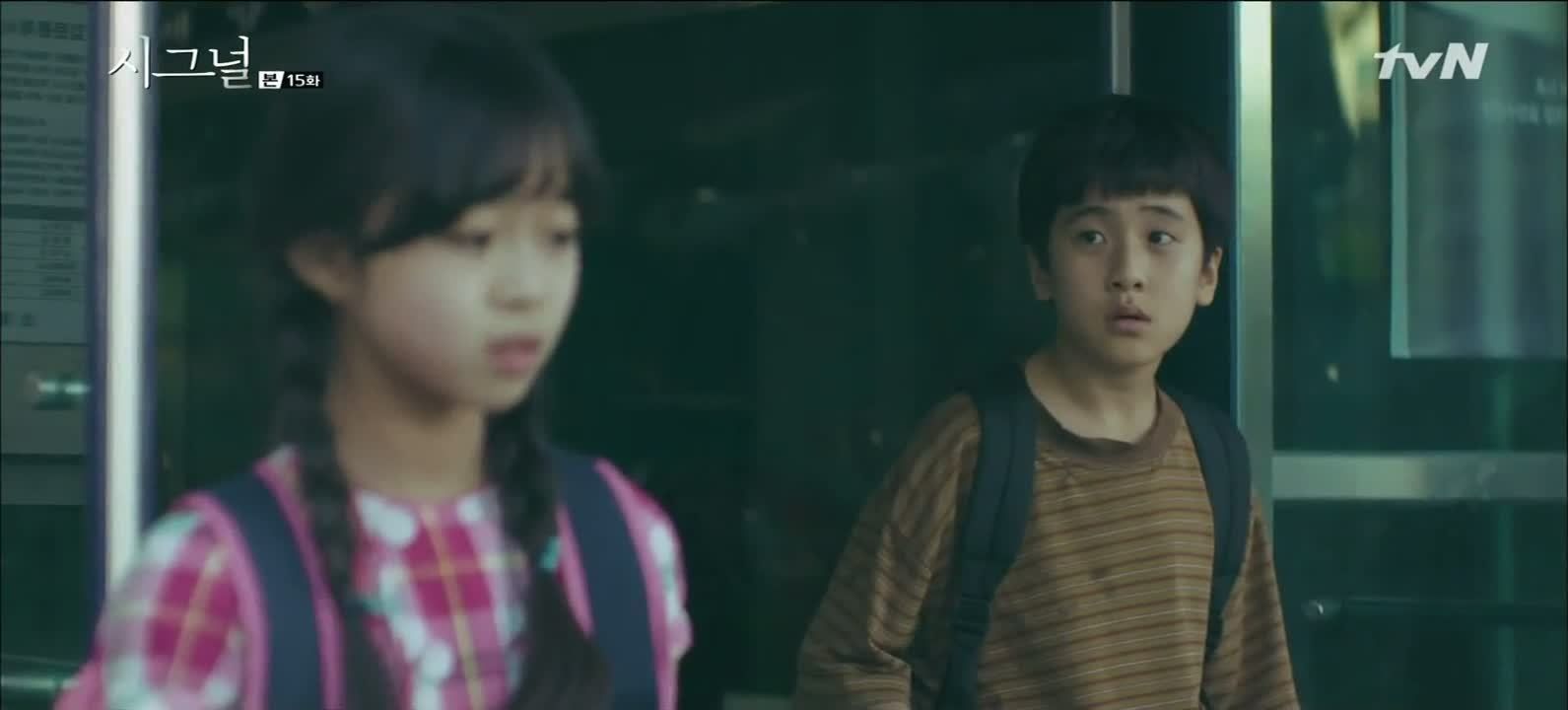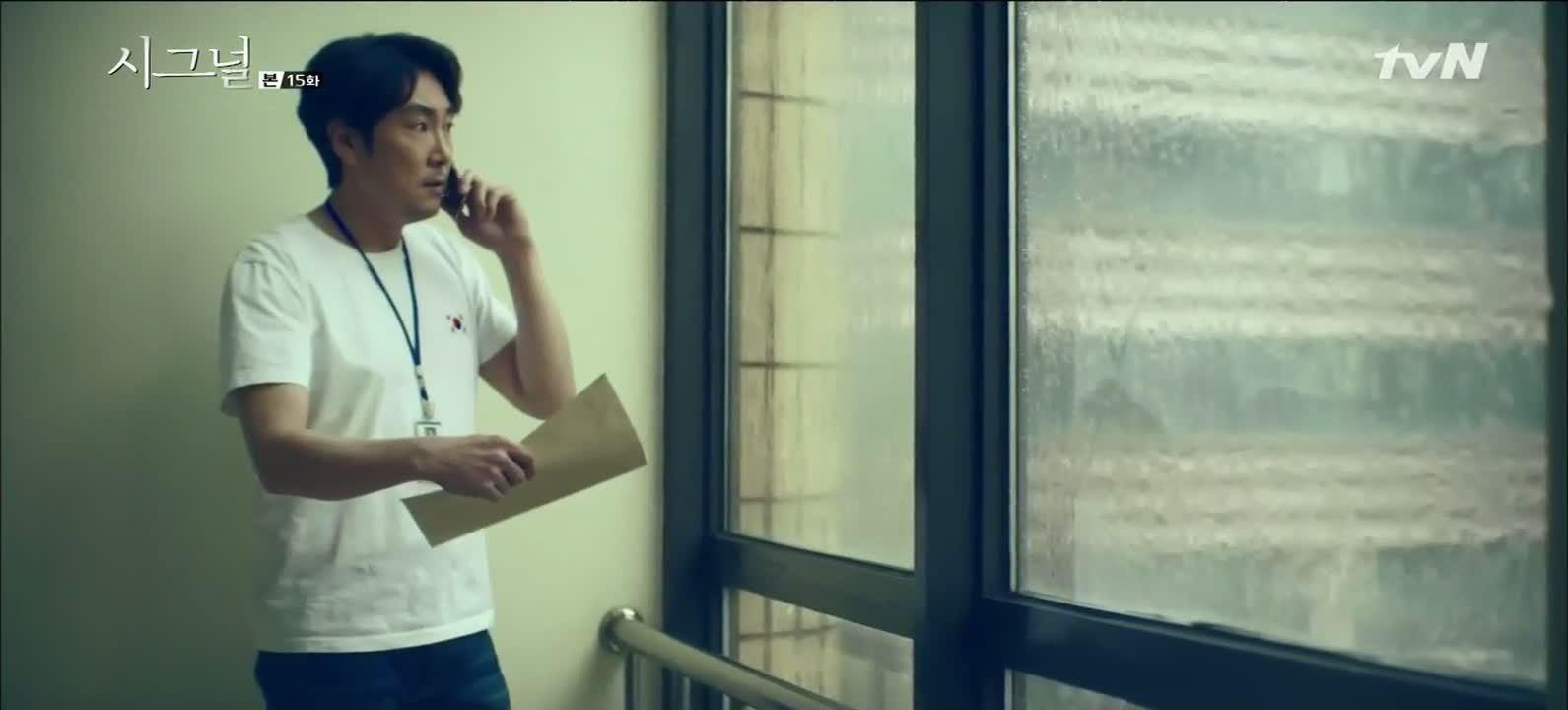 July 29, 2000. Jae-han receives an envelope from the national forensics center in America while we see the same scene from Episode 1 play out: little Hae-young sees Yoon-jung waiting outside after school, and he leaves her behind.
Jae-han calls a prosecutor to inform him that he has the evidence that proves Director Kim committed murder. It's the test results from Hye-seung's red scarf, and he promises to head to the prosecutor's office in an hour. I have a feeling that that won't happen.
It's not long before the entire precinct is informed about Kim Yoon-jung's disappearance, so Jae-han tucks the results in his desk drawer.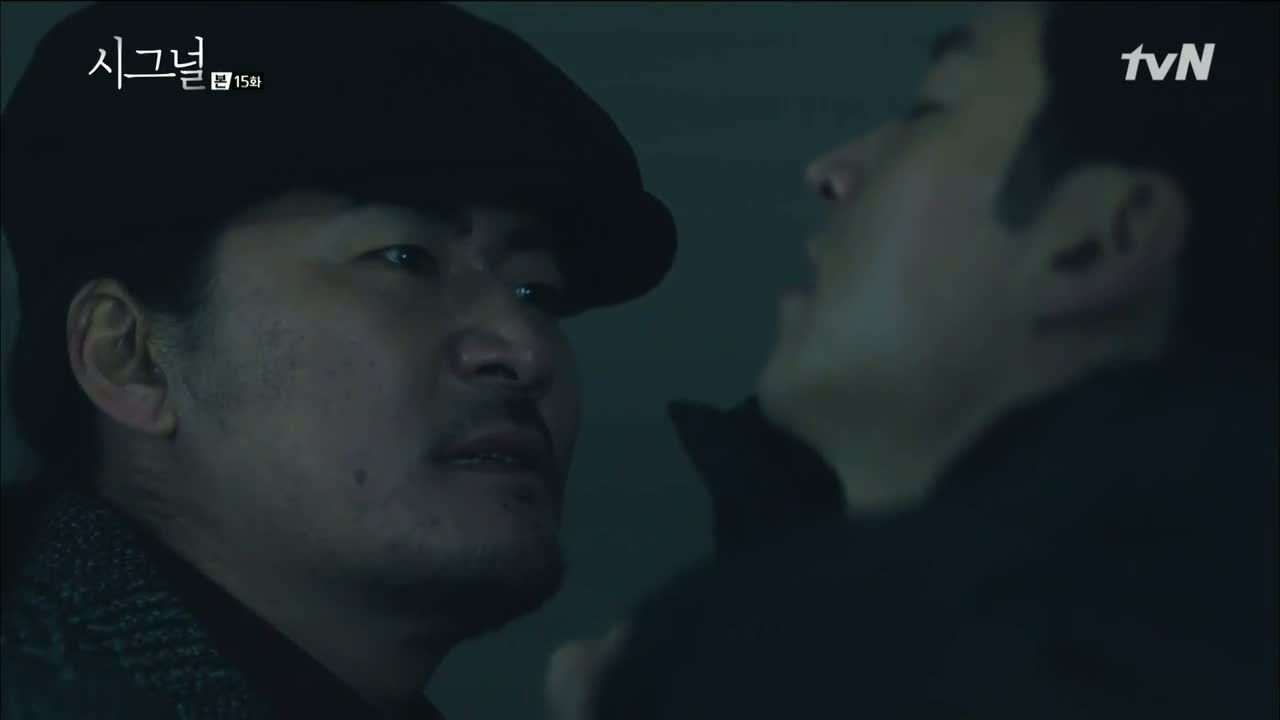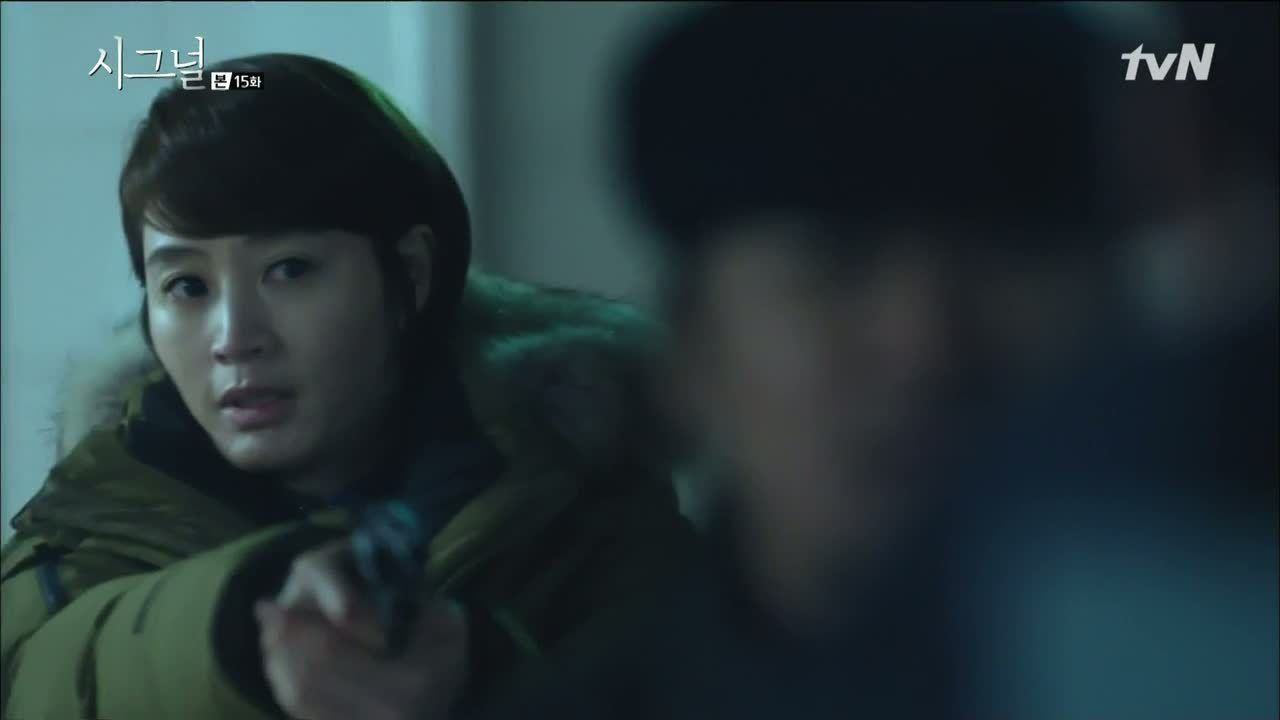 Meanwhile in the present, Hae-young arrives at the basement parking lot at the appointed time. When a door opens, he runs towards it, only to be whirled around and be slammed into a car by Kim Sung-bum, who demands to know if Hae-young is alone.
Hae-young in turn, wants to know what Kim Sung-bum has on Director Kim, and is told to search his brain. If the statute of limitations for embezzlement and bribery have expired, what's left? "Homicide," Hae-young replies.
In that moment, Soo-hyun appears behind Kim Sung-bum, who slowly raises his hands before making a run for it. Hae-young gives chase and rams into him, then pins him against a pillar.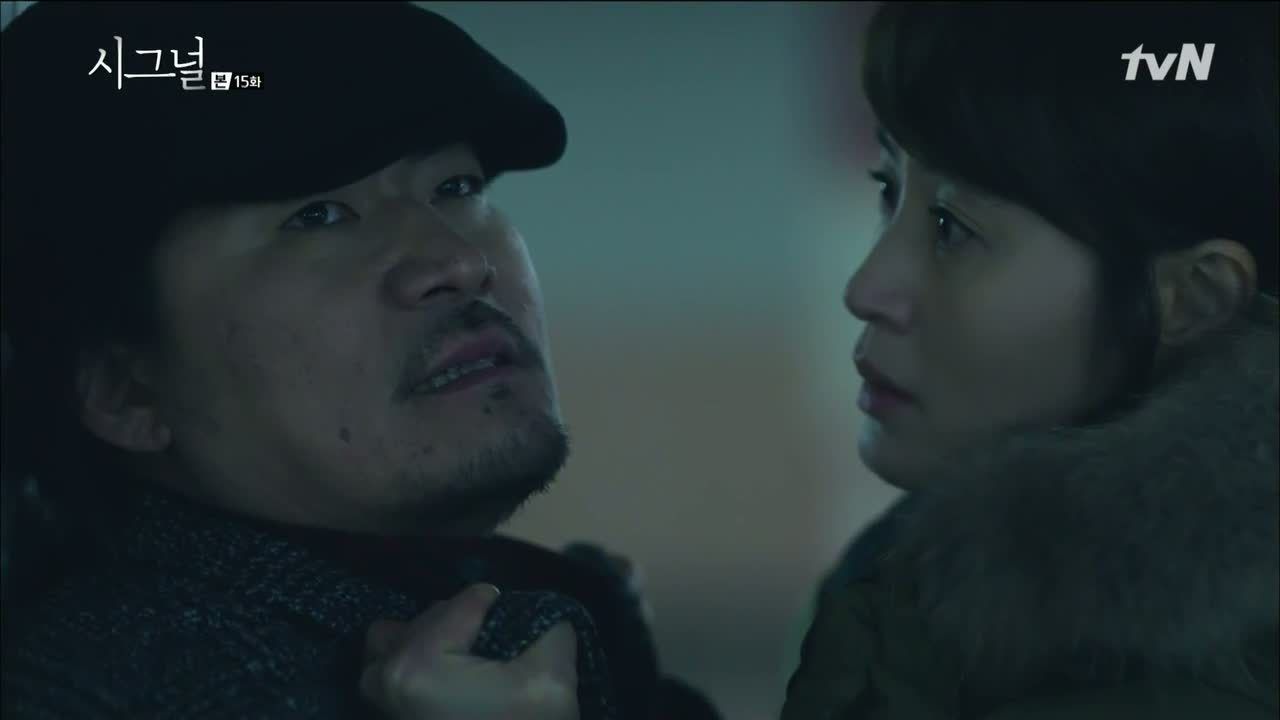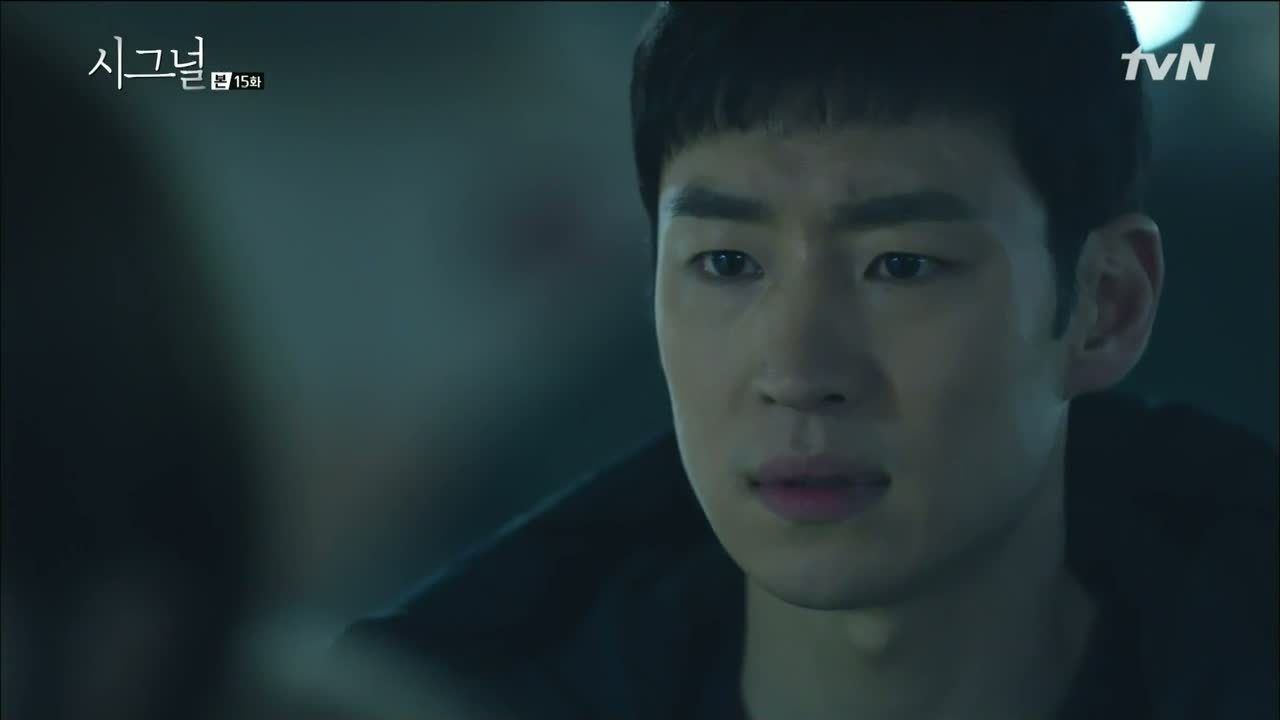 As Hae-young cuffs him, Kim Sung-bum growls that he told Hae-young to come alone. It's not that he can't trust Soo-hyun but that Director Kim probably put a tail on them. Well that just means they've got limited time on their hands to chat, and Soo-hyun doesn't believe it for a second when Kim Sung-bum claims he doesn't know who Jae-han is.
Grabbing a fistful of his coat, she demands to know why Jae-han was killed. The gangster says Jae-han was asking for it—he wouldn't have died so needlessly if he hadn't gone snooping around.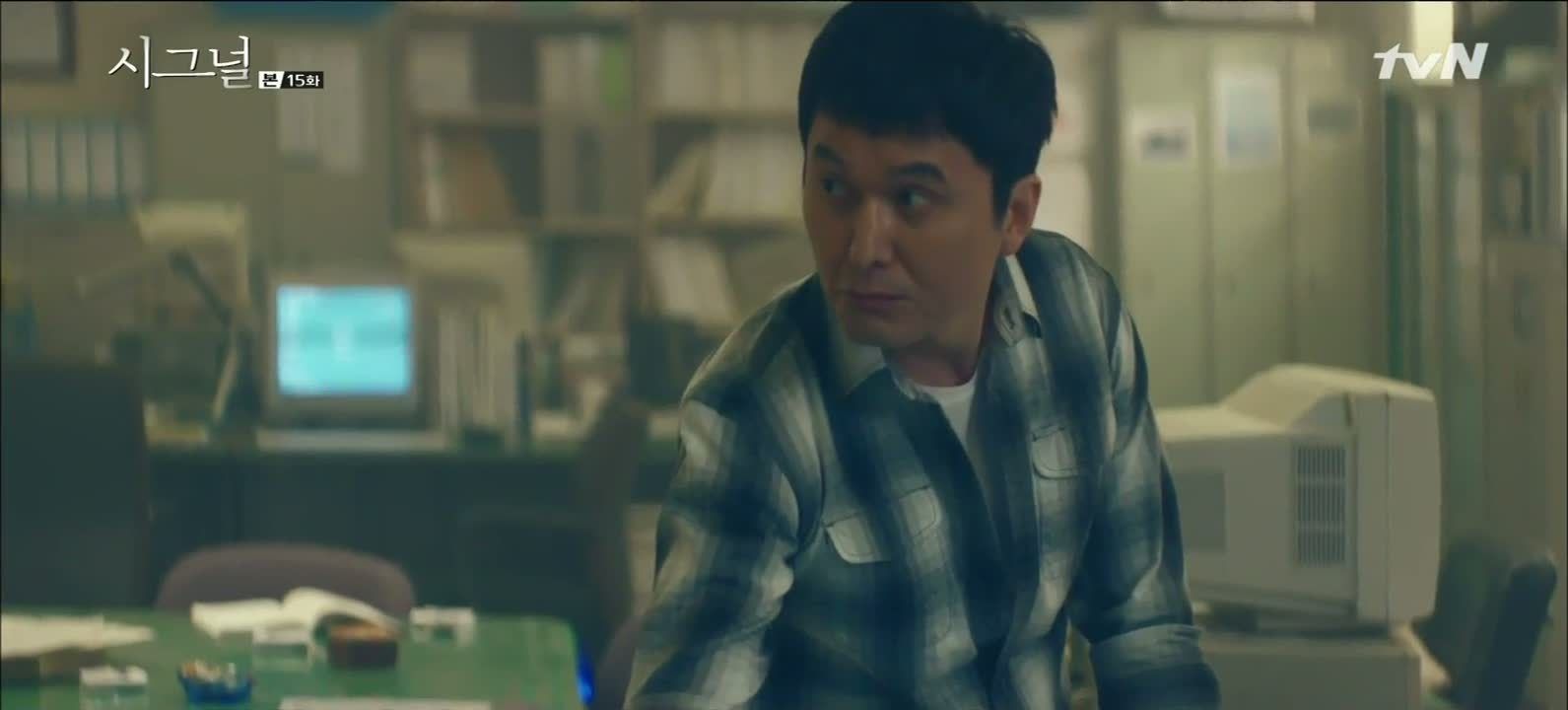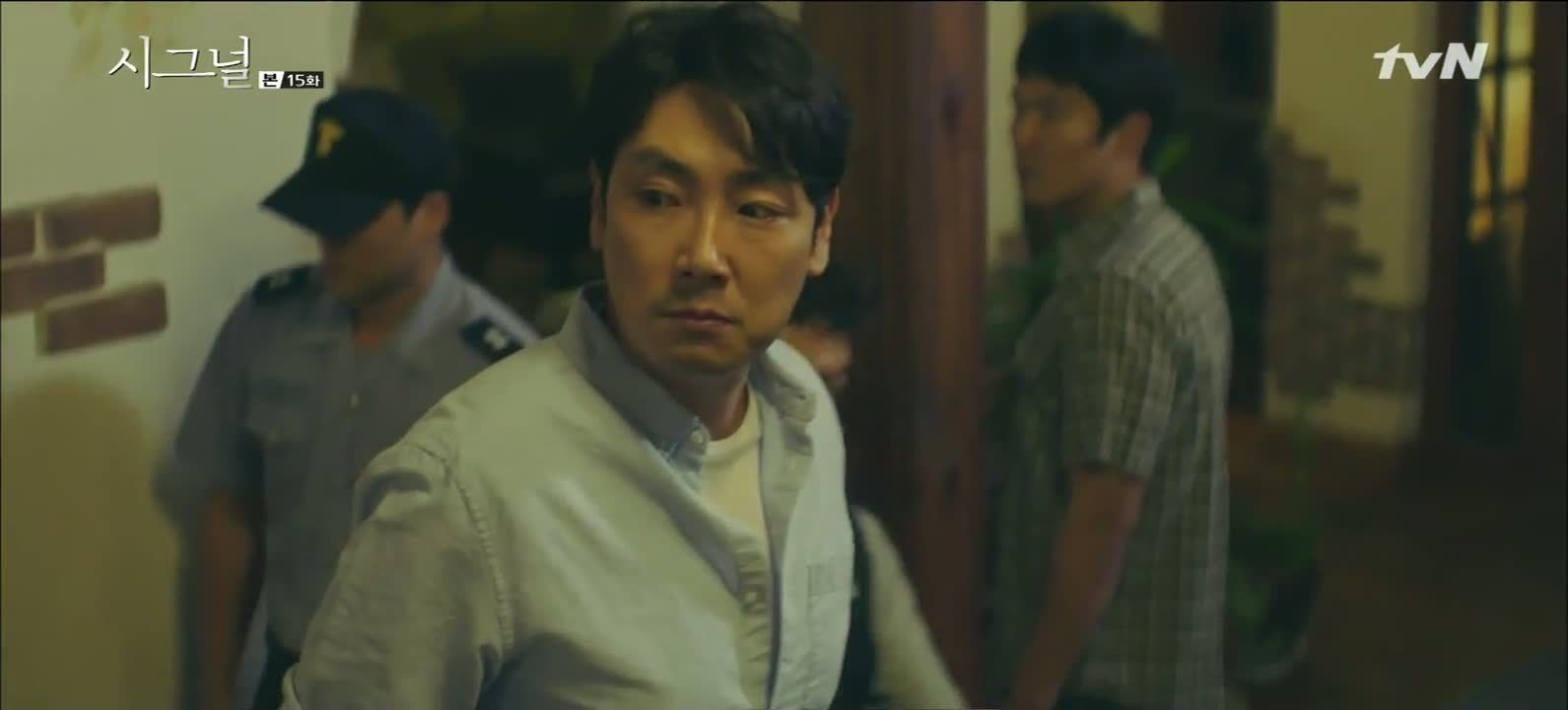 Over in the past, Director Kim and Section Chief Ahn again are introduced to oversee the Kim Yoon-jung case. Needless to say, Jae-han and Director Kim don't share greetings, and soon Jae-han and the others are sent to the cafe listed in the ransom note (where they'll find Suspect Seo's thumbprint).
Which means Director Kim is alone at the precinct, and he finds the test results in Jae-han's drawer. Shit. In the present, Kim Sung-bum explains that Jae-han insisted upon investigating a case that had nothing to do with him: Sun-woo's death.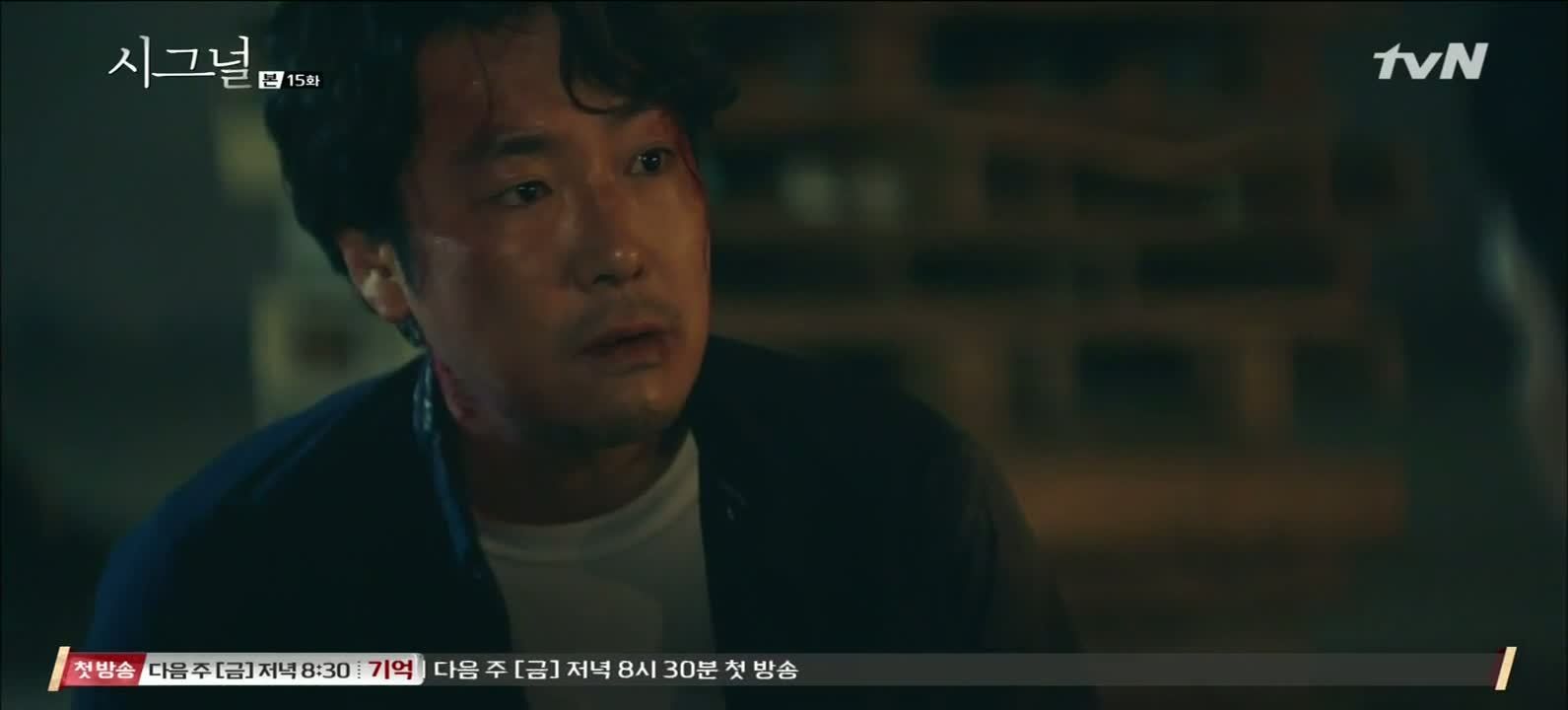 That fateful night on August 3, 2000, Director Kim had dangled the test results in front of a bloodied and battered Jae-han, who'd been surprised to learn that the prosecutor was in leagues with Director Kim.
When Director Kim had offered him a final chance to give up, Jae-han had responded by charging at him instead. He had then pulled off his restraints, and had flipped Kim Sung-bum over shortly after being stabbed in the abdomen.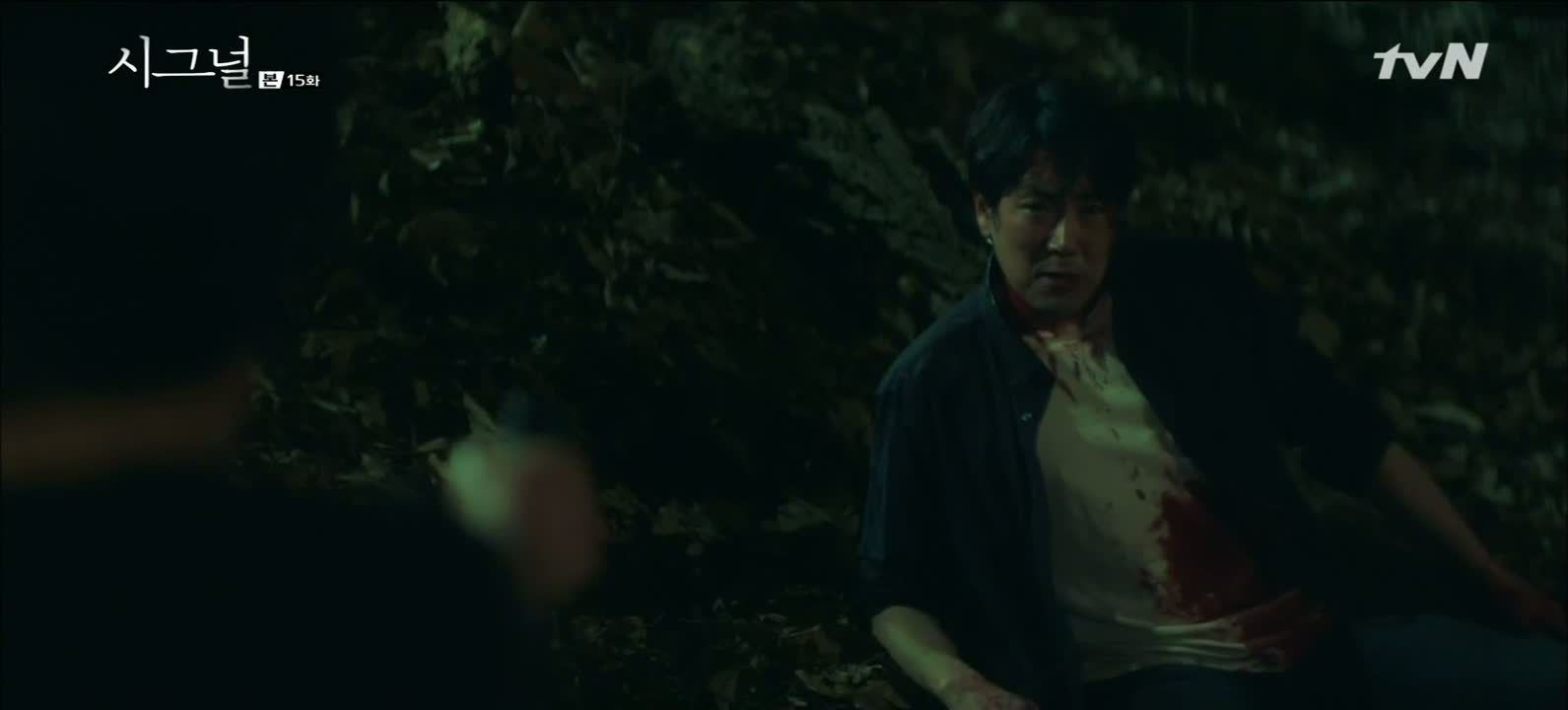 Jae-han had escaped into the dark woods with his walkie-talkie, falling over and over again. By the time the walkie-talkie had lit up, Jae-han had transmitted that this would be his final transmission. We know the rest from there.
Kim Sung-bum had caught up in time to see Section Chief Ahn struck with fear before he'd pulled the trigger. The time had been 11:23 PM, and Jae-han's last thought was for Hae-young to never give up.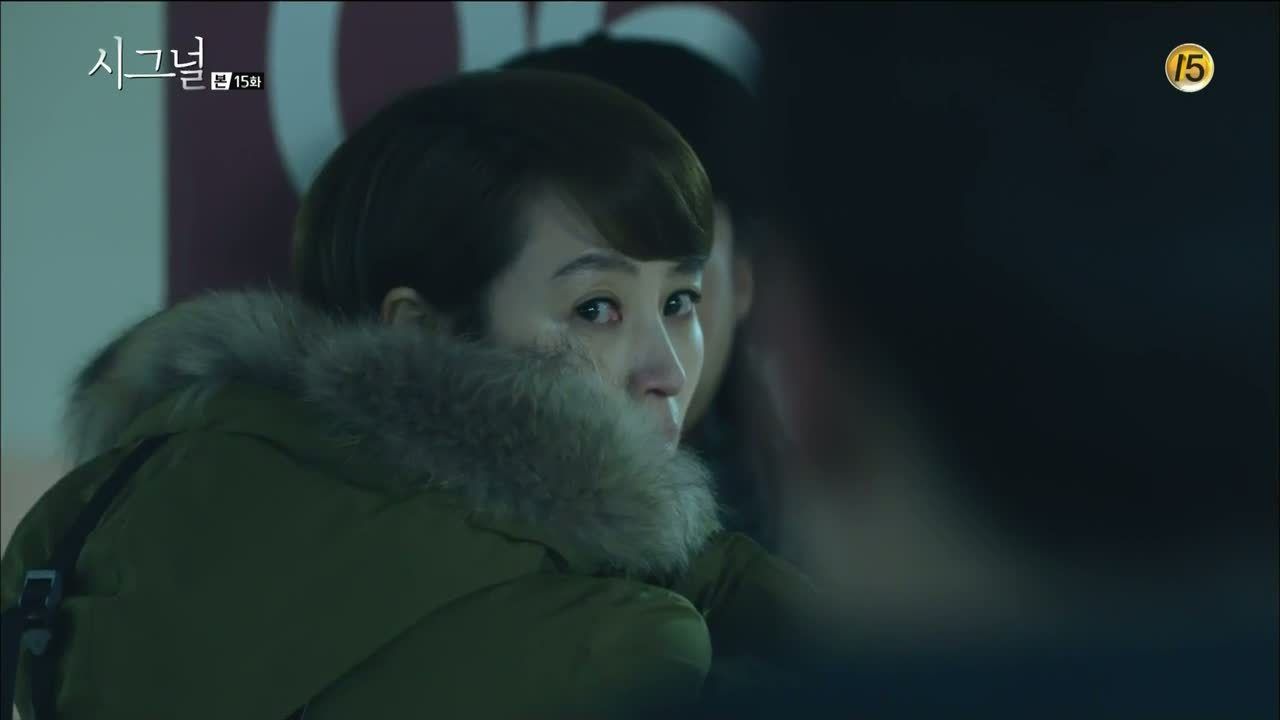 There was a chance for Jae-han to live, but he'd chosen not to take it, Kim Sung-bum growls. It's only now Hae-young realizes how determined Jae-han was, as the one person who never gave up. "And… it's my fault that Jae-han died," Hae-young falters, as a tear rolls down his cheek.
Soo-hyun turns to Hae-young to tell him to keep it together, but that's when Kim Sung-bum uses the distracted moment to try and run. He doesn't get far before a car runs him over, and while Soo-hyun chases the vehicle, Hae-young runs to Kim Sung-bum's side. Ack, this is why a cop can't ever lose focus!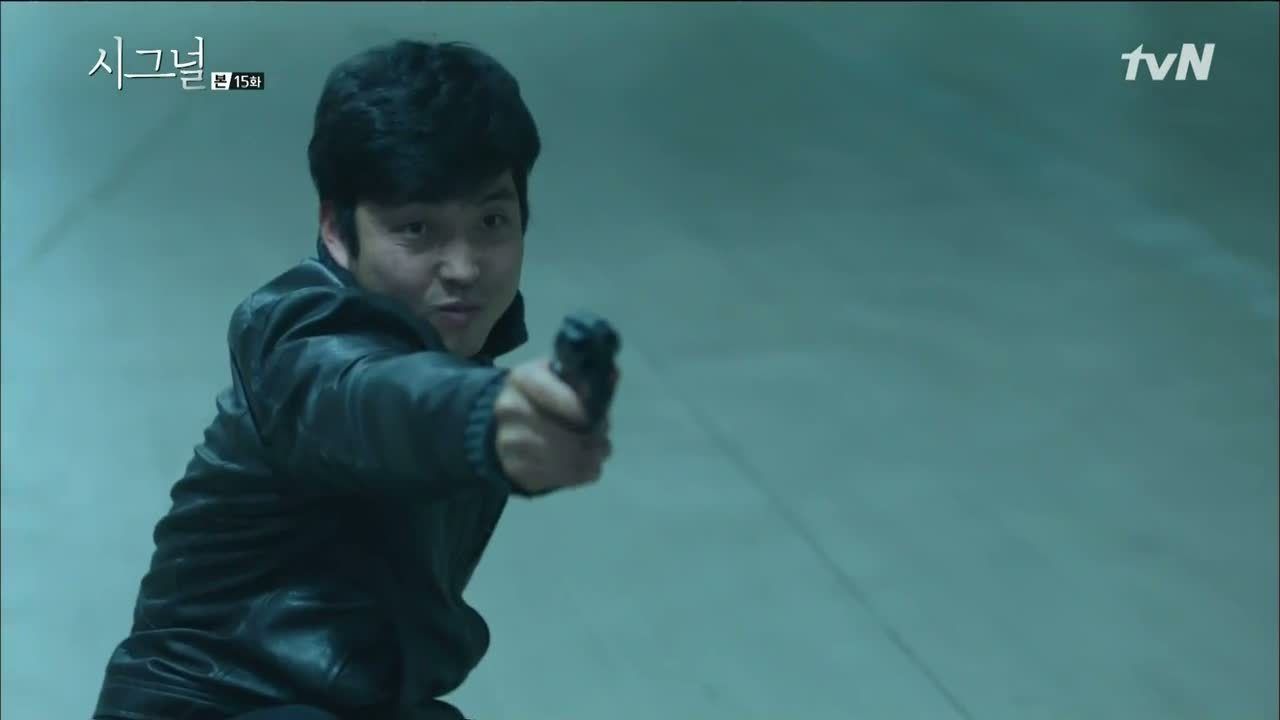 Soo-hyun catches up and shoot the car's tires, and the car spins to a stop. Opening the car door, she orders the driver to get out, keeping her gun trained on him. But that's when another guy hops out of the backseat, and the driver kicks the gun out of her hand.
But he's dealing with a veteran cop who can kick some serious ass as she slams him back into the car. He gets a few punches in, but she uses the car door to her advantage then kicks him down.
Hae-young sees the driver grab Soo-hyun gun and races toward them. Just as the shot rings out, he throws himself in front of Soo-hyun like a human shield.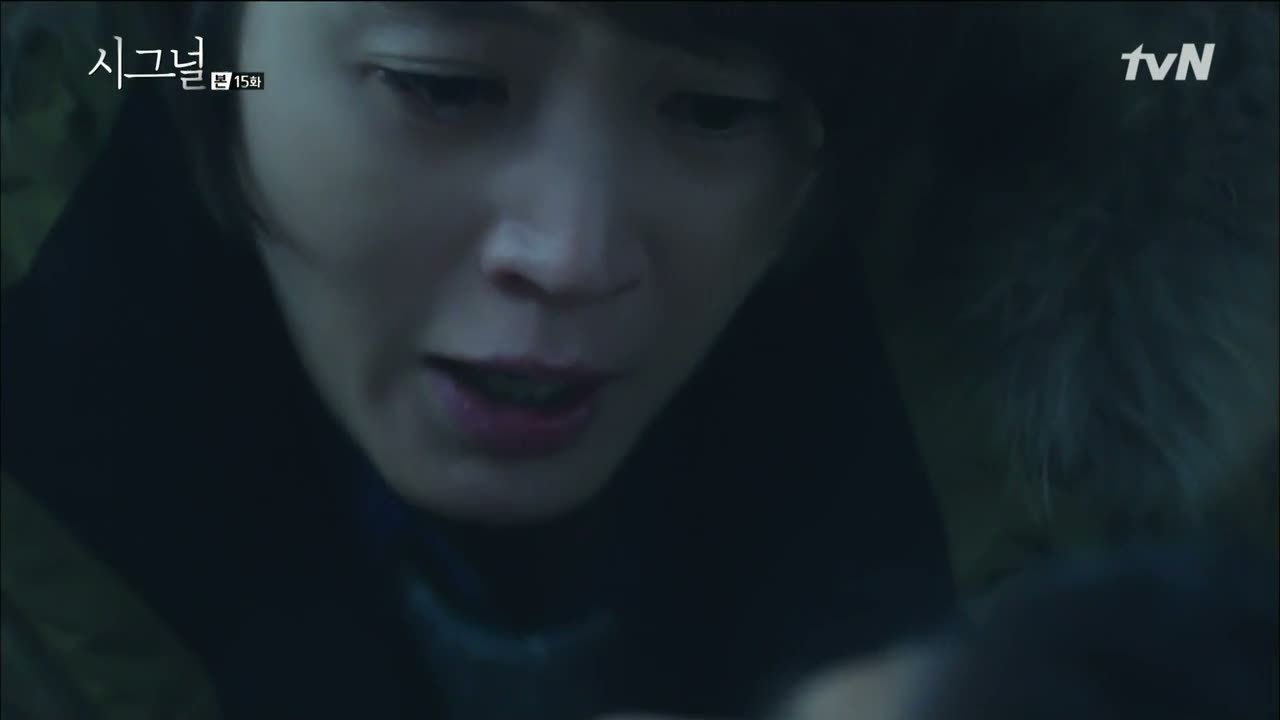 The driver throws the gun away and flees while Soo-hyun is in a state of shock. She rushes to his side, but when she grabs her phone to call an ambulance, Hae-young stops her and says she has to use the radio and save Jae-han.
We're reminded of how Jae-han would never give up, and how Hae-young and Jae-han both hoped that the other would be happy. Soo-hyun screams Hae-young's name over and over again, but Hae-young is unresponsive.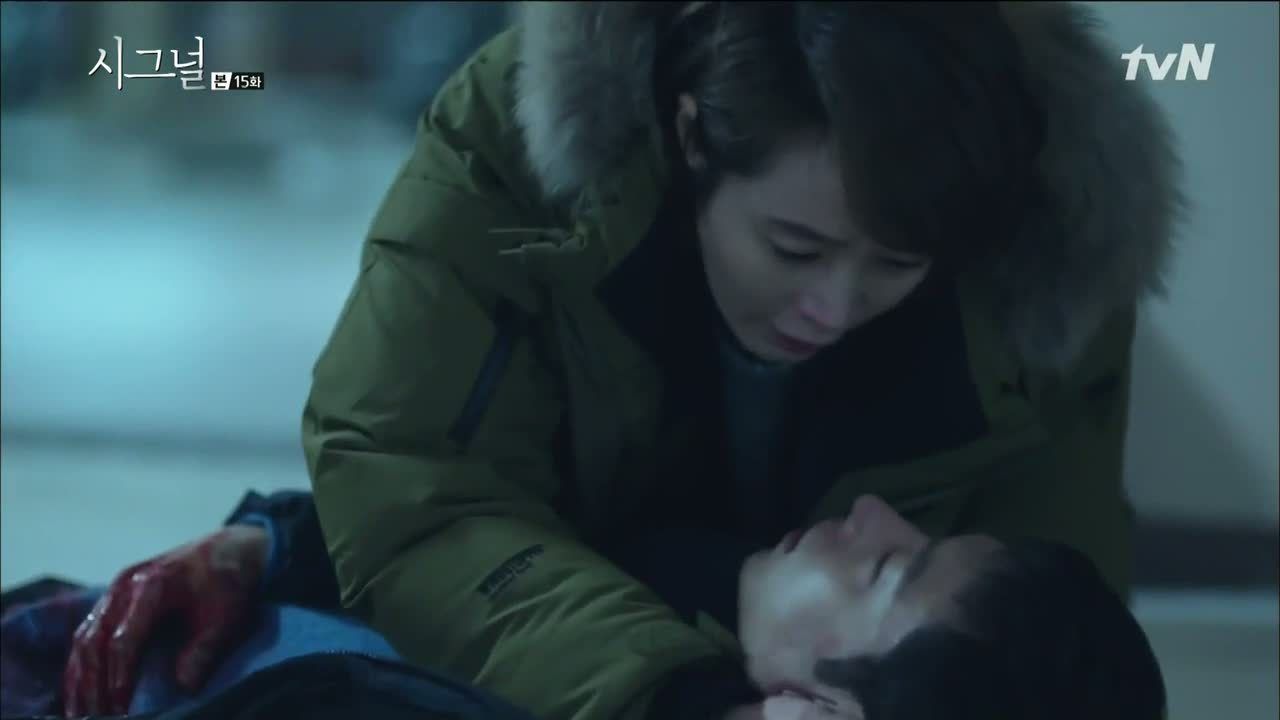 COMMENTS
I honestly don't know what Soo-hyun will do now because Kim Sung-bum and Hae-young are down for the count, and the police force will soon be after her for aiding and abetting a suspect. I really hope that bullet wound isn't fatal for Hae-young's (and my own) sake, but what we can safely assume is that he won't be able to help Soo-hyun anytime soon. And we're only days away from Jae-han's impending death, so all of this is happening at the worst possible time in the timeline.
So while I'd never imagined that Hae-young would be out of commission within the available window to save Jae-han, I had hoped that Soo-hyun would be more involved in this inexplicable radio connection. Even though I knew that it would be terribly sad, I looked forward to Soo-hyun's conversation with Jae-han, wondering what she might say to him. It's understandable that she would want to know what he had planned to tell her, and naturally, Jae-han would have no idea because he was still weeks or months away from having that very conversation she spoke of.
Although of course that has me wondering if Jae-han anticipates the idea that he might die; even if he doesn't know exactly when or how, now he knows that he isn't alive in Hae-young's present. But because actions speak louder than words, we can tell that Jae-han doesn't let that fact stop him from his goal to bring Director Kim down.
No matter how much I think about it, I can't figure out how many transmissions are left in this series. If I think about how Jae-han called out to Hae-young from the very beginning, it's possible that Hae-young does survive to pick up Jae-han's transmissions again, or it's out of habit and caution on Jae-han's part. There are larger gaps of time that pass between Jae-han's transmissions, and that worries me if Soo-hyun's goal is to try to save Jae-han and she can't get a hold of him.
But what stays with me most in this episode is the deep guilt Jae-han and Hae-young feel towards one another. They both feel responsible for the other's misery or demise, especially when they'd hoped the other would eventually find happiness. It pains me to watch Jae-han so affected by the injustices of Sun-woo's death and feel like he's let Hae-young down. In turn, it's Jae-han's fixed determination to the very end that makes Hae-young feel so guilty, but that steadfast attitude is what separates Jae-han from the others and makes him extraordinary.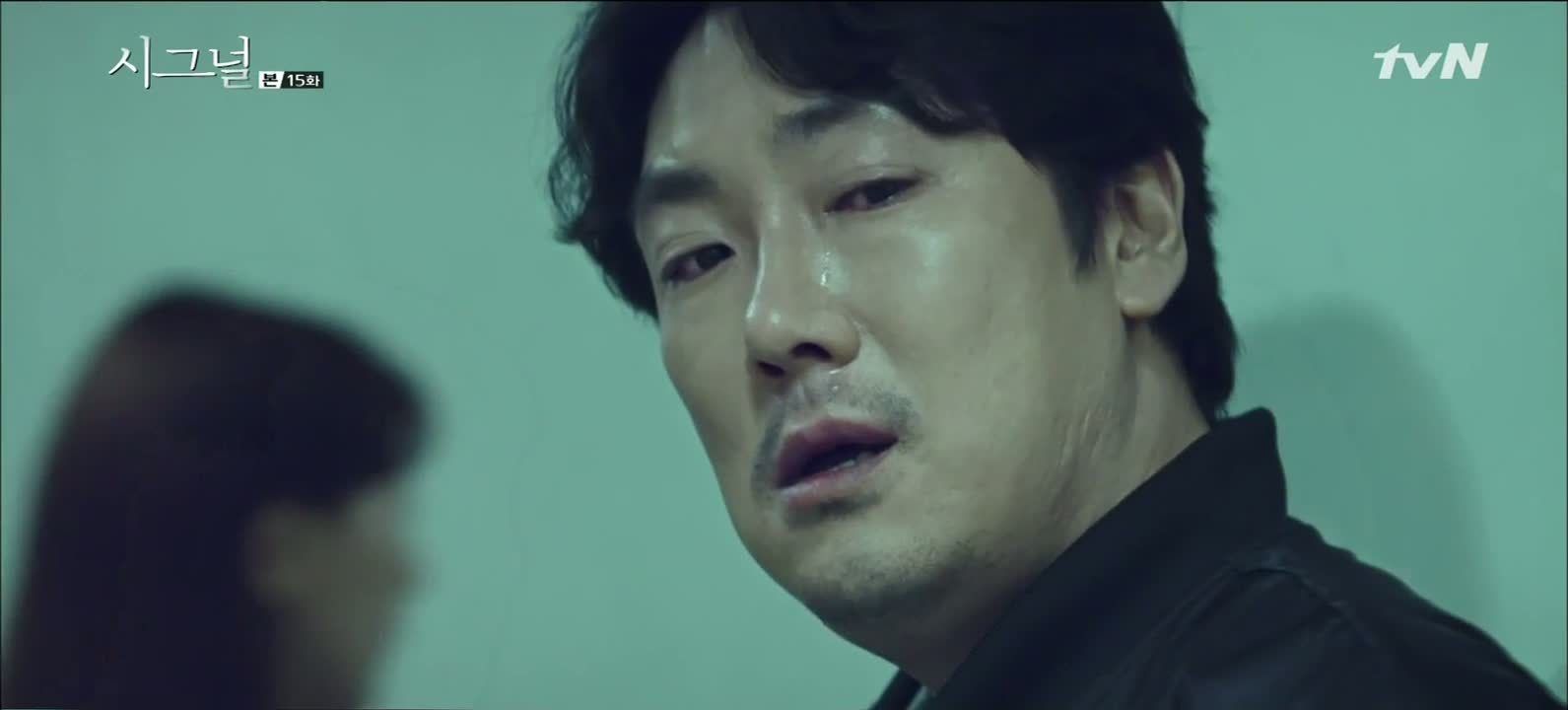 RELATED POSTS
Tags: featured, Jo Jin-woong, Kim Hye-soo, Lee Je-hoon, Signal