Signal: Episode 16 (Final)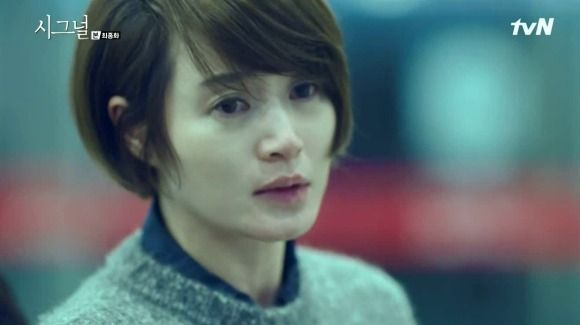 Be still, my beating heart. From an intense opening to this heart-stopping conclusion, Signal shows us that it can utilize every available minute at its disposal to deliver the best it has to offer. Despite the familiar moments that may seem like we're right back where we've started, there are hidden clues that suggest that the end is, in fact, only the beginning.
A solid drama like Signal is hard to come by in any year, which is what makes it so very special. We'll never know a cleverer detective than Jae-han, a badass team leader like Soo-hyun, and an astute yet flawed profiler like Hae-young, who have captured our hearts and all share a connection that goes beyond the radio waves.
SONG OF THE DAY
Lee Seung-yeol – "꽃이 피면 (When the Flower Blooms)" from the OST [ Download ]
Audio clip: Adobe Flash Player (version 9 or above) is required to play this audio clip. Download the latest version here. You also need to have JavaScript enabled in your browser.
FINAL EPISODE RECAP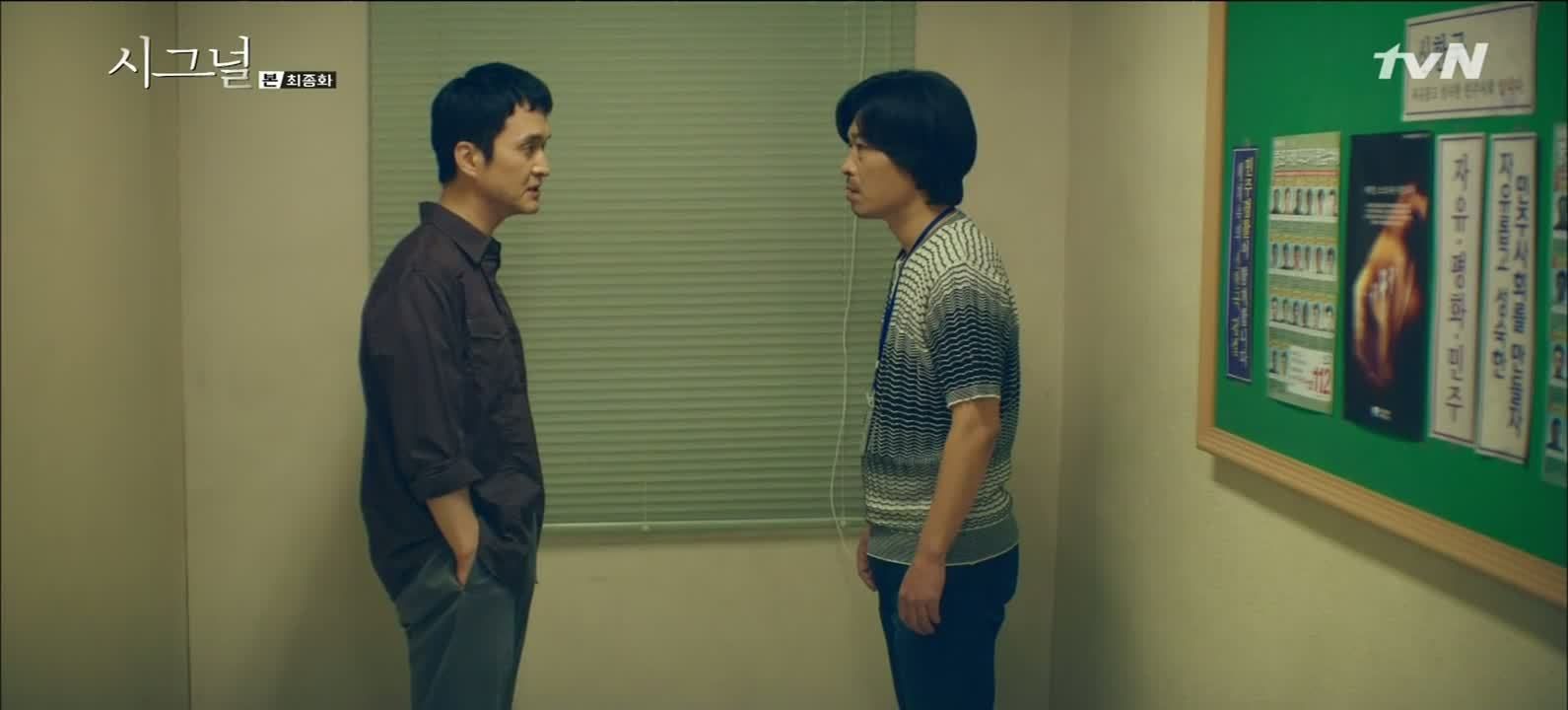 August 3, 2000. Nearly all of today's events look familiar: Jae-han bumps into young Hae-young at the precinct, argues with Director Kim after the case briefing, and tells Section Chief Ahn to stop acting like an obedient slave.
Speaking of which, Director Kim tasks Section Chief Ahn with tailing Jae-han since he has solid proof to expose Senator Jang's nephew (and by extension, himself). Given the test results he saw, Director Kim surmises Jae-han got a hold of the red scarf.
Warning Section Chief Ahn of the ramifications if the truth comes to light, Director Kim orders him to use any means necessary to retrieve that scarf.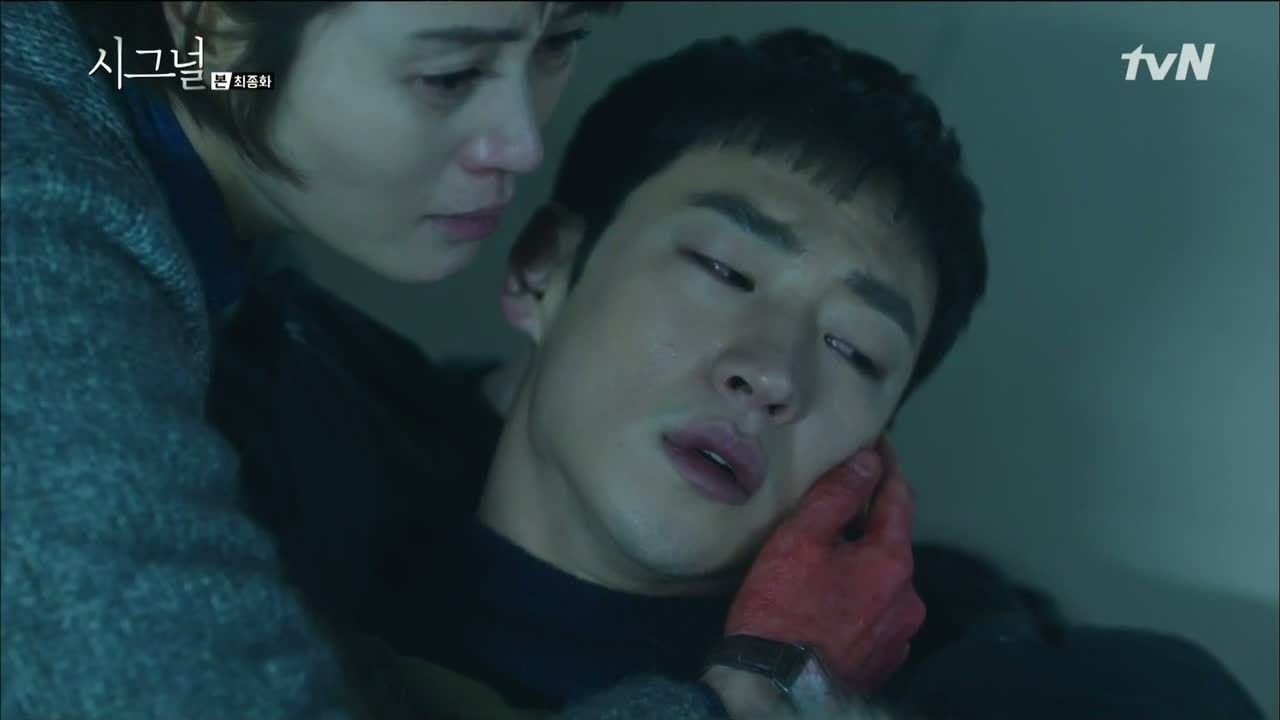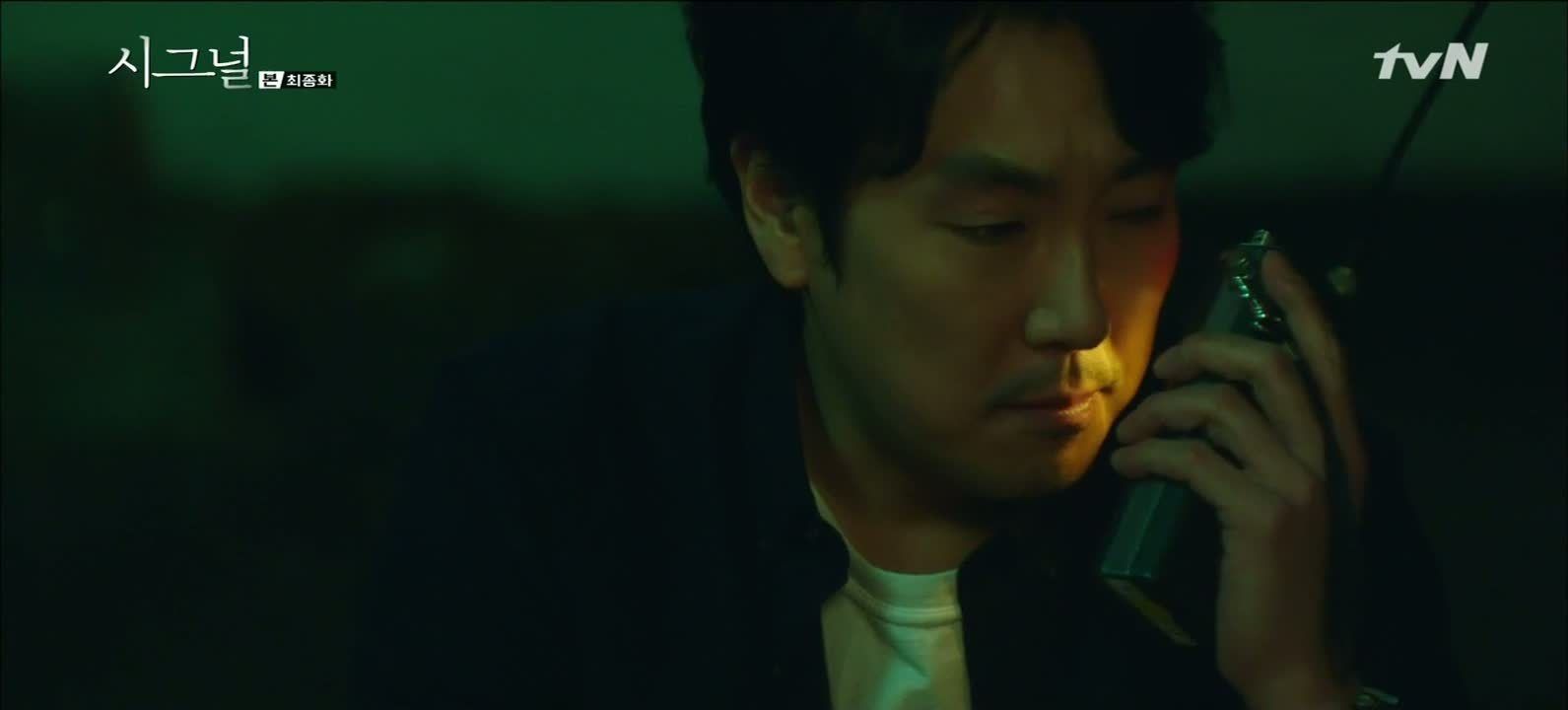 While Hae-young tells Soo-hyun that the transmissions always come at 11:23 PM, Jae-han is alone when Soo-hyun arrives at the precinct. He assures her that they'll talk soon once everything is over. Wait a minute, that sounds different.
This time we see Section Chief Ahn trail behind Jae-han's car when he leaves for Seonil Psychiatric. In the present, Soo-hyun calls for an ambulance while she and Hae-young wait in anticipation for the walkie-talkie to light up.
Jae-han speaks into his walkie-talkie when it comes alive… but nothing happens on Hae-young's end. Oh no. Confused, Jae-han asks if he's speaking with Soo-hyun, then drops to banmal to explain how Suspect Seo's body is in a manhole behind the psychiatric hospital.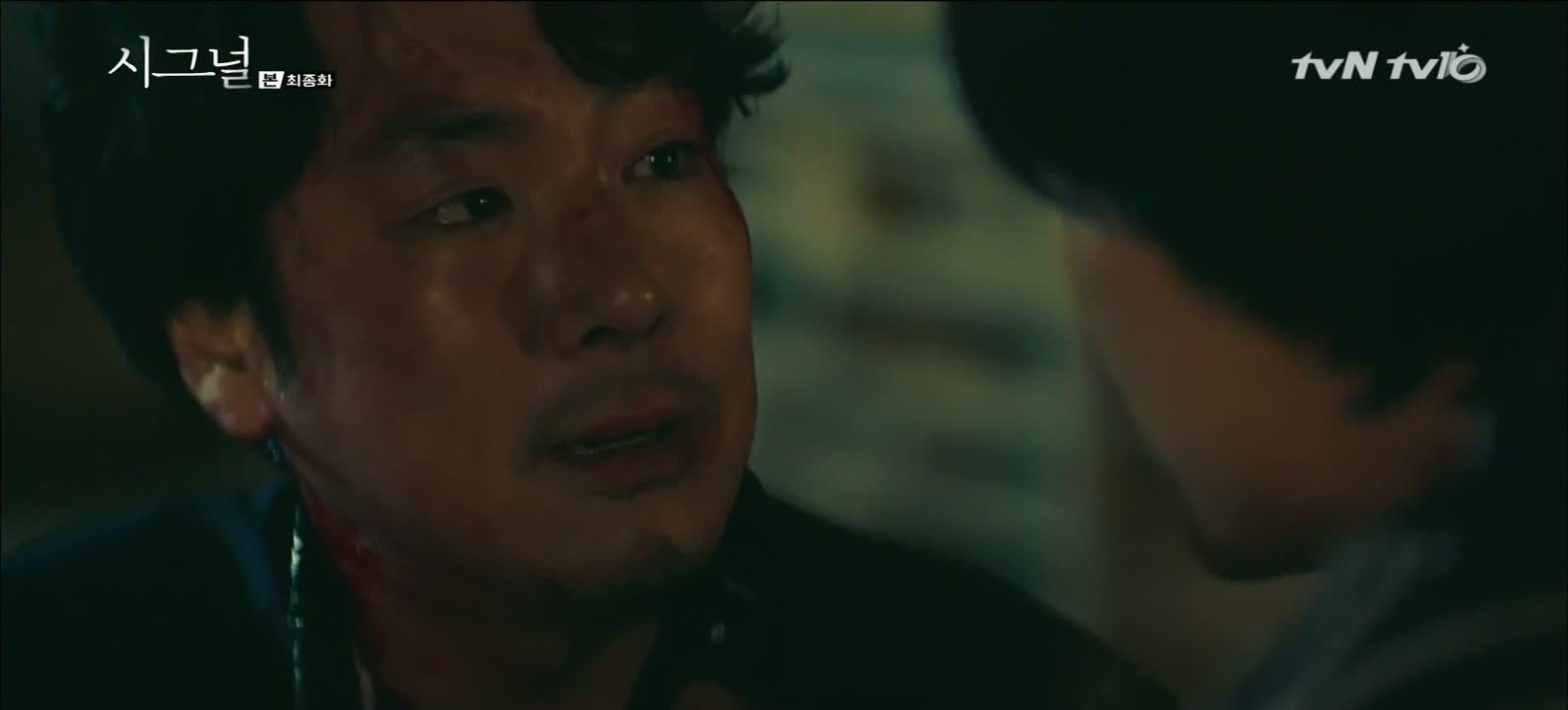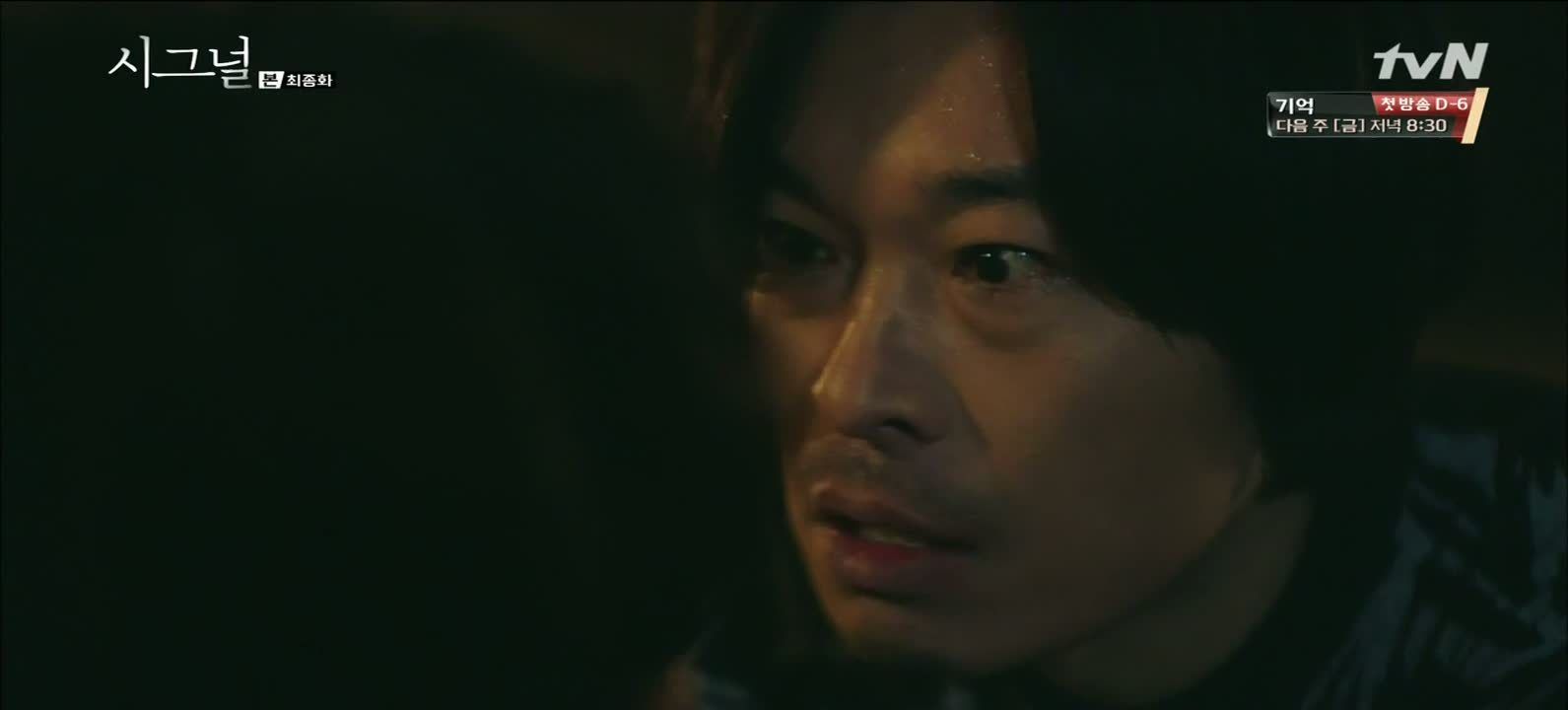 It's Hae-young in 2015 who finally picks up, bringing us to the moment when the transmissions first started for him. Jae-han barely says his name before getting bludgeoned over the head. Oh my god, I don't know if I can go through this again.
We catch up to the last moments of the previous episode as Hae-young stops breathing just as the ambulance arrives. Over in the past, Section Chief Ahn shakes Jae-han awake and tells him to give up the red scarf.
He's shocked to learn that the scarf can also prove that Director Kim murdered Sun-woo, since he was under the belief that Sun-woo committed suicide. When Director Kim and Kim Sung-bum arrive, Section Chief Ahn asks if it's true.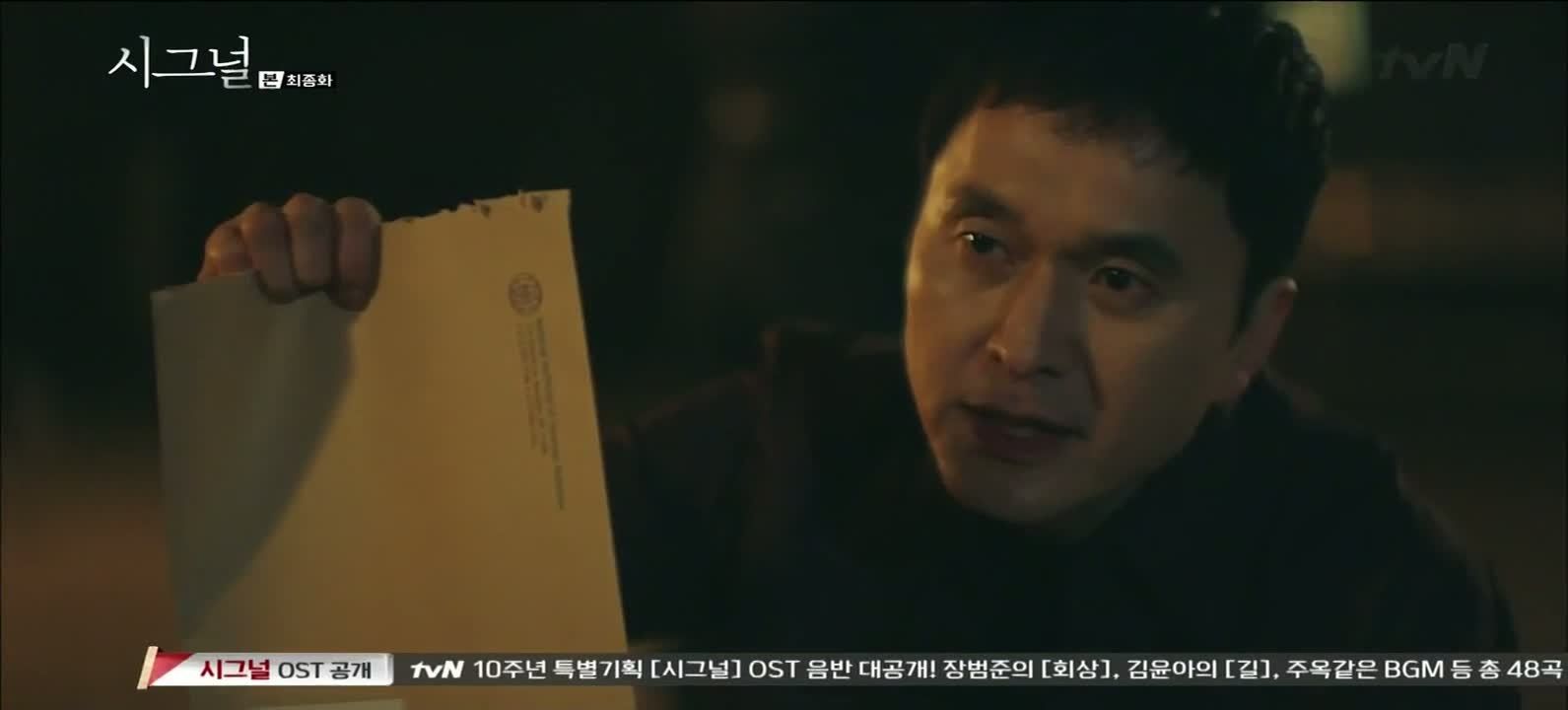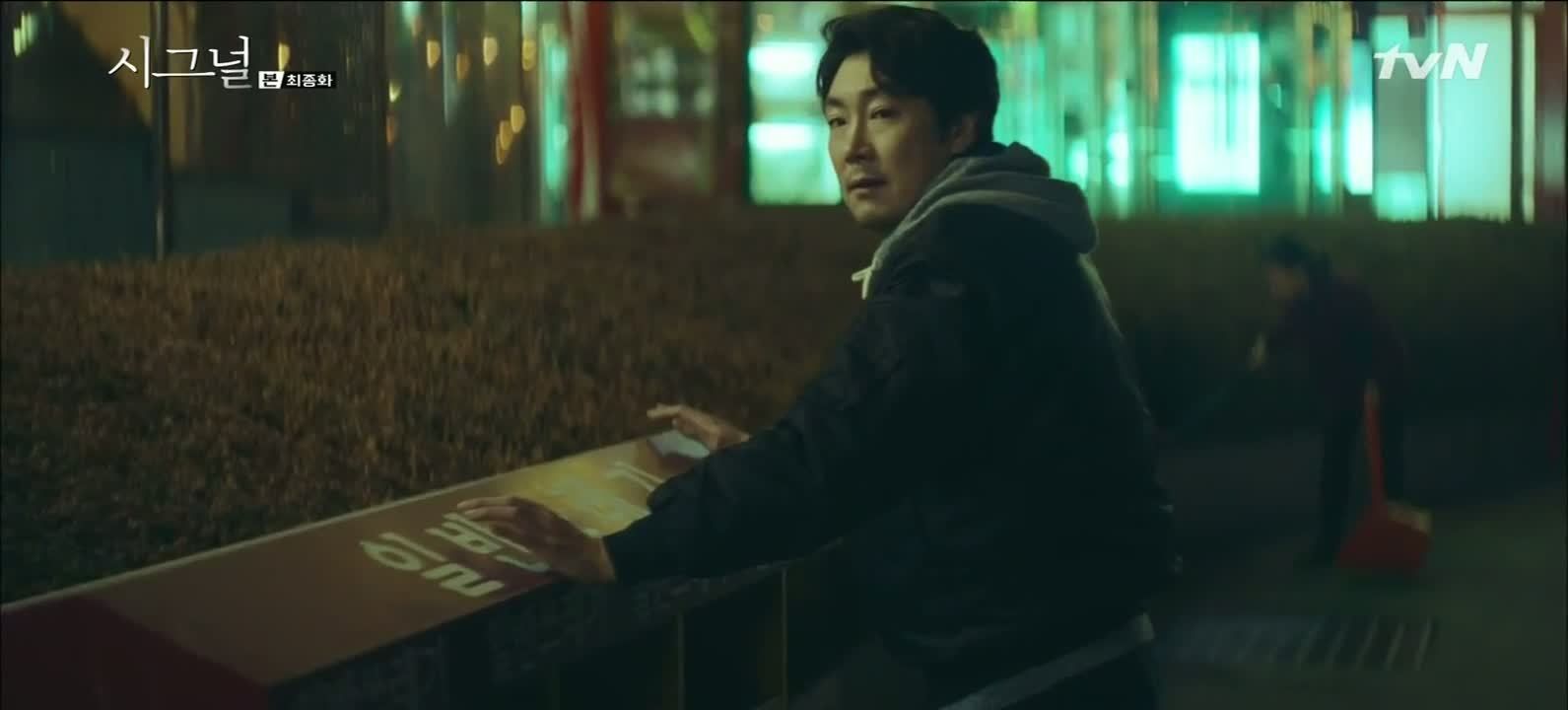 Director Kim bends down and confronts Jae-han about the test results. While he talks, Jae-han covertly grabs a shard of glass from behind him and tells Director Kim that things doesn't always go his way in this world.
After conversing with Soo-hyun through the radio, Jae-han told himself that the future can still change. He concluded that Director Kim had taken the scarf and wouldn't be the type to discard it so carelessly. Since the director must've been in a hurry, he ruled out Inju or the precinct as possible hiding spots.
However, Jae-han recalled a small but crucial detail: he'd burst in on Director Kim tending to his own cut finger… with a bandage he bought at a pharmacy in a rest stop. He figured Director Kim would dispose of the scarf and checked the trash bins there, but was told the trash has already been picked up.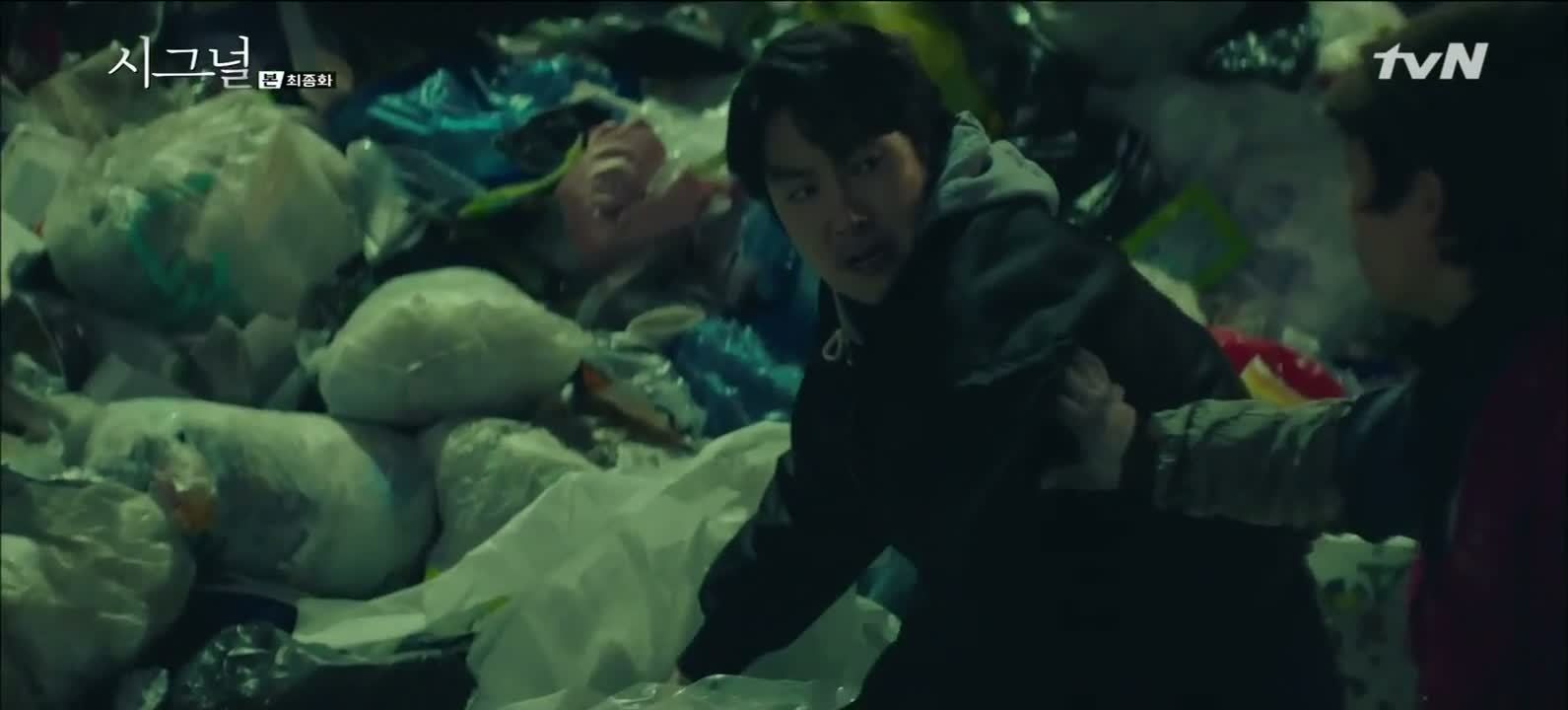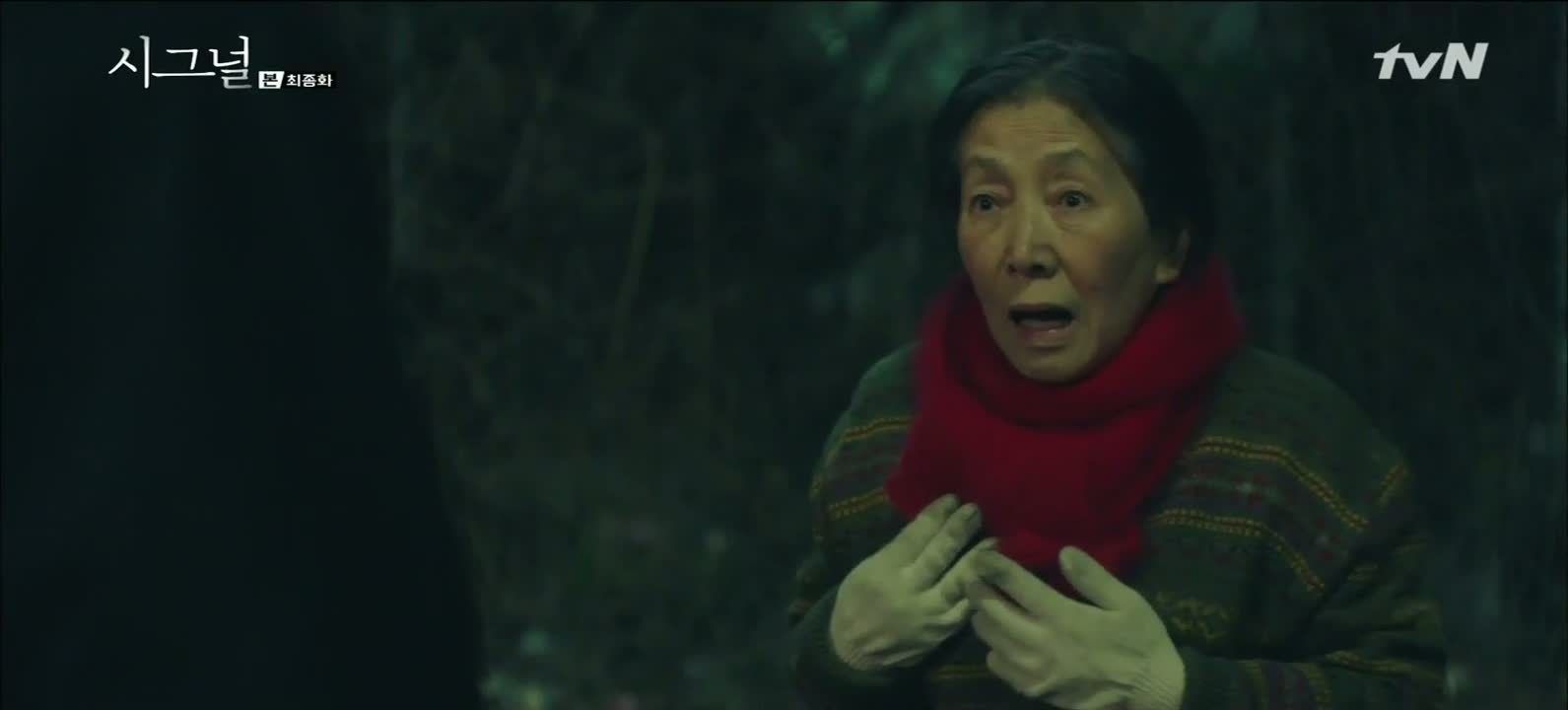 Jae-han then went to the landfill and rifled through the bags, and saw poor elderly woman wearing the red scarf. He thought of taking it to the NFS building, but then judged it wasn't safe when he saw a fellow cop there.
So Jae-han sent the scarf to a forensics center in the States, and used a dictionary to arduously translate the lab results that were sent to him via email. Ah, so there's a failsafe—an electronic copy exists.
Basically, the forensics lab was able to confirm that the scarf belonged to Hye-seung, but they found another man's blood on the scarf and required another reference sample. Remembering Director Kim's cut, Jae-han made up an excuse to gain entry into Director Kim's office so he could swipe a used cigarette butt.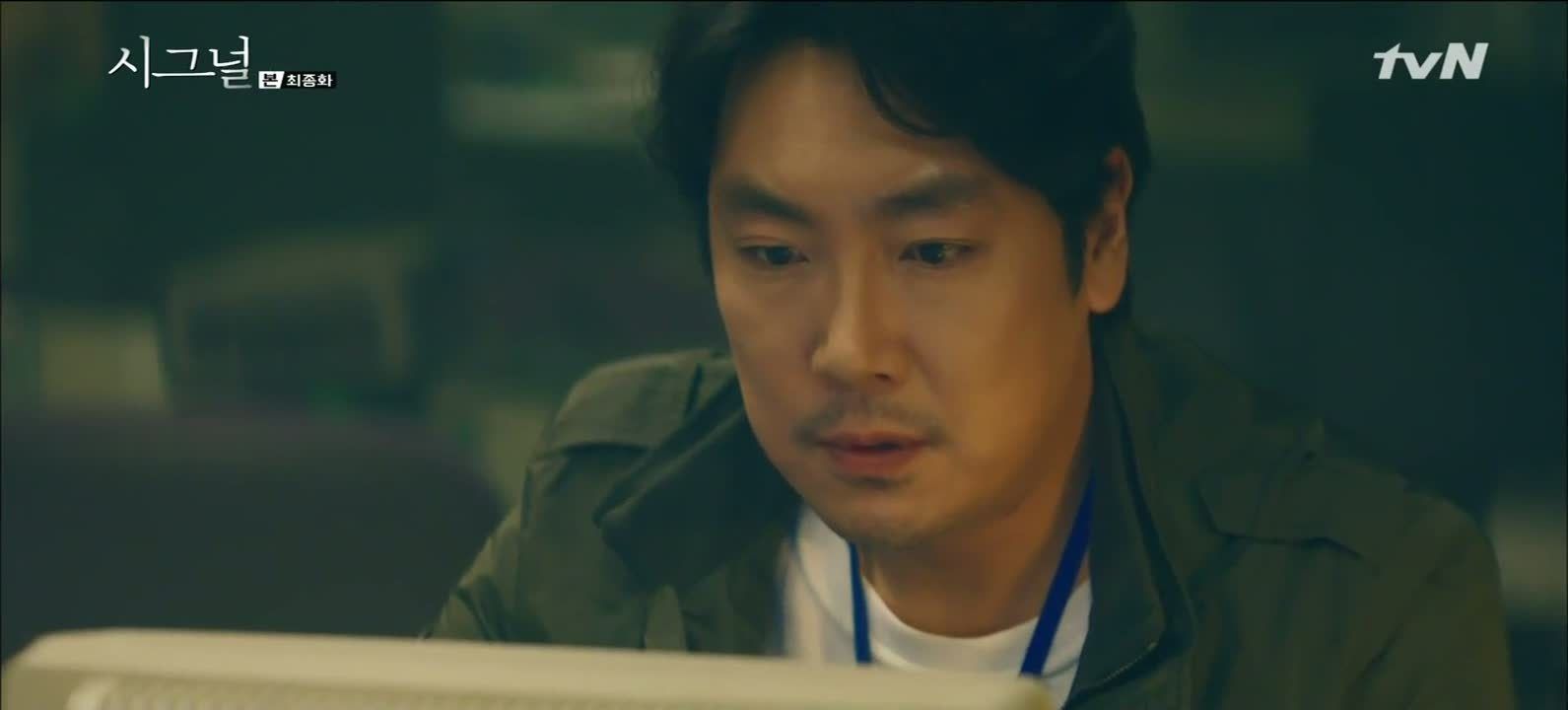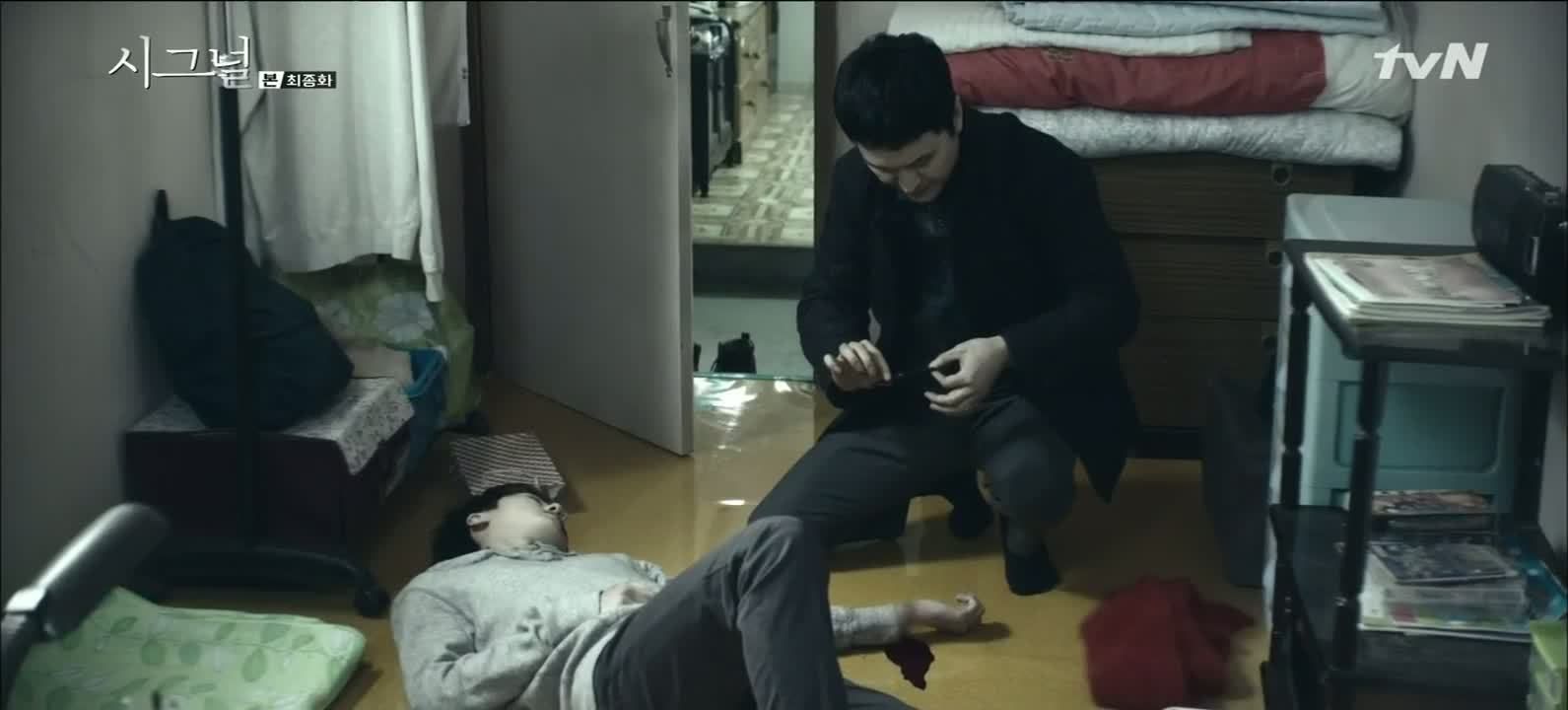 Once the forensics report came back as a match, Jae-han arranged a meeting with the prosecutor. We see just how Director Kim killed Sun-woo after he fell unconscious: Director Kim had slit Sun-woo's wrist and wiped off his own fingerprints from the blade. When he'd tried to place the blade into Sun-woo's hand, Sun-woo had an involuntary spasm and he sustained a cut.
His finger was still exposed when he'd handled the red scarf, and good lord—Sun-woo is still breathing while he bleeds out.
Director Kim chuckles when he sees the look of surprise on Jae-han's face at the mention of the prosecutor. He offers Jae-han one last chance to give up. Jae-han refuses, knowing full well that Director Kim won't let him walk out of here alive.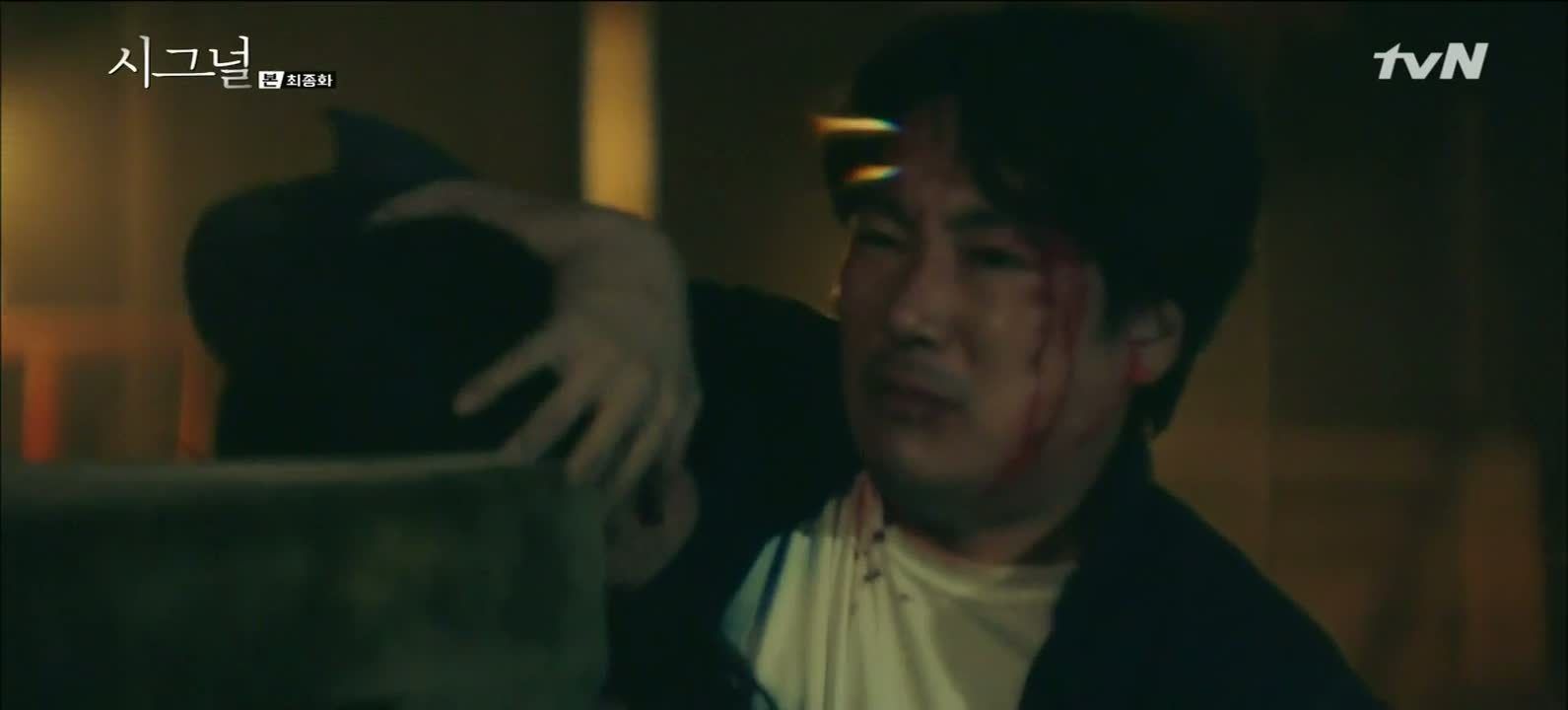 Jae-han encourages Director Kim to do whatever he wants, so the latter tosses the test results into the flames. While Section Chief Ahn protests against killing one of their own, Jae-han keeps cutting at his restraints until he finally breaks free.
Jae-han gets stabbed and manages to escape, thanks to Section Chief Ahn holding Kim Sung-bum back. Furious, Director Kim issues an ultimatum—either they spend their lives in prison if Jae-han lives to tell the tale or save his sick daughter by doing away with Jae-han now. He hollers: "Choose!"
So Section Chief Ahn runs after Jae-han, and Director Kim reminds Kim Sung-bum to let Section Chief Ahn murder Jae-han.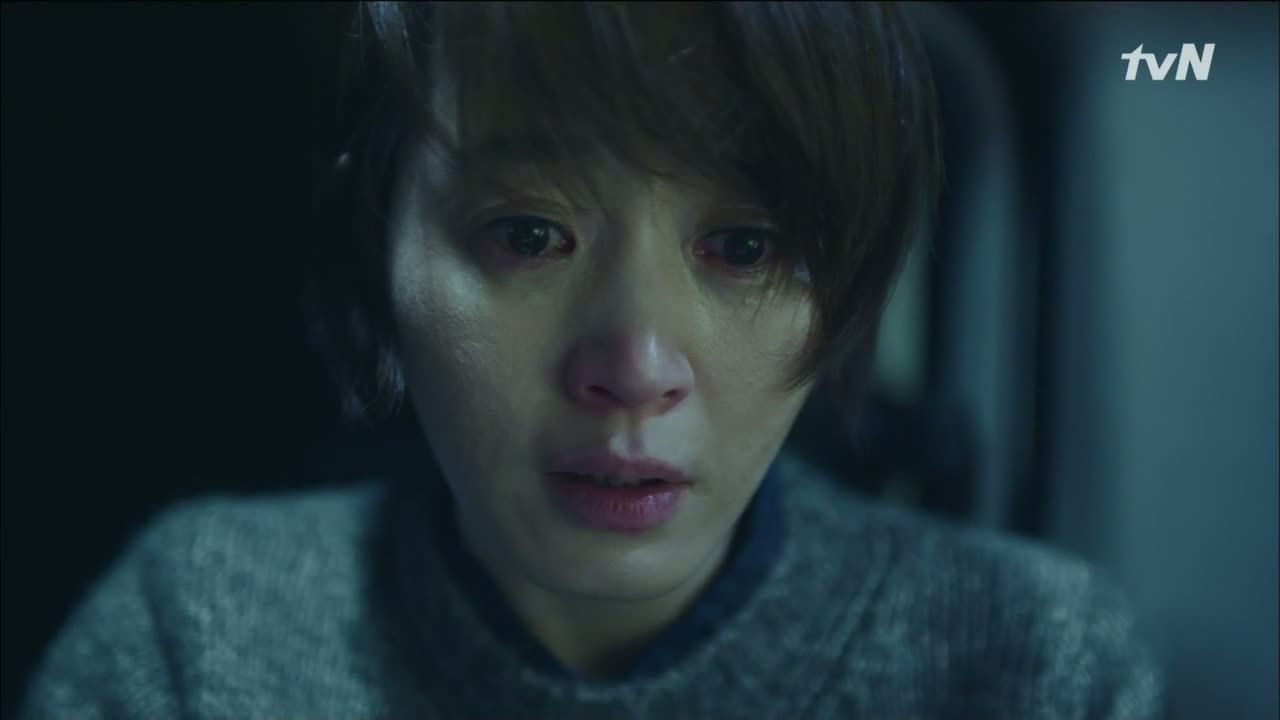 Meanwhile in the present, Hae-young struggles in the ambulance, but he's conscious. He sees a slight breeze pass through Soo-hyun's hair and realizes that something has changed. "It's changed…" he ekes out. "The transmission has changed."
He remembers that in their first transmission, Jae-han had said he was the one who warned him about not going to the psychiatric hospital. But this time, it was Soo-hyun, which means there's a chance that the past has changed.
He asks if anything has changed in Soo-hyun's memory about her last conversation with Jae-han on August 3, 2000. She realizes that her mind now houses a different memory, one where Jae-han had reassured her that they'd talk soon and he would return.
"The past… has already changed," Hae-young breathes, then gasps for air again.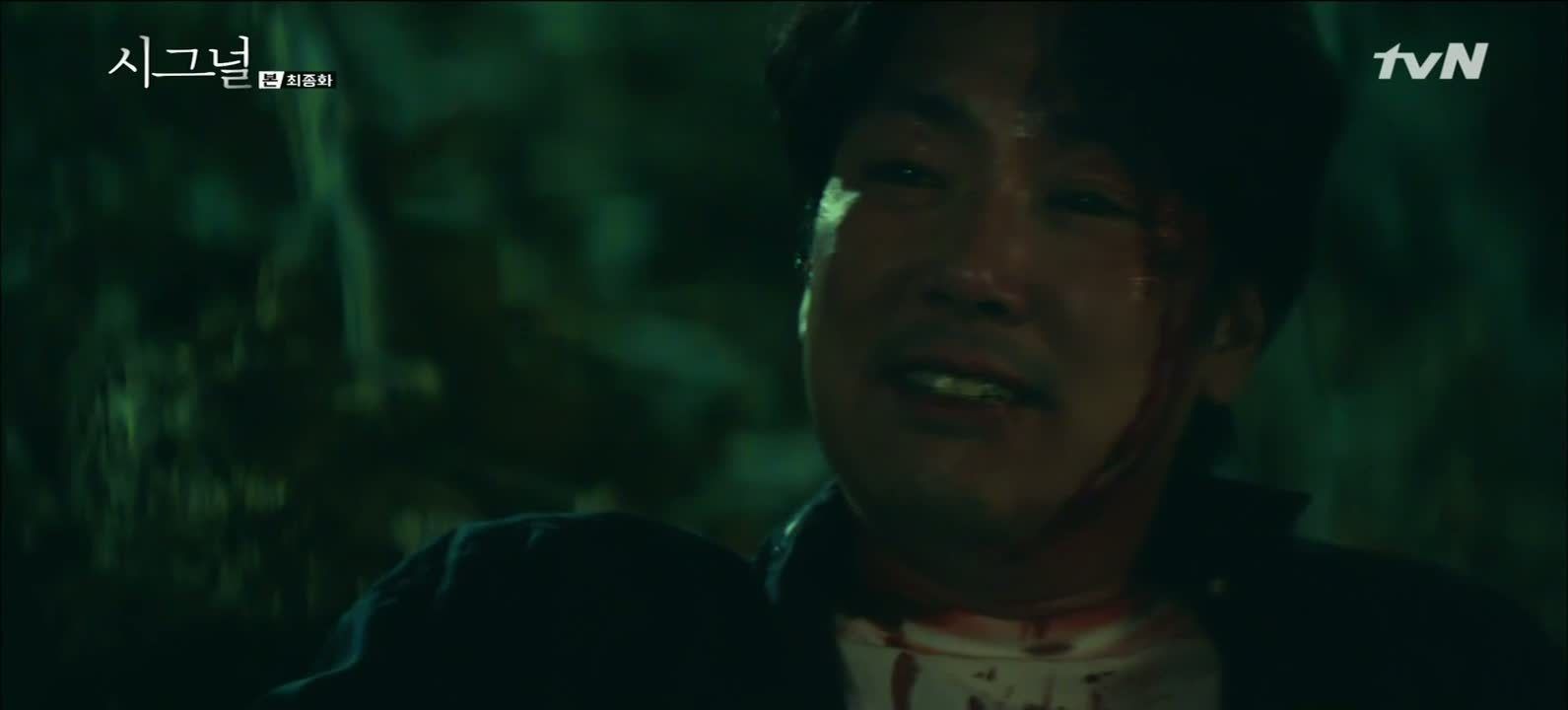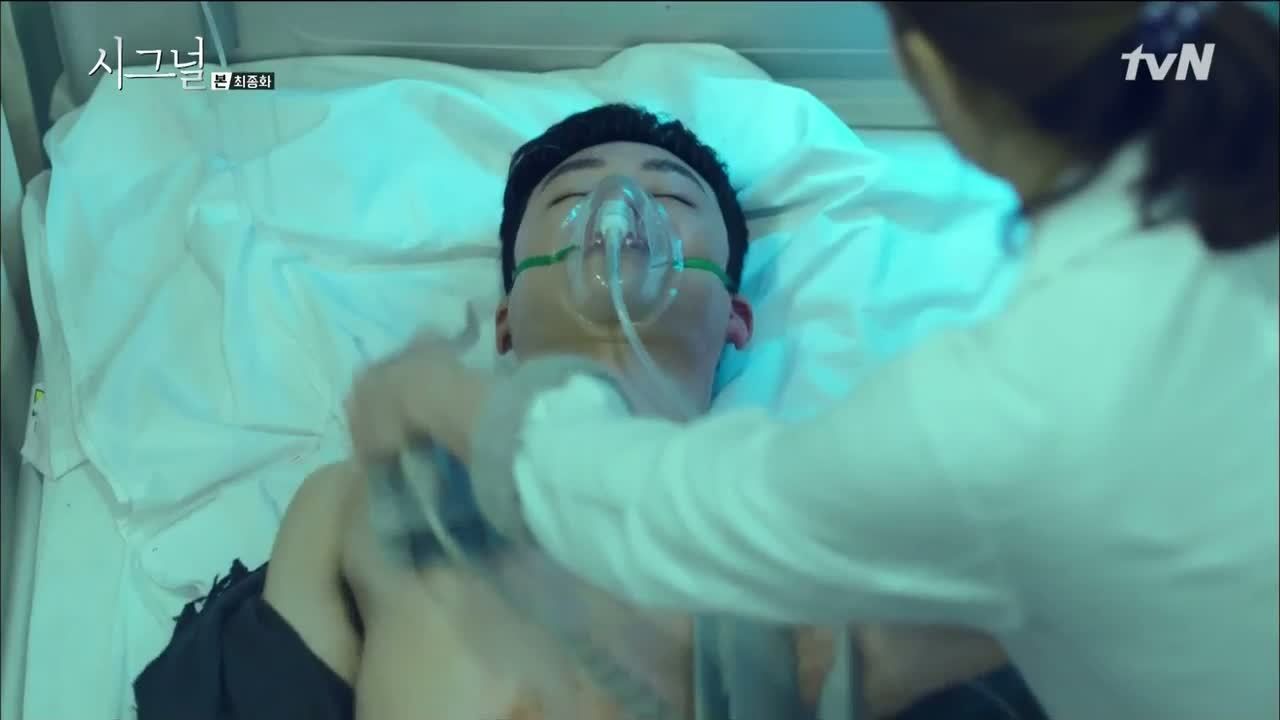 As Jae-han slips in the woods, he thinks of how everything will go cold if he dies here—the Inju case, Sun-woo's death… and Soo-hyun. Recalling Soo-hyun's cries of how long she waited, he's determined to keep his promise and return alive.
Meanwhile Hae-young is wheeled into the ER, and we hear his voice thinking of Jae-han: "11:23 PM. The time you died, Detective. Rather than being afraid of death, the possibility of those cases remaining unsolved troubled you more, didn't it? Did you send me those transmissions from that desperate heart?"
Since CPR doesn't work, the doctors use a defibrillator on Hae-young, who keeps thinking: "Detective… please use that determination to live. Not the transmissions, but your own will to live."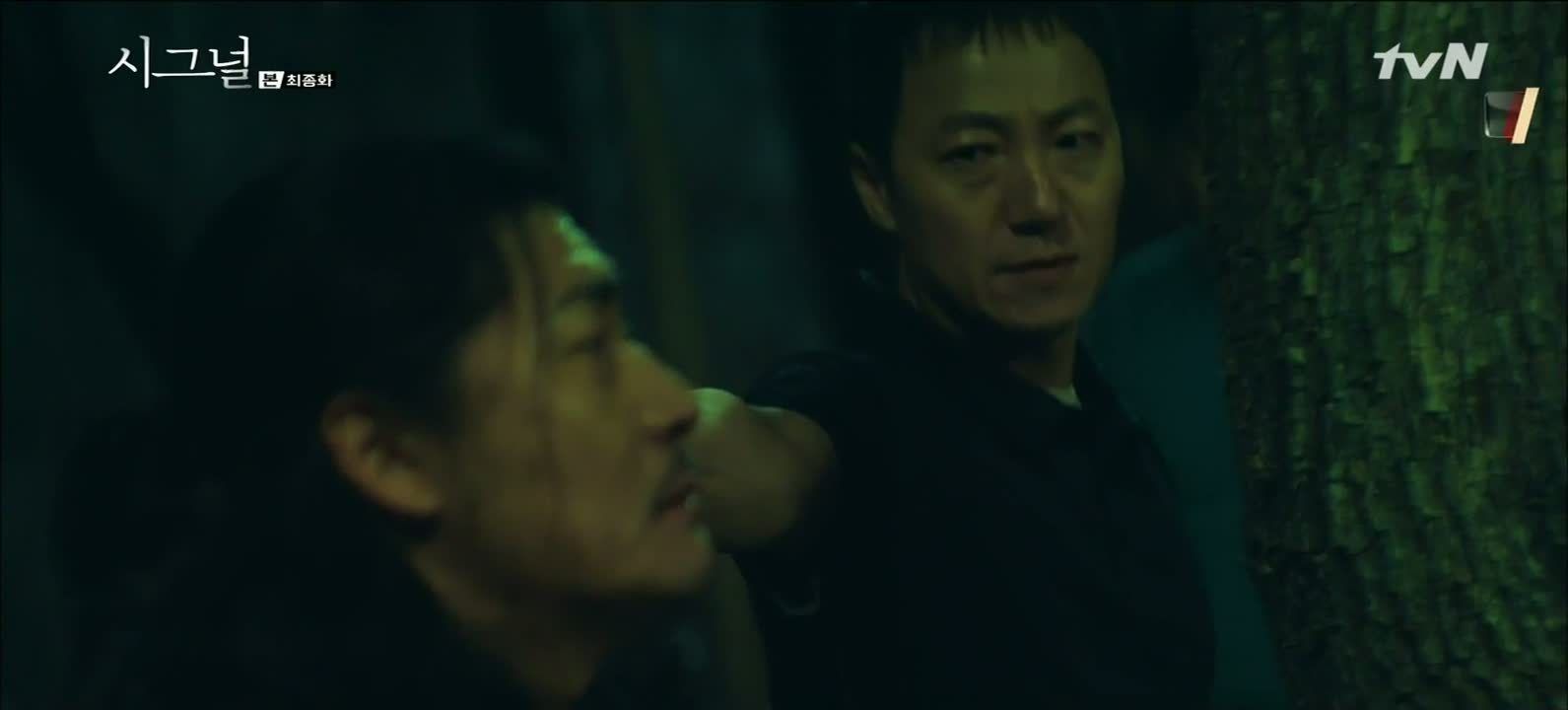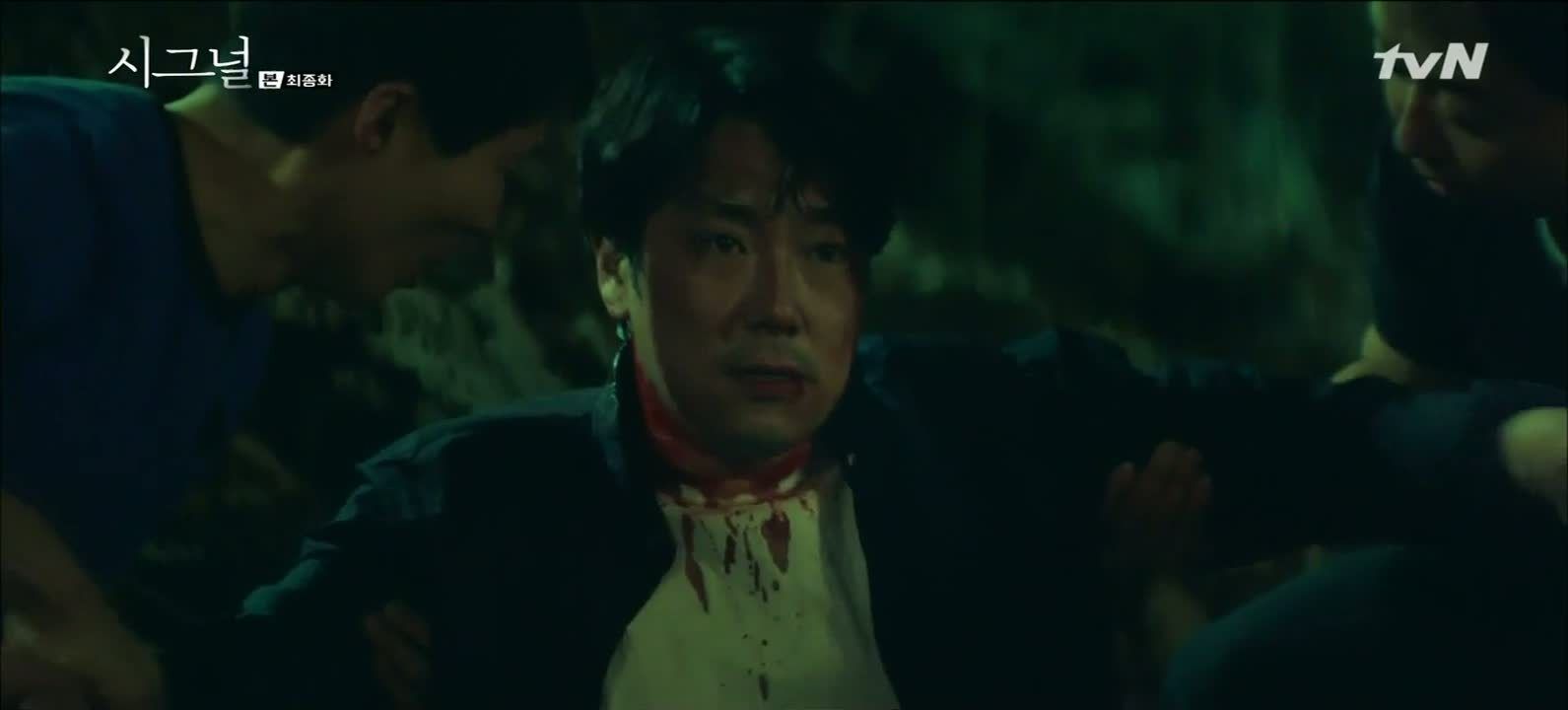 Jae-han tumbles down the hill and hides the walkie-talkie before Section Chief Ahn approaches with a gun in his hand. A shot rings out… and Hae-young flatlines in the present. His final thought: "Don't give up."
Some time later we see Soo-hyun sitting in a car by a lighthouse, and she takes out the photo of her and Jae-han tucked behind the Batman photo.
We flash back to the moment to the sound of a gunshot… but the bullet lands in Section Chief Ahn's shoulder. They're soon surrounded by police—who were called in by Jae-han—and both Section Chief and Kim Sung-bum are apprehended. While the cops help Jae-han up, he barks at them to nab Director Kim, who is now long gone.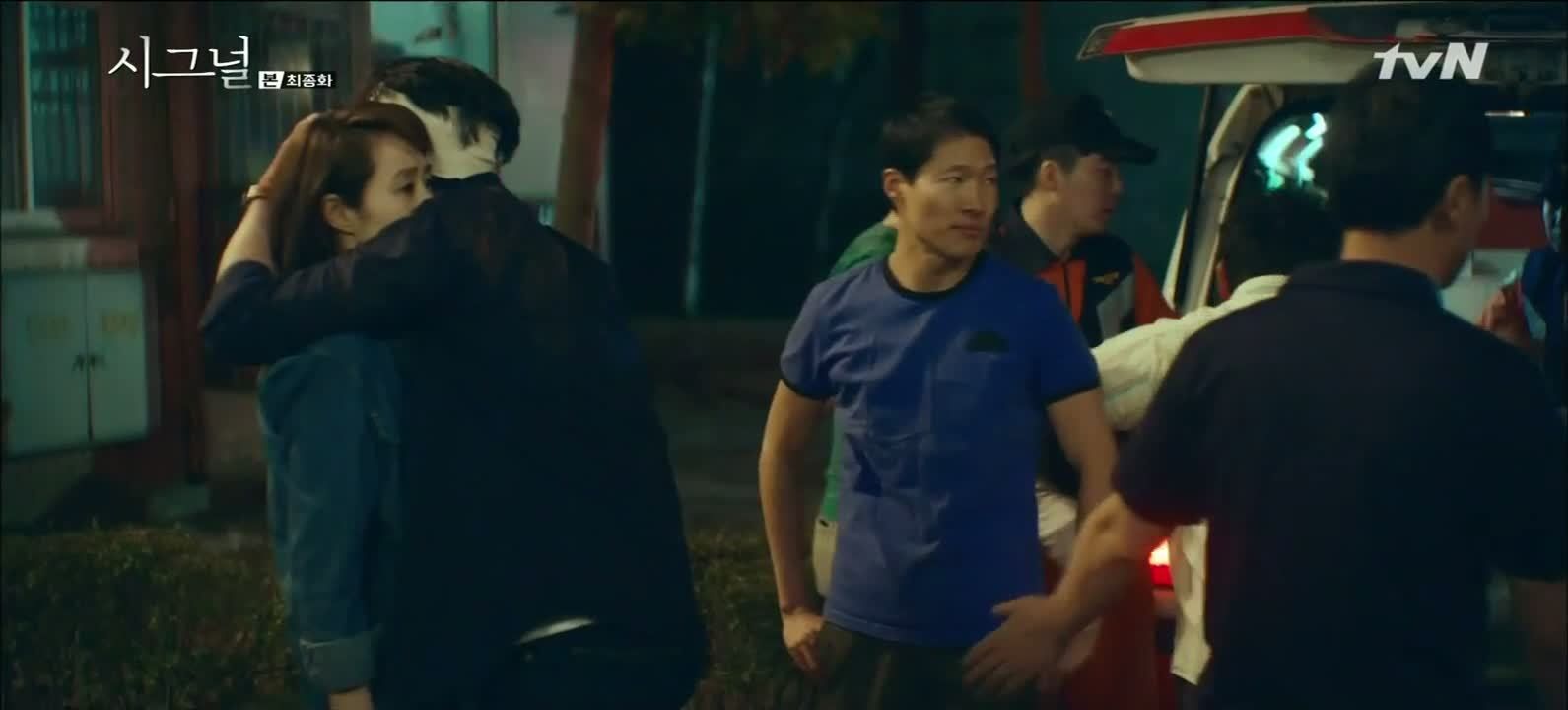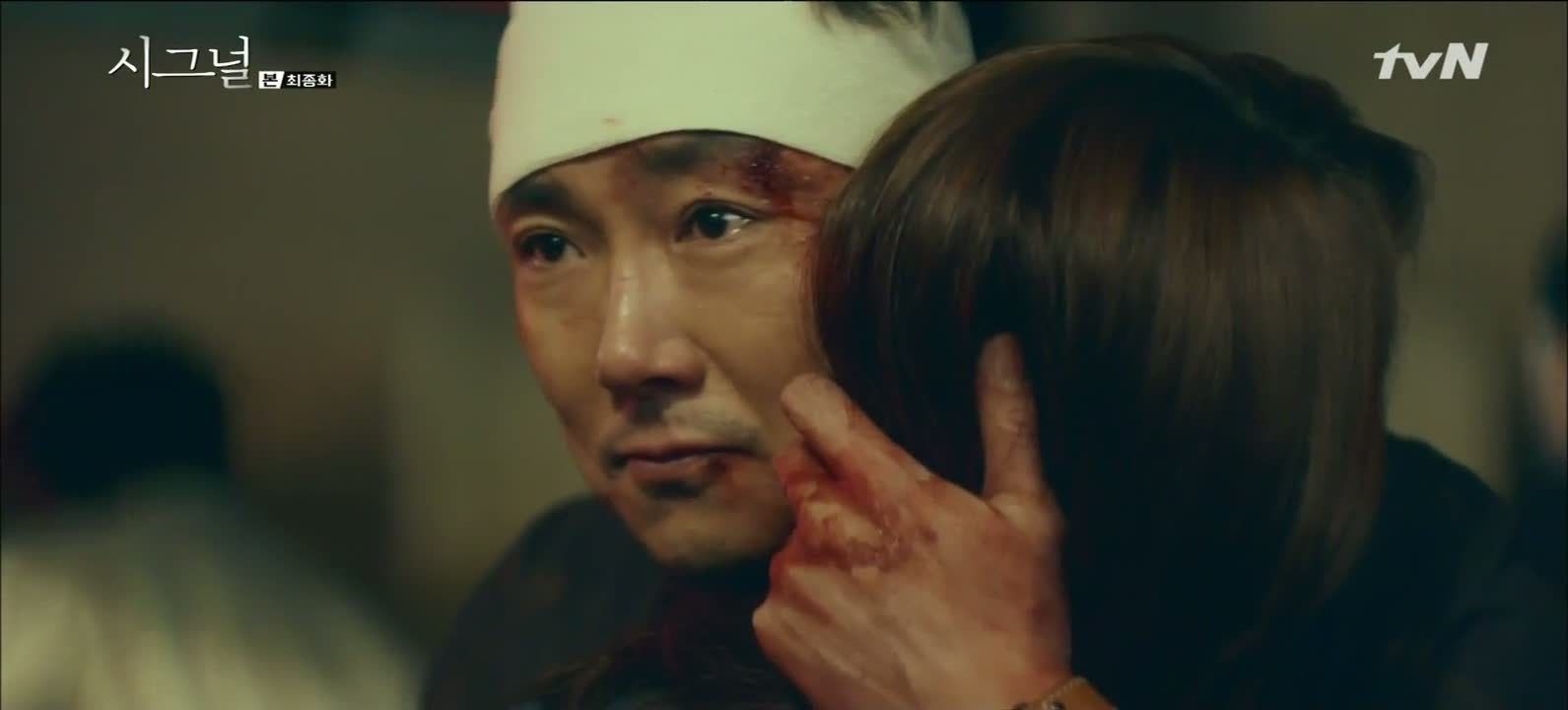 Instead of heading to the hospital, Jae-han insists that he needs to stop somewhere first. That somewhere is Soo-hyun's house, and when she comes running out looking thoroughly upset by his injuries, Jae-han pulls her into a tight embrace. Aw, and ha—the other guys awkwardly turn away to give them some privacy.
"I… I kept my promise," he tells her. He holds her tight, and Soo-hyun sinks into the hug. Hm, but a tear rolls down Soo-hyun's face in the present. Don't tell me something else happened in the interim.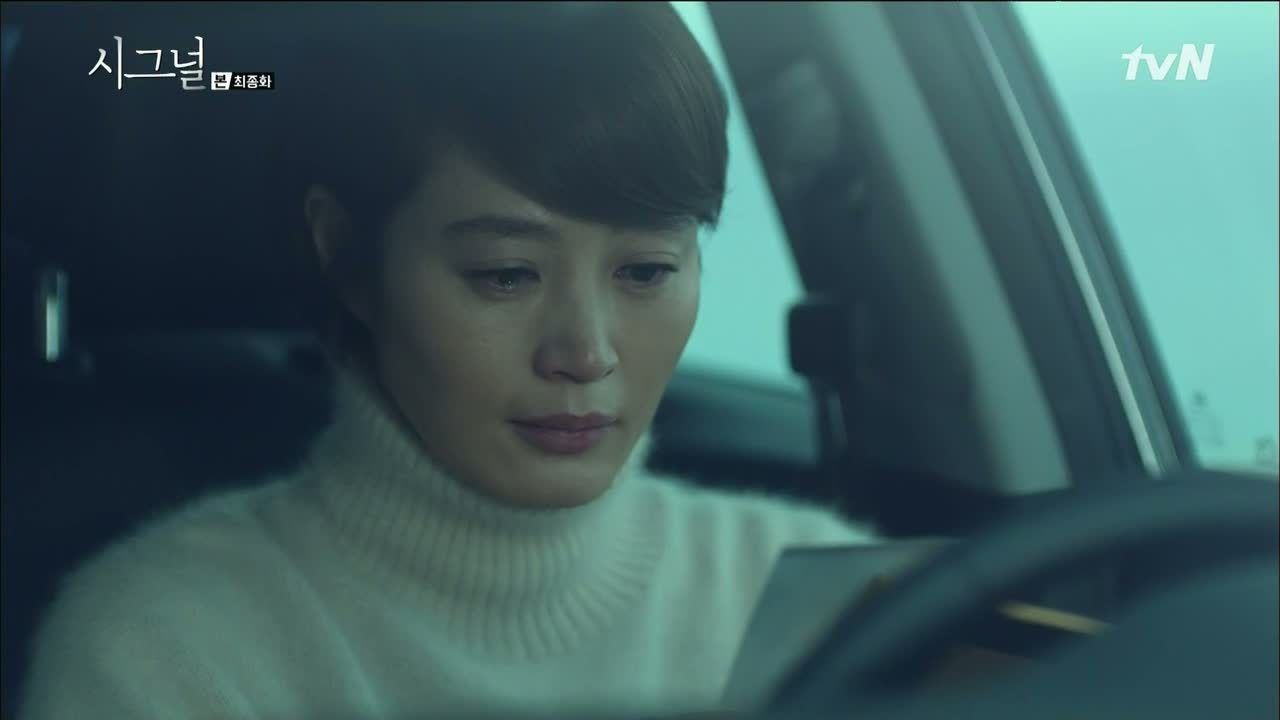 We then segue to Hae-young, who gasps awake in his room and immediately checks for any injuries. Is this a different present than the one we see Soo-hyun in? I'm so confused now. What's even more mind-boggling is that there's a loving note from his mother… because his parents are together again in this present.
The pictures hanging on this wall show the three of them as a happy family at his high school and police university graduations.
With Jae-han surviving the attack on his life, Hae-young's memories have now changed: Nurse Yoon is arrested for the Kim Yoon-jung case, and Jae-han reveals to Hae-young and his parents that Sun-woo was innocent and wrongly murdered.
He apologizes for not uncovering the truth sooner, though he chokes up at the words. Sun-woo simply wanted his family to be together again, and everyone in the room is overcome with emotion at hearing the truth. As Jae-han looks at little Hae-young, another tear falls from his eyes.
Hae-young follows him out to thank Jae-han over and over again. Jae-han's words get caught in his throat, then he walks away.
"Lee Jae-han… he survived," Hae-young says in awe in the present. He runs over to the watch repair shop and asks to see Jae-han. But he's told that Jae-han has been missing for over fifteen years now. Oh crap.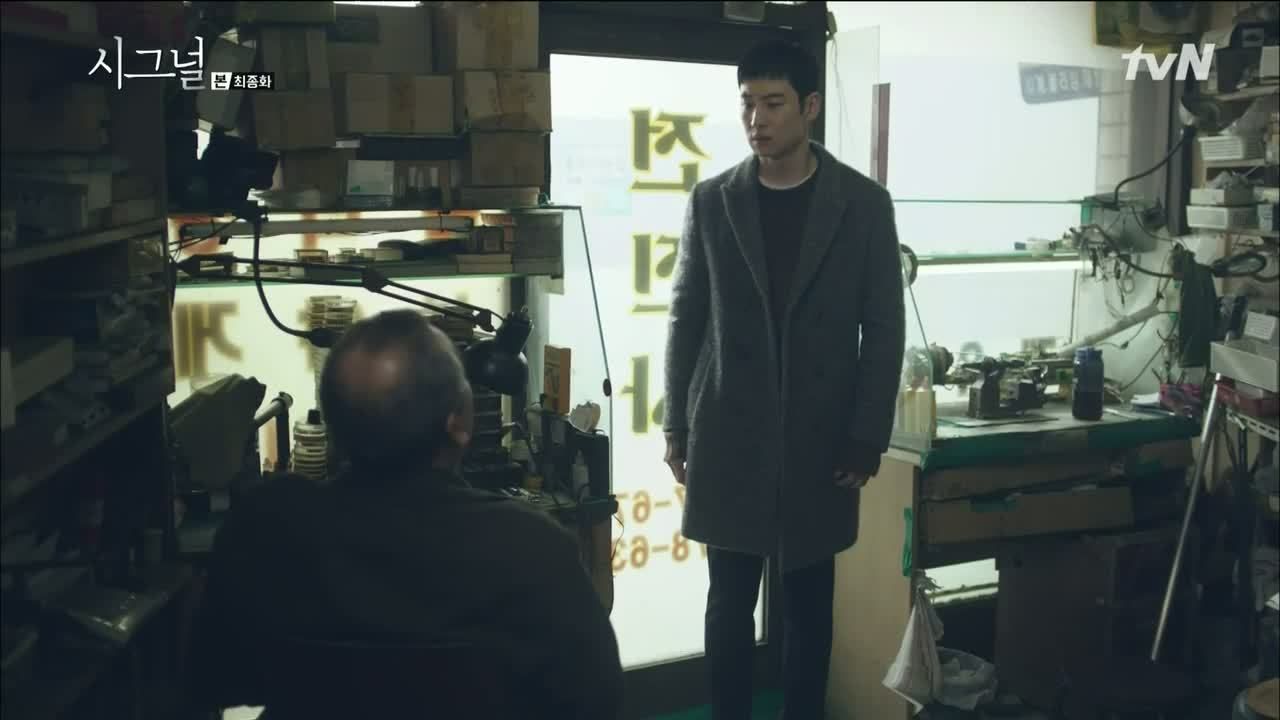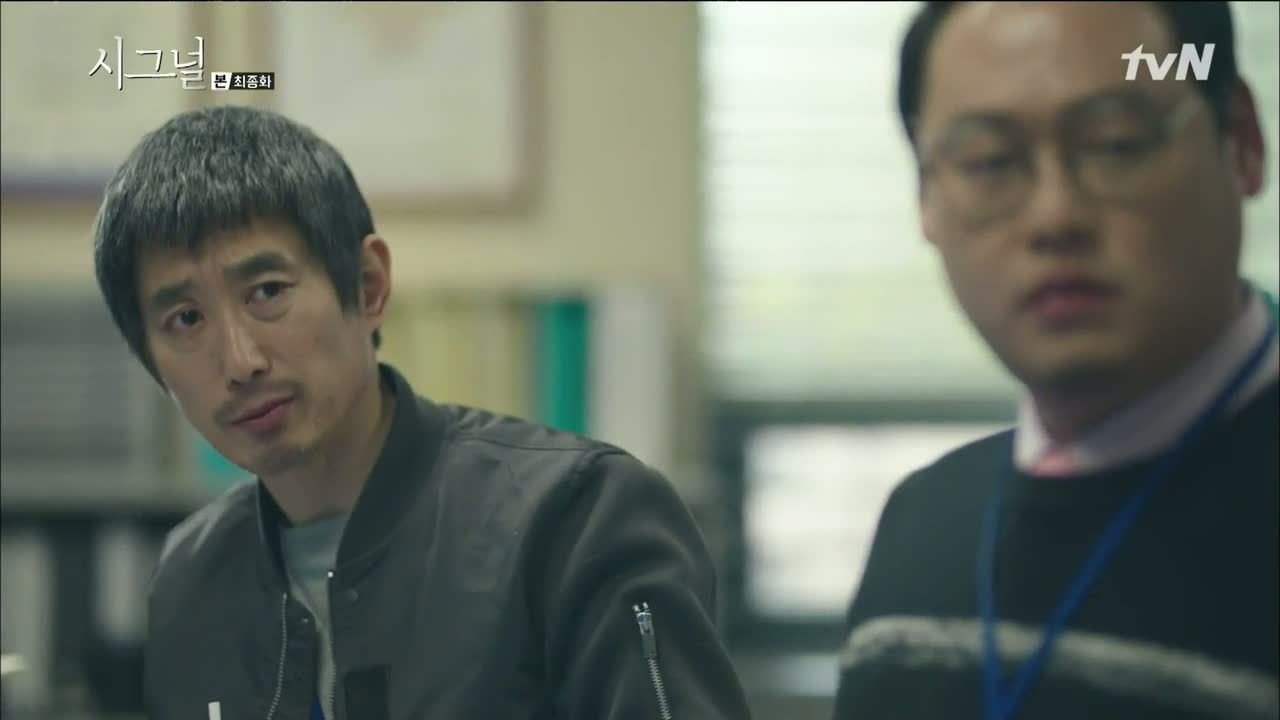 Hae-young bursts into the precinct in Seoul, where the mountain of paperwork that used to sit on top of the cold case squad's corner is still there and no one there recognizes him. So he heads to the precinct in Jinyang, hoping to find Soo-hyun there.
She isn't in, and neither Detective Kim nor Heon-ki recognize him either. They don't know where she is, and it must be some weird kind of nostalgia for Hae-young to see these two bickering.
Finally Hae-young heads to his tiny precinct and asks where the walkie-talkie without the batteries went. He's told that Hae-young never had anything of the sort.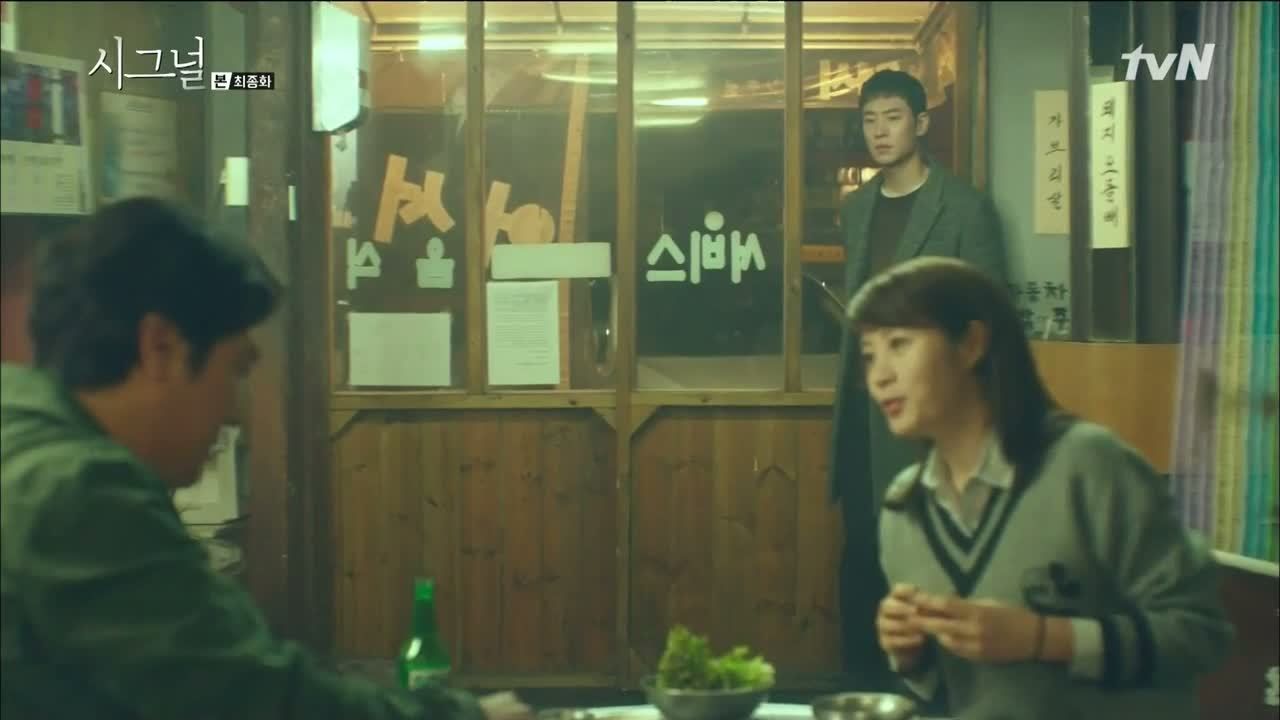 We transition to the past as Soo-hyun waits alone at a restaurant. It's her first date with Jae-han, and her sister had insisted that she spray on perfume to impress her date. So she spray some on just before Jae-han arrives, only to be called outside again.
They eat the pig skin restaurant in Inju instead, and Jae-han sniffs the air and asks what that weird smell is. HAHAHA. The ajumma there explains that she hasn't seen the kid eat here in some time because he's living with his parents now. Jae-han already knows that, and he smiles.
The past and present blend together when Hae-young heads to that same restaurant. Jae-han doesn't explain who the little kid is, and Soo-hyun asks if he's still looking for Director Kim.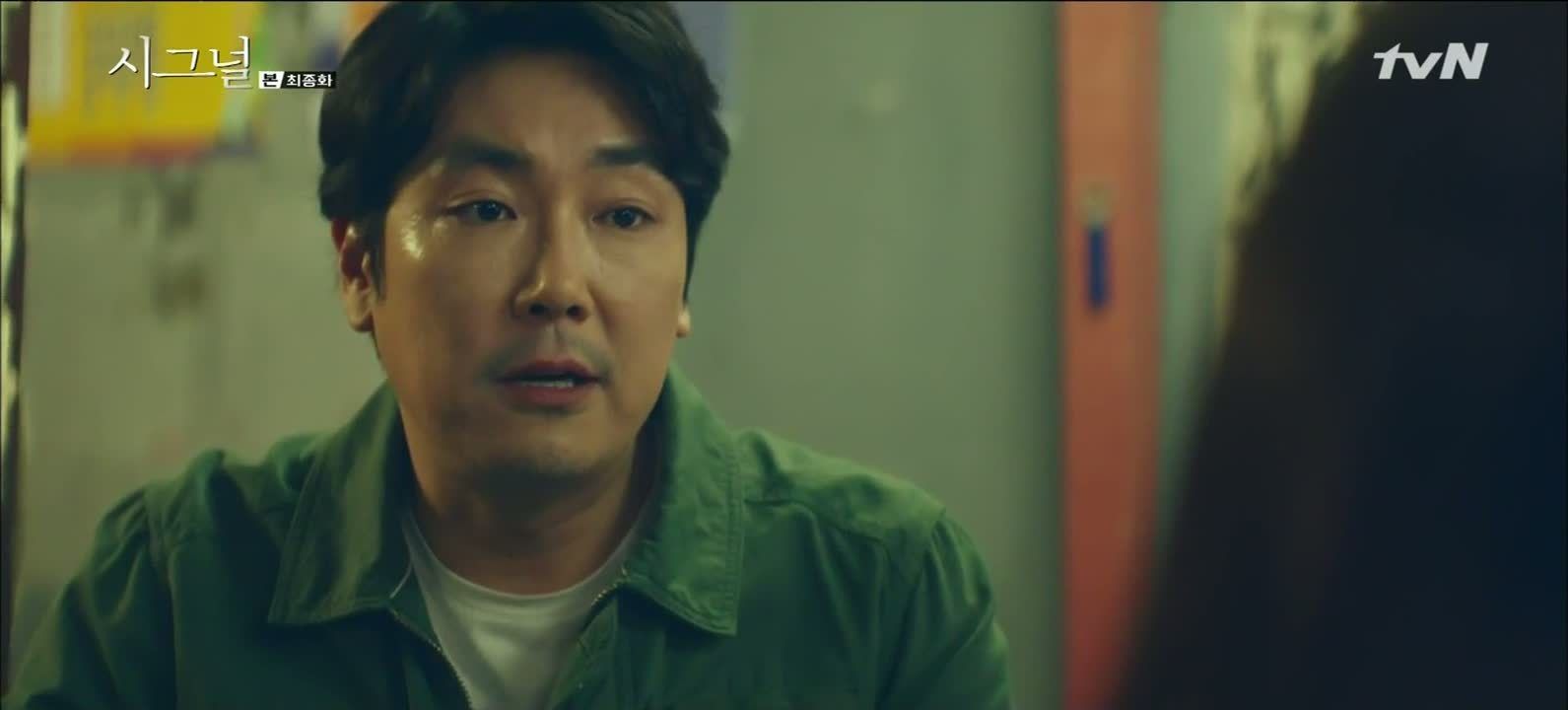 She tells him that he should hand off the case to someone else, but Jae-han clarifies that he's out to fry bigger fish than Director Kim—he's looking for the one who's been pulling the strings in all of these crimes, and that's who truly deserves to be punishment: "One must correct the actual wrong in order to change the past, and to be able to change the future."
That night was the last time the restaurant ajumma saw Jae-han, and Hae-young wonders what could've happened.
Jae-han drives out to an abandoned building in the countryside. His phone signal to Soo-hyun is weak, and makes sure to take precaution upon entering. He keeps a watchful eye out as he heads deeper inside, then Director Kim pounces on him.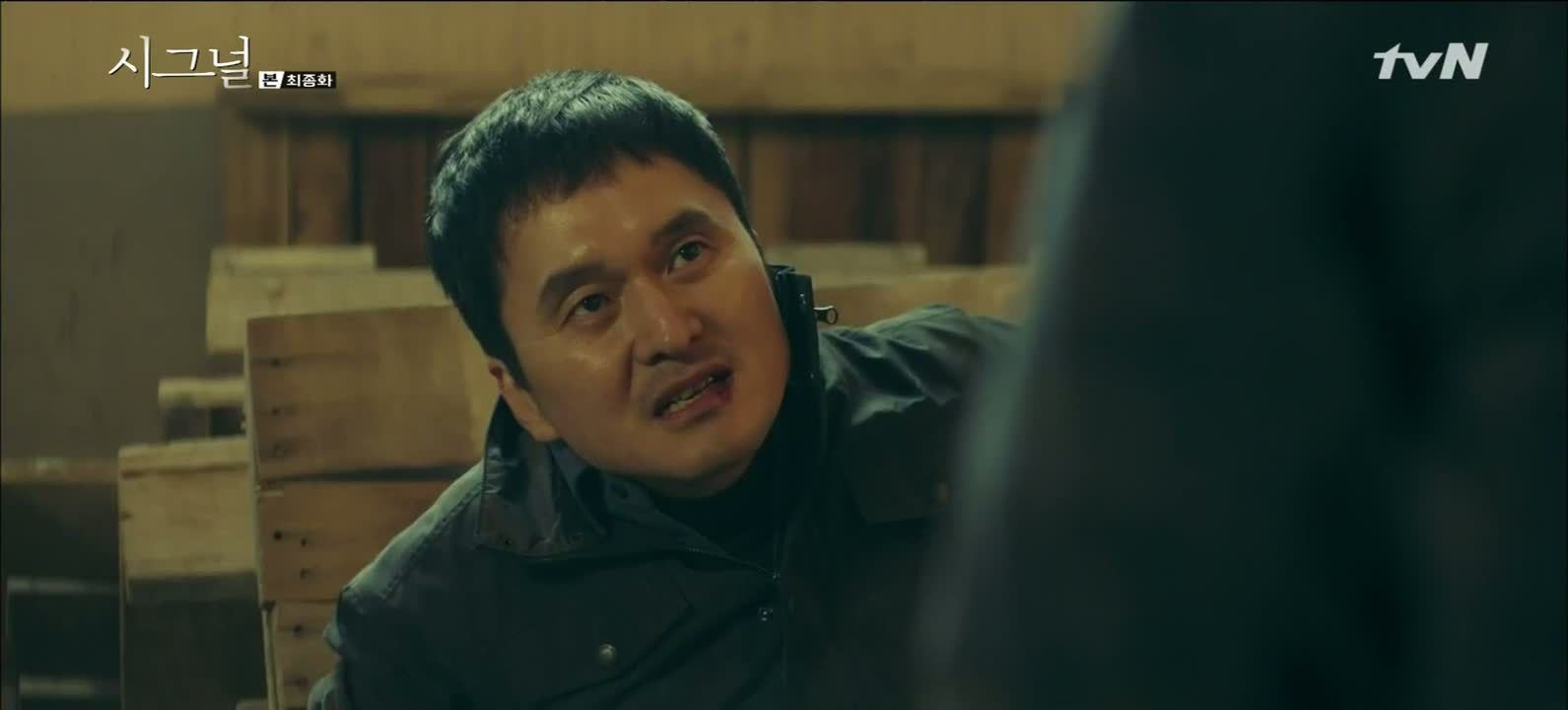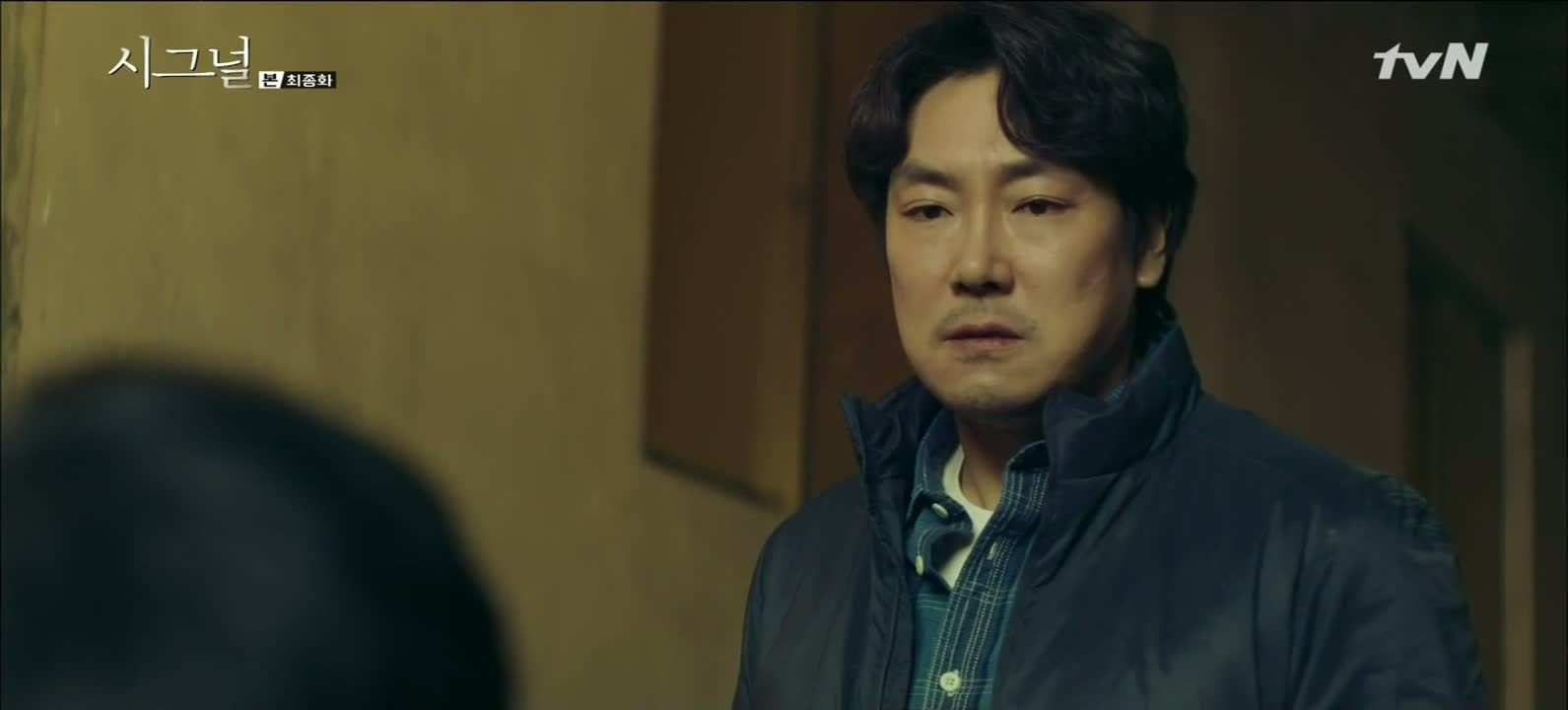 Director Kim kicks him away, but Jae-han drives him into a pile of wood and punches him. "You think the world will change if you catch me?" Director Kim spits tauntingly. Jae-han replies, "No. I need to a catch a different bastard in order for the world to change."
He asks if Senator Jang is responsible in puppeteering this elaborate cover-up, and Director Kim doesn't deny it. Corruption was how the senator rose to power and that's just how the world works, he barks.
That's the very problem with it all, Jae-han spits back as he grabs Director Kim by the front. Senator Jang will continue to use his influence to cover up a crime, spend money to pay people off, and tinker with crimes—and Jae-han swears to stop the injustice himself.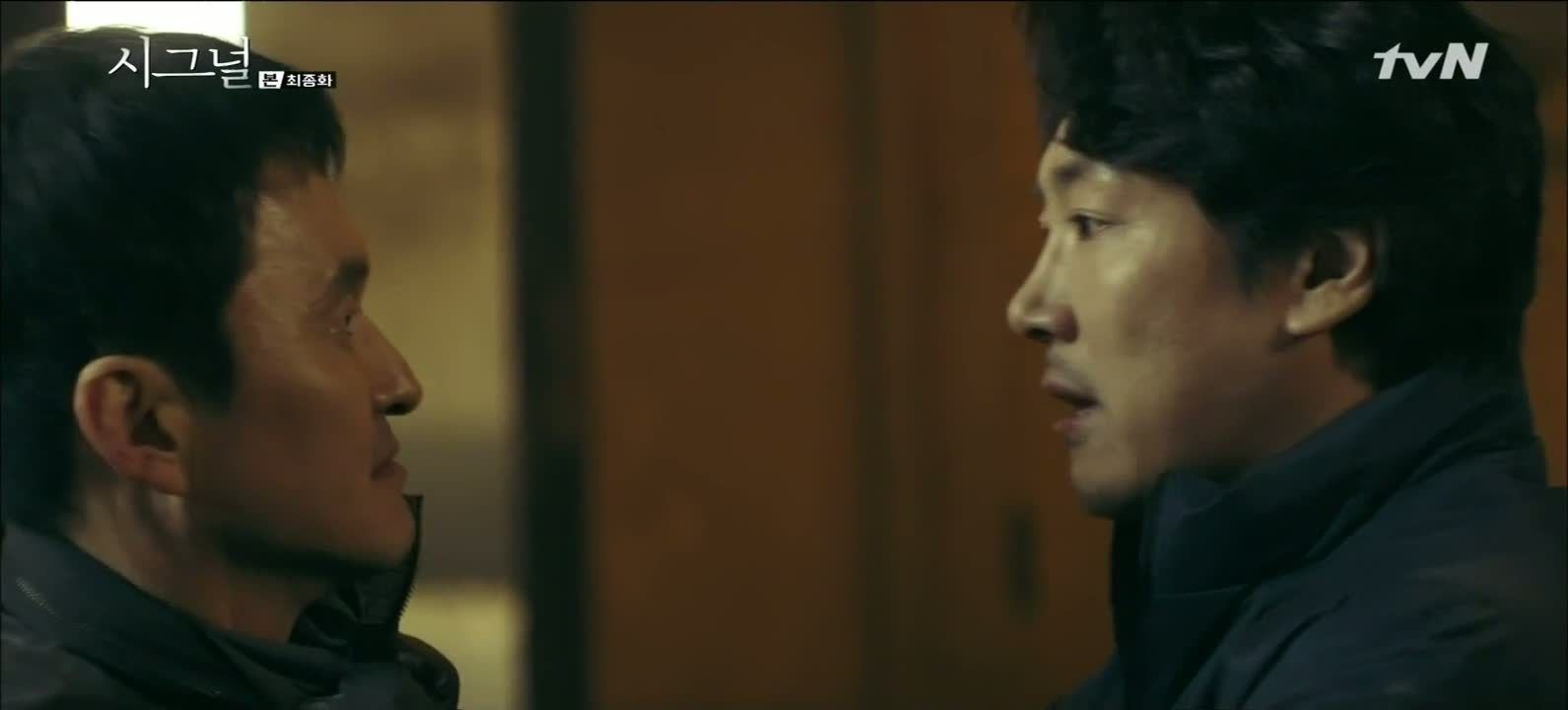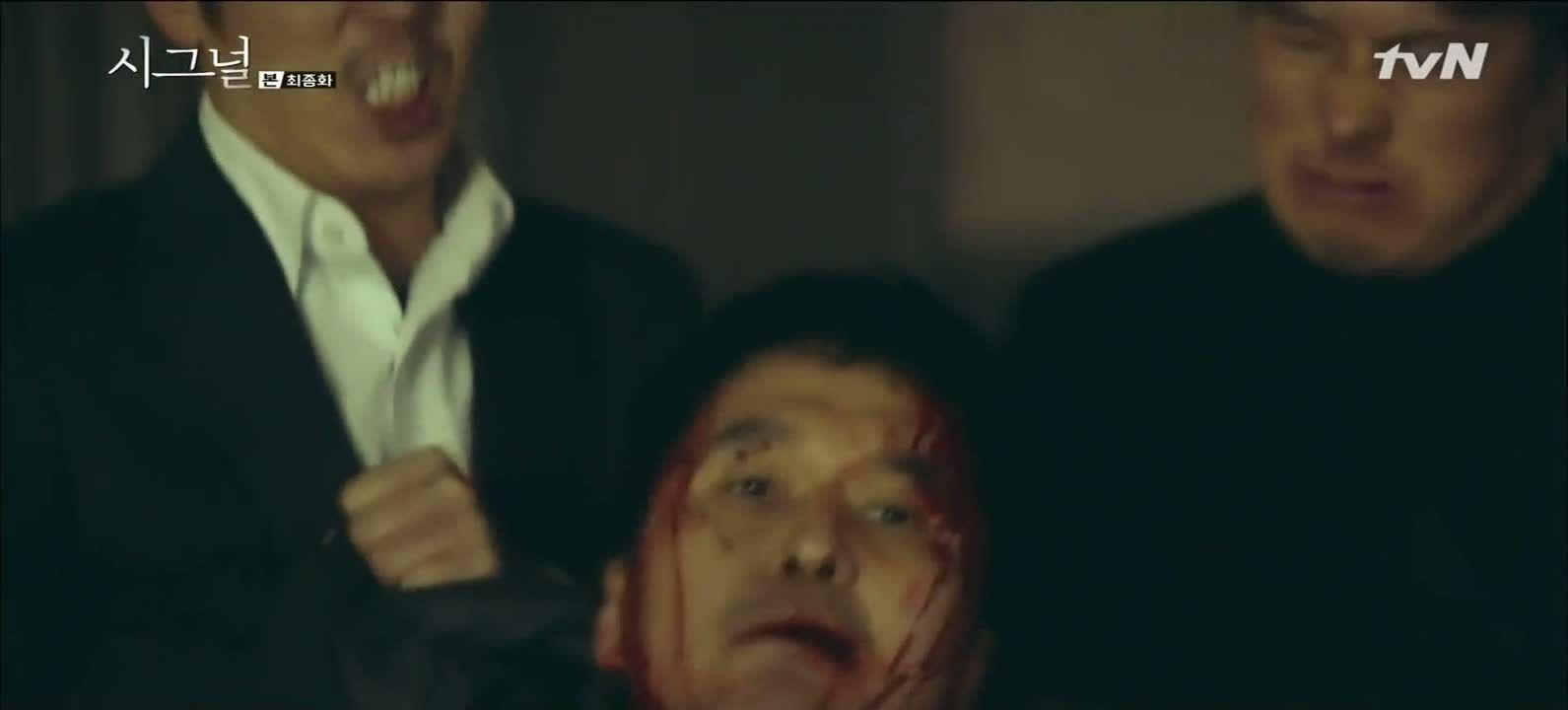 "He's someone that you, the police, the prosecution… even the Blue House can't stop," Director Kim chuckles. He finds it absurd that one man would even dream of taking someone like Senator Jang on. Jae-han knows that Director Kim erased the files related to the corruption scandal on the floppy disk, but there must be a copy because Director Kim would want some sort of insurance on his part.
Before he can get an answer, a throng of suits rush in to attack Director Kim. He and Director Kim try to fight them off, but Director Kim is soon brought down and beaten with sticks and pipes.
Seeing the duffel bag Director Kim was carrying, Jae-han keeps fighting his way through. That day is November 20, 2000 as Hae-young reads about the case in his New Present.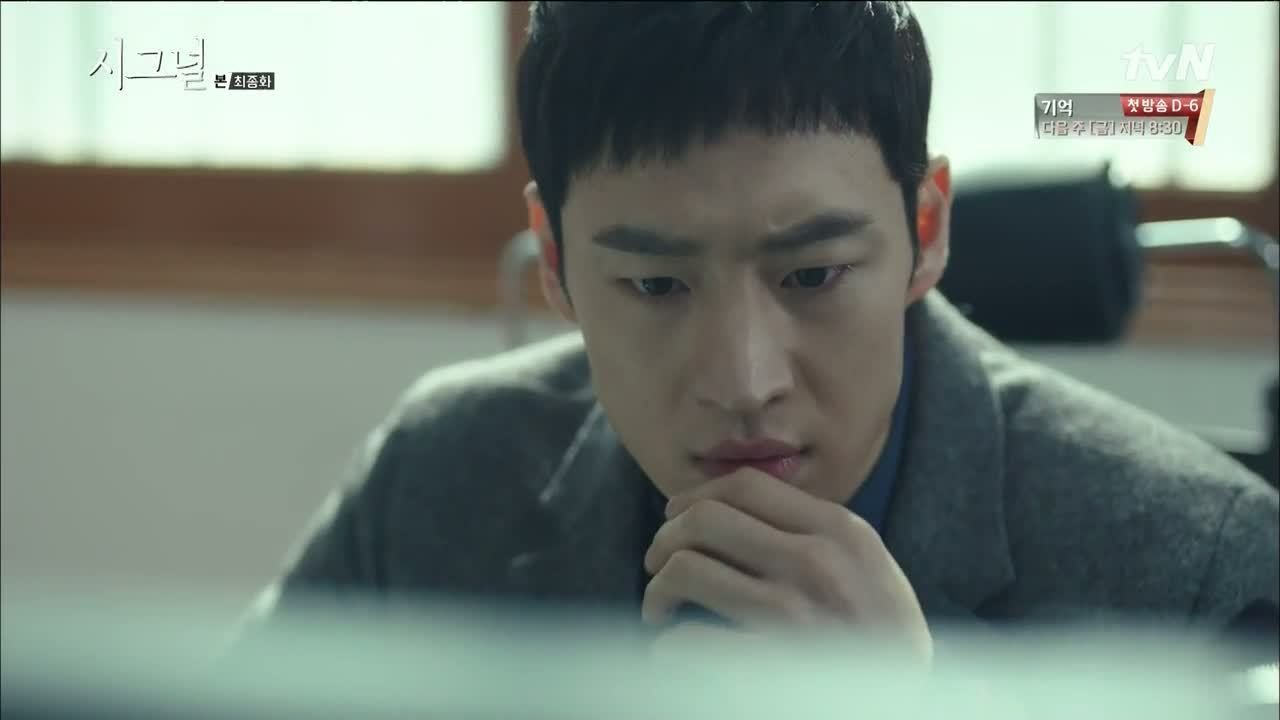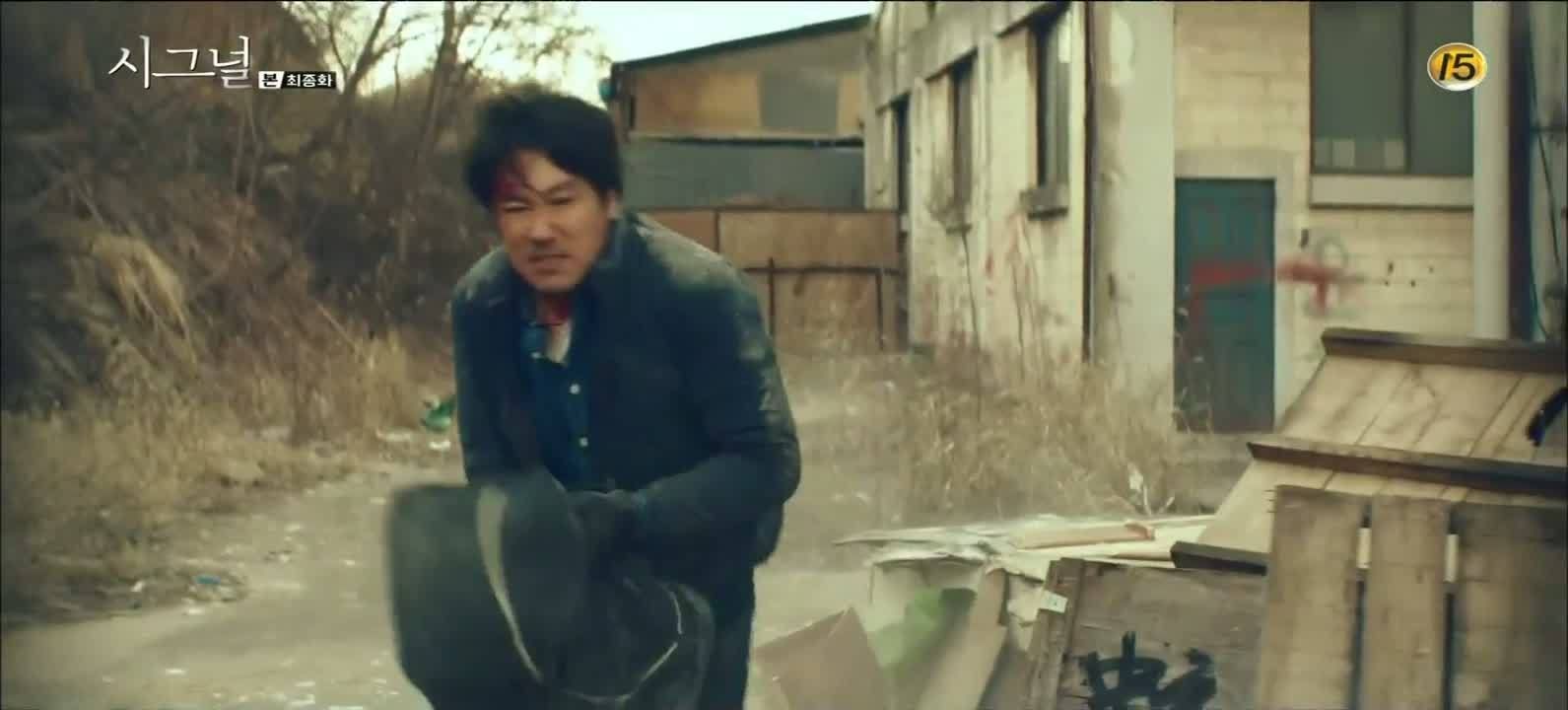 Director Kim's body was found in the building and traces of Jae-han's blood and DNA were found at the scene. Jae-han became a suspect in the case and his whereabouts have been unknown since that day. His car was later found abandoned alongside a highway.
Hae-young doesn't believe that Jae-han would've murdered Director Kim—someone else must've framed him for his murder. But who?
Jae-han jumps out of the window with the duffel bag in hand, climbs into his car and escapes. Meanwhile, Soo-hyun and her fellow cops are out looking for him in the city.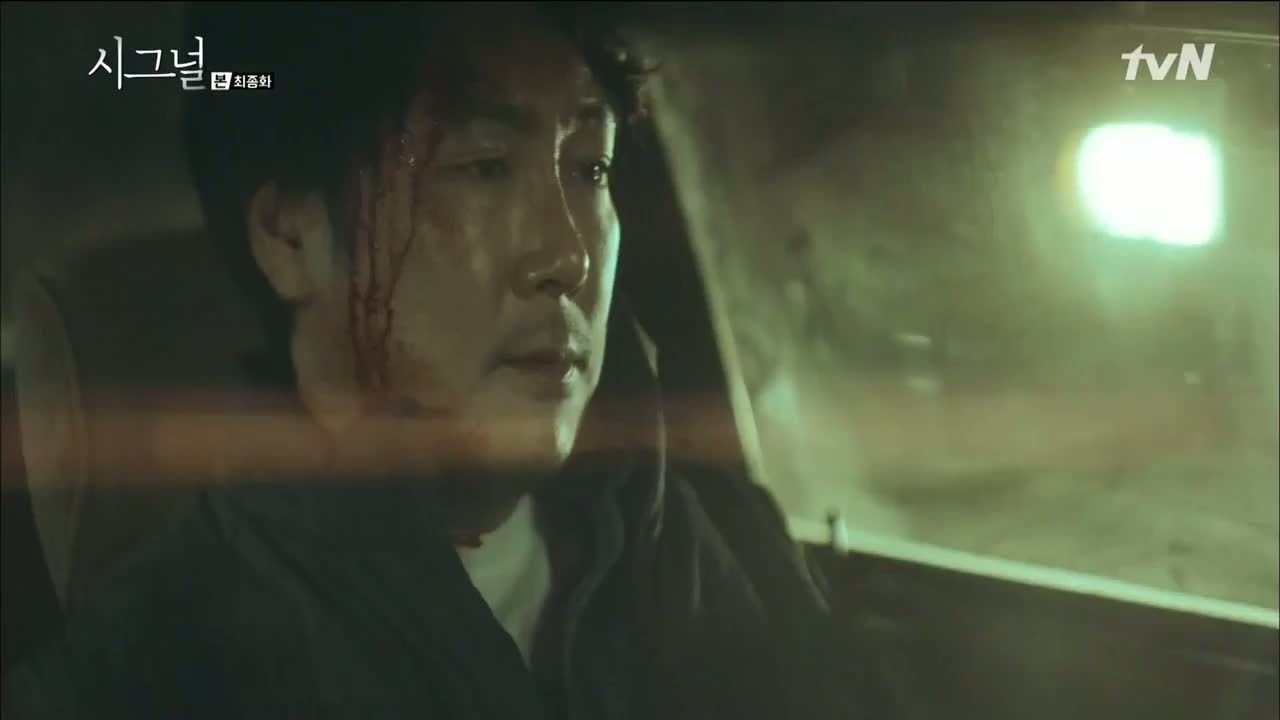 Later that night, a bloodied Jae-han sits in his car holding his radio, waiting for it to flicker on. "If only I had the walkie-talkie…" Hae-young thinks to himself.
As the throng of suits pull up to his car, Jae-han grabs his casebook and quickly jots something down before the suits start attacking his car. Just then, Hae-young remembers seeing Jae-han's old casebook on Soo-hyun's desk and realizes that there's still a way to communicate even without the radio.
Hae-young doubles back to the Jinyang precinct and quietly pockets Jae-han's casebook. Once he's safe in the car, he flips to the back of the journal to the memo that lists the cases they worked on together.
Jae-han would've anticipated that Hae-young would see this in the future—a note only Hae-young would understand. It's a number: 32-6.
It's his old house in Inju, and thankfully his mother is at home. She's surprised when he asks if the detective that helped them years ago left something in her care, then gives him the envelope asked her to keep safe for him.
She kept it all these years, believing that he'd return one day to collect it. Inside is a letter addressed to him… and a floppy disk. Whatttttttt.
Jae-han writes of how he hopes Hae-young will read this one day since this is the last way he can get it in touch with him. He remembers how Hae-young had no idea who he was back in August 3, 2000—perhaps that's when he realizes that they could've been caught in a time loop. But he hasn't once received a transmission ever since he survived that night.
He'd hoped that their transmission would continue, and wondered if him surviving is what ended their connection to one another. The day Hae-young thanked him for solving his brother's murder, it made him think about if the ones truly responsible never pay for their crimes, that something terrible may happen again in the future.
He has enclosed the floppy disk that would expose the Jinyang corruption case. He explains that he couldn't think of anyone to give it to in his generation out of fear that it would put lives at risk or the evidence would disappear again.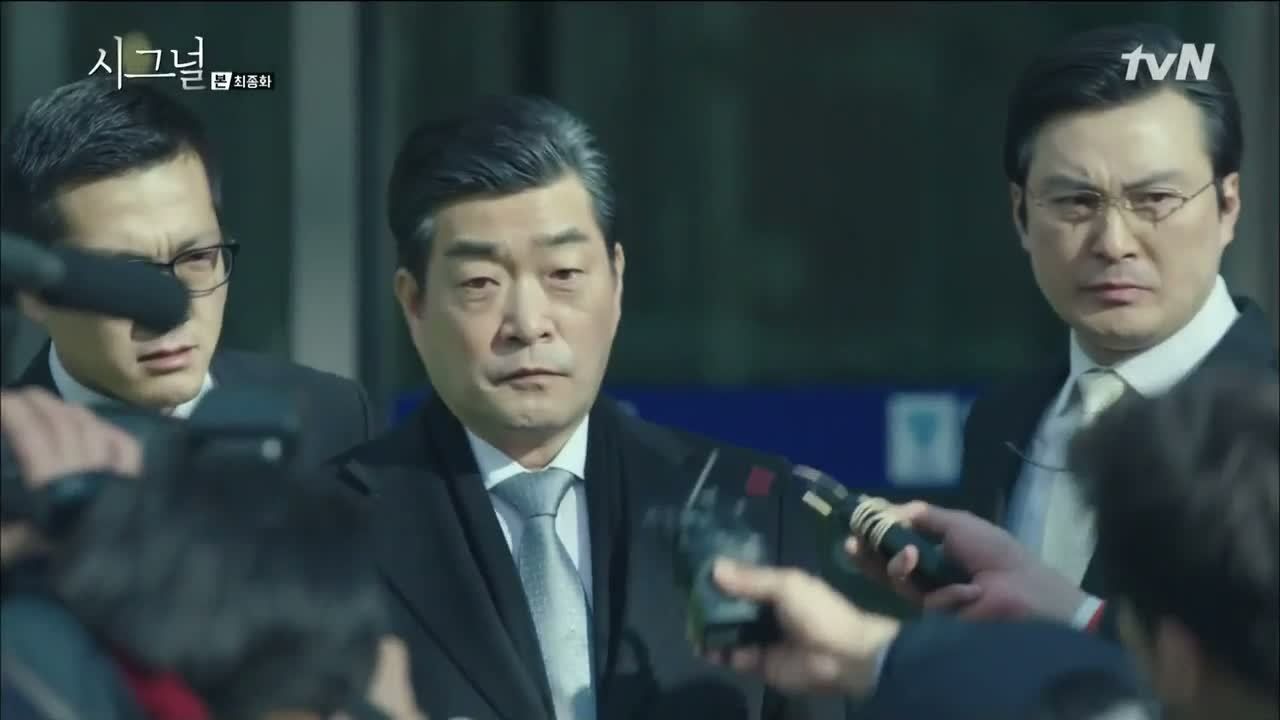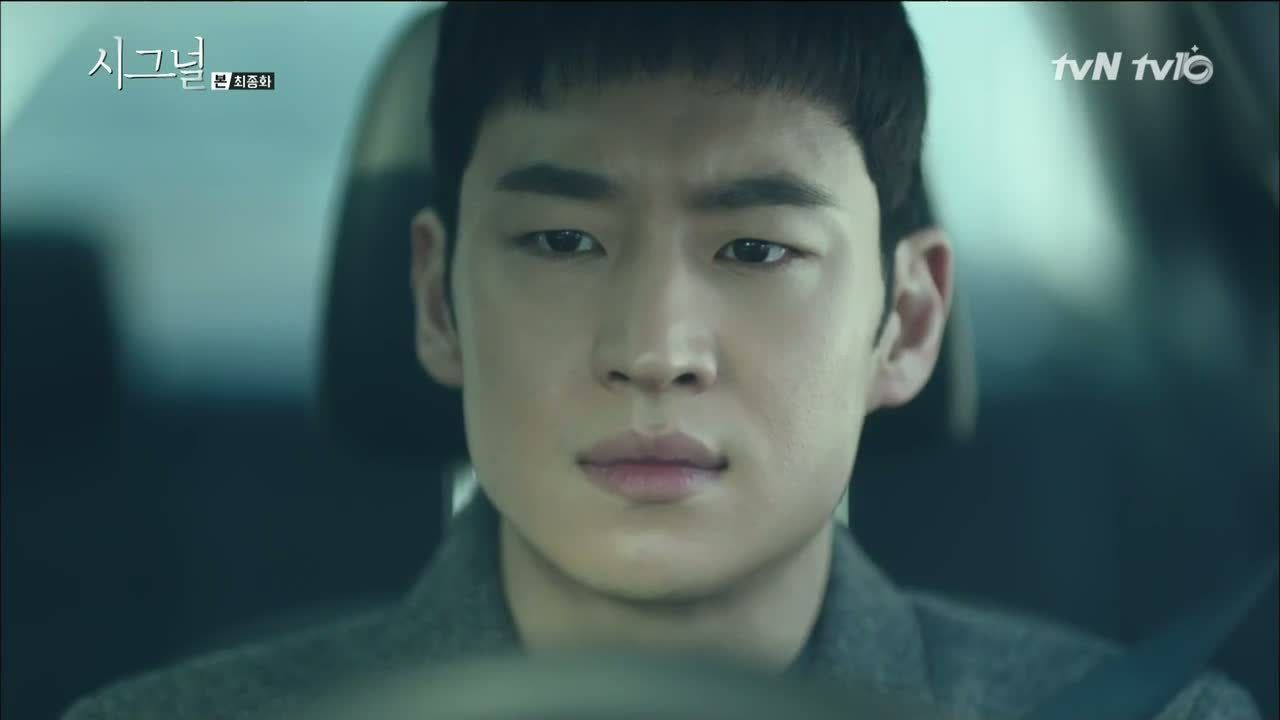 "But the world you live in must be different," Jae-han continues. We see the corruption case is now covered by the media and an older Senator Jang is swarmed by reporters. The news reports remark on how this scandal could cripple the society, and Senator Jang brusquely orders to do whatever must be done.
At the very least, Jae-han hopes that Hae-young now lives in a world where evil men pay for their crimes. "You, who are in the future, are my last hope. I believe that this letter will be my farewell. I pray that you will take care, be healthy, and be happy."
Hae-young tracks down the postmark on the mailing envelope to a coastal town. He also follows up with the precinct about any missing persons in the past fifteen years, and is relieved to find that Jae-han's name doesn't appear in any of the reports.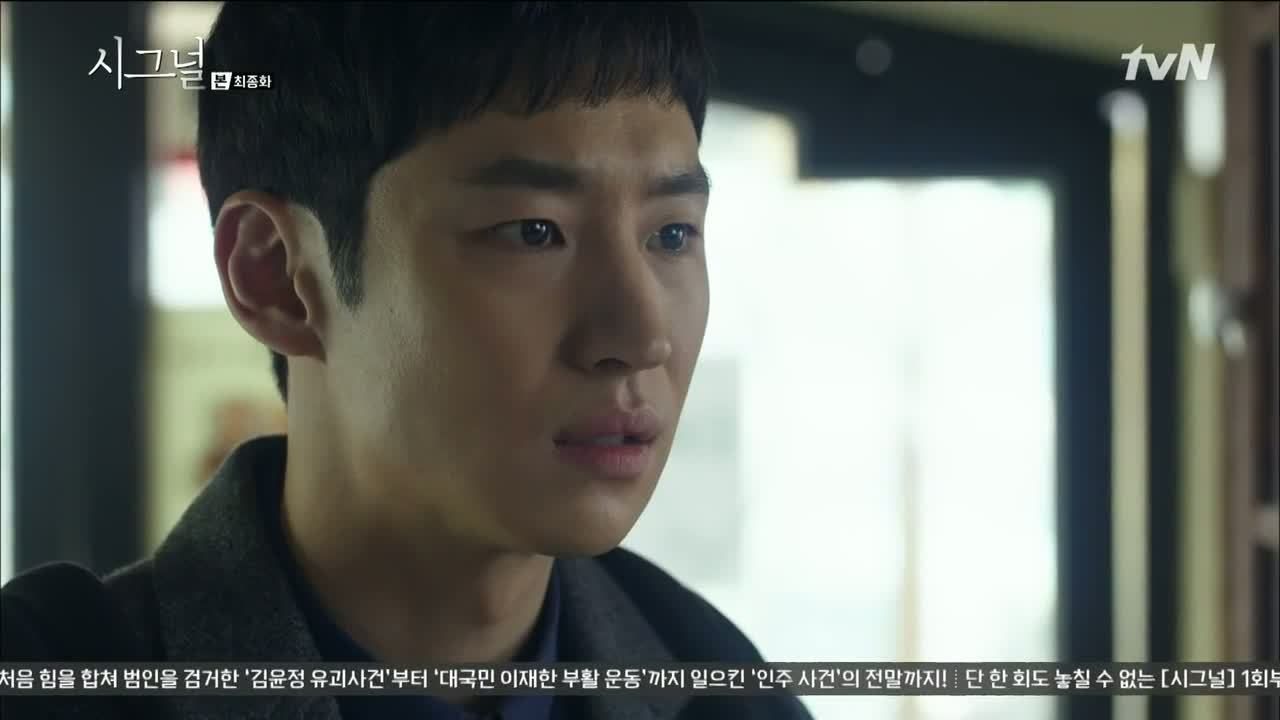 He does, however, happen to see Soo-hyun, who still carries around Jae-han's photo, hoping that someone will recognize him. She pauses when she turns around to see him, and Hae-young asks if she remembers him.
All he knows is that he woke up and the cold case squad was gone and no one recognized him. He couldn't find her at her old precinct and kept looking for her. Soo-hyun cuts him off, replying in banmal that he probably couldn't find her number saved in his contacts list.
They sit down to chat, as Soo-hyun explains she went through a similar bizarre experience: She came to and tried looking for Hae-young at the ER, but there was no record of him. She even swung by his place, and was relieved to hear from this mother that he was sick, but alive.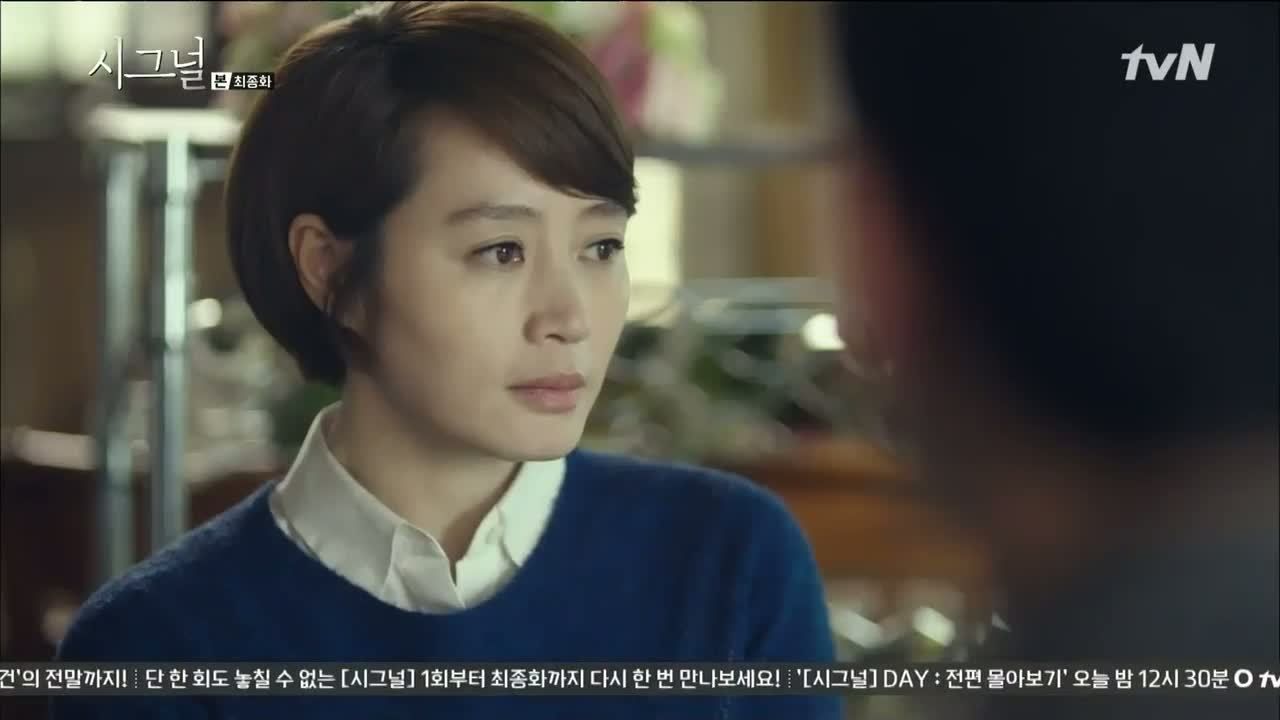 "What about Lee Jae-han?" Hae-young asks. Soo-hyun takes a deep breath before answering that she remembers everything: she had woken up in her car, dazed and confused. She remembered hearing Jae-han making a demand from her, but in this changed present, that never happened.
Jae-han is still missing in this present, and she's been looking for him ever since he's gone missing. Her mind remembers that something else has changed as well: she received a phone call at the precinct sooner after Jae-han had gone missing.
She picked up, but there was silence on the other end, which made her think that it was Jae-han. "It's you, sunbae-nim, isn't it?" She called out to him several more times, but then the line went dead.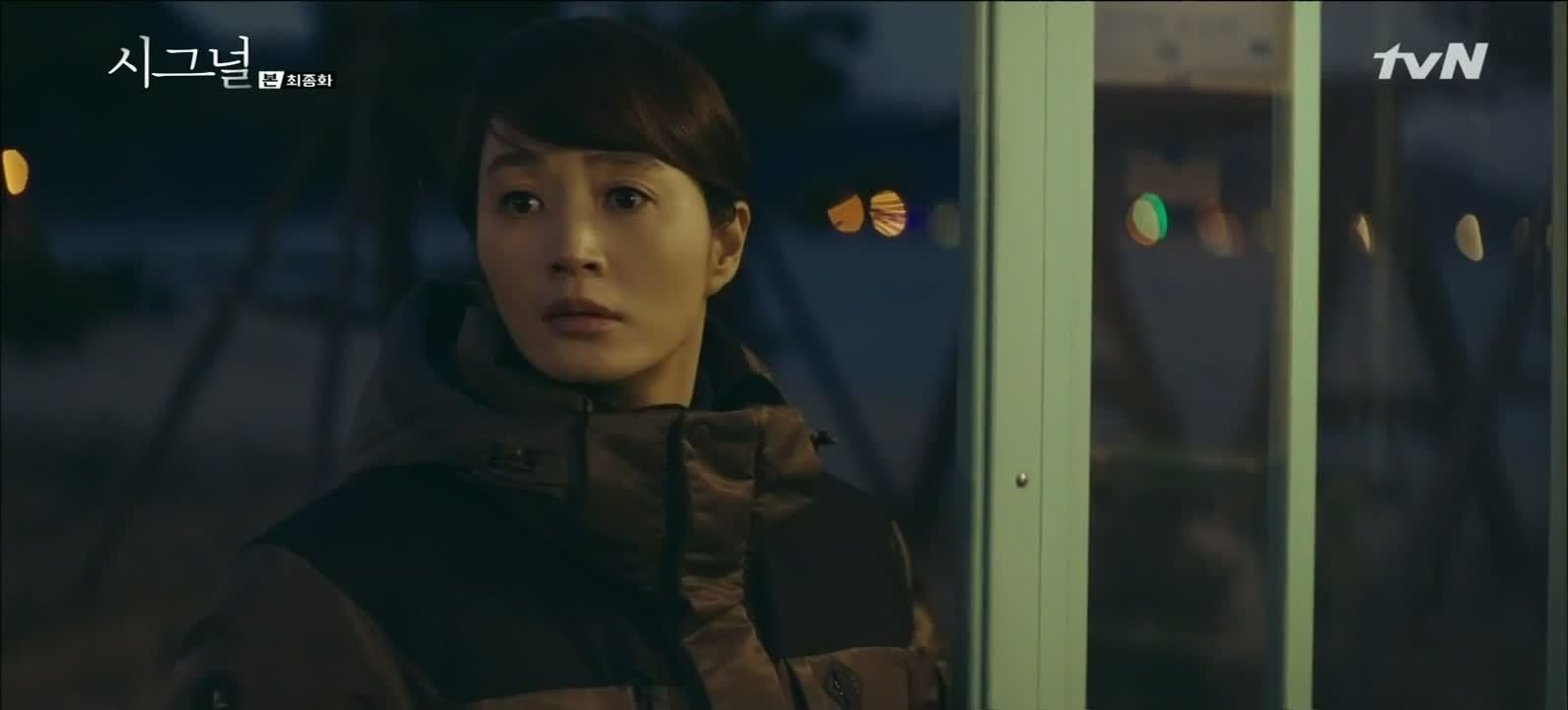 She tried tracing the number that called, and that led her out to a public phone booth in the coastal town. "He didn't say anything, but it was definitely him," Soo-hyun recalls, then corrects herself. "No… I thought that it would've been him."
Hae-young asks if she received that call on November 24, 2000 because that's the same day Jae-han sent him a letter. Since the postal records were erased a year later, he's unable to confirm that it was him, but he believes it was Jae-han.
Jae-han must've known that his life was in danger, so he sent him this letter, Hae-young concludes. He wishes that Jae-han is alive too, but Jae-han isn't the type to go off the grid for fifteen years, either. It breaks his heart to admit that if Jae-han were alive, he would've tried to make contact already.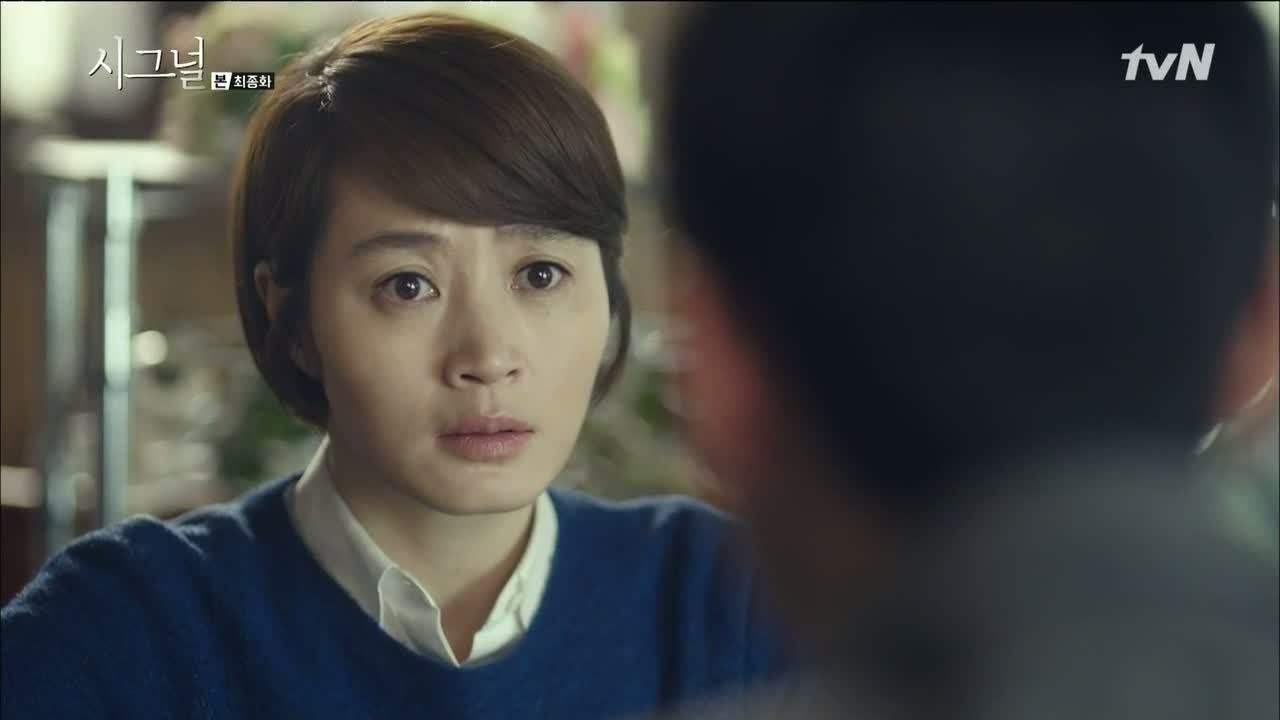 Soo-hyun entertains the possibility that Jae-han had no choice but to remain in hiding all these years—if there no proof that he's dead, he could still be alive. The facility name on the envelope strikes familiar with her, and she shows Hae-young an anonymous text she received not too long ago warning her not to go there on February 5.
Jae-han, Hae-young, and herself were the only three people who knew about the walkie-talkie's existence. Furthermore, small nursing facilities don't require an identification check to admit patients, so one could theoretically stay there hidden for years.
But Hae-young says it would've been impossible for Jae-han to finance his stay there for all these years when he was considered a suspect. Unless someone was helping him, that is.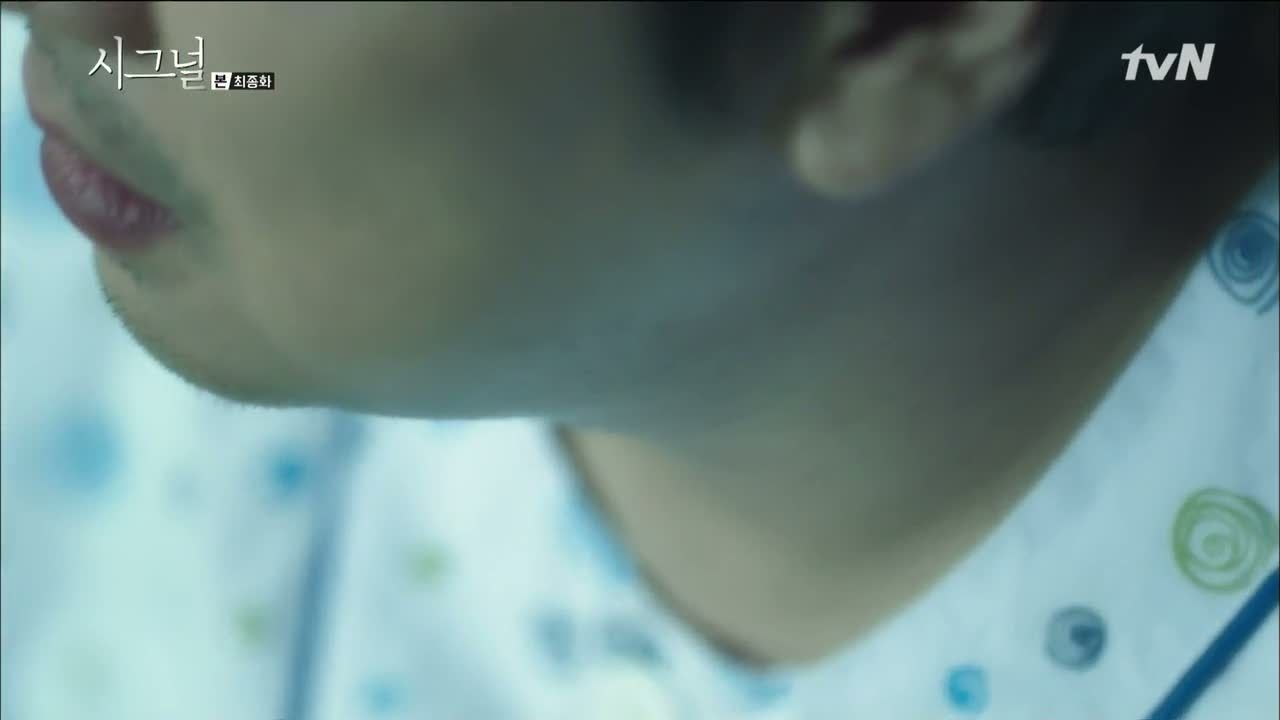 It's at that moment Hae-young realizes that someone may have helped Jaehan: his father. He had seen the half-charred remains of a ticket from Gangwon-do to Seoul when he went to see Jae-han's father.
As Hae-young and Soo-hyun travel to the medical facility in her car, he narrates: "This never made any sense from the beginning… from the moment the transmission began from a walkie-talkie without any batteries in it. So there's no reason to be disappointed already."
Unfortunately another group of suits is on their way as they rush inside the building. Damn, are these Senator Jang's men? In one of the rooms, someone pulls themselves up from the bed. Jae-han, is that you?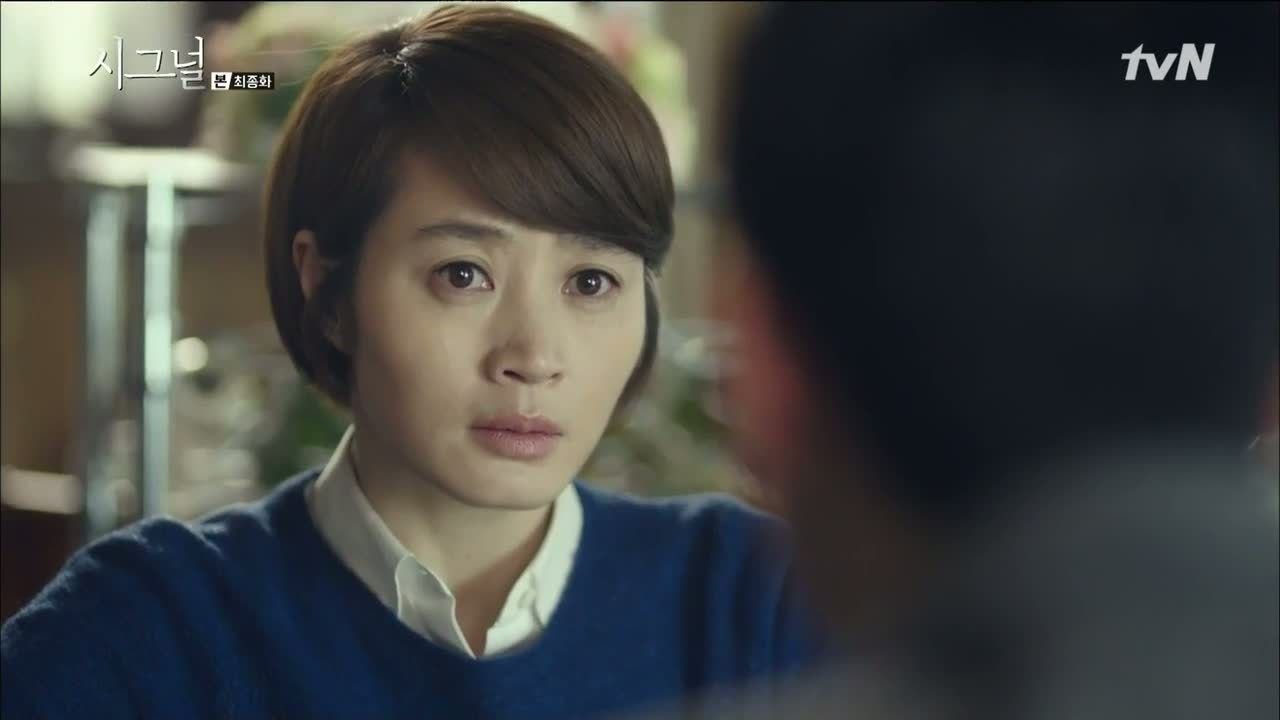 "I don't know what will be at the end of this road," Hae-young thinks to himself. "Whether I'll meet my closest friend whom I've never met before… Or if a dangerous fate may await us."
"There's nothing I can do," he finishes as we cut back to Hae-young and Soo-hyun's conversation again. He says that if Jae-han truly did send this text, then it's dangerous for them to go to that medical facility.
Jae-han held on to the radio, and while their connection to him may have ended, it's possible he began another one with someone else from the future who warned him about this date, February 5, 2016.
But Soo-hyun counters that Jae-han went to Seonil Psychiatric on August 3, 2000 even though they warned him not to go. It's possible that Jae-han sent them this message in anticipation that they too would do the same.
Well if they're going they better hurry because Senator Jang's men are already inside the building. The one thing Hae-young knows for certain is that the transmissions began because of one man's determination. "That voice over the radio taught me one thing: all you have to do is never give up."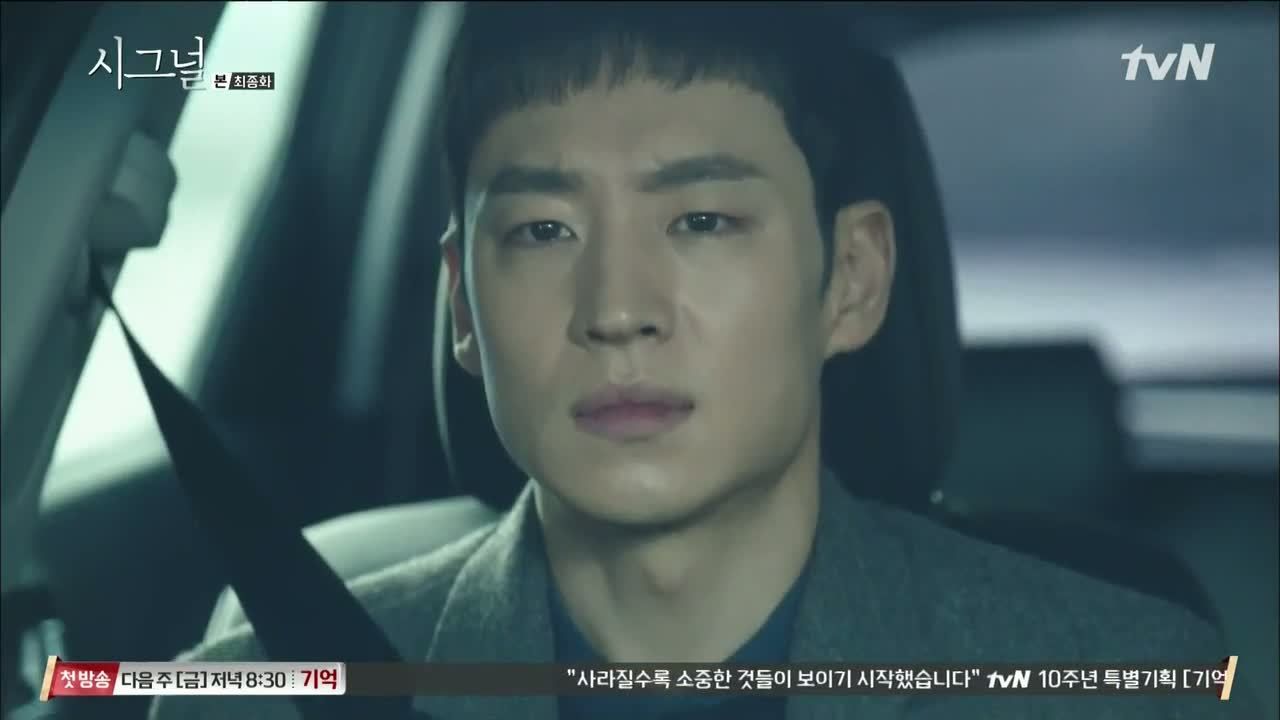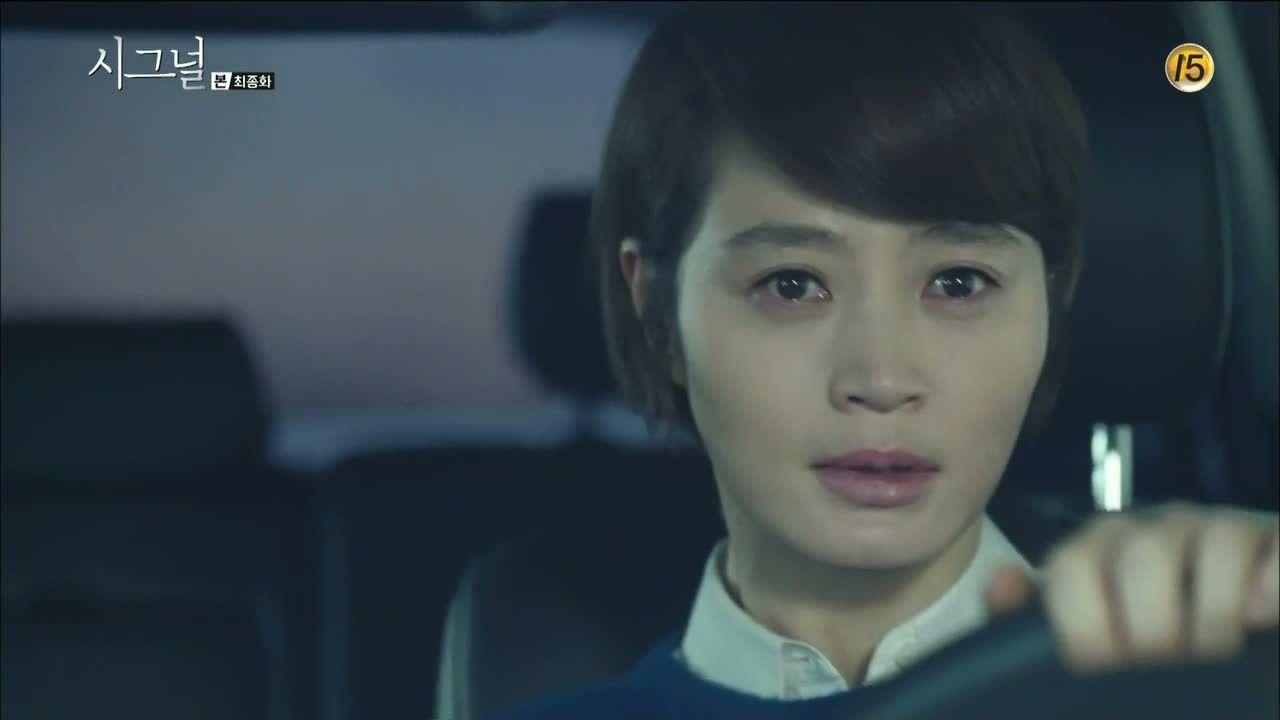 He breaks into a sad smile at the thought of Jae-han's zealous words, and Soo-hyun smiles too. "As long as one doesn't give up… even toppling a corrupt power that seemed so insurmountable and meeting someone you've wandered in search for sixteen years… are all possible. As long as one doesn't give up, there's hope."
In that hospital room, a man looks out the window. The walkie-talkie on the windowsill has a yellow smiley face sticker on it… and it flickers on. The man slowly turns his face…
… it's Jae-han.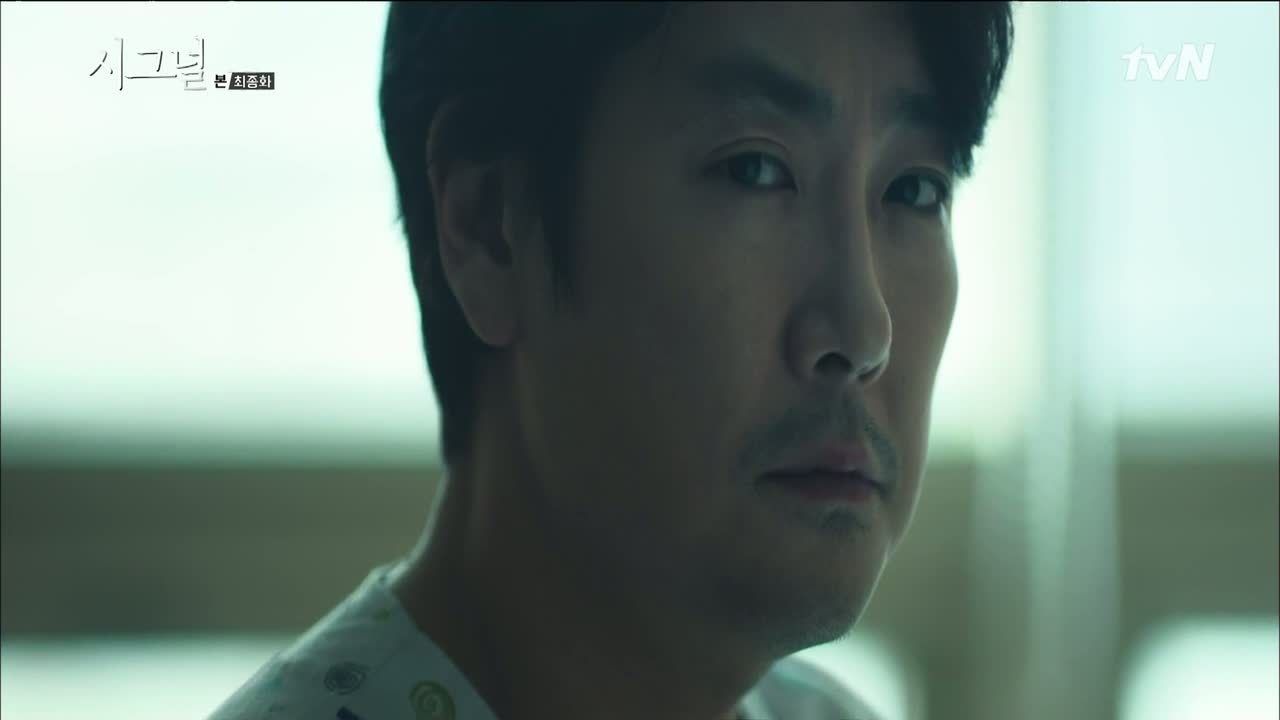 COMMENTS
Just take a look at that badass glory shot. Go ahead and drink it in… I'll wait. It's these moments where I feel so lucky that we have such a skilled actor like Jo Jin-woong in this role of Jae-han. While Jo doesn't possess the flower boy handsome look of other actors, he has a magnetism and brings a stage presence that both commands my attention and draws me in as a viewer. Although Jo is an actor best known for his supporting roles in movies and other dramas (Full Sun,Tree With Deep Roots), there's no doubt that Jae-han is the true hero in Signal.
I don't think there are enough words to fully describe my admiration for Jo as Jae-han, a character who has made me laugh at his adorably awkwardness around women he likes, cry in his darkest moments, and my heart flutter at the very sound of his voice. My mind is filled with questions at this finale, like how he managed to escape the clutches of Senator Jang's men to go into hiding for the past fifteen years. In the end, I'm relieved that he's still alive because I feared that something terrible must've happened to him and we would once again find him a corpse.
I was worried that it might've been too late for Soo-hyun and Hae-young to prevent the seemingly inevitable that is (was?) Jae-han's death. But once again, there were so many instances in these final 88 minutes where the tiniest of changes propelled Jae-han into action and even plan ahead days, weeks, or even years ahead. And sometimes his most clever decisions came at the most crucial life or death moments. We're left to wonder who it is that Jae-han is connected to now and how that person found the walkie-talkie, but whoever it is, their lives are about to be changed.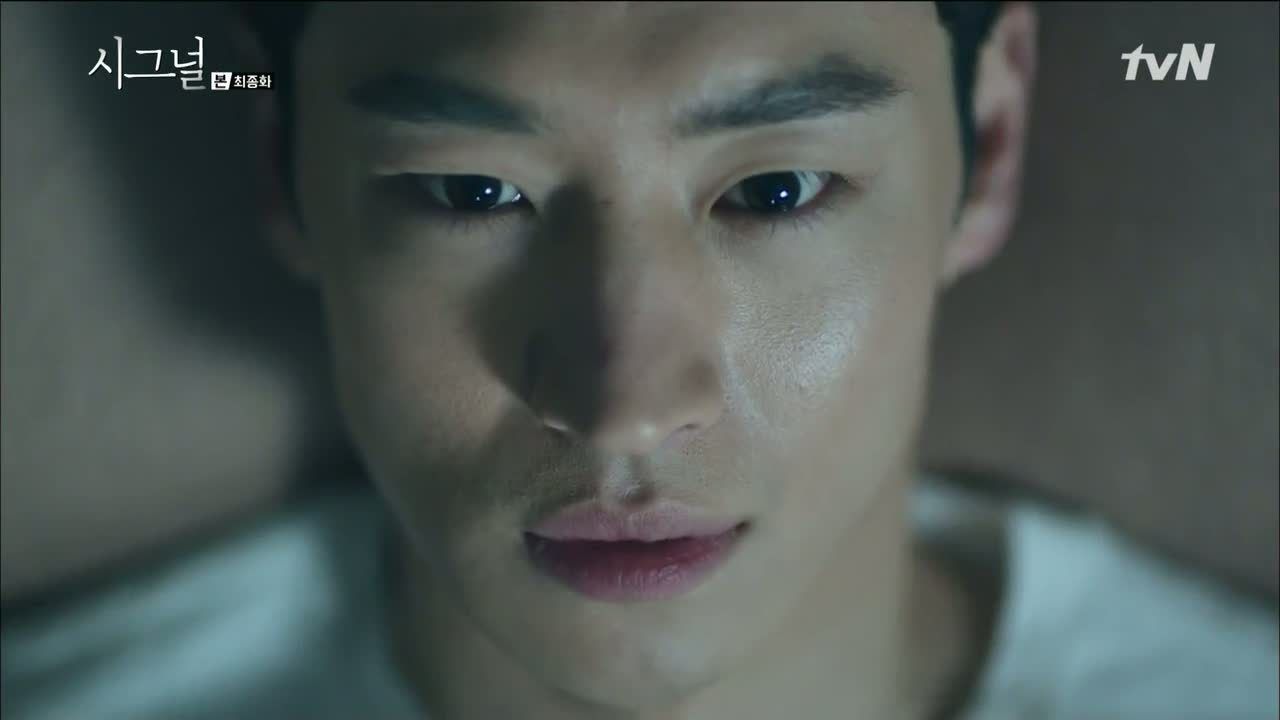 On a production front, Signal never let us down from start to finish. Handling a story centered around a time paradox is a complicated task, to say the least, but this show went above and beyond in presenting an overarching mystery that also tied into various cases of the week and took into minute details that one could easily miss. A story of this scale would need to think of all the possible alternative realities depending on the consequences of our character's decisions (or sometimes, even in spite of that). To that end, the narrative was solid and well-built, and I always felt assured that there must be an answer to my question, even if we as viewers weren't privy to it yet. Sure that made for maddening moments in the recaps trying to describe two concurrent timelines on paper vs. what we saw onscreen, but that didn't take away my appreciation for Signal's ability to keep us on our toes from start to finish.
Of course, Jo Jin-woong isn't the only acting powerhouse in this series. Signal has also blessed us with the talents of Kim Hye-soo, who took on this project as her return to dramaland (since God of the Workplace in 2013) and Lee Je-hoon, who simply never disappoints. The show also boasts an impressive supporting cast with Kim Won-hae as Detective Kim, and guest stars like Sohn Hyun-joo as Senator Jang. As for PD Kim Won-seok, I wouldn't have expected anything less in terms of the stellar quality we were given in Signal, and I can't wait for what his next project may be.
As previously posted, PD Kim Won-seok and writer Kim Eun-hee are giving serious consideration for a second season. Although you'll usually find me in the camp of not encouraging a sequel for most series ('cause why tinker with something that ain't broke?) I can also see how a second season could tie into this story. This kind of open ending where the transmissions do continue allows the possibility for Jae-han to continue to fight injustice and affect more lives in the future. For myself, it would have to be Jo Jin-woong as Jae-han because I can't imagine anyone else in this role of a bold, badass, and in-your-face detective that can take a serious beating over and over again. Realistically, it would be difficult to gather this talented cast back together again, but if there's anything that this drama has taught me, it's that there's hope as long as I don't give up.
RELATED POSTS
Tags: featured, Jo Jin-woong, Kim Hye-soo, Lee Je-hoon, Signal