Marriage Contract: Episode 16 (Final)
Some stories are best told quietly, and Marriage Contract stays true to itself as we follow our little family into the last chapter of our journey beside them. No matter what happens, Hye-soo's decided to live like a living person, not a dying person — fabulously, stylishly, and kicking ass — and that makes all the difference.

FINAL EPISODE RECAP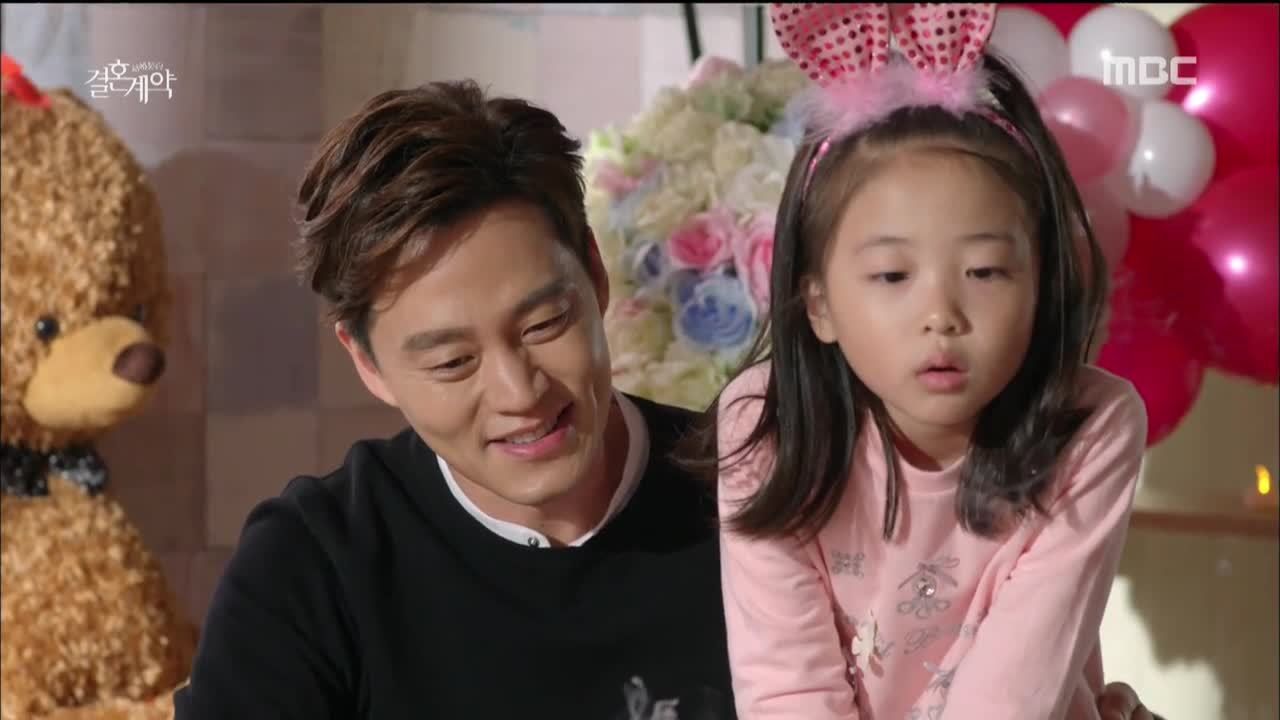 Ji-hoon lights the candles on his proposal-cake, and Eun-sung sings the bear song with Ho-joon while they all wait for Hye-soo, who's late. A balloon touches the candles and bursts with a portentous bang, shocking them out of their merriment.
Eun-sung (calling Ji-hoon "Daddy" now) asks where her mom is, and Ji-hoon reassures her she's on the way. He steps out to call her, but can't get through. Instead, he gets a tearful call from Joo-yeon: Hye-soo's collapsed and she's in hospital.
Ji-hoon goes straight there, where the doctor needs him to sign off on an emergency surgery. She also warns him that it's possible Hye-soo won't make it through, provoking a sharp sob from Joo-yeon. In shock, Ji-hoon hesitatingly signs the form and Hye-soo is wheeled into surgery.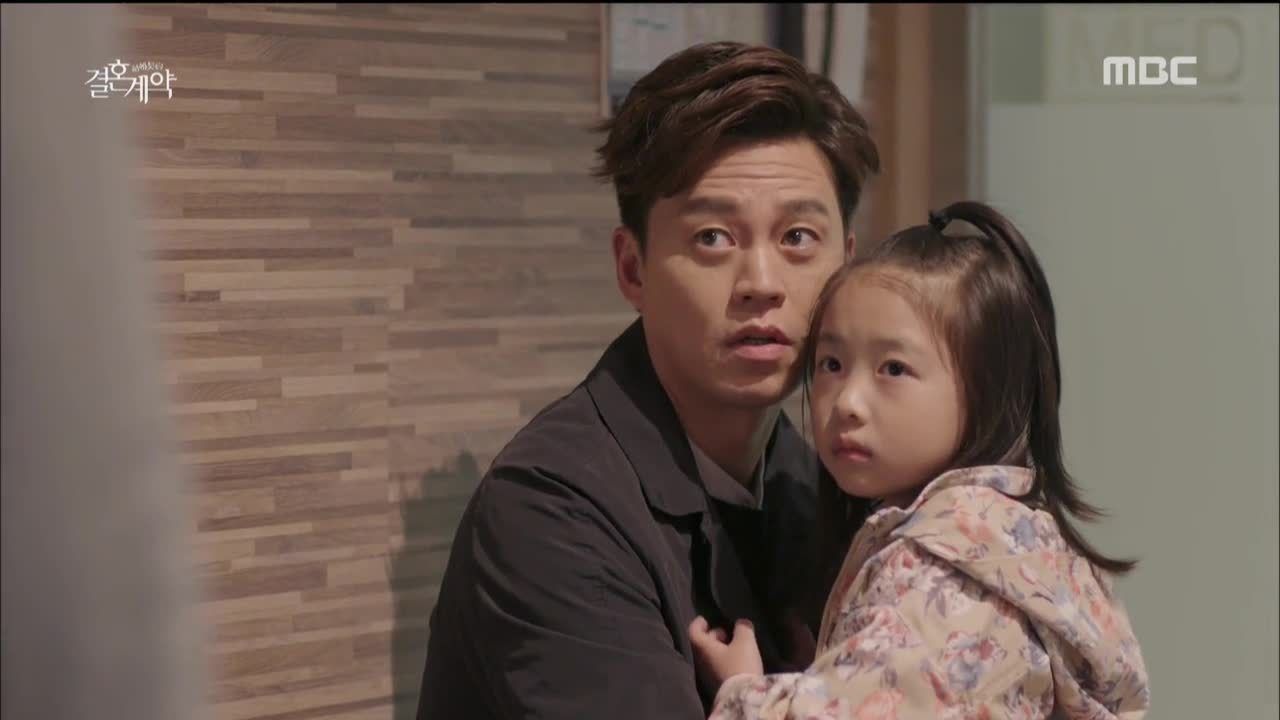 Ho-joon brings Eun-sung to join their vigil. Joo-yeon explains that she thought Hye-soo should see her daughter's face at least one more time, in case…
Night falls. The surgery-in-progress lights go off and Joo-yeon looks to Ji-hoon in alarm. He suggests she take Eun-sung home: Hye-soo will be fine, he says, probably as much as to convince himself.
Just as she's about to go, the doctors come out, tired but smiling. They deliver the good news that she's no longer critical. However, since the tumor's still there, this kind of thing could happen again. In gratitude and relief, Ji-hoon thanks her with a deep bow, far too shaken to smile or laugh.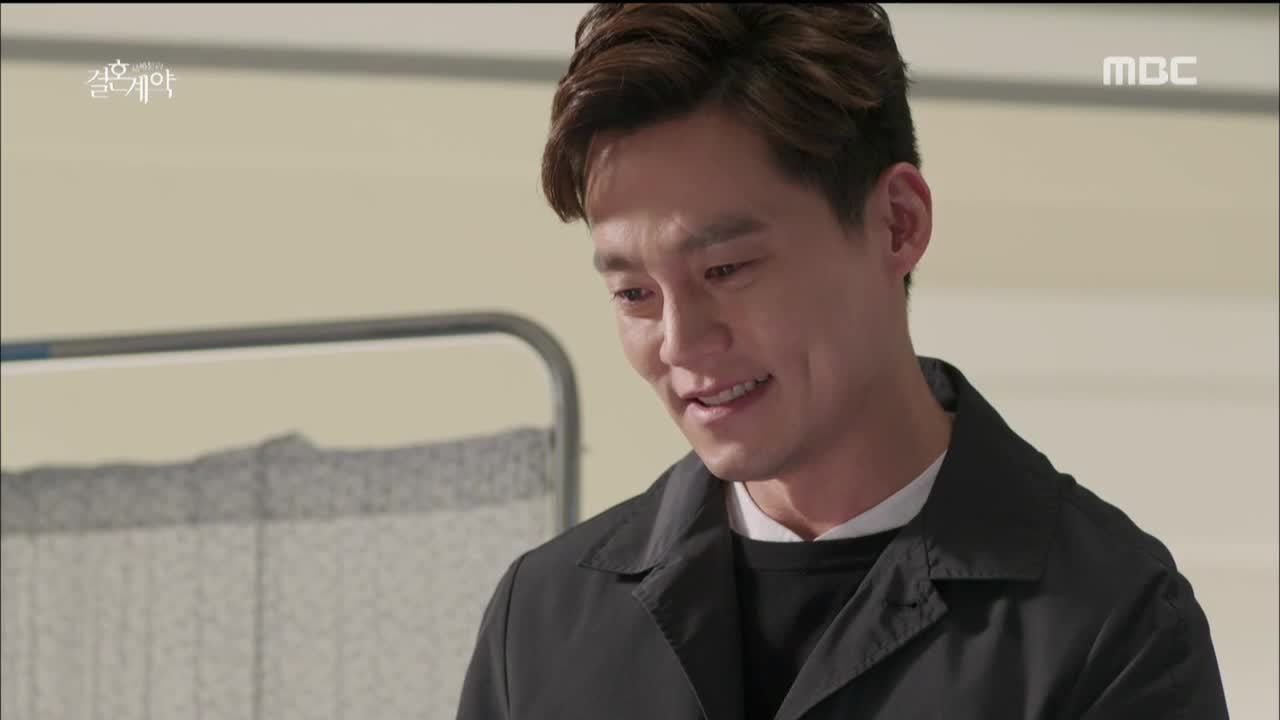 He visits Hye-soo's bedside (where she's still unconscious), eyes full. Now he smiles, and clasping her hand, he thanks her over and over, in a voice so thick with emotion I barely recognize it.
Through the viewing window, Joo-yeon sees his devoted attention. She smiles, too, and the scene fades to black. All these heartbroken little smiles. Why are we watching this.
Ji-hoon puts the Promise kitties into a carrier to take to the new house, since Hye-soo's getting discharged today. Ho-joon gets a little teary (with a kitty in his lap, no less), and Ji-hoon gently pokes fun at him. He's in good spirits today. Ho-joon asks about his new job, which is part-timing as an investment analyst. He's once again impressed by his friend's capability.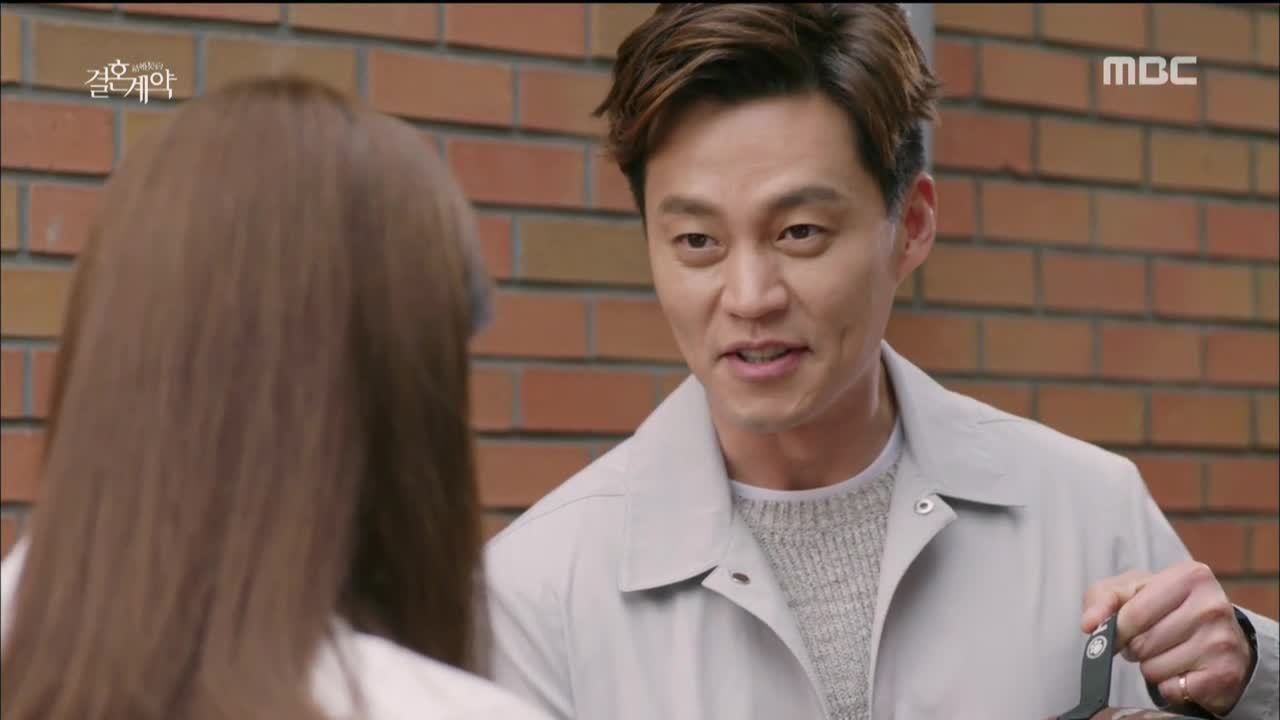 On the way out, Ji-hoon bumps into Na-yoon. Sunnier and lighter today, she tells him she came to say goodbye. She's taking up a teaching post abroad, and he congratulates her. Noticing the kitty-carrier, she remembers that he wasn't an animal person. He laughs that she must be remembering someone else. Ne'er a truer word. In parting, she congratulates him on his marriage, and he smiles the biggest, crinkliest smile you've ever seen.
Joo-yeon gently exposes Hye-soo to her reflection. They must have had to shave off her hair for the surgery, as she now wears a wig. Hye-soo jokes that she just makes everything look good. Aww, yeah.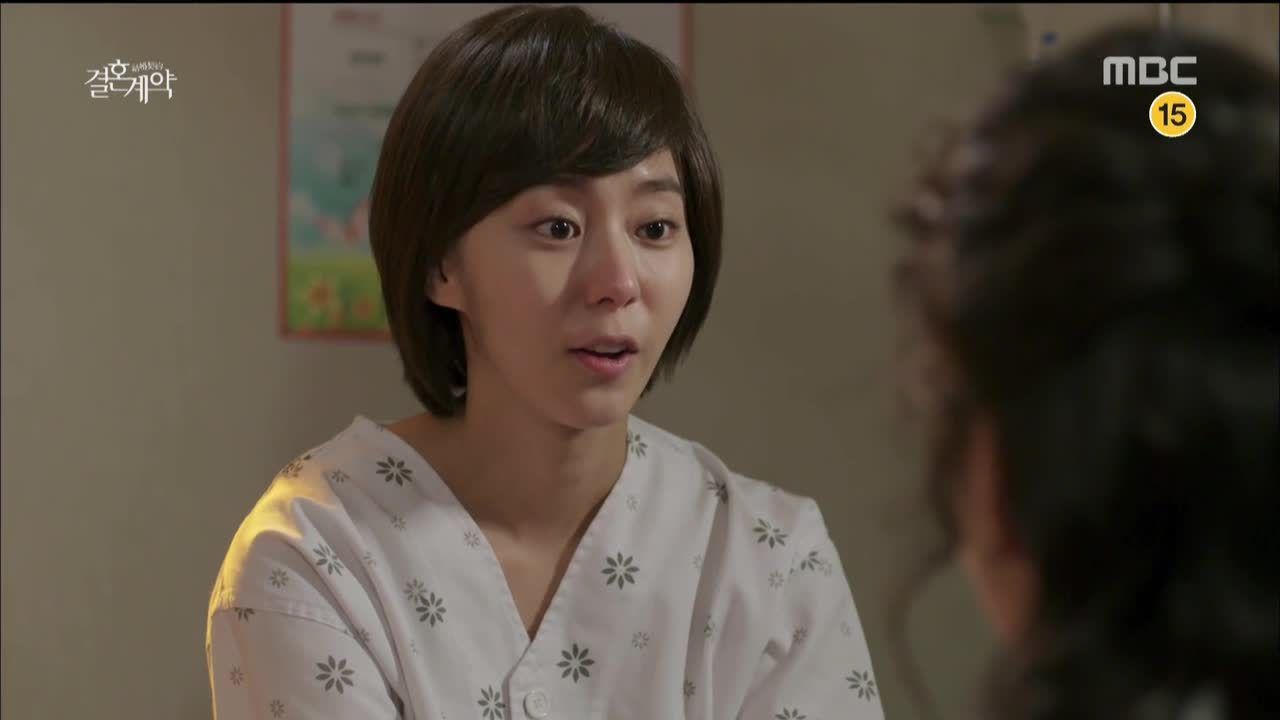 Joo-yeon tells her that her hubby moved all her things to the new house, and that he and Eun-sung are inseparable. She's impressed and a teeny bit envious of how devoted he is, and charges Hye-soo to live well.
Ji-hoon passes Hye-soo's doctor on his way in. She tells him that if Hye-soo's tumor compresses a nerve, she could lose her eyesight, as well as other sensations. She advises him to take good care of her and be strong.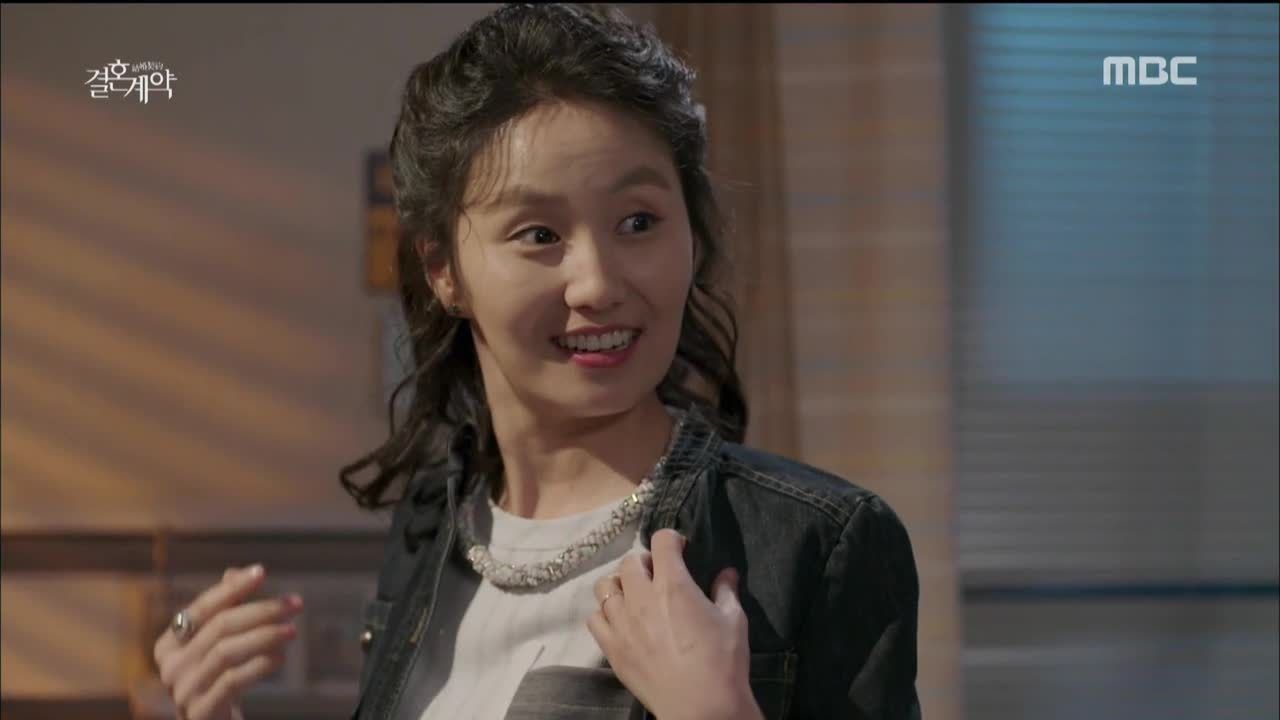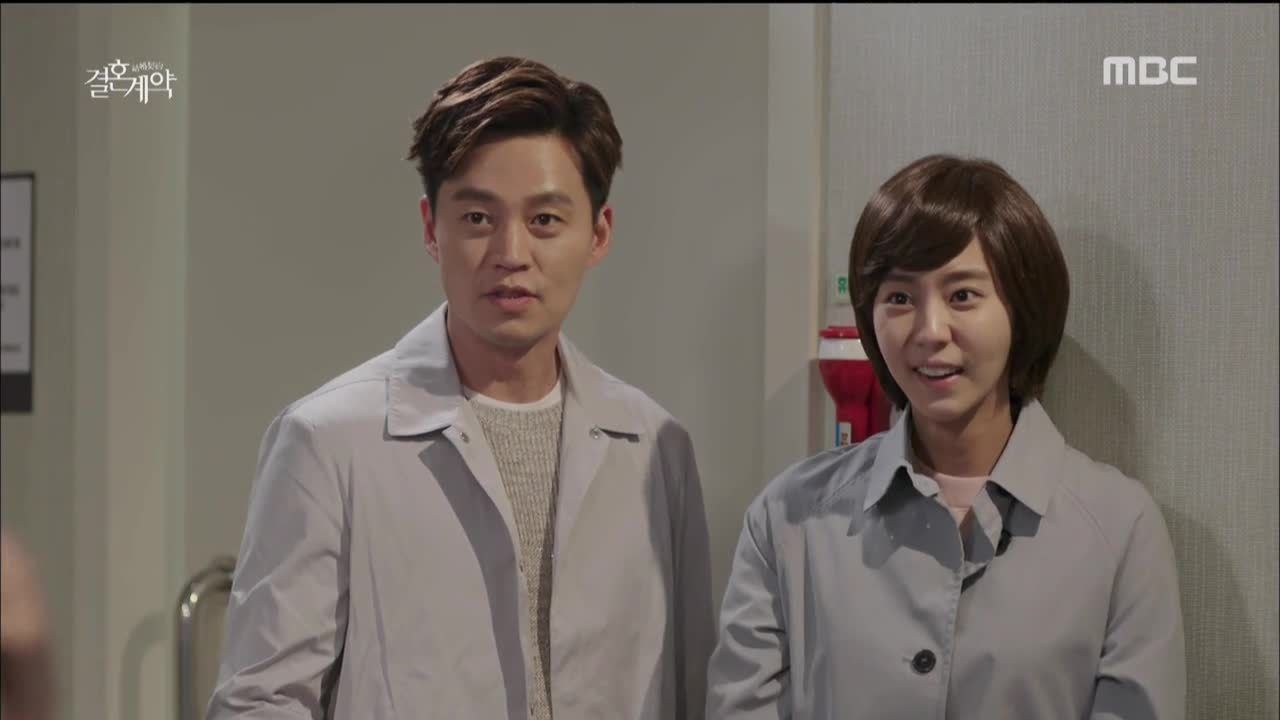 He reaches Hye-soo's room, and she eagerly awaits his reaction to her new look, half fearful, half hopeful. He jokes that it's a bit old-fashioned, which Joo-yeon takes exception to — her Ho-joon recommended the place! The couple tease her for the slip: Her Ho-joon, is it? Haha.
They bring her home to the new house, still full of balloons. Eun-sung (dressed as a fairy…kitten!) and Ho-joon (a clown) sing her a congratulatory welcome. Hye-soo scoops her daughter up into a hug, reunited at last. Since it's the (sorta-) newlyweds' first night in the new house, Joo-yeon smartly makes that her cue to leave, dragging an oblivious Ho-joon along with her.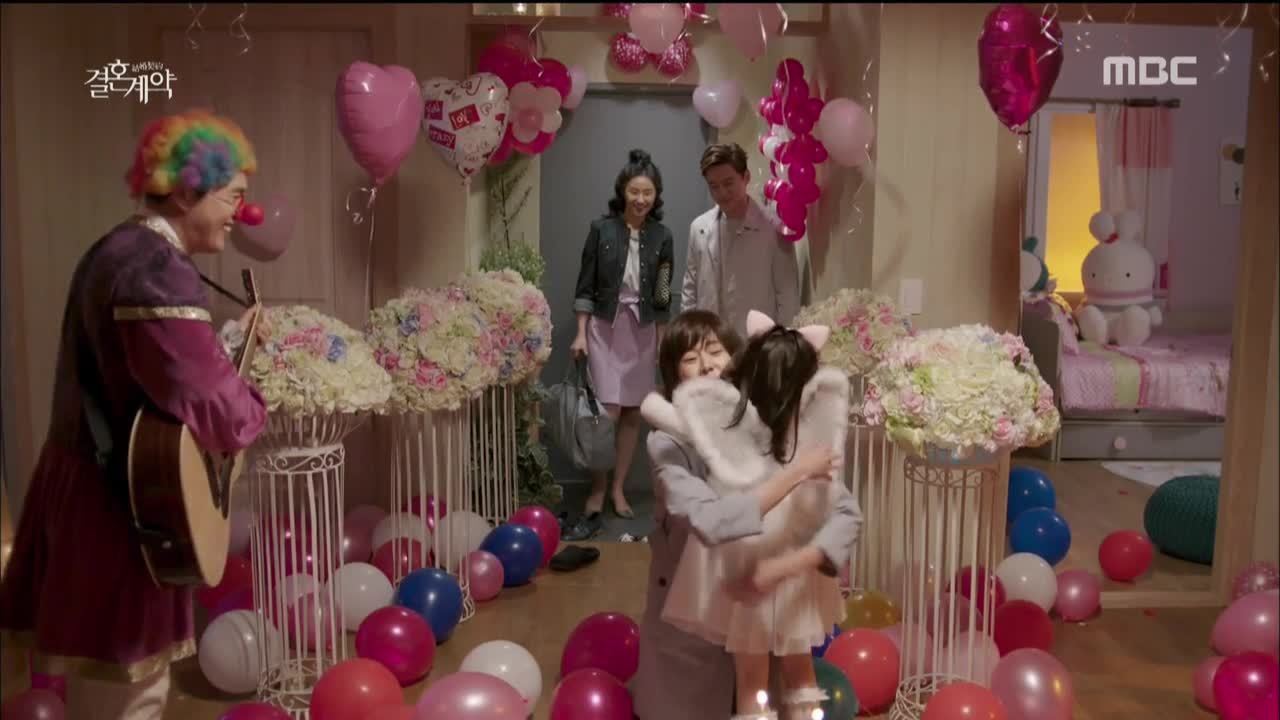 Hye-soo is touched by the balloon reception, and Ji-hoon releases the kitties into their new home. Her tears spill over as she watches him play with Eun-sung. She later puts Eun-sung to bed, smoothing her hair as she sleeps.
She comes out to find Ji-hoon organizing her medicines. For a moment, he looks disheartened at the sheer number of them, but turns a luminous smile on her as soon as she appears, and tells her he'll bring them to her whenever it's time. It's such a big change for her to simply thank him.
He asks if she likes his proposal — a banner saying, "Hye-soo-ya, marry me!" She's not so impressed and says she has to think about it, and even tells him that he can go now, which he pooh-poohs. The whole point of this house, he says with his hand creeping up her leg, is so he could be with her aaaalll the time. And then to her dismay, he gets up to leave.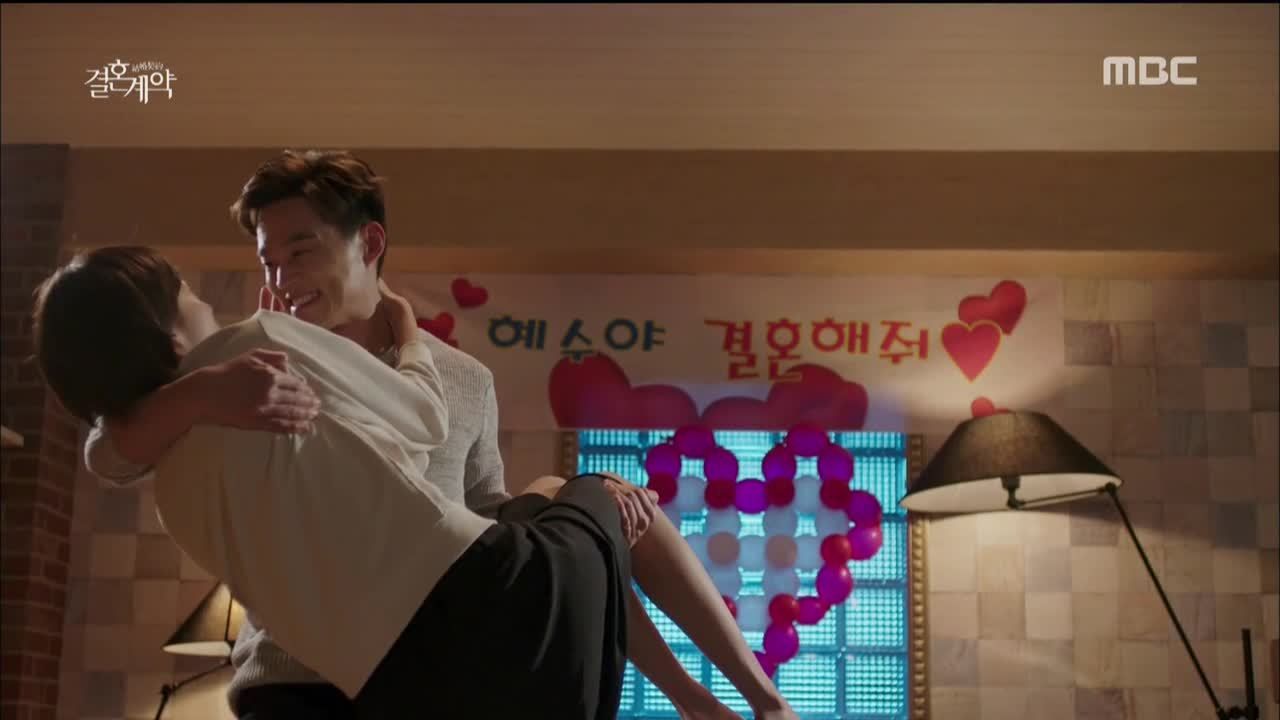 And comes right back, picks her up, and deposits her in the master bedroom. Where they're going to have "tea". Laying her on the bed, he leans over her, their faces inches apart…and gets up. To make tea. Hye-soo sighs to herself.
But although he goes to the door, he just closes it and comes right back. And smothers her in little kisses. Right! Real wedding night! But he draws back, and his face is sad as he tells her how pretty she is to him, no matter how she looks.
"You thought I was going to die, didn't you?" she asks him seriously. He replies that he almost died himself, to follow her. That was the reason she couldn't die, she tells him. With tears in his eyes, he smiles down at her. They roll over until Hye-soo is the one looking down at him. They kiss.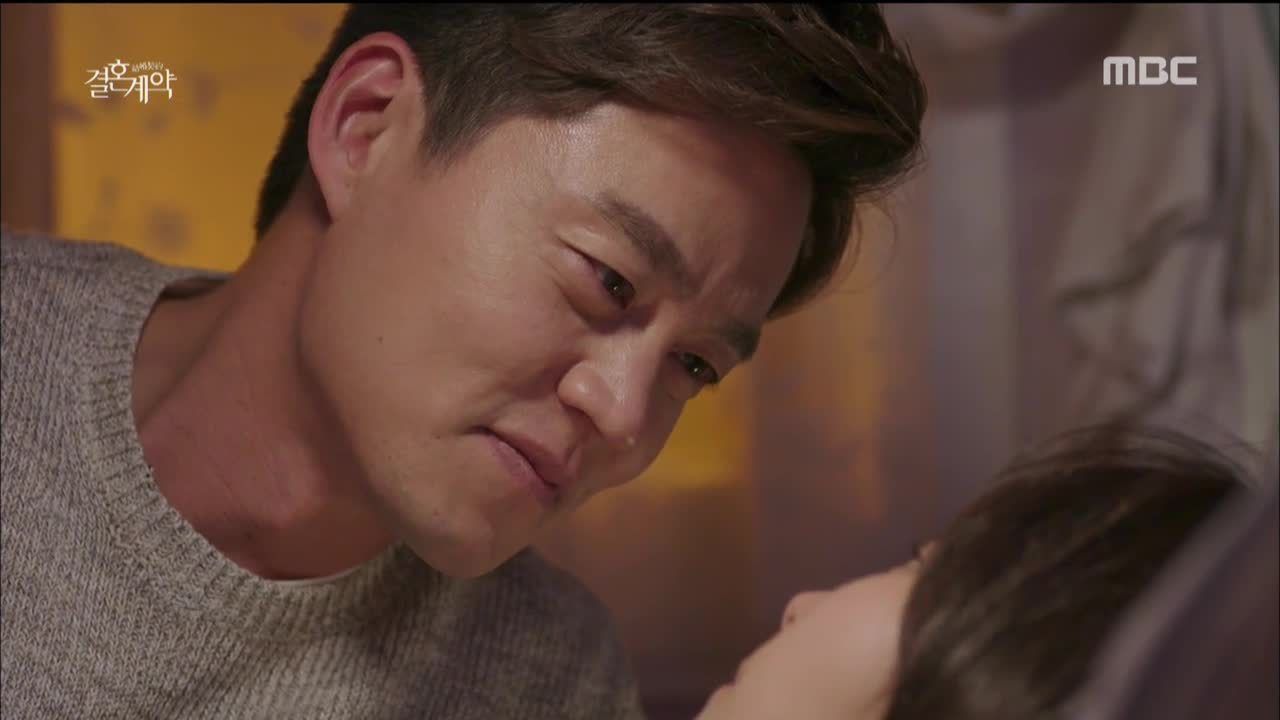 In the morning, Hye-soo wakes up to an empty bed — and an empty house. She finds a note from Ji-hoon saying he and Eun-sung have gone for a run, along with her morning pills, and it makes her smile.
On their run, Ji-hoon hoists Eun-sung onto his shoulders and tells her they're going to work super-hard to make Mom happy — she really needs it right now. "So then she won't be in pain anymore?" Eun-sung asks. She tells him that Mom is happy just seeing her, and he tells her to smile lots and lots for Mom every day. They decide to go buy her a present right now.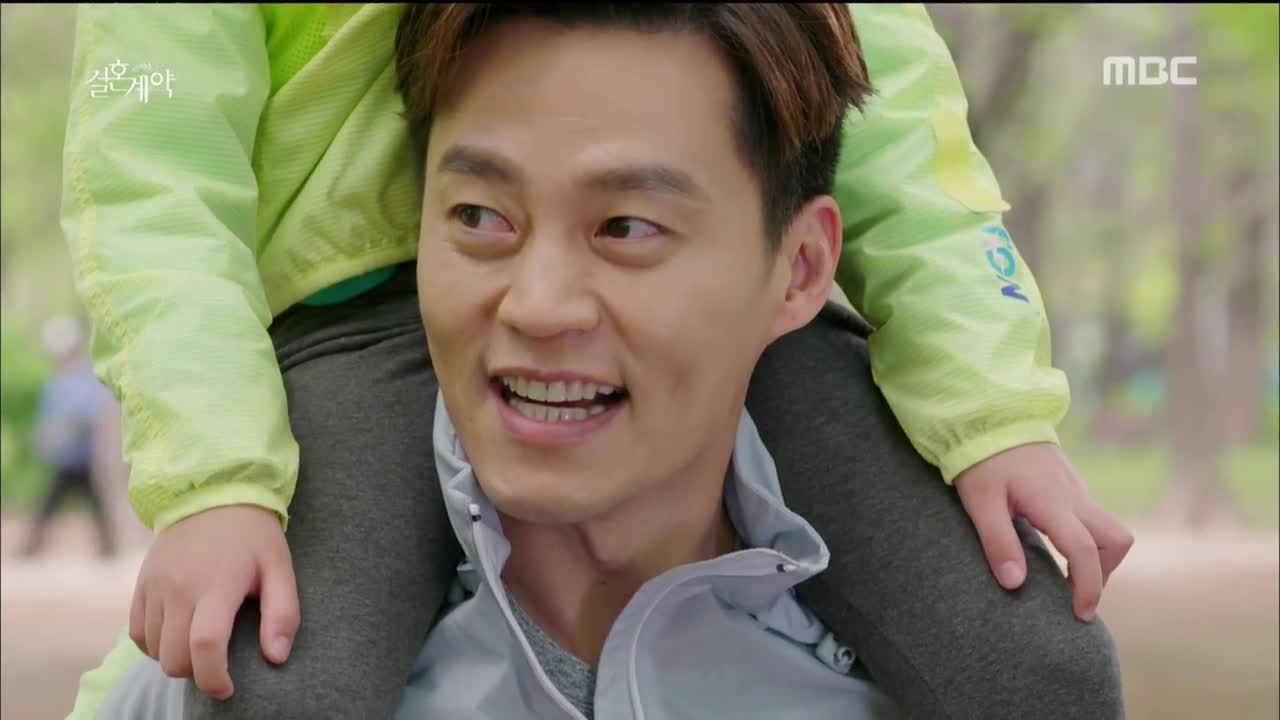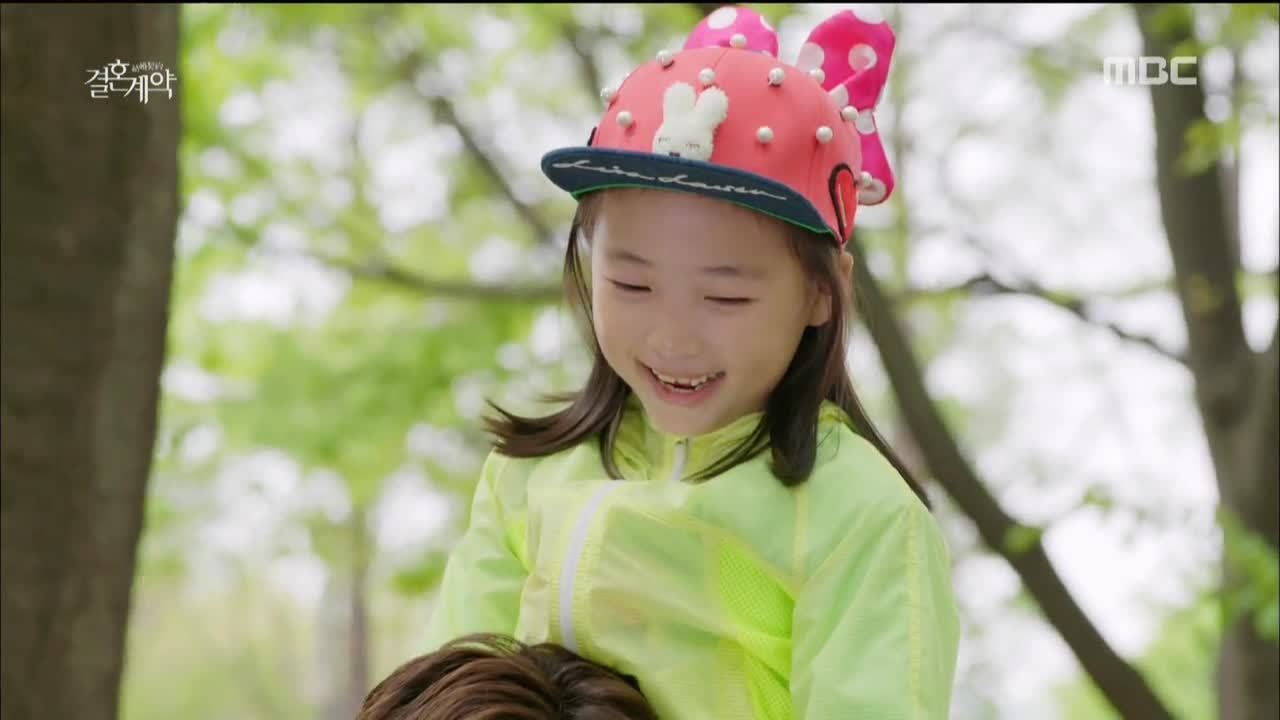 At home, Hye-soo happily cooks breakfast. But her vision begins to dim and she trembles. Nooooo. She struggles to focus on the now-blurred note, until at last — to her relief — it comes into focus.
On their way home, Ji-hoon gets a call from his mother. She's been discharged from hospital and pllans to go back to her hometown. Ji-hoon wants to see her before she goes.
They finally get home and Ji-hoon presents Hye-soo with her favorite ddukbokki (whose name he still can't get right, haha), which they confess they woke the owner up to get this early. Hye-soo teases them about ddukbokki for breakfast, and in a united daddy-daughter front, Eun-sung and Ji-hoon tease her right back.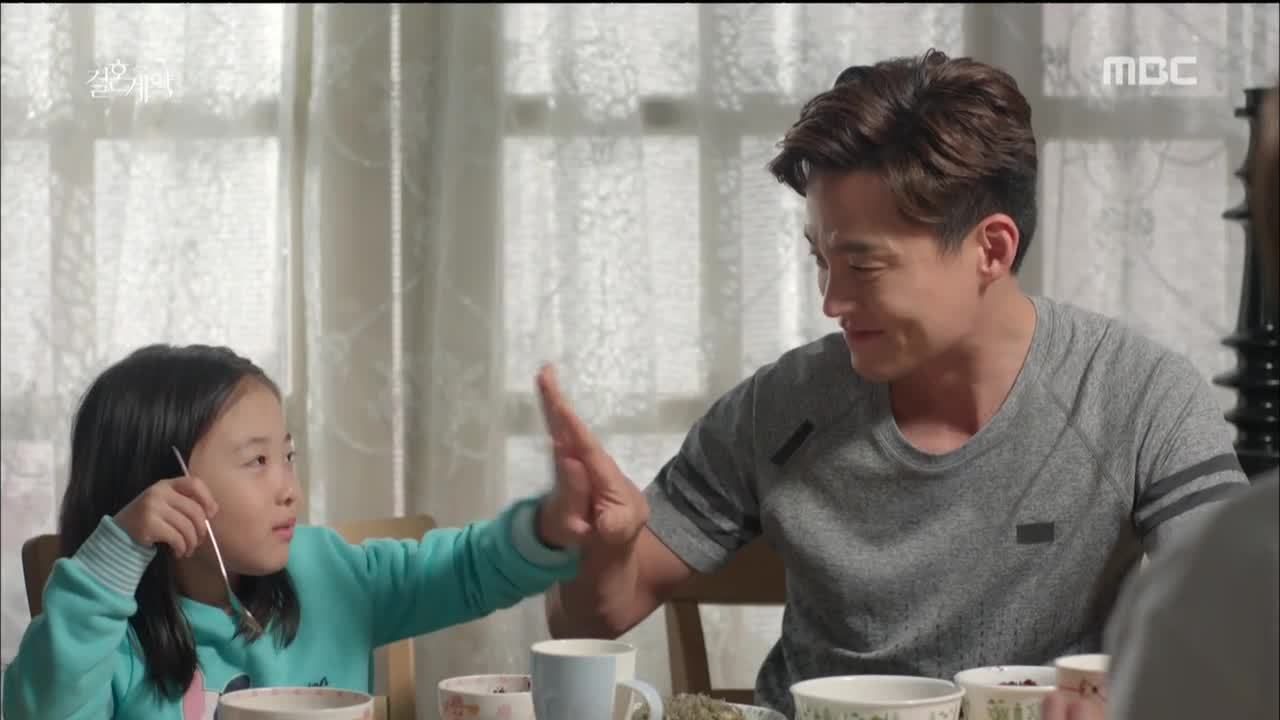 Hye-soo hustles them to the breakfast table. Ji-hoon looks like he can't quite believe it's all real, and Eun-sung adorably instructs him in his table manners. Eun-sung brags to Ji-hoon about what a good cook her mom is. "Mmm! Your mom's the best," he agrees, chuckling that she's too perfect to be human. Eun-sung high-fives him for that, and he turns his grin on Hye-soo and high-fives her.
It's a very different scene at Chairman Han's, where he sits bitter and alone at the huge table.
Ji-hoon gets the news that his father collapsed and was in hospital, although he insisted on returning to work. He visits his father right away. The Chairman's in dull spirits — he should have died already the last time he collapsed, he says bitterly. No one understands him and everything is pointless, and even Ji-hoon betrayed him. Ji-hoon tucks a blanket around his father and urges him to take care of himself.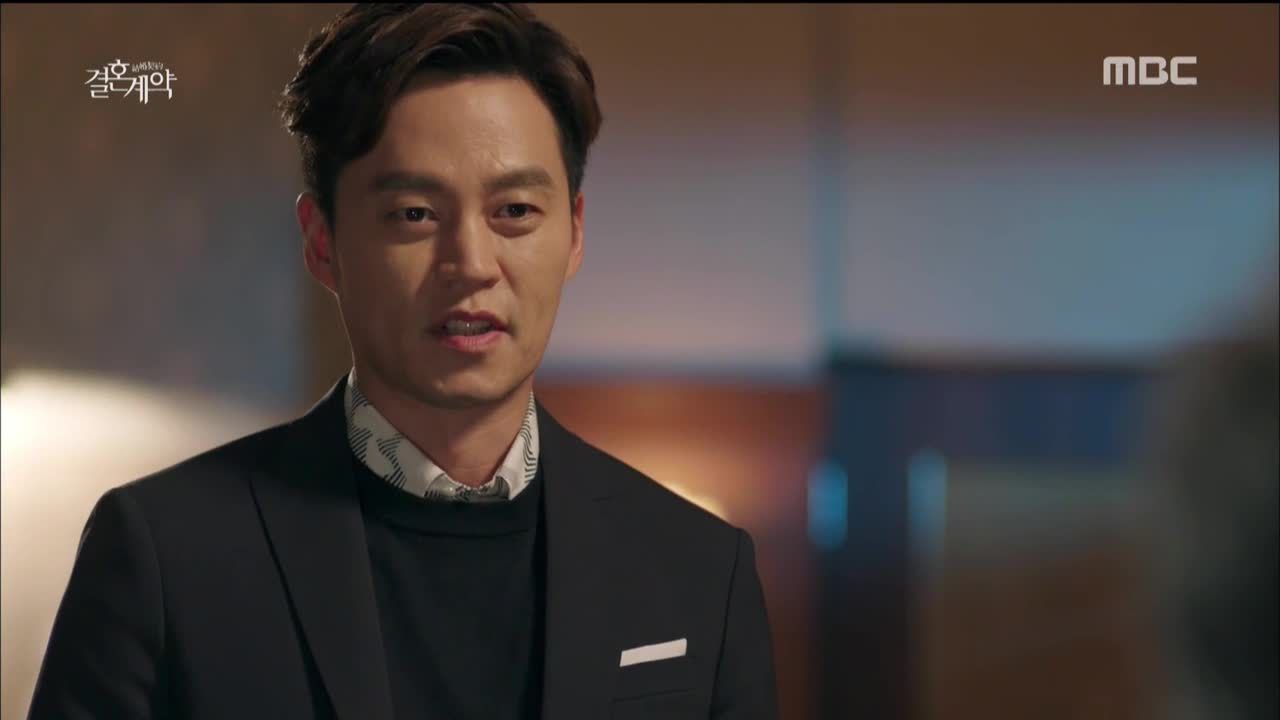 Just as he's about to leave, Dad asks him what resentment he harbors to reject him like this. Ji-hoon turns back, and tells him sincerely that he's grateful, not resentful, for the life and upbringing his father's given him. He can't come back to the company, but he'll always be his son. So why can't he come back, Dad urges.
"Father. Right now, I'm satisfied and happy with my life," he replies. Dad sneers at his words, but Ji-hoon just smiles and tells him to be well, promising to visit again.
Dad shouts angrily at his departing back — can't he even eat the cake that's given to him? He hurls things at him, panting with rage and frustration, but Ji-hoon just closes the door behind him without turning around.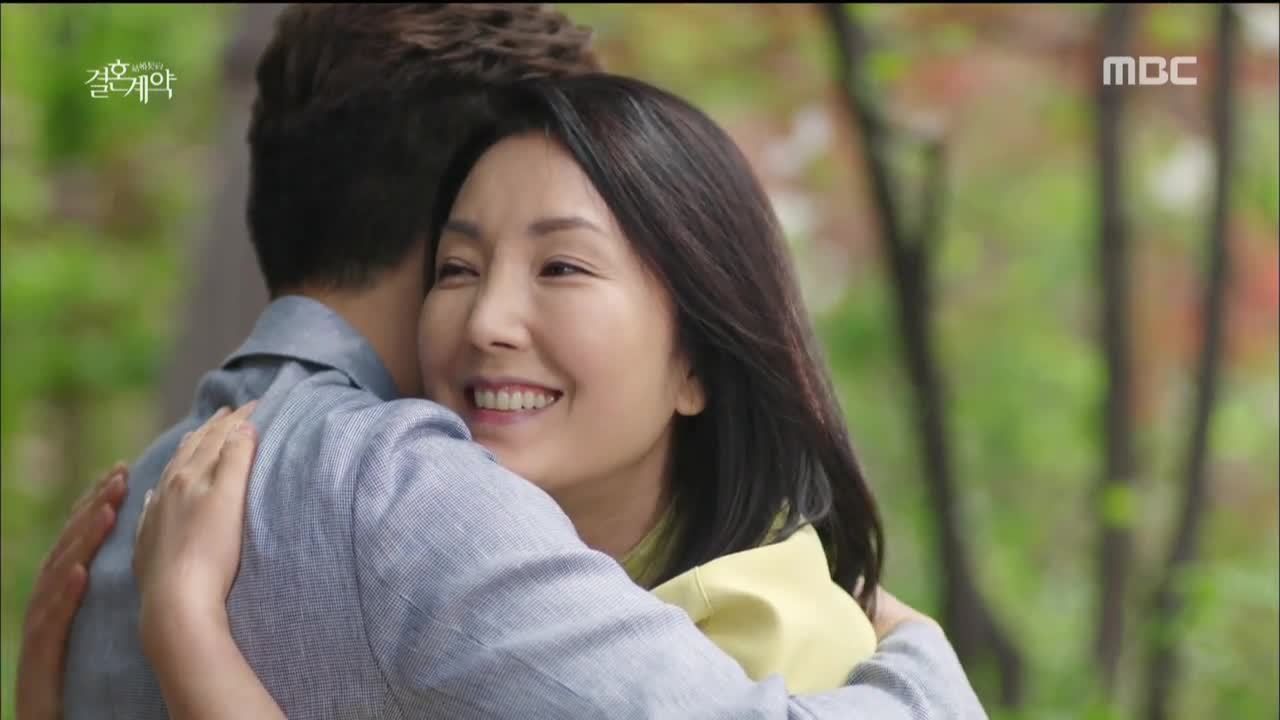 Mi-ran stops by to get a glimpse of Hye-soo and Eun-sung, although she doesn't show herself. She meets Ji-hoon, who's thrilled to see her so well. She slides him an envelope — it's his wedding gift. She changed her mind about meeting Hye-soo, because she thought it could make her feel uncomfortable. She tells him that she supports his decision to be with her, and instructs him to take good care of her — and go fabulously forth. Laughing, he hugs her and tells her to do the same.
Eun-sung shows her mom a drawing she made of their family. It blurs in Hye-soo's vision. She attempts to draw on the crown Eun-sung wants her to add for herself, but it's too hard to hit the right spot. Putting down the pencil, she tells Eun-sung that because her eyes have gotten bad, she won't be able to do it. In her child's way, Eun-sung tells her she has to wear glasses.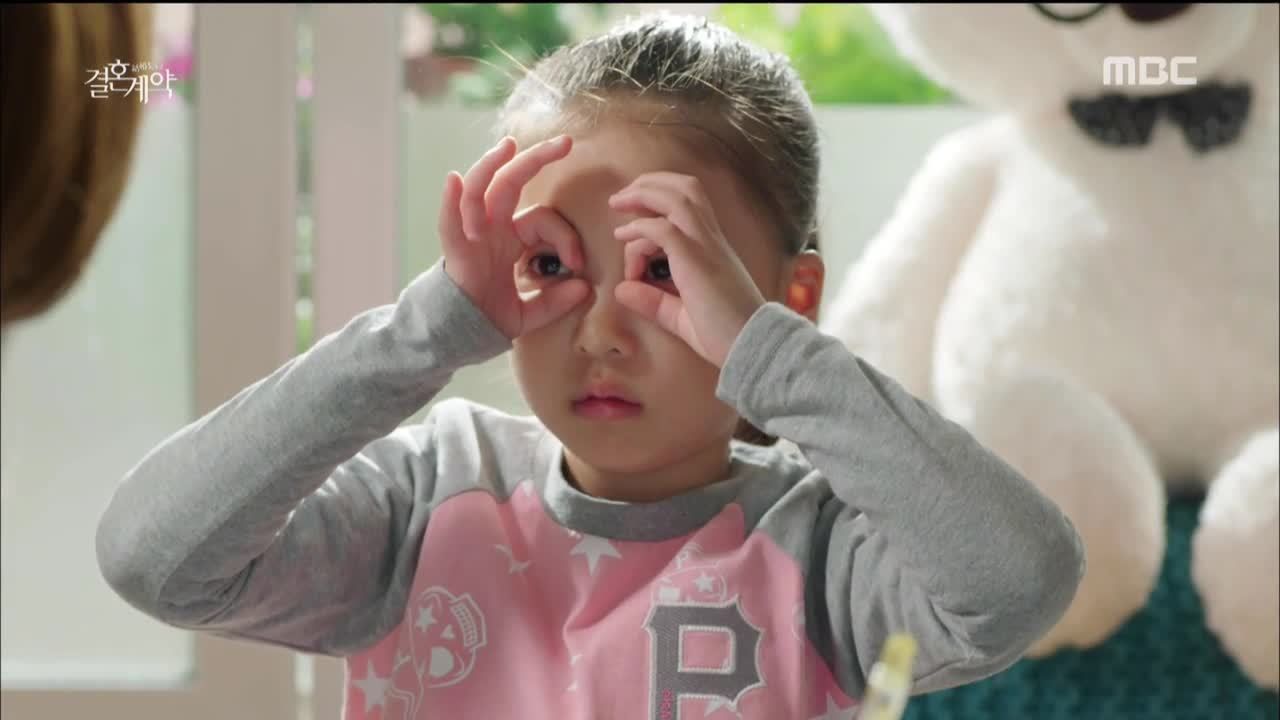 Young-hee comes to visit Hye-soo at her new place, laden with tons of food. She squishes Eun-sung with hugs, and after commissioning a portrait of herself from her ("Make grandma pretty!"), she sits Hye-soo down for a chat.
Clasping her hands across the table, she tells her to think of her as her real mom from now on, and regrets not saying that sooner. Since Hye-soo's always been so determined not to burden others, this happened so she can unburden herself a bit: "Forget Eun-sung a little, and from now on, just think of yourself." Understanding and grateful, Hye-soo nods. Young-hee strokes her hair and tells her it's okay, it's going to be okay.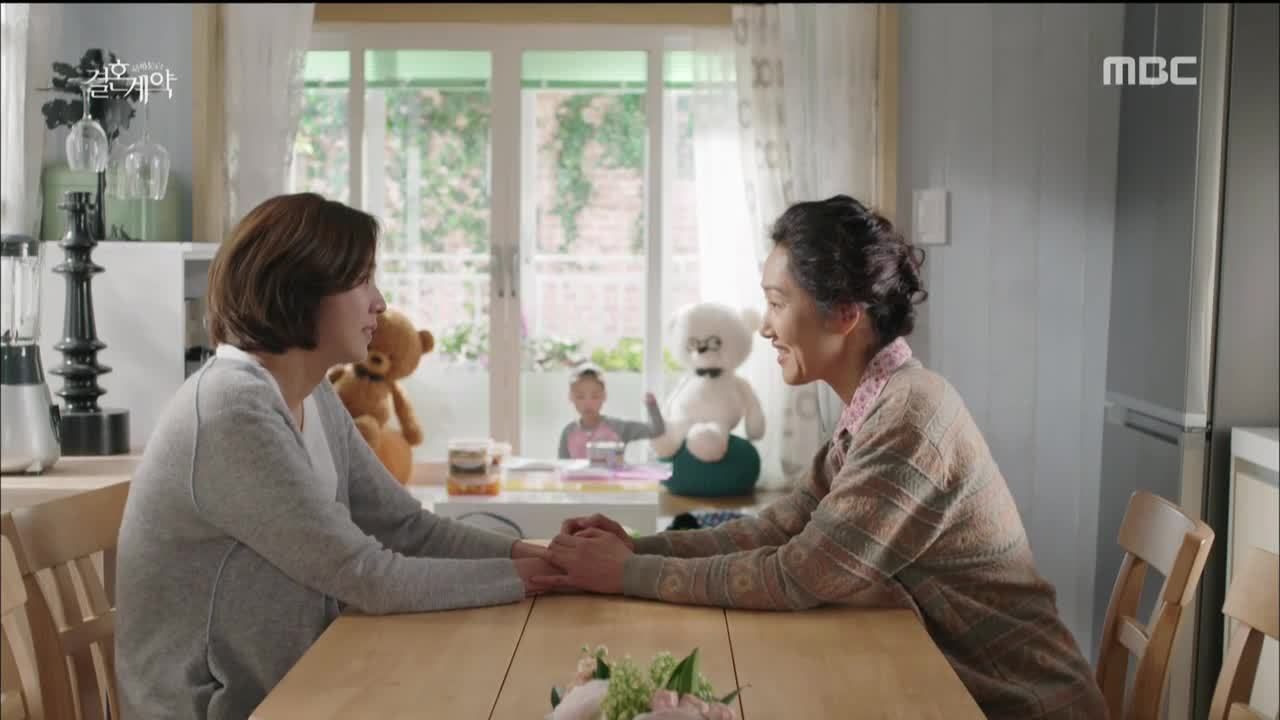 The Promise gang prepare a congratulatory dinner-party for Ji-hoon and Hye-soo, now that their secret's out. Chef laments not having the pleasure of cursing out Ji-hoon anymore, and concedes that maybe he's not a bad guy.
Hye-soo puts makeup on for the party, and Ji-hoon tells her she's pretty without. She worries that they'll find out she's sick, and makes him promise to hide it no matter what.
As they come out of the car, she's unsteady and asks if they can hold hands, "Then we'll look like a married couple." He leads her in, gazing at her the whole time.
It's a merry party and when it's speech-time, Ji-hoon admits he feels a bit guilty for turning out like a nice guy after being such a jerk of a boss. He reveals that he and Hye-soo got married — for real — and the staff cheer. Well, apart from Chef. Luckily, Joo-yeon's arrival saves Ji-hoon from his interrogation, and Hye-soo ducks shyly when he tells them how hard it was for him to win her heart.
They all clamor for the couple to give them a song but Hye-soo shakes her head, so they chant for them to kiss instead. This Ji-hoon can oblige. He pulls her to her feet and kisses her, to the group's applause. But as he holds her, she collapses against him.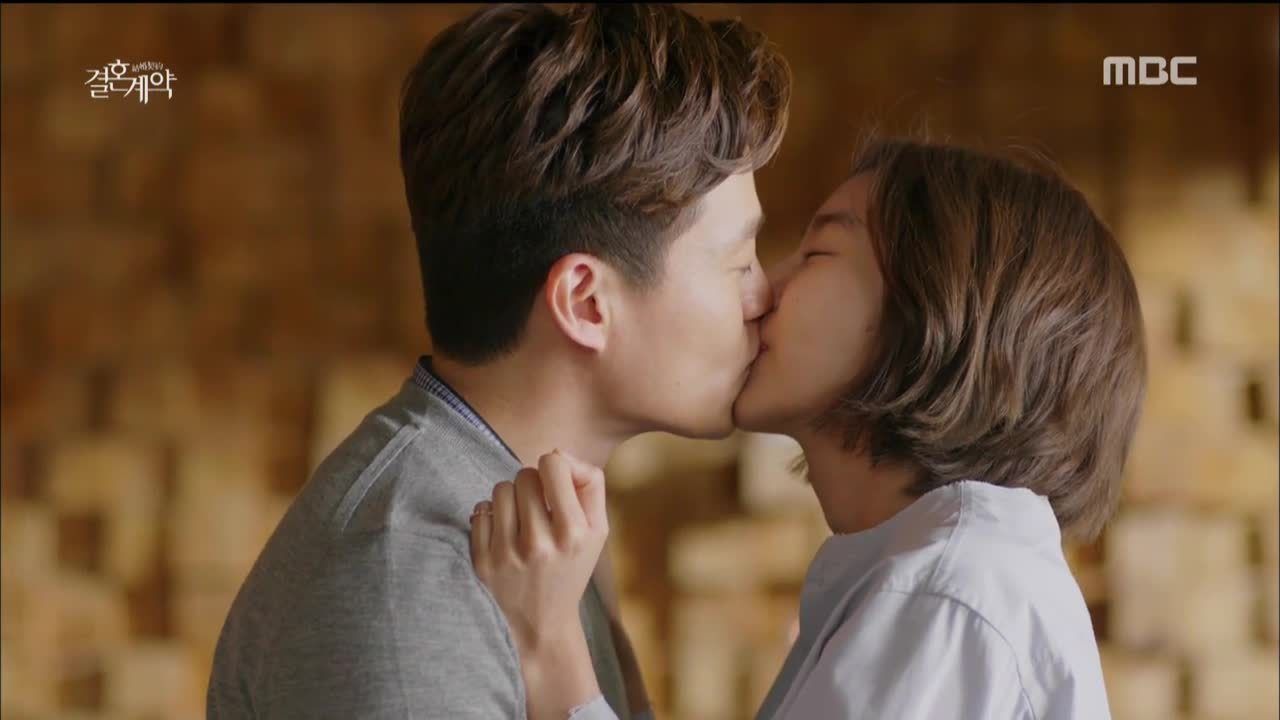 Quietly, he asks if she's okay, and Joo-yeon deflects attention by calling for the food. Hye-soo leaves the table for a bit to let the pain pass.
She returns in time for soup. Everyone makes faces because it's too salty, but Ara catches Hye-soo adding more — it tastes bland, Hye-soo insists. Chef tastes hers and spits it out — is she having him on? Those in the know clearly understand what's happening, and Ji-hoon quietly swaps out her bowl for another.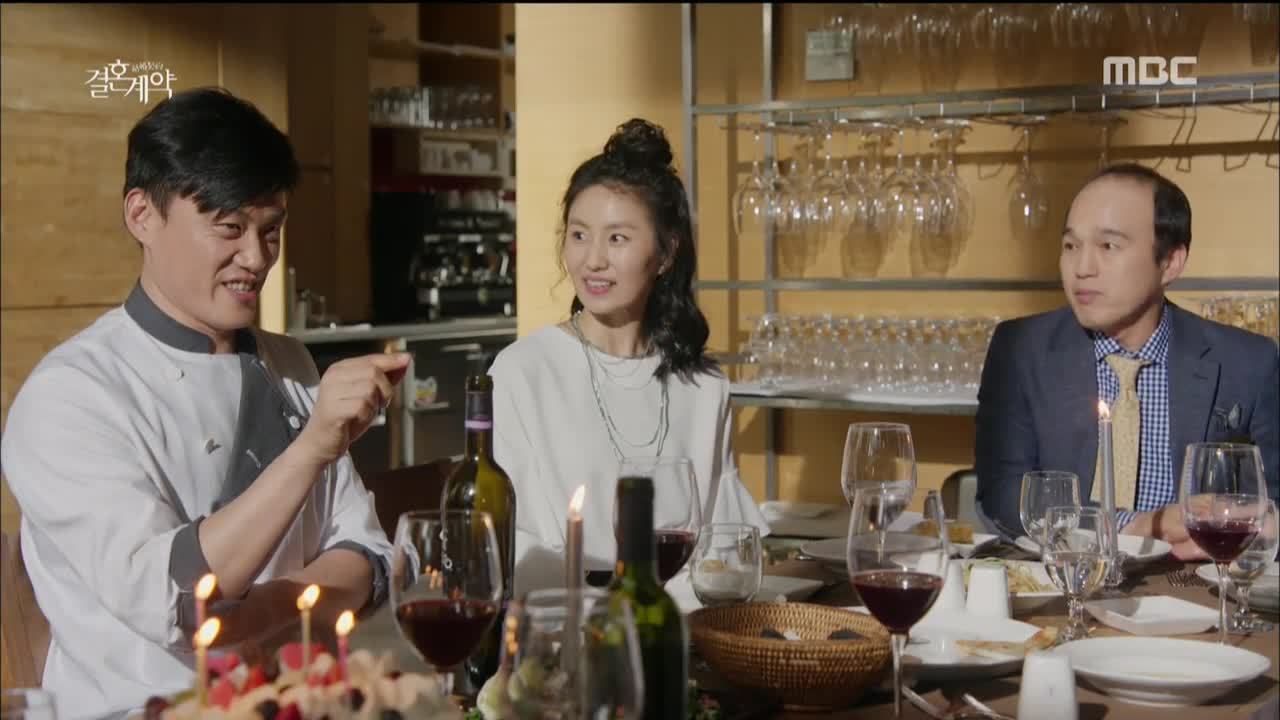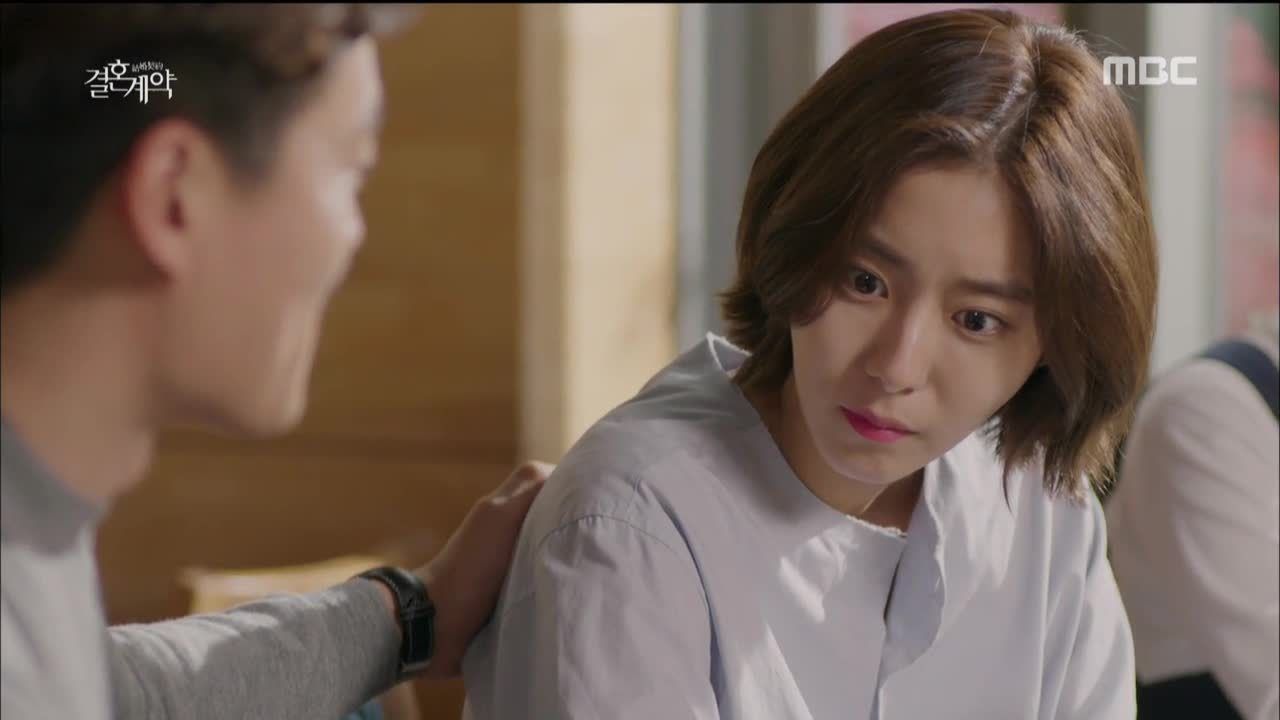 While Joo-yeon covers for her, Hye-soo stealthily dips her finger in some salt and tastes it. Or rather, doesn't. Eyes wide, she turns to Ji-hoon and finds him watching her. I think he's all that's keeping her together right now.
Chef is convinced that it means she's expecting, and raises a congratulatory toast. She struggles to hide her distress and manages a pained smile.
After the party, Ji-hoon asks Hye-soo if she wants to go for a drive, but she'd rather just pick up Eun-sung. She raises her hand to her face several times, testing her…vision? Or smell? Ji-hoon mirrors the gesture, also not quite sure what it means.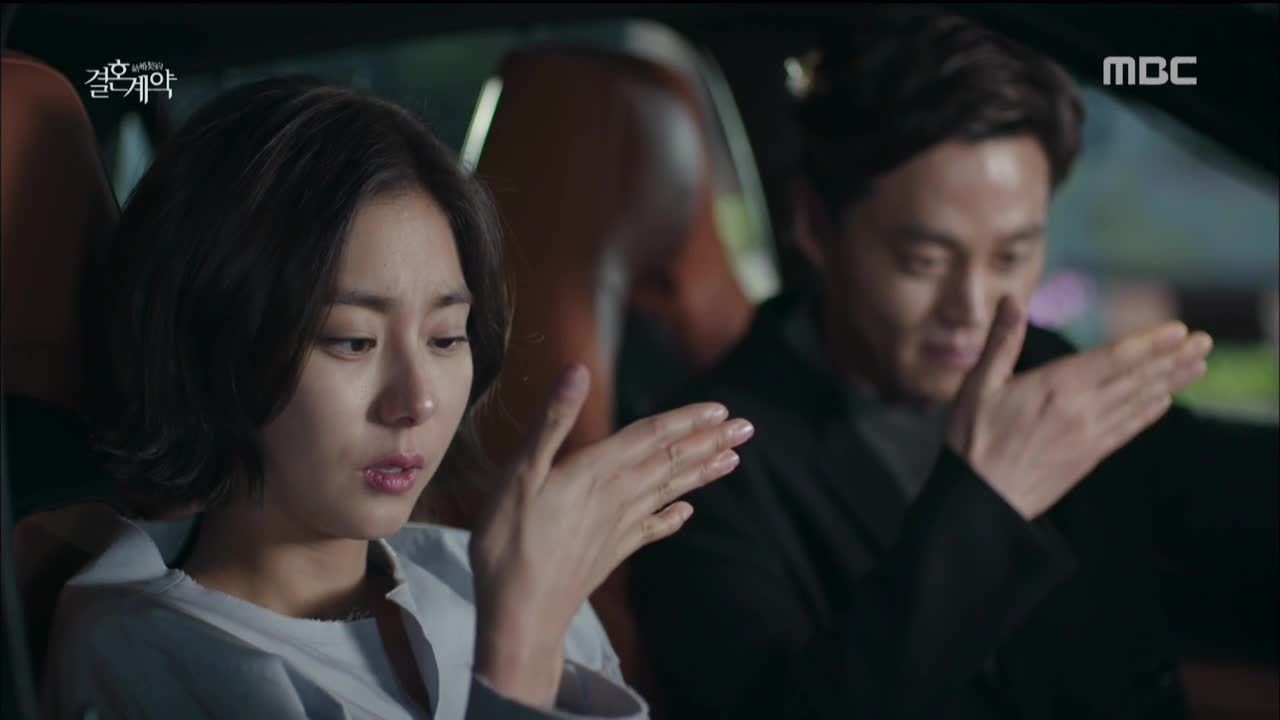 "I'm going to cry just a bit. Don't look," she says to him, closing her eyes and leaning back. "I'm going to cry first. Don't look," he returns. It makes her laugh (although he really is almost crying), and they end up putting the smile back on each other's faces. Although I think Hye-soo does have her cry.
That night, Hye-soo puts Eun-sung to bed with a story about "a little girl called Hye-soo." Eun-sung giggles that that's Mom. That's right, Hye-soo says. When she was a little girl, her parents passed away and her grandma raised her. And Grandma gave her so, so much love that she didn't have a hard time of it.
Lovingly, she tells Eun-sung that people suffer hardship not because they don't have something, but because they want to be loved. She wants Eun-sung to be someone who shows people love.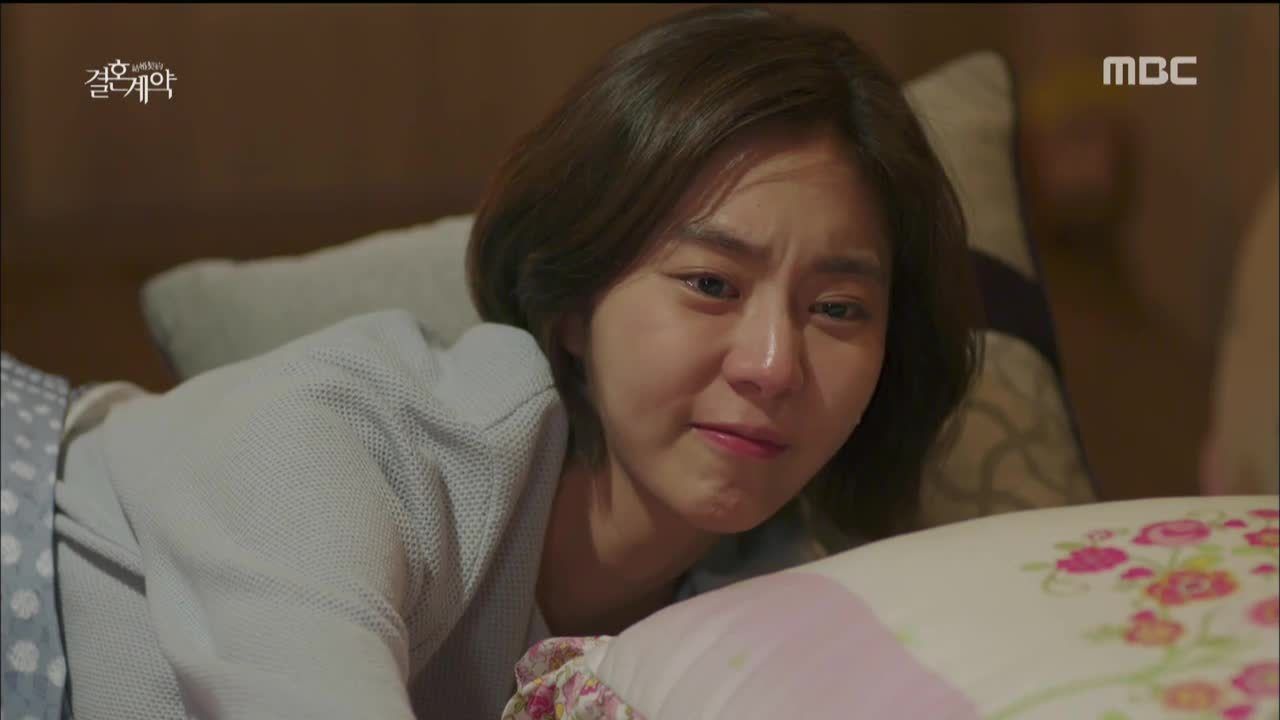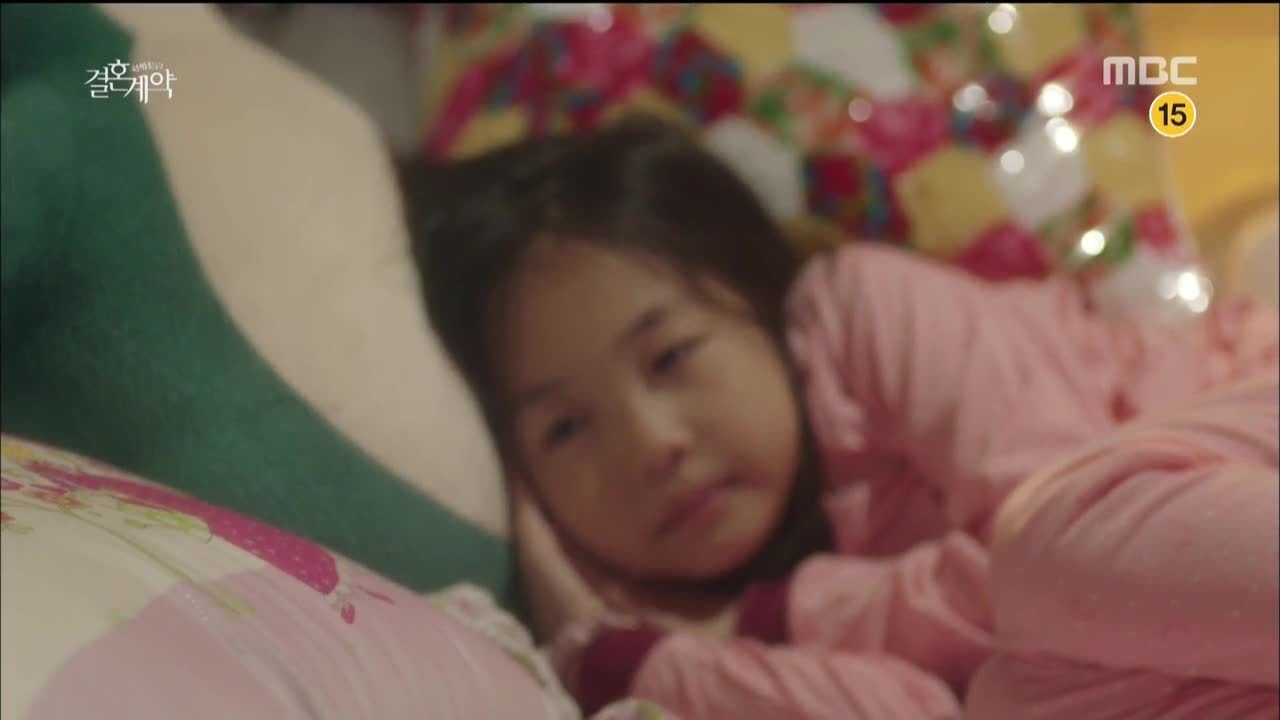 Eun-sung slips into sleep, and the picture of her dims before Hye-soo's eyes. "My pretty Eun-sung. Even if I can't see you…I can see all of you. Because I love you, I see it all." Eun-sung's eyes open, and she asks if Mom's eyesight is really bad. It is, Hye-soo says, tears slipping down her cheeks, and she'll need Eun-sung's help a lot in the future.
Eun-sung declares she'll help her lots and lots, and urges her to wear glasses. She wipes away her mom's tears, and they promise each other to love each other even more.
Hye-soo comes out and finds Ji-hoon fixing handrails to the walls of the house. That's…so thoughtful that…I think my heart just broke? Hye-soo tells him she has a wish, and asks him to slow dance with her. He groans, but that helpless-in-love expression means he's totally going to do it. Aaand 0.2 seconds later, he gives in.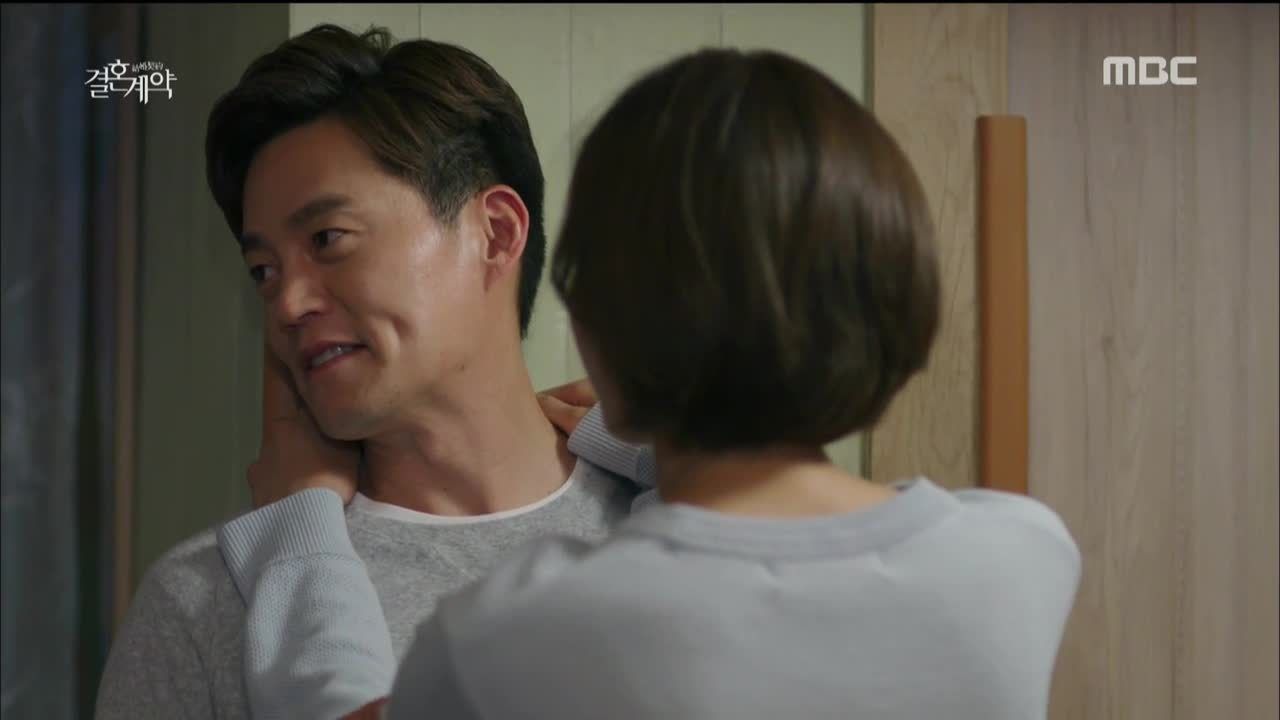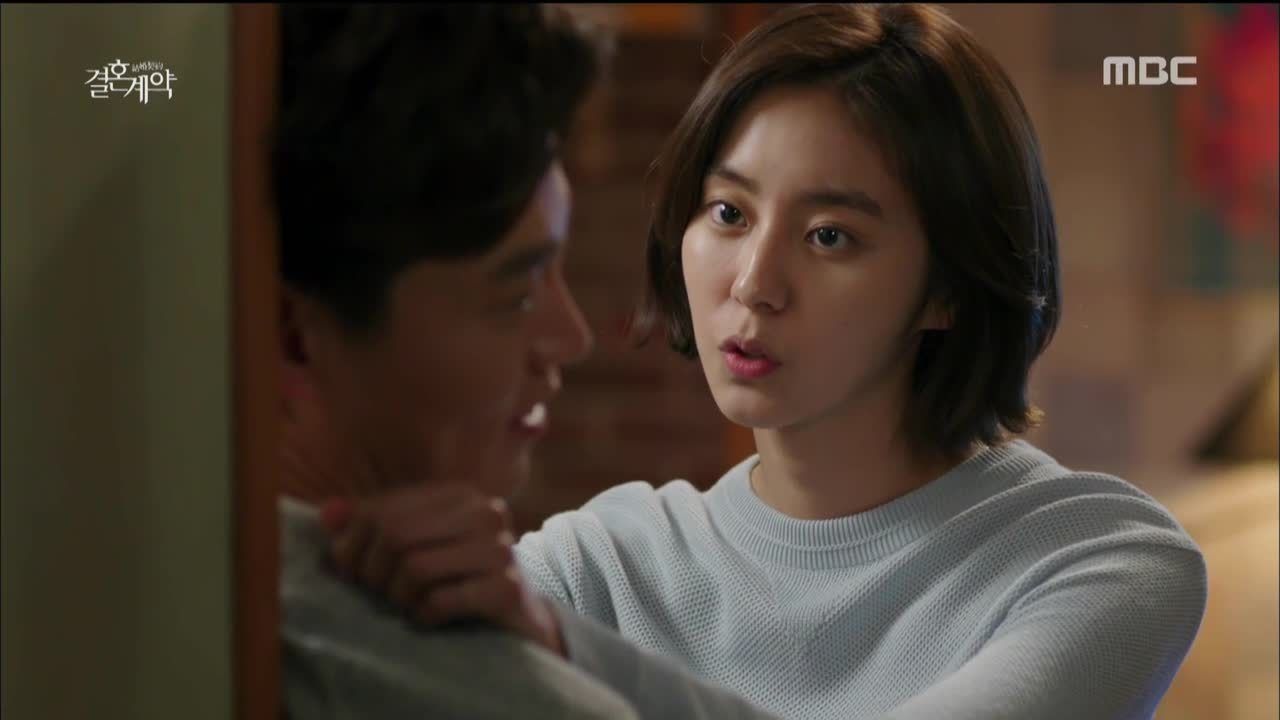 In a hat matching the music, Hye-soo steps out of her slippers and approaches her husband barefoot. From now on, she wants to listen to music and dance with him every day, she says, taking his hand in hers.
He discards his own slippers and agrees, spinning her around. More wishes: to sing songs, get rained on, take Eun-sung cycling, go to the amusement park. With a kiss, he accedes to everything. They'll live like this, doing the things they want every day, she says: Everyone dies, so it's nothing to be sad about. Better to live awesomely, she tells him with sparkling eyes.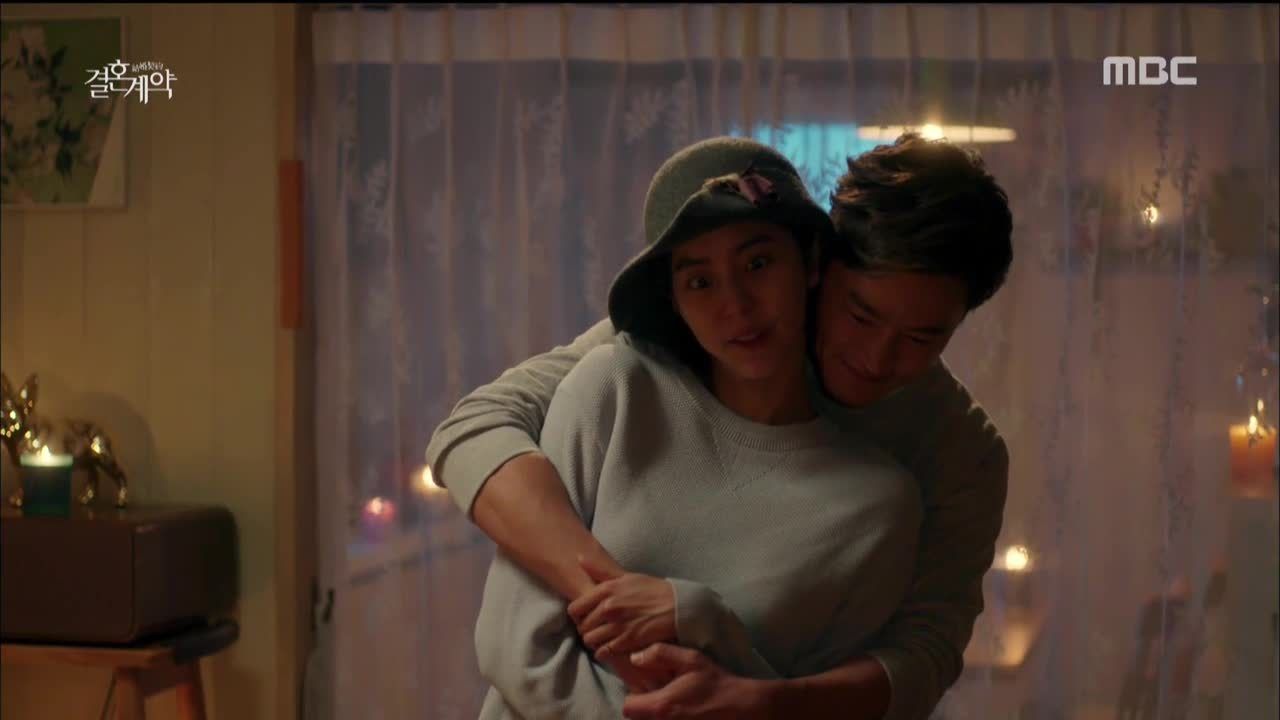 She invites the world to throw what it wants at her — she's got Eun-sung, and she's got him. Her last words bring her into the circle of his arms, where she tells him not to cry anymore, only smile. He laughs at her bungled dance-steps, and says Oppa will teach her. Lol, still trying.
But the next second, Ji-hoon's face distorts with tears. She reaches out to touch it, wanting to memorize his face, and he tries to joke that he's too expensive for her to just paw. Nobody believes you, Ji-hoon. He starts to cry in earnest. Hye-soo cups his face in her hands and cajoles him for crying when he promised just now not to.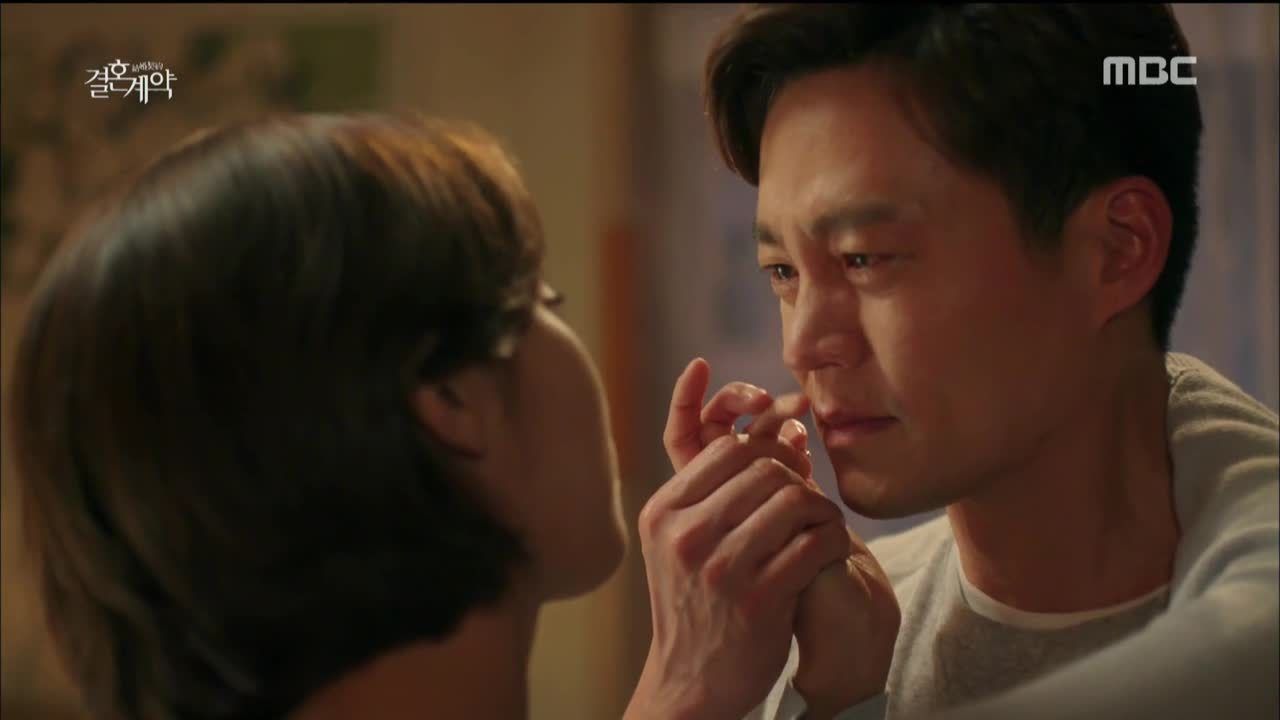 "But…can you just say the words "I love you" to me?" she asks. She wants to just hear it once, but ever the troll, even when he's crying his heart out, he tells her to go hear it from some other man. She tiptoes up to kiss him on his forehead. Wrapping him in a hug, she says, "Thank you, Ji-hoon oppa." He cries even more.
In the morning, Hye-soo and Eun-sung make sandwiches for their day out at the amusement park. They giggle about how it didn't go so well the last time they tried it — all because of naughty Ji-hoon, who arrives right on cue.
On the car-trip, Hye-soo and Eun-sung sing songs in the back. In voiceover, Ji-hoon says that if anyone were to ask him when the happiest moment of his life was, the answer would always be the same: this moment right now.
At the park, they visit the pandas and then watch a performance, Eun-sung happily sandwiched between each parent. They embrace the day, not a patchwork family any longer, but a real one. In voiceover, Ji-hoon finishes:
"I don't know how much time is given to us. It could be a year, it could be a month. I don't know if it might even be tomorrow, but right now, I'm living without regret and its like. So now, there's only one thing I can do: I love you, Hye-soo-ya. I love you. I love you. Without a minute or second's rest, I love you."
COMMENTS
Is there a dry eye here, anyone?
I'm relieved, if I'm honest, that we didn't have to see Hye-soo getting worse. That's the perfection of an open ending in a sad show: You don't have to face the end. You can just stop right here, in this moment.
This episode really highlighted how hard it is to be left behind, , and how hard the waiting is, in the vigils held by those who love her. It says so much about Hye-soo that there are so many people who are unconditionally there for her, and her bedtime story to Eun-sung really lays it open. I thought her story was going to be about how important it was to receive love. But no, she tells Eun-sung to be someone who gives it. But then I realized that this is who she's been all along. She has a deep well inside her from which her love flows abundantly, and it gives her the capacity to love generously, fiercely, and against all opposition.
However, she's also a person unused — and unwilling — to being on the receiving end. The loss of her first husband made her close up tight, but like the Anaïs Nin quote, her day came, "when the risk to remain tight in a bud was more painful than the risk it took to blossom." Taking Ji-hoon into her heart didn't change her as much as return her to her original nature, I think. She's a person who became hard to survive in a hard world, and it's part of what makes her so much more interesting than a stock candy heroine. She is unbelievably sweet, in the way you can only be if you've both loved and suffered — like molasses rather than saccharin.
Until recently, that sweetness only trickled into the world through the narrow funnel of her relationship with her daughter and with Joo-yeon. With the funnel removed, she's a wellspring, overflowing. It's this that makes me choke up a little. She has every reason to be depressed, but she decides not to be. Just as she sees the good in people, she can choose to see the good in life, to live well and happily without resenting the time she won't have. That's not to say she's inhumanly angelic — far from it. It's still agony, she still has periods when she breaks and gives in to the pain, anger and sorrow. But the important thing is that after she's cried it out (with heartbreaking abandon), she picks up again. And again. And again. That's strength.
And so is accepting help. It's been so different to see Hye-soo accepting help and even asking for it — from Ji-hoon, from Young-hee, from Eun-sung. It no longer costs her the way it used to, she's made her peace with it. More than that, she's finally allowed herself to need Ji-hoon. Joo-yeon is priceless as a friend and has always been there for her, but Ji-hoon is different. Whenever Hye-soo's struggled these last couple of episodes, watch how her world contracts to a single point — Ji-hoon — as he becomes all that keeps her together. With that steady gaze and unwavering heart, he's her lynch-pin.
The handrails he fixed really got me right in the heart, silly though it sounds. I think it encompasses everything that's important about how he thinks of her. These actions are all about Hye-soo, and he protects her pride in the quiet, everyday way he goes about such things. It makes their little intimacies feel so private that I want to look away, and every word and smile has some hidden weight of sadness in it. I've also noticed how he always gives her the room to decide how to face each situation, and then takes his cue from her, which is a lovely, subtle way of protecting her agency, particularly when it comes to how her illness affects how she's able to interact with the wider world.
In reality, however, it's also the only barometer that makes sense, because her resources, emotional and otherwise, aren't always going to be the same (think spoons). Sometimes she'll want help, sometimes she won't; sometimes she'll need to cry, and other times she'll smile. It might sound like it's a cop-out on Ji-hoon's part to let her lead, but it's actually the complete opposite. It takes a great deal of restraint and considerate attention to do what he does both in anticipating her needs, and at the same time, never making her feel like she's burdensome to him. That, too, is strength. The fact is, he doesn't see her as an invalid: She is his wife, and he is her husband.
Dramas always have this challenge to make the old feel new — or if not new, then at least authentic. And Marriage Contract does that. With its astute, thoughtful directing, and sensitive writing, everything about these characters felt so natural and organic. But its beating heart lay in its inspired acting, especially when you consider how so much of the storytelling is conveyed without words. UEE produced a heartrending performance that seems to have been extracted from the depths of her soul, but the whole central cast were so good. The joy of Lee Seo-jin as a mature actor, bringing a complex, layered character to life can't be overstated, and it was all tied together in an intuitive and lovely performance from little Shin Rina as Eun-sung.
Despite a fairly open ending, I don't think we're left in doubt about the eventual ending of Hye-soo's story, and while it's difficult to watch, I was glad that the difficulties didn't get watered down. Of course, there's a certain amount of softening the edges (it's dramaland, after all), but it always retained a raw emotion which it played with touching subtlety. Delivering consistently on all fronts, it gave our folks fitting ends, whether we despised them or loved them.
And so, I am ready to say goodbye.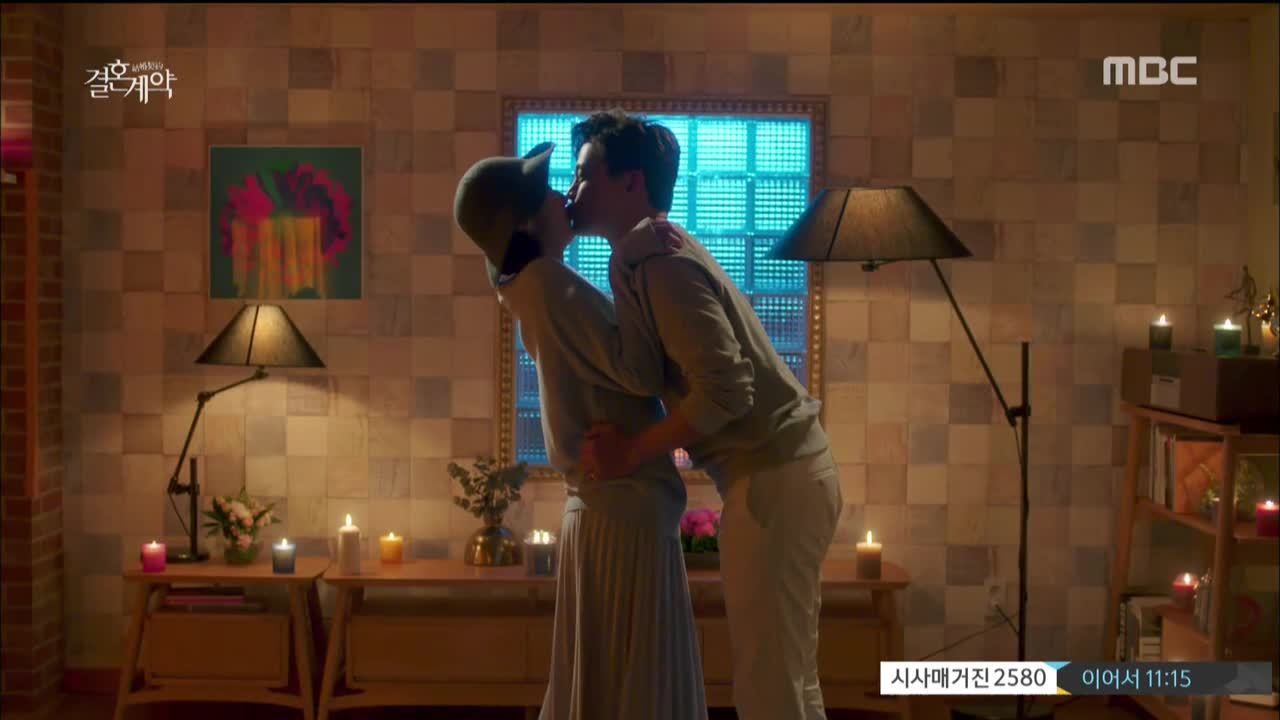 RELATED POSTS
Tags: Episode 16, featured, Lee Seo-jin, Marriage Contract, UEE