Palace romance Moonlight Drawn By Clouds courts Kim Go-eun, probably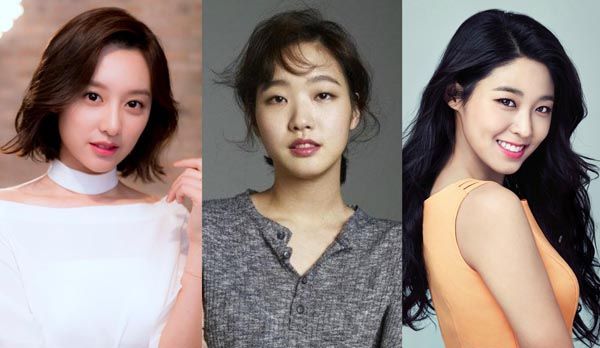 Kim Ji-won, Kim Go-eun, Seolhyun
Perhaps the upcoming youth sageuk Moonlight Drawn By Clouds is stirring particular excitement for its fantasy-romance plot, or maybe it's because Park Bo-gum (Answer Me 1988) is going to be playing the lead, but we've had quite a bit of noise in the news about this show recently. There has been a rash of hasty reports (or perhaps misreports) just this week, with two actresses being declared the leading lady by the press, only to be immediately rebutted by the production.
Kim Ji-won (Descended From the Sun) was the first actress teased as a possibility for the role last month, which is of a heroine who crossdresses to hide her identity as the daughter of a traitor, and then enters the palace as a eunuch, where she falls in love with the crown prince (Park Bo-gum). While there were never reports that she was out of the running, yesterday Seolhyun (Orange Marmalade) popped up in the news as the heroine, although her reps swiftly came out with a denial, stating that she'd never even received an offer.
Even if Seolhyun didn't end up being a contender, just the fact that a different name was circulating makes me think Kim Ji-won is out, sadly. Then today, Kim Go-eun (Cheese in the Trap) was announced as the new heroine, who was in final contract negotiations… only to have more news articles countering the claim. Her reps did confirm that she'd received the offer, and she is reportedly considering.
On the other hand, producers stated that there have been no decisions made about the leading lady, and that they are considering this casting very carefully. They must be getting frustrated with the press, because they issued the request for the media to cut it out with all the premature casting stories. A nice idea in theory, but good luck getting anyone to follow that.
Moonlight Drawn By Clouds is based on a web novel of the same name and will be a Monday-Tuesday drama on KBS, premiering on August 1. It will be written and directed by the Who Are You—School 2015 team, PD Kim Sung-yoon and writers Kim Min-jung and Im Ye-jin.
Via Ten Asia, IS Plus, TV Report
RELATED POSTS
Tags: Kim Go-eun, Kim Ji-won, Moonlight Drawn By Clouds, Park Bo-gum, Seolhyun