Vampire Detective: Episode 2
After a life-altering experience like turning into a vampire, one might think San would take the time to understand the changes to his body. And appetite. But that's not how our freshly minted vampire operates—there's too much work to be done in the world to let a pesky transformation get in his way. Even if he doesn't quite understand his supernatural abilities, he'll still use them to crack the toughest of cases, including a time-sensitive threat that puts his own neck on the line.
SONG OF THE DAY
B.A.P – "Blind" [ Download ]
Audio clip: Adobe Flash Player (version 9 or above) is required to play this audio clip. Download the latest version here. You also need to have JavaScript enabled in your browser.
EPISODE 2: "24 Hours"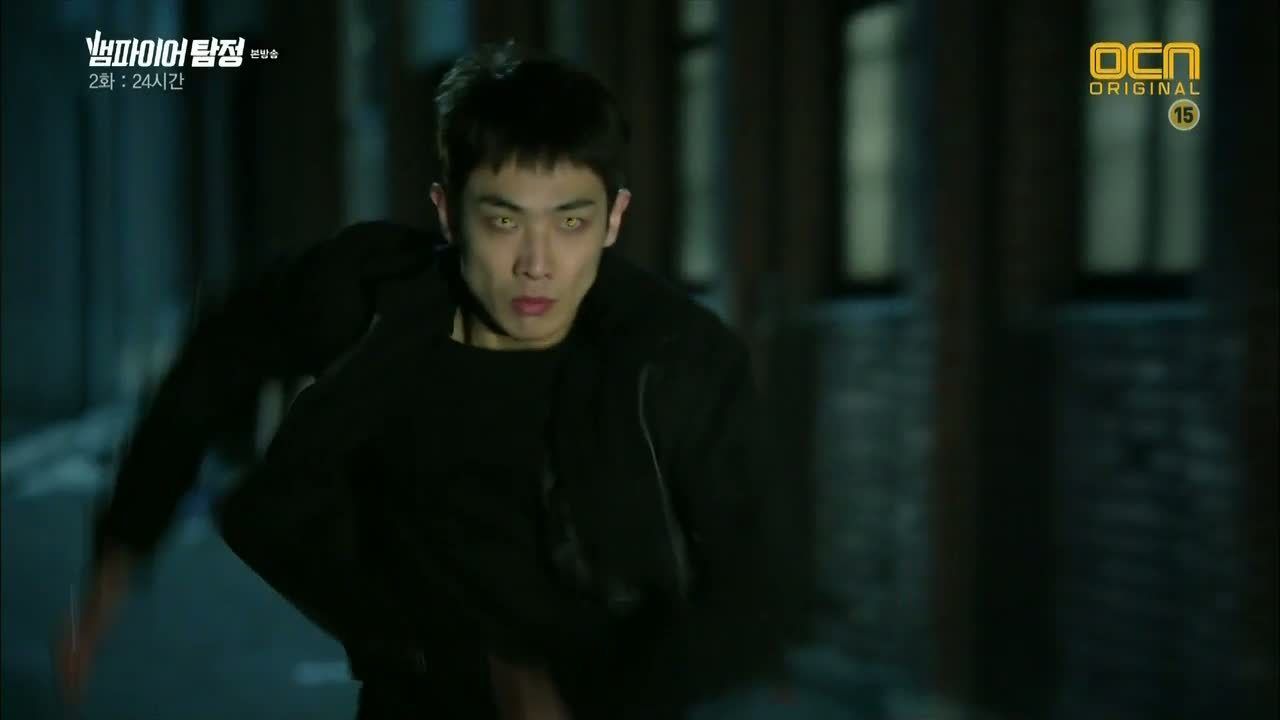 Cold open: As dark clouds obscure the full moon, San runs out of a warehouse to see two cars racing towards him in both directions. He charges and run on top of one as we hear him narrate: "Darkness has existed wherever humans have gathered. The darkness which has swallowed the light is slowly encroaching upon human souls. It's possible that my current self is not me."
As Gyeo-wool lays her brother Gyu-min to rest, she vows to find out what happened to him and settle his grudge once and for all. Elsewhere, San's mind flips between Gyu-min and Yoo-jin holding the syringe that turned him, and he wakes up in a cold sweat.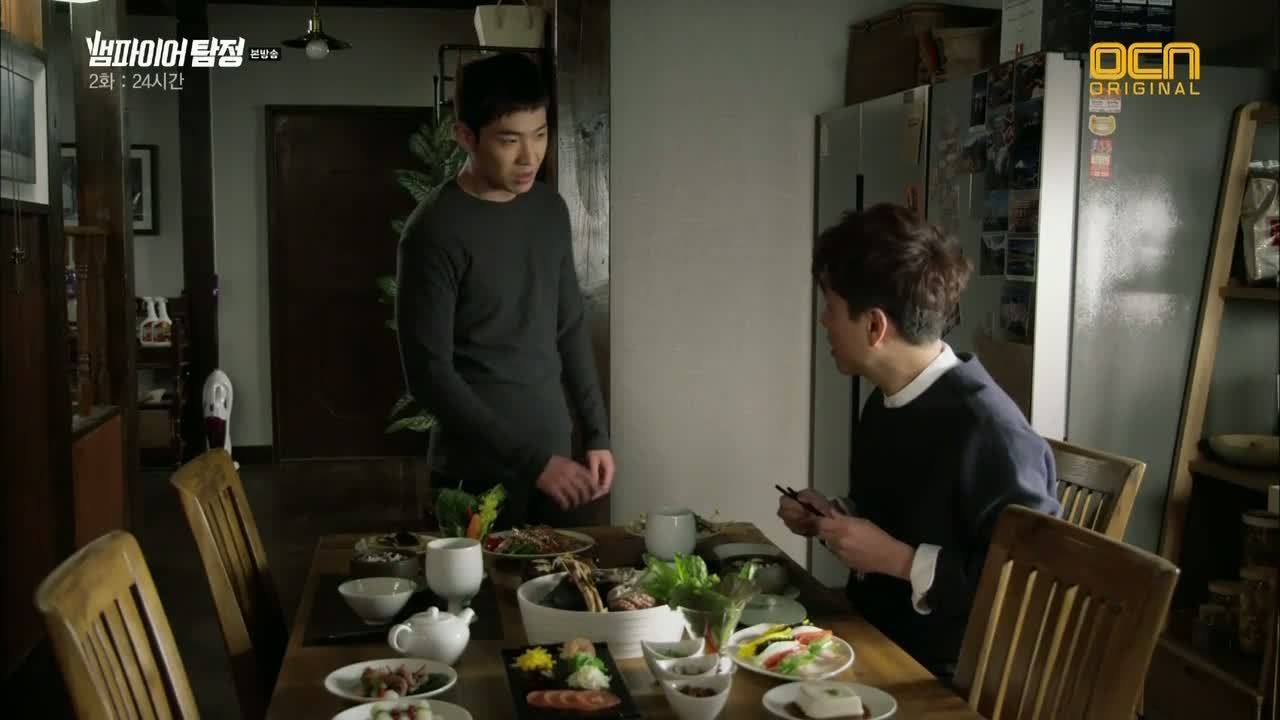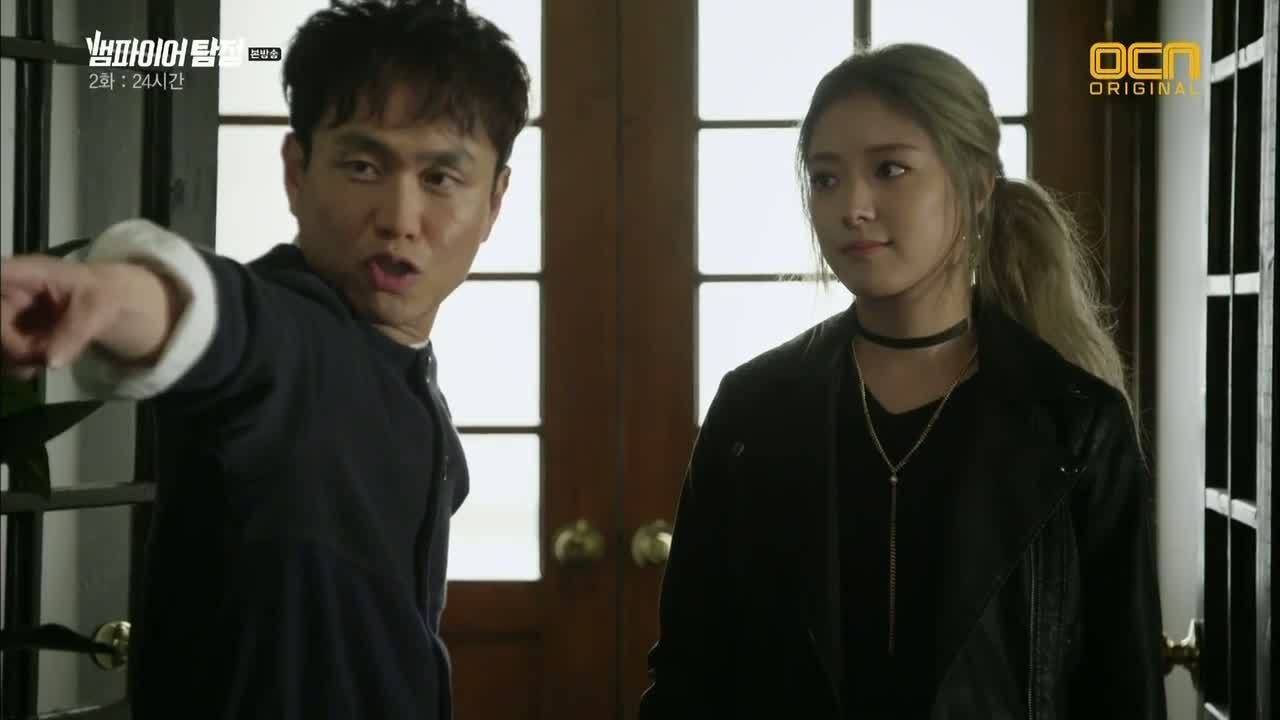 He runs on the treadmill as per usual, only this time his body doesn't give out from physical strain. Although Gu-hyung yells at him for exercising again, San no longer needs his meds… and the gunshot wound in his chest has disappeared.
San doesn't have much of an appetite this morning, but assures Gu-hyung that he's okay. Still, Gu-hyung wants him to get checked out, but their conversation is cut short by a morning surprise: Gyeo-wool, who arrives with movers in tow. Ha.
Her plan is to stay with the private eye duo until she finds out what exactly happened to her brother. She has more than enough money to pay for her stay and argues that it's too dangerous for a woman in her position to live by herself. Gu-hyung quips, "I think we'll be in danger if we live with you."
Gyeo-wool counters that she had to set up an empty funeral for her oppa, then firmly declares that she'll be staying put as their client until she finds out who was responsible for his death.
At the tattoo parlor-clinic, San's eyes momentarily turn yellow at the sight of his own blood. He closes his eyes until the sample is taken, and Doctor Hwang chuckles at San's medical scans because everything looks perfectly fine. Curious, Doctor Hwang asks if he's on something lately, to which San answers to be updated on the blood test results.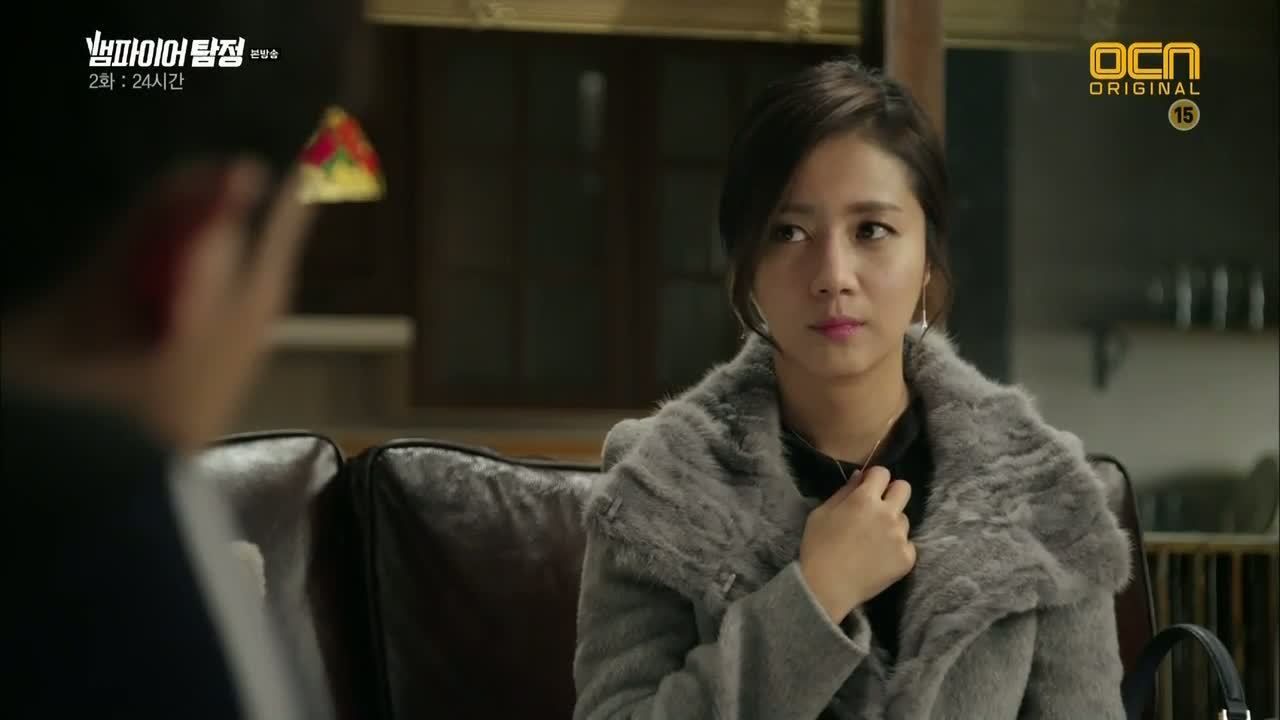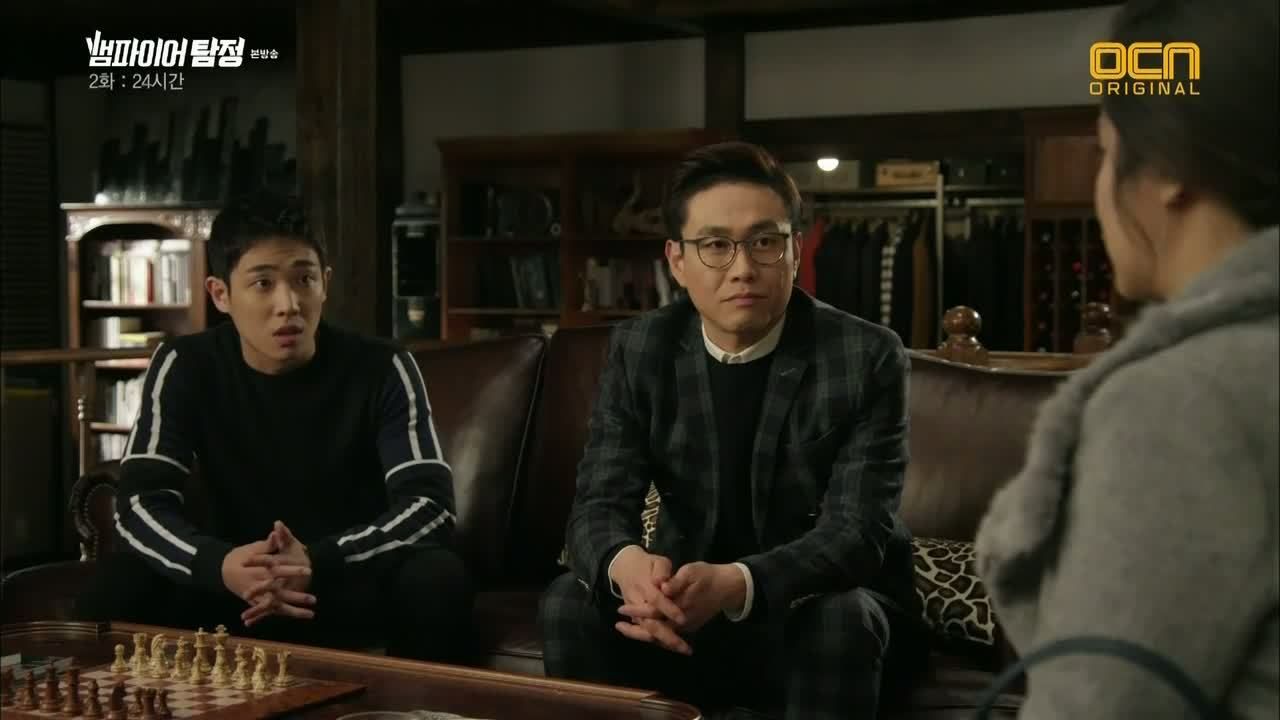 Since Gu-hyung wasn't there during San's transformation, he's in the dark about what happened to San too. He gets annoyed when Gyeo-wool calls saying that they've got a client, though he greets the pretty lady waiting for them with a smile.
Gu-hyung admits to being an avid fan of hers, while San points out her nervous habit of touching her necklace—the same habit Yoo-jin shared in. She describes her case as peculiar, which isn't a problem for our private investigators who promise to keep any information she shares confidential.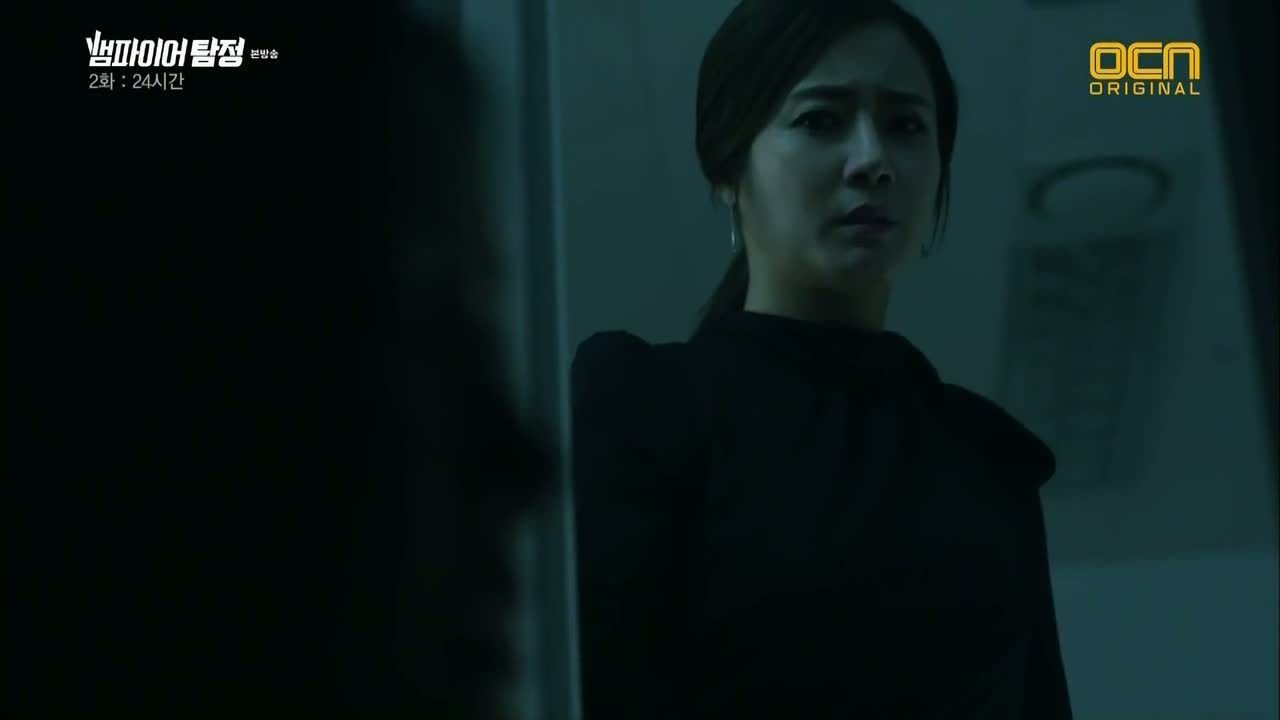 Encouraged to share her story, Announcer SEO SEUNG-HEE (Choi Song-hyun) says she arrived at the broadcasting station this morning and was in her dressing room when she saw something strange peek out of a locker. What was inside terrified her: a corpse.
However when she returned with a security guard, the body was gone but there was a threatening note: If she doesn't return an item within 24 hours, she'll see a body in the following news broadcast.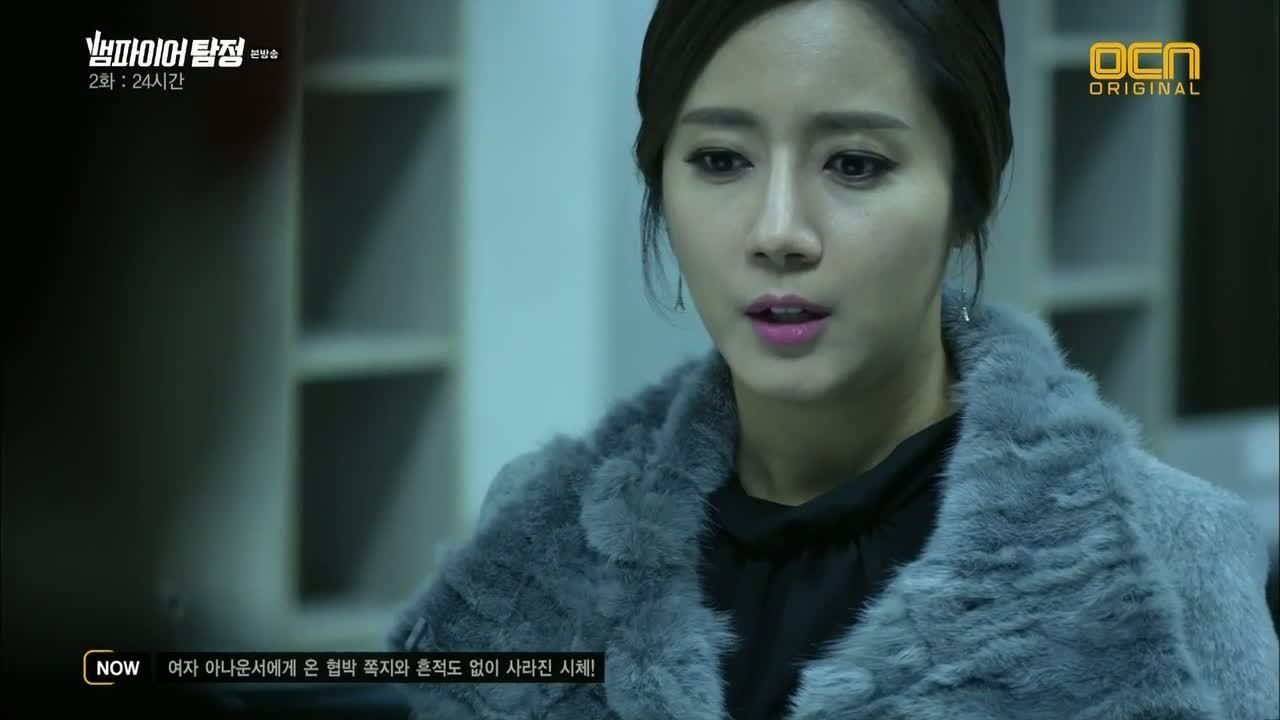 She identifies the supposed dead woman as a hoobae, PARK BO-EUN, and doesn't know what item she's supposed to return. She asks that they help her get through her next broadcast, adding that she must go on air.
San peers into the locker and his eyes turn gold at the sight of dried blood. He gasps at his monochromatic vision that can imagine the corpse in the locker, then turns to the rest of the room and his eyes pulse at the door.
He suddenly runs out of the dressing room and into the halls, hot on the heels of a shadowy figure. He follows his target into a dark studio, where a falling light nearly obstructs his way. Spotting someone, San throws a pipe at their head, and they fall before getting back up.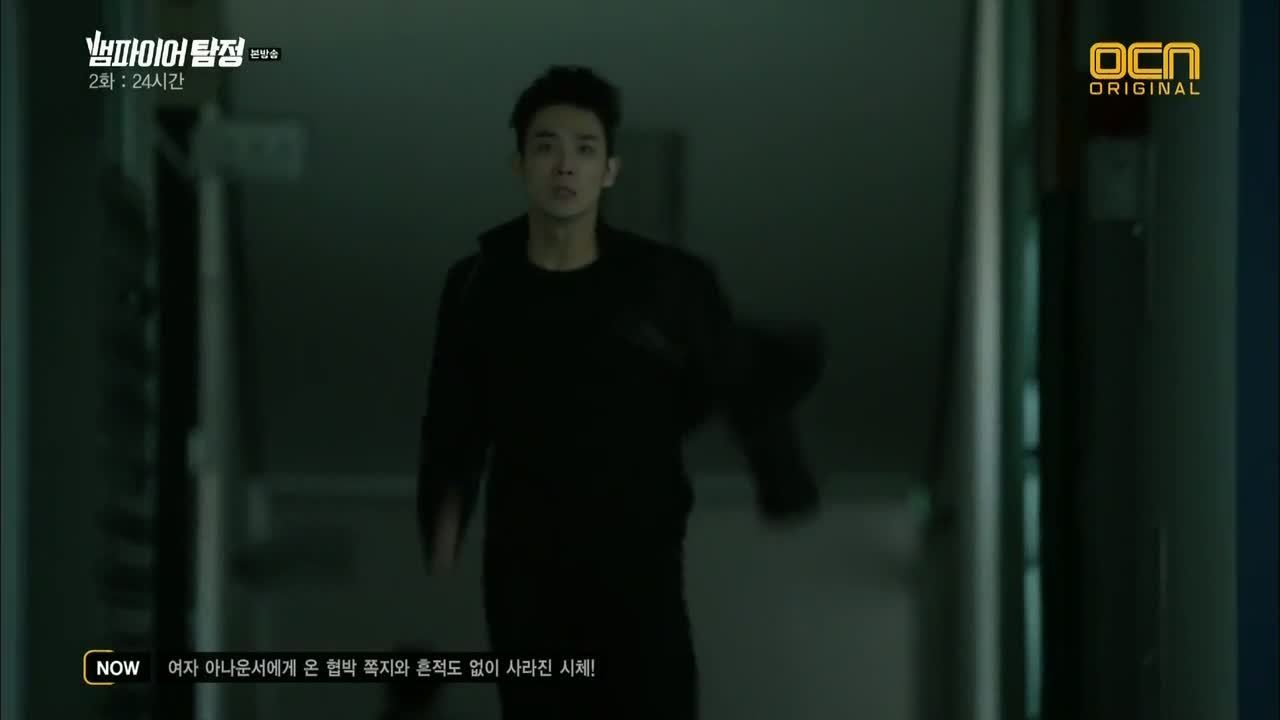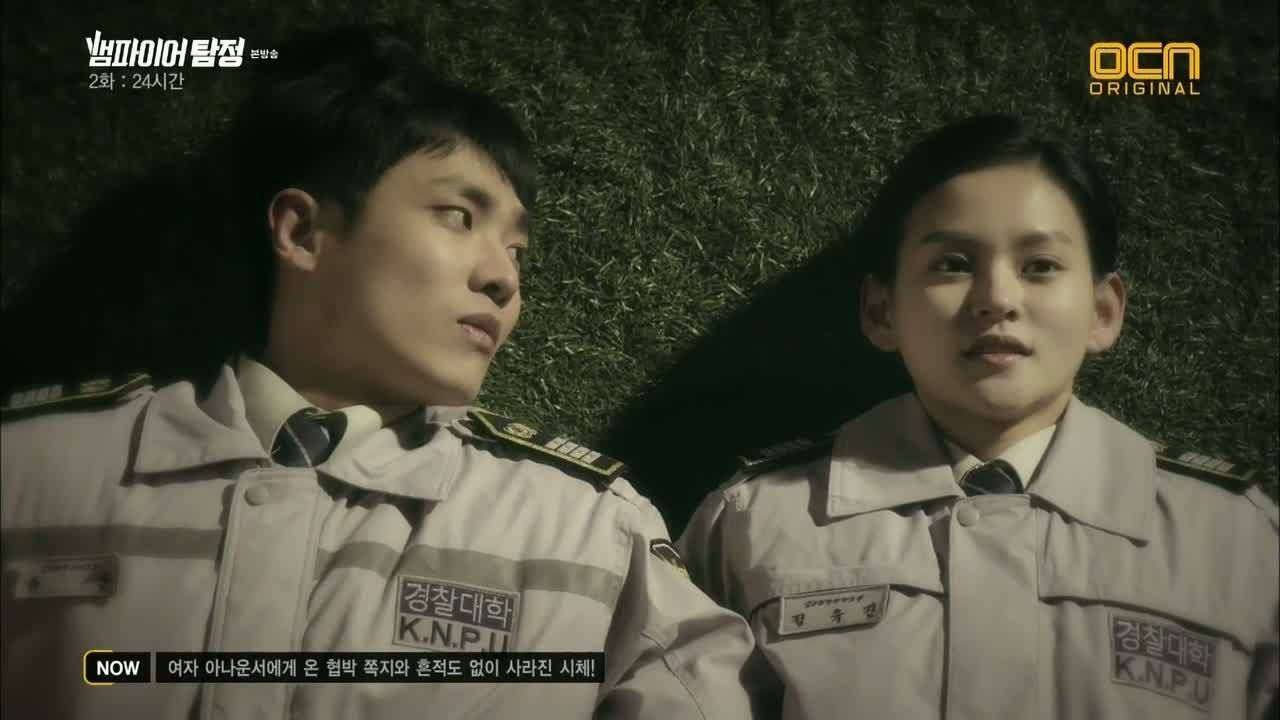 And as San walks towards them, he gets hit over the head with a piece of wood. He falls and slips into the past, back when he and Yoo-jin were cadets and star-gazing together. She'd been worried about being in the field, because the heart is always in conflict with one's brain.
But she'd agreed that the mind must win out in those cases, adding that one must remain tenacious. San had been surprised when she'd told him he fit that description, describing him as a completionist who always sees things to the end.
She'd said that spirit will make him stronger as a person and as a cop in the field, then added: "Don't ever stop, Yoon San. And don't ever give up. I won't either."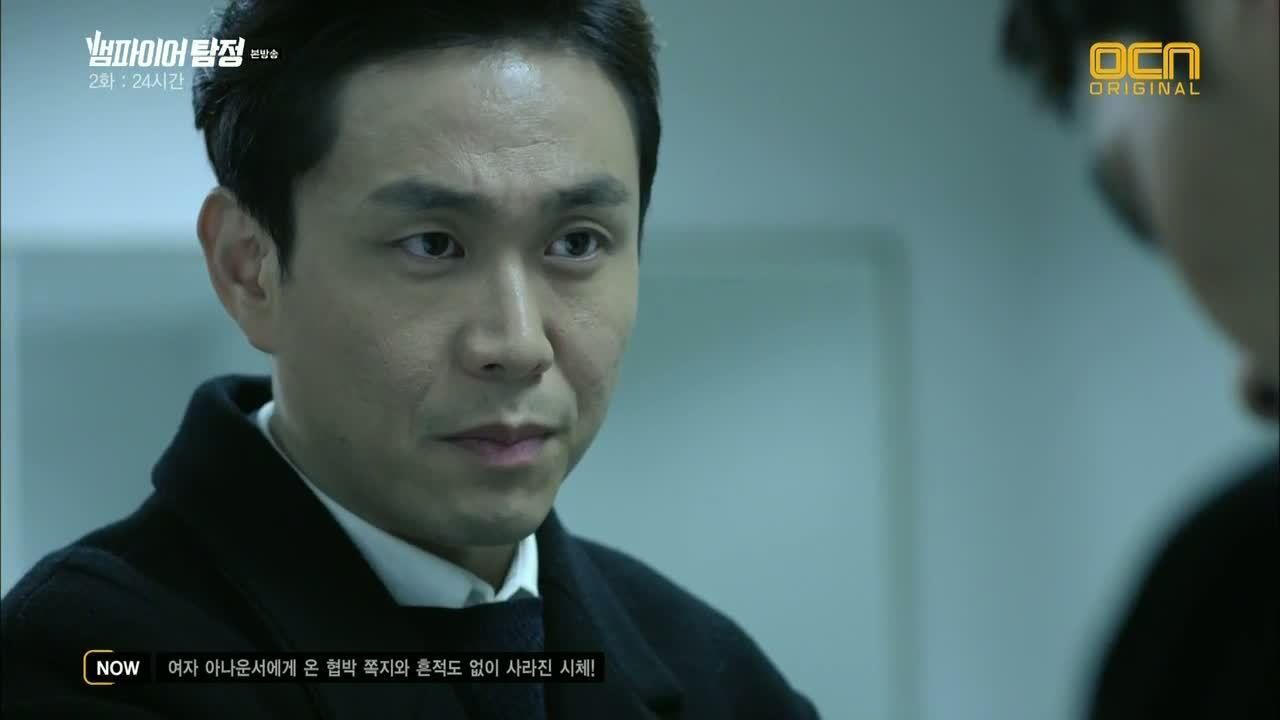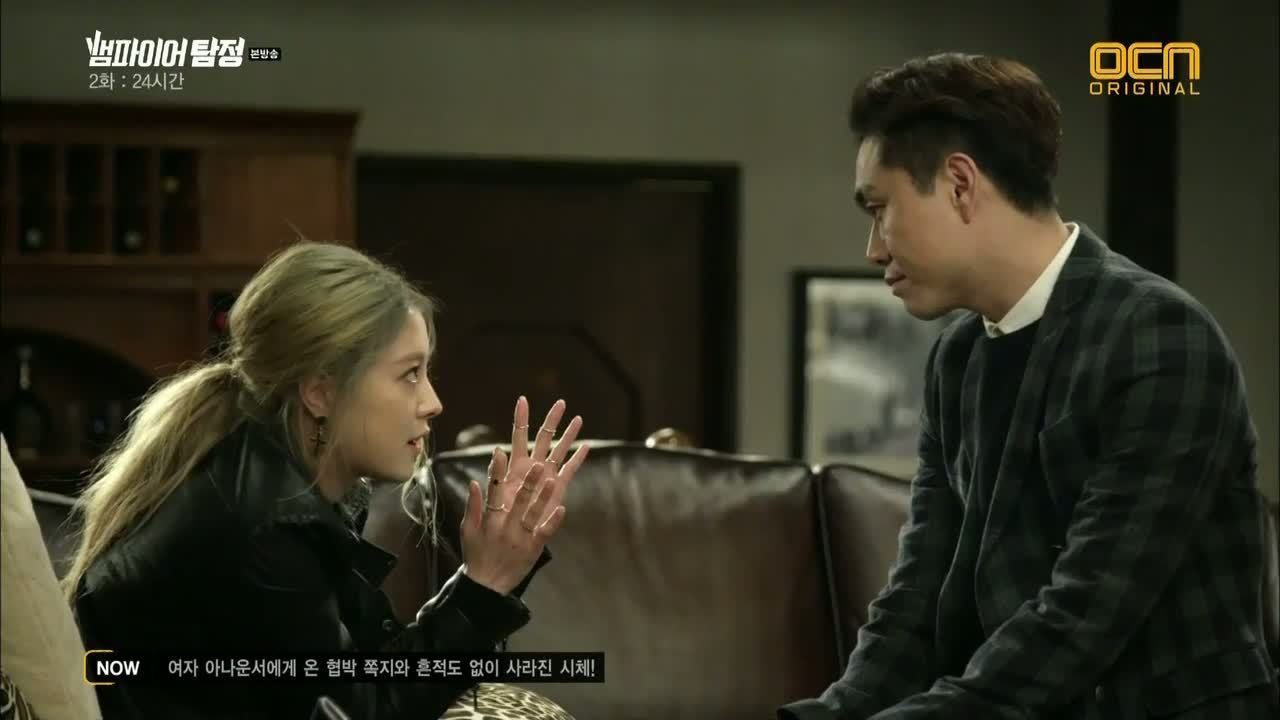 San comes to and finds a note next to him: "18 hours left." Just as Gu-hyung tells Seung-hee that this case is even beyond their capabilities, he returns to say they're the only people who can help her now.
While Gu-hyung isn't opposed to taking on a case, he acknowledges that it's virtually impossible to crack this one between the two of them with the scarce clues they have. San says they've got another person on their team.
Cut to Gyeo-wool who happily agrees to use her hacking skills to find out everything about the Announcer Park in exchange for a room.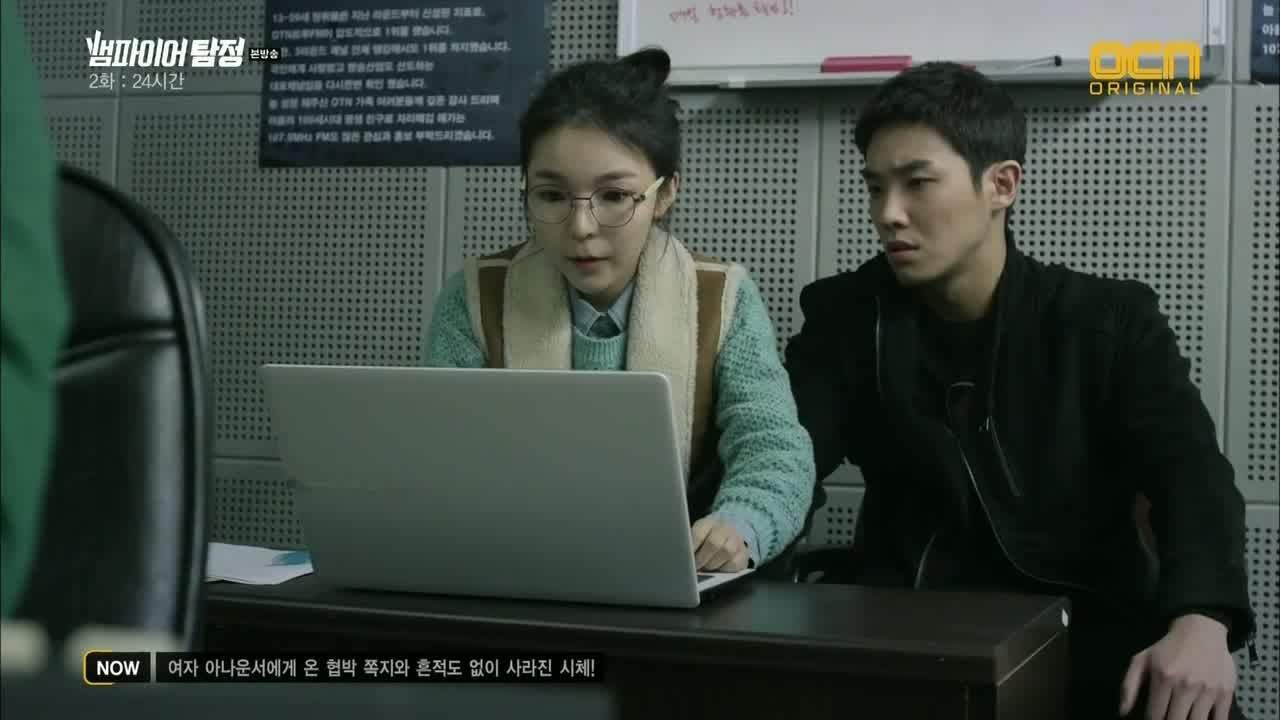 While Seung-hee prepares for her radio show, San flashes a fake police badge at a staffer (Park Jin-ju!) to find out about the female announcers' relationship. He's told that it's a well-known fact that the women never got along because of their different starts. While Seung-hee may be an anchorwoman now, rumor has it that she's always had male benefactors supporting her.
There are whispers of a video floating around from when Seung-hee was a reporter. She was close with her cameraman KIM KYUNG-SOO, who supposedly killed himself while covering a story soon after she married a chaebol.
She shows him a video of the cameraman, adding that Seung-hee didn't even attend his funeral. Suspicious, indeed.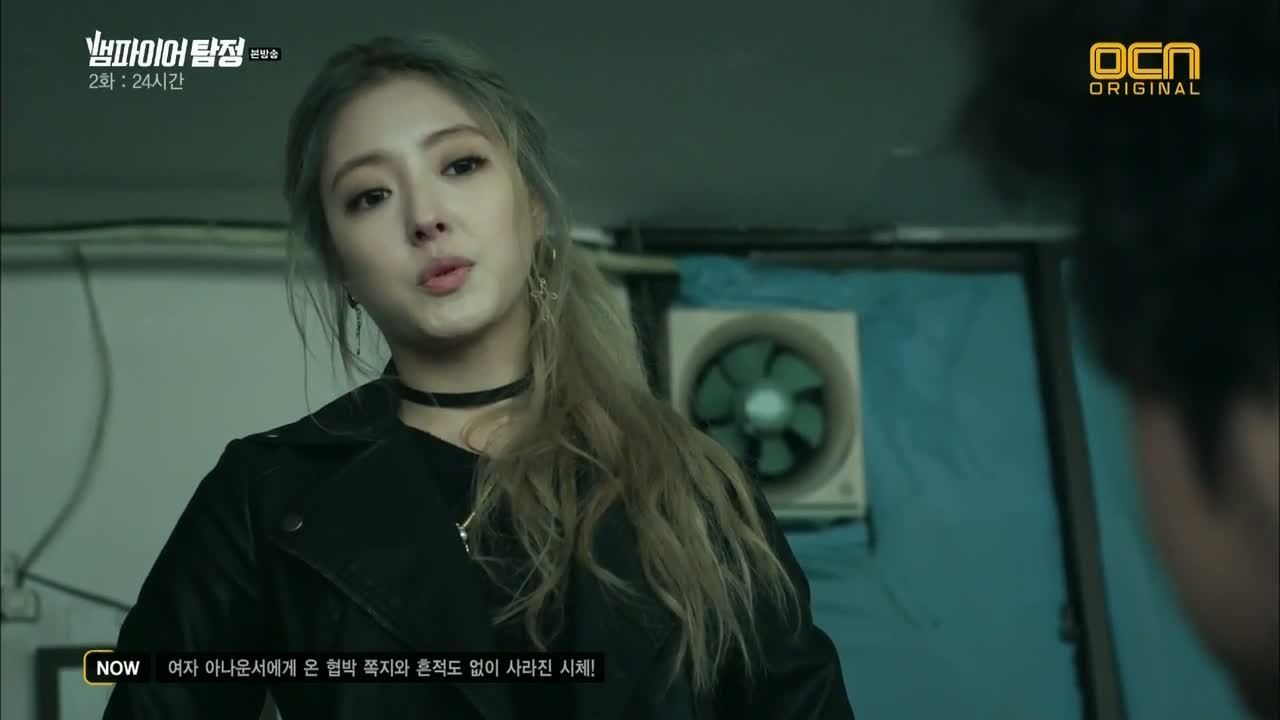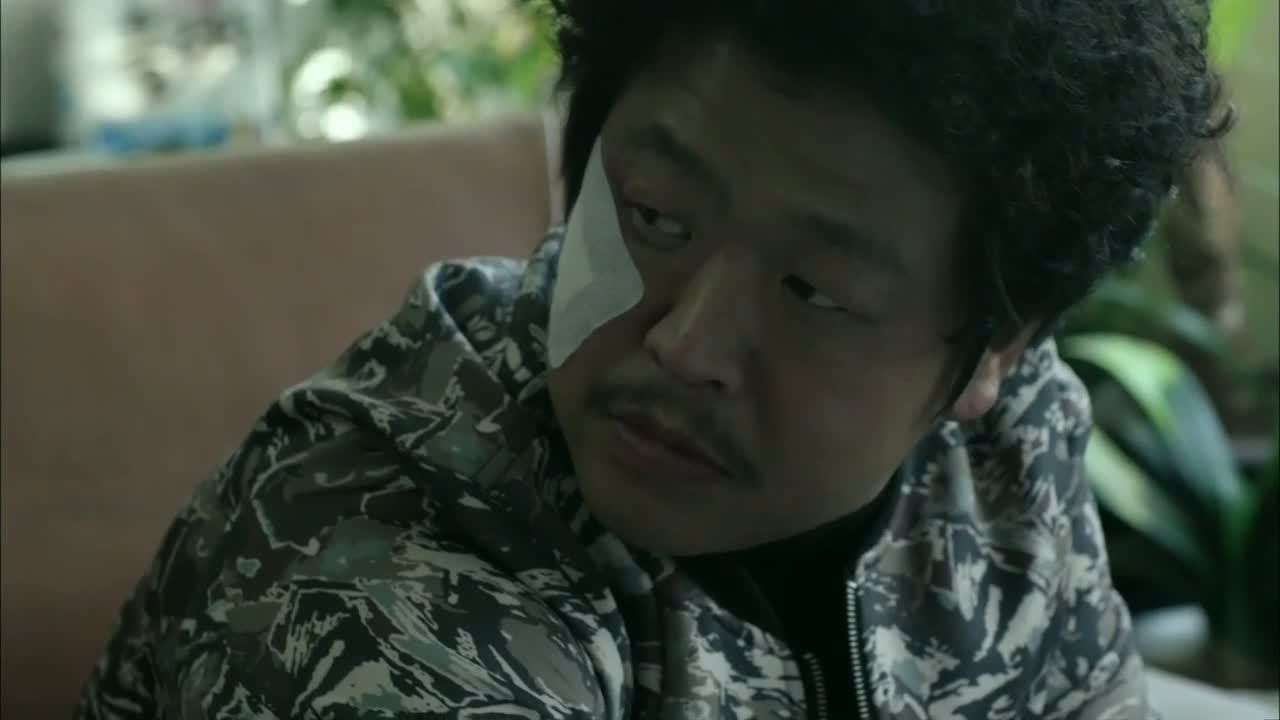 Our private eye trio track down a gangster, Hammer, whom San recognizes he threw a pipe at the station. Hammer knows both Gu-hyung and Gyeo-wool and chuckles to hear that she's part of a private investigation team now.
Handing him a photo of Announcer Park, she asks if he knows her. When Hammer asks why they're looking for her, Gyeo-wool smiles since that means he does know her. She asks where Announcer Park is, to which Hammer responds by pulling out a knife.
Gyeo-wool retaliates by breaking a bottle at his head, and when Hammer charges at them, San smoothly twists his arm and shoves his head onto the table. His eyes turn gold again at the sight of blood, but he keeps it together to ask where Announcer Park is and what they're supposed to be looking for.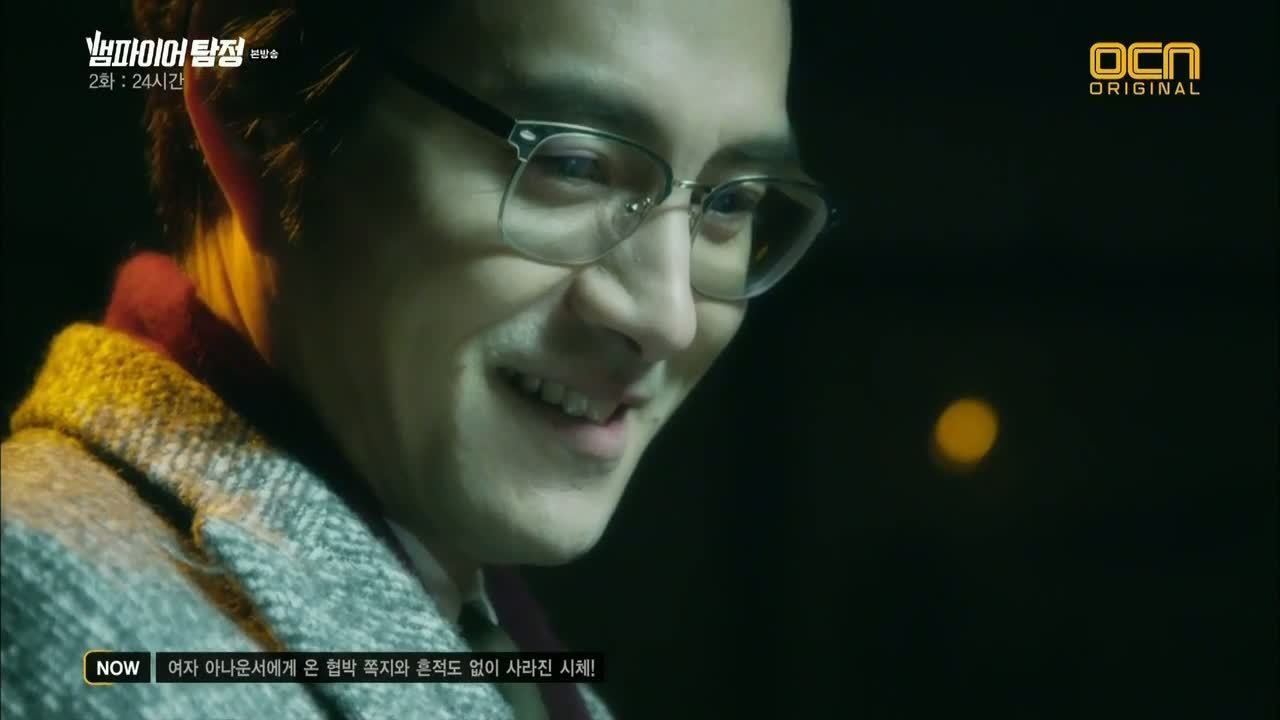 Hammer stammers that he was only following orders: After he'd forced Announcer Park to stamp a contract (her family was in debt), a man named Jung Ji-woong had shown up, ripped up the document, and showed her a pile of money and a photo of Seung-hee. All he knows is that Announcer Park had agreed to do his bidding, he cries.
Gyeo-wool gets patched up at the tattoo parlor-clinic, where she argues that she had to face the oncoming attack head on. She thanks Se-ra for taking care of her, and her politeness takes Gu-hyung by surprise.
Gu-hyung is called in to see Doctor Hwang, who shares that San's blood test has yielded strange results: San carries blood that cannot exist in this world.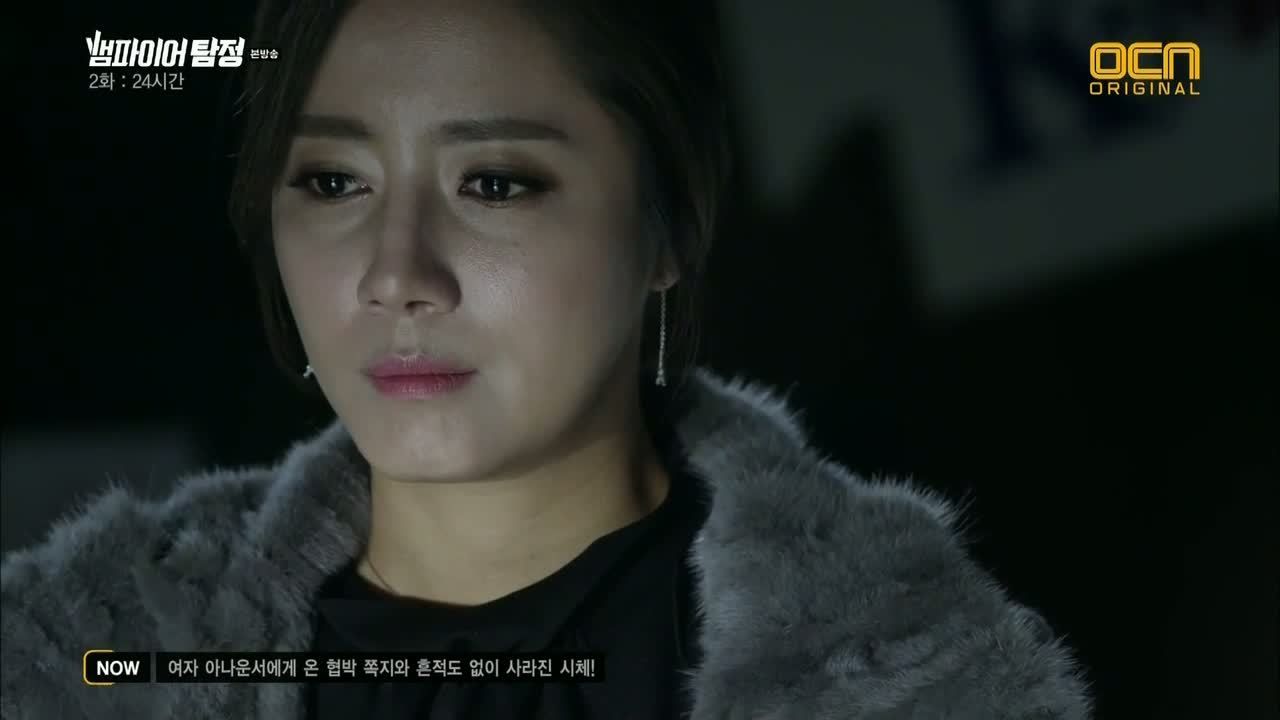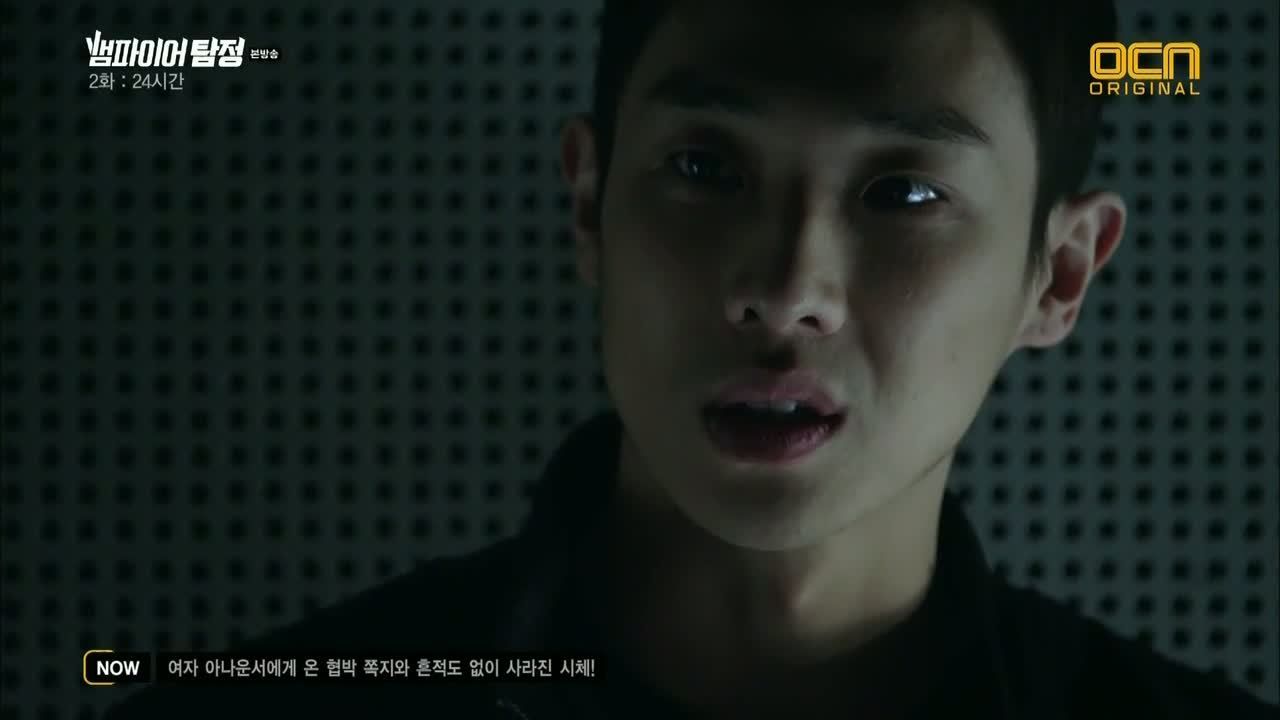 Speaking of whom, San speaks with Seung-hee, who says her years of working in media has taught her that the world is never what it looks like on the outside. Such is the case for Jung Ji-woong, who is known for his charitable work.
She was investigating his company's suspicious activity back when she was a reporter, but then her cameraman committed suicide, the story was buried, and she was made into an anchorwoman. She evades the question of what could've caused Kim Kyung-soo to kill himself, and she says she didn't attend the funeral because she had to go on air.
So he asks why she's so fixated on the idea of appearing on TV, but again she says nothing. She does, however, share what the story was about—the homeless mysteriously disappearing from the streets—but she doesn't know where that reel is now since that was Kim Kyung-soo's responsibility.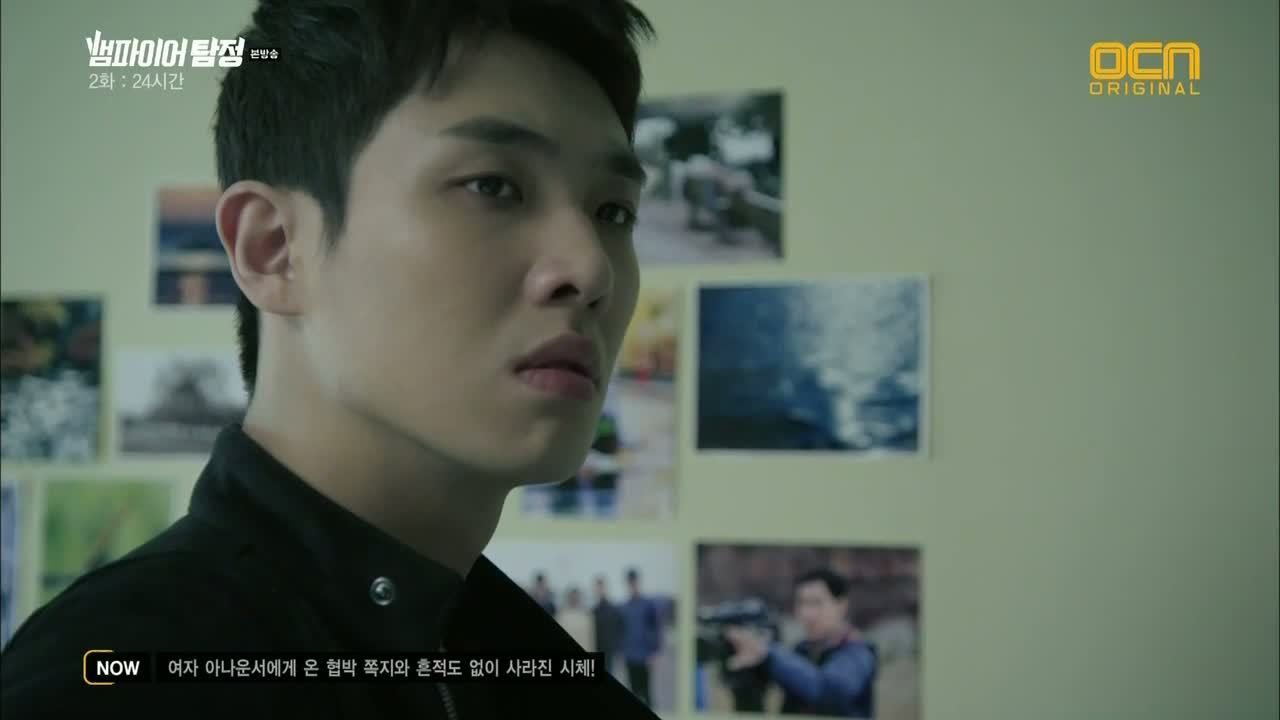 Back at headquarters, both San and Gyeo-wool realize that they hadn't investigated Seung-hee in this case. San thinks it's strange how she keeps skirting the topic about her cameraman's death and believes she's hiding something. It's also odd for a woman who married rich to be so focused on her career, he adds.
So he and Gu-hyung check out cameraman Kim Kyung-soo's place, where the sister shares how her brother preferred keeping tapes and using film versus keeping digital copies like his colleagues.
They put in a request with Detective Park, who stuffs his face while handing over the case files on Kim Kyung-soo. The victim was found in a church, there was no note left behind, and he'd ingested something that killed him.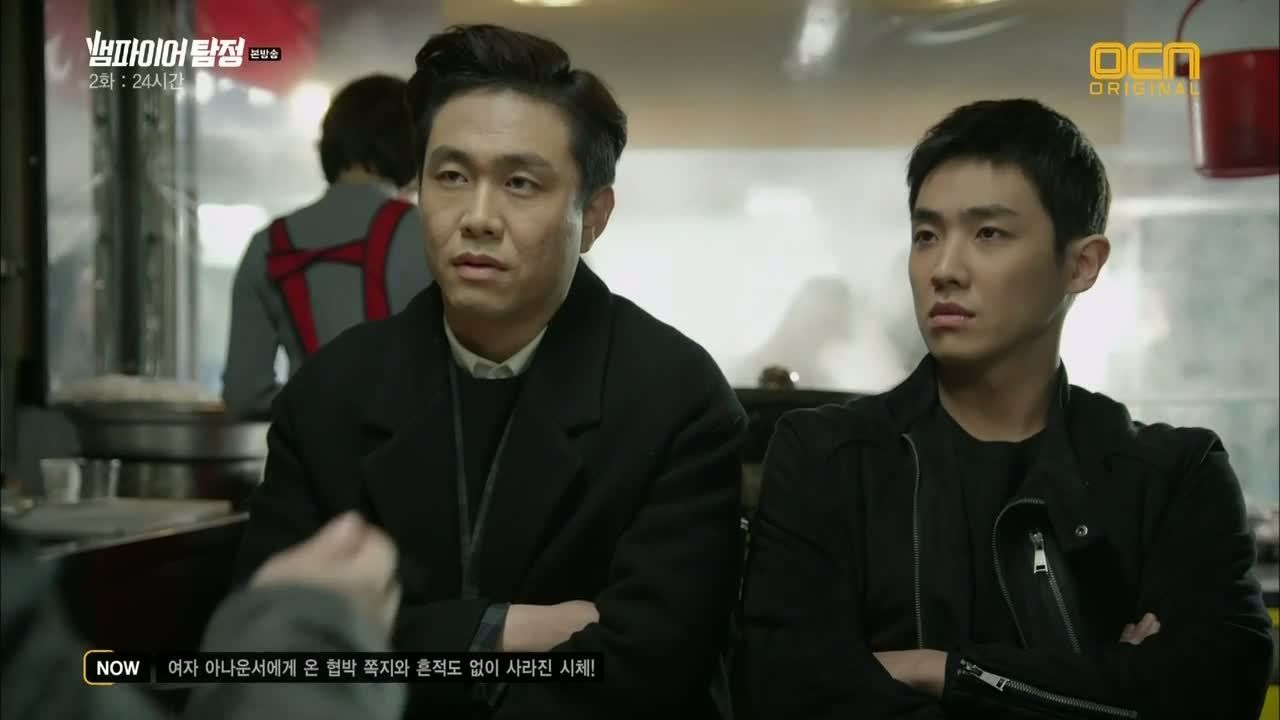 Detective Park had also heard of the rumors of the homeless being kidnapped and their organs sold in the black market, but a proper investigation was never held. San wonders how a kidnapping of that scale could've gone unnoticed, to which he's told that there are plenty of people out there who drive around in an ambulance and kidnap the homeless off the streets.
The detectives hopes the private investigators can help him out with some intel if they find something on it, then keeps eating.
San and Gu-hyung check out the abandoned countryside church, where a patch of blood on the ground triggers San's vampy senses. His mind flashes back to the night Kim Kyung-soo died, when he burned a piece of paper before ingesting a bottle and spitting up blood.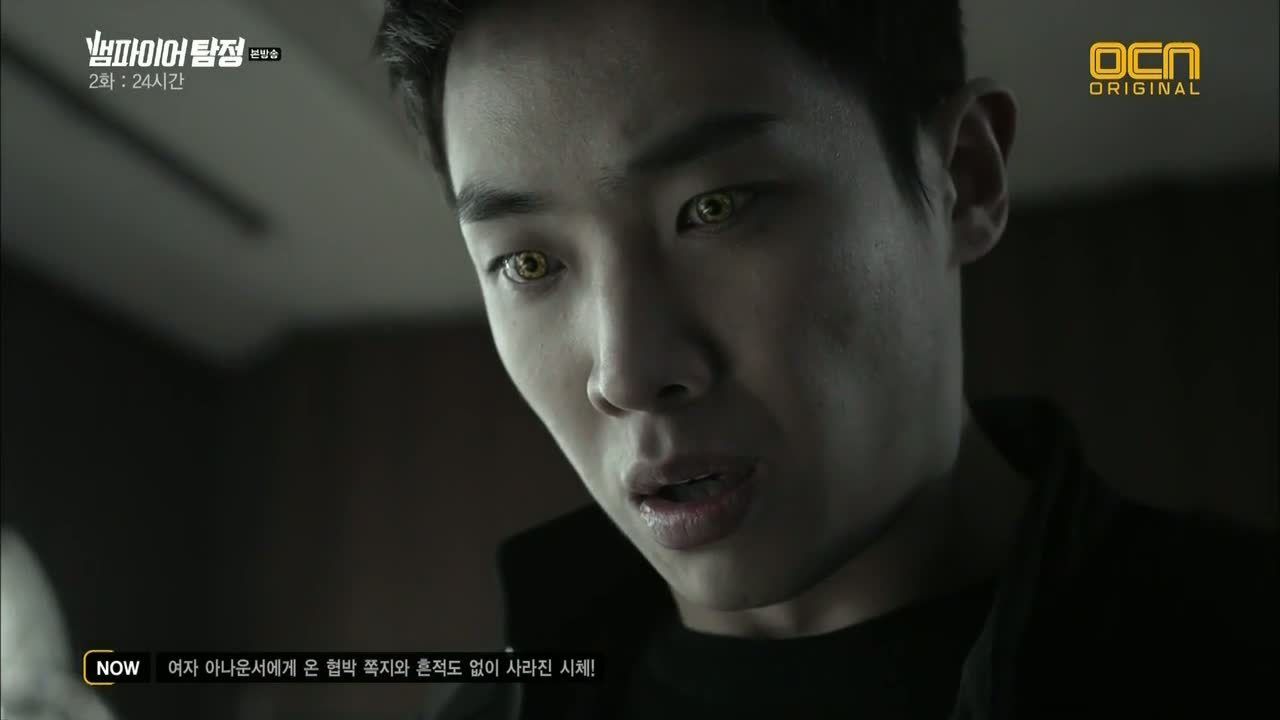 The vision leaves San in a state of shock, and his eyes turn to normal again when Gu-hyung calls out to him. He's still breathing hard when he picks up a call from Gyeo-wool, who's uncovered Seung-hee's secret.
Seung-hee is surprised to find that the private investigators have discovered that she and Kyung-soo were romantically involved, and San asks if she'd been threatened about their relationship.
He shows her an invoice listing a purchase of a spy camera, which Seung-hee doesn't find as odd for a cameraman since they usually need such equipment to cover stories. She takes offense when San questions whether it could've captured more intimate moments (possibly a sex video?), snapping back that Kyung-soo wasn't that kind of man.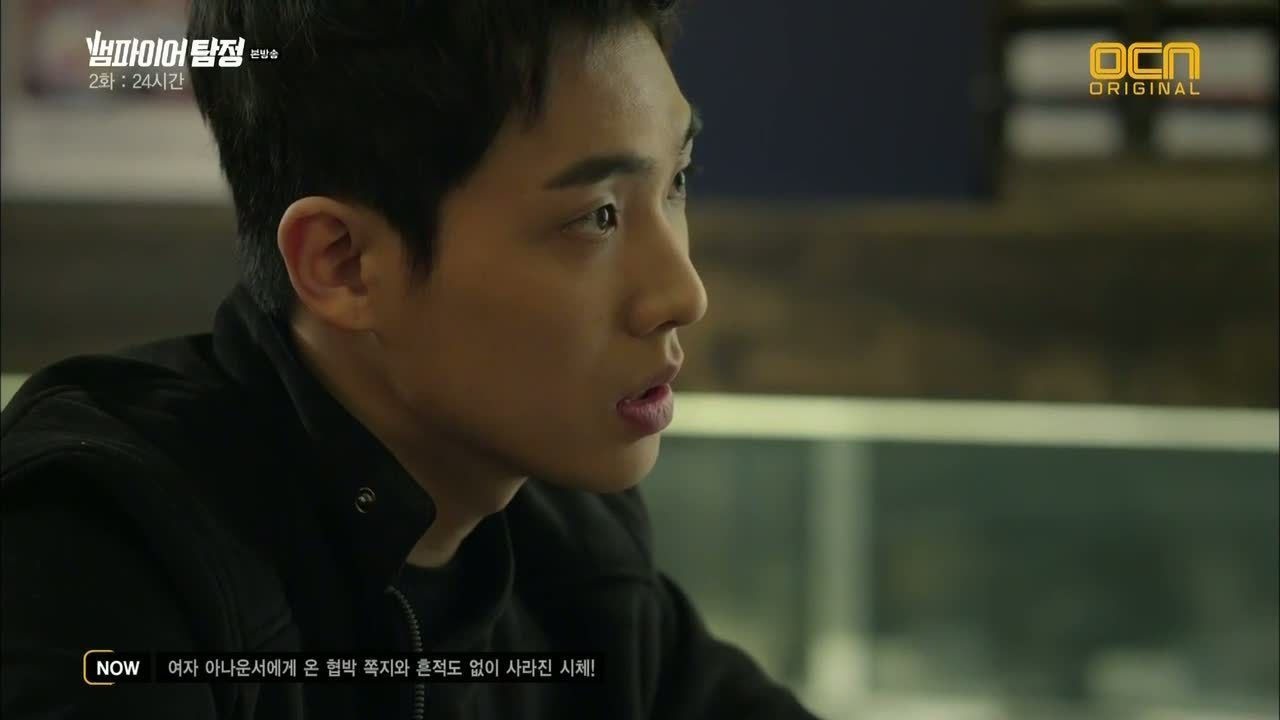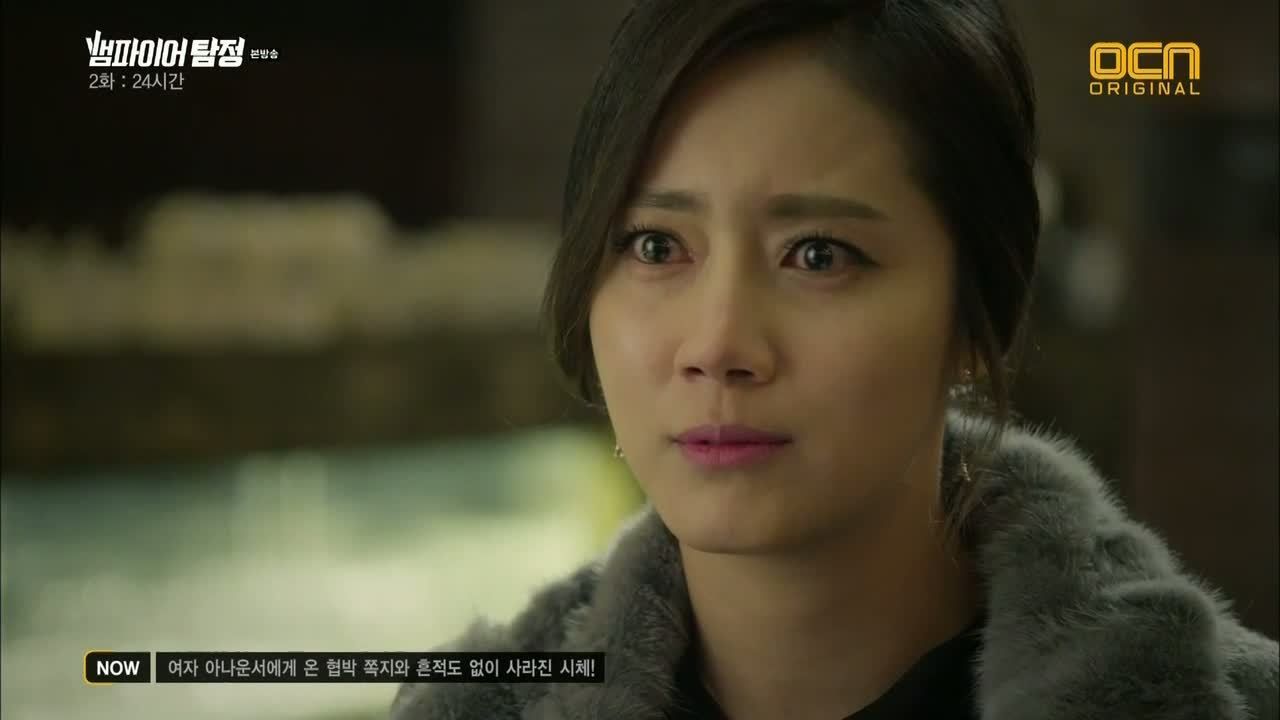 San backs off in apology, saying that he momentarily wondered if a video could be what her threatener could be after. She understands that it's his job as a detective to question everything, and now asks that he focuses on what she's supposed to return.
Gyeo-wool gripes when she's stuck at home while the boys are out in the field. She's convinced that a compromising video must exist whereas Gu-hyung wonders if it's the exposé Seung-hee and Kim Kyung-soo were working on.
But right now, the guys are on a mission, and Gu-hyung warns San to be careful. As usual, he isn't worried in the slightest, hopping out of the car and paying off the homeless ajusshis so he can sit in their spot and wait.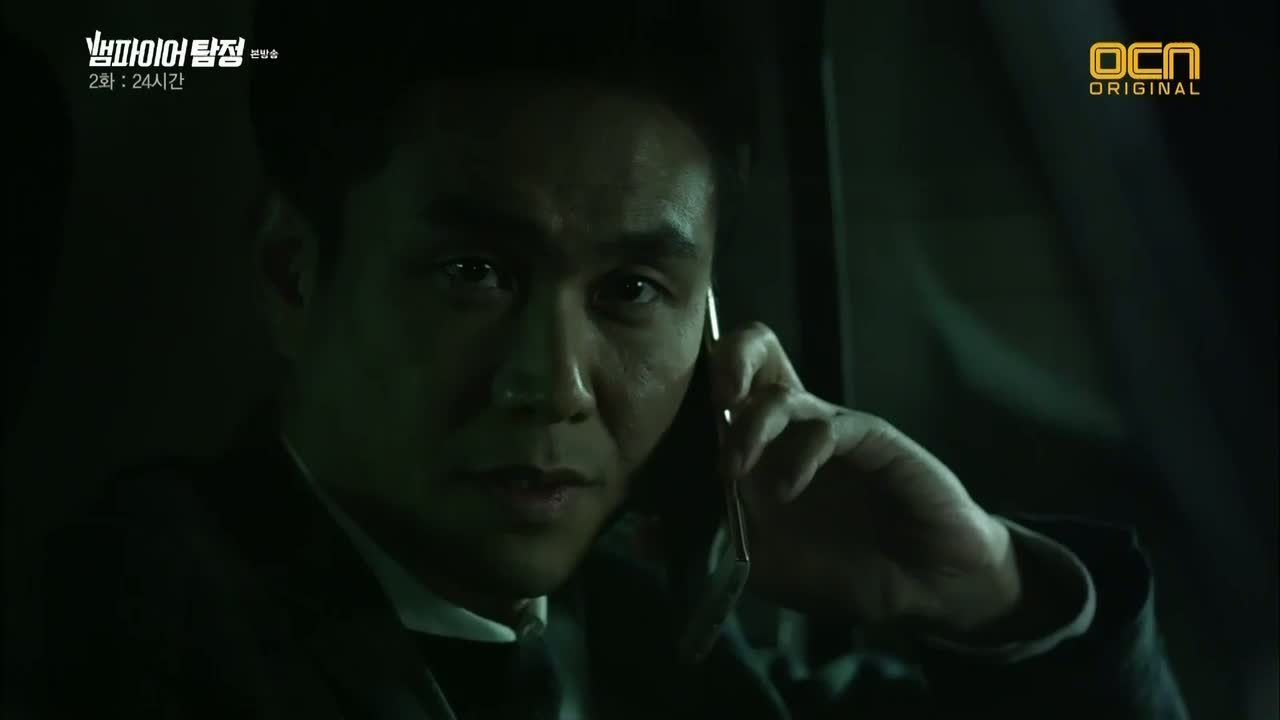 Their plan works like a charm when a sketchy ambulance shows up, and San covers himself in soju and pretends to be passed out drunk. A pair of men take him away, and Gu-hyung makes sure to follow behind the ambulance in his car.
When the ambulance arrives at its destination, Gu-hyung keeps a close eye on San until he disappears inside. Gyeo-wool calls in just then to get an update, and wonders where San gets the confidence to go risk his life like that.
Gu-hyung says the most fearless people in this world are those who have nothing left to lose… like San.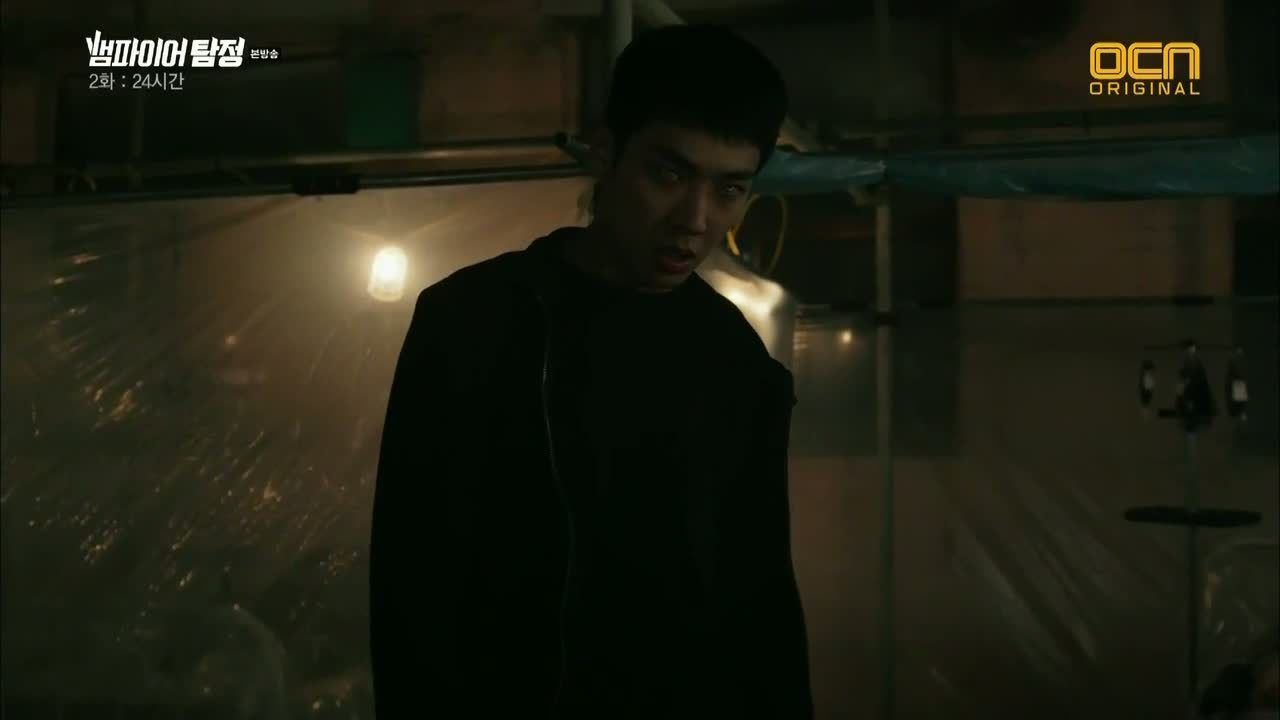 San is dragged inside and placed on a gurney, but before one of the men can stick him with a syringe, he grabs him and knocks him out. He barely takes a few steps before he staggers from the overwhelming smell of blood from the pints hanging all around him.
He takes heavy steps down a row of beds that house men and women who have gone missing. Just then he spots Hammer running outside, and San gapes at the body bags lying on the ground.
So he bursts out of the building, bringing us back to our cold open. San runs towards one car, then switches directions to charge at the other one. He runs up on the hood, flips in the air while the cars crash into each other, then lands back on top of the car on one knee.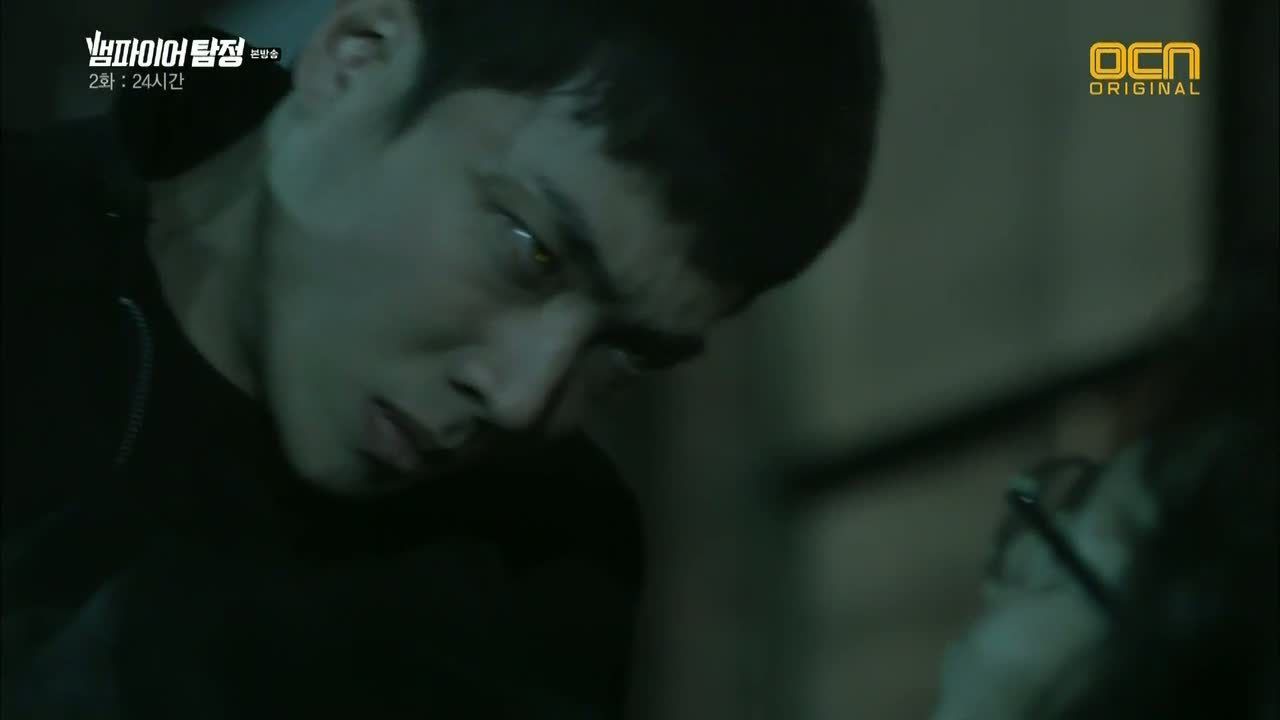 Hammer reappears with Jung Ji-woong and his crew of hooligans, who are told to attack. San flies into the fight and gets a few punches in while taking a few himself. He displays some super strength by flipping men onto the car or pushing them aside through windows.
Hammer stabs at his gut repeatedly until San grabs his hand and face, and tosses him into the wall. Jung Ji-woong takes matters into his own hands and slices San's shoulder, across his gut, and his leg.
San limps from his injuries but he doesn't give up. He evades Jung's oncoming swipes, then grabs the man in a chokehold, pushing him into a car. San tightens his grip, lost in what seems like an uncontrollable rage.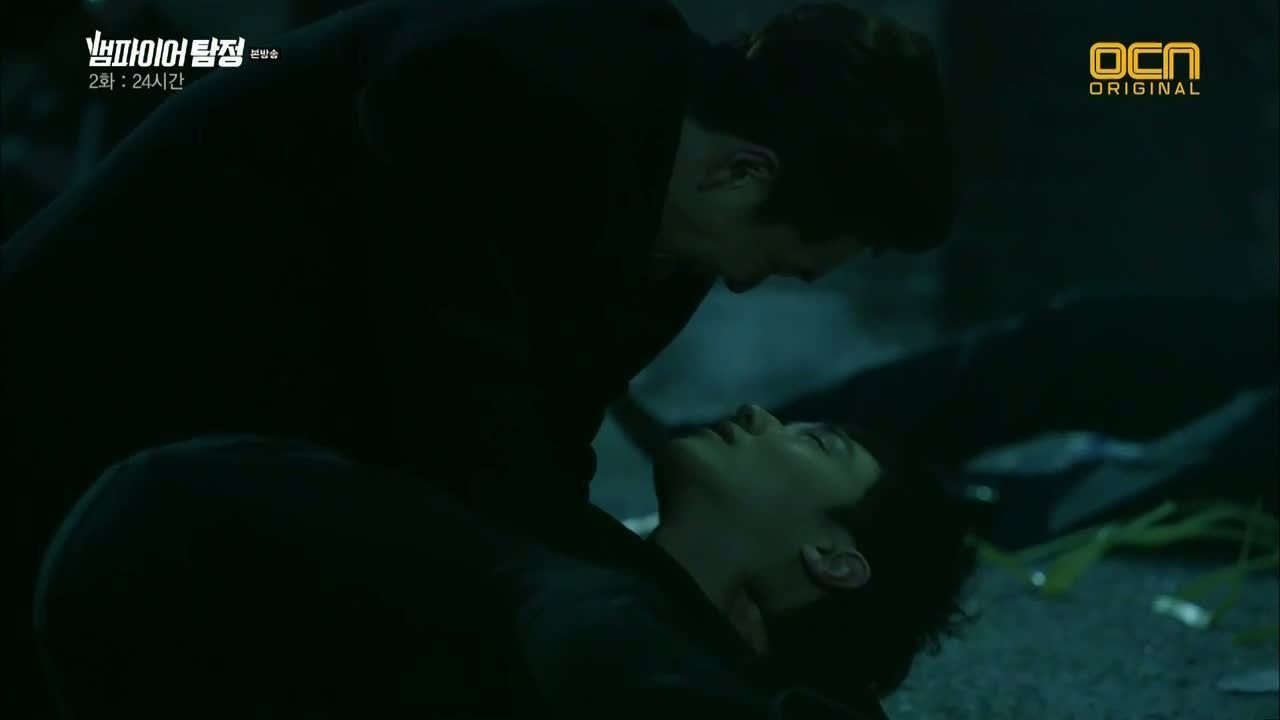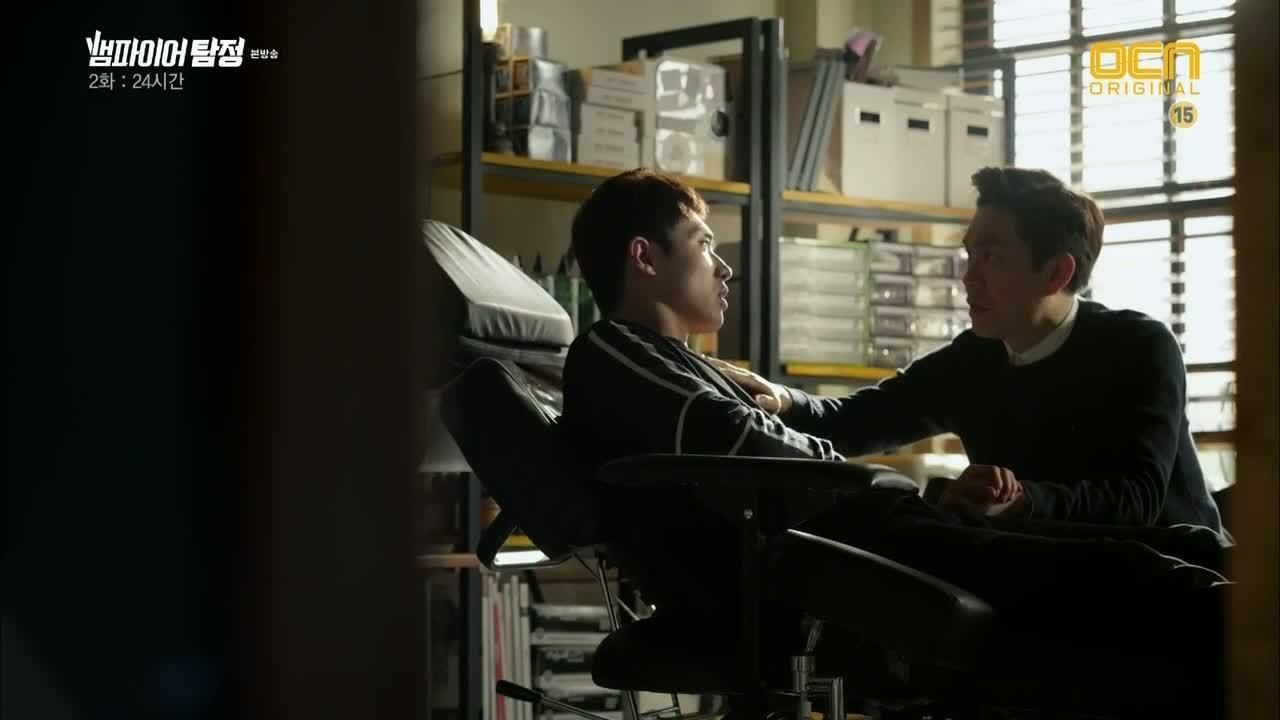 He finally lets go when Gu-hyung comes running to stop him. His eyes turn from yellow back to dark brown, then collapses onto the ground. Gu-hyung rushes to his side (could he have also seen San's eyes change?).
What follows is San slipping in and out of consciousness: Gu-hyung telling him to hold on in the car, a flashlight shining into his eyes, Doctor Hwang holding an inhaler filled with blood.
It's light out when San finally comes to, much to Gu-hyung's relief. He inspects his side where he's been stabbed, but finds it clean. He doesn't understand why he didn't die from his injuries, and Gu-hyung tells him to rest and looks back to the blood-filled inhaler.
Seung-hee reports on the story of the missing homeless persons. Announcer Park's bodies were among many which were found in a warehouse where their organs would be later sold. She wraps up the broadcast, then gets a call from San to meet her at the church where Kyung-soo's body was found.
She's already waiting when he arrives, and when he points out how she had no trouble finding her way here, she confesses that she and Kyung-soo used to attend this church at a young age.
He used to take photos of her back then, and they reconnected years later in their respective careers. But then one night Kyung-soo had told her that he made a deal to sell the exposé to their enemies in exchange for enough money for them to be happy together.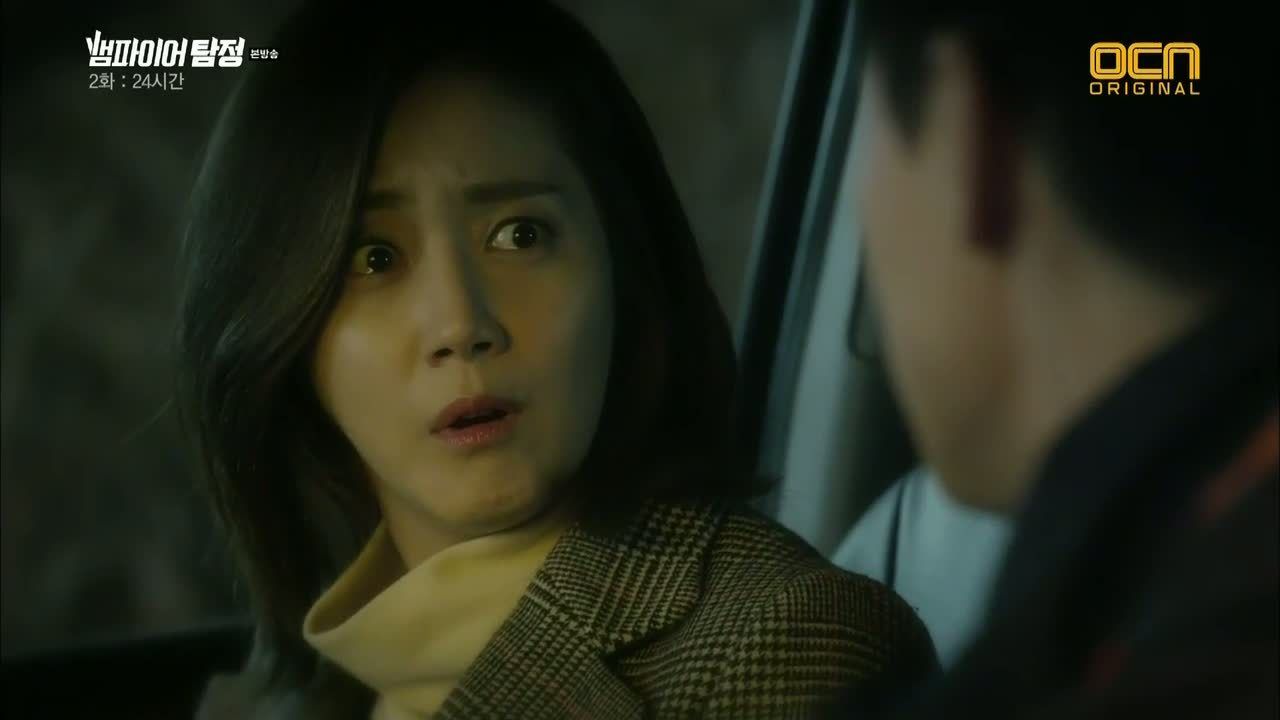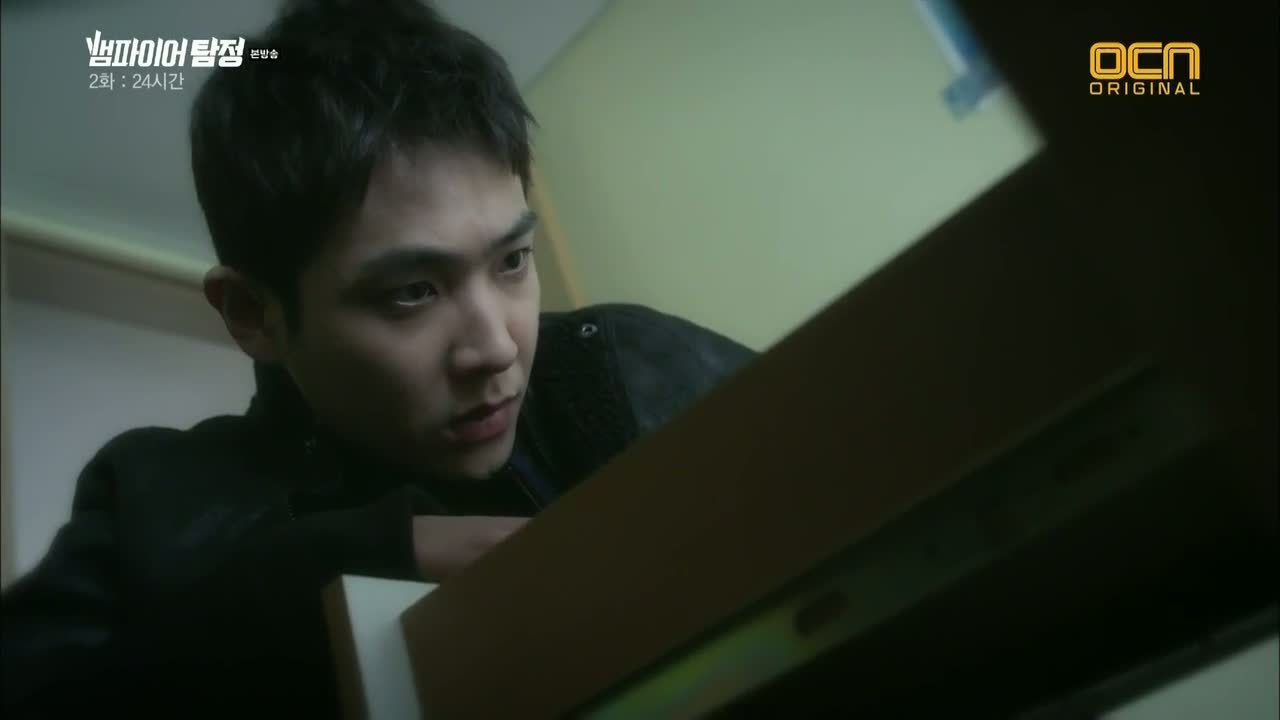 She'd been gravely disappointed in him for throwing away his integrity and had walked out on him. She never saw him after that night nor could she have since she was engaged to her current husband. She admits that she didn't have the courage to follow her heart and abandon everything else, and later believed that Kyung-soo went ahead to make that deal with the men they set out to expose.
"But Kim Kyung-soo didn't make that deal," San replies. Taking out the tapes, San says he went back to Kyung-soo's apartment. There, he'd spotted a tiny drop of blood which gave him a glimpse into the past: Kyung-soo had cut himself while trying to tape the tapes to the bottom of a drawer.
That's exactly where San had found those tapes, and he explains how Kyung-soo was being threatened prior to his death. He couldn't put Seung-hee at risk with her upcoming marriage, so he called Jung Ji-woong out to the church.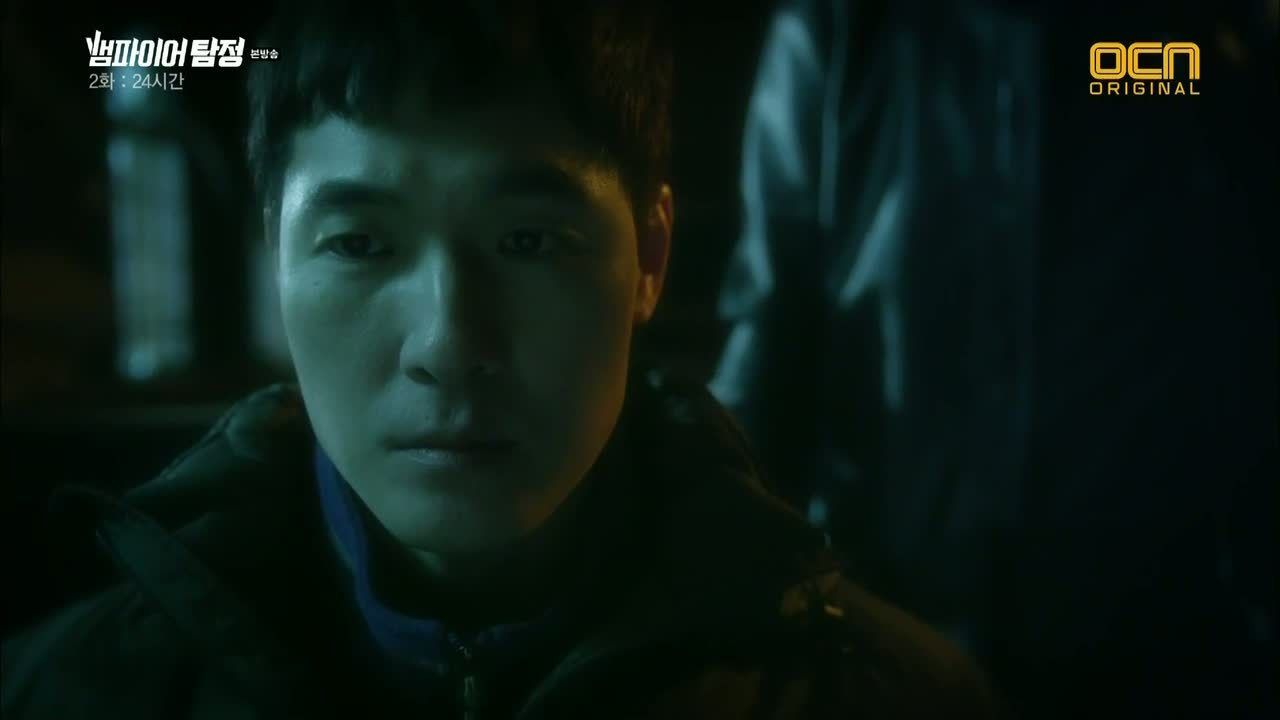 Jung hadn't realized he'd been fooled until after Kyung-soo burned the pictures of him and Seung-hee together. He'd been enraged, but Kyung-soo wasn't going to speak and ingested a toxin instead.
Kyung-soo started spitting up blood and collapsed to the ground where Jung and his men had left him for dead.
San continues explaining how Jung then turned to Announcer Park, whom he simply used as a pawn to get to Seung-hee. And while she knew what Jung was after, she'd refused to tell the private eye team in order to protect Kyung-soo.
She says everything's over now that the tapes have been found and declines listening to them. She gets up to leave, but then stops when she hears Kyung-soo's voice. In the video, Kyung-soo says it's been 10 days since they've seen each other, and says he misses her.
Her eyes shakes as he explains how he decided to be become a cameraman the day she walked in front of his camera. He'd vowed that she would always be the subject in front of his lens, and he's so grateful that they were brought back together.
Kyung-soo: "You remember our promise, don't you? No matter what, the broadcast must go on. Because you're prettiest when you're in front of a camera. Be happy, Seung-hee. I love you."
Seung-hee stifles her sobs as tears stream down her cheeks. Her back still turned to San, she collects herself and says she cannot take that tape. "You must not feel his sincerity," San says. "I've already decided to bury all of those memories in the dark," she replies.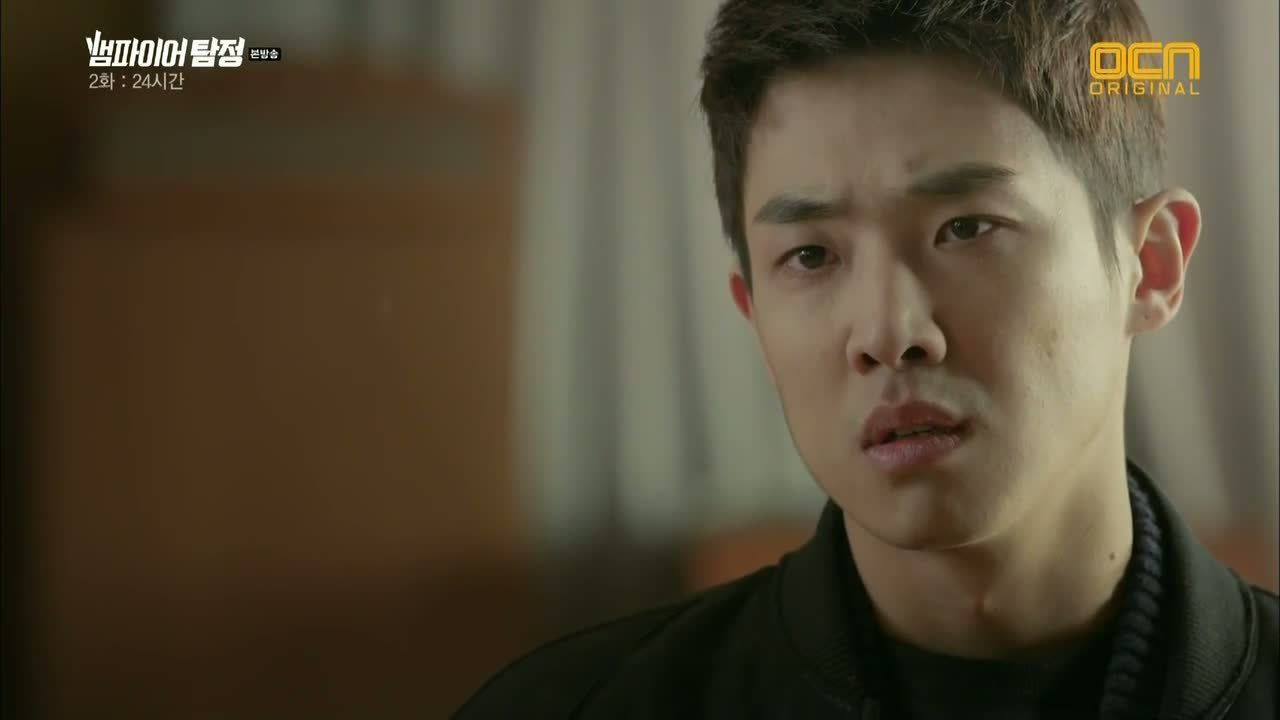 San doesn't understand how that's possible, but before he can give more of his two cents, Seung-hee turns to him and asks, "What were you hoping from me?" In San's eyes, she turns into Yoo-jin for an instant, then leaves.
"Virtually all what remains in people's memories are sad matters," San narrates. "Happiness is simply happiness. It teaches nothing."
Our private eye trio watch the morning news at home, and Seung-hee adds a special mention to her signoff. She dedicates this message to a special someone, saying that she'll never surrender under pressure and will never give up.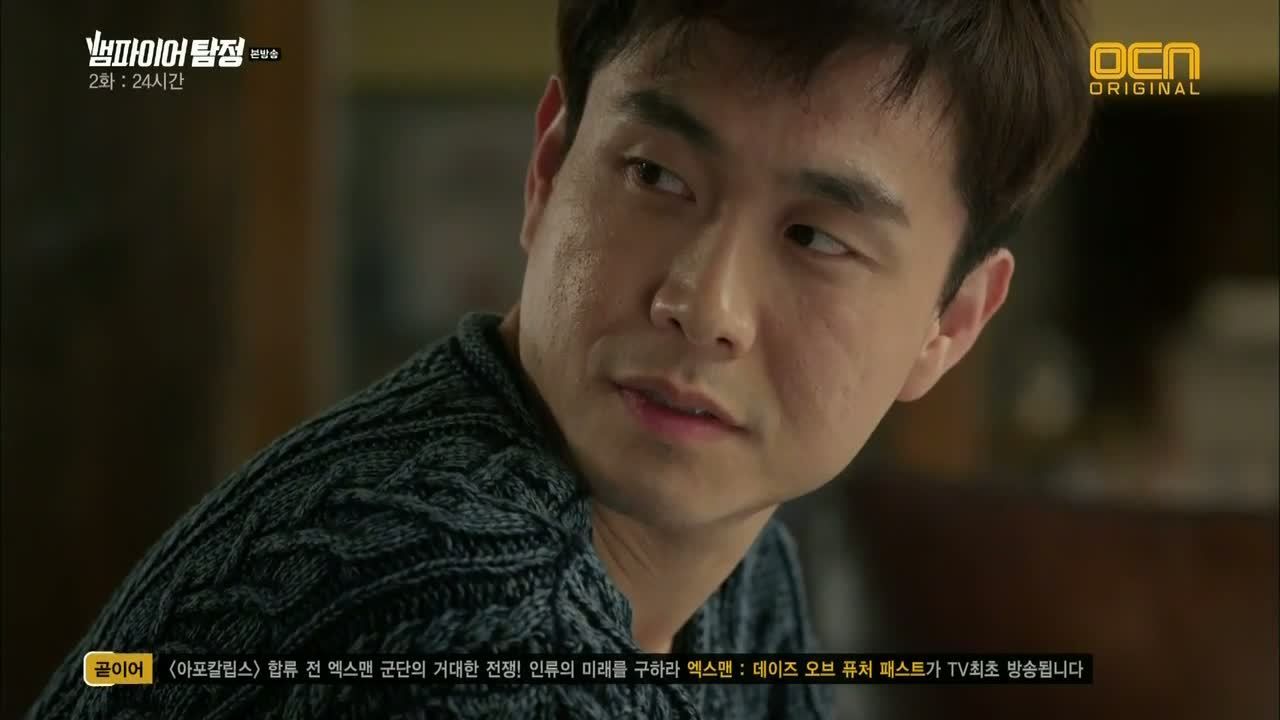 "We come to realize the truth that can only be learned through pain only after a great cost is paid, like how one doesn't know what true love is until it ends," San says in voiceover. Once they're alone, San asks if there's a different reason why he's still alive and well.
Gu-hyung says it's possible, but for him, he hopes that San gets better. San tightly holds onto the inhaler, then sets it aside to review Kyung-soo's tapes on the homeless kidnapping case.
He sees men being taken out of the ambulance, but then his eyes grow wide when the camera captures a mysterious woman on screen.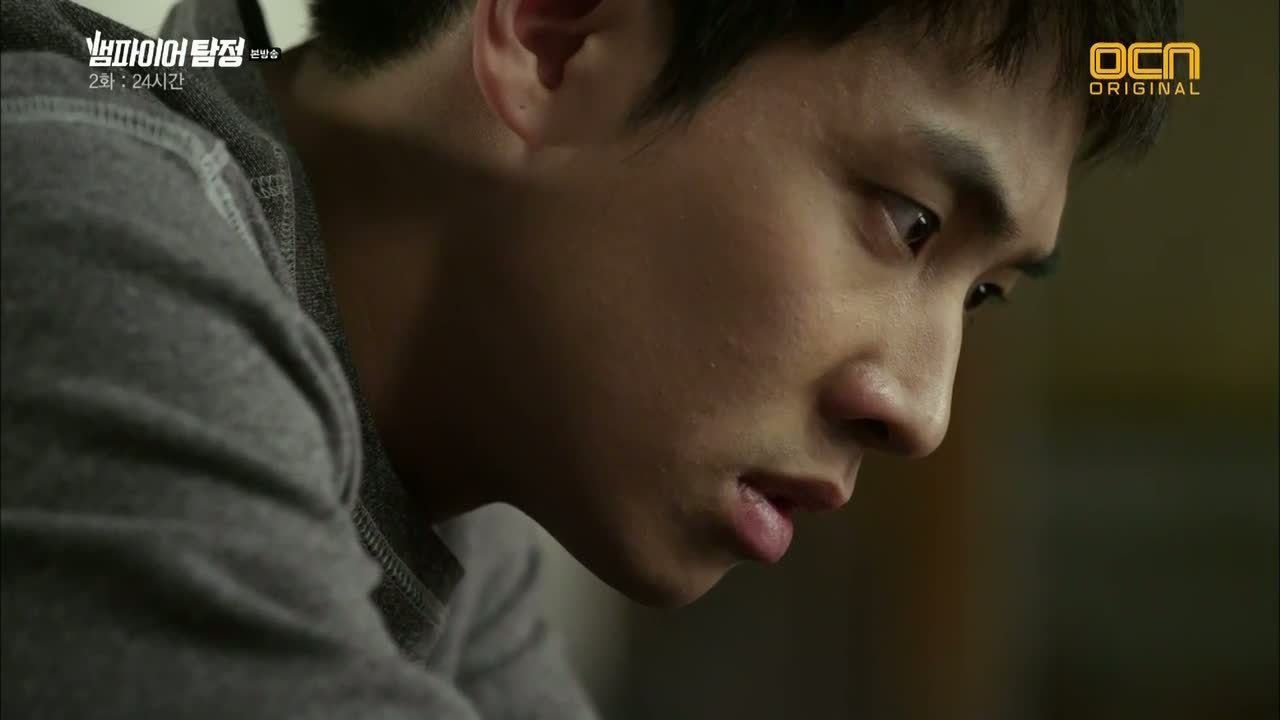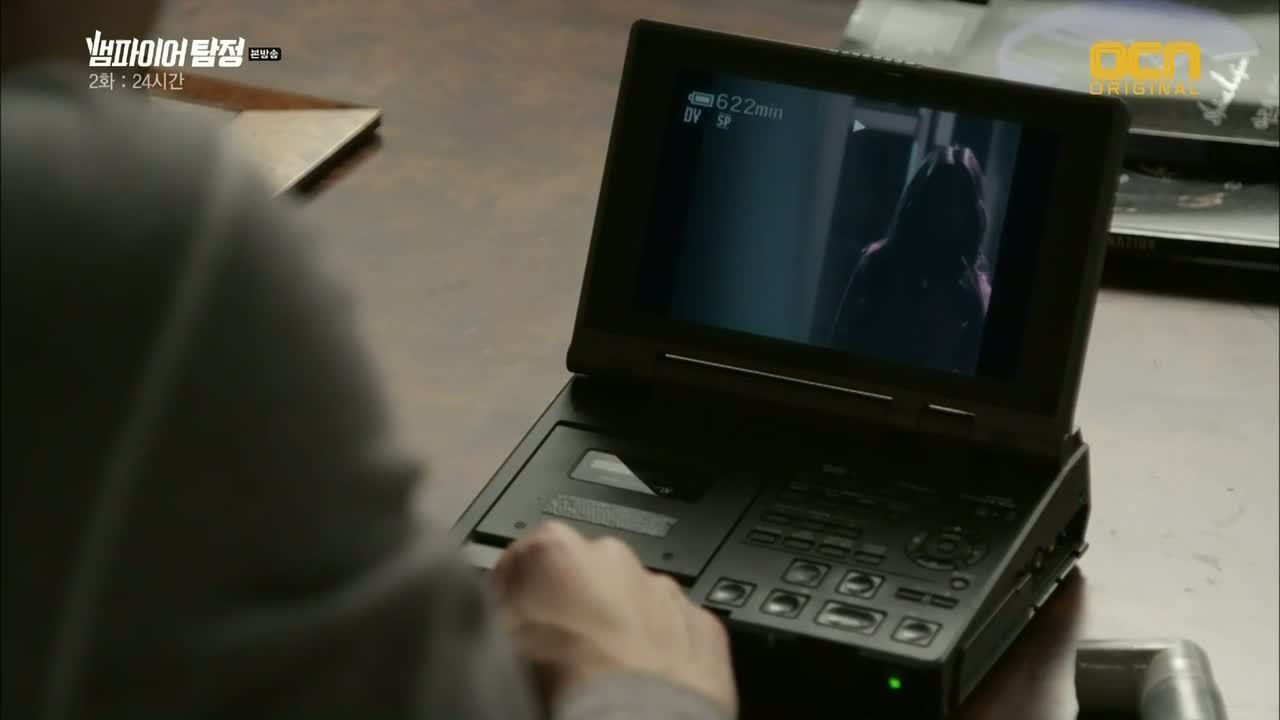 COMMENTS
Following a solid premiere last week, I must say my heart sank a little with this week's kidnapping case. It boggles my mind actually since I did enjoy this case in parts, which offered many an interesting issue from the threat against Seung-hee with a missing corpse to the practically invisible kidnappings of the homeless for an illegal organ-selling market and the shadow threatening to expose a relationship.
But when the episode tied these narrative parts together, the full story fell short of the narrative oomph I'd been hoping for. What started off as a time-sensitive threat started to unravel as we got deeper into the story because after San's D-18 hours warning, we weren't ever again reminded that the clock was against him. So it was easy to forget that our crew had less than 24 hours to figure everything out: a motive, clues, the instigator, and the item at hand.
Even though the team was able to crack the case (though it seems like only the lackey Hammer was arrested) most of the scenes leading up to the resolution felt like the team had all the time in the world. Once Gyeo-wool's hacking skills were brought up, I'd been looking forward to seeing a glimpse of that in action… and then deflated when we only saw the result of her work instead. And while I understood that Seung-hee's silence in this case meant for us as viewers to question her involvement, learning about her in this episode was a trial with the answers she gave and what we heard through third parties.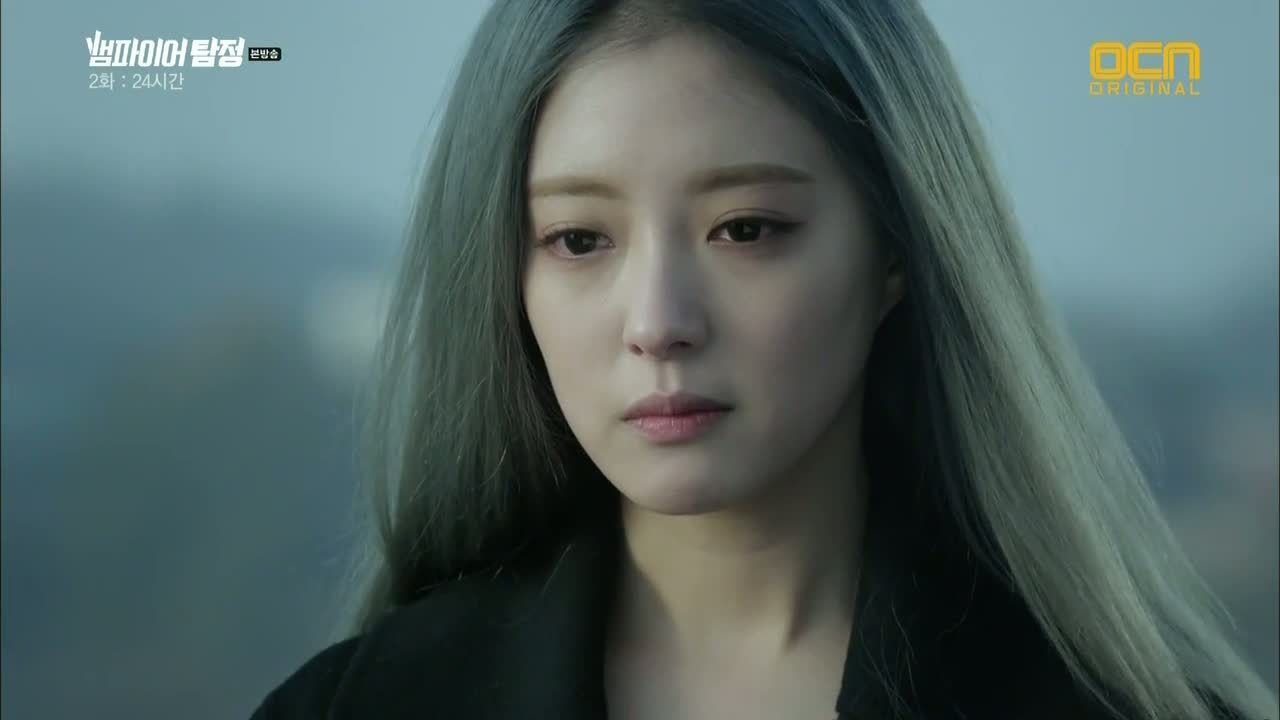 Unlike last week with Gyeo-wool, I couldn't quite resonate with Seung-hee's story. I understood the young lovers reunited years later storyline, along with her disappointment in him that he would cast his journalistic integrity aside for money (even if it was for their own happiness). But then she later tells San that she wasn't brave enough to walk away from her life to be happy with him, which is a statement I can't get onboard with no matter how much of a romantic I am. If anything, Seung-hee's decision in that moment speaks towards her own integrity for a societal issue versus her cowardice in love. Even if it's oddly specific, Seung-hee had a reason for not attending Kyung-soo's funeral either by abiding his wishes to always be on camera.
So for San to question her sincerity seems off the mark for a detective who has previously shown to be rather keen in his observations. It makes sense that he should suspect her and everything about this case, but for someone who has gone through heartache like he has, I would've expected him to be more empathetic to why Seung-hee keeps her past hidden under lock and key. It could be that he keeps seeing Yoo-jin in other people, yet we still don't fully know the scope of how his past affects his present.
Speaking of which, I do like how the vampire storyline is building for San. Even though he's turned, the changes are small but important, like how his wounds heal over and he doesn't tire from running a distance of ten feet anymore. Perhaps it's because he's barely consumed any blood, but I find it interesting that while he's stronger, that doesn't automatically make him invincible—the new vamp can sustain near-death injuries, too.
As for his new abilities, I'm hoping that we'll learn more about the logistical rules to his vision seeing glimpses into the past (even without tasting the blood à la Vampire Prosecutor) soon because a show can't give free rein to powers like that without some explanation, even if he's supposed to be an evolved vampire. Come to think of it, I've yet to see San eat anything in this show. Surely a human-turned-vampire must require more sustenance than simply air… right?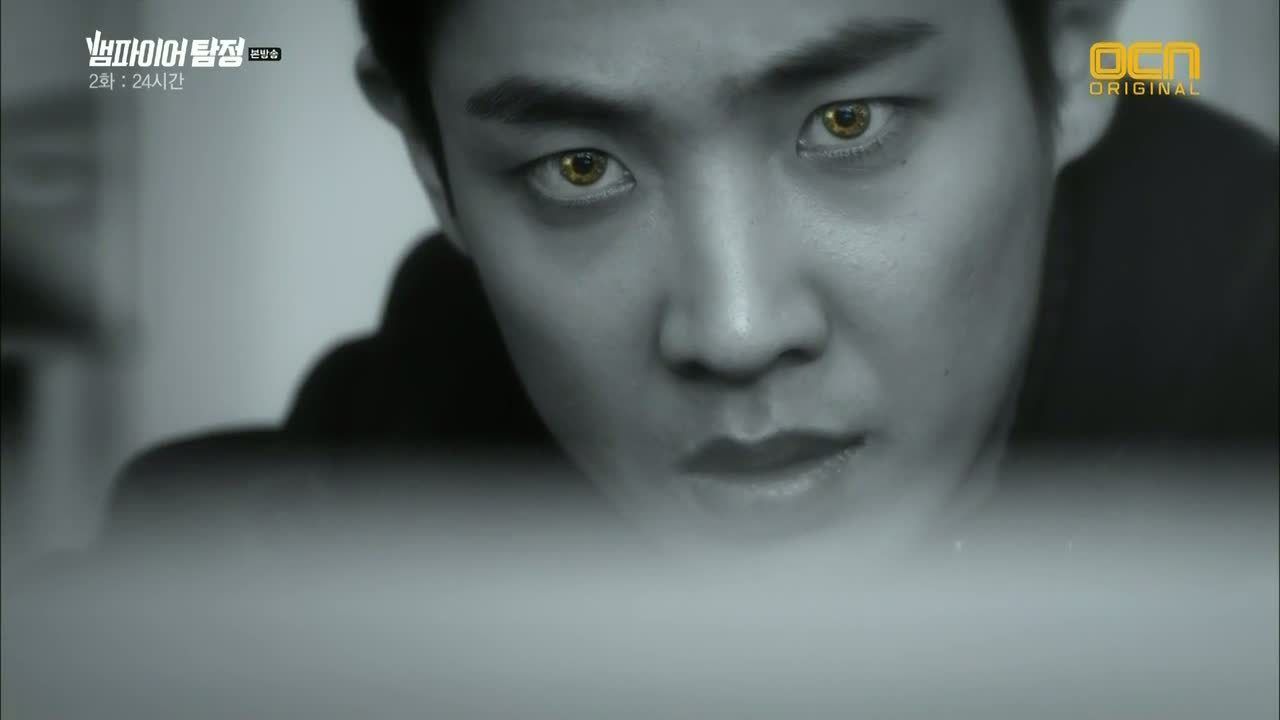 RELATED POSTS
Tags: Episode 2, featured, Lee Joon, Lee Se-young, Oh Jung-se, Vampire Detective