Beans of Wisdom: The Beanception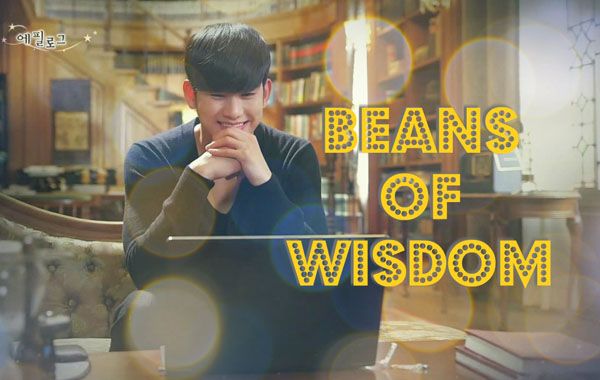 This week in Beans of Wisdom…
It all started with last week's Wise Beans, when OmegaWau asked in comment #1:
What are we really doing when we are commenting on a post about comments?
requiemfortimewellwasted replied:
what am I really doing when I am commenting on a comment on commenting on a post about comments??
Then Orl added:
What am I really doing when I am commenting on a comment of a comment on commenting on a post about comments?
What are we really doing when we're posting comments of people commenting on other commenters commenting on a post about other people's comments?
On my scheduling mistake (derp) for this week's "Open Thread #447," Risa had a much better theory in comment #2.1:
Yeah, I wonder if there will be another OT tomorrow, and if so, will it be #448, or #447 part 2 (since numbering it 448 would throw off the count in terms of the number of weeks that OT has been going)? I think this may have happened once before, years ago– but my memory's fuzzy.

Ohhh, maybe we all have k-drama-induced dementia, and it really is Friday, but we just don't realize it. Or maybe we're having a collective vision of a future event, like Do-kyung in Oh Hye Young Again. Or perhaps we've entered an alternate reality, like in the upcoming drama W– or maybe Heads#2's alter, Heads#1, decided it'd be fun to mess with us. Or Heads could be in Queensland (a place she clearly belongs) where it already is Friday…
In any case, I hope no one missed a meeting or class, etc because they convinced themselves that it must be Friday after seeing the OT!

Happy Thursday/Friday/whatever, everyone!
In the make-up post "Open Thread #447: Take 2," Waiting made it all seem better at #27:
HeadsNo2 praise…

You know, even little missteps are amusing and heartwarming like posting OT on Thursday. We are all human and these things just give us a chance to laugh it off and carry on.

Thursday OT and today's take 2 really made me smile and appreciate HeadsNo2 all the more for being real.

Love this beanie community for being the awesome group that it is and to JB, GF, HeadsNo2 and all the others for setting a great example of just being real and awesomely human.

Three cheers for y'all! Hip, Hip!!
You guys are the best.
Wag_a_Muffin had a prediction on how things could go down in "SBS's Entertainer gets 2-episode extension" (#11):
How are they going to extend this show? I predict:

Shin Suk-Ho will get a memory loss disease and not tell anyone. This will become evident when he goes back to KTop and thinks he's still the manager of Jackson–which he believes is not a K-Boy Band, but a duo composed of "She Was Pretty's" Hwang Jung-Eum and Choi Si-Won.

Ha-Neul will confess his love for his "sister," Geu-Rin. This, and the hidden feelings she has for him will freak her out so badly that she will manifest "noble idiot syndrome" and emigrate to Turkey, to learn how to brew coffee.

Yeo Min-Joo will quit the business and go back to her family and live as a pampered, rich, heiress.

A huge secret about Kayle will be revealed when it is made known that he never went to Julliard, but studied music in "Julie's yard," a friend of his who lives in New York.
Na Yeon-Soo will have a total break down when the mother of his son sues him for custody. Yeo Min-Joo uses her money to help him fight. But this uncovers the fact that Na Yeon-Soo and his little boy, are actually brothers, not father and son.

Lee Joon-Suk, KTop's evil owner is convicted of killing Ha-Neul's brother. But he escapes when the police van that is taking him to prison crashes into a phone booth where Kim Joo-Han is making a call to a film maker. Begging him to cast evil Lee Ji-Young in a three-quel movie of My Sassy Girl.

(What? You don't think so? I bet I've got at least 3 of them right!)
In "Cinderella and the Four Knights still without a broadcaster," Alessar noted in comment #2:
I can't wait for the day that Netflix just picks up a show like this out of the blue.
Then, later in the post:
Yes! Atelier. I keep meaning to watch it. I just think it's inevitable as they go more and more global that they'll have to crack the K-drama market at some point. As it is, they do license quite a few K-dramas that have already been on DramaFever and Viki. The downside is of course that just as with anime (a lot of shows hit Crunchyroll or Funimation first), many of the hard core fans already viewed the shows on the dedicated sites so they're looking at metrics from the general viewership. But that's ok; as long as they keep licensing stuff it shows there's interest.

Now you look at the global phenomena Descendants of the Sun is and realize that's EXACTLY the kind of pre-produced show Netflix is good at. Look at Signal and it's almost unheard of for cable ratings AND unlike Miseang the story would work in other countries pretty easily.

The only real question is will they go for a romantic comedy, action/spy/thriller, or some kind of makjang revenge drama first. A fantasy sageuk is probably not as likely; then again they did make Crouching Tiger Hidden Dragon 2.
bebeswtz offered an explanation to others wondering what all the hubbub about Lee Sang-yoon has been about lately in "Choi Ji-woo, Lee Sang-yoon courted for On the Way to the Airport" (#5.2.1.1):
The dating news of Lee Sang Yoon and Uee came out not even a week after "Marriage Contract" ended, right when people were still (ARE STILL, like me) thinking and talking about the drama even after it finished airing. Most of the talking and commenting about the drama was actually about the superb chemistry between Lee Seo Jin and Uee, and both "Marriage Contract" stars had been fielding questions about each other during their post-production interviews and promo rounds about whether or not they were actually dating, whether or not there was a chance for them to date in real life after the drama ended, do they actually or did they actually have feelings for each other during filming, etc., etc. Then PLOP, news and confirmations came out that Uee and Lee Sang Yoon came out, and it seems now that Uee has actually stopped doing interviews and promos regarding "Marriage Contract" and has moved on to other jobs (CFs, photoshoots), and seemingly Lee Seo Jin has also moved onto other jobs (his new variety show on Naver, titled "Welcome Show") but he still seems to be asked questions about Uee, and whether or not he knew she was dating, during interviews >.< Many are saying that the dating news came out and that 'Lee Sang Yoon purposefully let it out (then confirmed it again on his own website/fancafe) because he's 'jealous' about all the talk about the chemistry between Uee and Lee Seo Jin as an on-screen couple =((
In the same post, Delurker offered some worthy advice on a particularly unfriendly comment in #17.6:
Hit-and-run meanness. Please everyone, just ignore trolls; the last thing they need is attention. The moment a single person answers a trolling post, their work is done. I think DB is being invaded, precisely because they are getting a reaction every time. Let's try icy indifference instead :P.
In "Lee Jung-jae becomes a god," PollyRose had a legitimate question in #11:
Not that I don't believe you both fully love Lee Jung Jae, but Girlfriday how did you manage to beat out Javabeans for the right to share this news?! Is it because she's a puddle of goo right now? I understand it takes a while to recover from that state. 😉
[Still a little gooey! –javabeans]
And with Oh Hae-young Again picking up steam, we have a handful of comments to feature (we're doing our best not to include anything spoilery!). In "Oh Hae-young: Episode 3," Mal said in comment #4:
This show is my newest addiction. …

What I love about Oh Hae-young Again is its incredibly colorful, fresh, and relatable characters. The humor and heart is spot-on, too. The entire cast, PD, and writer are new to me, so I have no idea what to expect going forward, but so far (coming off of watching episode 4) I am loving everything. I love Hae-young, Do-kyung, Do-kyung's crazy siblings and his best friend, and Hae-young's parents. (Kim Mi-kyung as mama Oh gives me life. Lol) I can foresee some terribly awkward (awkwardly delicious?) situations concerning the two Hae-youngs, and I'm definitely looking forward to when the romance kicks in because Hae-young and Do-kyung have major chemistry. They feel so comfortable together and bounce off each other well.

Gah. I'm in love with this show. I look forward to Mondays now.
There were a number of suggestions for how to refer to the two Oh Hae-youngs. Apluszee starts it off at #20:
If we're using Pretty Oh Haeyoung vs Just Oh Haeyoung, can't we let Just Oh Haeyoung be Witty/Awesome Oh Haeyoung instead? Cos she's faaaaar to good to be Just Oh Haeyoung.
Lola:
Oh Hae Young (ours) and No(h) Hae Young (formally Pretty Oh Hae Young)?
Peeps:
I suggest Oh! HaeYoung for our pretty HaeYoung and Oh, HaeYoung for the other, trauma-inducing one.
[Oh Hae-young and No Hae-young! Clever. –javabeans]
And still in the Episode 3 thread, we have anglvue at #3:
i've found myself teary eyed just about every episode thus far. i really love our oh hae young so much. she's relatable. she's the person i feel i am many days of the week. and although she always seems to be down on her luck, she has this positive outlook on life. she's never wanted to be anyone else. "i still love myself the way i am." that was such a meaningful conversation and something i needed to hear myself.
And in "Oh Hae-young Again: Episode 4," comment #6, hawoojinruinedme said:
This drama is gold, and Seo Hyun-jin is a blessing.
And rounding it out, we end up back in last week's Beans of Wisdom, where browngoldeyes said of her conundrum being featured in #10:
Oh my gosh. I didn't even check back on the comments from the last week. Thank you guys so much for the love and the very, very needed dose of reality. I'm glad I'm not alone – particularly on the South Asian family really messing with my head and my being able to enjoy singlehood – and it's definitely helped me feel a bit better.
pogo replied:
Glad we beanies were able to help! *hugs*

There's nothing wrong with wanting love and romance in your life – we're all drama lovers here! – but being taught that a relationship is compulsory for a fulfilling life leads us to be far too harsh on ourselves when we fall short of our own expectations. You're awesome, with or without that special someone.
Hear, hear!

RELATED POSTS
Tags: Beans of Wisdom