Jackpot: Episode 17
Our resident sensible prince is given one job to do this episode, and proves his capacity toward leadership by carrying out his father and mother's wishes to the best of his capabilities. Dae-gil faces a very tough decision this episode, and we almost lose the two brothers' beloved partnership to Injwa's machinations—almost, but not quite. At least, not yet.

EPISODE 17 RECAP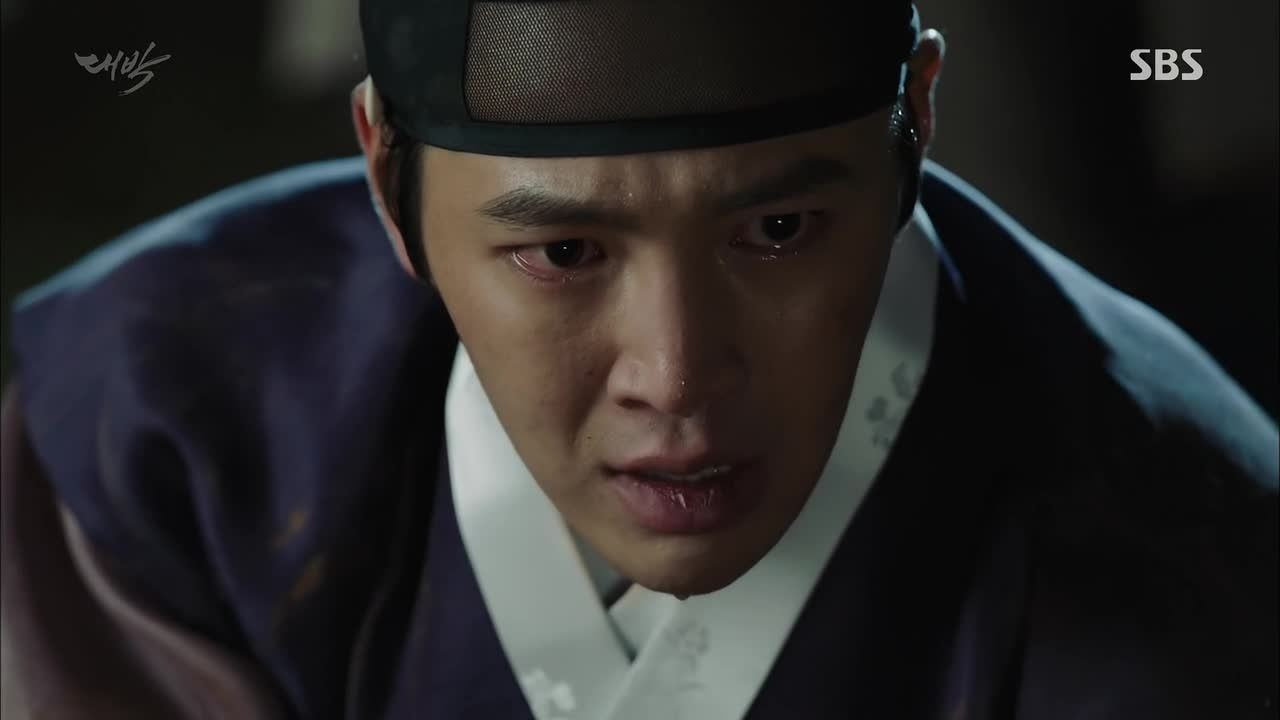 Unable to believe Injwa's claim that his father is actually alive, Dae-gil does as he was dared to do and digs up his father's grave. He cries out in horror to find the coffin empty, with a note inside left by Injwa himself.
Dae-gil immediately finds Hong Mae to ask what she did with his father's body, since she would've been the last person to see him. She claims she took the body to Injwa, but that was it—she assumed he was dead.
In flashback, we see Injwa check Man-geum's pulse and laugh, having realized that he was alive. He had the gambler checked by a doctor and tore a page out of a book, the same page that Dae-gil found inside the coffin.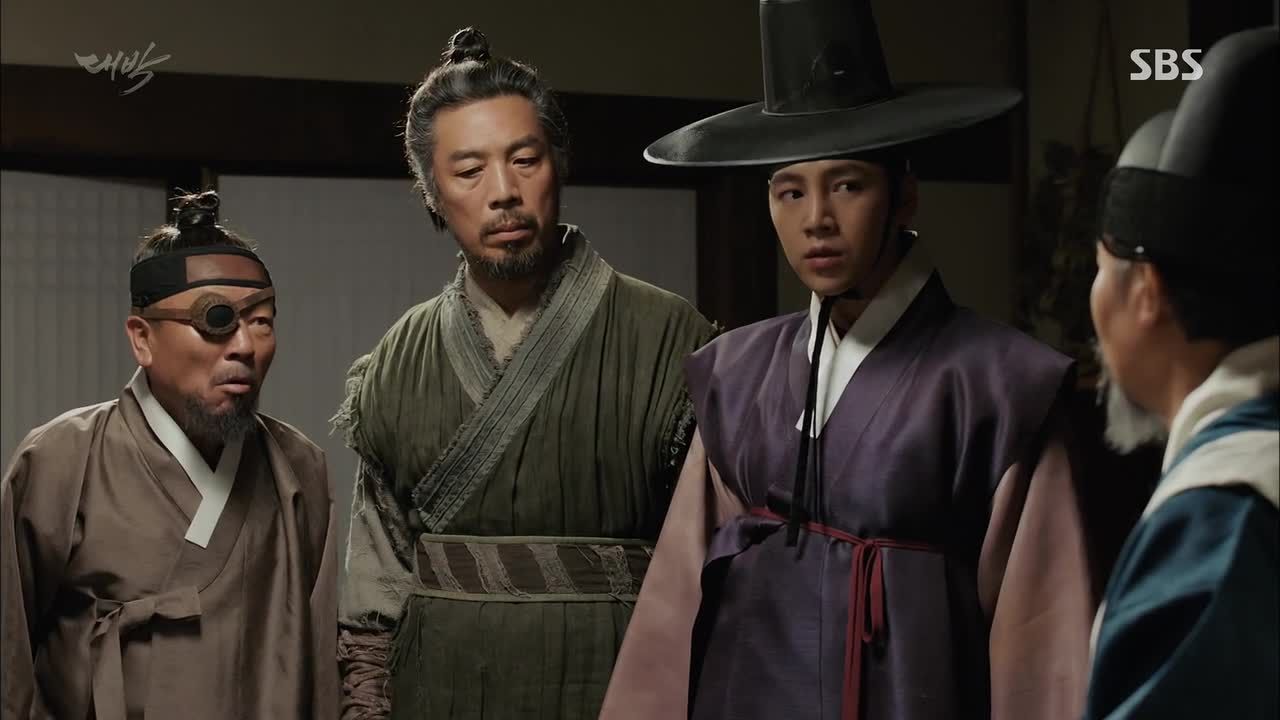 Dae-gil's able to somehow track down the doctor to ask about his father, and he confirms that Man-geum miraculously survived. But then he disappeared. Since he was unconscious at the time, the doctor can only assume he was taken.
Meanwhile, King Sukjong anks the question on everyone's mind: "Do you know why I did not kill Yi Injwa right away, but gave him two days?" It was to catch Traitor Jeong from the prophecy, but now, the king claims he's changed his mind.
In prison, Injwa mulls over what he knows is going through the king's mind, while the king gives Prince Yeoning the power to mobilize all branches of the military to help him fight against the rebels loyal to Injwa.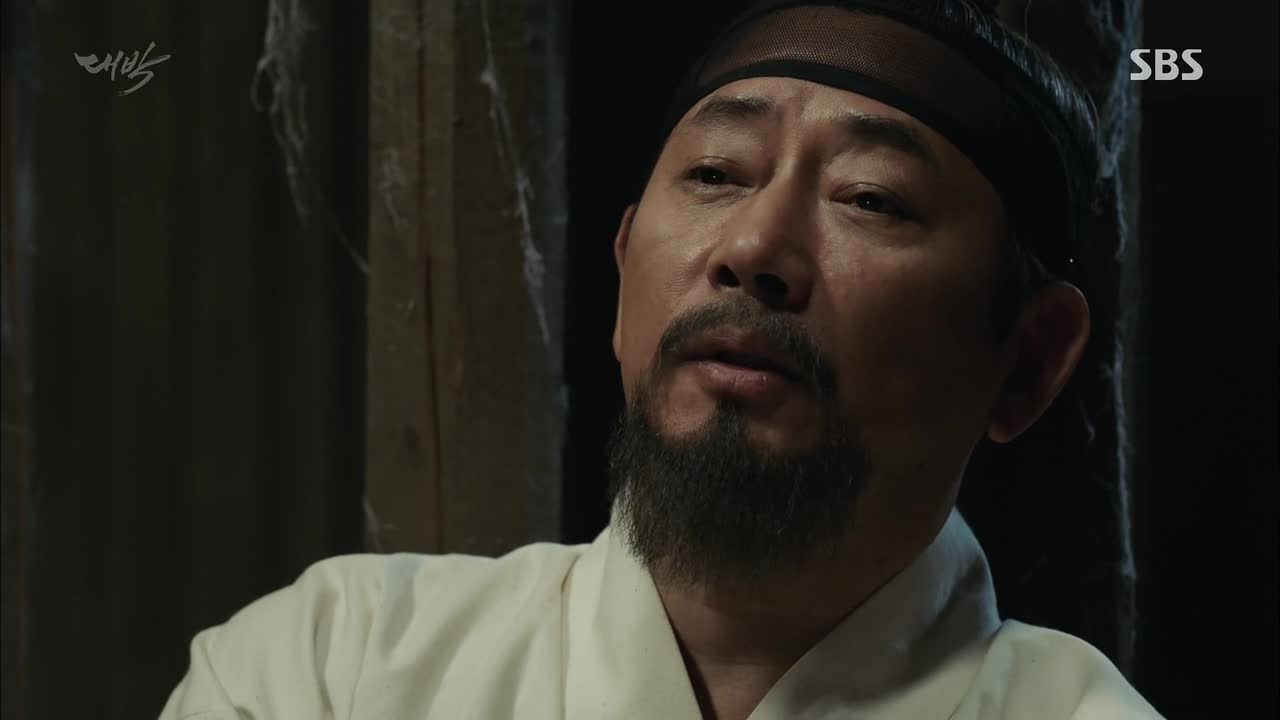 Dae-gil leaves the doctor's office with a lot to think about, but stops when he hears a mysterious voice call to him from the dark. The voice says that everyone has abandoned Injwa, but he wants to know whether Dae-gil will join Injwa in the end.
Dae-gil attempts to track down the voice, but finds only an azalea flower instead. Injwa knew this would happen too, and narrates the scene to his fellow inmates as it happens, claiming that Traitor Jeong will base his decision to side with Injwa based on whatever Dae-gil decides for whatever reason.
Injwa feels secure in the knowledge that the Soron ministers will do everything in their power to free him, since they know they'd be next should Injwa be executed. Just as he thought, various Soron ministers petition Crown Prince Yoon to open an investigation, so that Injwa can be found innocent. They have no plans to heed Minister Kim Il-kyung's advice to drop Injwa like a hot potato, and insist on saving him instead.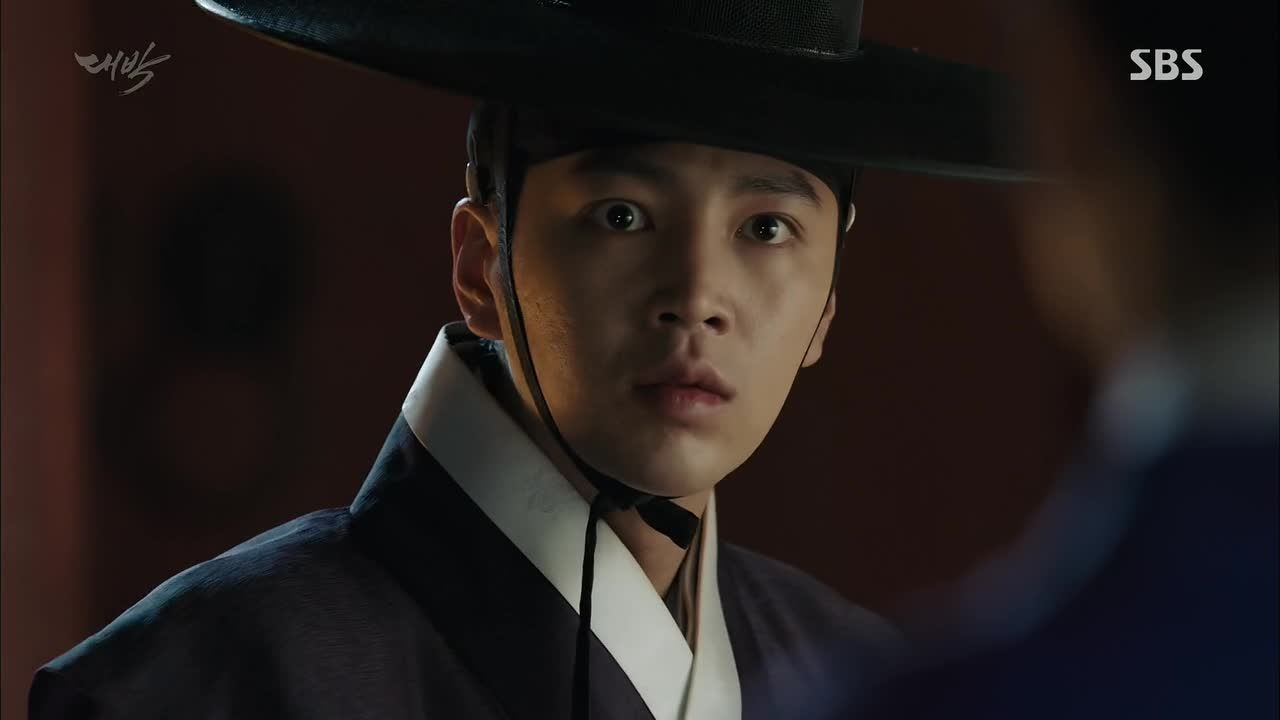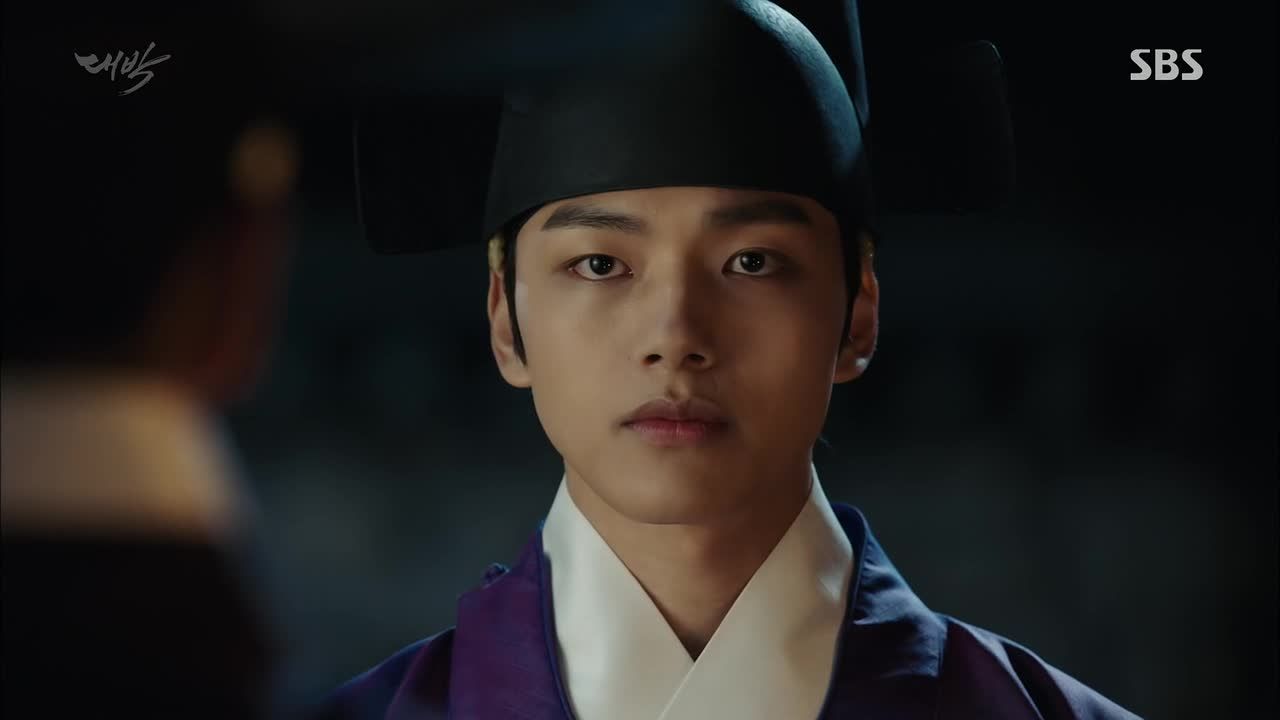 After Prince Yeoning hatches a plan with Chief State Councilor Kim Chang-jip and his friends on the Noron side to entrap any possible traitors by using rumors to scare them out of hiding, he finds Dae-gil trying to get in to see Injwa.
But when Dae-gil tells him that his father might actually be alive, Yeoning helps him gain entry to the prison. Once inside, Dae-gil asks Injwa to tell him why his father hasn't shown himself if he's really alive, and Injwa says that it's because he also wants Dae-gil to become king.
Flashback to when Man-geum first woke up under Injwa's roof, only for Injwa to propose a deal: if Man-geum were to just keep acting as if he were dead, he would make sure Dae-gil becomes king.
In the present, Injwa explains that Man-geum was totally on board with his great cause once he heard it, though Dae-gil doesn't believe that his father would abandon him like that. Injwa tries to convince him that Man-geum knew the truth about his lineage (that he's the king's son) and revoked his fatherly privileges in order to help Injwa's great cause.
"It's time now. Time for you to draw your sword, not for me, but for the sake of Joseon and its people," Injwa tells him. Everyone knows how the rest of this conversation goes: The bad guy says he'll kill the good guy's loved one if he doesn't do as he says, the good guy says he'll kill him if he hurts his loved one, but the good guy never actually does that and follows the bad guy's orders instead.
Which means that Dae-gil is now intent on helping Injwa for his father's sake, with Injwa's warning that only he knows the location of his father looming over his head. Prince Yeoning aptly points out that Dae-gil is just trusting in Injwa's word, but his saying that causes a lightbulb to go off over Dae-gil's head.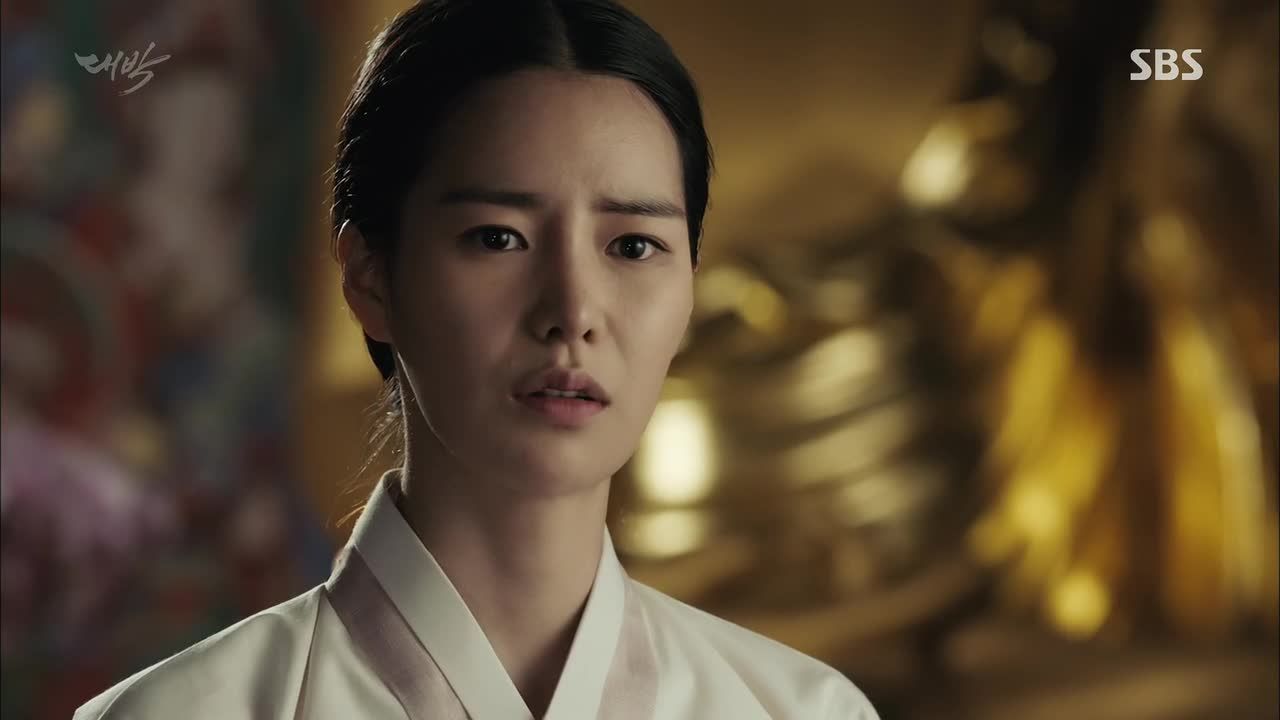 He goes running off, and Yeoning, knowing better than to trust him, sends his trusted bodyguard to shadow him. Dae-gil goes straight to the temple where he first found Dam-seo and tells her what happened, though she had no idea that Man-geum was alive.
The thought makes her angry, since it means Injwa was hiding that important fact from her while she agonized over Man-geum's not-death. Now, Dae-gil wants her help in finding his father, though she can only warn him not to trust Injwa or stand by him.
Dae-gil pretends like she didn't say anything at all, instead telling her that she can let go of her feelings of guilt and regret over his father's death now that he's not dead. Dam-seo, being much more agreeable today, does feel relieved of the burden.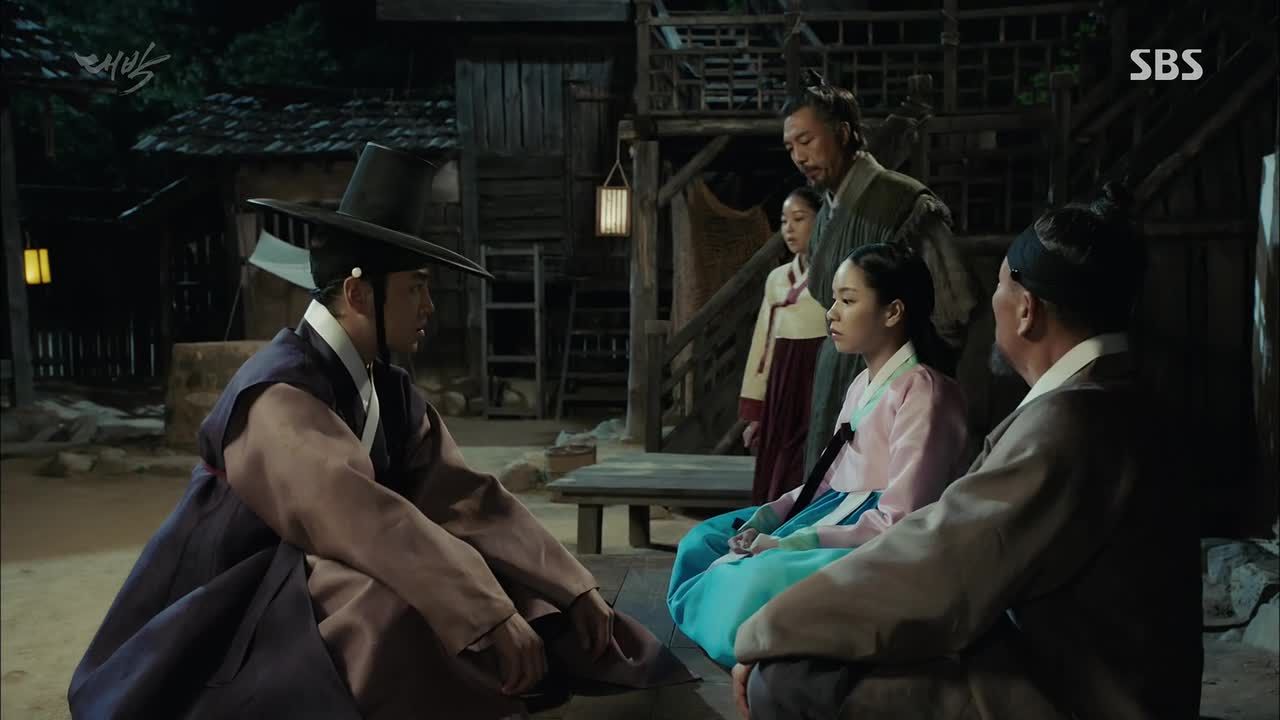 At home, Dae-gil's ever-expanding family of misfits offer their support for whatever he decides. Chae-gun gives him the badge the king once gave him, good for saving one life—if it could be traded in for his own life, he imagines it could be used to save Injwa as well.
Prince Yeoning promises his worried mother that he and Dae-gil will come to visit her tomorrow, and gets everything in place to carry out his plan. He then pays a visit to his older brother, Crown Prince Yoon to make a request.
Showing him the military authorization badge given to him by their father, Prince Yeoning tells the crown prince that the king gave him a royal command to carry out Injwa's execution without fail. He even gave him the power of the military to see it happen, but to also root out any rebels in league with Injwa or Traitor Jeong.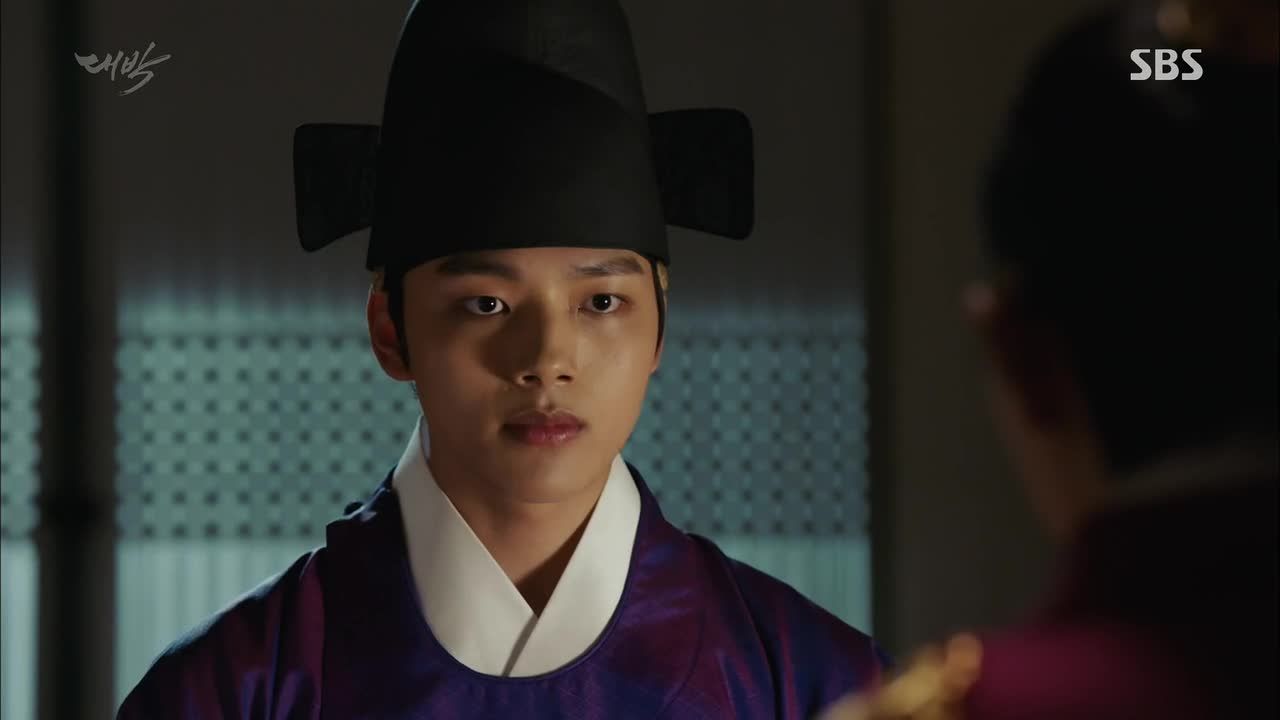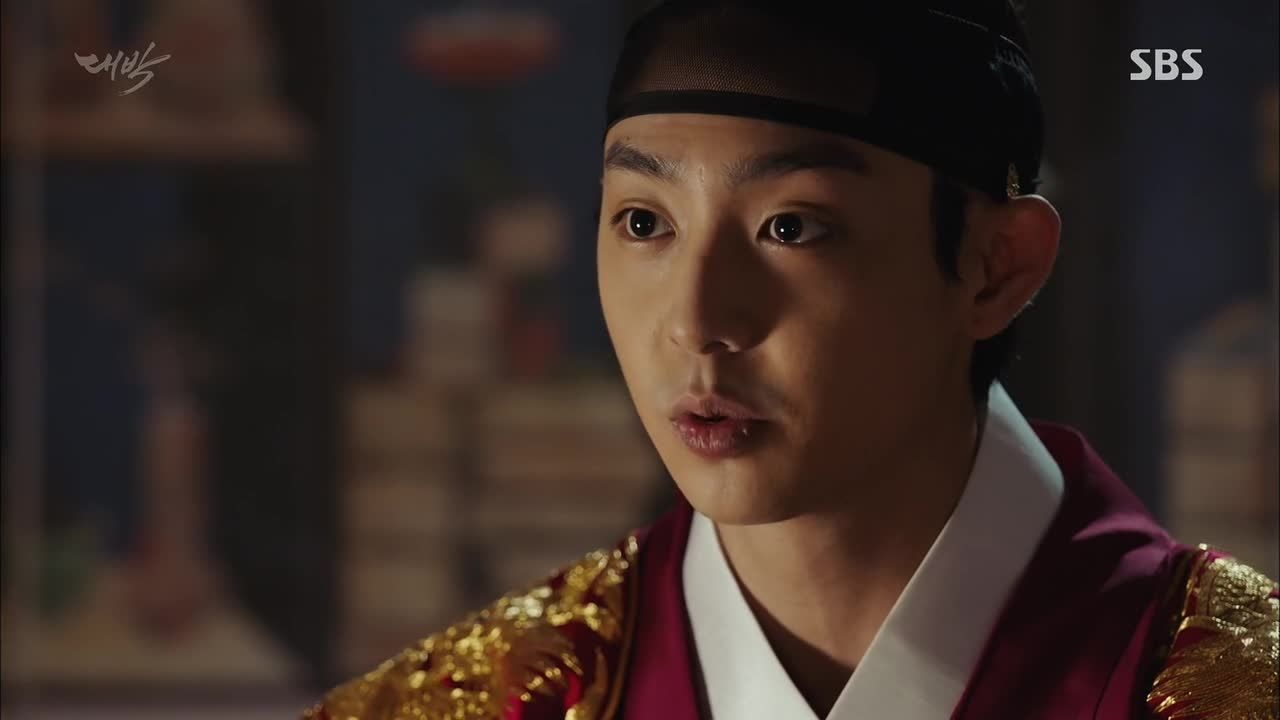 Since his sole responsibility is to make sure Injwa dies, Yeoning advises his brother not to do a single thing to stop the execution until it's carried out. Crown Prince Yoon wonders if this is a threat, but Yeoning only says that it's his honest advice—he'll be putting his life on the line to make sure Injwa's ends tomorrow.
Outside, Prince Yeoning mobilizes the palace eunuchs as well as the royal guards to protect the crown prince until such time as Injwa's execution is carried out. Using his full authority, he orders that all gates into the capital city be closed, and decrees that any attempts by anyone to break in or out of the prison will be punished severely.
Dam-seo, wearing her signature black killing outfit, is stopped from leaving her house(?) by Yeoning's bodyguard. For her own safety, they'll be making sure she stays inside, which Yeoning details to her in a letter. (Wait, was she actually going to do something?)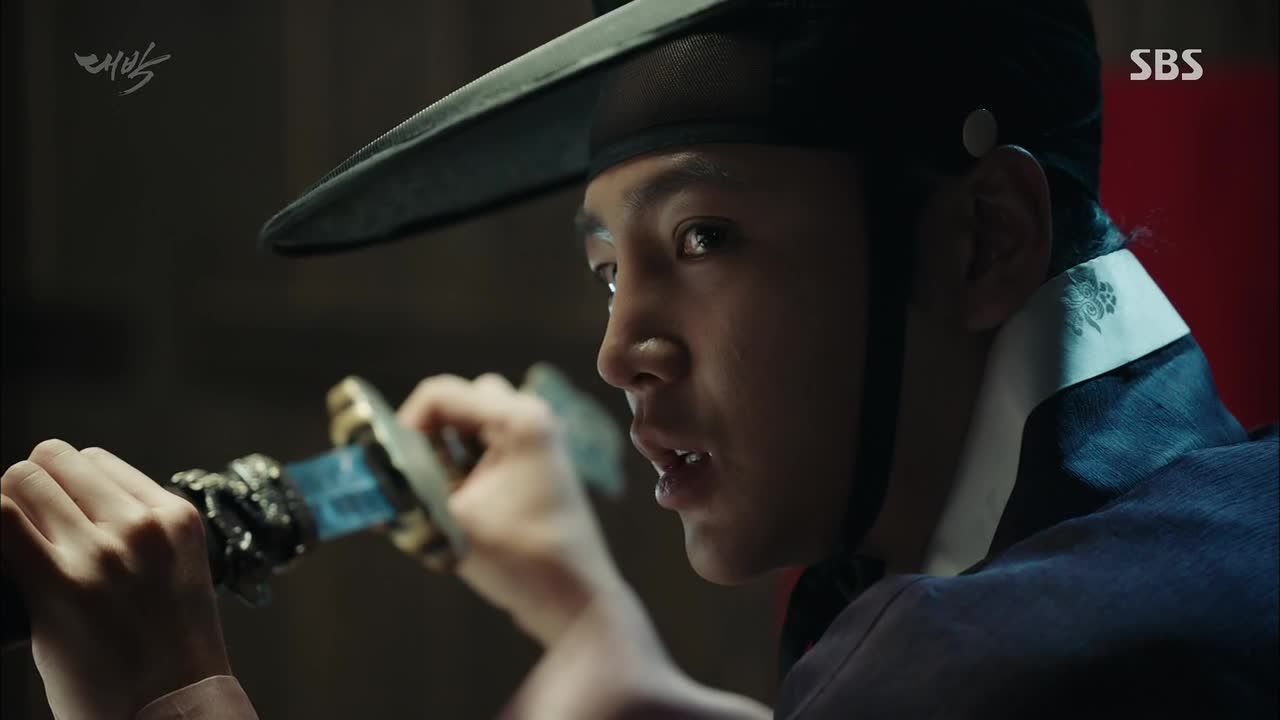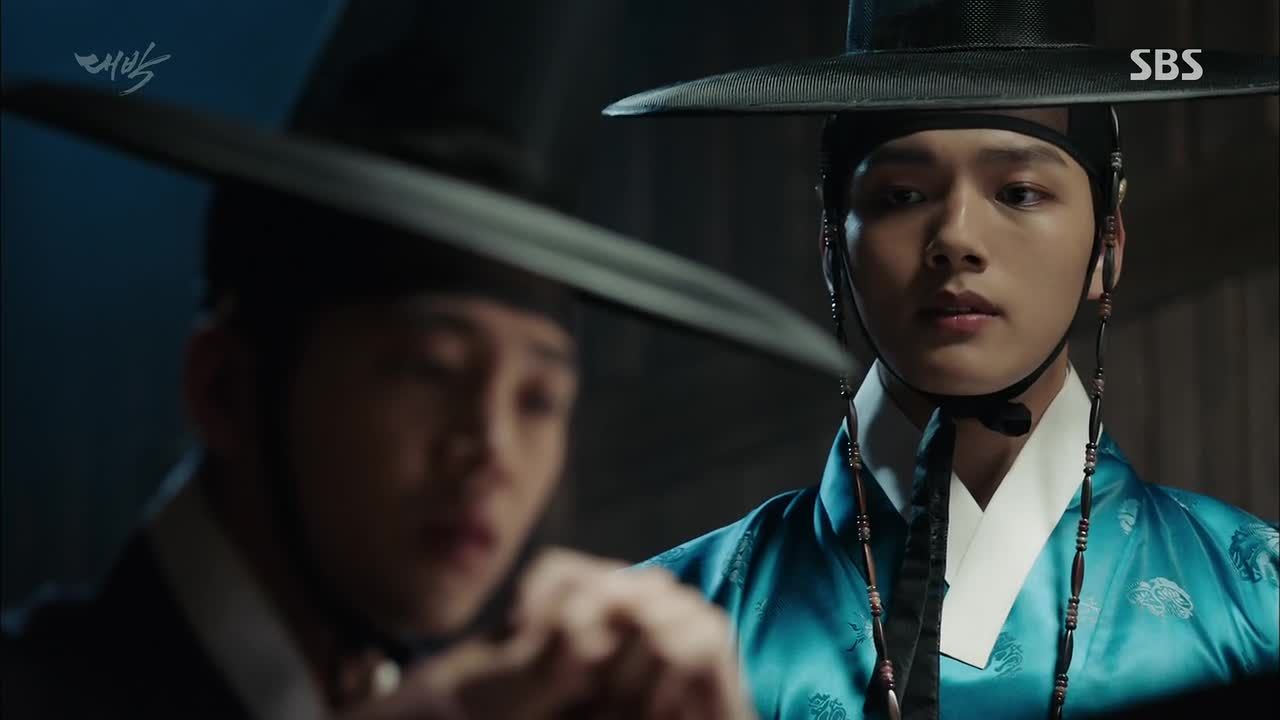 Now, Yeoning's biggest concern is whether Dae-gil will try to save Injwa. "And if I were, would you draw your sword?" Dae-gil asks. "If it must be done," Yeoning replies. But Dae-gil tells him not to be concerned, as he flashes back to his late-night meeting with Traitor Jeong.
Nothing becomes clearer from him telling Yeoning about it, other than Dae-gil claiming that his father isn't so weak. We still don't know how he answered Traitor Jeong (about whether he'd save Injwa), but by the way he fondles the magical life-saving badge Chae-gun gave him, he's certainly thinking about it.
Despite her rapidly progressing illness, Lady Choi forces herself to remain alive that night by sheer will—she will not allow herself to die before Injwa.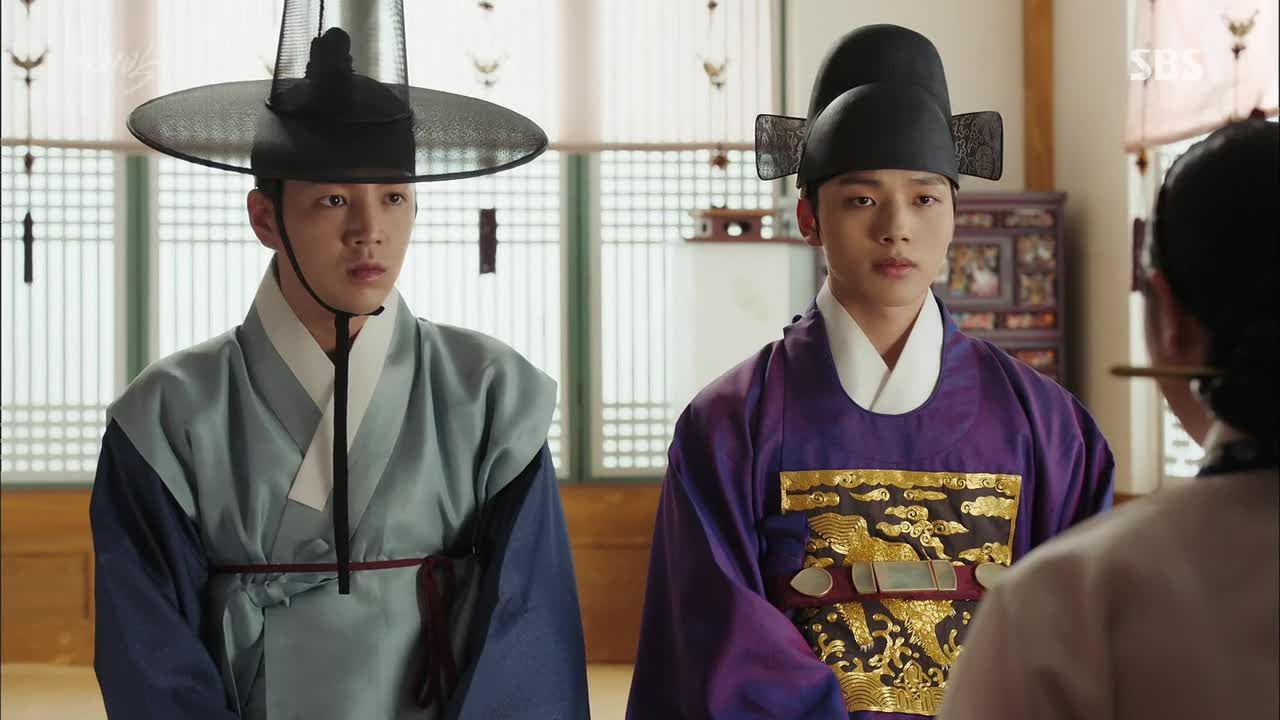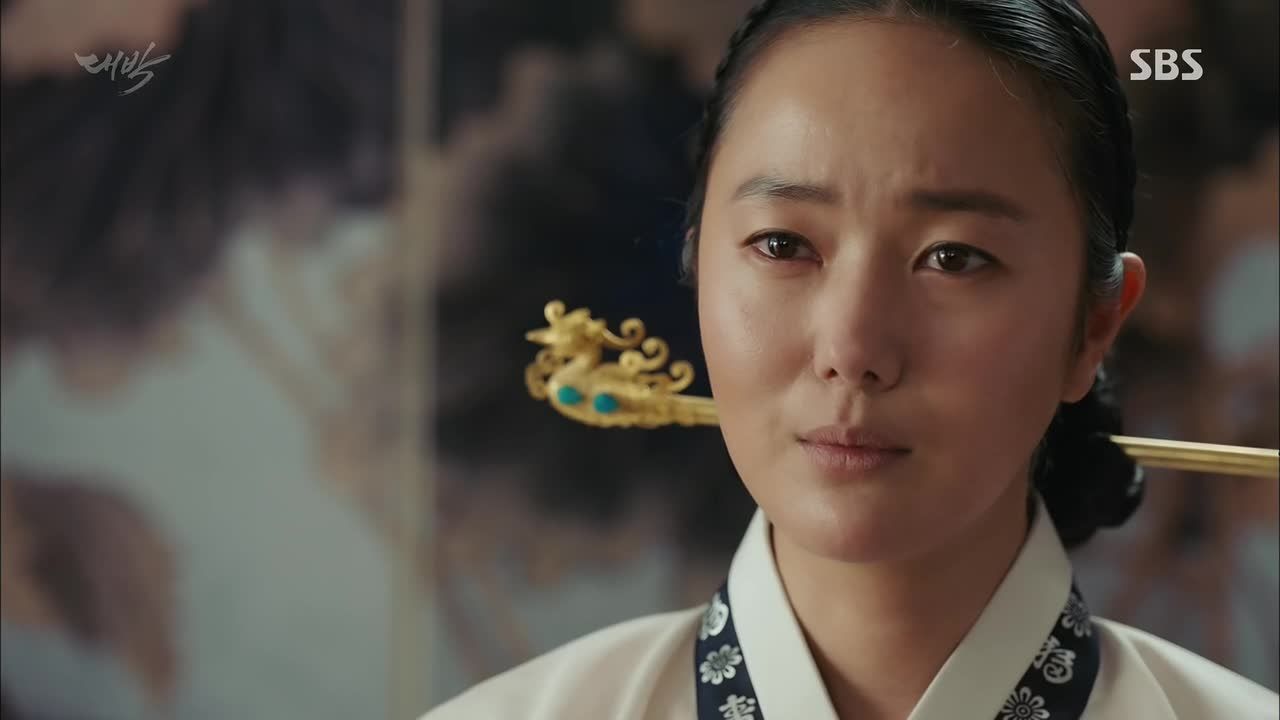 On the morning of the execution, Prince Yeoning and Dae-gil pay their mother a visit, just as Yeoning promised her they would. Injwa's execution is set to take place within hours, and Dae-gil looks mighty shifty as they talk about it.
Lady Choi offers her two sons what will likely be her last words of advice: that they trust and help each other as brothers. In voiceover, she says, "Do not worry, your mother will protect you. Even in death, I will protect both of you."
Prince Yeoning and Dae-gil stare at each other silently outside her quarters, before we see Yeoning unlock Injwa's cell. It's time for the execution.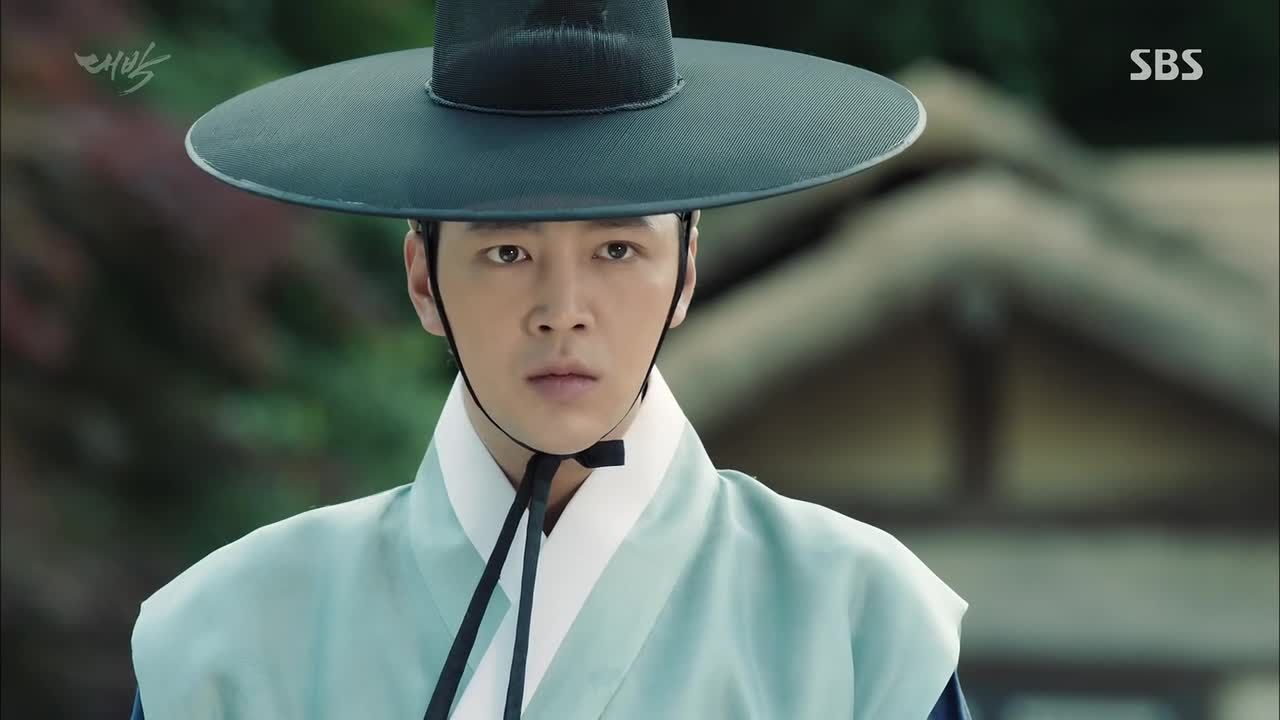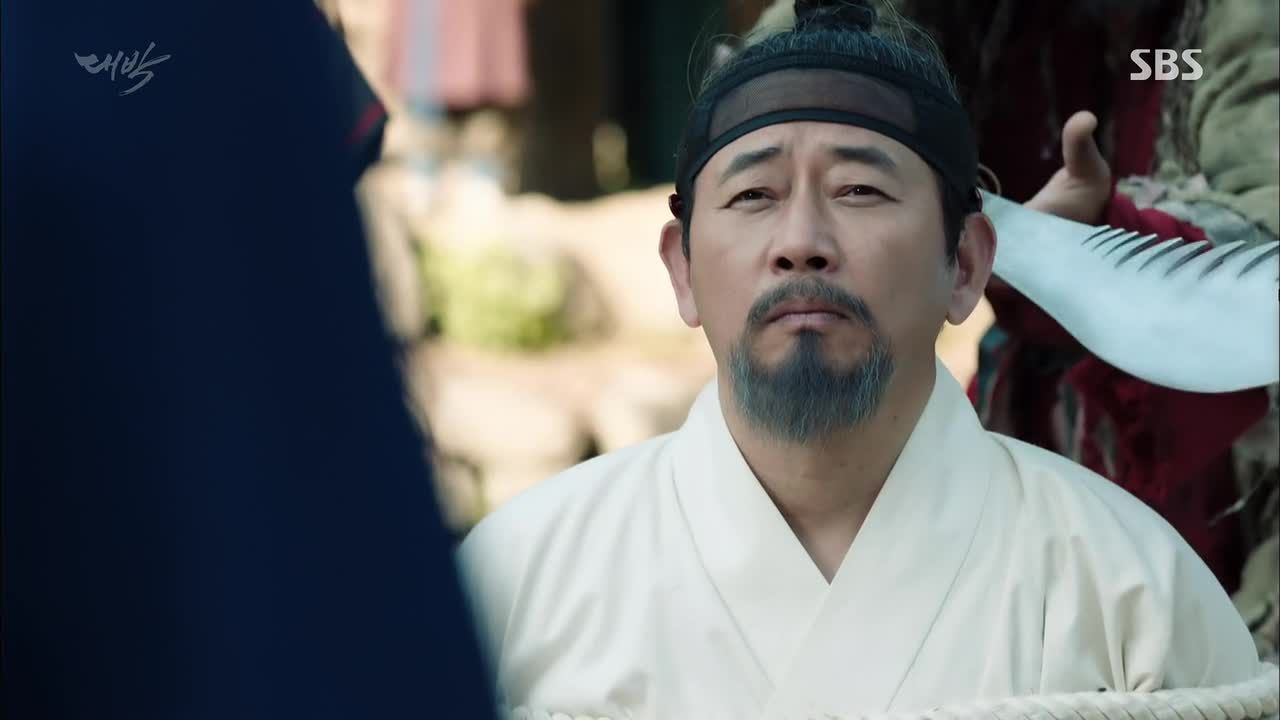 Dae-gil and Prince Yeoning watch from the crowd as the executioners take all the time in the world to prepare to kill Injwa, Jin-ki, Nameless, and Madam Jeong. "Does my fate only amount to this?" Injwa wonders to himself. "I, Yi Injwa, who was to turn Joseon upside down and bring the great cause to completion… does my fate only amount to this?"
Dae-gil steps forward, and Yeoning tells his guards to let him through. "I trust you, Baek Dae-gil," Yeoning thinks to himself. "It's still not too late, Baek Dae-gil," Injwa thinks. Dae-gil tells Injwa that it's not too late for him—he's the only one with the power to save him. And he will, if Injwa will only tell him where his father is.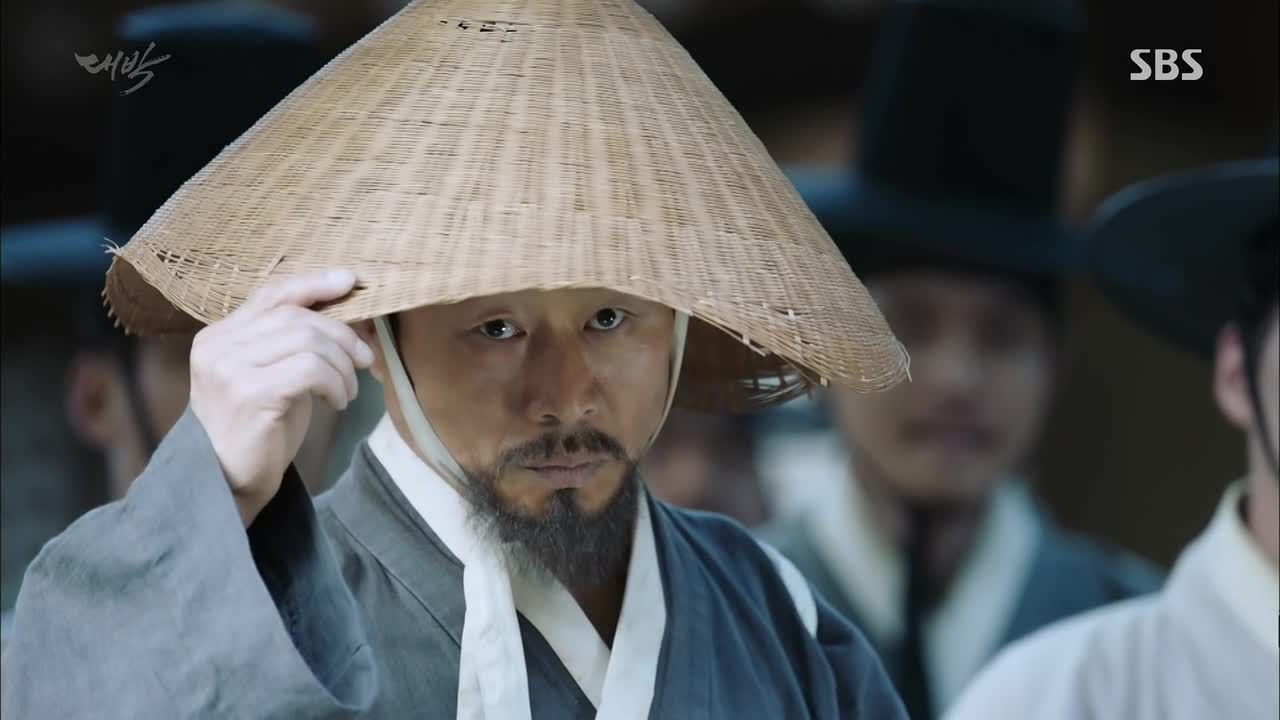 Injwa feels confident that Dae-gil will choose to save him and his father, and as Dae-gil deliberates with the life-saving badge in his hand, he looks up to see his father peek at him from beneath a straw hat.
Thinking back to Injwa telling him that his father was hidden in a place where his life can end with only one word from him, Dae-gil suddenly looks at Injwa… and smiles.
"It's befitting of you to lie until the moment of your death," Dae-gil scoffs. Injwa's eyes widen, realizing with a startling sort of clarity that Dae-gil has no plans to save him. Dae-gil leaves him there on the platform, but turns to where his father was just standing.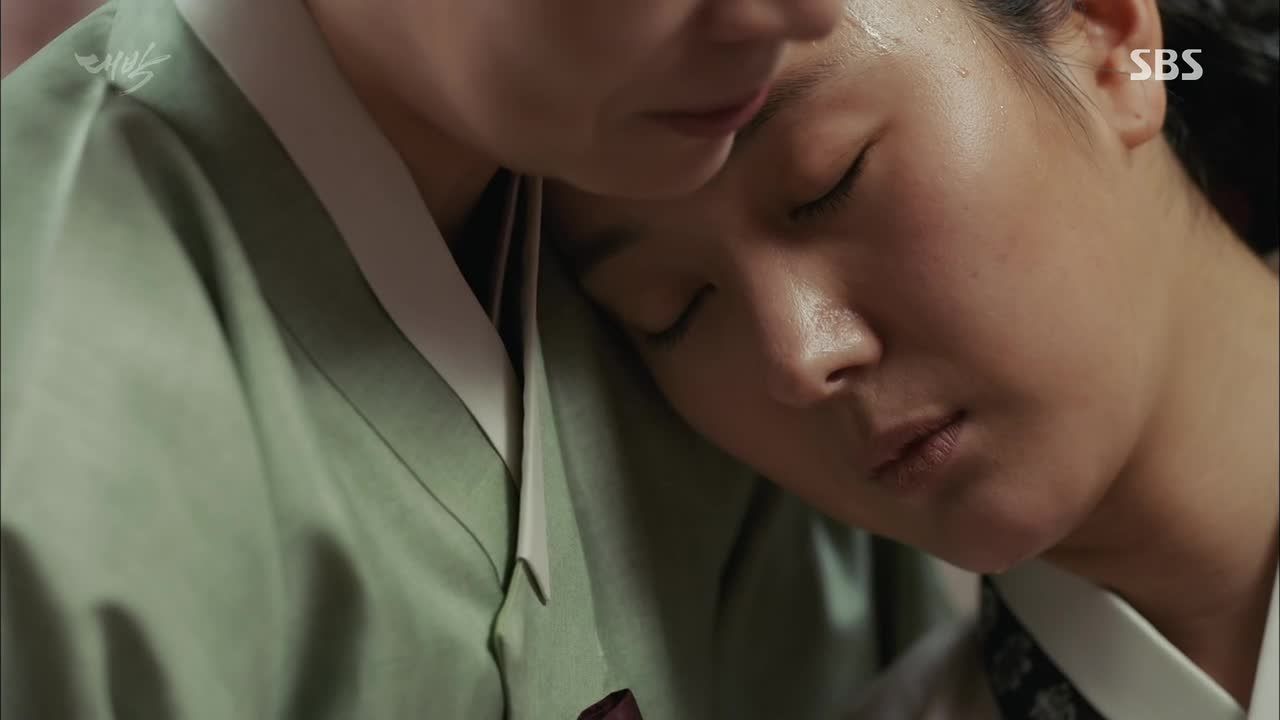 As the shock sets in, Injwa bellows, "Watch closely! This is not the end! I, Yi Injwa, will not die." Even if I have to become a ghost, I will change this nation of Joseon, he thinks, but doesn't say.
The executioners still take way too much time (huge warning sign), and just as they're about to bring their swords down, someone yells "Stop!" from the crowd. NO! No no no no no no no. Who hired these executioners?!?!
It's a royal guard, who haltingly relays that Lady Choi died as we see it happen, leaving Injwa to laugh at his good fortune. Dae-gil orders that the executions proceed, but Minister Jo Il-soo from the Soron faction declares that the executions cannot continue until Lady Choi's funeral takes place.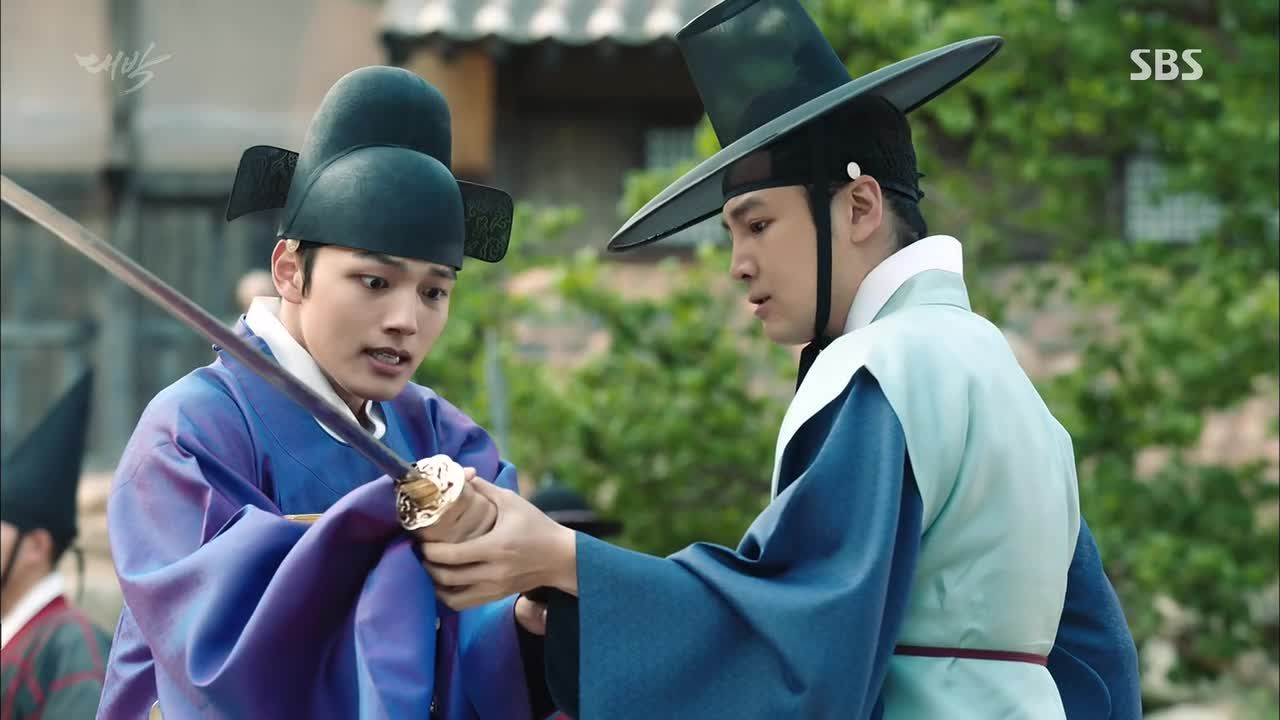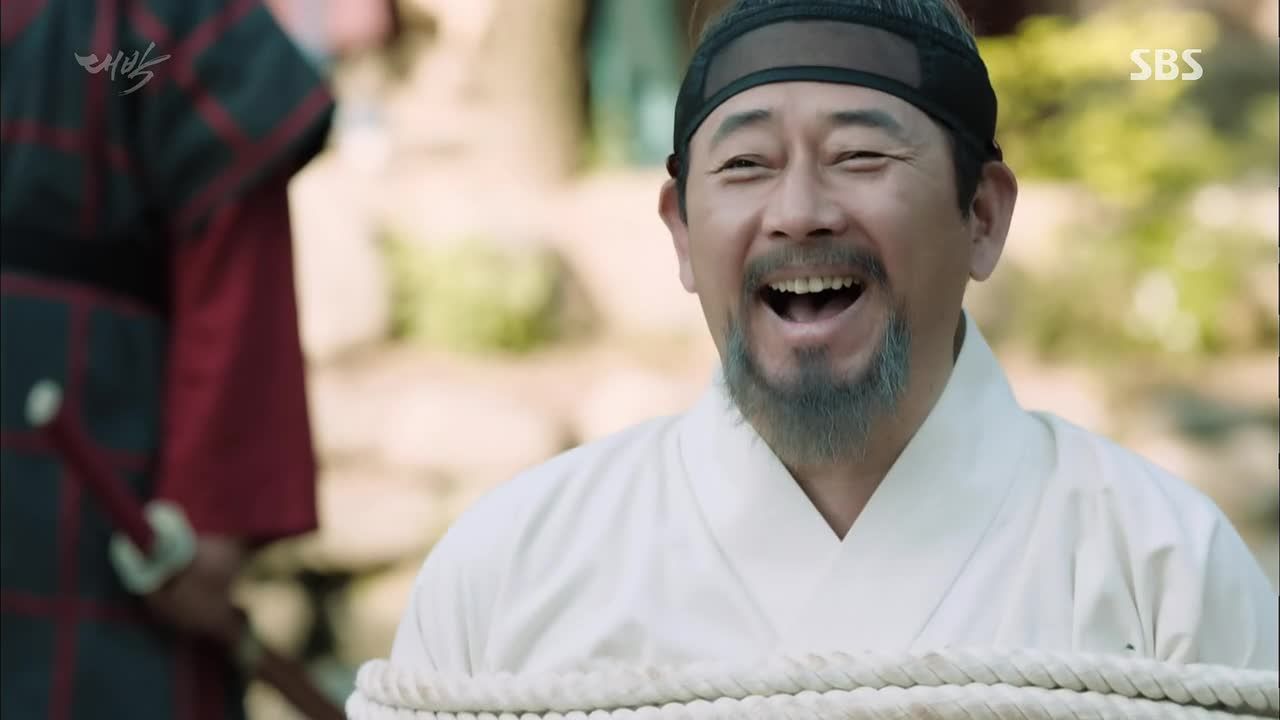 Injwa laughs victoriously as that same minister makes the comment that he's not one to die so easily (ARGH), but Prince Yeoning, knowing that Injwa's death was all his mother wanted, grabs a sword to do the job himself. He's first stopped by his bodyguard (ARGH), but he pushes past him, intent on killing Injwa.
But then he's stopped by Dae-gil (ARGH), who tells him that Injwa will die by his own hands… someday. God, this would be so much easier to tolerate if we didn't have to keep cutting to Injwa's smug expression.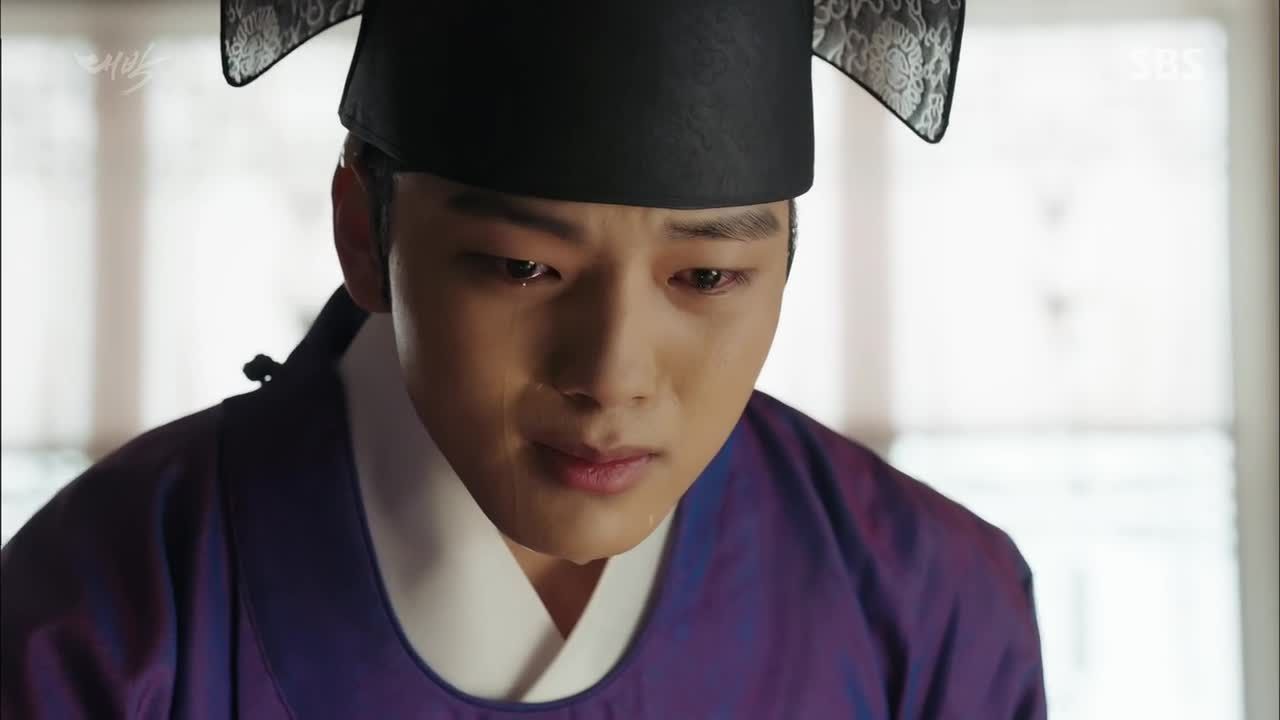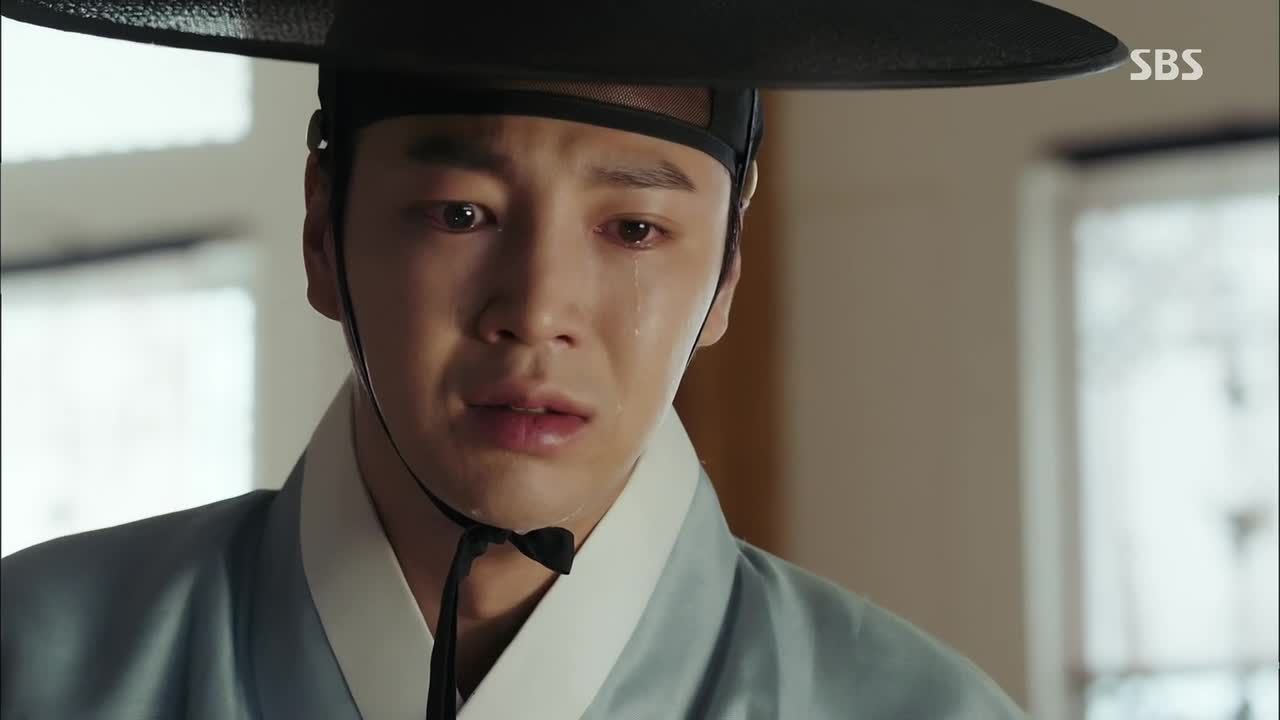 Prince Yeoning then runs to his mother's side, tears streaming down his face as he begs her to just wake up. Dae-gil sinks to his knees in tears as he remembers first meeting his mother as an adult, and the tears she shed for him.
Dae-gil can only lament that he lost his mother after just coming to meet her, and cries because they didn't even get a chance to know one another. At the same time, King Sukjong attempts to rise from his throne, only to fall back into it. Whether it's from grief, sickness, or both is hard to say.
Prince Yeoning finds himself confined to his quarters and unable to pay respects to his mother by presiding over her funeral as her son, since he was officially adopted by Queen Inwon in 1703. (While it was no secret that Lady Choi was Prince Yeoning's birth mother, it wasn't uncommon for princes born of concubines to be adopted in name only. In this case, it made him unable to publicly act as Lady Choi's son, since he couldn't officially be her son.)
Yeoning sobs and screams, openly railing against his inability to do anything to honor his mother's memory. His orders to have his mourning clothes brought to him go unheeded by his servants, though not unapologetically.
The loss even registers with Man-geum, who remembers how much Lady Choi suffered while he was her husband. He can only apologize to her memory now and cry.
Prince Yeoning enters the assembly hall as both Norons and Sorons fight over whether or not to execute Injwa during this critical time, addressing Crown Prince Yoon as he calls for a delay in the execution out of respect for his dead mother, much to the surprise of Chief State Councilor Kim and the Norons.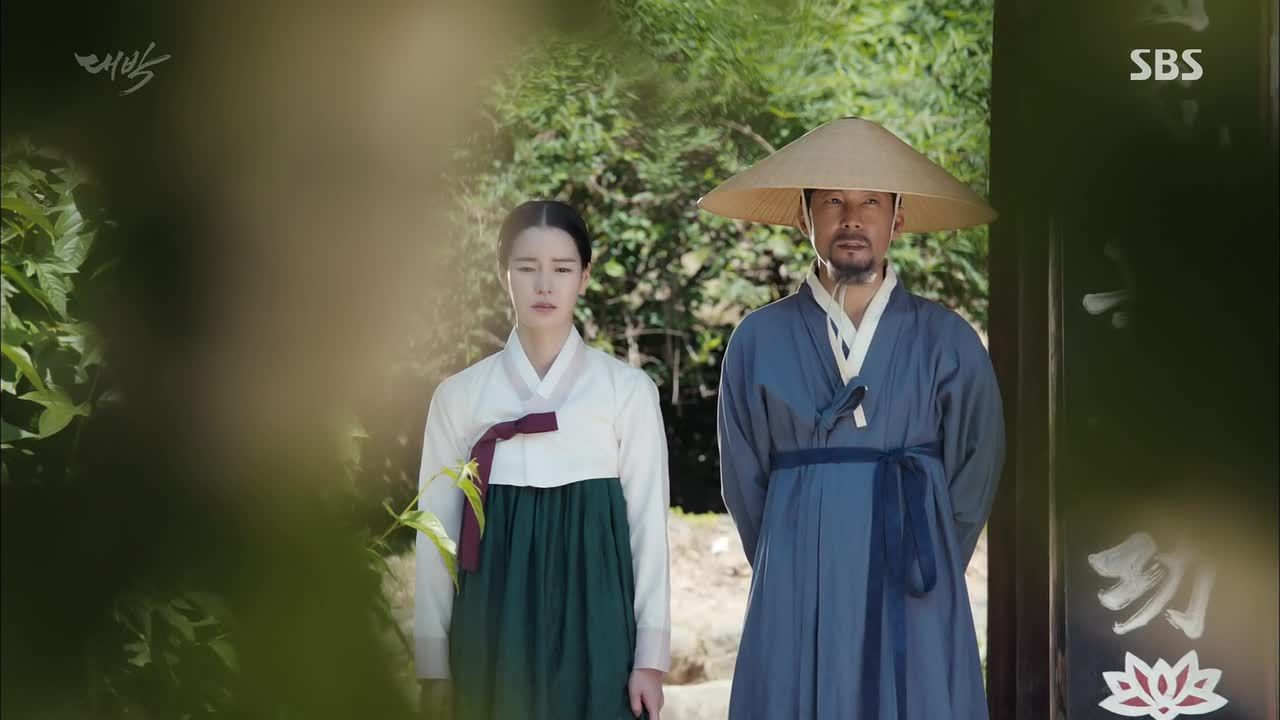 Traitor Jeong pays a visit to Dam-seo at the temple, which isn't their first meeting. He asks her if she still plans on killing Injwa, but says she's lying to herself when she claims she'll kill him with her own hands.
She goes to the prison that night, giving poor Nameless just the shortest of glances on her way to Injwa's cell. She tells her teacher that she'll spring him from prison, if only so she can take his life afterward. "This is the last thing I can give you," she says, offering the keys.
But strangely, Injwa pushes the keys back to her, chiding her like a father as to how she could associate herself with accused traitors like him. (Wait, but it was totally fine for you to order her to kill people?) This just proves what Traitor Jeong had predicted, that Dam-seo would be able to see her teacher's true intentions, as well as her own.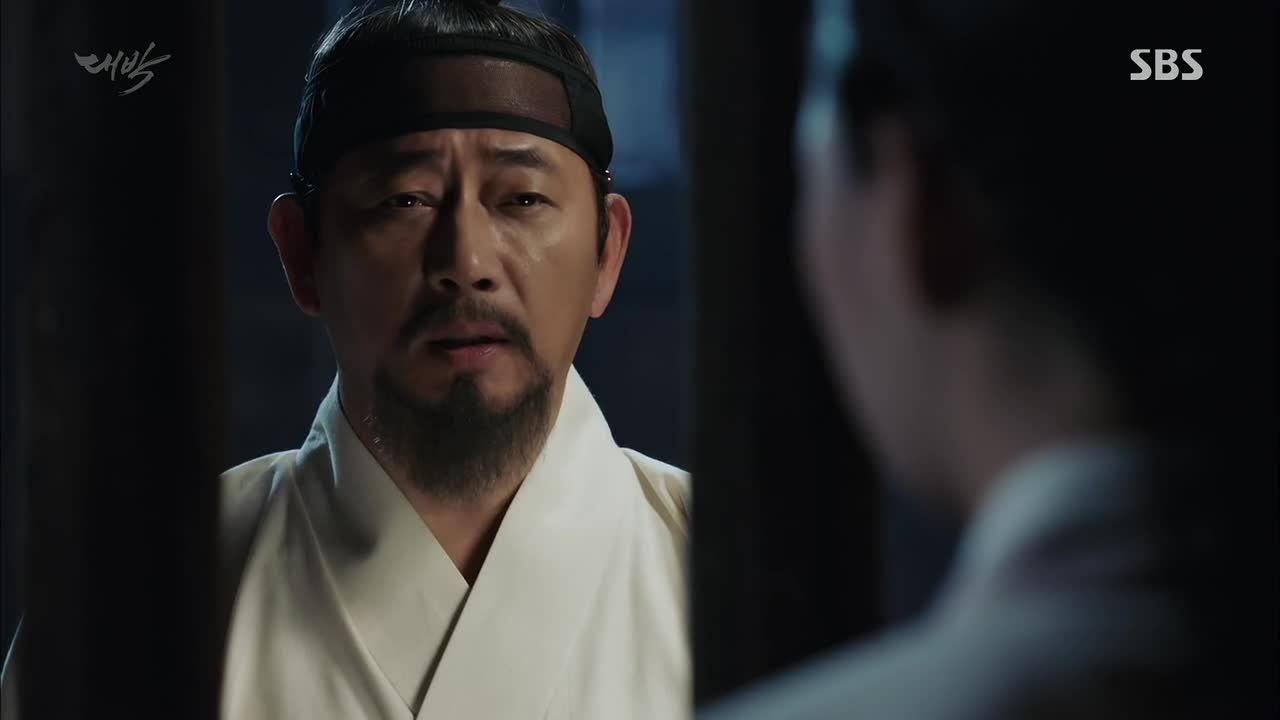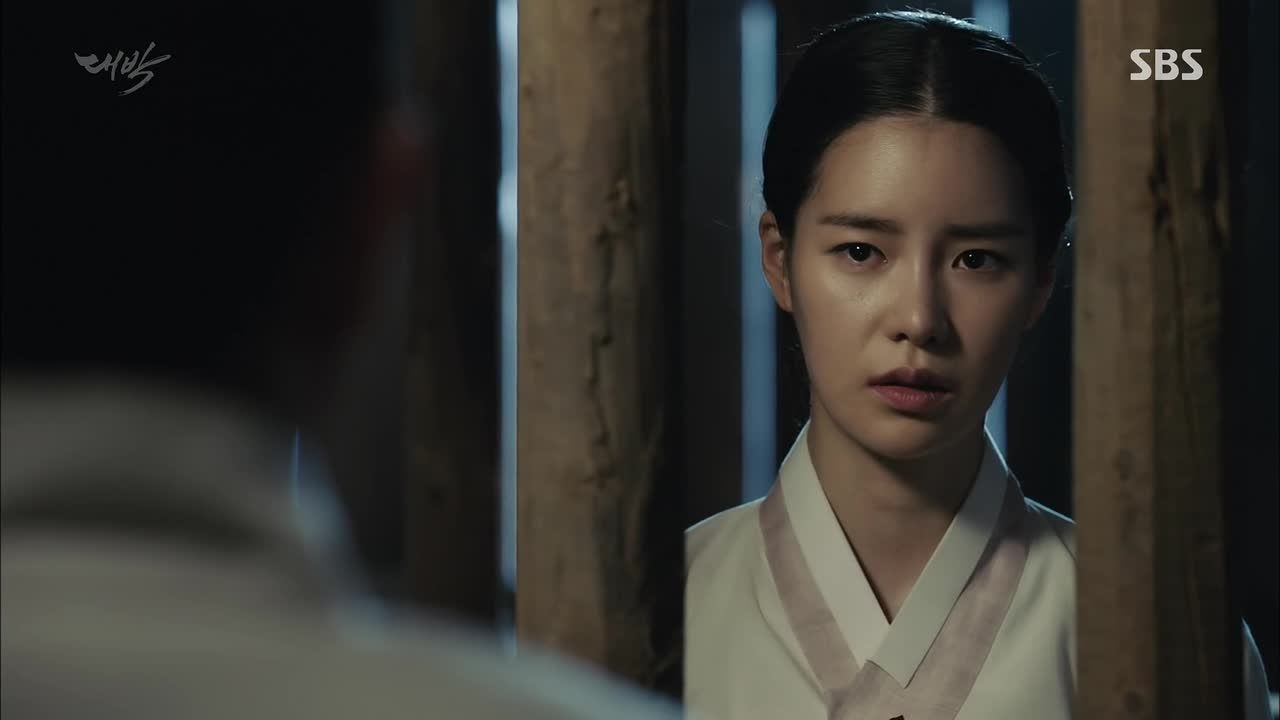 "If I'm to give my life for the sake of this nation, Joseon, then I shall. If I must replace this rotten Joseon with a new nation, that is the great cause I shall see through," he says, before adding that Dam-seo should walk her own path, and sends her off with tears in his eyes.
Traitor Jeong watches her leave the prison, knowing that Injwa feels responsible for Dam-seo's suffering. But he wants people like Dae-gil and Prince Yeoning to take responsibility as well, I'm guessing in a much larger sense. It's hard to tell.
As Prince Yeoning pays a visit to Lady Choi's grave, the king demands that Crown Prince Yoon tell him why he's protecting Injwa. Suddenly, the crown prince says, "Please save him. Please save Yi Injwa." He claims his father just doesn't understand Injwa's true intentions, and tells him the story of how Injwa came to him, and how he promised to protect him if he picked a white baduk stone out of a bag.
King Sukjong roars that the bag must've only contained white stones, since getting the crown prince under his power was all part of Injwa's scheme. "It was not that I did not know," Crown Prince Yoon declares, much to the king's surprise. He claims that he knew about Injwa's trickery, but still chose to depend on him, because he was the only person to reach out to him during such dark times.
The king is at a loss when it comes to this, unable to understand how his son could so willingly fall for Injwa's trickery, to the point where he can no longer free himself of it. The crown prince doesn't shy when his father stumbles, clearly ill, and says that Injwa protected him, gave him power, and even promised to put him on the throne.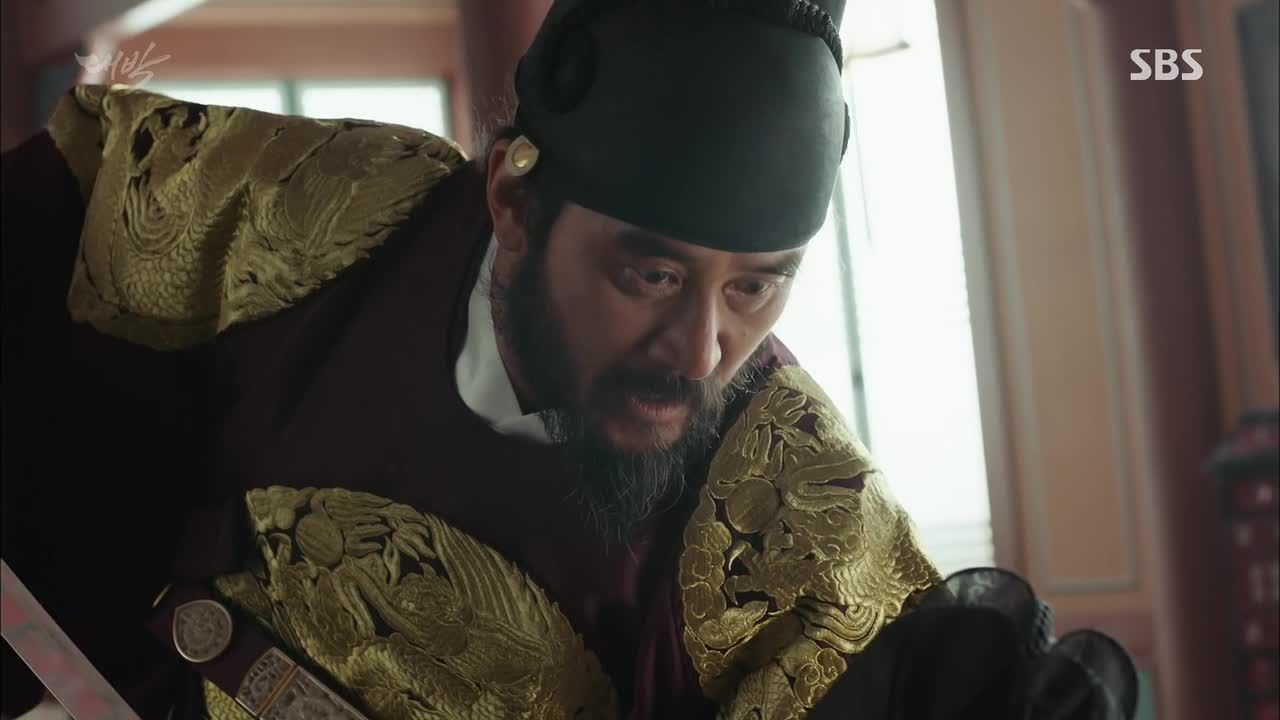 King Sukjong draws his sword and stumbles down to grab the crown prince by his clothing, asking how he could dare to even call himself the crown prince of Joseon. "I will cut Injwa's throat…" the king heaves, unable to catch his breath.
He can't breathe, and sends a look toward the smoke he's been using to keep himself alive, just out of reach. He looks back toward his son… before collapsing in a heap on top of him.

COMMENTS
Aww. We can't say we didn't know that was coming, but it's still a shame to lose both him and Lady Choi in one go, and unsettling to see Crown Prince Yoon's true colors suddenly showing through. It was easy to forget about his relationship to Injwa because the two rarely interacted, but now it seems like he'll truly be Injwa's puppet. And all because he can't—won't—see reason, which is always a good trait in a ruler.
There are still more questions than answers concerning Dae-gil and Injwa, though I can only hope that the questions surrounding his father will be answered in the next episode, or else it'll all be nothing more than a Thing That Happened. Even if Injwa living was a disappointment beyond all measure (for a second there, I actually thought the show was going to subvert our expectations regarding the lifespan of its villain), it would've been a true disappointment if Dae-gil had been the one to save him.
So in that sense, I couldn't be happier that Dae-gil didn't turn on us, since that seemed to be a distinct possibility leading up to the execution(s). As usual, he got lucky, and saw his father just in time to save himself from making a terrible decision—but why his father wasn't locked away in Injwa's dungeon is still up for grabs. Seems like a huge oversight for someone like Injwa, unless he was actually counting on Man-geum to not show himself. Still, it doesn't make a lot of sense either way as of now, and I hope that Injwa's whole "He did it for the great cause!" was actually a lie. Because, why would he?
And while it's bad form to say what a show isn't as opposed to what it is, it's impossible not to make a point of comparison between Jackpot and the recent Six Flying Dragons in only one regard: Injwa's supposedly "great cause." It's hard to come from a show that had a man with a great, nation-toppling cause to one that also has a man with a nation-toppling cause, only in the former, we actually knew why. We understood the philosophy of the cause, the justice of the cause, and all the intricacies therein.
Granted, Jackpot is not a fifty episode political epic, but that doesn't give it an excuse to skirt by when it comes to showing rather than telling. We're only told that Injwa has a great cause, but we're given nothing to help us understand it, or even to help us grasp the basics of it. What exactly does he want to change? What is so rotten to him? It's not that I'm terribly interested in Injwa's affairs, but this really just boils down to a lack of basics—everyone's just talking about the cause as though we're all in the know, which we aren't. And while we don't need to like or empathize with the villain (although it would help), if their purpose in the show is so dependent on their beliefs—enough to where lots of other people believe these beliefs—it'd be nice if we knew a little bit about them. Or we can just keep vaguely referring to the "great cause" and have characters continue to do things in service to it. That works too.

RELATED POSTS
Tags: Choi Min-soo, Episode 17, featured, Im Ji-yeon, Jackpot, Jang Geun-seok, Yeo Jin-gu, Yoon Jin-seo