Mirror of the Witch: Episode 12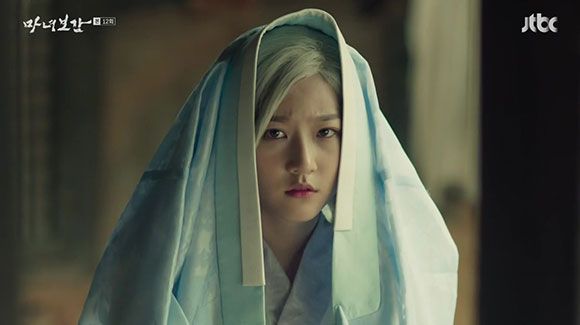 What I love most about this show is its ability to constantly surprise with plot twists and clever reveals, all the while remaining true to the characters and universe it's created. We go deeper down the rabbit hole with our main characters this hour: Some get one step closer to what they've been chasing, and others make life-altering decisions in order to protect themselves and the ones they love. But throughout it all, our heroes and villains remain layered, complex, and relatable, making it that much easier — and enjoyable — to stay with them for the ride.

EPISODE 12 RECAP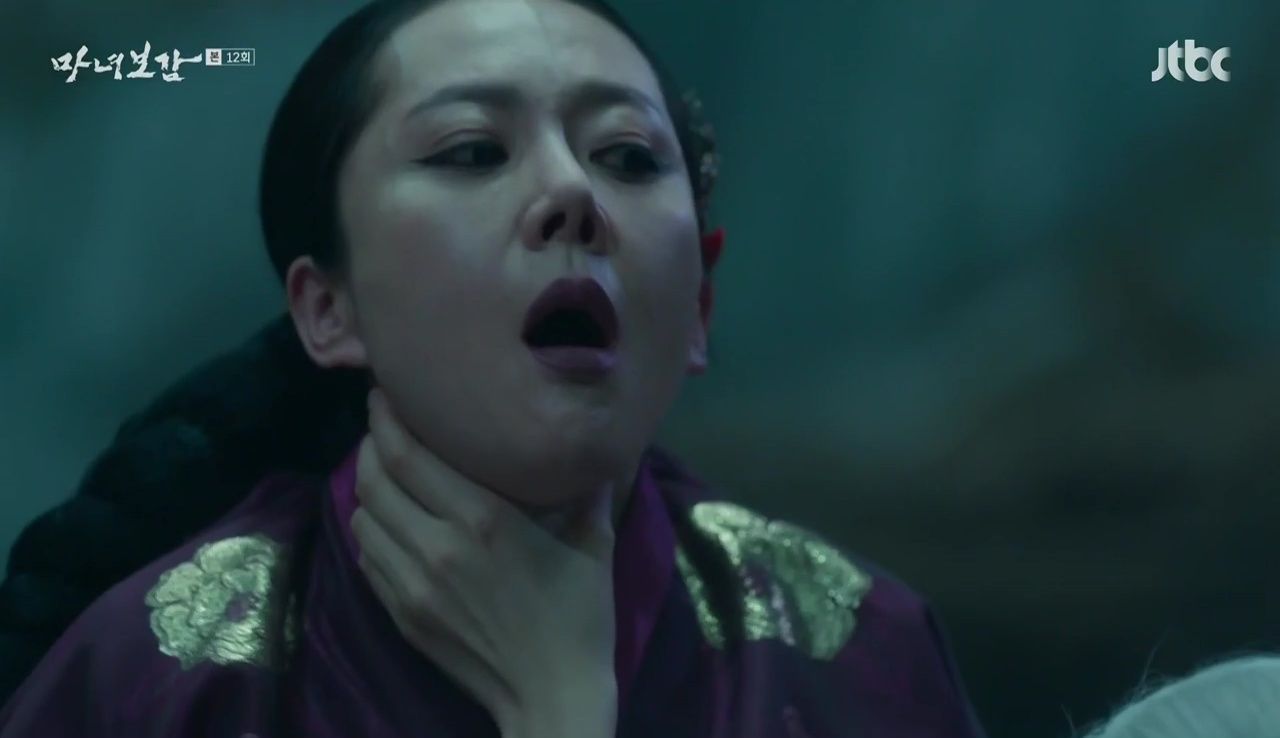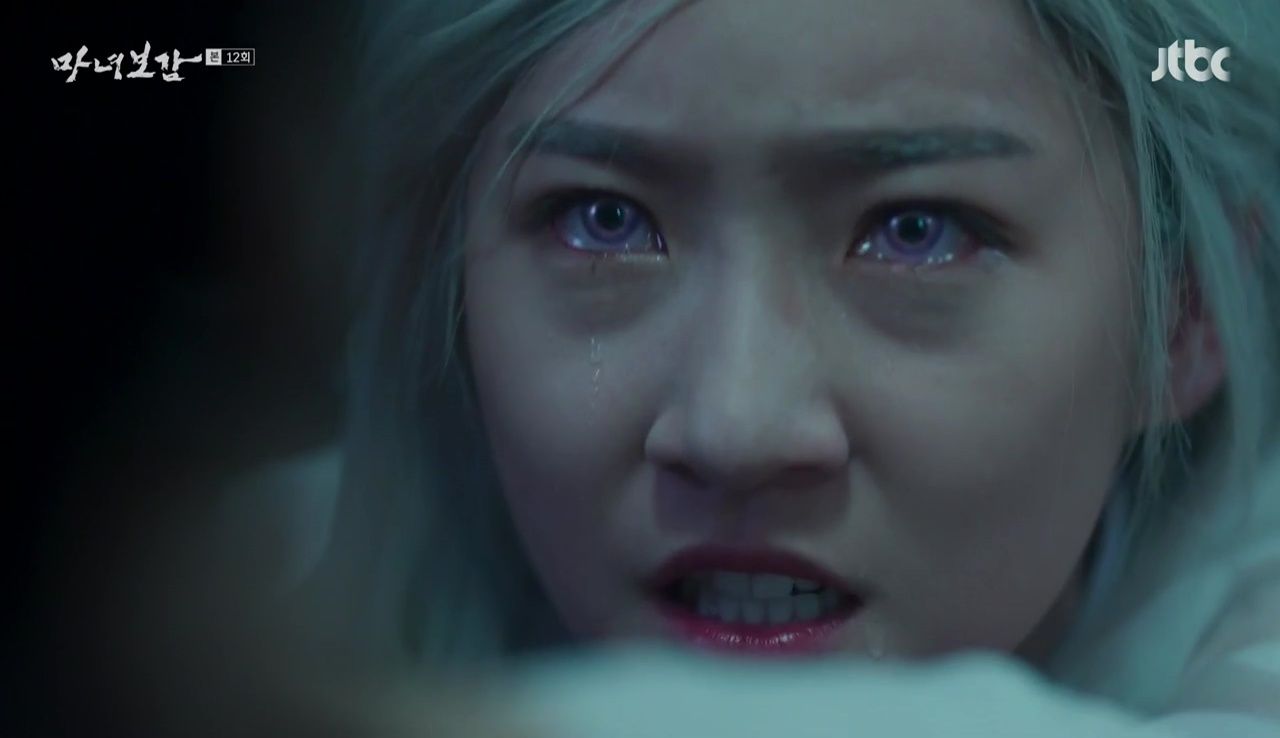 Jun collapses after Hong-joo's attack, and Yeon-hee's curse activates. Yeon-hee screams and unleashes her powers, knocking everyone off their feet and grabbing Hong-joo by the neck, telling her to die. Gasping for breath, Hong-joo says killing her won't break Yeon-hee's curse. But it doesn't matter to Yeon-hee — to her, Hong-joo is the curse that must be eliminated.
Taoist master Yo-gwang staggers to his feet and pleads with Yeon-hee to stop. If Hong-joo dies, their candles will blow out; they should focus on saving Heo Jun instead. At the mention of Jun's name, Yeon-hee pauses to look at him, and after a brief beat, she throws her clear across the temple.
Yo-gwang collects Jun, and together with Yeon-hee, they leave. Hong-joo looks injured but gets up quickly, calling on her shamans to follow Yeon-hee. Sol-gae, dressed as the Red Cloak, helps Hong-joo up.
At the palace, the queen dowager tells Taoist master Hyun-seo that Hong-joo left the palace with her army the night before, and the princess might be in danger.
Their conversation is suddenly interrupted by the king, who asks, "What princess?"
The queen dowager hides her surprise and tells the king she was referring to his need for an heir. But what the king wants to know is why he's still so ill, when theoretically both Hong-joo and Hyun-seo should be working to cure him. He wonders if Hong-joo's efforts have failed because she herself is lacking — or is it because of another reason, like sabotage from others?
Hyun-seo blames the current state of affairs on Hong-joo and tells the king he shouldn't be listening to her counsel. Hyun-seo will work to drive Hong-joo out of the palace; this is how he will serve the king.
With a wry smile, the king remarks on the similarities between Poong-yeon and Hyun-seo. He leaves Hyun-seo with a warning that he is committing treason if he isn't loyal to the king; if Hyun-seo actively decides to go against him, the queen dowager will have to pay the price as well.
Yeon-hee tends to the still-unconscious Jun as they hide out in a cave. As she thinks back to Jun being stabbed, Yeon-hee replays Hong-joo's words in her mind: Jun will die because of her.
Yo-gwang joins them, having successfully lost Hong-joo's army. Yeon-hee's worried that Jun's still not awake, but Yo-gwang reassures her that Jun will be fine, as Hong-joo's black magic was only used to break Jun's talisman shield.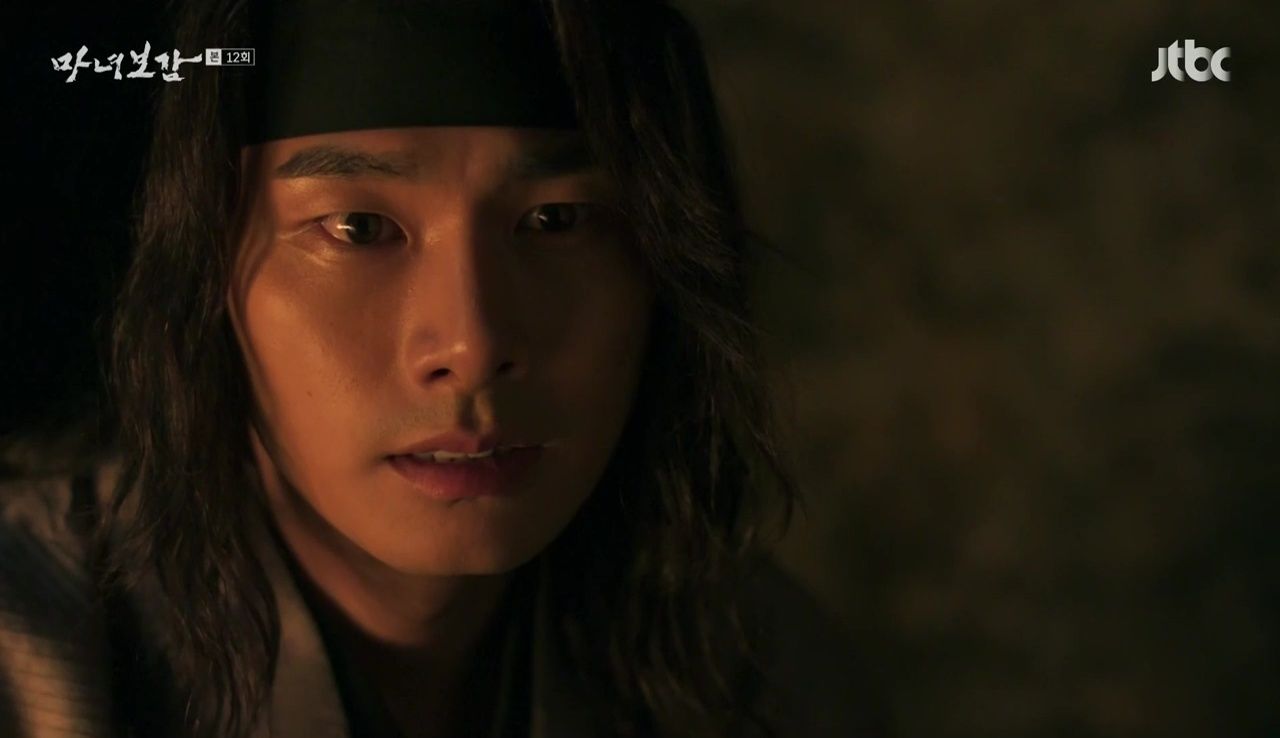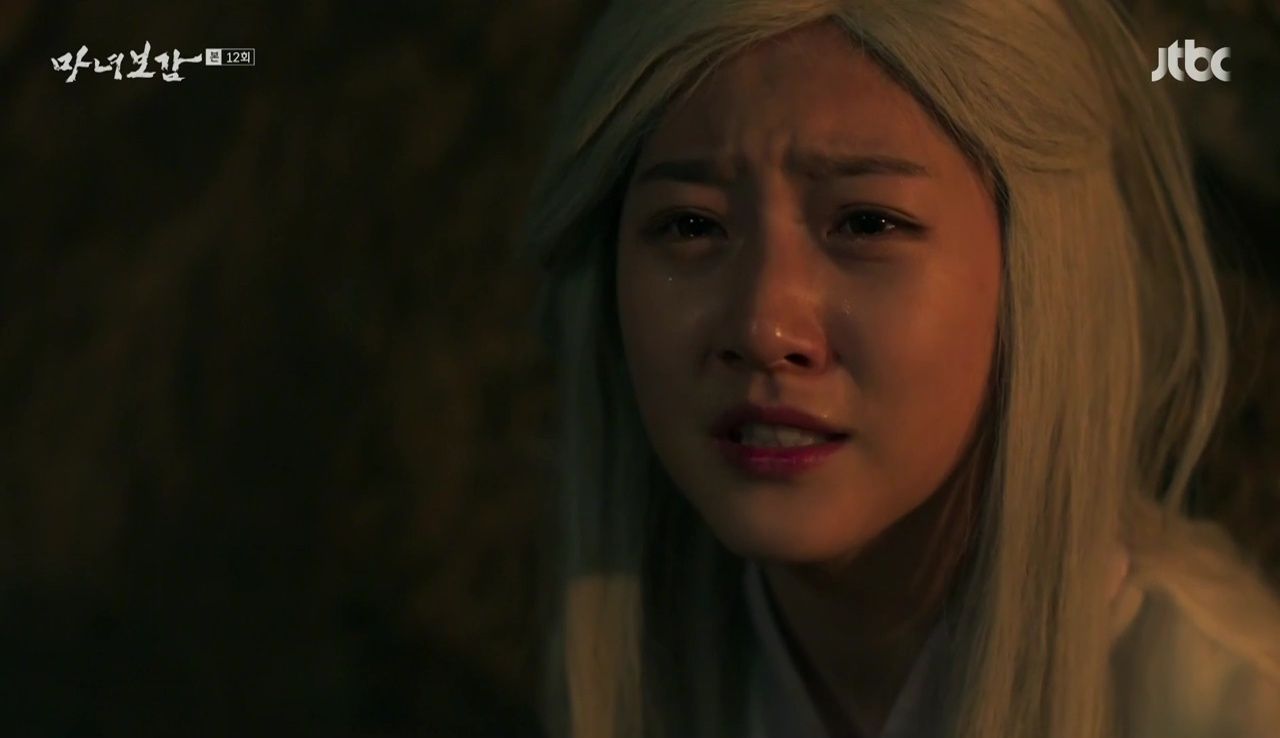 Yeon-hee tearfully tells Yo-gwang that Jun will die anyway because of her curse — she shouldn't have given her heart to him. She then asks Yo-gwang to see Hyun-seo about finding another talisman shield. Though Yo-gwang is concerned about leaving her alone without protection, she tells him to go.
In Hong-joo's lair, Sol-gae worries about Hong-joo's injuries, while Hong-joo angrily asks why she didn't go after the princess. Sol-gae apologizes and says she wanted to make sure Hong-joo was okay, but Hong-joo doesn't seem to buy it.
Hong-joo stands, intending to go after the princess herself. But her injuries prove to be too much; she crumples to the ground and loses consciousness.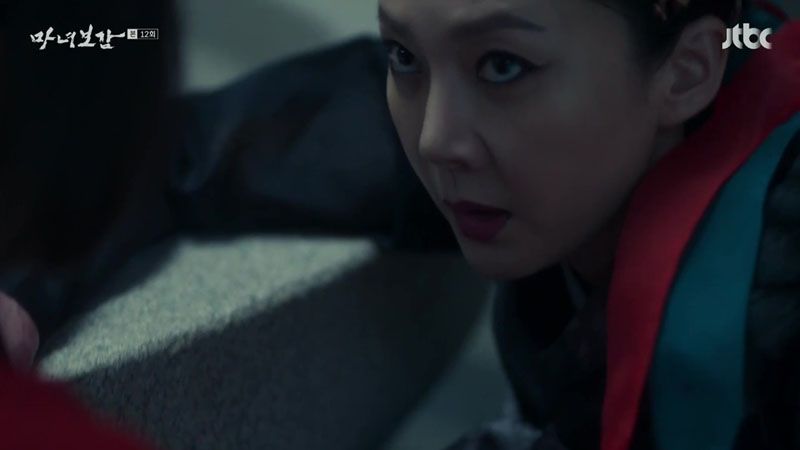 The queen dowager tells Hyun-seo that the king knows about the princess. She's worried about what that means for her, and reiterates to Hyun-seo that Yeon-hee cannot be captured.
Yo-gwang arrives at the Taoist temple and gives Hyun-seo the rundown of what's happened since Hong-joo's surprise attack at Cheongbing Temple. He notes that the curse mark has appeared on Jun, and that Yeon-hee is currently without protection.
Hyun-seo tells Yo-gwang to go into hiding with Yeon-hee. The need for another talisman shield is urgent, so Hyun-seo will stay behind to focus on that task.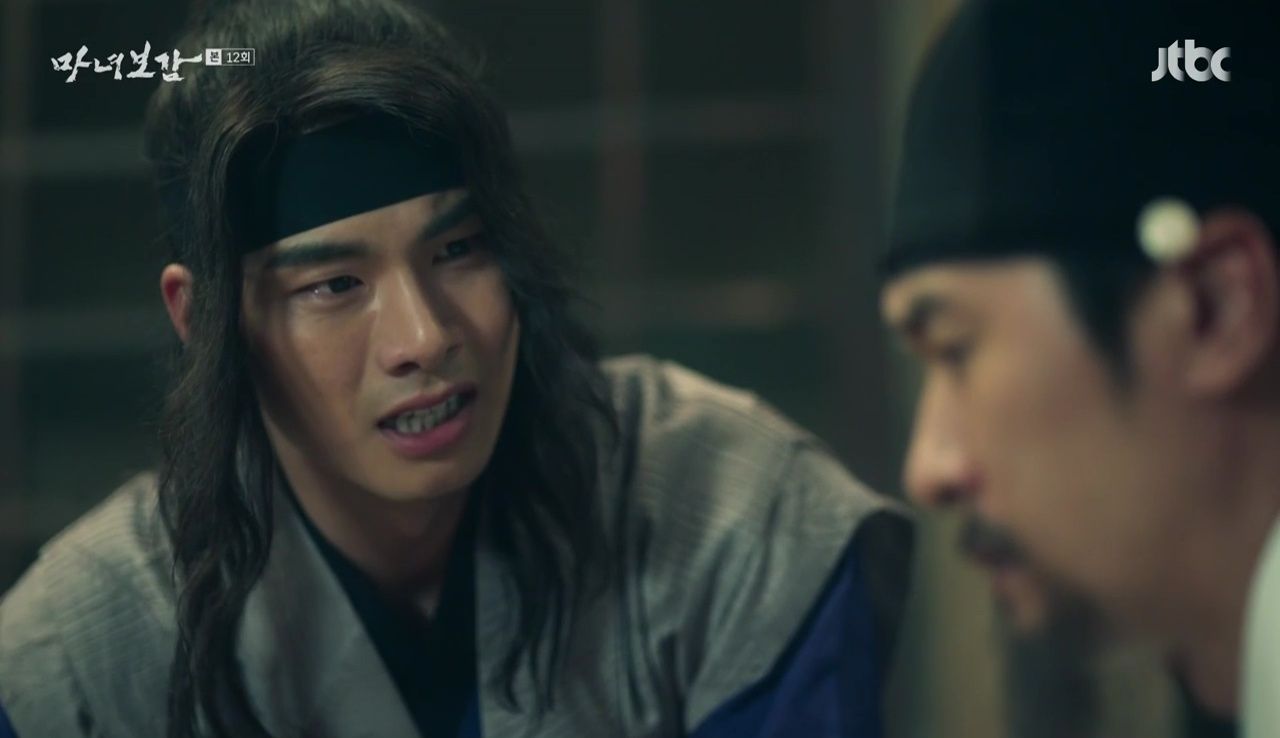 Hyun-seo pulls open a book from one of his shelves. Yo-gwang's eyes widen when he sees the contents of the book, and protests that what Hyun-seo's considering is too dangerous.
But Hyun-seo is determined, as it's their last hope. He instructs Yo-gwang to hide Yeon-hee until he can begin the process, and tells him to seek Poong-yeon's help.
Before Yo-gwang leaves, Hyun-seo has a last-minute request: He needs the Oblivion potion.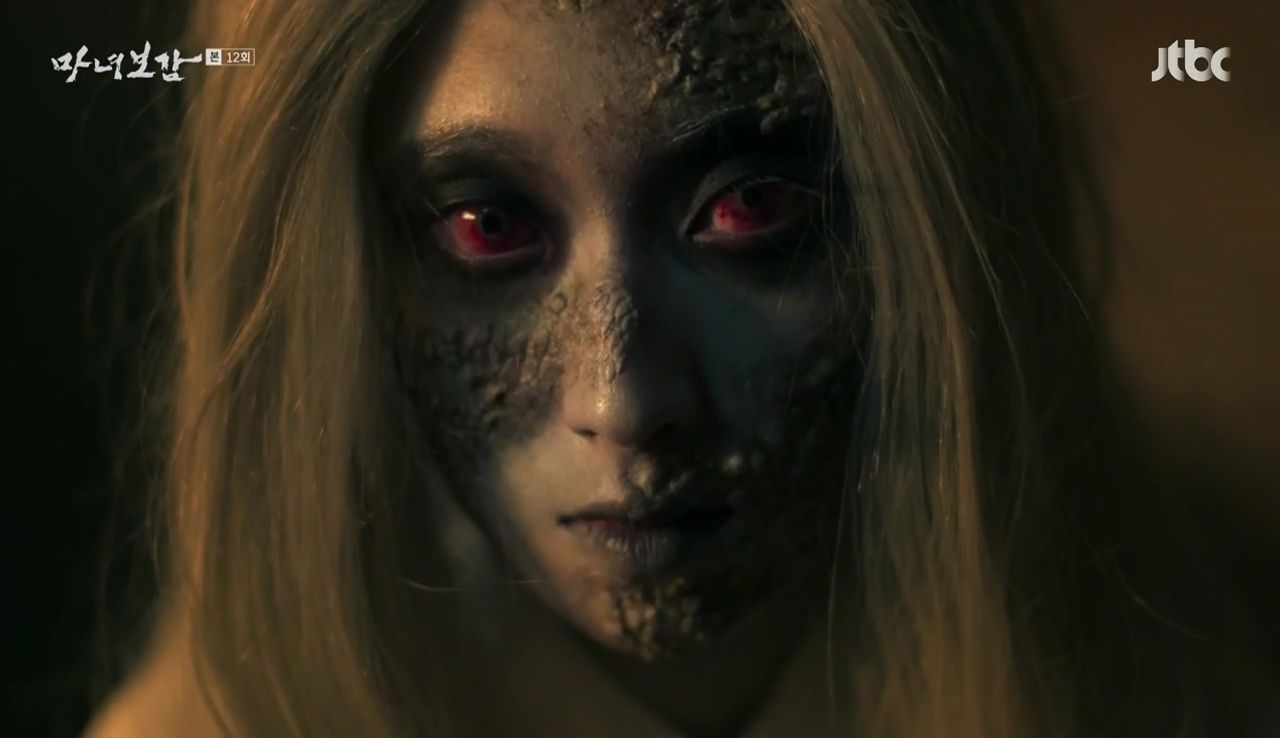 In the cave, Jun's curse mark flashes, and he starts coughing up blood. Meanwhile, Poong-yeon and Yo-gwang speed towards Yeon-hee and Jun on horseback.
Yeon-hee holds Jun's arms as he shivers uncontrollably. Jun looks up at Yeon-hee, and just like Poong-yeon during his affliction with the curse, Jun sees a ghost next to her, then starts hearing screeching spirits. Jun's eyes go wide and he yelps in fear.
Yeon-hee watches Jun freak out, tears streaming down her face. After a moment, she can't take it anymore and stands up to leave, but Jun immediately grabs her wrist. Still shaking, he gasps: "Don't go."
She looks down at him incredulously, but he just pleads with her to stay. Overcome with emotion, Yeon-hee kneels down and puts her arms around Jun.
The two are still holding each other when Poong-yeon stumbles onto the scene. Poong-yeon can't look, and turns away.
Yo-gwang arrives soon after and tells Yeon-hee that they need to find a hiding place while Hyun-seo works on the talisman shield. Yo-gwang and Yeon-hee help Jun to his feet, but they can't control him as he flails about. Poong-yeon watches the scene for a moment then steps in, grabbing Jun and hoisting him on his back so the group can get going.
Back at the temple, Hyun-seo reads through his book, which includes illustrations of hand gestures. He opens his box with the torn page from the Mauigeumseo and thinks back to his conversation with Yo-gwang.
He'd asked Yo-gwang if Jun and Yeon-hee were close, and Yo-gwang said Jun now had the curse mark. Hyun-seo looks down at torn page, probably wondering if Jun could be the one to light the last candle and break Yeon-hee's curse.
Soon-deuk arrives at an inn, where the innkeeper informs her of some shady-looking visitors. She enters the room and recoils in shock when she sees sickly Jun huddled in the corner with a white-haired Yeon-hee.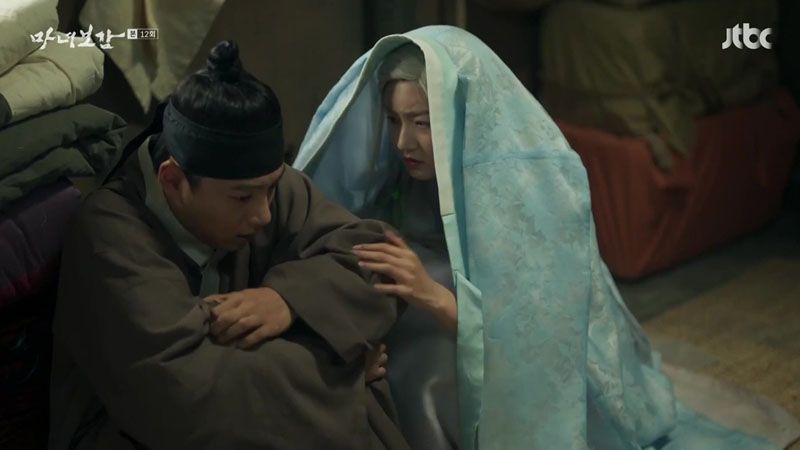 Outside, Poong-yeon looks pained when Yo-gwang says that part of Yeon-hee's curse is having to watch someone she loves die. Yo-gwang adds that the only reason Poong-yeon had returned to good health was because Yeon-hee was protected by the talismans at Cheongbing Temple. Unfortunately, they don't know of any other safe places to hide.
Poong-yeon suggests that they leave Jun behind as they find their next hiding place. Yo-gwang is uncomfortable with the idea, but Poong-yeon says keeping Jun with them will only put Yeon-hee in more danger.
Yo-gwang's eyes widen when he catches a glimpse of Yeon-hee, who emerges from around the corner. She looks at the two men with dagger eyes.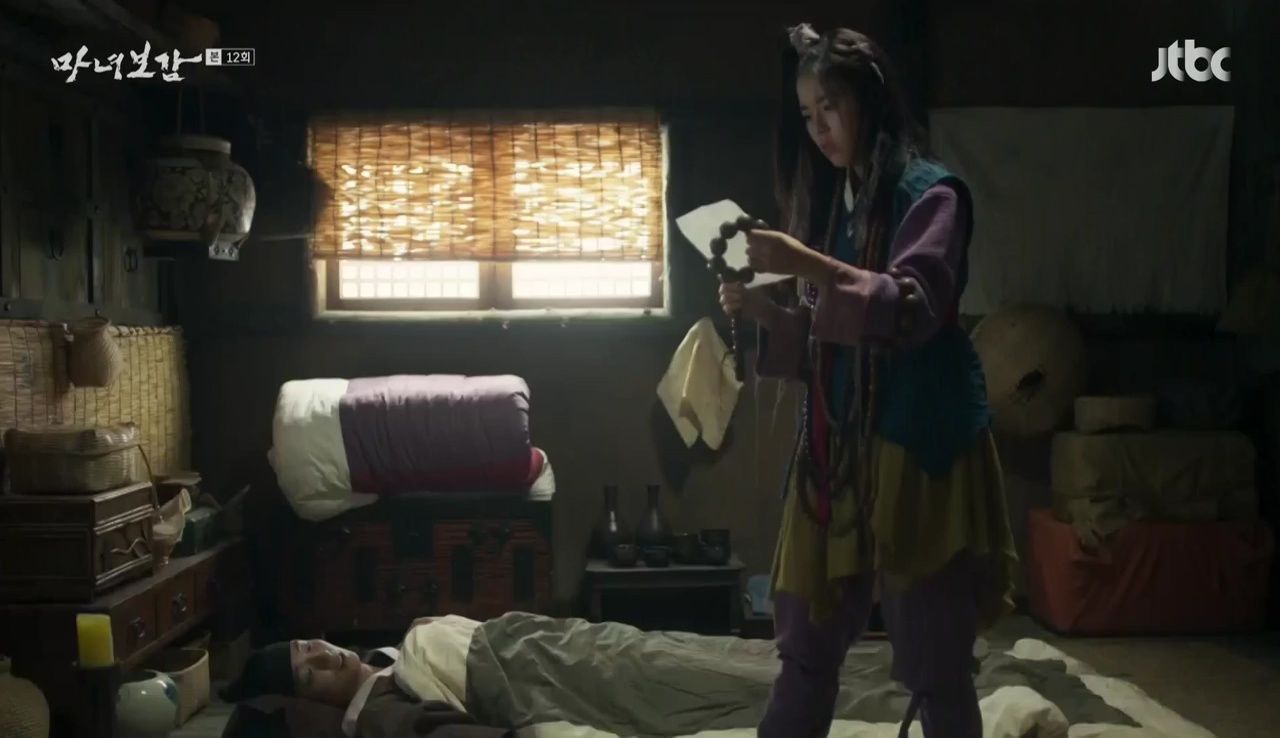 Soon-deuk sits at a safe distance from Jun in his room, reciting prayers nervously. She jumps when he reaches for her, but all Jun does is hand her a folded piece of paper, which contains a drawing of a symbol — the mark that Jun associates with the Red Cloak. He asks Soon-deuk to look into the symbol and find out what it might represent.
Back outside, Yeon-hee tells Poong-yeon she doesn't need his help. He's hurt and wants to know if Jun is that important to her — enough to push Poong-yeon away. What, then, was Poong-yeon to her, exactly?
Yeon-hee says the Poong-yeon she missed all these years was a loving older brother who knew before anyone else when she was upset. Poong-yeon grabs Yeon-hee's wrist (pretty aggressively, might I add) and says that the girl he's been searching for is the good girl who always believed in him and held his hand.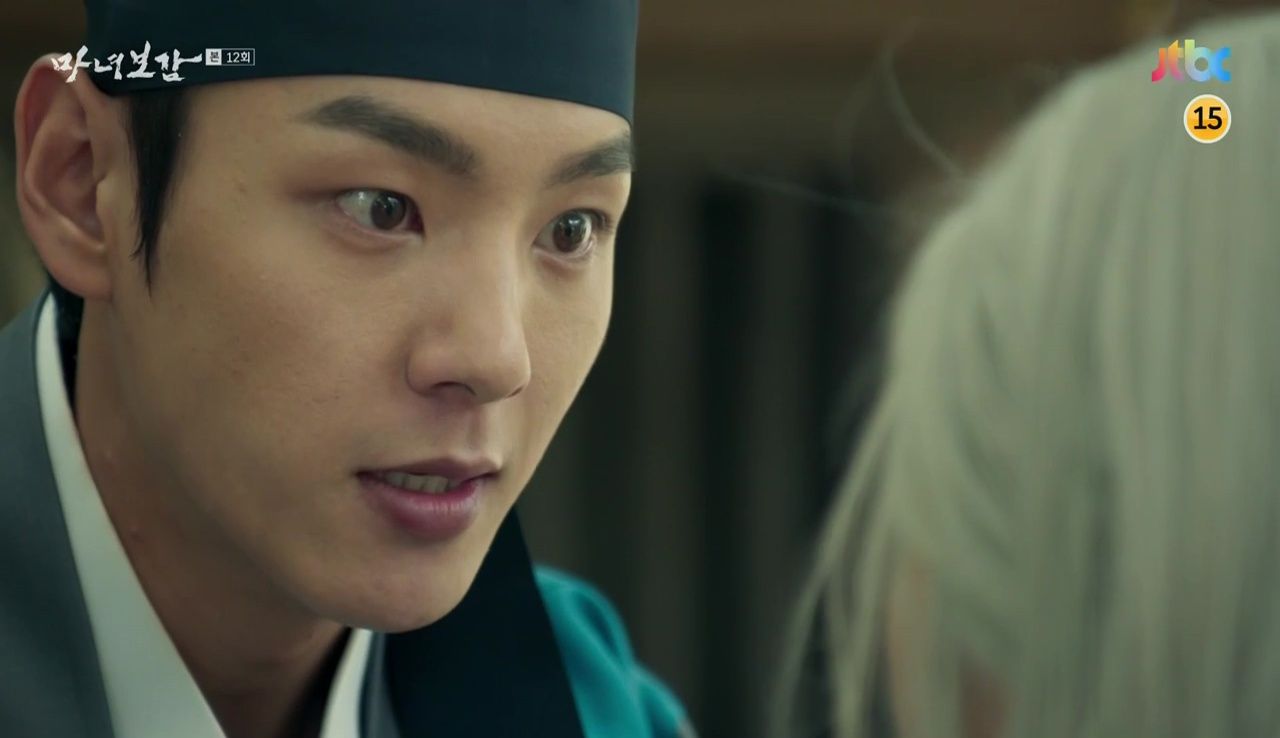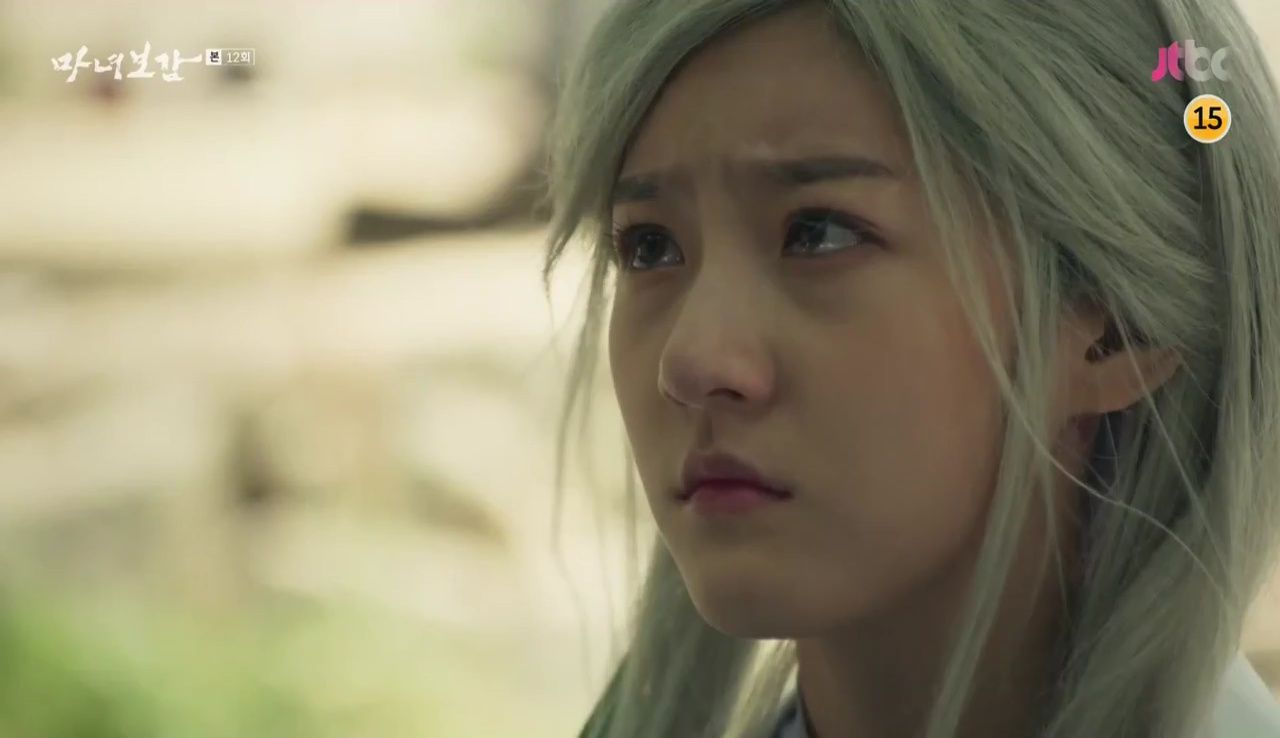 She jerks her wrist away, telling him that girl — a stupid child who didn't know anything beyond her tiny house in the forest, who only believed in Poong-yeon's words — doesn't exist anymore.
Poong-yeon blames the curse for Yeon-hee's change, and tells her that even if he has to kill all those who made her this way, he will turn her back into who she once was.
Sol-gae watches over Hong-joo as she struggles to sit up. All of a sudden, they hear the clashing of swords, and Poong-yeon storms in, taking out Hong-joo's shamans one by one.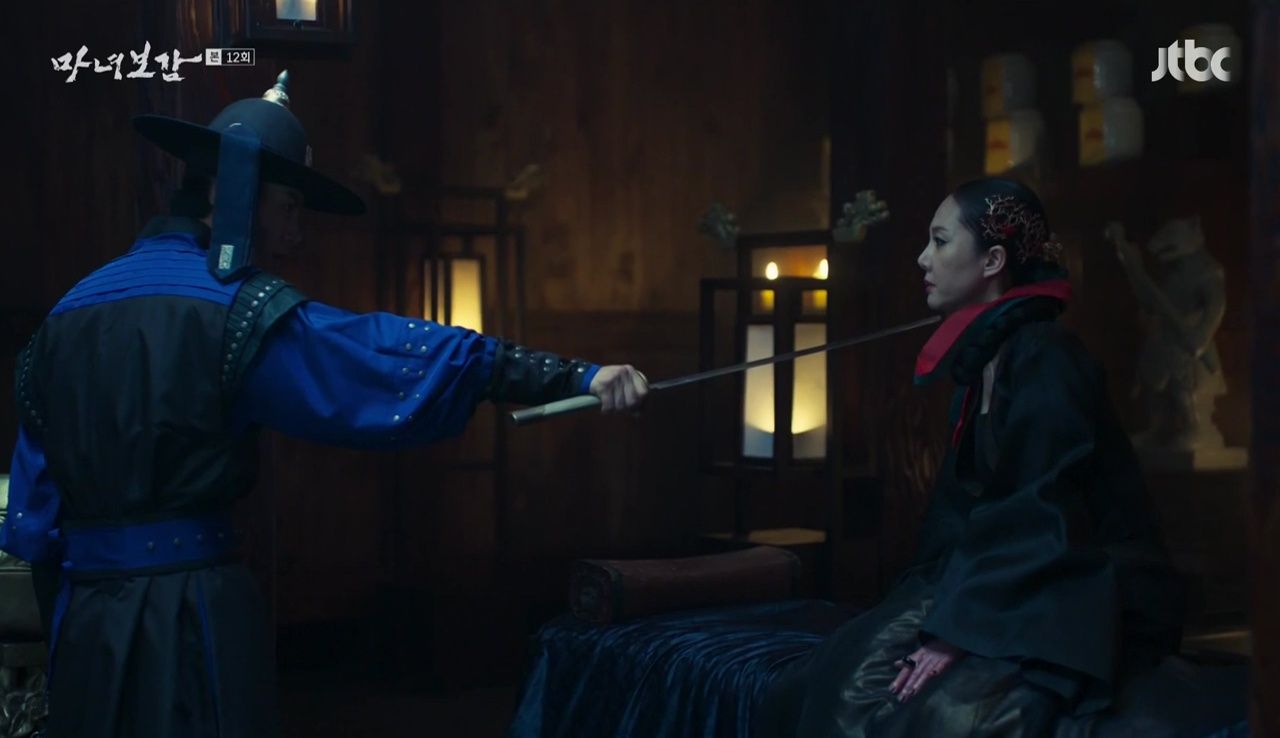 Sol-gae quickly disappears. Poong-yeon heads towards Hong-joo and immediately points his sword at her, threatening to kill her. He knows Hong-joo is the source of Yeon-hee's curse, but he doesn't care about the curse itself — all he wants is the old Yeon-hee back.
Hong-joo says she likes the hurt look in Poong-yeon's eyes, but she asks him to consider if killing her will really get him what he wants.
Poong-yeon blames Hong-joo's black magic for all that's gone wrong with both Yeon-hee and the king. Hong-joo tells him he can thank his father for the black magic — after all, he was her teacher.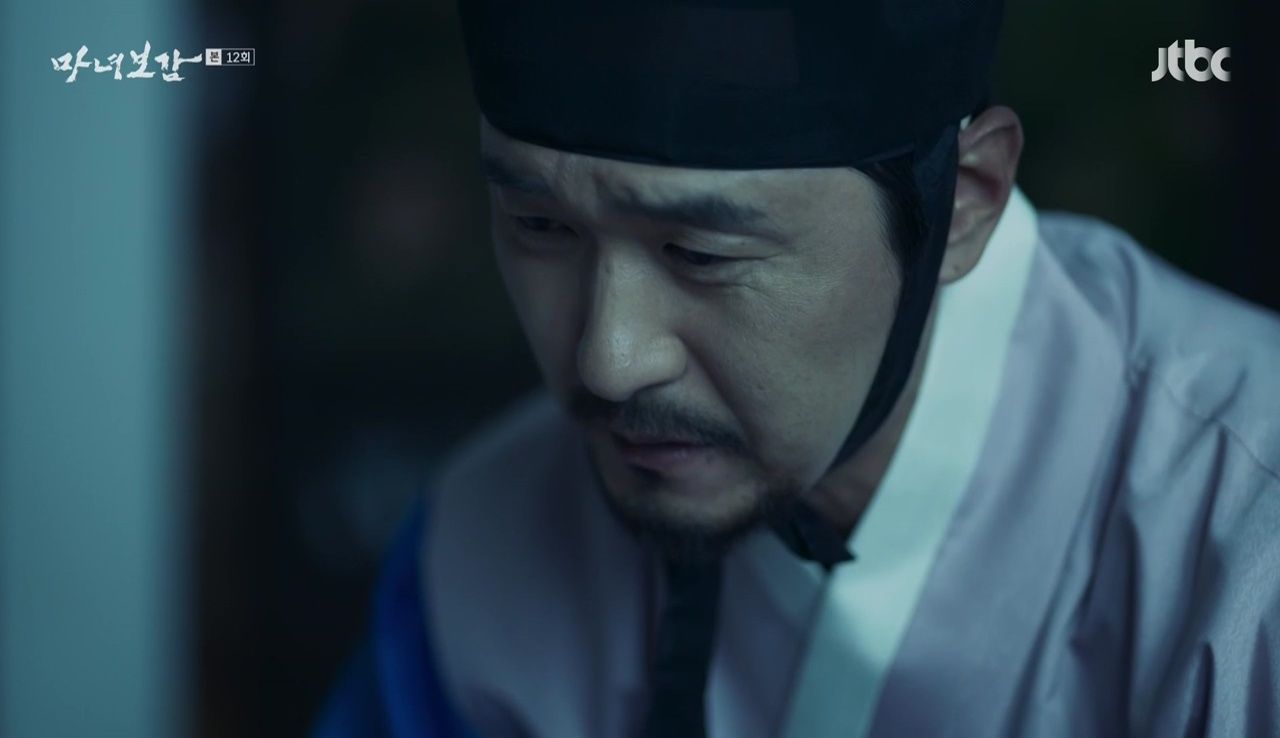 In a flashback, we see that Hyun-seo had taken care of an injured Hong-joo, then a simple court lady, when she came to the temple and collapsed. Hong-joo told Hyun-seo that the palace tried to force her to bear the king's heir, and when things didn't go as planned, they tried to kill her.
She vowed to make them pay, but in Hyun-seo's typical fashion, he told her to forget her anger so that she could live in peace. He told her she was talented, and asked her to restart her studies with him.
As his student, Hong-joo listened while Hyun-seo talked about the difficult and sometimes life-threatening work of creating a talisman. Hong-joo didn't understand why she needed to learn something so dangerous, but Hyun-seo replied that magic must be used for the greater good.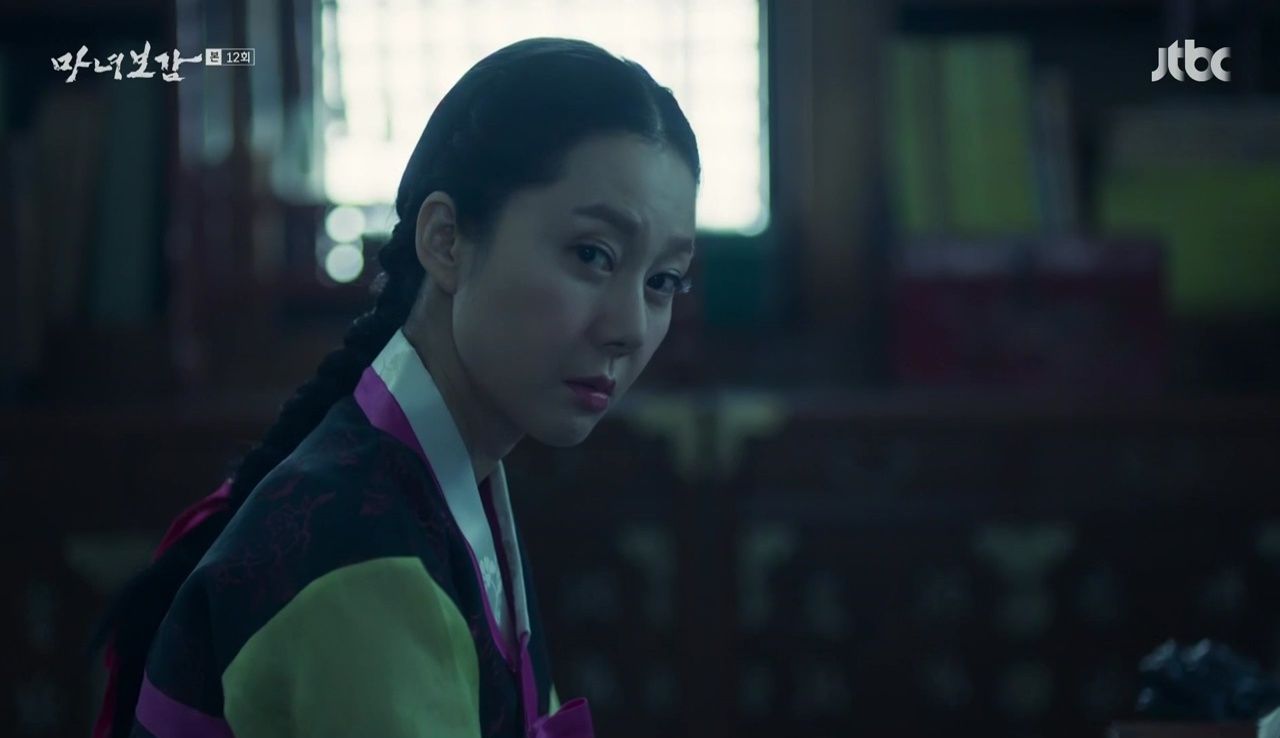 As Hyun-seo spoke, Hong-joo became distracted by the faint cries of spirits and looked over to the side, where she saw a locked box.
When scolded for not paying attention, Hong-joo told Hyun-seo that she was learning magic to protect herself, not others. Hyun-seo became angry, telling her that hate, rage, and jealousy are dangerous for those using magic. He said she shouldn't learn from him if she was unable to let go of those feelings.
Hong-joo didn't respond, but instead asked Hyun-seo if it's possible to use magic to win over someone's heart. Hyun-seo told her that winning over someone's heart through magic is not the same as receiving their true affections.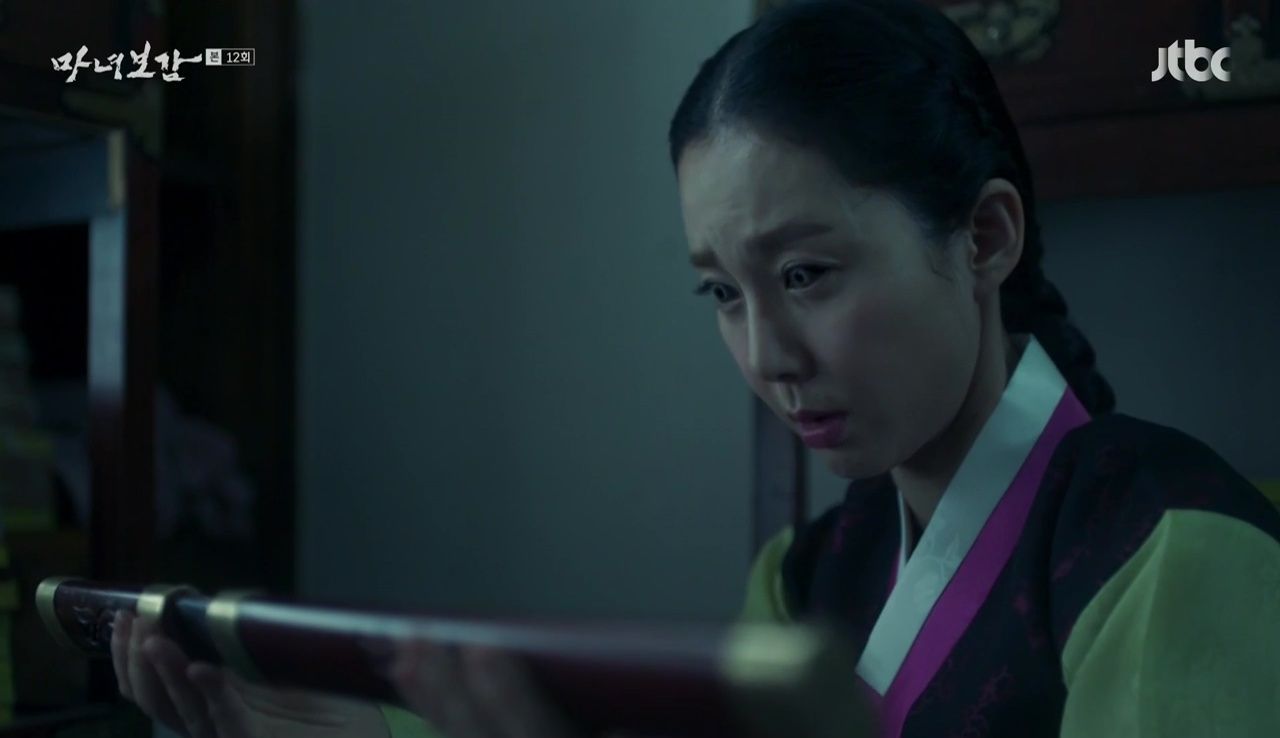 Later, Hong-joo had knelt down at the the locked box she'd seen earlier. As she reached towards it, black smoke emerged and the locks broke apart on their own, revealing a small sword (which we've seen to be Hong-joo's current weapon of choice). She took the sword, and her eyes flashed white.
Back in the present, Hong-joo tells Poong-yeon she may not have learned black magic directly from Hyun-seo, but he felt responsible and tried to stop her — that's how they've gotten this far.
Hong-joo moves closer to Poong-yeon, telling him that his pain is due to his father's errors. She says Poong-yeon should hate those who've caused him pain and sadness, then forget it — that's the only way he'll live.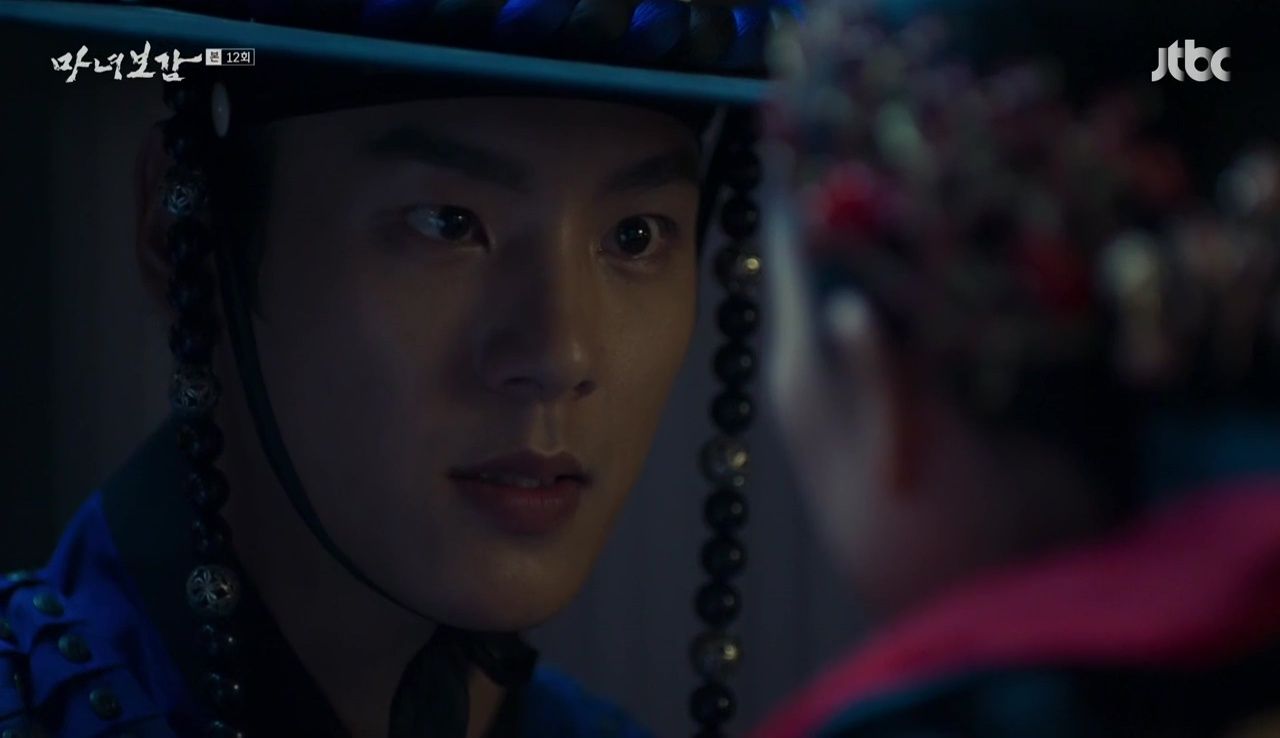 She speaks soothingly, as though lulling him with her words, and for a second it looks like he may give in to their pull. But then Poong-yeon rebuffs Hong-joo and says if his father caused all of this trouble, he will make it right. As he turns to leave, Hong-joo calls out that one day, he will need her help.
Poong-yeon heads directly to Hyun-seo, and he asks him a question as the captain of the royal guard: Why did Hyun-seo save the princess? Hyun-seo doesn't respond, so Poong-yeon asks another question, this time as his son: Why did he spare Hong-joo?
Hyun-seo says he'd hoped Hong-joo would change her ways, but Poong-yeon can't believe Hyun-seo trusted her to do such a thing. How can Poong-yeon trust his father now?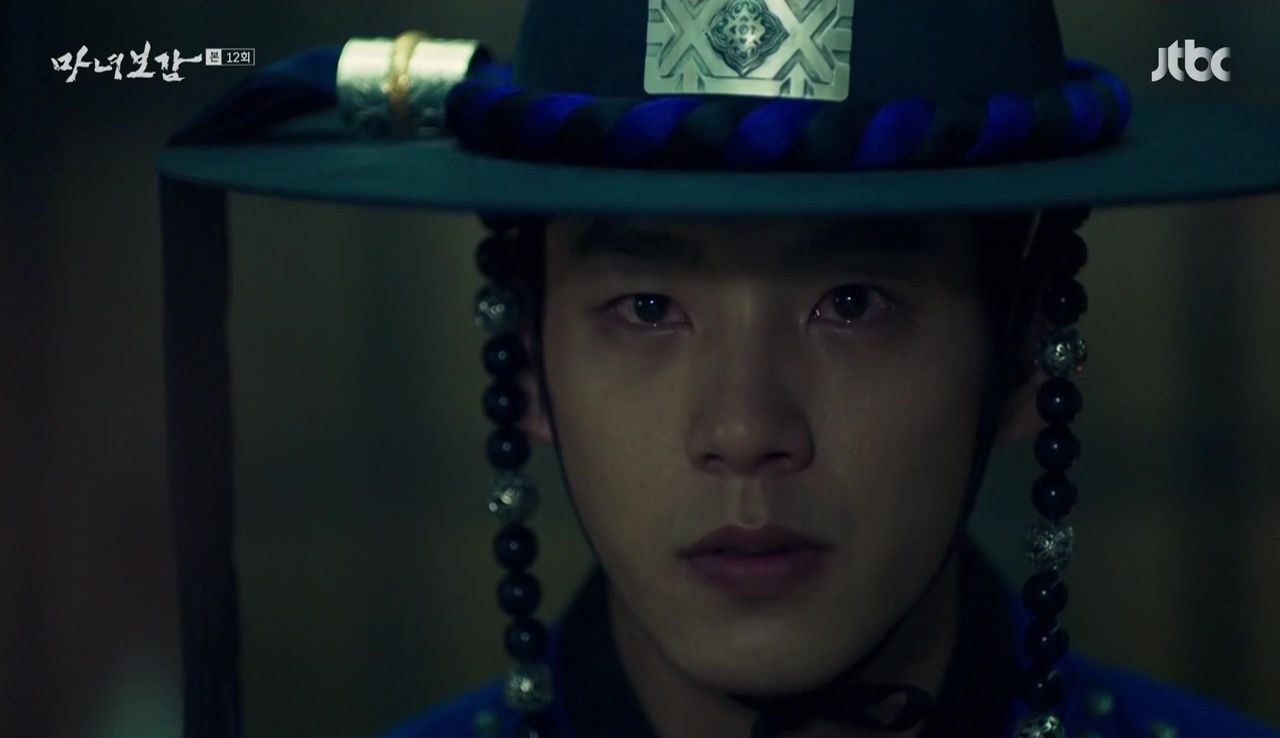 Hyun-seo agrees — Poong-yeon shouldn't trust him. Hyun-seo takes the blame for the curse; it's his fault that Poong-yeon can't accept Yeon-hee as she is now, since Hyun-seo hid the truth from his son. Hyun-seo says again: "Don't trust me."
Poong-yeon says he will break Yeon-hee's curse, then storms out. He then tells the stunned king that he cannot obey his orders to bring in the princess.
The king angrily points a sword at Poong-yeon's neck, but can't bring himself to do much more. Instead, he fights back tears as he declares that Poong-yeon is no longer the captain of the royal guard, and no longer his friend; he's also banished from the palace. Poong-yeon bows and wishes him good health.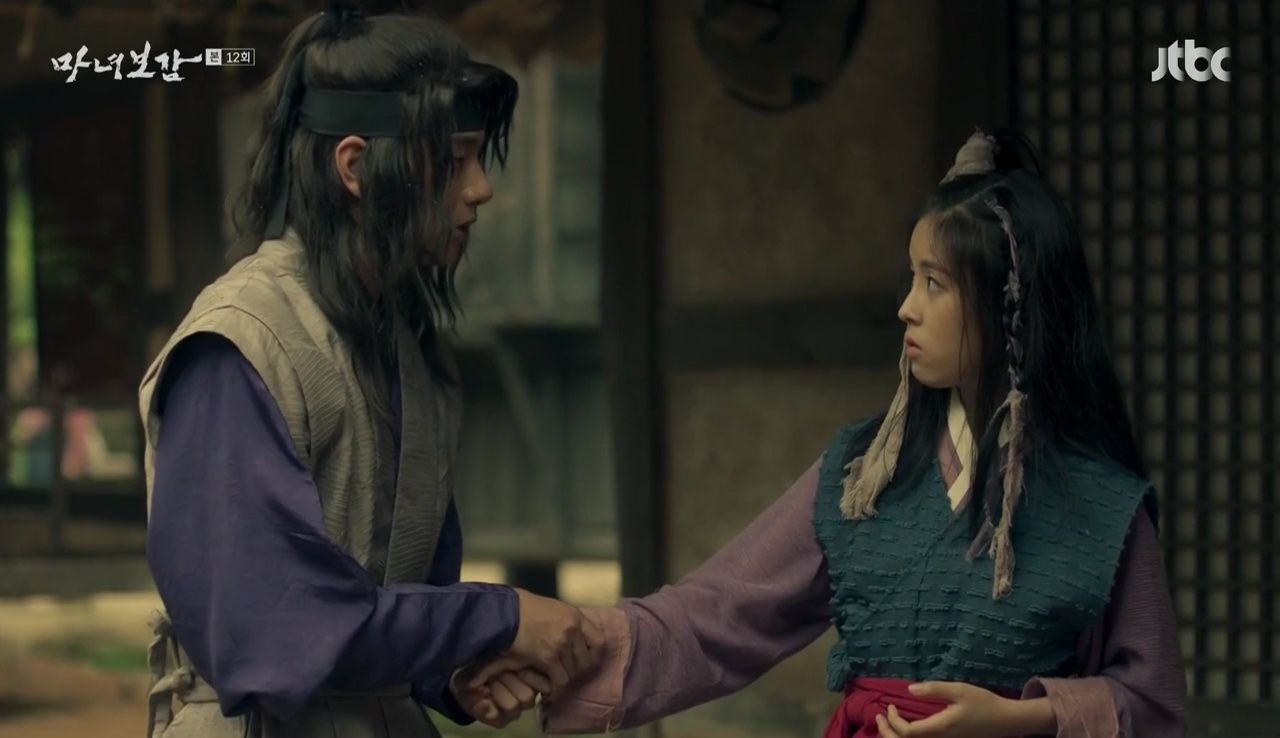 Yo-gwang catches Soon-deuk sprinkling salt in front of Jun's door to ward off bad spirits. She thinks the three of them are shady, but Yo-gwang says they're on the run from scary people, and they need her help to get out safely.
Soon-deuk pauses, but then starts pelting Yo-gwang with salt, leading to tussling and exchanging of insults between the two. Soon-deuk runs off just as Hyun-seo strolls up he's here to see Jun and asks Yo-gwang for the potion.
In Jun's room, Hyun-seo unwraps the Oblivion potion. He tells Jun he should know what it is — if he drinks it, he'll forget all about Yeon-hee and regain his health.
Jun asks if Hyun-seo is telling him to run away, like a coward. Hyun-seo replies that if Jun dies, it's Yeon-hee who will suffer; the potion isn't for Jun but for her.
Jun slowly uncorks the bottle, but then pours its contents out. He apologizes, but says he refuses to forget Yeon-hee — Jun's memories of Yeon-hee are precious gifts from her. He says he'll find a way to live, and he will protect Yeon-hee.
Hyun-seo thinks, "Those feelings must be strong enough for you to be able to sacrifice yourself for her in the end. You must be the one to light the 108th candle."
Hyun-seo runs into Yeon-hee on his way out. He continues to speak to her formally, telling her to hide while he works on the talisman. Yeon-hee wonders about a hiding place, then asks Hyun-seo to deliver a letter to the queen dowager for her.
When the queen dowager reads the letter, she says she'll help Yeon-hee, but the rest is up to Hyun-seo.
Yeon-hee sits with Jun and takes his hand in hers. Jun teases her just a bit and tells her to hurry up and break the curse so that he could get better. He adds that since she's already taken his hand, she shouldn't let go of it — he won't, either.
Yeon-hee looks at him with sad eyes and tells him she's leaving tomorrow. Jun asks if it's because of him, but she says it's not — it's so she can live, and find out who she is and where she fits in.
Jun tells her that they're on the same team, since they're fighting common enemies — and he'll consider her the captain of their team. He tells her not to worry about him, and to not get hurt. He promises to make his way back to her.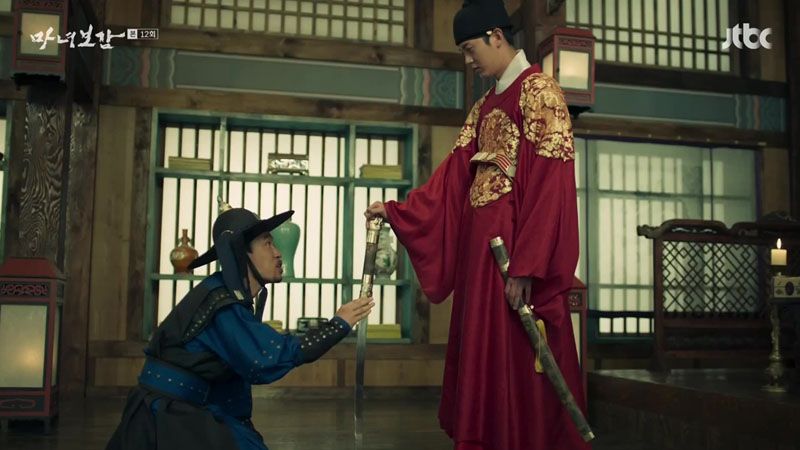 At the palace, the king summons the guard who was promoted when the fake Red Cloak was captured — that is, Jun's brother, Heo Ok. Once Ok arrives, the king scares the daylights out of him by threatening to behead him — after all, Ok did lie about finding Red Cloak's body.
The king says he'll spare Ok's life if he promises to do whatever the king asks. And his first command? For Ok to chase after Poong-yeon and bring his precious sister back to the king.
Walking through town with Sol-gae, Poong-yeon says he's chosen Yeon-hee over the king, so he won't hide from her any more. Not far behind, we see Ok with his servants, looking pretty conspicuous as they tail the duo.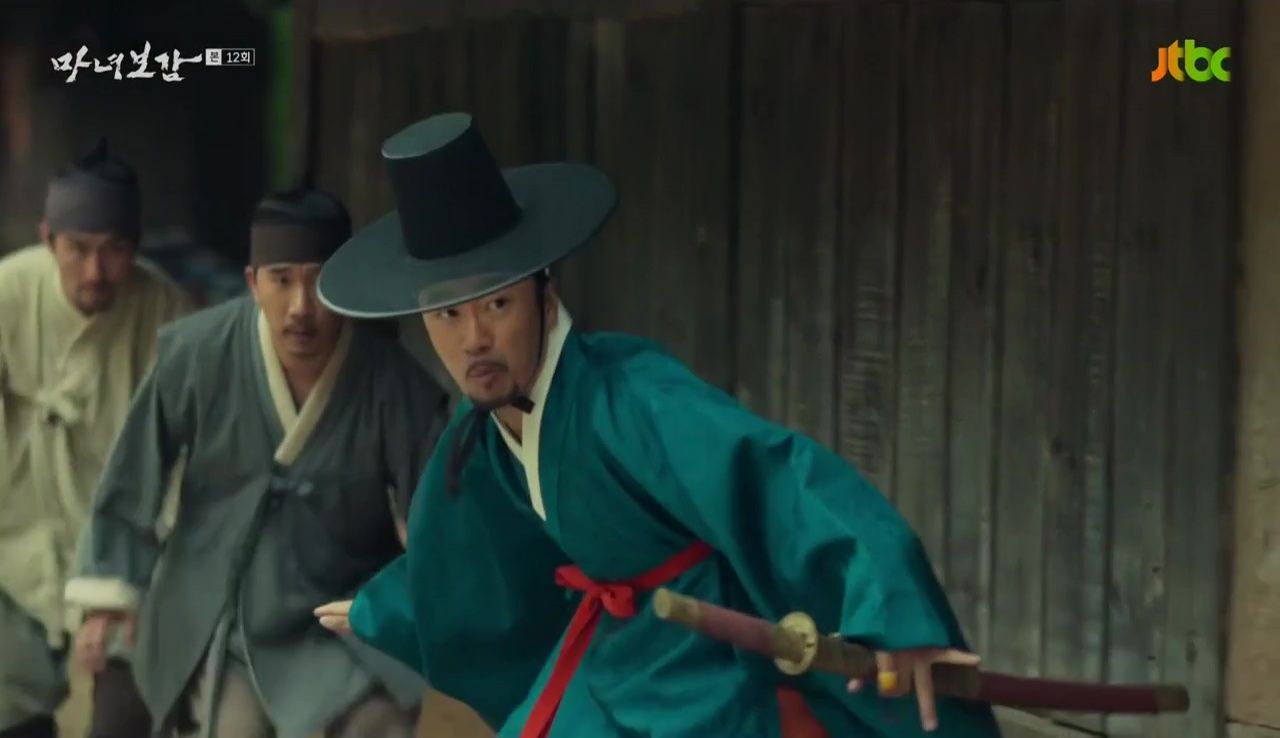 In her lair, Hong-joo receives news that prompts her to grab her sword and leave.
Poong-yeon and Sol-gae arrive at the inn to find Yo-gwang tending to a palanquin. Sol-gae excuses herself to look around the premises.
Yeon-hee looks hesitant to leave and hovers outside of Jun's door. On the other side, Jun leans against the door, looking wistful. Suddenly, he hears scuffling and Yeon-hee's muffled cries. With difficulty, he gets up and opens the door, only to see Yeon-hee being carried off by Sol-gae disguised as the Red Cloak.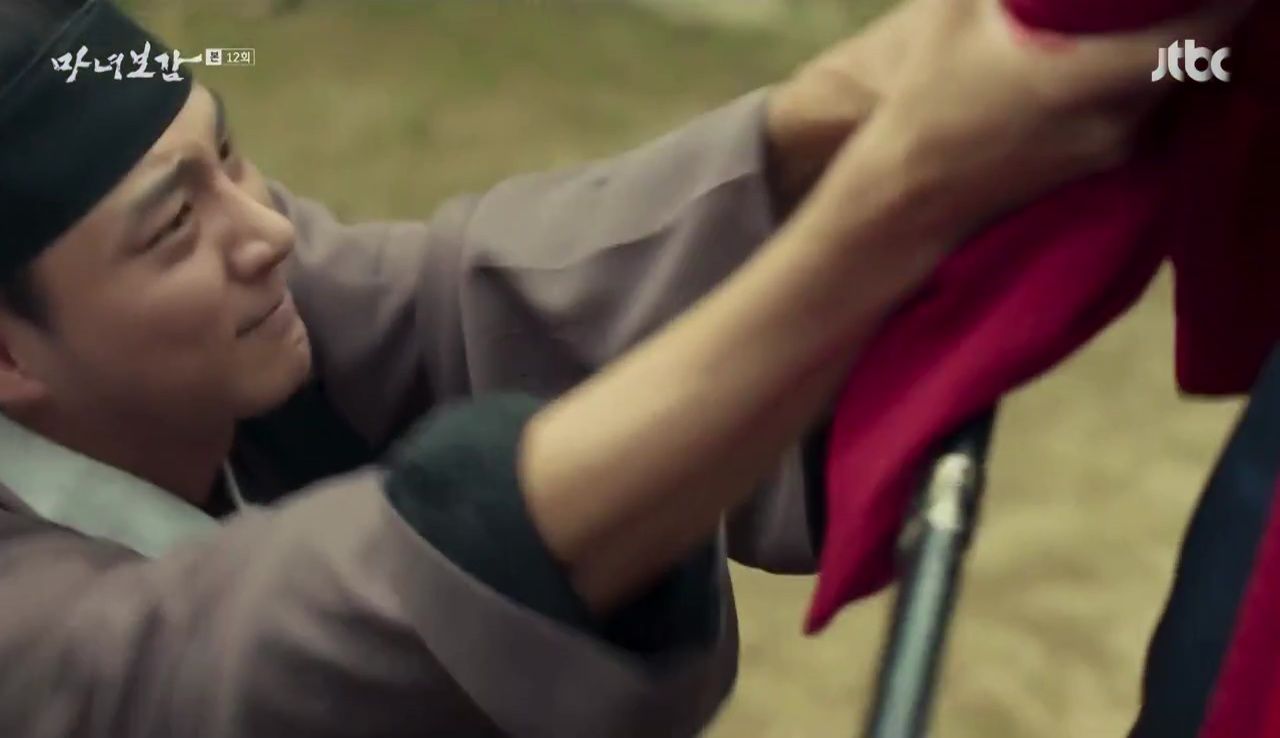 Jun is able to catch up to them and pushes Red Cloak down, releasing her grip on Yeon-hee. He's too weak to fight properly, but he grabs Red Cloak's right arm, where she's already injured.
Red Cloak delivers a good hit to Jun, but he grabs at her injured arm again and again, until she finally draws her sword. Yeon-hee lets out a scream, and thankfully, Poong-yeon and Yo-gwang come running. Red Cloak flees.
Yeon-hee's alarmed when she sees blood on Jun's hand, but Jun says it's not his. He thinks back to the last time he had seen Sol-gae, and how he had gotten blood on his hand the same way — by grabbing her arm.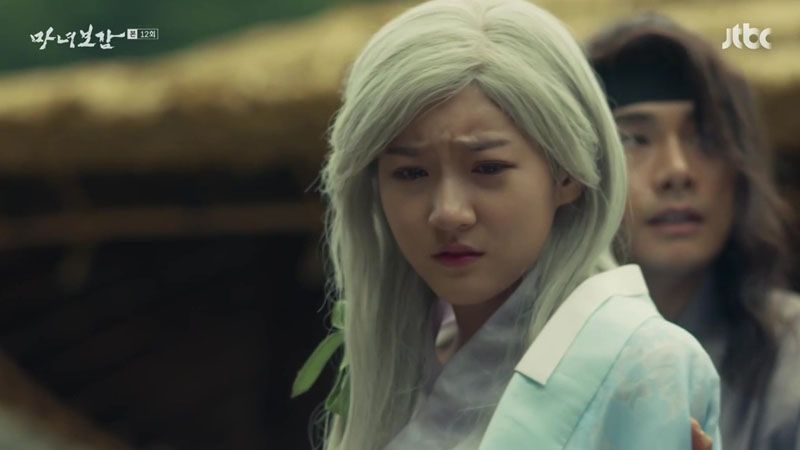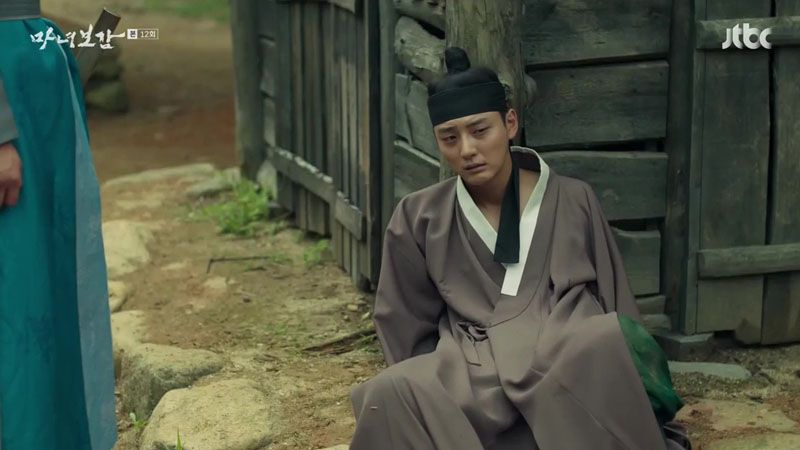 Poong-yeon isn't able to catch Red Cloak and suggests that Yeon-hee leave quickly, since their location has been compromised — he'll stay back with Jun. Yo-gwang pulls a reluctant Yeon-hee away.
Having followed Poong-yeon to the inn, Ok watches Yeon-hee leave in the palanquin, then sees Poong-yeon leading Jun back into his room. He puts two and two together, realizing that the girl he's chasing is the same girl who had convinced Jun not to kill Ok, back at the barn where Jun's mother died.
Hong-joo and her shamans are on their way to find Yeon-hee when Hong-joo catches a glimpse of a palanquin. She knows Yeon-hee's inside, so she orders her army to chase after them.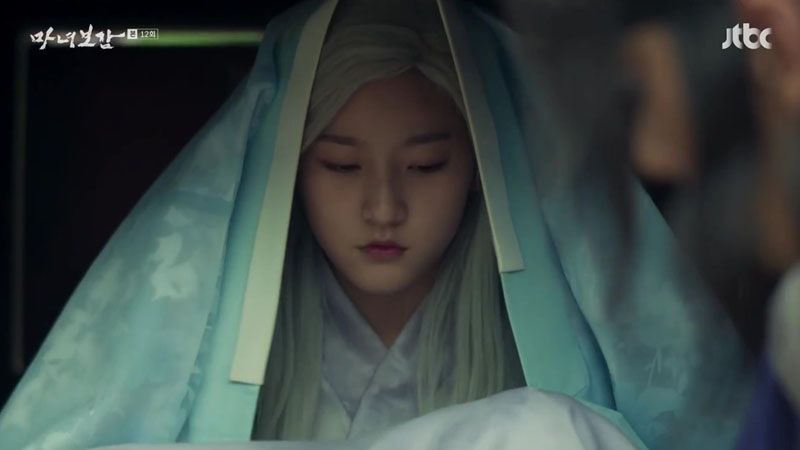 Hong-joo's shamans catch up to the palanquin quickly and open its doors, but to their surprise, it's empty. Just then, the royal palanquin escorting the queen dowager makes its way down the road, halting all traffic. Hong-joo looks over to a side road and sees yet another palanquin passing by — that must be Yeon-hee.
Though everyone else clears the way for the queen dowager, Hong-joo just stands in the middle of the road. The queen dowager allows Hong-joo to approach her, and Hong-joo asks if she's hiding the princess. The queen dowager: "You mean the princess that you told me was dead?"
Hong-joo wonders if the queen dowager will continue to fight her, but the queen responds that she's already surrendered to Hong-joo — that's why she let her live, even when she lied about the princess being dead. At that, Hong-joo hurries to end the conversation.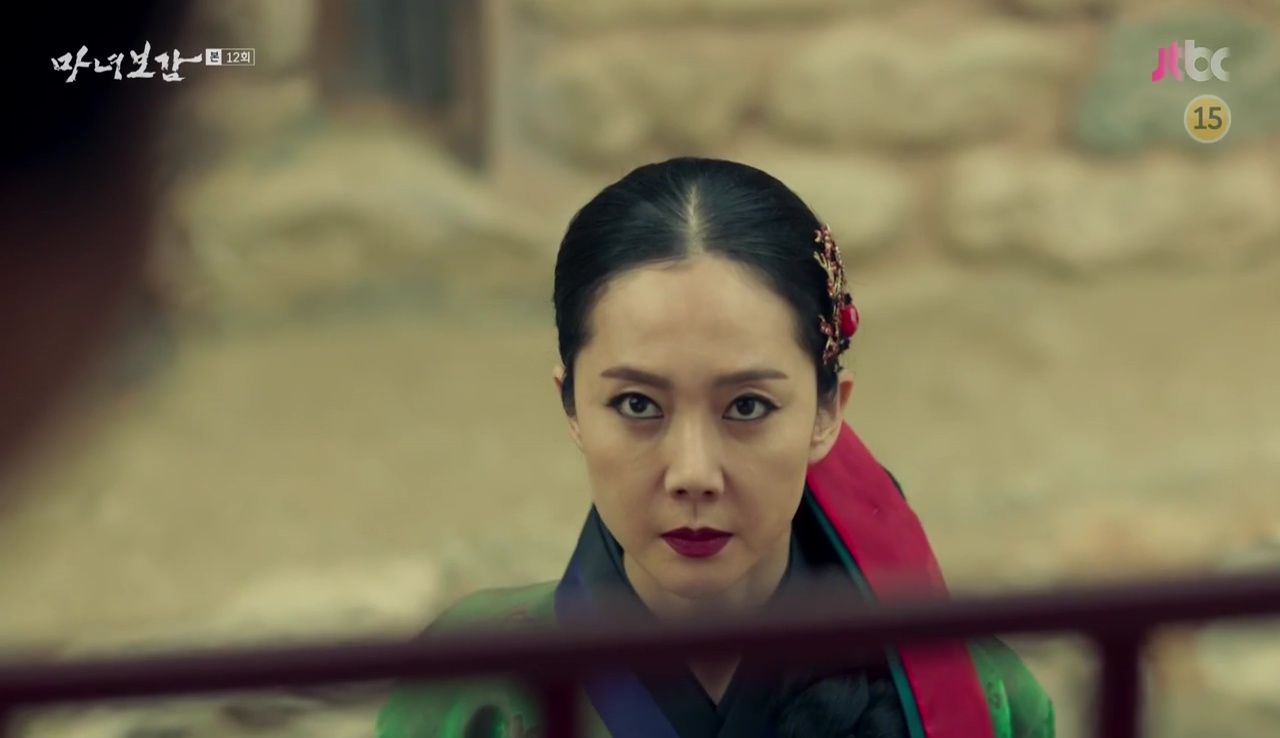 As Yeon-hee's palanquin nears the palace, she thinks back to her earlier conversation with Hyun-seo, which we hear fully now: She'd told him she planned to enter the palace, since she was tired of living on the run. Sometimes it's safest where it's most dangerous, she'd said.
Hyun-seo told her that he's creating a new talisman shield for her for the same reason he became head of the Taoist temple — to protect the country. He asked her not to blame herself or to waver from her mission, even if he ends up dying.
Yeon-hee insisted that she didn't need it that badly if it meant harm for Hyun-seo, but he merely said he wanted Yeon-hee to know that creating it is dangerous work. He instructed her to go straight to the queen dowager once she received her talisman shield.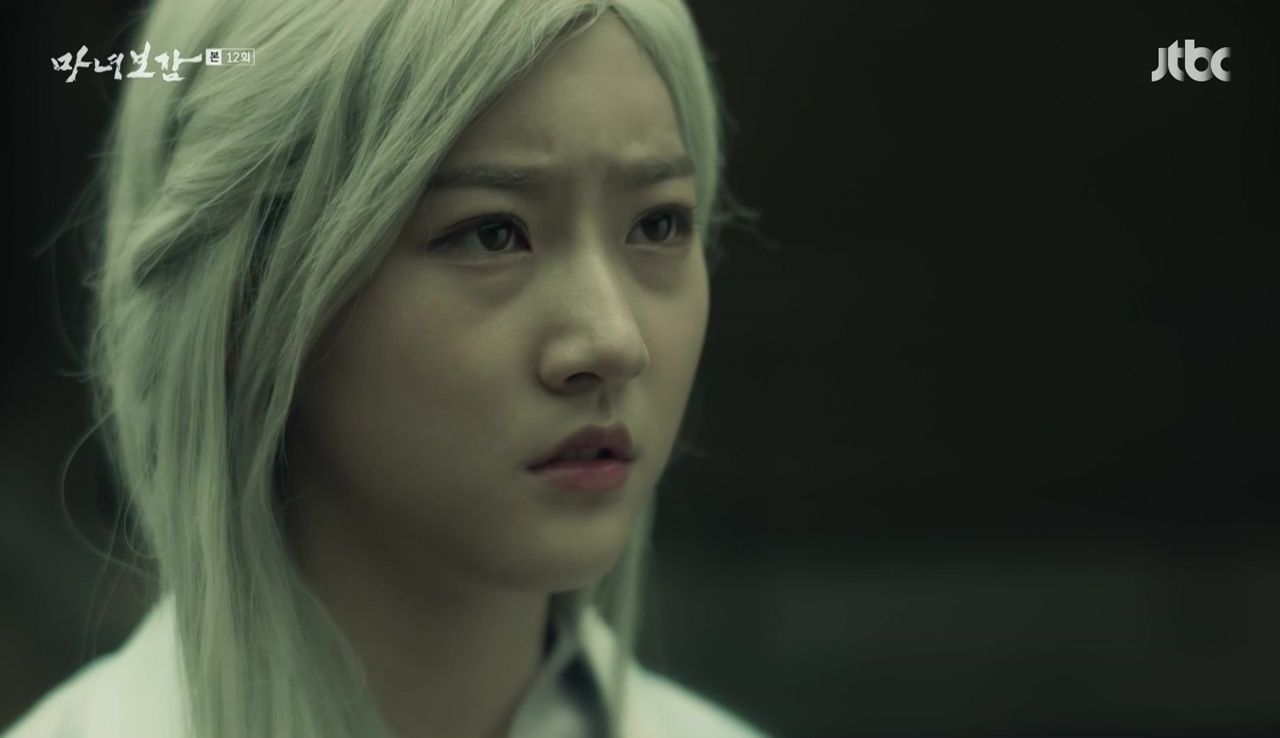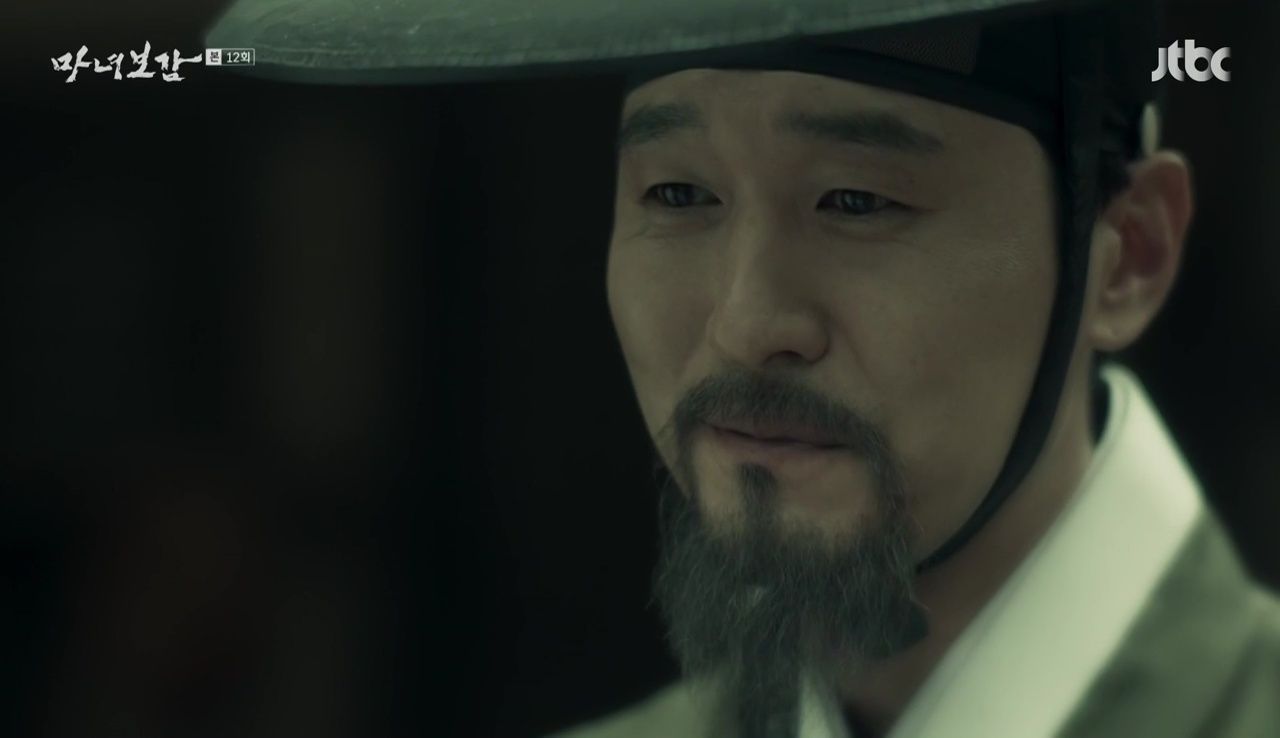 Yeon-hee called him "father" one last time, and at that, Hyun-seo finally smiled, looking like his old self. He said he was glad to see how brave she's become.
Back in the present, Yeon-hee enters the Taoist temple where Hyun-seo sits.
Still searching for Yeon-hee outside, Hong-joo suddenly stops and looks up at the sky, hearing a strange noise. The sounds continue, and she hurries towards the palace.
Hyun-seo and Yeon-hee sit across from one another in a space squared off with talismans and surrounded by lit candles. Hyun-seo nods at Yeon-hee, and they begin.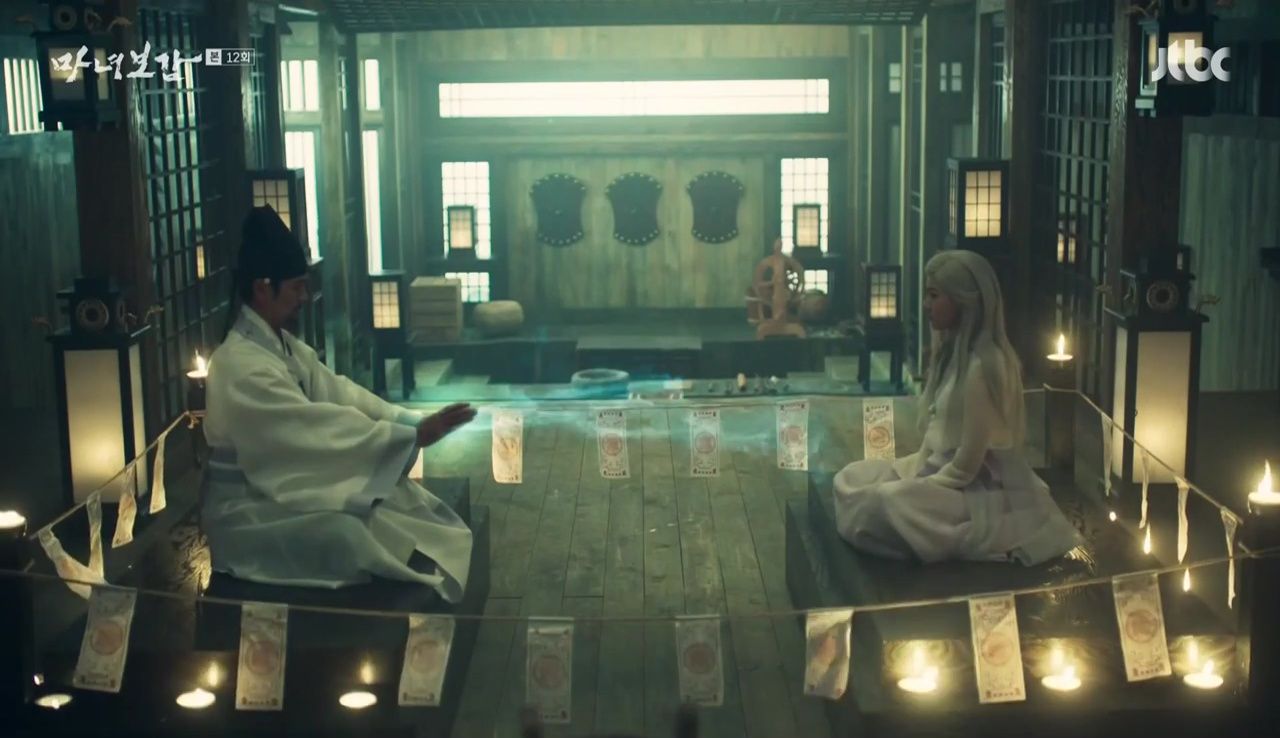 Hyun-seo's hands start to move in gestures, producing a glowing white wisp of smoke, which he directs towards Yeon-hee. Hyun-seo works to create a stronger stream of white smoke, his efforts are clearly straining him. With his hands shaking wildly and his eyes shut tight, he produces a powerful force of smoke, sending it straight to Yeon-hee.
Yeon-hee watches Hyun-seo struggling with tears in her eyes, then closes her eyes to receive the white smoke. The smoke creates the tree mark of the Mauigeumseo on Yeon-hee's forehead: it's her talisman shield. The mark flickers before disappearing and Yeon-hee opens her eyes, which glow blue.
Meanwhile, Poong-yeon looks at Jun curiously, and we see Jun's curse mark flash, then disappear.
Hong-joo storms into the Taoist temple to find Hyun-seo hunched over, weak and in pain. She demands to know where the princess is, then notices the talismans. She immediately realizes what he's done and, horrified, asks Hyun-seo why he would risk his life for such a useless cause.
Hyun-seo says Hong-joo wouldn't understand, since she's never risked her life to save someone else. He starts coughing and falls to the floor. Hong-joo, looking genuinely upset, crouches down and offers to save him.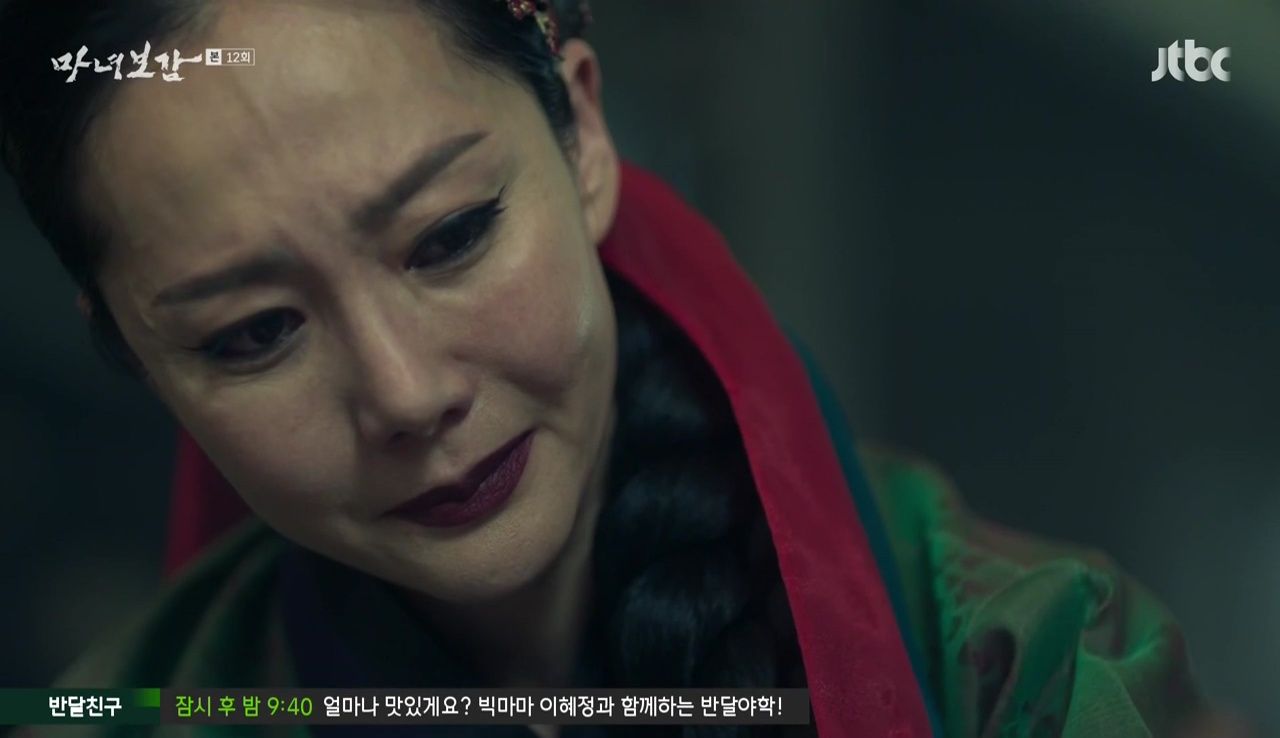 Breathing hard, Hyun-seo says to kill him instead, and tells her he regrets saving her life. He starts coughing up blood and faints, collapsing onto Hong-joo's lap. She cradles his head and he closes his eyes, possibly for the last time.
Distraught, Hong-joo looks down at Hyun-seo for a moment before pulling out her sword. Telling him their fates will be bound by blood, she cuts Hyun-seo's hand, then her own, then places his bloody hand against hers. Black smoke envelops their hands, then disappears.
Hyun-seo's eyes opens slowly, then glow white. Hong-joo: "From now on, you and I will be one until we die."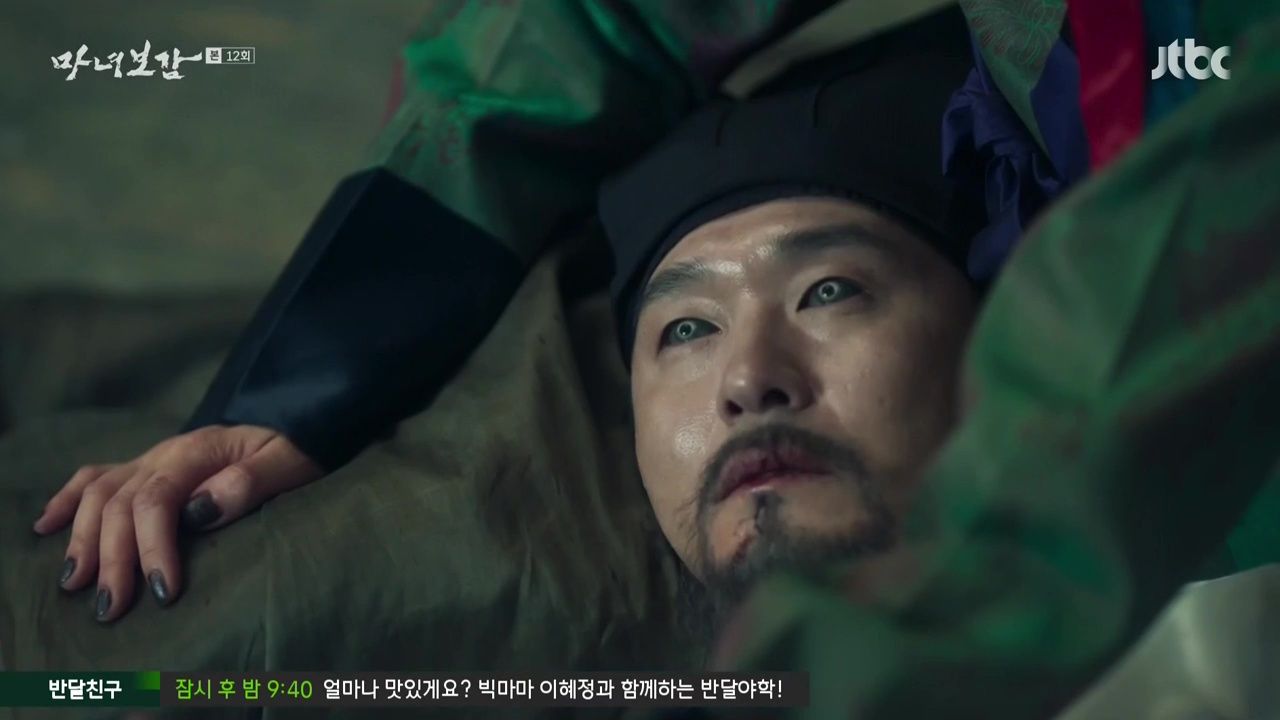 With Yeon-hee's talisman shield created, Jun recovers, and he uses Yeon-hee's materials at Cheongbing Temple to whip up some medicine.
Jun meets up with Soon-deuk, who was able to source Jun's symbol to a group of homeless girls; they're marked on the shoulder and forced to beg as children, then sold off to be gisaengs. With his suspicions confirmed, Jun says he'll check for himself whether or not the Red Cloak is who he thinks she is.
Cut to Jun waiting for Sol-gae, medicine in hand. She refuses to acknowledge him at first, but he won't let her move past him. Instead, he grabs her right shoulder, saying he wants to thank her.
He says the medicine he brought is a present, to help heal her injured arm. He quips that he meant to make the medicine earlier, but got held up by the attack at Cheongbing Temple, which happened to take place just after she stopped by.
Sol-gae refuses the medicine, but winces at the pain of Jun's hand on her shoulder. With a knowing look, Jun tells her that she's hurt — and he won't allow the wound get infected.
Yo-gwang checks on Hyun-seo and finds him standing with his back towards him. All of a sudden, Hyun-seo pulls his sword out and whirls around to face Yo-gwang, and he's almost unrecognizable — eyes glowing white and an evil smile playing on his lips.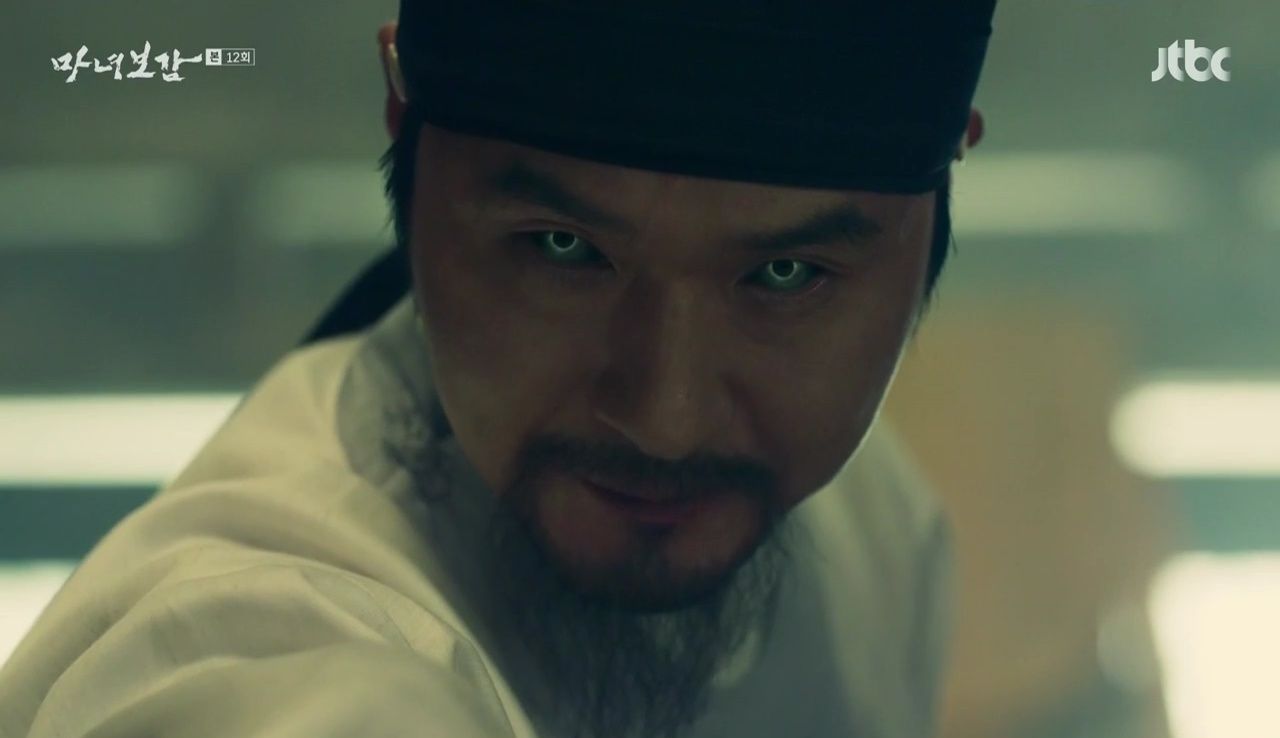 Hyun-seo advances on Yo-gwang, and in a voice that doesn't sound like his own, he demands to be taken to the princess.
In her lair, Hong-joo comes to an abrupt stop as she catches a glimpse of someone in her room.
The figure turns around — it's Yeon-hee. Hong-joo smiles as the two face off, and Yeon-hee almost returns her smile.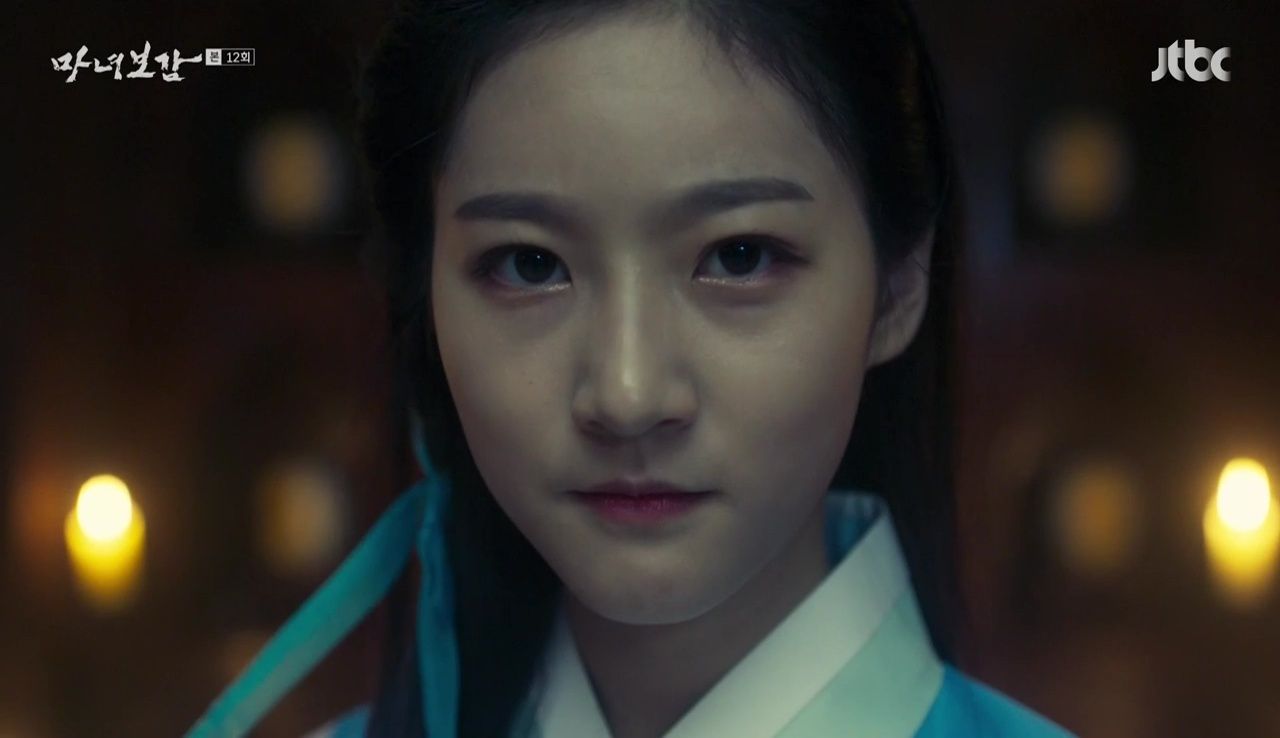 COMMENTS
Okay, I may need a few moments to recover from black magic Hyun-seo. I seriously JUMPED when he first turned around to face Yo-gwang – kudos to Lee Sung-jae for portraying this new Hyun-seo to be so incredibly creepy, all in just a few short minutes of screen time. I mean, everything from his face to his voice seemed different — how crazy is that?
I'm still not entirely sure why Hong-joo wouldn't have used her black magic to turn Hyun-seo into her puppet earlier when she first saved his life, but the show hints that it has something to do with her feelings for him. Despite Hong-joo insisting that she would only use magic to protect herself and not others, it's possible that her heart for Hyun-seo led her to use her powers to merely keep him alive the first time — but we'd also have to ignore the fact that she's the one who killed him to start.
It's looking like Jun and Yeon-hee's stories will once again unfold separately at least for a little bit, with Yeon-hee seeking out Hong-joo and Jun determined to catch the Red Cloak. Speaking of, how ridiculous is it that Poong-yeon hasn't figured out already that Sol-gae is the Red Cloak? Thank goodness Jun started piecing things together, because I was getting frustrated at how Poong-yeon was just giving away Yeon-hee's location by bringing Sol-gae along wherever he goes.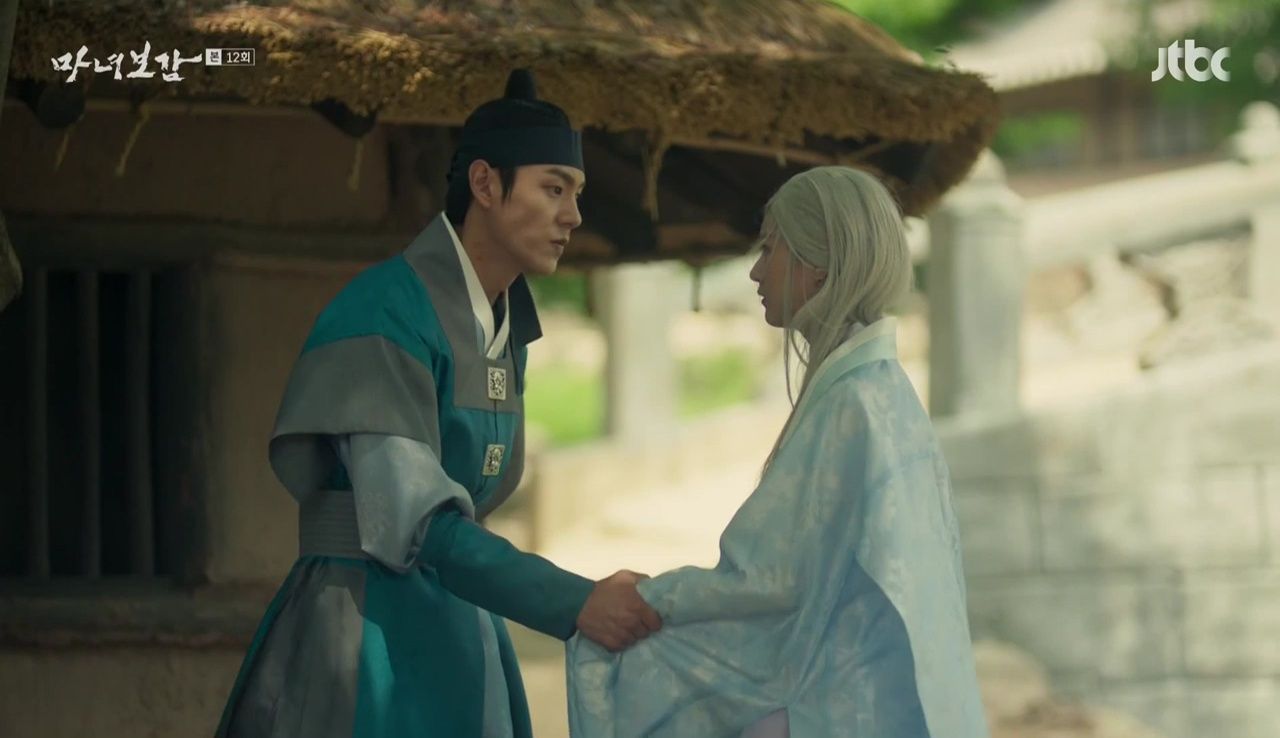 This episode really demonstrated that our male leads couldn't be more different from one another. Jun's heart is all in for Yeon-hee, past, present, and future, while Poong-yeon is stuck in the past, insistent on returning Yeon-hee to who she was before the curse took hold.
So far, the actions of both men are motivated by some version of love and concern for Yeon-hee, but Poong-yeon's obsession with getting the "old" Yeon-hee back is starting to overtake everything else — I fear he's not far away from tipping over to the dark side. If Hong-joo's black magic can offer him what he wants, how long will it be before he breaks?
Hopefully, he can hold out a bit longer, as it looks like Yeon-hee's finally ready to battle Hong-joo head on. I, for one, am excited about Yeon-hee's development into an active participant in this fight for her future. With Jun by her side as a fellow team member and cheerleader, I'm betting she'll be a formidable opponent for our resident black witch, her army, and whatever else life decides to throw her way.
RELATED POSTS
Tags: Episode 12, featured, Kim Sae-ron, Lee Sung-jae, Mirror of the Witch, Yeom Jung-ah, Yoon Shi-yoon