Age of Youth: Episode 8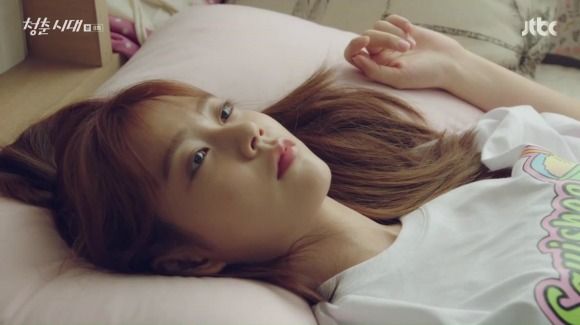 Boys—and love itself—can seem like the most important part of a girl's life, and in their youth, it can seem like the most painful. We grew up reading all sorts of fairy tales about princes, and like those princes, we were made to believe our significant others were supposed to protect us from the pain, not cause it. And while I firmly believe princes do exist (they're out there, ladies, I swears it!), they don't always have to do the protecting. That's what friends are for.

EPISODE 8: "Hope, that damned hope #suspicious man"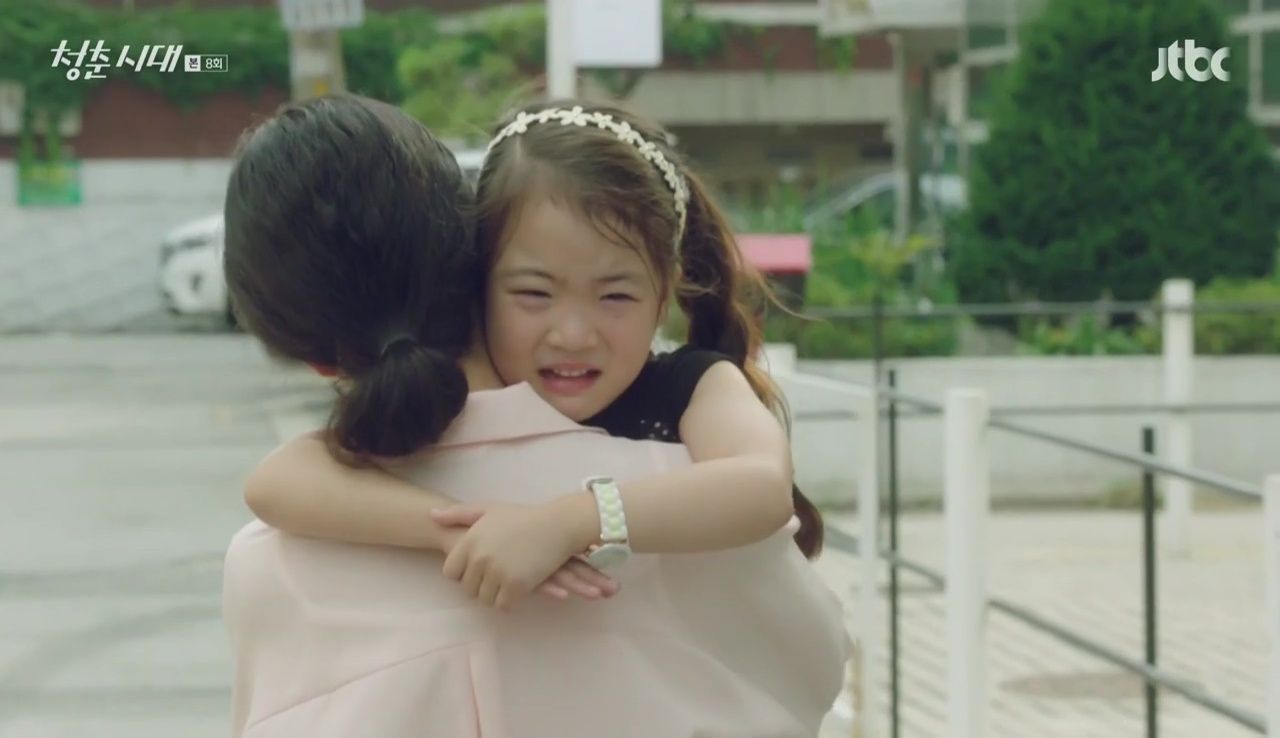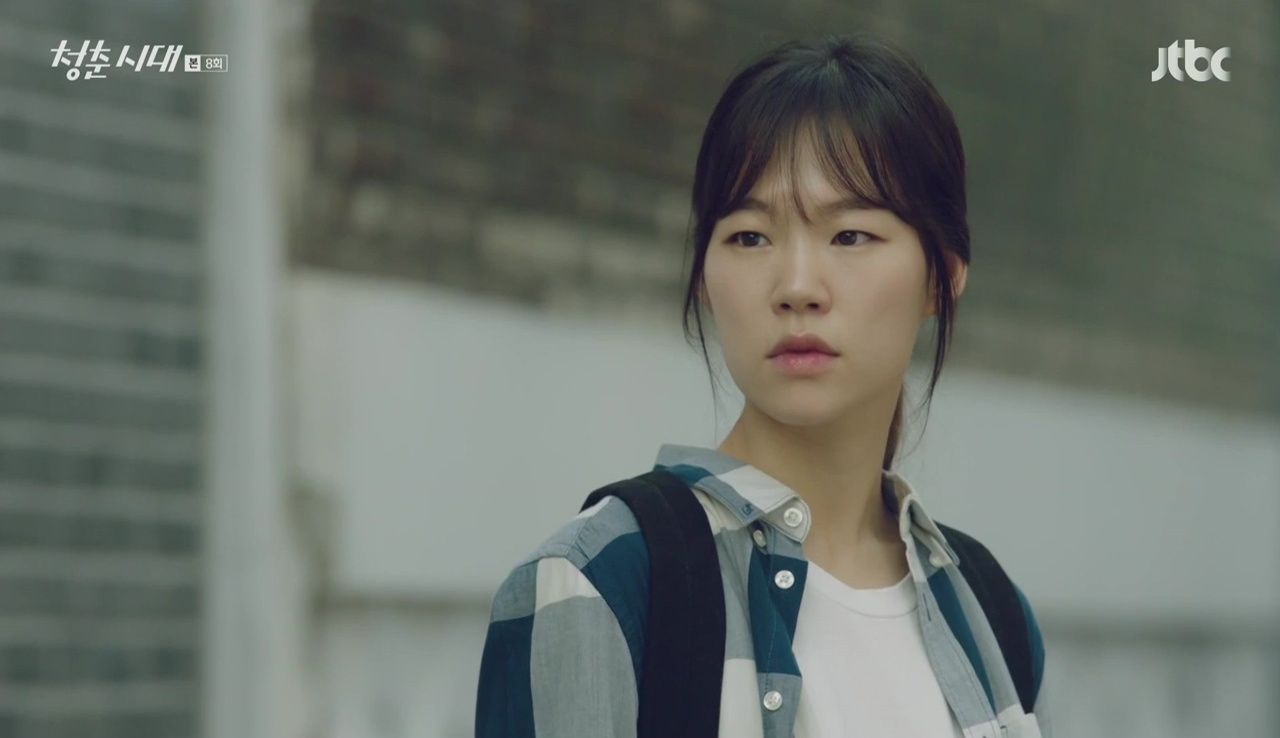 Jin-myung spots a message from the landlady posted outside the house, warning the girls to be careful of a strange man who's been hanging around the area.
As Jin-myung walks down the street, a little girl trips and falls right in front of her and they make eye contact for a beat before Jin-myung decides to keep walking. "That child will get up by herself. Children don't cry when there's no use in doing so," Jin-myung thinks.
The girl's mother comes running up, and the little girl bursts into tears. Jin-myung watches them as they leave and thinks that it's only when a child has someone there to comfort them and tell them it's okay that they feel they can cry.
The restaurant manager inspects the staff before work, stopping in front of Jin-myung. He gets in close and sniffs her neck, while in the next room, Jae-wan chops furiously. The manager rips a pain-relieving patch from Jin-myung's neck, taking her to task for wearing anything remotely scented, which is against the rules.
The other staff members are so fed up with Jin-myung always getting them into trouble that one waitress purposely bumps into her while she's carrying four plates. Fortunately, Jin-myung doesn't drop anything and she keeps her composure. But once she delivers the food, she charges back into the kitchen.
The waitress is by a water cooler and Jin-myung grabs her hand and sticks it under the hot water. "If you do that again, I'll stick your hand in a pot of boiling water," Jin-myung warns her menacingly. Damn, girl.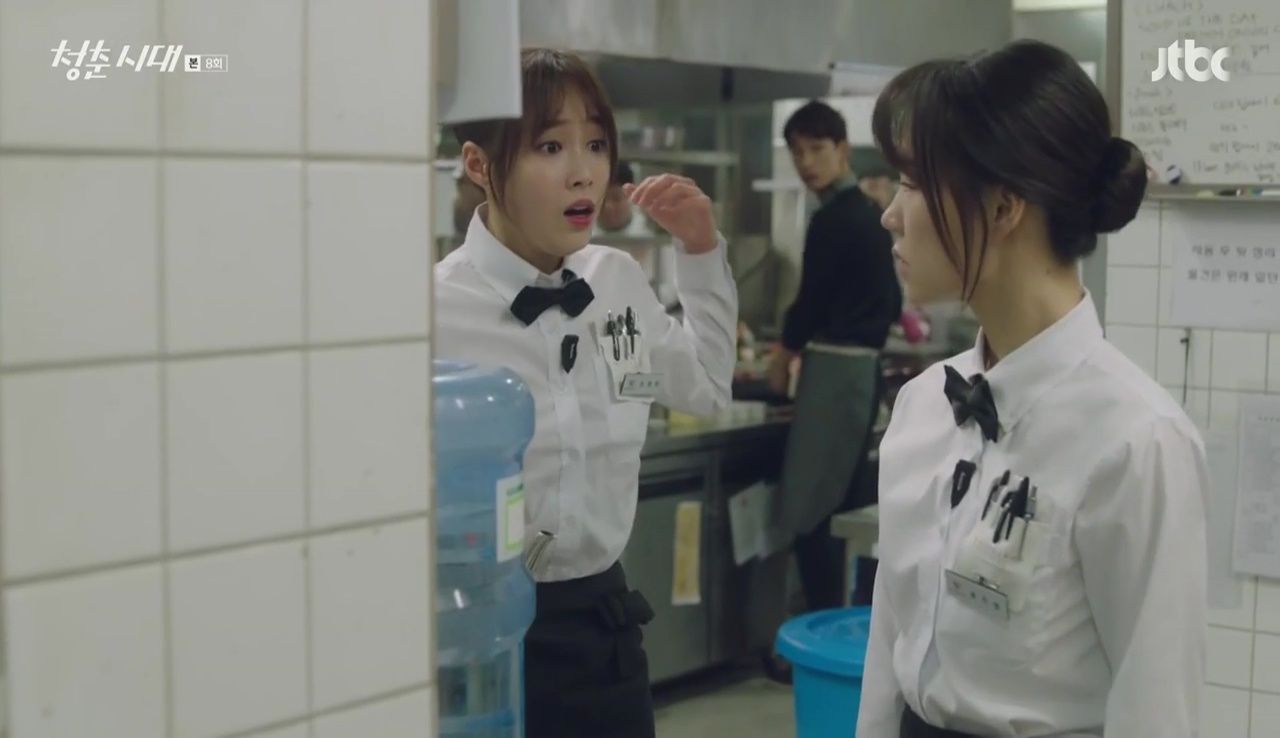 Yi-na keeps getting calls from Jong-gyu and she keeps ignoring them. She comes across a thought, and tiptoes over to the balcony. She peeks over, and sure enough, Jong-gyu is waiting down below, his phone to his ear. The doorbell rings and Yi-na panics when Ji-won goes to answer it. It turns out it's just a package delivery from Ji-won's dad.
The girls snack on the goodies sent by Ji-won's dad, and Ji-won brings up Jong-gyu. They wonder if he might be the strange man the landlady's been wary of. Ye-eun uses Jong-gyu as an excuse to corner Yi-na about her being too easy around guys. The girls turn the conversation around to something funny, but when Ye-eun gets up to leave, Yi-na stops her and says, "If you have something to say, then say it." Ye-eun just gives her a dirty look and stalks off.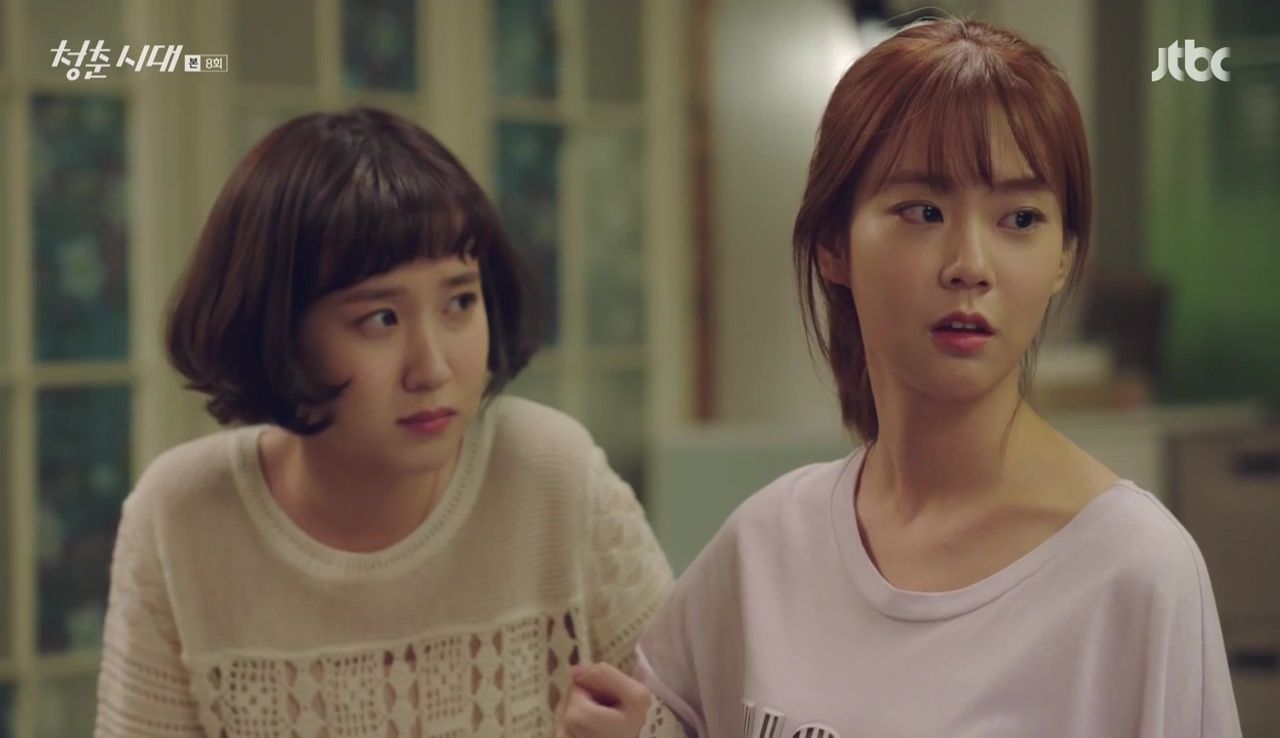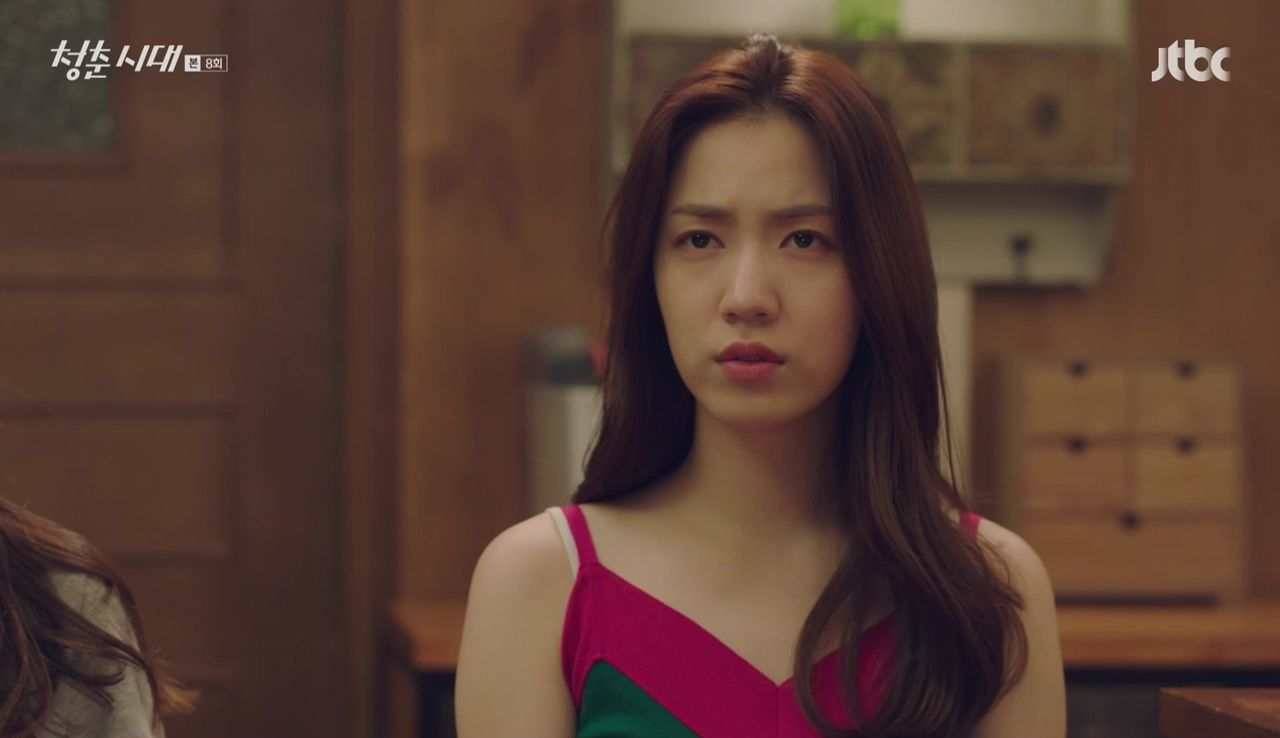 The war continues in the morning between the two housemates when Yi-na gets a call and heads out. Ye-eun's face falls, her paranoia taking over. She calls Doo-young's phone and gets even more paranoid when he doesn't answer.
It's Dong-joo who Yi-na goes to meet, and he tells her all about Jong-gyu after having dug up some information. Jong-gyu used to be a carpenter… until he went to jail for beating someone to death. He was supposed to get ten years, but he got out after seven. Dong-joo urges Yi-na to turn the man in, but she wants to wait.
Ye-eun comes running out, desperate to confirm her nagging suspicion, and almost gets hit by another car on the street. Yi-na and Dong-joo get out to see if she's okay, but once Ye-eun sees that Dong-joo isn't Doo-young, she looks more embarrassed than anything and numbly walks back inside the house.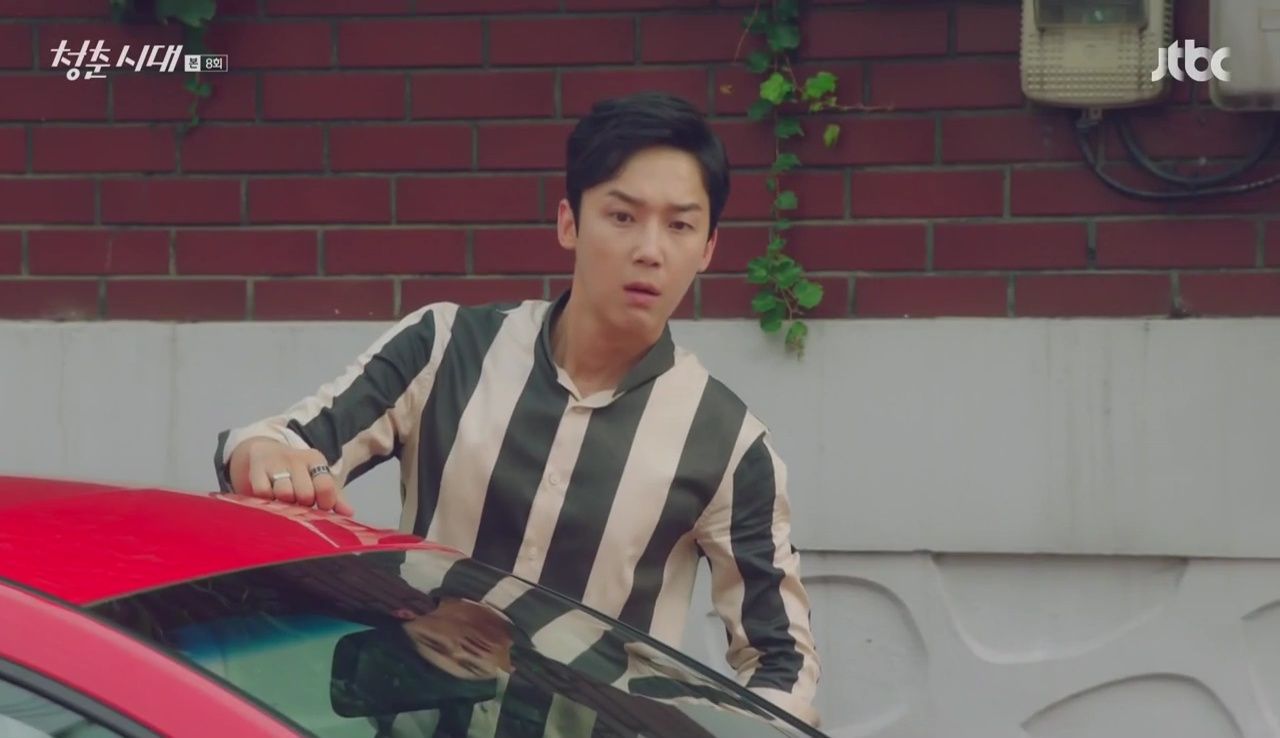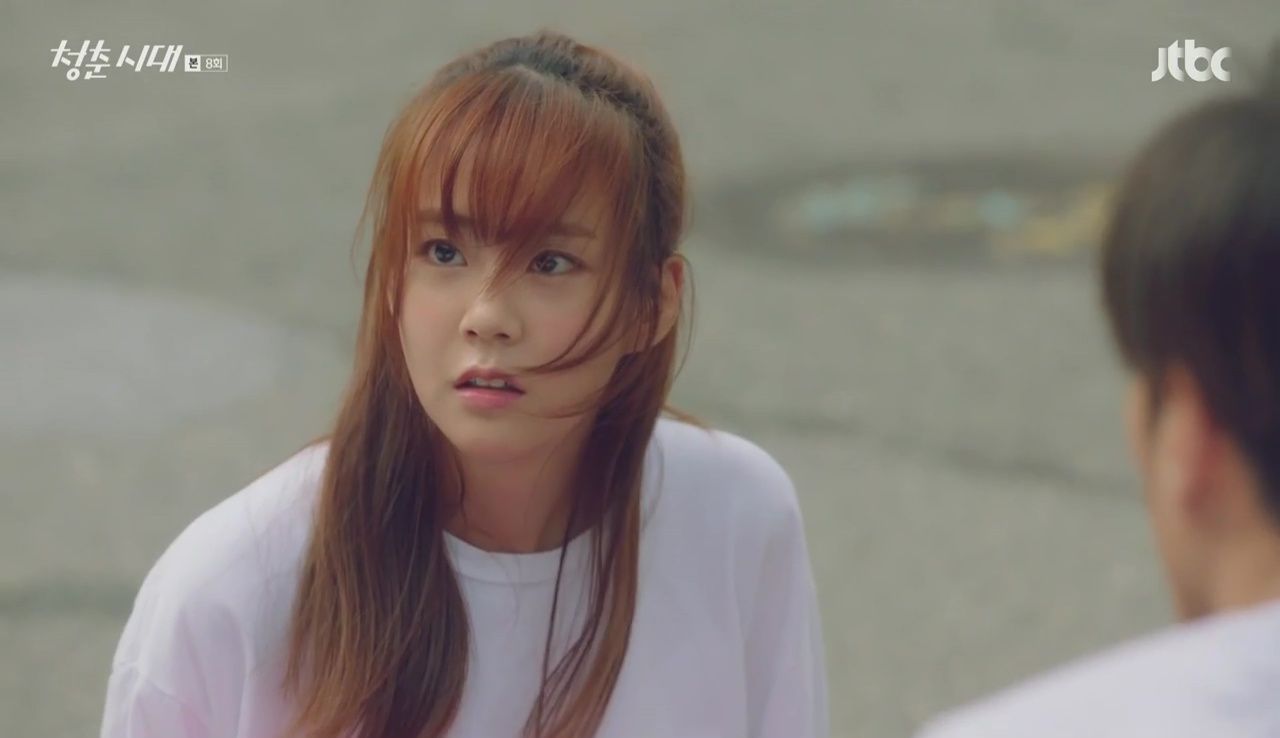 At the restaurant, a customer complains of an incorrect order to Jin-myung, which, of course, doesn't go unnoticed by the manager. She gets another scolding from him in the break room, and she ends up missing her bus home.
Jae-wan comes up on his motorcycle and offers her a ride. Jin-myung sighs in defeat and accepts. They ride in silence the whole way back. Jae-wan finally speaks up once they're about to part ways: "Quit. Quit working at the restaurant."
He tells her there are plenty of other part-time jobs she can get. And then he leaves without another word.
Eun-jae goes to take out the trash, but gets an eerie feeling that someone is watching her. She tries to walk back to the door as calmly as possible, though each step becomes more urgent. A hand plops down on her shoulder, making her scream and smack her attacker. Inside the house, all the girls' ears perk up in alarm at the sound.
"Sunbae!" Eun-jae cries out in surprise. Hahaha, it's Jong-yeol, now clutching the eye Eun-jae smacked. "That's right, it's your sunbae," Jong-yeol says. "What exactly—"
"YAH!" Jin-myung yells as she jumps from the porch and sends a flying kick right at Jong-yeol. Ji-won and Ye-eun team up and clothesline him, giving way for Yi-na to deliver the final blow to his head. Jong-yeol goes down like a rock. That… was amazing. I need to rewatch.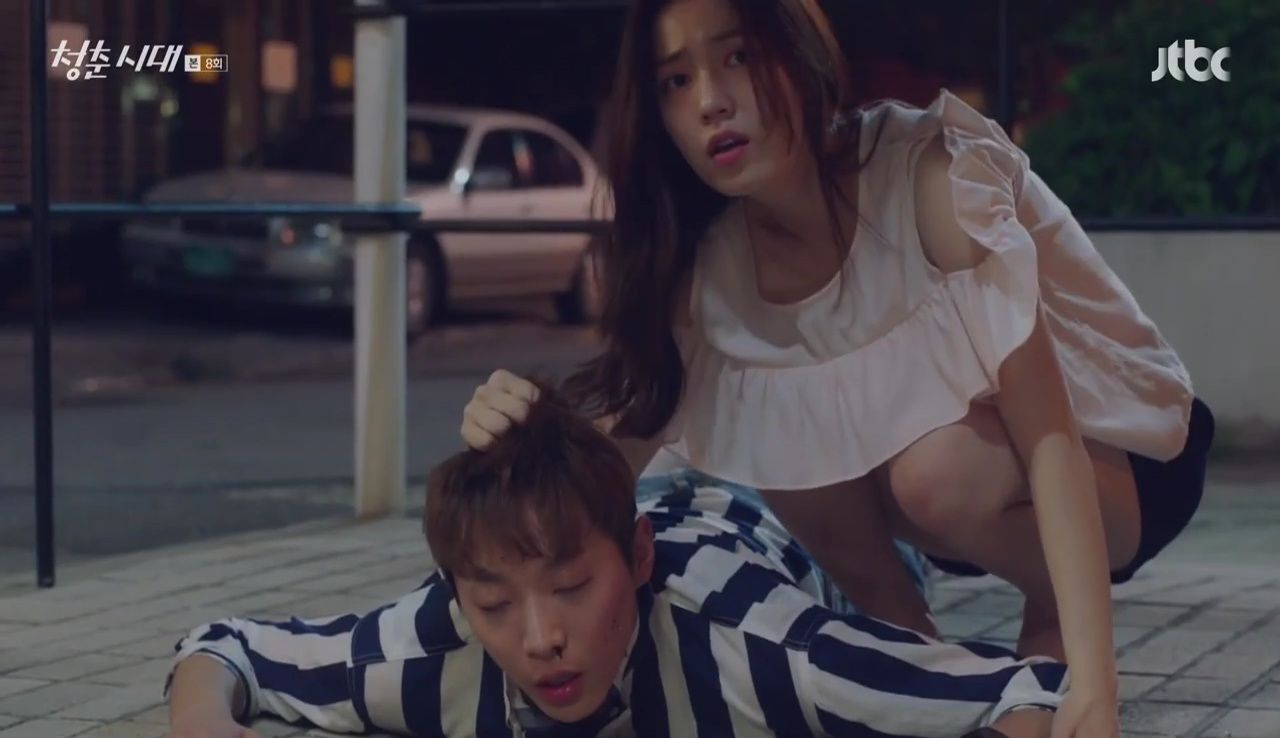 The girls make sure Eun-jae is okay before checking the guy's face. That's when they recognize him, and Eun-jae just about dies from embarrassment.
The girls leave the couple alone outside to talk, but Jong-yeol seems too hurt (from his wounds and his pride) to accept any of Eun-jae's comfort. She tells him that he's the one who popped out of nowhere and scared her. He argues that he was just trying to surprise her. He gets all huffy and then tells her to scooch closer to him.
She smells alcohol on him and wonders if he went drinking. He confirms that he did go out with his high school friends. His old buddies wanted to meet her, but he didn't want to call her over. "Because you're mine," Jong-yeol mumbles. Eun-jae swoons at that.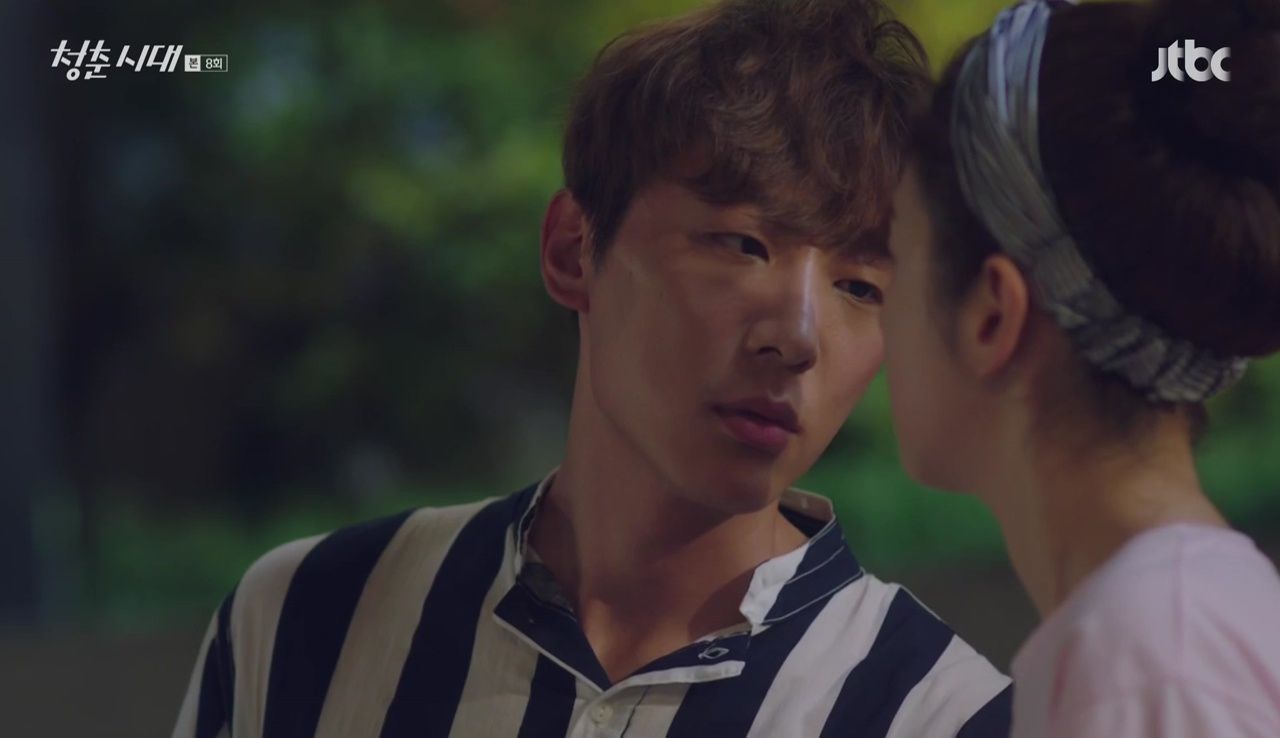 Jong-yeol starts complaining about the spot Eun-jae hit, saying it hurts there the most. Eun-jae blows on the wound, and with her lips so close to his face, Jong-yeol can't help but steal a quick kiss.
Eun-jae lowers her head to hide her blush, but Jong-yeol isn't finished. This time, he gently cups her face and gives her a much longer kiss.
And like proper girlfriends, the girls catch the entire thing from the balcony. Yi-na and Ji-won break into giggles at the kiss and head back inside. Ye-eun stays behind to watch, a faraway look in her eyes. She thinks back to her first date with Doo-young when he'd walked her home and kissed her. Ye-eun tears up at the memory and turns away from the balcony.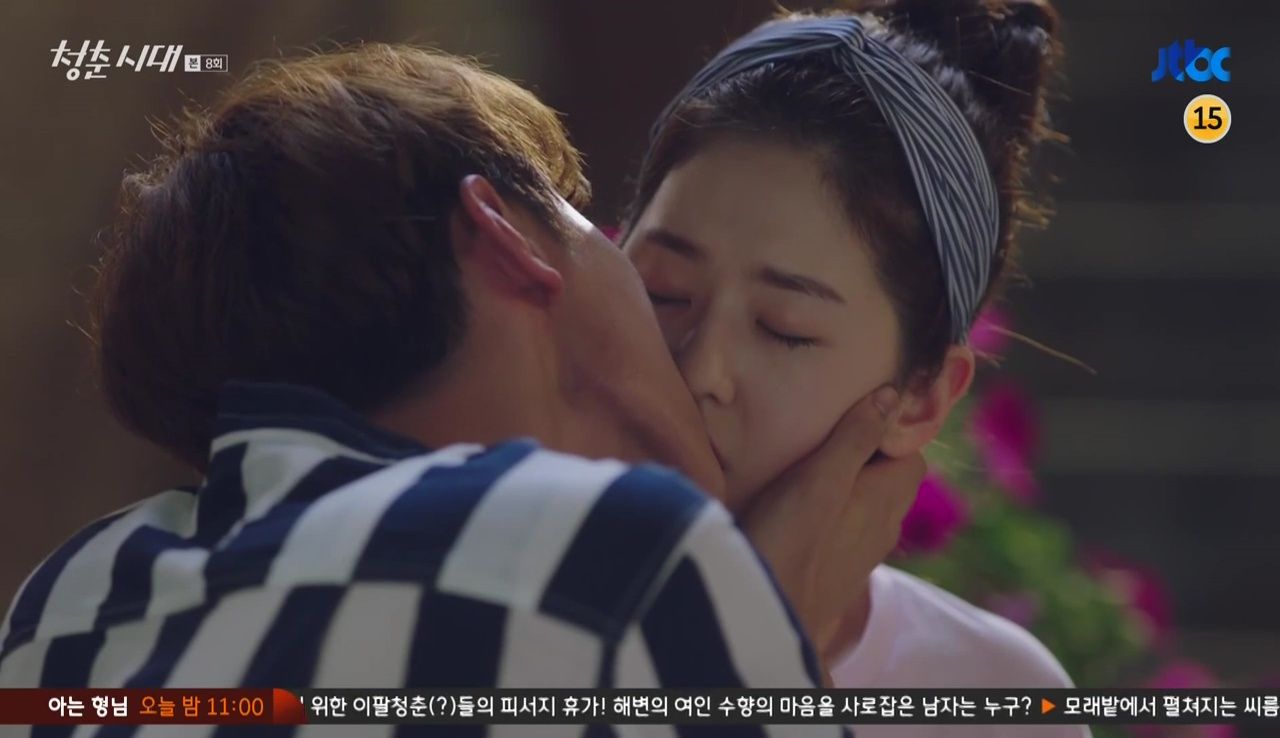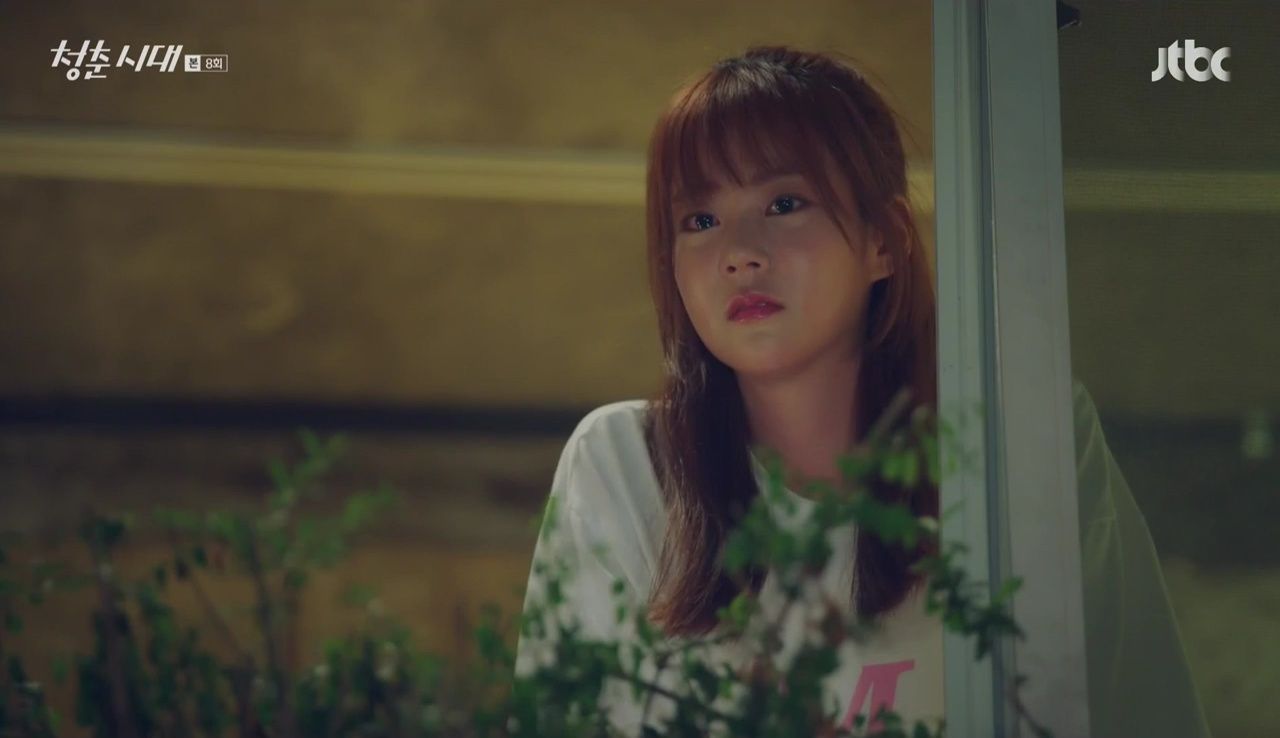 The next day, Yi-na gets called out by Boyfriend #1, and as soon as she's sure that Jong-gyu isn't out on the street again, she finds it safe to leave the house.
After having dinner with her sugar daddy and another couple, Yi-na relaxes a bit. But as they head out to the parking lot, she sees a very familiar truck…
Jong-gyu comes up from behind and whirls her around. He demands she tell him what happened that day—he has to know. Before Yi-na can answer, her sugar daddy comes to her rescue and punches Jong-gyu to the ground. The fight grabs two security guards' attention and they drag Jong-gyu away as he continues to cry, "Tell me! Please tell me!"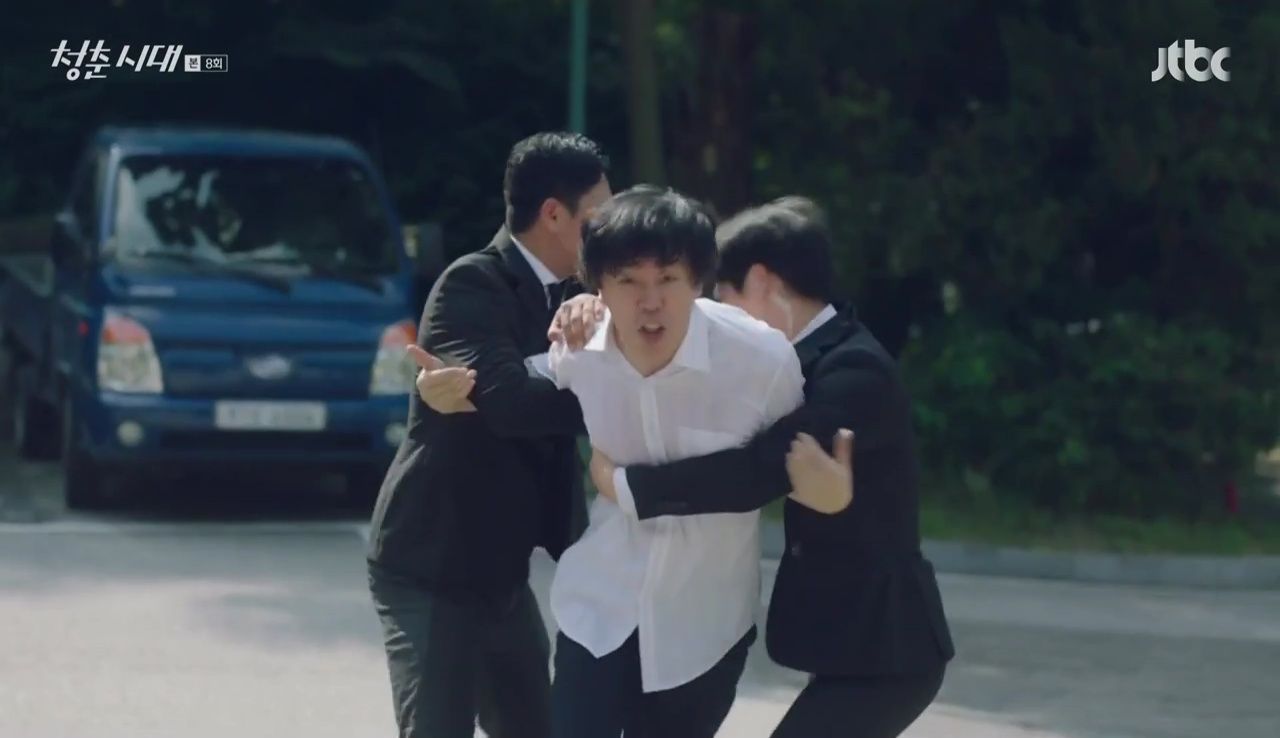 Yi-na gets home at the same time Ye-eun is heading out. Ye-eun gets a call from Doo-young, and she yells at him not to come to the house—she'll go to him.
When she reaches Doo-young, she greets him with a big hug, knocking the wind out of him. He's even more confused by her overly cheerful mood as she tells him what they should do for their date.
"I'm happy as long as I have you. Don't you feel the same way, Oppa?" Ye-eun asks with a hopeful smile. Doo-young's thoughts turn back to when he caught Ye-eun looking at his phone. After a pause, he returns the smile.
Ye-eun and Doo-young have a nice date together and finish it off with dinner. Things seem to go well until Ye-eun comes back from using the restroom and sees Doo-young laughing at a text. She asks who it's from, and he answers with a laugh that it's from a friend who wants to grab a drink.
Ye-eun doesn't find this funny and abruptly stands up, wanting to leave. Doo-young is confused with her sudden mood change, so she makes up the excuse of feeling sick. She denies a ride home from him, wanting to take the bus home instead.
Once alone on the bus, Ye-eun calls both Yi-na and Doo-young, and neither answer. She's on pins and needles the whole ride home.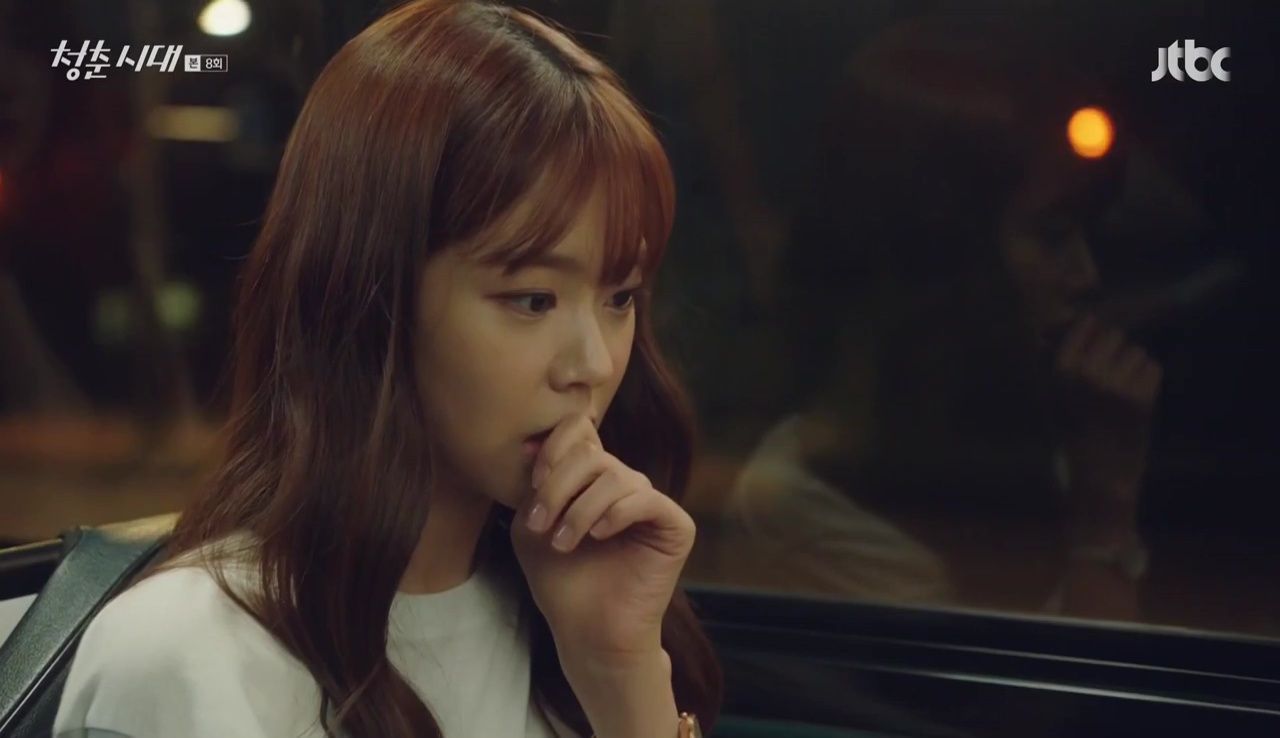 The second she gets there, she bursts into Yi-na's room—who had just finished calling Dong-joo for more info on Jong-gyu—and snatches the phone from Yi-na's hand. She throws it back when she confirms that it's not Doo-young.
Yi-na stops Ye-eun in the living room and demands to know what her deal is. Ye-eun still refuses to spit it out, so Yi-na finally asks, "What did your boyfriend tell you?" Ye-eun frees all of the emotion she'd been holding and yells that she knows Yi-na seduced Doo-young first. Ye-eun sees the fact that Yi-na flirts with so many guys as concrete evidence.
Yi-na tries to convince Ye-eun it's all in her head, but Ye-eun's trust in Doo-young is too strong. The two girls blow up, and Ji-won and Eun-jae have to keep them apart. Ye-eun screams that she'll kill Yi-na if she touches her man. Yi-na screams right back she'd never take Doo-young even if she could before slamming her bedroom door.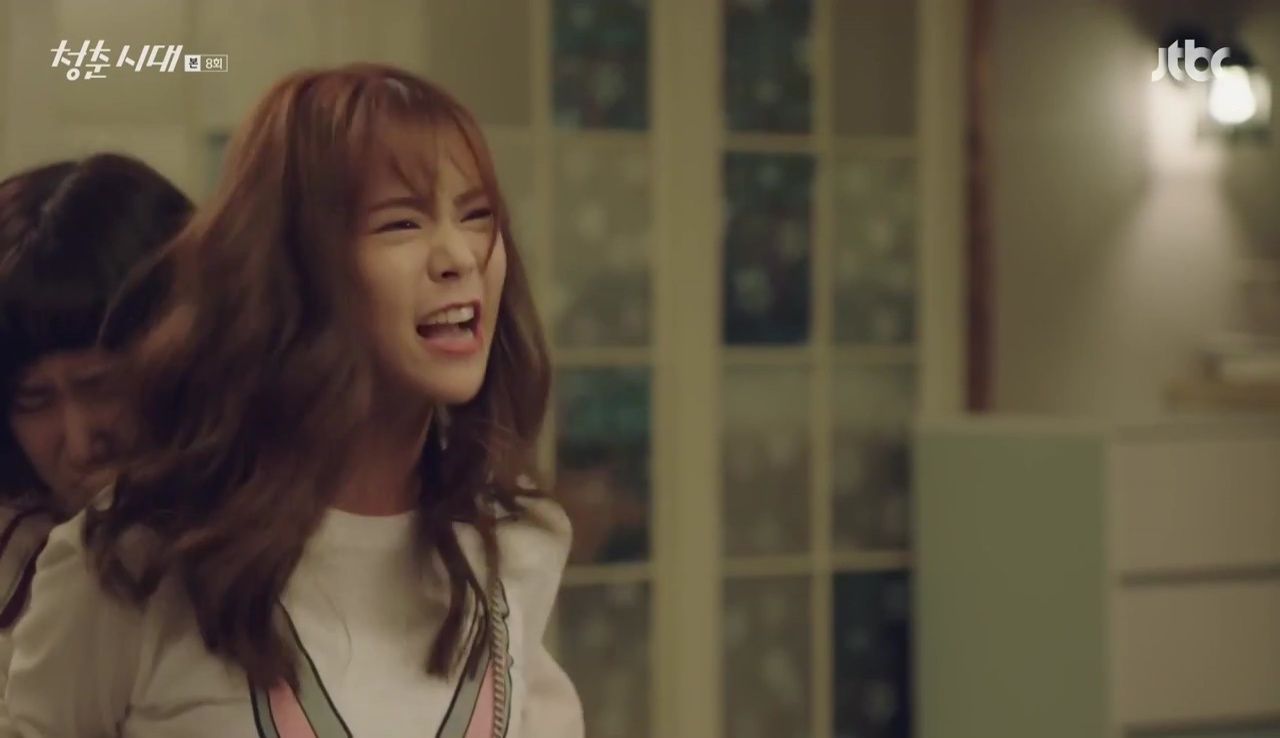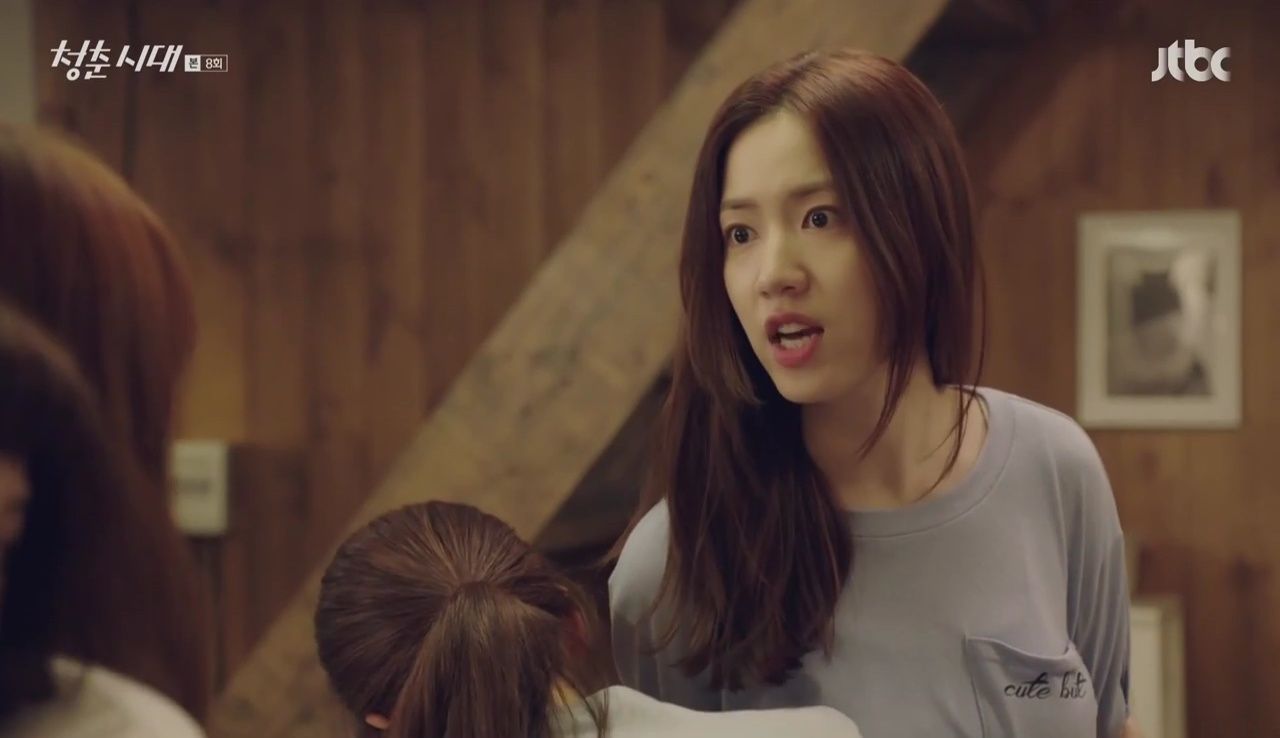 The next morning, Eun-jae is cautious at the sight of Yi-na and Ye-eun already at the table eating different things. The two act like a mom and dad fighting for their child's favor and ask Eun-jae who she wants to eat with. When Ji-won comes out to say she's going to the public bath, Eun-jae jumps at the opportunity to escape and says that she'll go too.
As Ji-won and Eun-jae walk out together, Eun-jae wonders why such a nice, pretty girl like Ye-eun is dating that kind of guy. Ji-won reveals that Ye-eun's insecurity could be because of her inferiority complex with her much prettier and smarter twin sister. Upon hearing this, Eun-jae can understand Ye-eun now. But then Eun-jae remembers Ye-eun once said she was an only child, catching Ji-won's lie. Ji-won smiles.
Ji-won: "After hearing my story, you thought, 'I understand why she's like that,' didn't you? So what I'm trying to say is that my story may not be the right answer, but everyone has their own circumstances to deal with. And until you know their circumstances, you can't tell them to live a certain way. It's not just Ye-eun. [Yi-na] and [Jin-myung] are like that too. You could have something like that too. Something about you that others can't understand, but you can't help."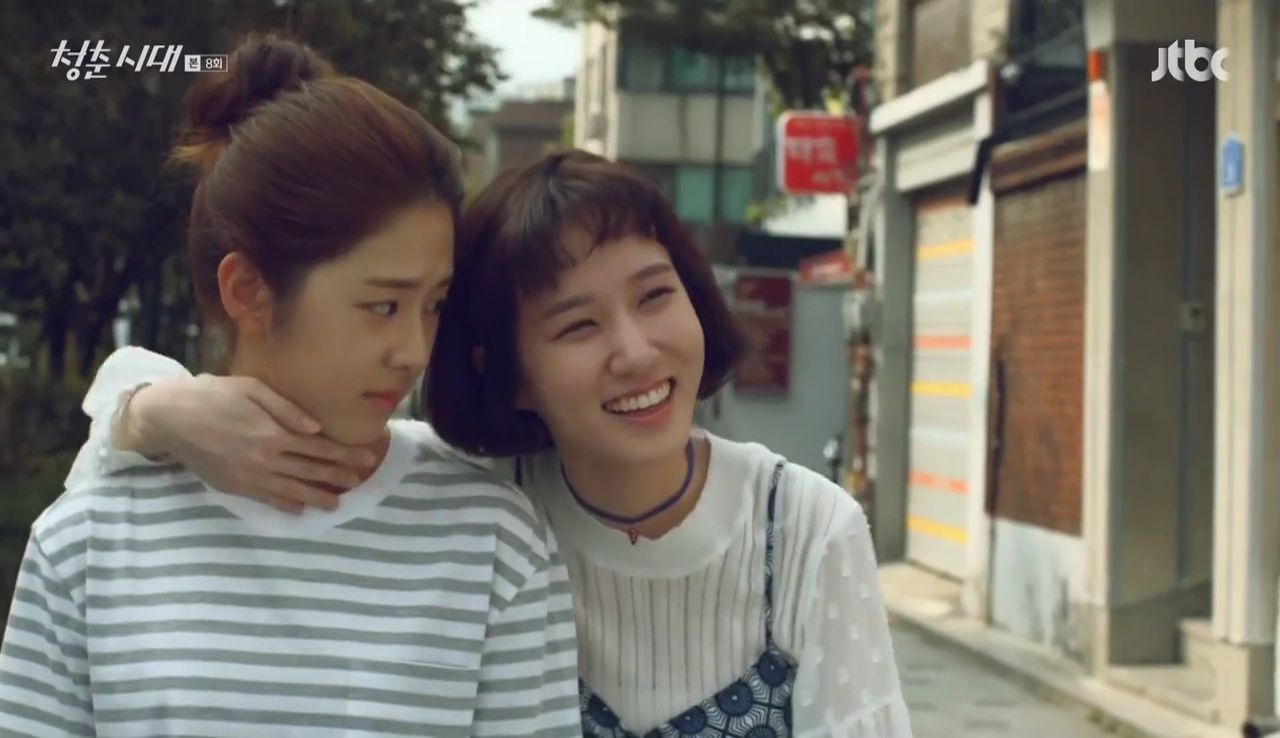 Eun-jae's pace slows and she looks at Ji-won with a little more admiration. Eun-jae tells Ji-won she looked really cool just now, and different from her usual self. Ji-won puts her arm around Eun-jae, grateful for the compliment. She even begins to gloat about her amazing intellect, which gets Eun-jae rolling her eyes. Ha, I guess that moment of admiration is over.
The loan sharks find Jin-myung again, but she just walks away from them and their snarky remarks. She freezes when one of them brings up her mother. He drops the joking demeanor and tells her if she really sits back and does nothing, they'll have to handle her mother their own way.
"Is that okay with you?" the loan shark asks. Apparently not, because soon enough, she's sitting down with them and signing the papers, a dead look on her face.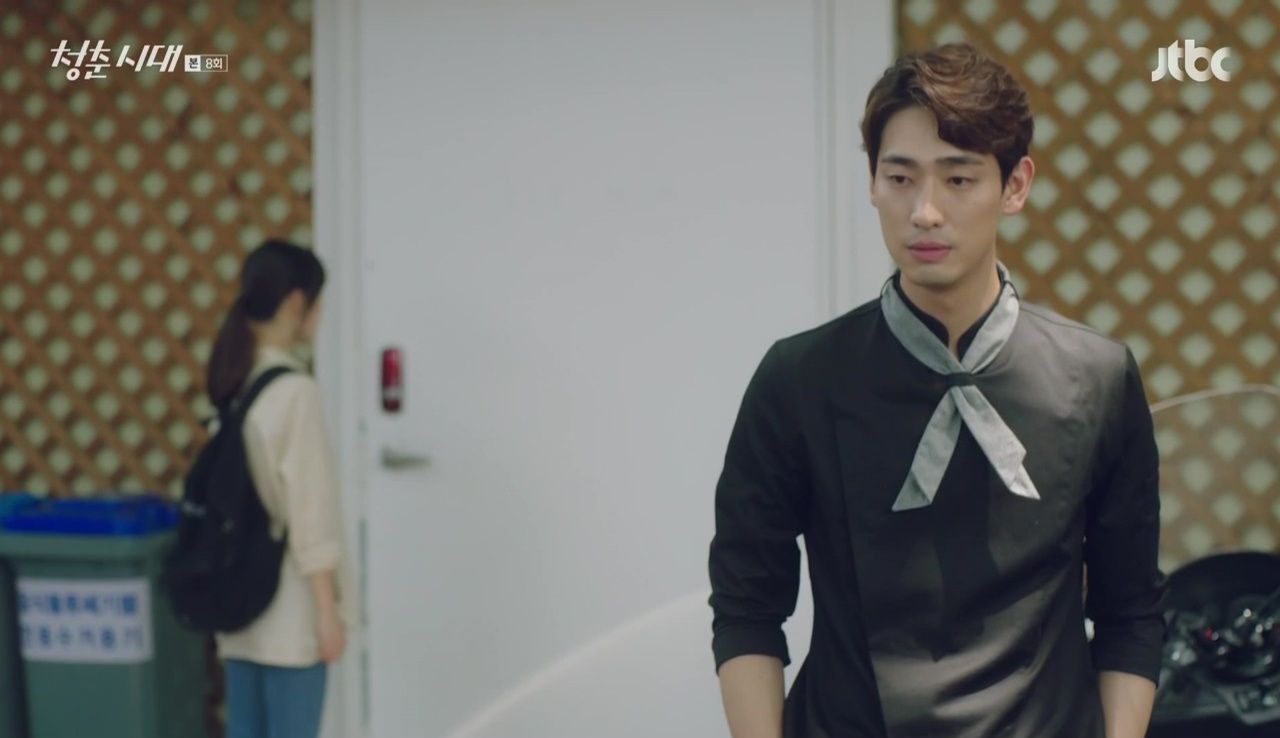 Jin-myung heads over to the restaurant, passing Jae-wan at the back entrance. He looks disappointed that she showed up after he told her to quit. She turns to him and says, "I can't quit." To her, she adds, this job is like a test. And she's decided that if she can't last here, she won't last anywhere. Jae-wan asks if she'll just endure then. He wonders if her life just consists of her enduring. To his dismay, she answers yes, so Jae-wan tells her to do whatever she wants and walks past her.
Ye-eun visits Doo-young at his apartment, but she doesn't greet him with her usual cheerfulness. In fact, she doesn't look like her usual self at all—she's switched out her sweet, pink outfits with something a little sexier. Doo-young appreciates the new look and immediately tries to kiss her, but she turns away from him. When he doesn't stop, she shoves him away with more force. Doo-young gets agitated and asks why she's been so moody lately. She scoffs, wondering if he ever cared for her in the first place.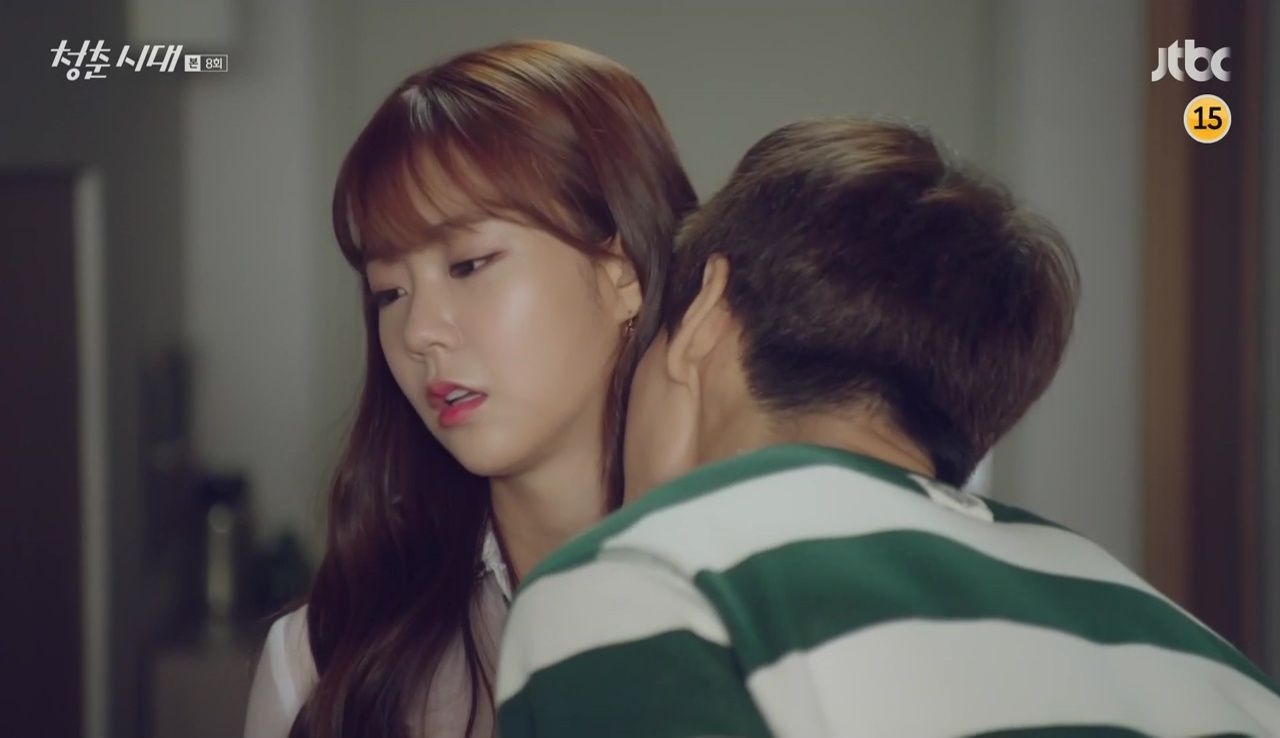 Ye-eun ditches Doo-young to go clubbing with a few of her friends, and she manages to get totally wasted. She eventually leaves her friends as well and moves on to the dance floor. After a while, she even lets one guy take her upstairs to a VIP room. But on their way up, someone passes them and recognizes Ye-eun. It's Dong-joo! Ah, I'm so happy to see you right now.
Thankfully, Dong-joo calls Yi-na and lets her know Ye-eun is with some sleazeball notorious for one-night stands at the club. Yi-na insists that she doesn't care, and hangs up.
Back at the club, the sleazeball asks Ye-eun if she wants to go somewhere else. Ye-eun smiles drunkenly. And right then, Yi-na lets herself in, ne nightapologizing for the intrusion. She tries to get Ye-eun to leave by making her aware of the situation she's gotten herself in—these men aren't buying her drinks for free, and will be expecting something in return. Ye-eun says she knows, smiling eerily as she takes a drink.
Yi-na leaves the room and almost leaves her there entirely, until she bursts back in and straight-up grabs Ye-eun by the hair to drag her out.
The sleazeball demands to know who Yi-na is to be doing this. Yi-na looks him right in the eye and answers, "Me? I'm her lover!" And with that, Yi-na drags a shrieking Ye-eun out of the club.
Before Yi-na has the chance to call a taxi over, Ye-eun vomits all over their feet. Yi-na gets pissed at first, shouting, "You did that on purpose, didn't you?!" but is soon patting Ye-eun's back like any good friend.
Yi-na sits them down at a bench so she can scold Ye-eun for being so careless. Ye-eun blankly says that since Doo-young likes Yi-na, someone who does this kind of stuff, Ye-eun figured she could do it too. Ye-eun doesn't even care if her one-night stand would've ended up all over the internet—she thinks she's ruined anyway.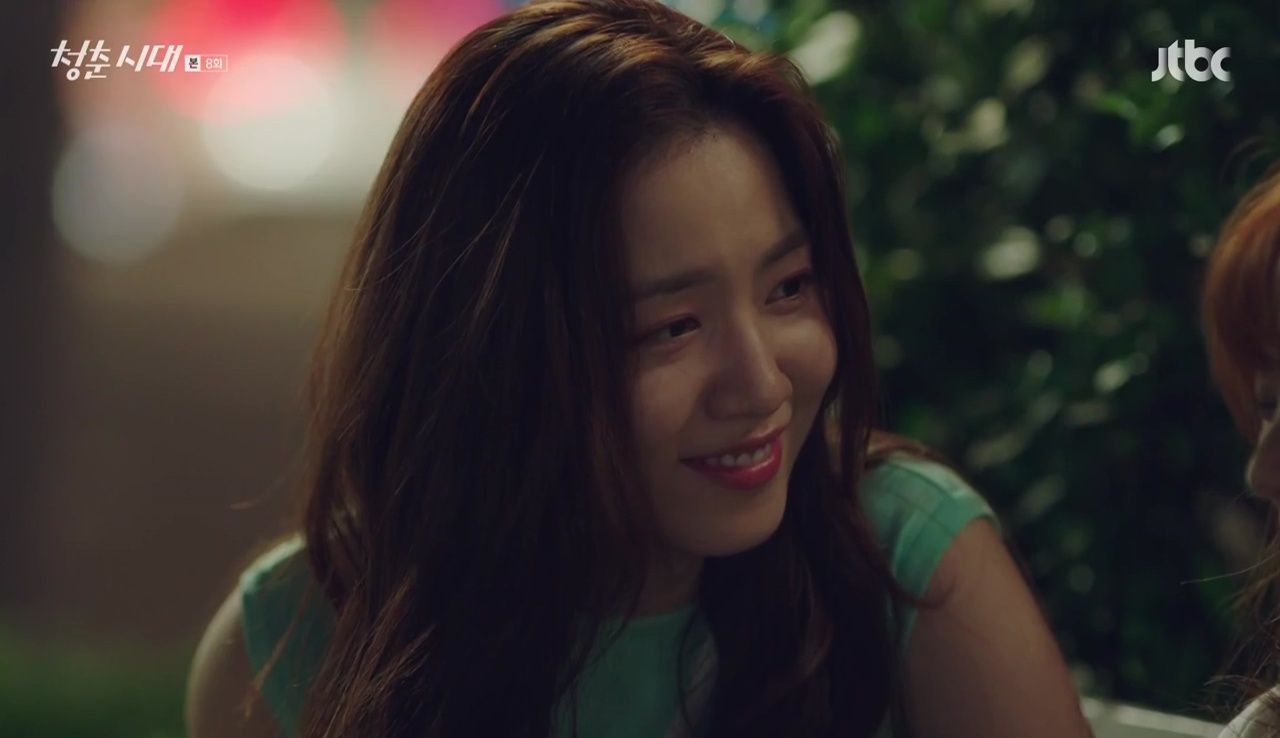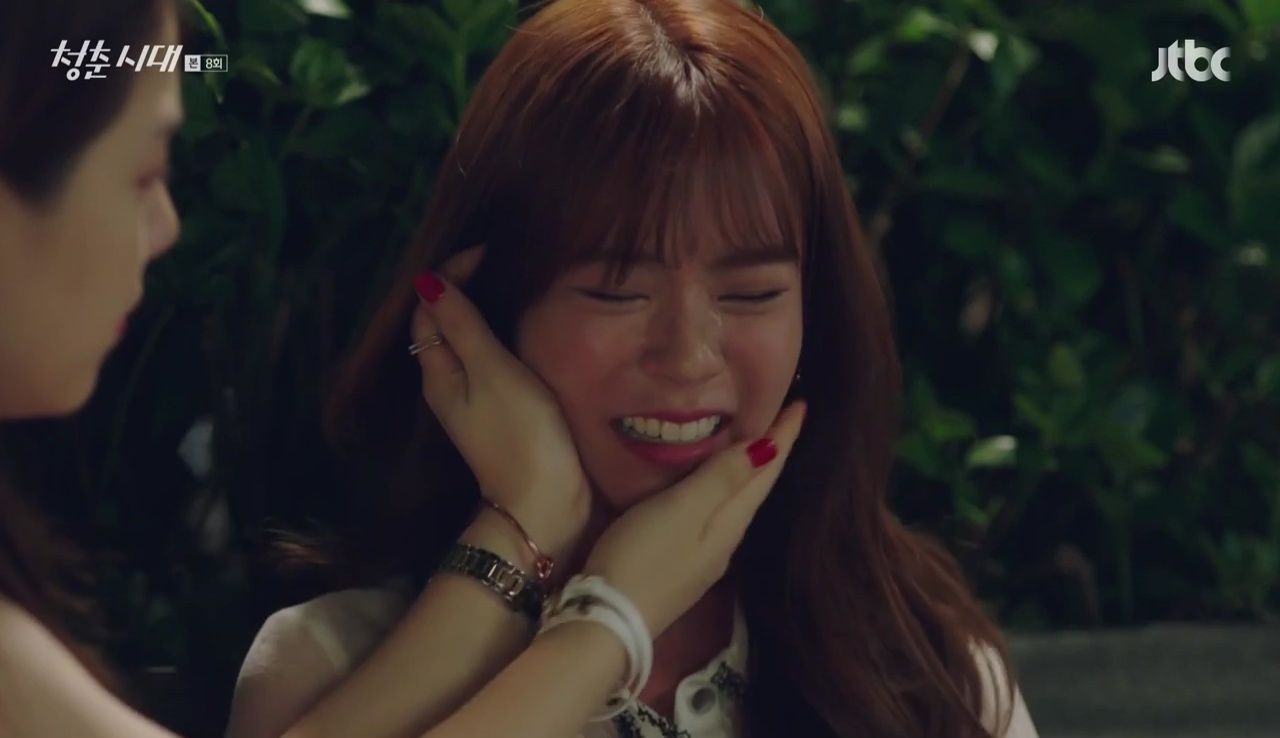 Ye-eun wishes that Yi-na had done something wrong so that she could just blame her. She'd rather do that than feel this pathetic—pathetic to be in love with a guy like Doo-young. Yi-na asks herself what she's going to do with Ye-eun, and they both smile. Ye-eun laughs with tears streaming down her face, calling herself a real idiot. Yi-na wipes the tears away, glad Ye-eun is at least aware that she's an idiot.
On campus the next day, Eun-jae prepares food for Jong-yeol, though she's disappointed when he says it's too salty. Jong-yeol insists on eating it anyway, but Eun-jae tells him not to, packing it all up. He gets all handsy trying to reach for the food, and they both freeze when an angry voice calls out to them.
They look up to see the classmate Jong-yeol had said "I love you" to before. The girl makes Jong-yeol let go of Eun-jae's hand, accusing him of attempting sexual harassment. She also tells Eun-jae to be less passive and speak up in situations like this. Jong-yeol rolls his eyes and starts to say they're dating, but Eun-jae interrupts and quietly says, "Sorry."
After the girl leaves, Jong-yeol puts his hands on his hips. He wants to know why Eun-jae just apologized instead of admitting they're dating. "By any chance, are you ashamed of me?" he asks. Eun-jae quickly says no. She just… can't believe it. The fact that Jong-yeol likes her feels like a lie, almost like she's dreaming. And it's her first time liking someone this much, so it makes her a bit uneasy.
A smile forms on Jong-yeol's face, but he pretends to get all huffy again and puts her in a headlock, accusing her of trying to play hard to get.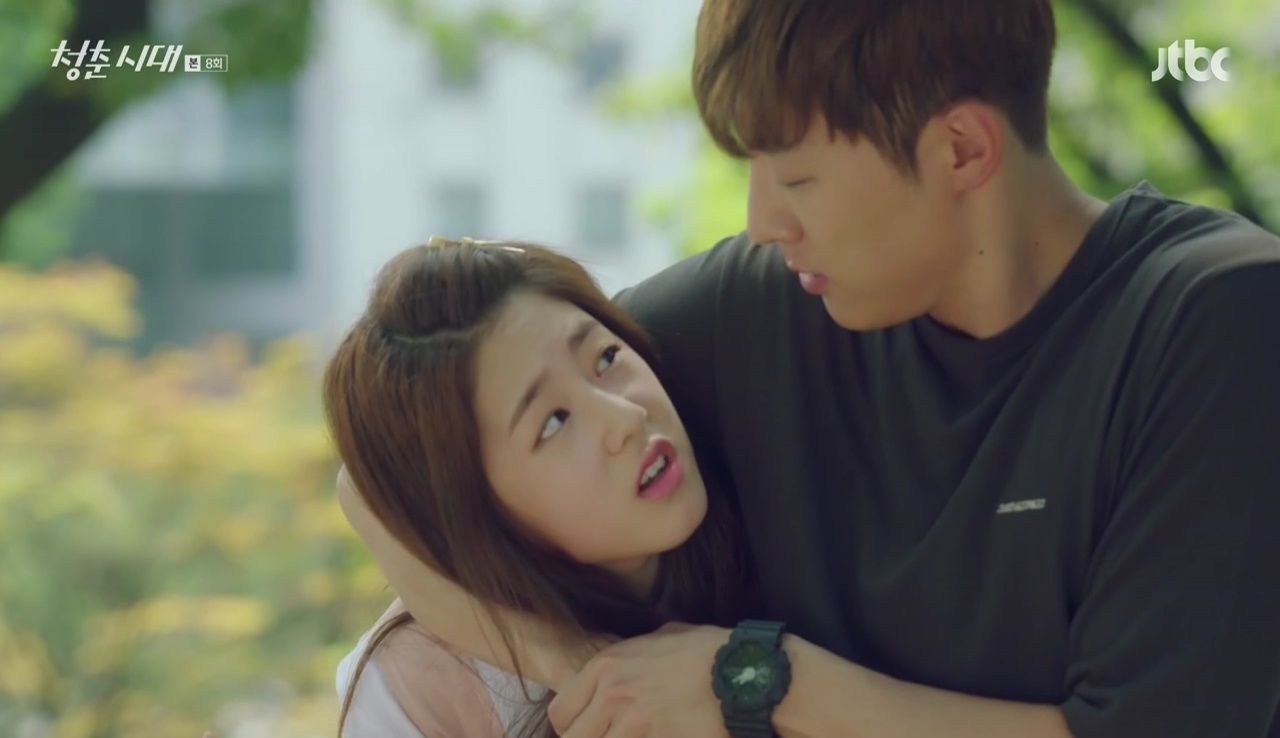 Ye-eun lies in bed, her mind all over the place. She recalls the time Doo-young had come back drunk and asked why she even liked him. "There are many reasons why I shouldn't like that man," she narrates, "And the worst reason is that he doesn't like me as much as I want him to."
She gets all dolled up, looking more like the Ye-eun we know and love, only now, she comes out wearing a little more confidence.
She has Doo-young meet her at a coffee shop, and he seems suspicious as he approaches her. Ye-eun smiles and waves him over, though he's still unsure what brought this on. She wants to finish her drink before talking, and she takes note of his grumpy attitude as if seeing it for the first time. It takes Ye-eun a whole cup of coffee, but she finally builds up the courage. The cheeriness never leaving her voice, she tells him, "Let's break up."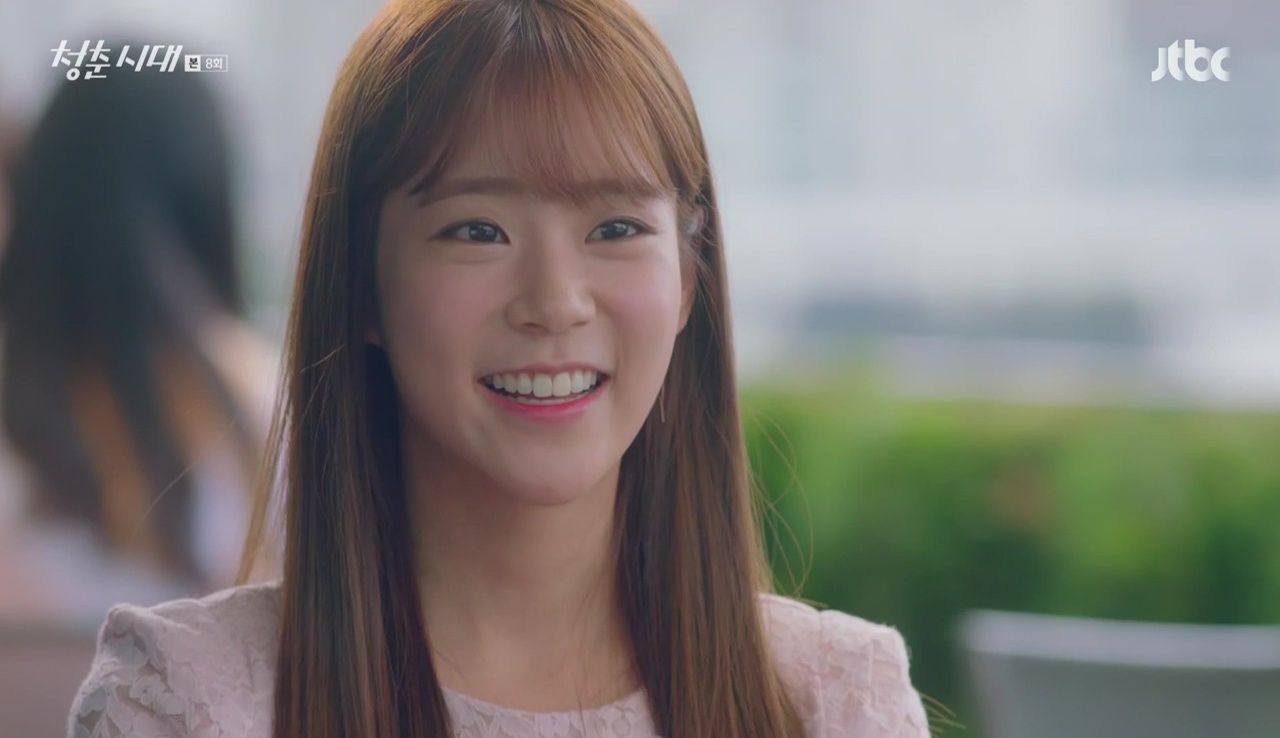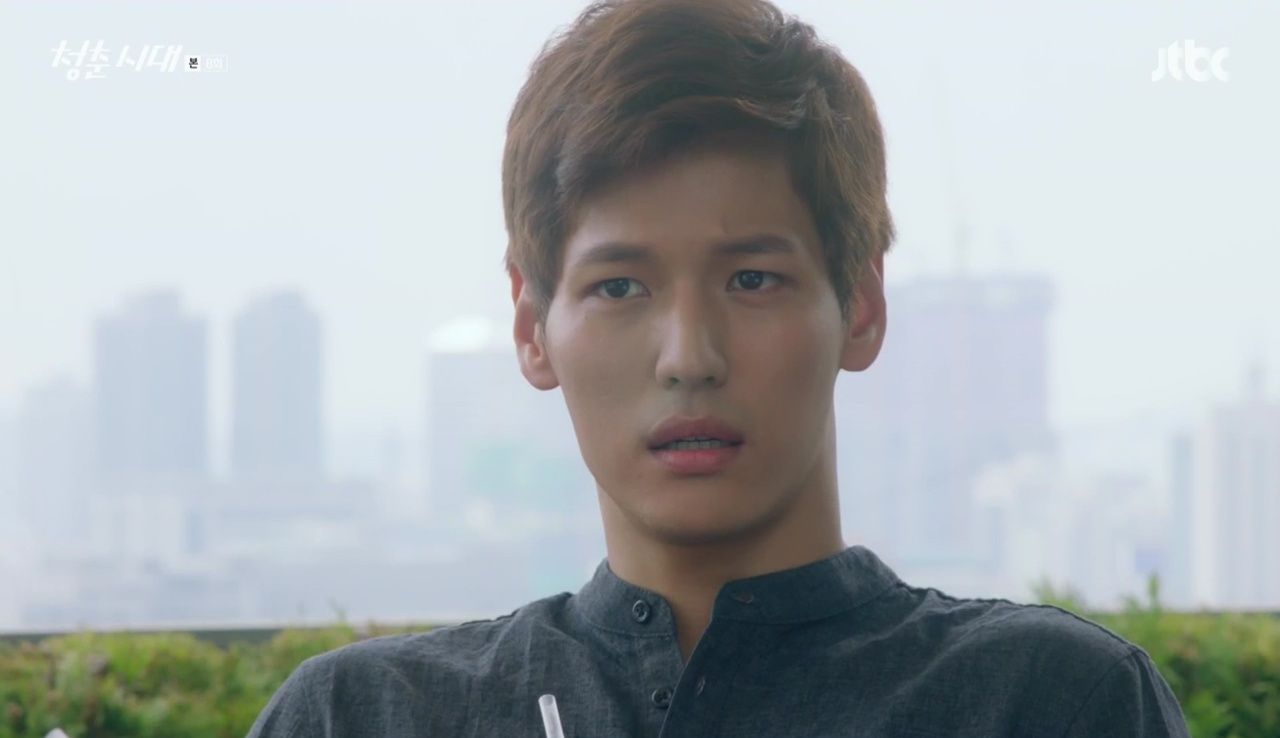 At first, he thinks it's a joke, but she presses that she means it. She wants to break up, and she's thankful for everything up until now. She gets up and leaves him sitting there. And as she walks back home, soaking in the feeling of being single, she can't stop smiling. Ye-eun carries that smile all the way home, and allows it to break once she faces her roommates. "I broke up with my boyfriend," she announces, her voice shaking. "I did well, right?"
She breaks into sobs and the girls all pat her on the back and assure her she did the right thing. Jin-myung stands back and watches, thinking that she wishes she could cry. She wishes someone could hear her cry and tell her everything would be okay. And with a heavy sigh, Jin-myung moves in to give Ye-eun a hug, knowing it's exactly what she needs.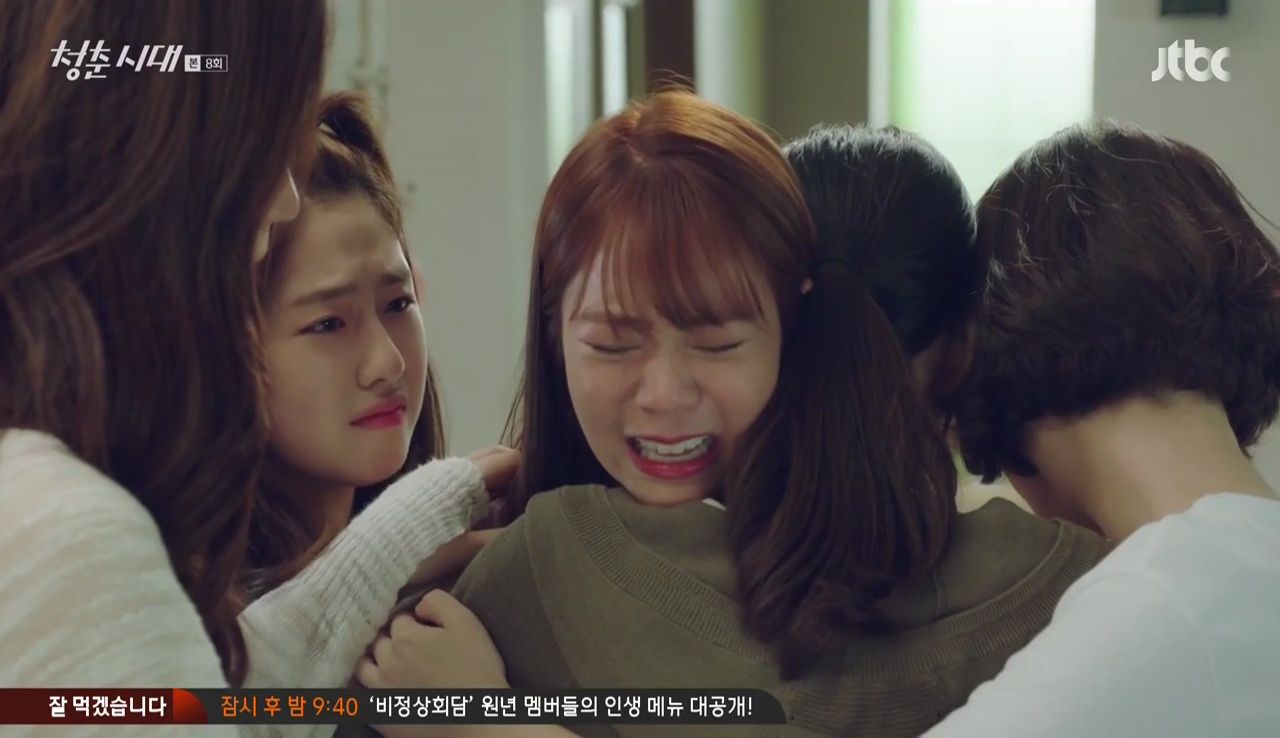 Night falls and Jin-myung sits by the balcony with a beer like every other Sunday. She gets a text from her bank saying her payment bounced, and it triggers more thoughts on how she just wishes she could throw a fit, whether it be at a person or Fate itself for never giving her a break. She gets another text and her face lights up ever so slightly with surprise.
"And then I find hope all over again," she thinks, and we see that the text is from the company she applied to earlier—she passed the written exam.
Jong-gyu gets a knock on his door and asks who's there. He doesn't get an answer, so he goes on ahead and opens it to find… Yi-na, standing right before his eyes.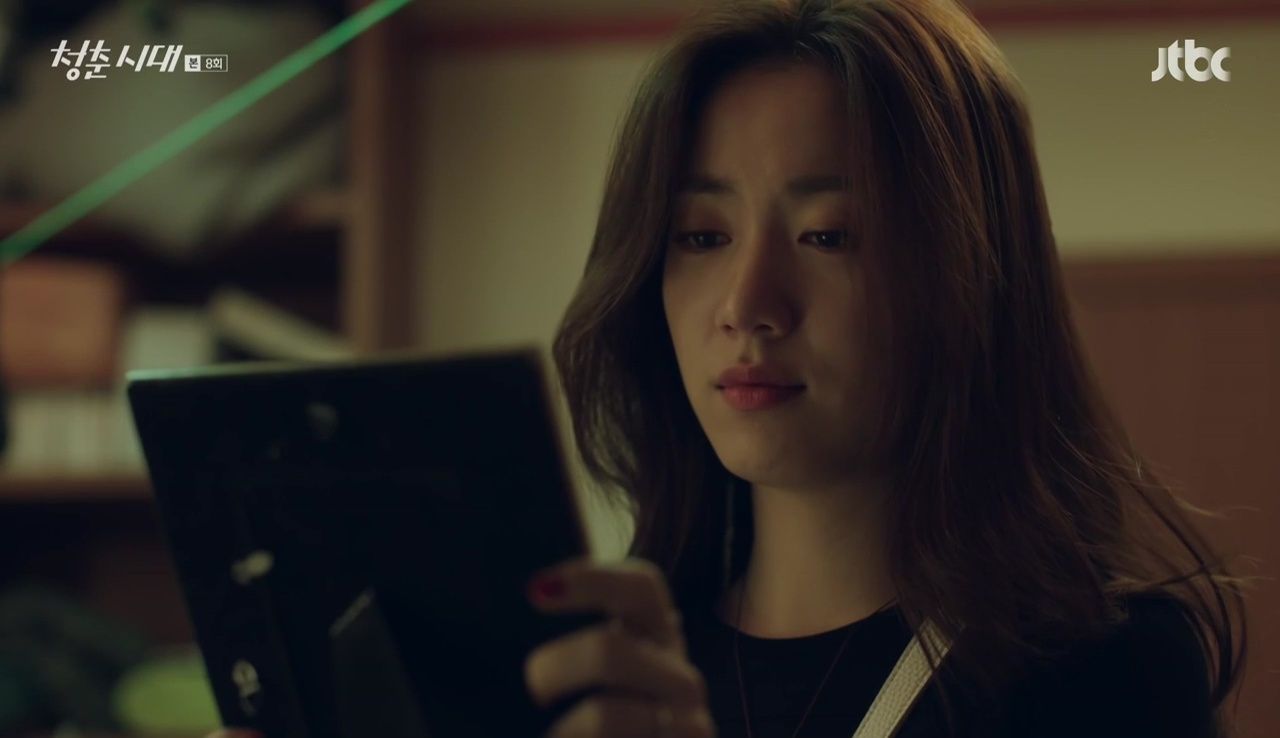 Yi-na walks past him into his room and picks up the framed photo of his daughter. She asks Jong-gyu what her name was. She learns that it was "Sol," and she seems to go numb. "Ajusshi," Yi-na says, with her back still to his face. "I killed your daughter."
And instead of a dream or a brief flashback, we finally see the whole picture: A ship had somehow exploded, and the force had sent Yi-na and several other young girls into the water. She used a piece of luggage to remain afloat, having to watch the others struggle for air.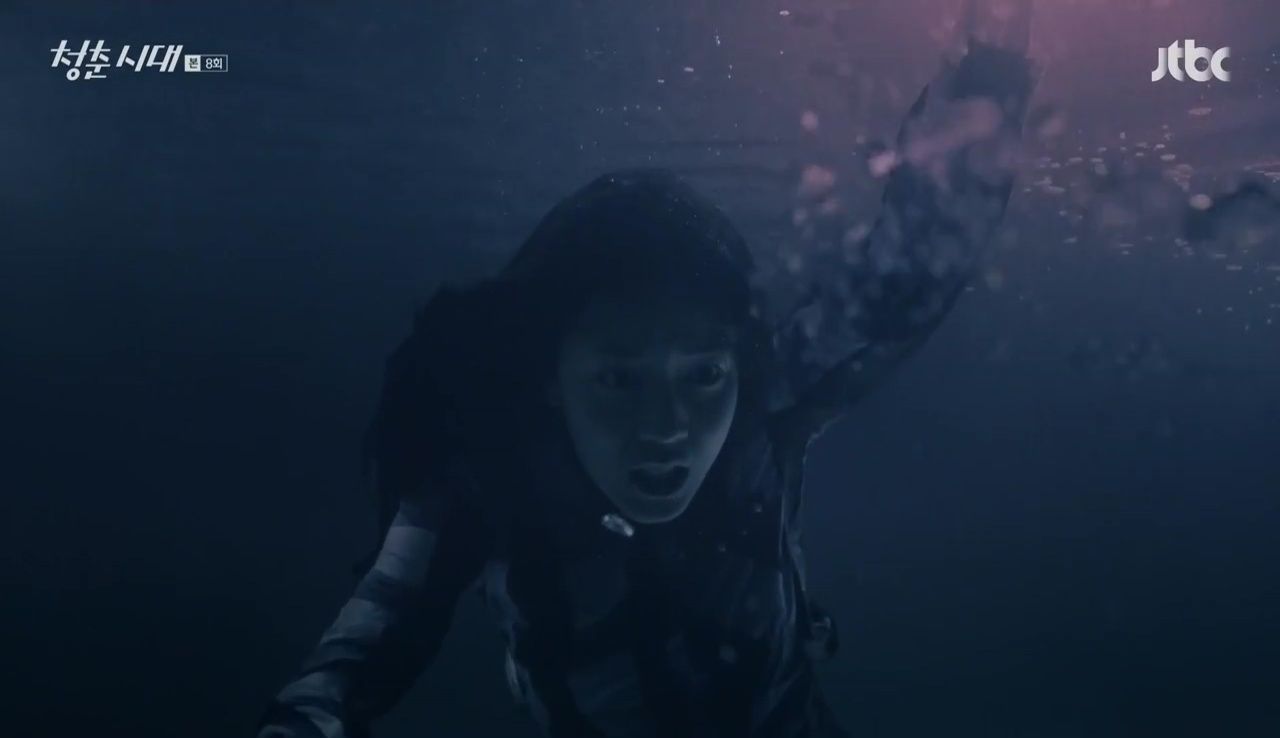 She gasped when a hand suddenly grabbed onto her and dragged her underwater. Another girl was desperately trying to get ahold of the luggage, but Yi-na panicked and tried the best she could to pry the girl off. Growing more urgent, Yi-na shoved the girl away, winning the luggage. It was then that she saw the girl's face, the eyes suddenly lifeless and staring right at her, as the body slowly sunk further and further away. It was Sol.
Yi-na reached the surface gasping for air, her eyes landing on the bracelet that had made it into her hands during the tussle.
In the present, Yi-na repeats that she did kill Jong-gyu's daughter. She turns to Jong-gyu, who is now glaring at her, shaking with rage. Yi-na: "Are you going to kill me too?"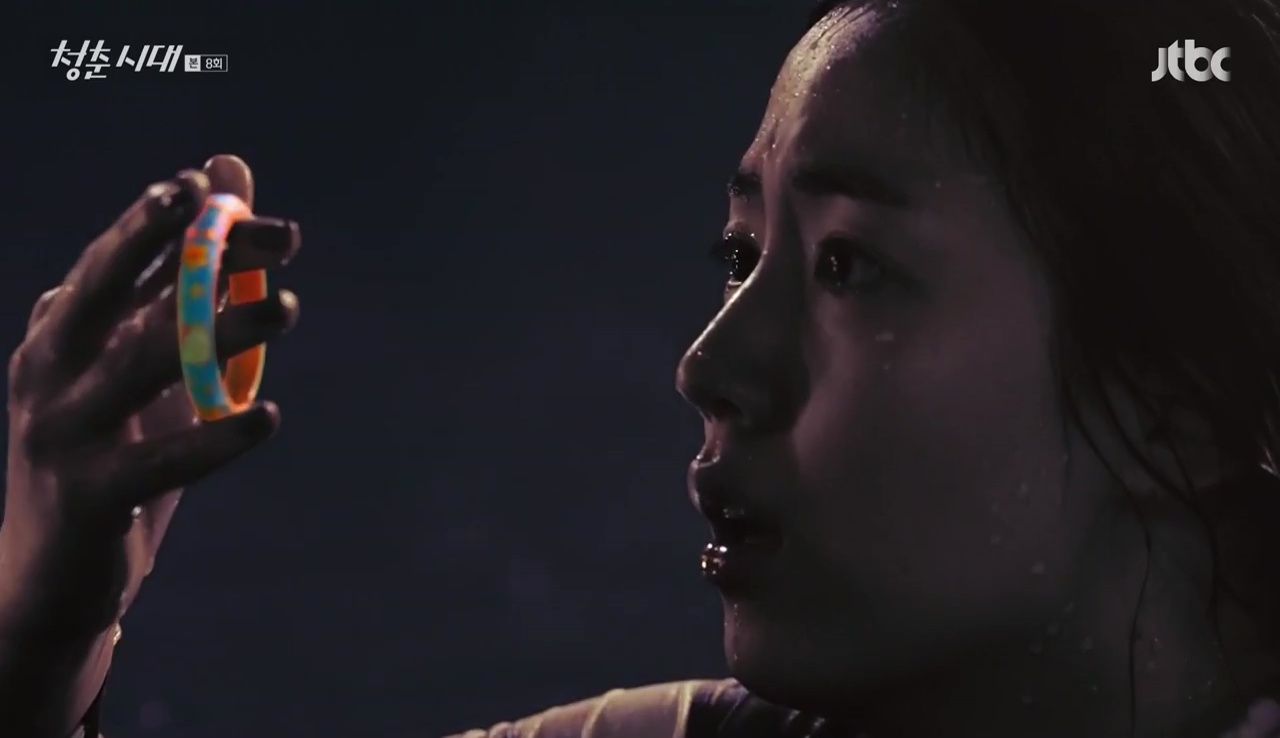 Epilogue. This interview belongs to all the boys (minus Doo-young). Jae-wan says that he feels bad for Jin-myung, and he does believe he loves her. Dong-joo states he and Yi-na are co-workers and friends as well, smiling. Ji-won's friend Sung-min is appalled when the interviewer says he and Ji-won flirt a lot, though he does hesitate when asked if he sees her as a woman. Last but not least, Jong-yeol grins like a lovesick puppy and says that even though Eun-jae may act weird sometimes, he still finds her pretty.

COMMENTS
Thank goodness for that cuter than cute epilogue, because the last few minutes of this episode had me trembling. Just so many chills. The visuals of Jong-gyu's little girl Sol drifting away was so disturbing to me that I honestly had to look away. What made it even more disturbing was Yi-na's horrified expression when she saw the bracelet in her hand. The scene was gorgeously shot, but it was also shot in a way that made me feel as if I was in Yi-na's position. Fighting for the piece of debris… Watching the girl's body sink… And finding evidence that I killed her in my own hands. Those few minutes were remarkably intense and I have to give the show props for making me feel so active in that moment when I was really just sitting in front of a computer watching a scene.
Once I calmed down from the intensity of it all, I let out the hugest sigh of relief. We finally got the full backstory on one of our girls and, I don't know, it just feels so good to know something when it comes to this show. Of course, we don't yet know how Yi-na got into that accident or how she was related to Jong-gyu's daughter, but we still got a good chunk of information that now allows us to view Yi-na's circumstance in another light. Like Ji-won had told Eun-jae, it's best not to judge someone when we never know their whole story. And because of that speech, I still don't think I have the right to judge Yi-na. I totally get the hatred Jong-gyu must be feeling toward Yi-na, but after seeing what happened through her eyes, I can understand why she did what she did. Survival instinct took over and she only had time to worry about her own safety. It makes me wonder if I would've done the same thing if it had really been me. I shiver at the very thought.
Yi-na's strength is truly admirable, because I would think that that kind of traumatic experience would break the strongest person down. Sure, her friends don't approve of her lifestyle, and Yi-na herself probably doesn't approve of her lifestyle, but all this time, she's just been trying to slowly move on. It's what I've wanted for Ye-eun ever since the first time she almost broke up with Doo-young. I know Ye-eun isn't everyone's favorite character, and I wouldn't go as far to say she's my favorite character either, but I sincerely love her story arc. I believe she's had the strength within her to move on from Doo-young, but it's so hard to fully grasp that strength while it's so easy to fall into the weakness of the heart. Unfortunately, Ye-eun's heart was just drawn to an unforgivable asshole. It took her quite a while to get over her weakness, but in the end, I'm just proud of Ye-eun for finally reaching where she should be. She let go of her past and is now opening herself up to the future. I can think of a girl or two in the Belle Epoque house who might benefit from doing the same.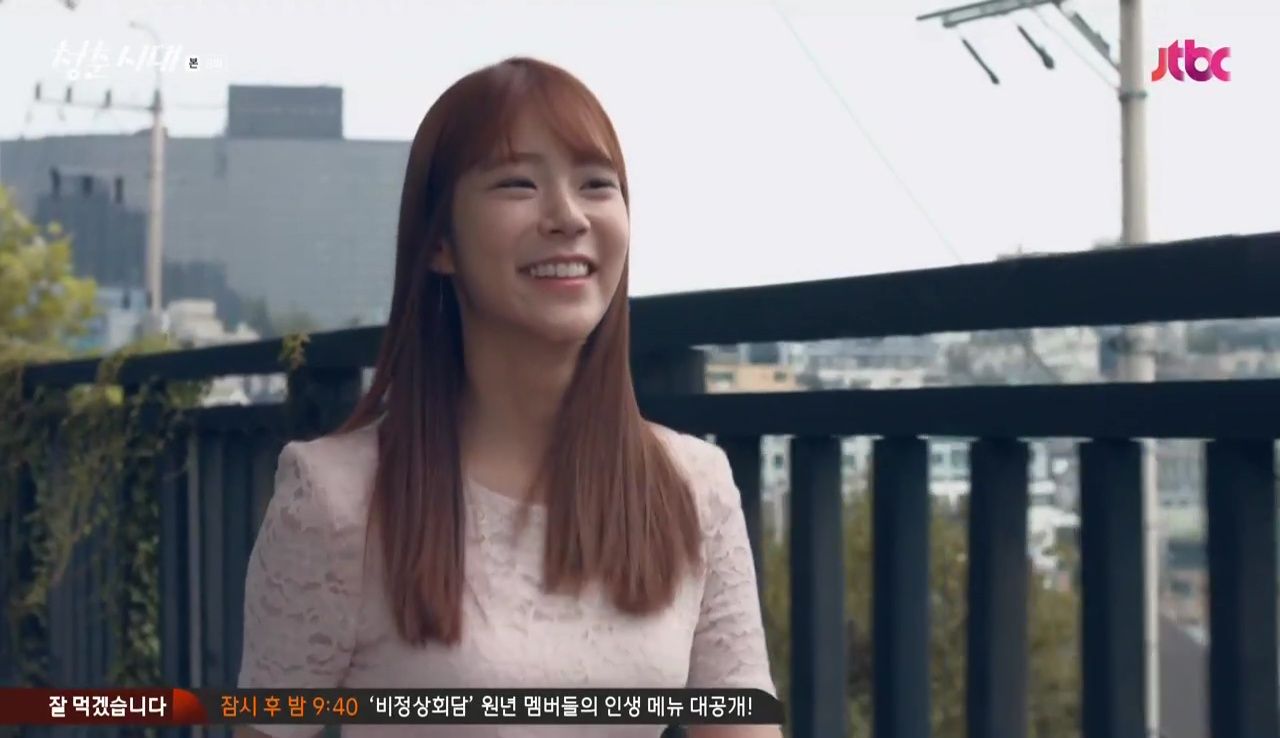 RELATED POSTS
Tags: Age of Youth, featured, Han Seung-yeon, Han Ye-ri, Park Eun-bin, Park Hye-soo, Ryu Hwa-young